[ this blog post contains referral & affiliate links ]
I always enjoy getting my Yogi Surprise Lifestyle box ~ even if you do not practice Yoga, this is a great eco-friendly, green lifestyle subscription box.  What is Yogi Surprise?   

Yogi Surprise Lifestyle Box
6-8 full-size yoga lifestyle items

Vegetarian and GMO-Free

$70+ retail value in every box

$44.95/month + free shipping
This month's theme is "Summer Solstice" ~ This month's offerings help remain grounded as you seek out new adventures with an open mind.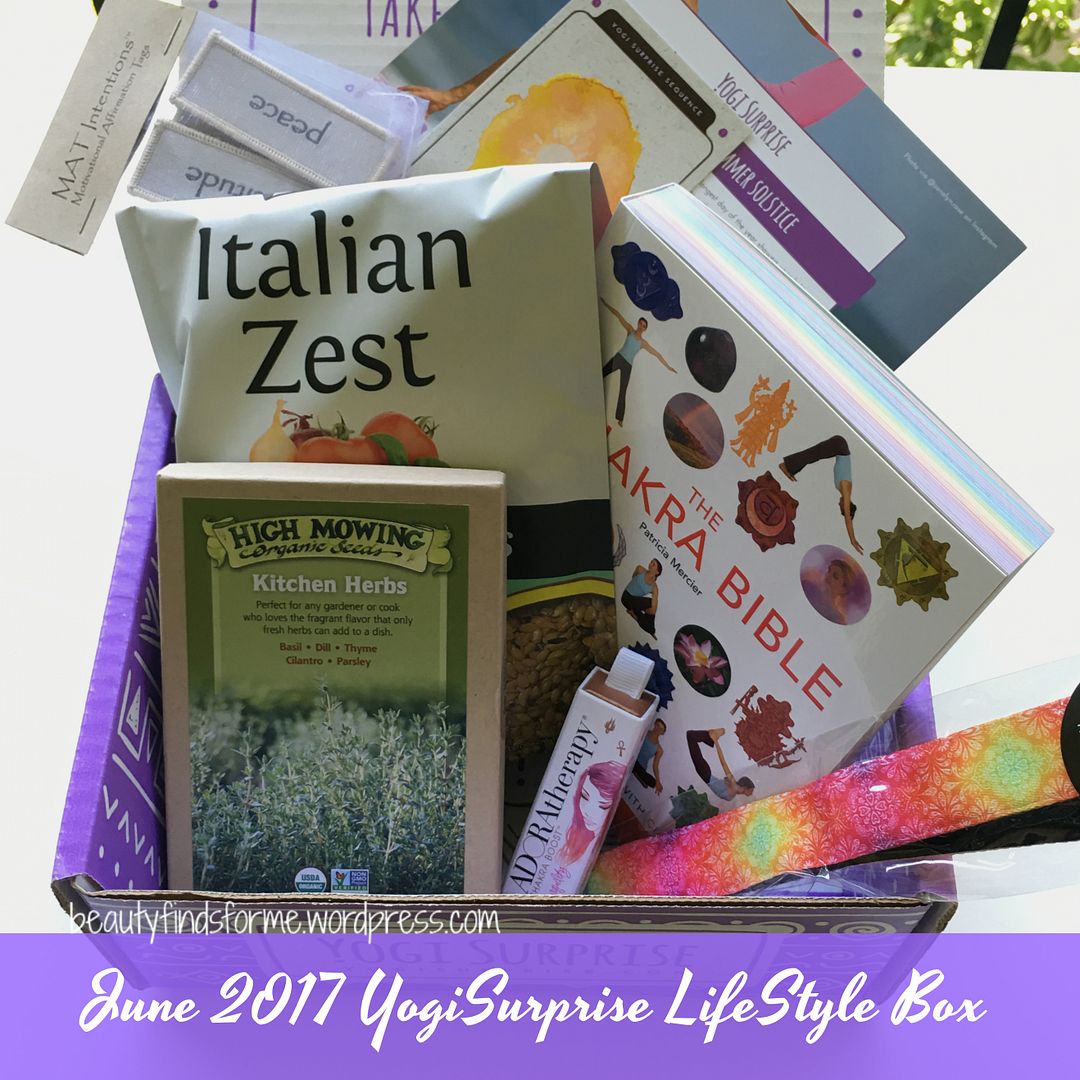 Informational Card
High Mowing Seeds, Herb Gift Box    This is a pack of five 100% certified USDA organic, non-GMO kitchen herbs ~ thyme, Genovese basil, Italian flat leaf parsley, Santo cilantro and bouquet dill ~ all in a recyclable gift box and a tip sheet.  Organic seeds are known for their hardiness and resistance to diseases, as pesticides and chemicals are not used.  Also, organic seeds are grown by farmers who rigorously breed flavorful strains, so you know you are getting a quality, good tasting herb out of this.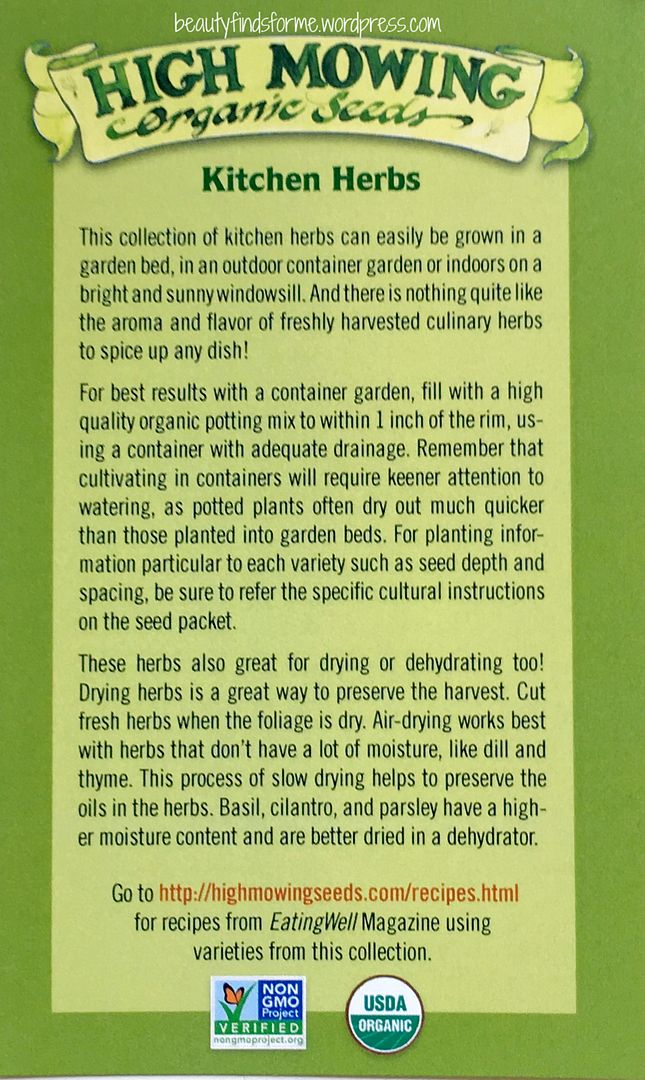 These selection is fantastic!  I need to plant these now, if I want to take advantage of using them ~ I use cilantro, basil and thyme all of the time ~ dill is fantastic with sour cream on top of a baked potato and flat leaf parsley is a common addition to many dishes.  High Mowing Organic Seeds sells a large variety of seeds, flowers, vegetable and herbs, plus collections like this one  RV $15.00  Promo Code:  Use YOGI2017 at High Mowing Organic Seeds and save 10% off your first purchase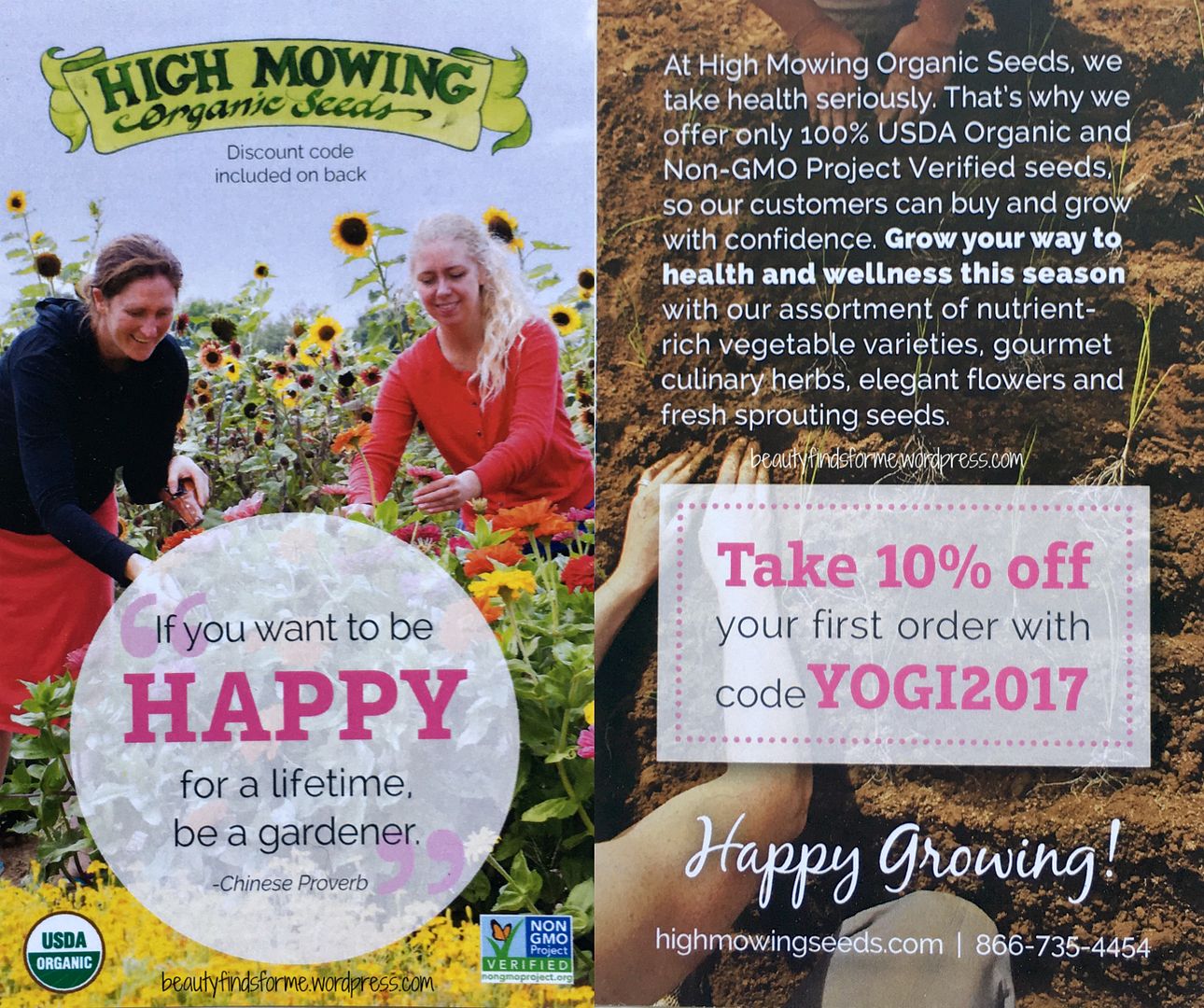 Foods Alive Flax Crackers in Italian Zest  Oh these are yummy!  I love crackers like this, as they not only satisfy my savory cravings, but are good for you too! This has a blend of Italian herbs  ~ basil, oregano, thyme, sage, rosemary, parsley plus onion, garlic and tomatoes with pink Himalayan salt ~ all in a flax seed cracker.  This is so good ~ very crunchy and tasty ~ I can taste the herbs and tomatoes. These are great with salads, soups, hummus or just on their own.  They have 9 grams of fiber, which is fantastic, 8 grams of protein, 3.8 grams of Omega-3 fatty acids, vitamin B6, iron, calcium, magnesium and other minerals ~ I told you these were good for you!  All of the ingredients except the salt are USDA organic and it is also non-GMO, raw, certified vegan, Kosher and gluten free.   They sell all sorts of different flavors, using different seeds, such as hemp.   4 oz RV $7.00

Description: Inside this package, our unique blend of Italian herbs create a pizza tasting cracker that goes great with dips, spreads, salads and soups. Foods Alive is a family owned company dedicated to crafting healthy foods, because just like you, we are deeply about the food our family eats. So, you'll only find the highest quality certified organic ingredients in the foods we make.
Our Crackers come to life when we soak raw flax seeds in filtered water to begin the germination (or sprouting) process. This increases nutritional value, bio-availability and makes them easier to chew and digest. Then, we gently dehydrate our crackers overnight at a very low temperature. Our delicate process preserves the vital living enzymes and essential nutrients, while at the same time, creating a crispy, crunch, savory snack. This attention to detail, allows us to craft all of our products with the highest quality of flavor, freshness and essential nutrition.
Ingredients: Golden flaxseed*, tomato powder*, minced onion*, Himalayan pink salt, granulated garlic*, parsley*, basil*, marjoram*, oregano*, rosemary*, thyme*, sage*.
*Organic Ingredient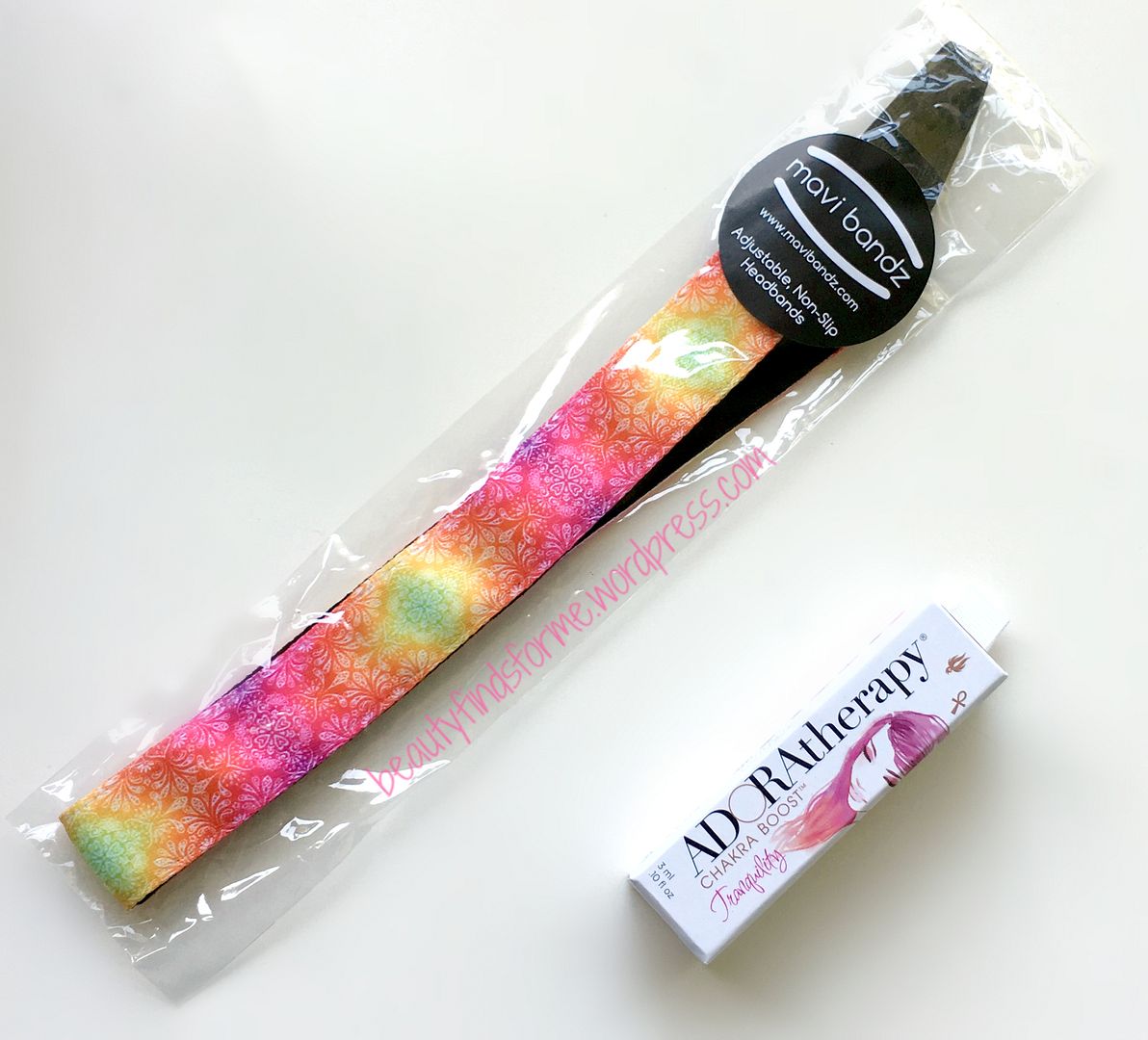 Mavi Bandz No-Slip Yoga Headband in Bright Starburst This is so bright and colorful! I always have issues with headbands like this because they are too tight ~ Mavi Bandz is adjustable, so I was able to adjust this to fit my huge head!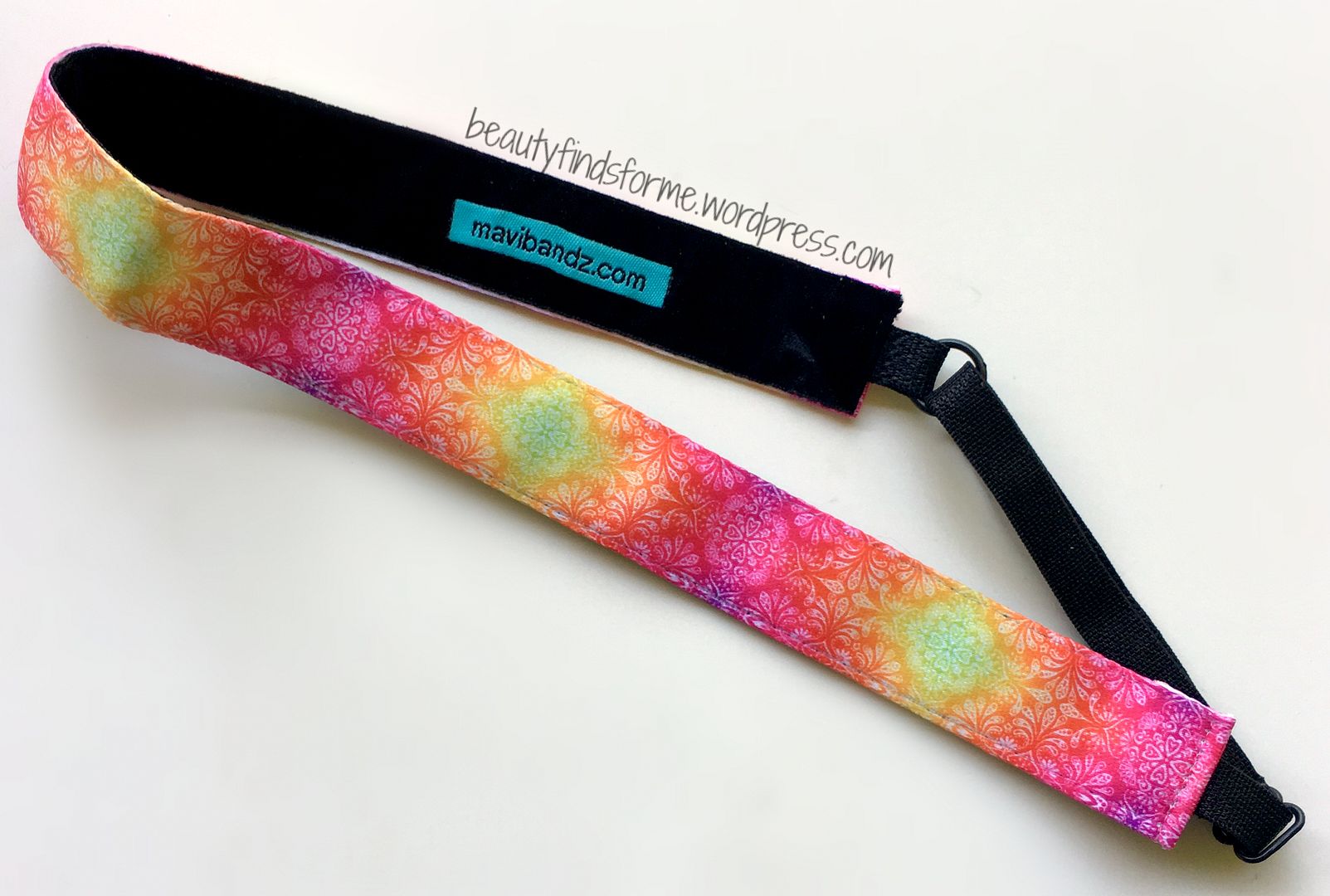 This is 7/8 inches in width and it has a colorful design in bright raspberry, orange, lime green, purple and yellow colors and it is fully lined in black as well.  The back is in a black elastic and it has a slide-buckle where you can adjust to it fit your head.
These won't fall off your head due to their non-slip technology. They carry a variety of colors, designs and even widths on their head bands at their site.  RV $14.99  Promo Code: Use YOGISURPRISE at Mavi Bandz and save 40% off your purchase
Adoratherapy Mood Boost Charka Tranquility Roll On  This is the 7th Charka and it smells divine!  This roll on oil perfume is vegan, cruelty free and made in the USA and they create several Charka perfumes. This Tranquility mini will help center your mind  and it smells like lavender and rosewood.  I love the little box this comes in, as it not only protects your mini perfume, but the box itself is beautifully designed.  These types of perfume oils are ones I love to wear ~ I am normally not a big "commercial" perfume person ~ there are exceptions, of course, but I prefer artisan crafted oils.  3 mL RV $12.00 
Description: The Chakra Boost Roll on Collection gets you back to your healthy center and your purpose. Experience the power of uniquely formulated essential oils, absolutes, and gem and flower essences, in a base of organic Jojoba blends. This unique collection of roll ons open your chakras and awaken your senses. An alternative to perfume, this all natural collection can be applied on the neck, temples, wrists, and chakra centers. Tap into your vitality, creativity, motivation, joy, communication, clarity and tranquility through breath and affirmation
Ingredients: organic jojoba, organic essential oils of lavender, rosewood, cardamon, frankincense, petitgrain, neroli, jasmine absolute, intentional infusions of gem and/or flower essences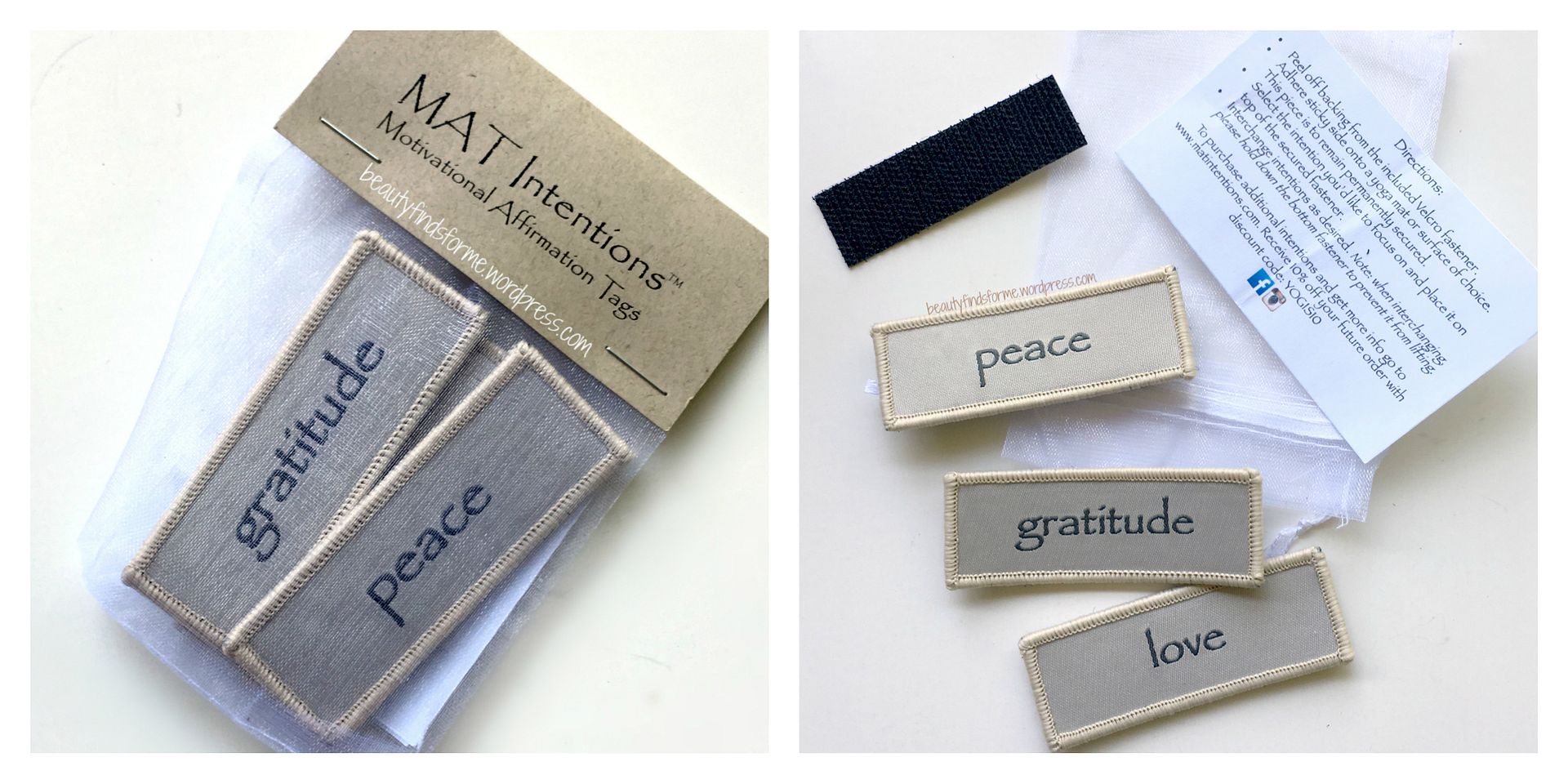 Mat (Motivational Affirmation Tags) Intentions 3-Pack  This is probably the dud in the box for me.  Anytime I see the word affirmation, I think of Stuart Smalley
I receive three affirmation tags ~ peace, love and gratitude ~ and they have a velcro backing.  There is also a velcro fastener with a sticky back, so you can attach them to your yoga mat or any smooth surface ~ I might just put this on my laptop, just to annoy me!  haha  RV $10.50   Promo Code: Use YOGIS10 at Mat Intentions and save 10% off your purchase

Description: MAT Intentions™ are interchangeable words selected as daily intentions. MAT is a play on words and stands for Motivational Affirmation Tags. The tags are not only meant to be used by yogis on their mats, but for anyone to place onto most smooth surfaces to visually inspire and motivate.  100% woven for durability and high quality. Soft, to prevent injury when used for yoga practice. Able to withstand hot yoga temperatures. Easy to spot clean with soap and water and dries quickly. Tags and packaging are eco friendly: tags are long lasting and reusable, the packaging is a reusable carry along pouch, and the label and insert is made with recycled material. Tag edges may vary slightly due to the hand making process 
The Chakra Bible by Patrica Mercier   I love getting books in my boxes!  I am still a bookworm and I like keeping a stack of books near my bed, in case I want some reading material.  The description of this book is as such:
Chakras are the centers of energy in our body that profoundly affect our well-being. Through this exquisitely designed volume, newcomers to this alternative form of spirituality can understand every aspect of chakra power. In addition to an illuminating introduction, a detailed guide covers each chakra, with their associated colors, Indian deity, healing stone, and emotional and physical actions. One by one, go through the base, sacral, solar plexus, heart, throat, brow, and crown chakras, as well as some newly discovered ones and chakras from different traditions. There's also invaluable information on connecting chakras with aura reading and healing, and yoga exercises and meditations to strengthen each chakra.
This is color coded on the edges of the book and has 11 chapters ~ a chapter for each chakra, the "new" chakras, how chakras are used in other traditions and healing, as well as a glossary.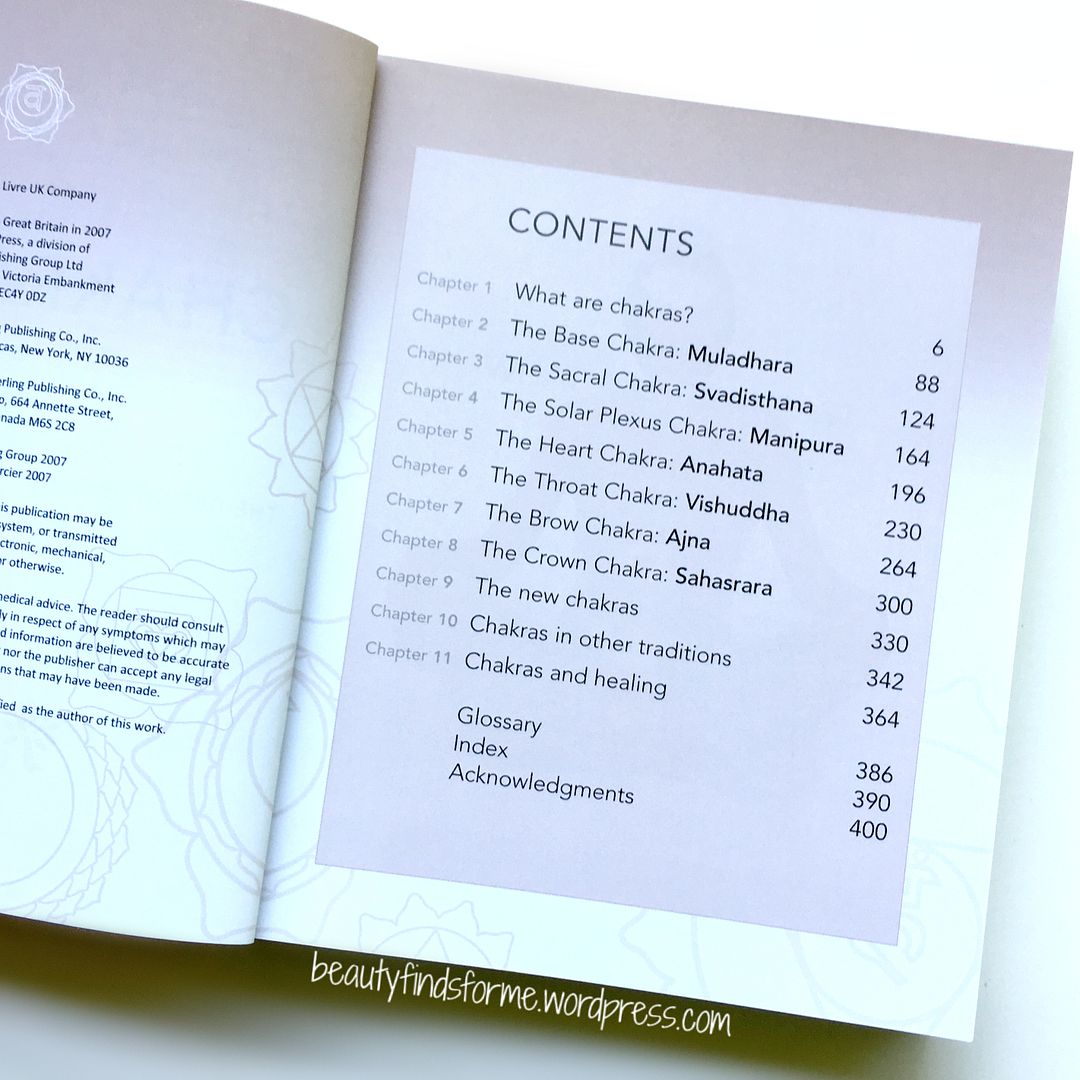 Each chapter has yoga positions, aromatherapy and other subjects for that chakra.  This is a really interesting book and it is going to provide me with hours of reading as it has almost 400 pages of actual reading material.   RV $14.99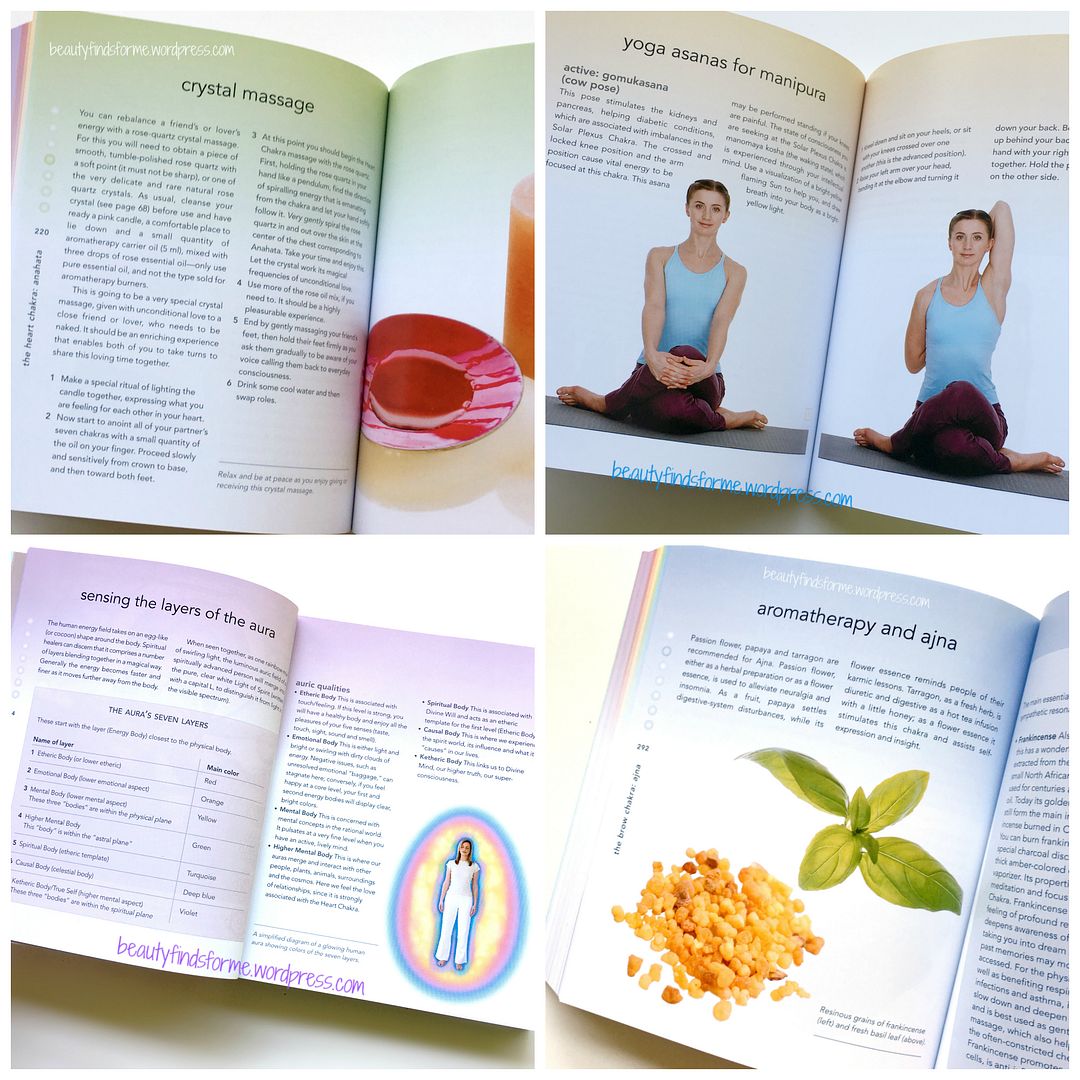 Bonus Item: Yogi Surprise Yoga Sequence Series Card: Summer Solstice: The Summer Solstice is a doorway into the second half of the year and we Salute The Sun during its longest days through this simple variation of the classic Surya Namaskar, Sun Salutation, igniting a fire for our dreams and visions.  Yogi Surprise always has a sequence card in every lifestyle box with poses and positions that reflect the theme of the box.

Outside of the Stuart Smalley affirmations, I really enjoyed this month's box ~ the Chakra perfume and reference book are my favorites in here.  I love the bright and cheerful headband and look forward to planting my seeds ~ I have some planters that needs something in them other than dirt!  I really enjoyed the crackers too ~ very zesty and tasty.  This box has a retail value of over $74.00. Do you subscribe to Yogi Surprise Lifestyle Box?  What was your favorite item this month?

If you are interested in signing up to Yogi Surprise for either their Lifestyle or Jewelry box, I would love it if you used my referral link   They are currently running a 10% off special for the first month, no promo code needed.   Check out the spoilers for next month's boxes below!    If you sign up for the Lifestyle box, use YOGILOVE to get 15% off the life of your subscription!

Next Month Spoilers

If you sign up now, you get a free gift worth $20.00 ~ Chakra Healing Stones  (these came in the May box ~ see my unboxing here)
Jewelry Box   Summer inspiration necklace $48  To invigorate your spirit this July, we're bringing you our Summer Inspiration necklace for our upcoming "Freedom" theme. Healing blue jasper stones will encourage you to live freely like the fluid, flowing waves of the ocean while white jasper stones will leave you feeling positive in the present, hopeful for what's to come, and courageous enough to pursue your desires. Let the serene summer colors of this necklace gently wash you away in the direction toward a bright and brilliant future.

Lifestyle Box   Skinny Coconut Oil  $14  With over one hundred different ways to use it, Skinny & Co.'s 100% raw, cold-processed coconut oil is also the only type of coconut oil in the world that's 100% alkaline. Use it as a skin moisturizer, a hair conditioner, a healthy ingredient in your smoothies, or even a substitute for butter.
Mindful Anti-Aging Eye Serum $20  Mindful's Anti-Aging Serum is silky and gentle enough for use on the delicate skin around the eyes, yet powerful enough to combat the signs of aging. It targets fine lines and wrinkles while hydrating to deeply protect the delicate eye area. This serum is made with all organic materials and is outstanding for every skin type.
[ all descriptions in italics from linked website.  this blog post contains referral & affiliate links ]