[ disclaimer: products received for review purposes. all opinions are my own & unbiased.  ]
Swanicoco is a South Korean cosmetics company that began making naturally fermented soaps back in 2005.  They have been producing eco-friendly skincare, makeup and body care products, using their trademarked anti-aging fermentation process.  Swanicoco uses organic herbal and botanticals from all over the world ~ Korea, Europe, Australia and United States, and these ingredients are selected to create their products, which range from Pore Care to Anti-Aging Care lines.  The brand name combines elegance ~ swan ~ with natural botanical ingredients ~ coco.    
I received several items from Swanicoco, tailored to my skin type and my issues and I have reviewed all from my first PR package except for this set ~ A.C. Control Care Toner and Emulsion.  I believe A.C. stands for acne care for oily skin, as all A.C. products are dealing with blemishes and excess sebum.  I left this set for when the weather turned warmer, so that I could really test its claims. Many thanks to Kevin, who patiently worked with me to come up with a routine and answering all of my questions.
Skin Type/Concerns:  Oily, blemish prone skin with aging concerns  ~ fine lines and wrinkles around the eyes, hyper-pigmentation
image credit swanicoco
A.C. Control Care has a complete line of products, including the toner, serum, emulsion and a cream.  I do not use creams that much for my daytime routine and will use an emulsion as my final AM moisturizing step.   This line is recommended for those who
Have sensitive oily skin

Have excess sebum

Want to maintain moisture and oil skin balance

Suffering from problematic skin (zits)

Frequently exposed to external stresses such as pollution

Want refreshing skin care

Teen skincare (welp, I am not a teen, but I guess I share their acne, oily prone skincare concerns!)
image credit swanicoco
Excess oil and dead skin cells will create blocked pores, which will allow bacteria to grow and cause inflammation in those clogged pores, resulting in acne.  It is a nasty cycle as all of those points can feed off each other and those who suffer from acne deal with most of those issues.  You can have acne with dry skin as well, due to the lack of clarifying and removal of dead skin cells.  Since these two products share similar ingredients and claims, I will focus on what is the same here and then once I get into each item, talk about its unique properties.

image credit swanicoco
Its star ingredients are
Tea Tree is known for its topical antiseptic and anti-fungal properties and help target and treat blemish-prone skin. It also reduces oil and sebum production on your skin, while not disrupting the moisture level.
Algin (algae) is a water binding agent that will condition and hydrate your skin, while softening and detoxing. It is rich in essential vitamins, minerals and antioxidants, which will protect your skin from free radical damage. It also will help increase skin cell regeneration and elastin, as it contains alguronic acid.
** Ceramides  are lipids (fats) which are important in helping to repair and protect your moisture barrier. They will  keep your skin hydrated and plump as they retain water. Ceramides are found naturally in your body and you lose the ability to produce as you age, so adding them to skincare products helps with anti-aging ** only in the emulusion
Besides tea tree, these products also has some great ingredients for oil, blemish control and soothing  healing benefits ~  such as comfrey  ~ used since ancient times for healing wounds and other skin issues ~ calendula has one of the longest histories of usage of any herb in skin care and helps heal chapped and irritated skin. It stimulates wound and burn healing and gets much of its healing properties from its high levels of carotenoids (similar to Vitamin A).  Mugwort has been used in traditional European herbal medicine to help heal skin wounds and contains a rich source of antioxidants. 
Acetamide MEA will attract moisture from the air and draw into your skin and along with humectants sodium hyaluronate and glycerin, will hydrate and keep your skin moist.  Neem helps control oil and treat blemishes, as it is an anti-bacterial, anti-septic, anti-fungal, anti-inflammatory product.  It has been used for centuries in India as part of an herbal beauty routine ~  it contains emollients, controls acne and provides anti-aging  properties due to its high concentration of antioxidants, keeping your skin healthy and soft. 4-terpineol helps cleanse and purify your skin and pores, and it comes from Australia Tea Tree oil without the irritation of pure tea tree oil.   
image credit swanicoco
Swanicoco help clinical trails over the course of 4 weeks with their A.C. Control Care Toner and Emulsion and 50% to 68% of their test subjects found that these products helped reduce blemishes, provide oil control and lessen greasy, oily skin.  Based on the questions about the color, scent, viscosity, absorption, lack of irritation and overall satisfaction, the toner received between 59% and 73% positive answers, whereas the emulsion received 55% to 73% positive answers. 
image credit swanicoco
Their trials also found that blemishes, whiteheads and blackheads did not increase, while overall skin condition did not worsen.  After 4 weeks, the trials found that sebum (oil) production had decreased by 23.11% 
The packaging on this set is identical ~ 120 mL tall clear glass bottles with a silver rim and a white plastic pump applicator.  I hope Swanicoco doesn't change the design on the A.C. line, like they did with the Fermentation Snail Care line ~ they went from bottles like this to a tall plastic bottle with a pin hole opening, making it hard to dispense products like the emulsion. The scent scent is very refreshing ~ I would describe it as a crisp, sweet lemony herbal scent, despite having tea tree as its first ingredient.

A.C Control Care Toner  I love toners.  If you follow my Instagram feed, you will see I am slightly obsessed with toners ~ and of all kinds ~ there are purifying AHA/BHA toners, clarifying skin balancing toners, astringent, watery hydration, milky moisturizing and then there are those that I like to call "hug my face" toners.  I have been using a lot of those hugg-y toners lately!  A.C. Control Care Toner is a "hug my face" toner and what I mean by that is this ~ it is has a water-PLUS consistency and it bounces on my skin, enveloping it with a wonderful hydrating layer.  It doesn't evaporate instantly and I know that I have applied a skincare product, as I can feel the effects long after it dries on my skin.   I really am enjoying this toner, as I do feel it not only hydrates and helps heal my blemishes, but also controls my oil, which I need in the warmer months.  Let's talk about why I feel that way

I feel that this lovely texture and feeling is due to its beta-glucan ingredient, which binds water to your skin while providing a moisture "film", giving my skin a smooth and baby soft texture.  It helps stimulate collagen production, so your blemishes and wounds heal faster, while providing anti-oxidant, anti-aging benefits. It also is an anti-inflammatory, providing soothing care for your skin, reducing redness and inflammation.  Another skin healing and soothing ingredient is zinc sulfate, which is beneficial to acne prone skin, as it will help heal blemishes.  A.C. Control Care Toner does contain a couple of citrus peel oil, but those are way down the end of the ingredient list and there aren't a lot of triggers in this product, according to cosDNA.  I will put in a word of caution using cosDNA ~ they do a great job of identifying potential acne and irritating ingredients, but they also err on the side of caution.  Some items that they mark as acne or irritating ingredients are in a LOT of skin care, so the best advice I can give you is know your skin, know what is in your skincare products and how it works for you ~ just because cosDNA states it could be an acne trigger, doesn't mean that is how it could behave on your skin. .

This toner is a 5.7, so I consider it a skin balancing toner, not an exfoliating one.

The increase on moisture on my skin is a respectable 27%, but what really impressed me is the decrease in oil ~ a whooping 41% reduction in oil, which means this toner is what it claims to be ~ an oil controlling product.  This is the proof I needed to supplement my feeling that this product was helping decrease the oil on my skin.
Toner Ingredients: melaleuca alternifolia (tea tree) leaf water, hydrolyzed algin, zinc sulfate, butylene glycol, sodium hyaluronate, glycerin, erythritol, azelamide MEA, 4-terpineol, biosaccharide gum-1, beta-glucan, punica granatum fruit extract, ficus carica (fig) fruit extract, morus alba (mulberry) fruit extract, ginkgo biloba nut extract, artemisia annus extract, calendula officianlis flower extract, symphytum officinale (comfrey) leaf extract, helichrysum italicum (everlasting) extract, azadirachta indica leaf extract, paeonia suffruitcosa root extract, scuttellaria baicalensis root extract, allantoin, dipotassium glycyrrhizate, polysorbate 80, citrus nobilis (mandarin orange) peel oil, citrus auranium dulcuis (orange) peel oil, arginine, carbomer, 1,2-hexanediol  cosDNA analysis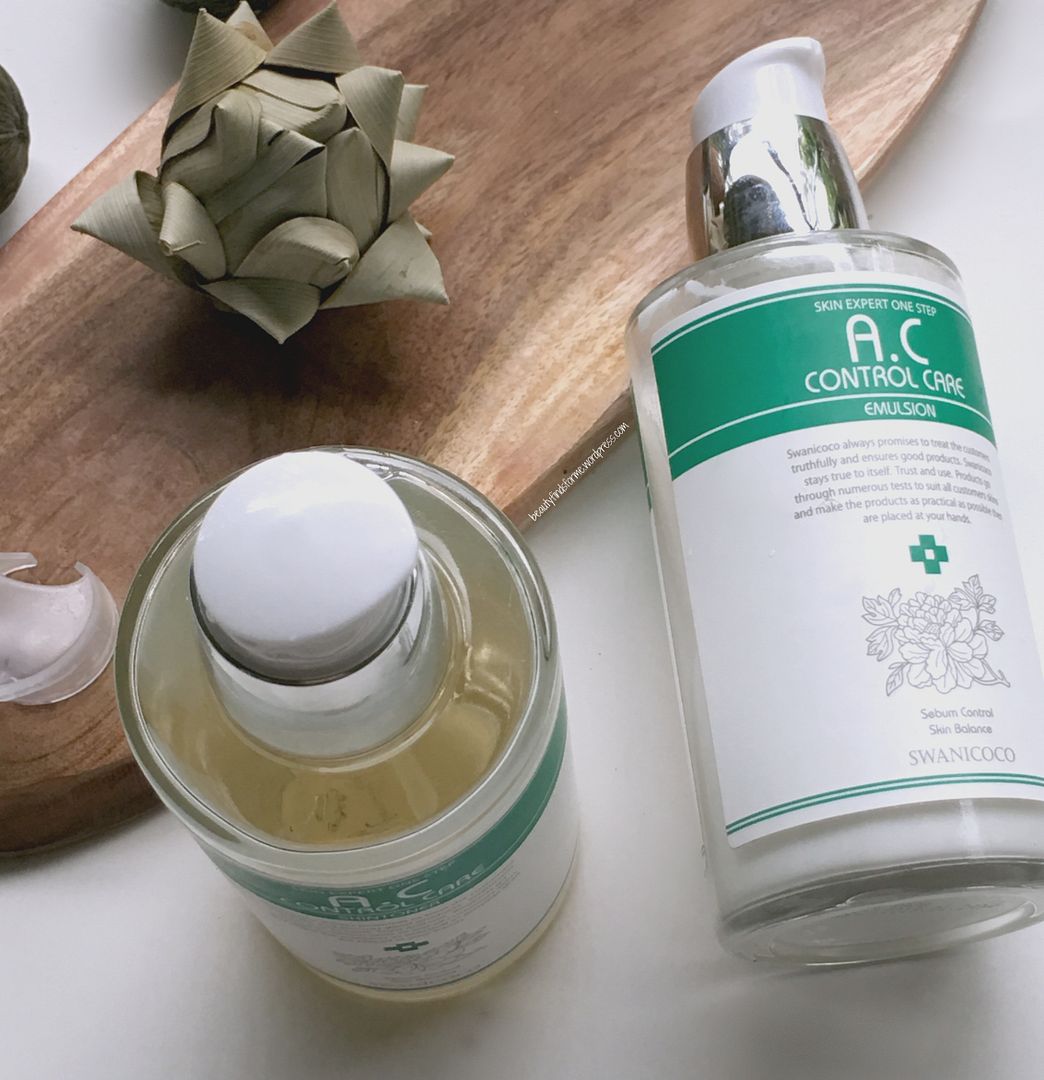 A.C Control Care Emulsion Twins!!  Well, almost… I usually shun creams for the most part in my day time routine.  I find that after I apply all my hydrating layers, the final moisturizing step can be a lightweight lotion or an emulsion (which is really a lotion, imho).  This emulsion by Swanicoco shares many of the same ingredients as the toner, but has additional emollients and moisturizers ~ ceramides, which repair and protect your moisture barrier and  jojoba seed oil, helping to attract and retain moisture, penetrates easily into your skin, aiding in your skin's increased flexibility and elasticity. It also has fermented soybeans, one of my favorite anti-aging ingredients ~ fermented ingredients can have a greater concentration of antioxidants and can be more efficient in reducing wrinkles and hyper-pigmentation, as well as reducing toxins in your skin.   It also contains allantoin, which moisturizes, exfoliates and softens skin, making it look smooth and refined, while reducing and relieving irritation.  This does have some citrus oils as well, just like the toner, but they are near the end of a long ingredient list. 
Two key ingredients that are in the emulsion for blemish busting, pore control benefits are willow bark, which is a BHA (beta hydroxy acid) , helping to exfoliate skin by removing dead skin cells and also contains salicylic acid, to help combat acne. Willow bark is also high in anti-oxidants, which tone and reduce inflammation as well as being an astringent, to control oil. Salicylic acid is fat soluble, so it can really get to the oil that is inside your pores.  Hinoki cypress (chamaecyparis obtusa) has antiseptic, anti fungal and antiviral properties to heal blemishes and minor skin issues, like abrasions and rashes, and purifying your skin.
This emulsion has the same great scent as the toner and it is a nice light weight lotion, that glides on easily and absorbs quickly without any sticky or greasy residue.  In fact, if my face is still "drying" down from the toner and I apply the emulsion over it, it seems to help the toner absorb quicker.  This is more of an moisture-oil balance product, as it pretty much evenly increased my moisture and oil by around 20%.
I don't really need to use that much, as it really does a nice job moisturizing my skin for day time use and this 120 mL bottle will last me several months.

Ingredients: melaleuca alternifolia (tea tree) leaf water, hydrolyzed algin, zinc sulfate, butylene glycol, heptyl undecylenate, sodium hyaluronate, isopropyl myristate, cetearyl olivate, sorbitan olivate, erythritol, 1,2-hexanediol, ceramide NP, simmondsia chinensis (jojoba) seed oil, diheptyl succinate, capryoyl glycerin/sebacic acid copolymer, allantoin, dipotassium glycyrrhizate, azelamide MEA, lactobacillus/soybean ferment extract, salix alba (willow) bark extract, cinnamomum cassia bark extract, origanum vulgare leaf extract, chamaecyparis obtusa leaf extract, scutellaria baicalensis root extract, portulaca oleracea extract, artemisia annus extract, calendula officianlis flower extract, symphytum officinale leaf extract, helichrysum italicum (everlasting) extract, azadirachta indica leaf extract, paeonia suffruitcosa root extract, glycerin, biosaccharide gum-1, polyglyceryl-3 methylglucose distearate, tocopherol, 4-terpineol, citrus aurantium bergamia (bergamot) fruit oil, citrus auranium dulcuis (orange) peel oil, lavandula angustifolia (lavender) oil, cedrus altantica bark oil, sorbitan sesquioleate, polysorbate 60, xanthan gum, carbomer, arginine
cosDNA analysis
image credit swanicoco
Final Thoughts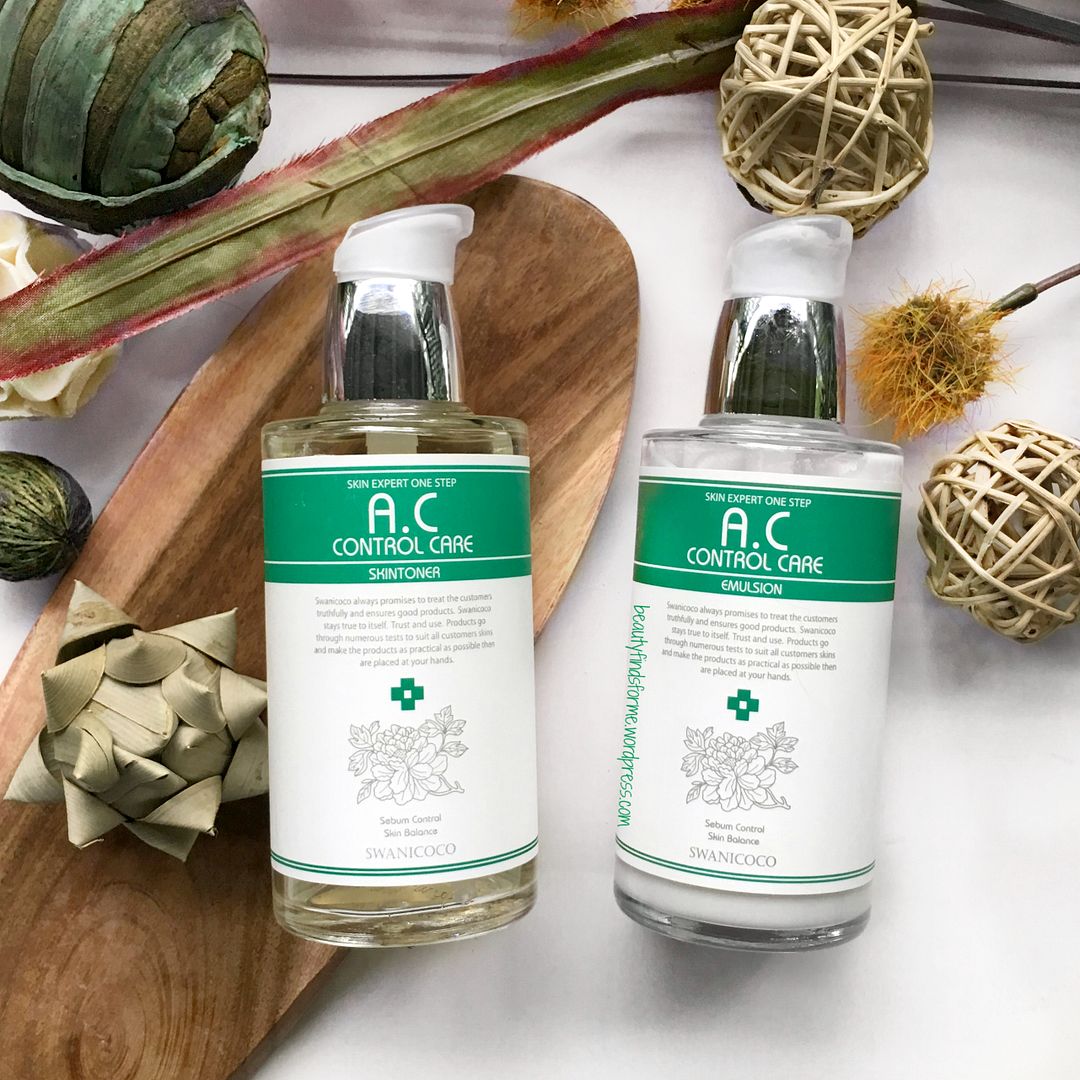 I adore and love the A.C. Control Toner  ~ that is the standout item out of this duo.  Don't get me wrong, the emulsion is excellent as well, but I love how the toner feels on my skin so much that I feel it needs some extra gold stars!  This set really appeals to me because not only does it help control my oil and heal blemishes, while reducing redness, it plumps up my skin with moisture with hydration.  They do not leave a film on my skin and they are so lightweight, that they are perfect for the hot and humid summer months ahead.  I already put this to the test during a recent heat wave where I live, so I can say that these products really helped beat the grease off my face.  Also, for those who don't like tea tree scents, but want the benefits from using a tea tree product, this is a great choice, as it is a nice refreshing and uplifting scent.

Have you tried any Swanicoco products?  Which ones and what did you think about them?  Let me know in the comments below as I would love to read your thoughts!
Where to Purchase
Currently, YesStyle is the authorized retailer and they do ship internationally.  Currently, W2Beauty is now the authorized retailer and they do ship internationally.  They carry a huge line of Swanicoco ~ not just the skincare lines, but body and makeup lines as well.
The A.C. Control Care line contains several products besides the toner and emulsion and W2Beauty carries some of them.
What is Next
I was fortunate enough to get a second PR package from Swanicoco that will be targeting my need to improve and brighten my skin tone, reducing hyper-pigmentation. From the lower left and going clockwise

Kevin also thoughtfully added two sunscreens for me to try as I am going a bit hard core with the AHA product ~ Daily UV Shield Perfect Sun Block Cream SPF50+ PA+++  with green tea and Bio Cool Mint Sun Gel SPF50+ PA+++.   I am currently using the Fermentation Serum, AHA 10% Peeling Cream and Bio Cool Mint Sun Gel. I will be reviewing all of these products at my blog.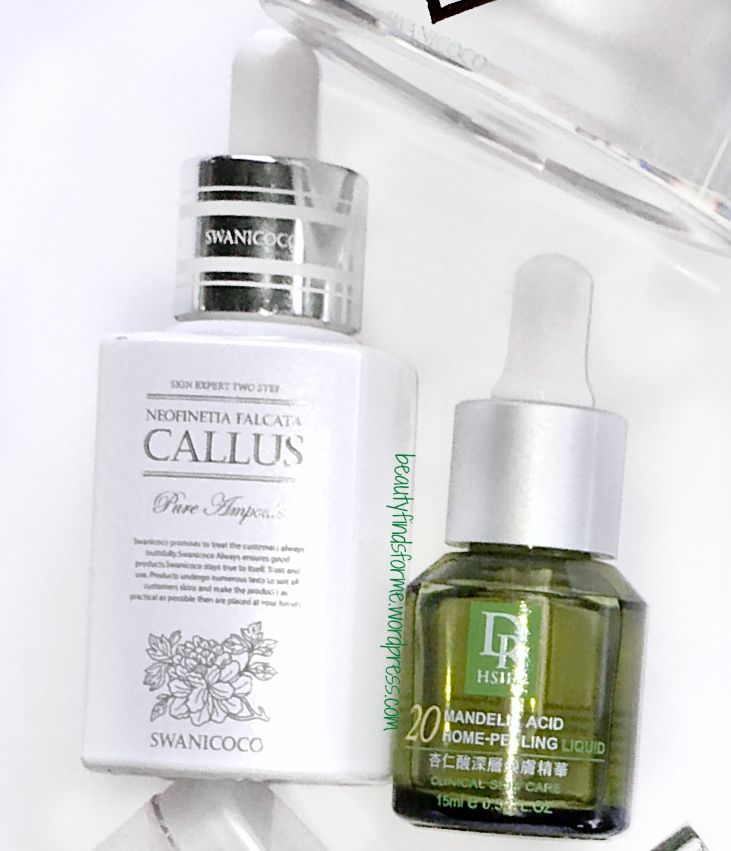 I also had purchased Swanicoco Neofinetia Falcata Callus Pure Ampoule on my own and that was languishing until I started using it with Dr Hsieh 20% Mandelic Acid Peel ~ I will review those two products together in the near future as I feel that they really work well together to get the best results.   I do not use the AHA 10% Peeling Cream nightly, as it is very intense on my skin. I use it a couple of times a week and then on 2 other nights, I use the Dr Hsieh 20% Peel with Swanicoco's Neofinetia Falcata Callus Ampoule.  I take a break 3 nights a week from acids. As you can tell, I am getting really serious about trying to lighten some of the sun damage that I have on my face. I am tired of seeing these blotches and am hoping for long term results with these products.

[ disclaimer: products received for review purposes. contains affiliate links. all opinions are my own & unbiased.  ]