[ disclaimer: product received for review purposes.  contains affiliate links ]
Rachel at Naruko Boutique told me about a new product several months ago which contained royal jelly, pearl and caviar extracts ~ I was very interested and when it finally came out last month, Naruko sent the La Creme Eternal Youth Caviar Pearl Serum to me for review purposes.  I love Naruko products ~ they weren't my first Taiwanese skincare brand that I tried, but they are my favorite!
 Skin Type/Concerns: Oily, blemish prone, aging skin with fine lines/wrinkles and hyper-pigmentation (both sun damage and PIH)
image source
This is not a vegan product as it contains deep sea sturgeon roe (caviar) which is full of proteins, vitamins, amino acids, minerals and growth factors, producing skin firmness, elasticity and helping cellular turnover while keeping skin nourished, healthy, smooth and glowing. This contains 25% of pearl powder/pearl whitening mixture, which helps blur blemishes, spots and other issues and will improve your skin tone overall, keeping it radiant.  Royal Jelly, from honey bees, it contains B-complex vitamins, nucleic acid, flavonoids, essential fatty acids, amino acids, enzymes, minerals and natural antibiotic and antibacterial compounds. It is an anti-aging ingredient as well, as it can increase collagen production in your skin.  Niacinamide is a powerful antioxidant that acts as an anti-inflammatory, improves your skin elasticity, enhance the skin barrier function, evens out skin tone and reduce post-inflammatory hyper-pigmentation.
A blend called Abeille Royale Firming Factor is made with bee venom anti-aging peptides, enzymes and  amino acids along with honey, this will aid in cellular renewal, reduce fine lines and wrinkles, improve skin elasticity and tone.  Bee venom is called Nature's Botox and it stimulates and increases collagen product and elastic to smooth your skin, reduce the appearance of fine lines and wrinkles, plump and tone our skin. It does this because applying bee venom to your skin fools your skin into thinking it has been stung and it will increase blood circulation to that area. Honey has antibacterial properties, that can speed up healing in your skin ~ think acne, rashes, cuts ~ and prevent additional infection. Not only does honey keep moisture in your skin, but it is humectant, which means it attracts moisture too! Honey is also an antioxidant, which means it helps repair and combat any damage caused by free radicals and prevents premature wrinkling
With sodium hyaluronate,  glycerin and sodium carboxymethyl beta-glucan, this serum will keep your skin hydrated and retain moisture, soothe and protect skin from external stresses.
image source
Actuat E60™ is a blend of 60 natural botanic ingredients, which many are used in Traditional Chinese/Asian Medicine. Many of these ingredients have been researched extensively and studies produced to prove their skincare benefits ~ such as skin tone brightening and softening peony root, Job's Tears,  licorice and mulberry, soothing and anti-inflammatory centella asiatica and chamomile, hydrating tremella and sakura (cherry blossom) will hydrate and help keep moisture in, thus preventing dry and tight skin.  anti-oxidant and anti-aging ingredients of green tea, ginseng and ginger ~ just to name a few!  These ingredients will help with brightening,  hydrating, firming and toning of your skin.
image source
Ingredients: water, butylene glycol, niacinamide, propylene glycol, cyclopentasiloxane, isononyl isononanoate, octyldodecanol, titanium dioxide (CI 77891), mica, PEG-60 hydrogenated castor oil, phenoxyethanol, sucrose stearate, tranexamic acid, carbomer, triethanolamine, xanthan gum, glycerin, chlorphenesin, royal jelly extract, 1,2-hexanediol, calcium alginate, agar, fragrance, dipotassium glycyrrhizate, sodium methyl stearoyl taurate, triethoxycaprylylsilane, ethylhexylglycerin, honey, sodium hyaluronate,  iron oxide red (CI 77491), iron oxide yellow (CI 77492), aniba rosaeodora (bois de rose/rosewood) wood oil, maris sal, pearl powder, hydrolized elastin, sodium carboxymethyl beta-glucan, citrus aurantium amara (bitter orange) leaf oil, cymbopopgon martini oil, phospholipids, corallina officinalis extract, iodopropynyl butylcarbamate, hydrolyzed roe (caviar), achillea millefolium extract, actinidia chinensis (kiwi) fruit extract, aesculus hipposcastanum (horse chestnut) extract, alchemilla vulgaris extract, aloe barbadensis leaf extract, ananas sativus (pineapple) fruit extract, arctium lappa root extract, arnica montana flower extract, artemisia umbelliformis extract, calendula officinalis flower extract, camellia sinensis leaf extract, centella asiatica (gotu kola) extract, chamomilla recutita flower extract, chondrus crispus (carrageenan) extract, citrus grandis peel extract, corallina officinalis (algae) extract, cucumis sativus (cucumber) extract, equisetum hiemale (horsetail) extract, ginkgo biloba leaf extract, glycyrrhiza glabra root extract, hamamelis virginiana (witch hazel) extract, jobs tears (coix lacryma-jobi) water, kalanchoe pinnata leaf extract/kalanchoe spathulata leaf extract, ledebouriella divaricata root extract, leontopodium alpinum extract, malva sylvestris (mallow) extract, melissa officinalis extract, mentha arvensis leaf extract, morus alba (mulberry) root extract, narcissus tazetta bulb extract, oryza sativa (rice) bran extract, panax ginseng root extract, papain, peony (paeonia suffruticosa) root extract, peucedanum ostruthium leaf extract, pisum sativum extract, plantago asiatica seed extract, polygonum cuspidatum root extract, poria cocos extract, pueraria lobata root extract, rhodiola rosea extract, rosa damascena flower water, rosmarinus officinalis (rosemary) leaf extract, sakura (prunus yedoensis) leaf extract, salvia officinalis (red sage) leaf extract, sambucus nigra flowers, saxifraga sarmentosa extract, scutellaria alphina flower/leaf/stem extract, tremella funciformis sporocarp extract, thyme (thymus serpillum) extract, tilia cordata (linden) extract, triticum vulgare protein, undaria pinnatifida extract, veronica officinalis (common speedwell) extract, vitis vinifera (grape) fruit extract, willow (salix alba) bark extract,  zingiber officinale (ginger) root extract, glycosaminoglycans, sphingolipids, bee venom, glycogen, potassium sorbate, propanediol cosDNA analysis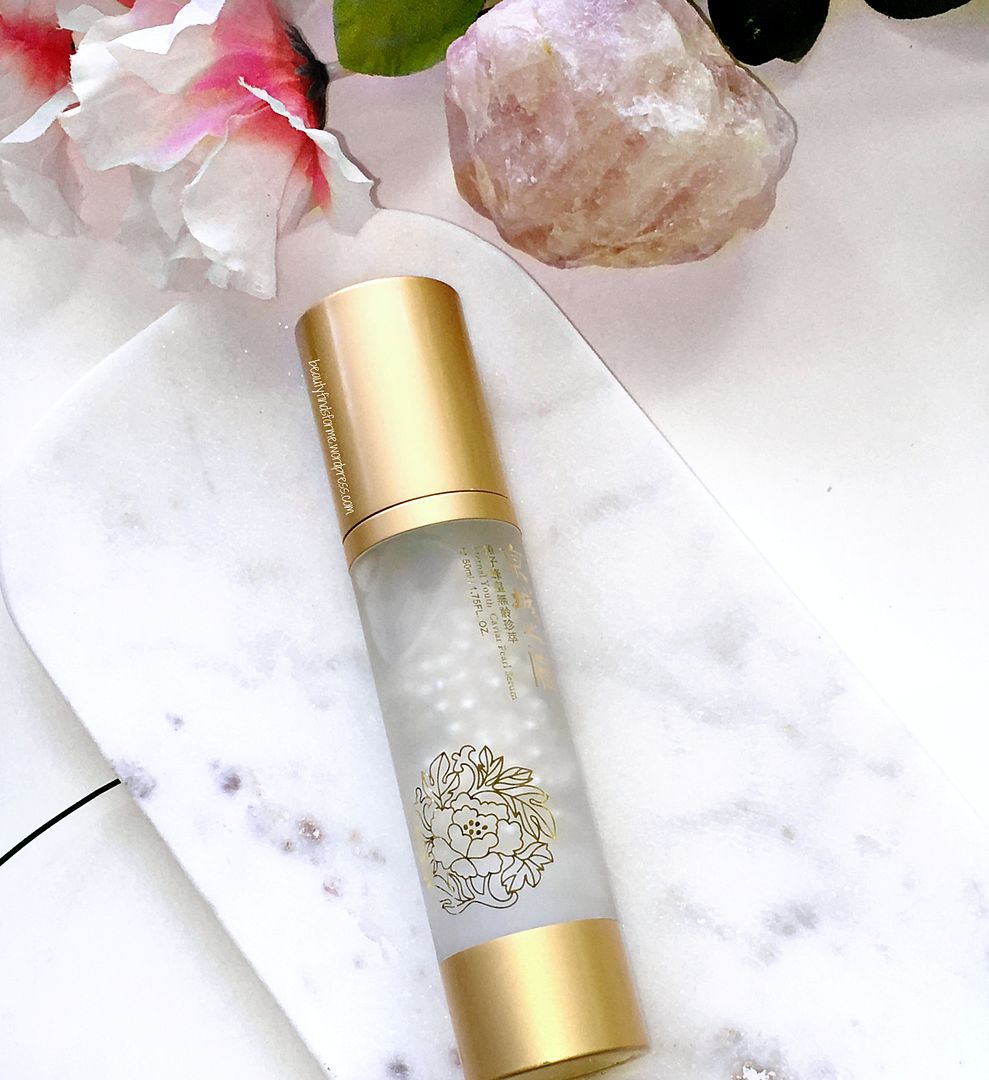 This serum will provide
Intense moisture
Prevent signs of aging
Smooths fine lines and softens skin
Revitalizes skin and boosts elasticity
Increases collagen levels
Brightens up dull complexion 
Blurs blemishes and adds radiance  
Soothes and calms skin  
Repairs and strengthens skin barrier
This comes in a beautiful tube ~ all of the La Creme items are just packaged so beautifully.  The tube has matte gold finish end caps and lid with a frosted clear tube in the middle.  Gold lettering and a floral design completes the piece.  The tube is plastic, but it is not flimsy or lightweight ~ there is a lot of heft to this product!  You can see "pearls" swirled inside the tube, suspended in a gel substance.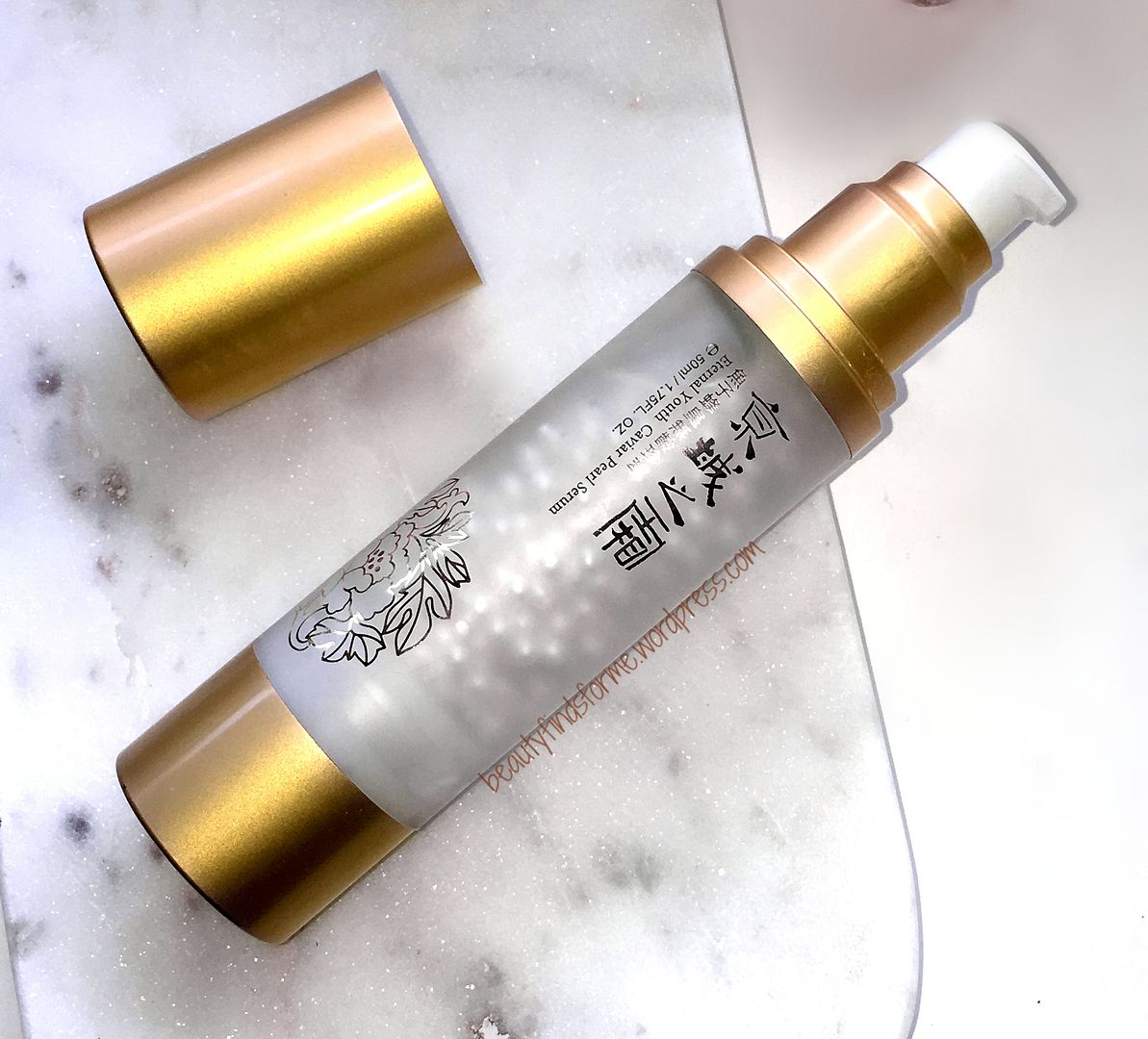 This has a handy vacuum pump applicator~ it doesn't squirt the product out, but gently deposits it on my skin. The serum is pretty darn amazing looking ~ in the bottle, you have the swirls of "pearls" suspended in a gel, but as you pump it out, it mixes the gel and "pearls" together, so you get a silver-white gel ~ when I spread it out, I can see what I believe are the mica and pearl powder in here ~ they are the silver white chunks.  At first, I was worried that this was not going to absorb nicely into my skin, because of the chunks, but they dissolve quickly and if I massage and pat in the serum, there are no bits left on my skin.  It does not leave a tacky residue on my skin once it is fully absorbed. 
DAT GLOW.  Due to several ingredients, such as the aforementioned mica and pearl powder, plus titanium dioxide, you can see an amazing glow on my skin.   The two photos on the left are in natural daylight and the last photo on the right is with flash ~ just to see the glow!  It isn't a strobe cream, but a nice subtle glow on my skin, which helps blur and hide imperfections, like blemishes and spots.  It also leaves my skin soft and smooth too.
Now, it looks golden or pink, depending on the lighting, but the serum actually is a bright clear silver-white glow.  I put some on a piece of white paper and you can see that it is not reflecting anything back but a silver glow ~ any subtle colors there are due to the light bouncing back and being reflective.  This serum will pick up whatever colors you have on your skin tone and the existing light and will reflect that back.   This doesn't leave a white cast on me, so I do think that many skin tones can use this product.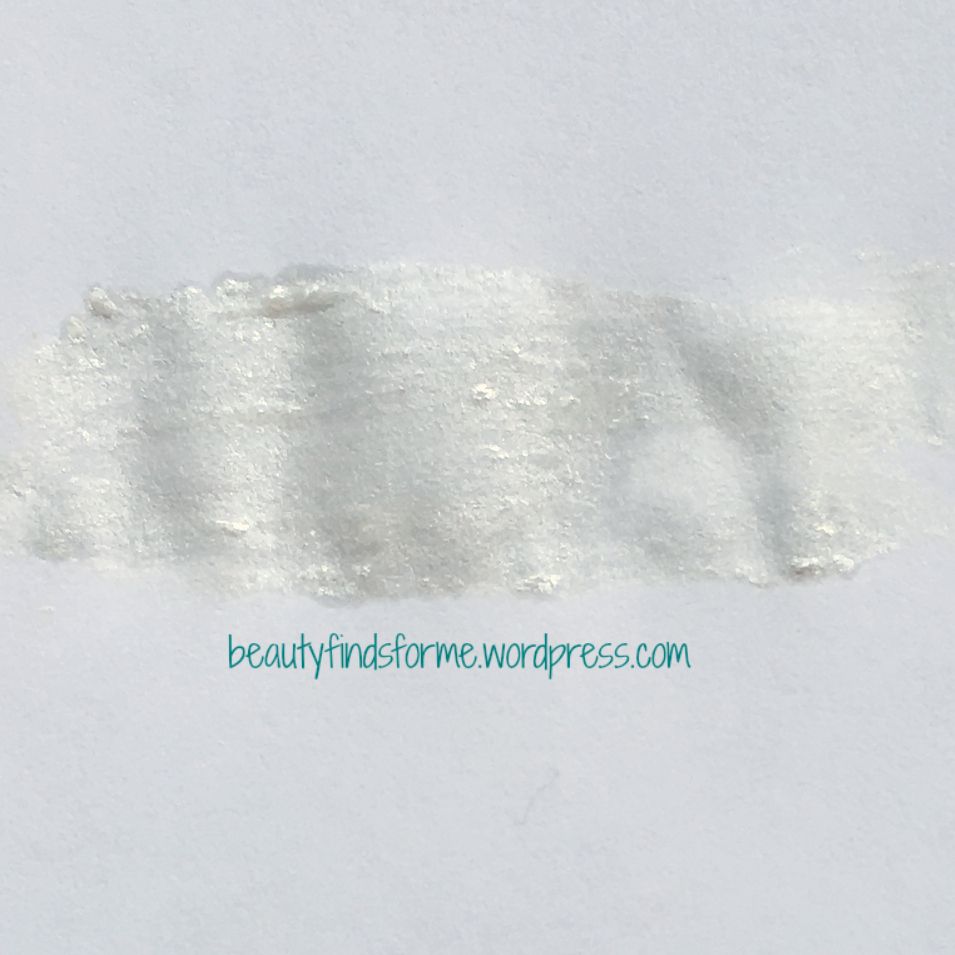 I did do a live video of an initial swatch test 
This does have a scent.  It does smell like fresh rose, not perfume-y rose.  As you know, I am allergic to rose and looking at the ingredient list, I did see rose water ~ but at the end of a very long list of ingredients.  This should not be an issue for me and it wasn't.  I was confused why the scent was so strong ~ and I think I know why.  Fragrance is at the top of the list here, but so is this ingredient ~ aniba rosaeodora oil, which is Bois de Rose.  This is an evergreen tree, not a flower and Bois de Rose actually means "wood of rose" and it has a rose like scent to it.  It not only has a rose scent, but it is also used for rejuvenating aging skin, helping with wrinkles and elasticity.  Bois de Rose is used quite a bit in perfumes, so yeah, I think I found my rose scent culprit here ~ this is why I wasn't sneezing, because it was not a rose!  The Bois de Rose tree is quite stunning in its appearance (see here for photos) ~ its uses are carefully monitored and controlled by the Brazilian government, as this tree is an endangered species.  
La Creme Eternal Youth Caviar Pearl Serum increased my oil/moisture levels by 20% and it does feel extremely moisturizing initially, but then it seems to dry down quickly.  It isn't drying on my skin, but I do think this this product is more suited for oily skin types than dry skin types because despite the glow-y finish, it is more of a matte like finish ~ its hard to explain, but you can have a glow-y product that has a satin/matte finish ~ Stila makes a matte metal lipstick, for example.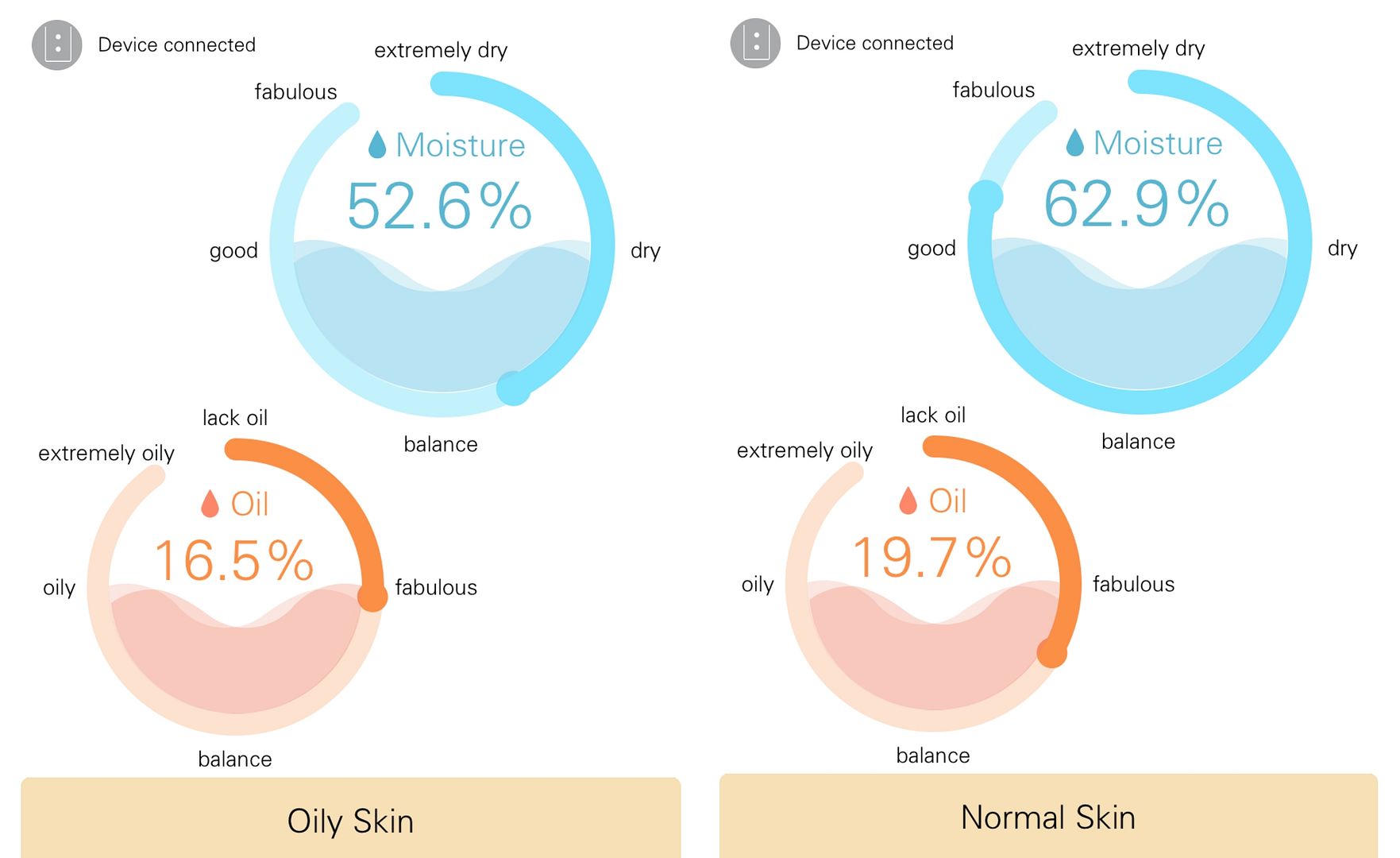 Unboxing Beauty Tip


I did enjoy the glow of this serum, but since I wear foundation, I found it was lost after I applied my foundation over it.  So, I tried a little makeup mix ~ I took some of my foundation and some of the serum, mixed it together and got a nice coverage with some glow.  My skin below might look a bit dry, but that is because I didn't prep my hand before I applied this mixture ~ on my face, I would have applied other skin care products so the foundation+serum mix would have applied smoothly.   I actually like this beauty hack, as it takes my matte foundation and adds just a bit of luminous glow to it, while providing the oil control and coverage that I need. 
Final Thoughts
Let's recap the claims and see how this serum performed!  
Intense moisture  ~ not sure about the intense moisture, but it did increase by 20%
Prevent signs of aging ~ I am already aged!  lol  It does have a solid pedigree of ingredients that are anti-aging, so it will help in your quest for slowing down time on your face
Smooths fine lines and softens skin √
Revitalizes skin and boosts elasticity √
Increases collagen levels ~ I have no way of measuring that
Brightens up dull complexion √√√√√√√
Blurs blemishes and adds radiance √√√√√√√
Soothes and calms skin √ 
Repairs and strengthens skin barrier ~ my skin barrier is pretty strong, so I am not sure how to measure that
My √√√√√√√ is because I really feel strongly about those benefits!  I feel that the La Creme Eternal Youth Caviar Pearl Serum really works well as a diffuser, scattering the light in different direction, so it hides and blurs blemishes and skin imperfections. The glow certainty adds radiance to my skin but make sure you moisture your skin well first, as I felt that it can also accentuate fine lines and wrinkles if you apply this on dry/drier skin. It can settle into your fine lines, and then you would see the glow there, which isn't what you want (or at least what I want!).  I found that I really loved this serum when I mixed it with my foundation, as it gave me a nice subtle glow with the coverage of my foundation.  As stated before, I do think this might be better suited for oily and oily/combo skin types, as there was something about this serum that just led me to feel that it might be drying for dry skin types.  I could be wrong on that ~ there could have been other factors at play when I came to that conclusion.  La Creme has several skin care items that are for drier skin types than my own, but they could be branching out in this line for oily/combo skin types.  This worked well for my oily skin ~  it was hydrating, calmed my skin and left it soft and smooth.   
The packaging on this is amazing and it really looks so pretty with the swirl of silver pearls with the matte gold and frosted plastic tube.   It does have a strong floral scent that doesn't disappear quickly ~ it takes a while, when used on its own ~ that is why I like mixing it with another product.  All in all, La Creme Eternal Youth Caviar Pearl Serum is a beautiful product that has anti-aging benefits and is really a fantastic diffuser and radiant glow skincare item.  Have you tried this serum yet?  Are you interested in doing so?  I feel I will be using it all this summer, to add a bit of healthy shimmer to my skin.   Many thanks to Naruko for offering me the opportunity to try out their latest skincare item! 
Where to Purchase
Naruko, of course!  Naruko has several different stores around the world too
Naruko USA  Naruko USA will also give free gifts and you earn points when you purchase at their store.  These reward points then can be converted to spend on any product you want.  Don't be afraid of some of the prices on the website, as Naruko automatically gives a discount when you add it to your cart ~ the prices I have displayed below are the discounted prices.  For USA orders, if you order $40.00 or more, you automatically get free shipping.  Naruko USA will ship internationally, so check here for more information.   The La Creme Eternal Youth Caviar Pearl Serum (50mL) can be purchased alone or with other products
La Creme Eternal Youth Caviar Pearl Serum  $66.00  This also comes with 2 free gifts: Travel Size of Naruko 60 Actives La Creme and a box of Facial Spa Massage Cotton Pads 
La Creme Eternal Youth Caviar Pearl Serum  + Gift B  $99.00  This includes:  La Creme Face Renewal Miracle Essence (full size), 60 Actives La Creme (travel size)  and NRK Sculptra Perfect Youth Recovering Mask 5 pcs.  I recommend this one!  The Miracle Essence is my bae (review here)  
La Creme Eternal Youth Caviar Pearl Serum + Gift A   $129.00  This includes: 60 Actives La Creme EX (full size), 60 Actives La Creme (travel size) and La Creme 5-D Lift Firming Serum (full size)
La Creme Eternal Youth Caviar Pearl Serum + Gift C $99.00   This includes: 60 Actives La Creme EX (full size) and  60 Actives La Creme (travel size)
La Creme Eternal Youth Caviar Pearl Serum  + Gifts $159.99   Includes: La Creme Gold OPTimum Brightening Complex (full size), La Creme Supreme Rejuvenating Elixir Oil (full size), 60 Actives La Creme EX (full size)  and 2 of 60 Actives La Creme (travel size)
[ complementary product received for review purposes. contains affiliate links ]