[ disclosure: products received complementary for review purposes.  contains affiliate links ] 
Back in April, I was contacted by Mont Bleu, a Czech Republic company that specializes in glass nail files and accessories.  They offered me anything I wanted to choose from their online shop and it took me a day or so to figure out what I wanted, because I WANTED SO MANY THINGS.  Their online shop has some amazing products  ~  I am so grateful for the opportunity from Mont Bleu and happy to review these fine products.  
Basic Information
Mont Bleu is headquartered in the Czech Republic and they produce high quality products.  They traditionally forged their twice tempered lead-free glass in Bohemia to produce files that can be used intensively with no degradation in quality.  They use hardened Czech glass alloy, which is known for its durability and temper the files again, so they are even more strong and will last for years ~ guaranteed.  With strong, finished glass files, they will not absorb moisture or bacteria and can hold up to high temperature sterilization.  The glass files are double sided, meaning they have the grit on both sides of the filing surface and they have a lifetime guarantee on the abrasive surface, that will never wear out. You can get their files in clear or colored glass, hand painted or hand decorated with Swarovski crystals, which are famous light reflecting crystal glass gems.  
3 Set Transparent Crystal Nail Files in Waterfall/Fuchsia-Light Rose  Mont Bleu not only sells their files individually, you can purchase them in sets as well.  They have so many different designs and colors and I chose the Waterfall design with Fuchsia-Light Rose Swarovski crystals.  These come in their own individual black velvet sleeves, making them perfect for gift giving too.
The largest one is 7.68 inches in length and has a rounded edge ~ I like using that one as my pedicure nail file as it has a longer reach and a wider area for my bigger toe nails.  The medium is 5.32 inches and small is 3.54 inches and they both have the traditional pointed end, making it easy to file down, smooth and shape my fingernails.  Glass nail files are very effective, but gentle on your nails ~ they will not cause them to split or tear ~ these have a cool holographic sticker, verifying authenticity.
The medium size one is great for the home, while the smaller version is perfect for travel, your purse or your desk at work.  The crystals just sparkle and shine and I wish my photos could do them justice.  This is a beautiful design and I love the colors that range from a deep fuchsia to light pink and clear.   RV $30.55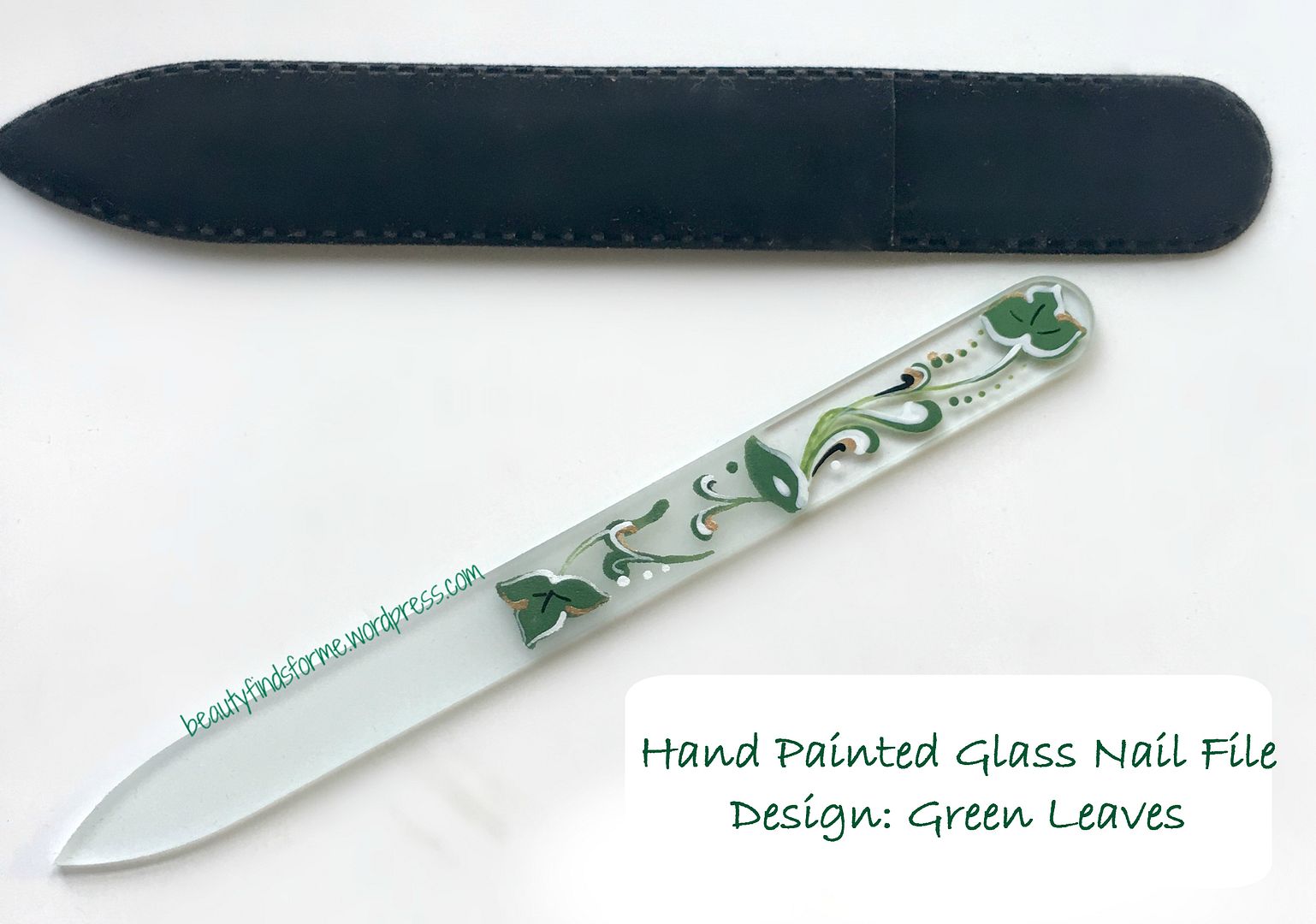 Hand Painted Glass Nail File in Green Leaves  Now, if bling bling ain't your style, Mont Bleu also has plain and colored crystal glass files and then.. hand painted files. Each glass file is hand painted by an artist and every color and brushstroke is unique and carefully applied.  There will be color variations from the photo ~ the one I have is Green Leaves and it is a nice solid green shade, whereas the online shop shows a more bright yellow-green.   I actually like mine version better!! haha     Look how beautiful that is ~ you can see the paint brush strokes on the vines. 
The hand painted nail files are the medium size ~ 5.32 inches in length and 2 mm in thickness, with a pointed tip.   They have flowers and roses as well as the leaves design in a variety of colors and they are very affordable at under $7.00 and also come in a black velvet sleeve.

Dual-end Glass Cuticle Pusher for Manicure and Pedicure in Purple This is so pretty in person ~ it looks like candy!  This has a hand finished glass body ~ one end has a slanted head that is used to gently push back cuticles ~ I make sure to soften my cuticles first, by soaking my hands in water and then applying an oil or cream before pushing them back.
The other end is pointed and that is for cleaning the edges of your nails ~ both ends are textured and have abrasive surfaces so that it can adhere to your nails and cuticles for control.  The middle part is smooth but it is easy to grasp. This cuticle pusher comes in several colors and is 3.62 inches in length, has a diameter of 7mm and comes in a protective plastic pouch.   RV $6.79
"Cracks" Foot Scraper & Callus Remover  in Blue  This is one awesome looking product.  I am obsessed with my feet and now with the warmer months = sandals, I take extra care of my feet.  This is a heavy, double sided pedicure rasp that has an extra coarse gritty side for hard skin, callus and corn removal and the flip side is less coarse, so that is for finishing, massaging and smoothing your soles of your feet.  This has a cool crackle finish on the handle of the file and like all of their glass files, this is made with twice tempered glass, forged in the Czech Republic and will stand up to years of use, removing dead, hard skin, corns and calluses.
This has a clear plastic pouch to protect it from dirt and dust and the file is 6.3 inches in length and almost a quarter of an inch thick.  I recommend using this rasp on your feet after you bathe or shower, so it can really remove the skin easily ~ it is gentle to use and it is also safe for diabetics, which is really important, as I do remember my father having issues with feeling in his feet.   Both sides are gentle but they work!!  I use foot peelers and this really helps remove all of that dead skin.  This comes in a plain glass, crackle glass, silver crackle and gold crackle finishes in a variety of colors.  You can sterilize these in boiling water or an autoclave and these also have a lifetime guarantee on the abrasive surface. RV  $18.10
Mont Bleu also makes manicure sets ~ you can get them in several configurations and different color and shape variations.  I chose the 5-Piece Elegant Solingen Women Manicure Set in Dark Blue Leather Case/Turquoise & Crystals.  This is a great mini travel kit and all it is missing for me is a cuticle nipper ~ it comes in a lovely dark blue cowhide leather case with a black velvet interior, with a push button to open.  It holds a nail scissor, cuticle scissor, nail clipper, slant tip tweezer and glass nail file.  The tweezer is with rubber for comfortable non-slip useage and both the tweezer and glass nail file come in a variety of colors, decorated with Swarovski elements.   The clippers, tweezer and scissors are made from stainless steel, making it anti-corrosive and longlasting.  The set is made in Solingen, Germany with the nail file made by Mont Bleu.  Whew! There is a lot in here!  It all fits nicely in the case
It is very compact and fits neatly away in my purse.  I did mention I was missing cuticle nipper ~ I like that better than the scissors, but the scissors can be used for other uses besides nails.  The hand sharpened scissors are gently curved so they fit to the shape of my nails and they are in a matte finish. I like having a small set like this on me, as I bite my nails and tear at my hangnails~ this is better than doing that ~ just take it out from my purse and use the proper tools instead of tearing at my hands.  I am really impressed by this mini set ~ it is so well made and everything fits so nicely in the case.  RV $56.00
I am really happy with these items and I do think these are quality made products that will last a long time.  They also work exceptionally well for me and so long you don't abuse them, they will last you for years.   In case you think the items I picked out is just way too girly for you, there are some great black, grey, clear and stainless steel options without all of the crystals.  Mont Bleu has designed collections for many tastes!
Where to Purchase
All of the products I reviewed can be found at Mont Bleu's main e-Shop, which carries hundreds of designs and other items ~ they have key rings, compacts, mirrors and jewelry.   You can save 20% off your purchase by using promo code BLOG. They ship internationally and offer free shipping with purchases $50.00 or more USD.

You can also find selected Mont Bleu items at USA Amazon, where you can take advantage of Prime Shipping.
If you are a wholesaler and wish to partner with Mont Bleu, they have a wholesale site as well.

Learn More
Mont Bleu is on all of the major Social Media Sites and you can learn more about their products, how they craft them and the materials they use.
[ disclosure: products received complementary for review purposes.  contains affiliate links ]