[ disclosure: product received for review purposes. contains affiliate links ]

I got my May box just a couple of days ago and once again, I have my review up right before June starts! The theme this month is "Vacation ~ All I Ever Wanted"   Peaches & Petals is a subscription service that is focused on lifestyle and beauty products.  From their website  "Experience our world of fun, flirty and fashionable vintage-modern lifestyle in a hand-curated box delivered to you each month"  This box was sent to me for review purposes from Peaches & Petals and I thank them for their generosity as always 🙂  I am always appreciative of companies who look for honest feedback on their services.
Informational Card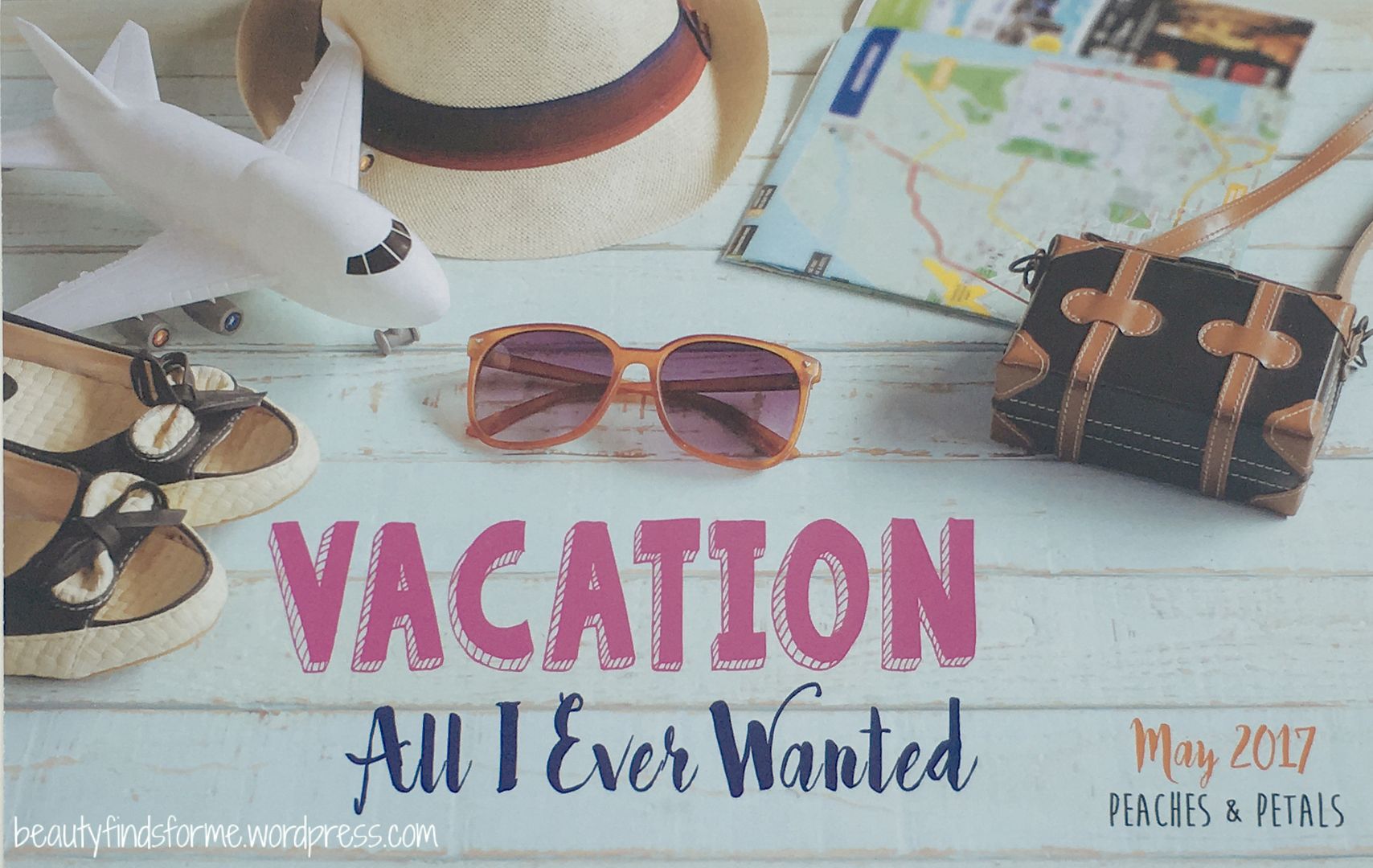 Explanation on valuing products:  Since Peaches & Petals does not give a value on their products,  I normally will use the Retail Value from the vendor's site or an average if I find the product on multiple sites with varying prices.  Subscription boxes are usually basing their value on Retail Value, not Markdown or Sale Values.  With that in mind, you can usually find products for less, just like anything else in the marketplace.
Umbra "So She Did" Magnetic Board   Kinda "She Persisted", huh?  I love this board.  I never knew I needed one until I got this one ~ it has two shades of aqua, one light and one dark, with the caption in grey lettering: "She Believed She Could So She Did" and is designed by Adrienna Matzeg.  This is a 15 x 15 x 1/2 inch board and comes with 6 mini magnets.  I think this is going to be great for me to put my blogging/testing schedule on!  I need one ~ right now, I just have this list called "More to do"  hahaha.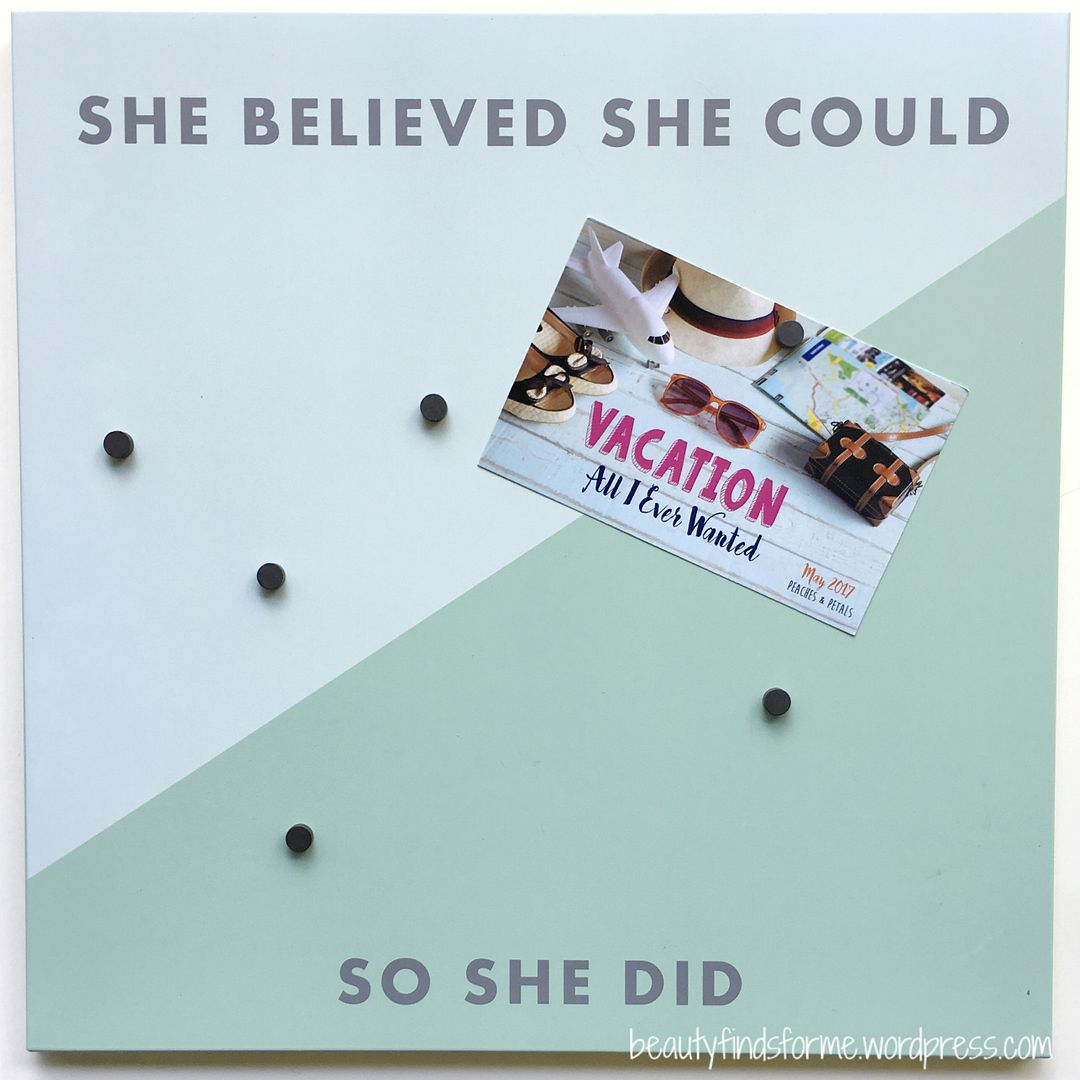 This is also good for reminders and schedules, recipes, etc (and I feel it might show up in flatlay photos as well 😉 )  Great job ~ I love this board and I can mount it on the wall.  Umbra is a Toronto, Canada based company and they make a lot of nice home decor items  RV $15.00 (?)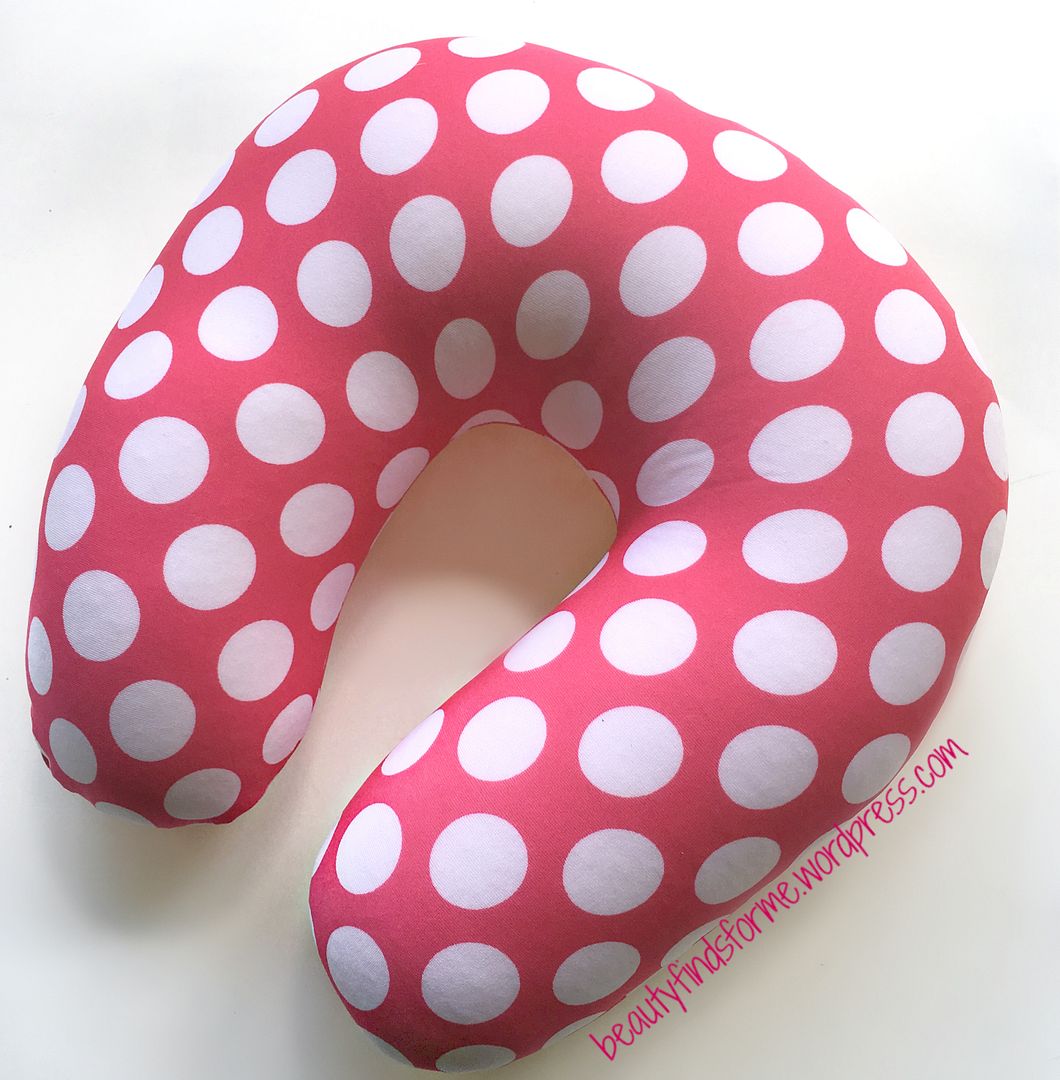 World's Best "SpunGee" Neck Support Travel Pillow by Wolf Manufacturing I do like this! My current travel pillow is bit more dense and it is a boring grey color (goes with everything, but still…) and this is a bit more lightweight, more cushy and in a fun cherry  pink and white dot design.  It is super soft, made from 88% polyester/12% spandex and filled with super-fine micro beads.  I actually use this when I am in bed and reading or watching TV.  RV $5.99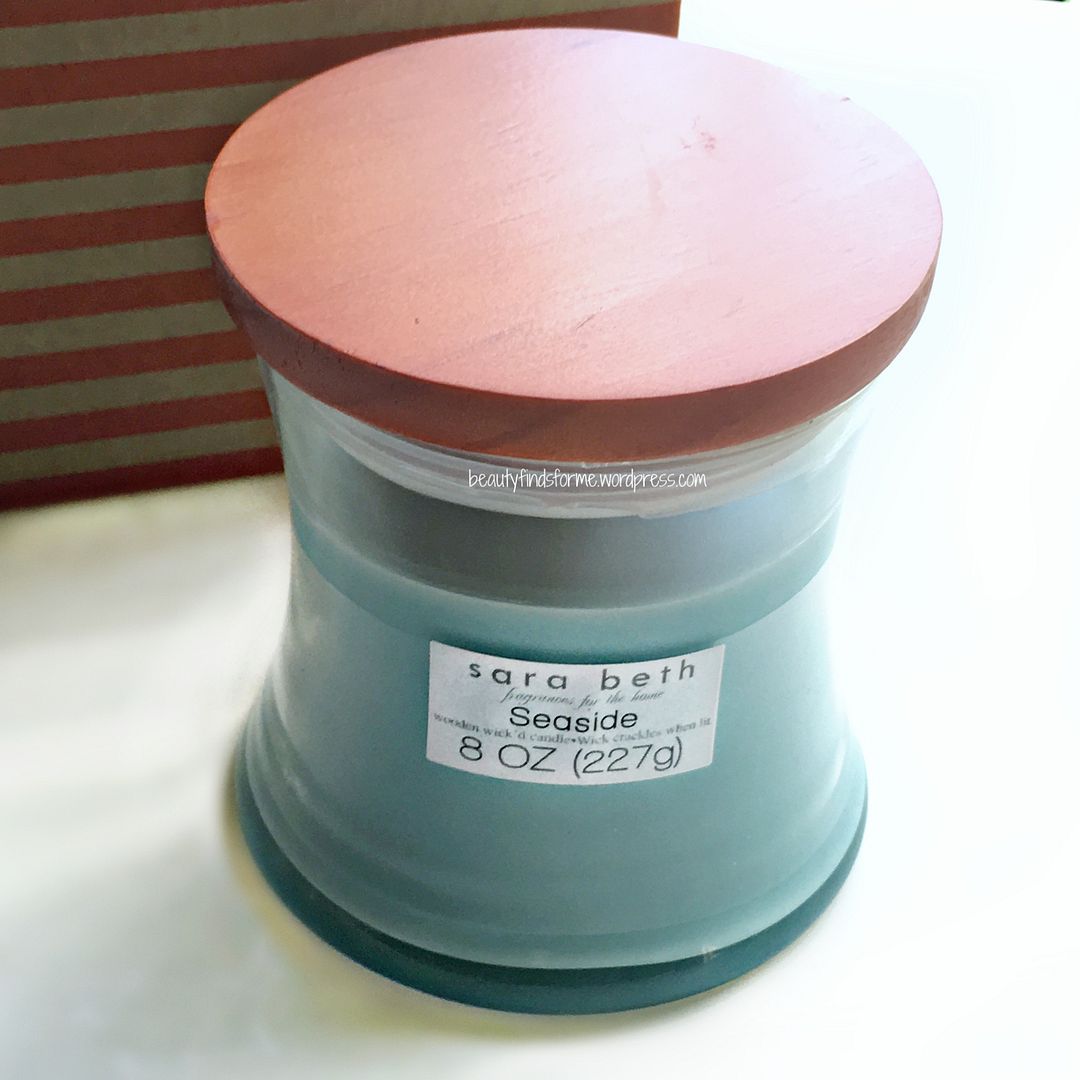 Sara Beth Seaside Candle  This is just so pretty! I love the soft blue color and the hourglass shape of the glass jar ~ that is different!  This has a nice summery fresh scent to it, reminds me of linens for some reason.  This has a wooden (faux?) reddish brown cover and this candle has a wooden wick that will crackle when lit.
According the information I found on Sara Beth Candles, they highest quality grade of waxes available, which includes natural soy wax and 100% food grade wax.  8 oz  RV $18.00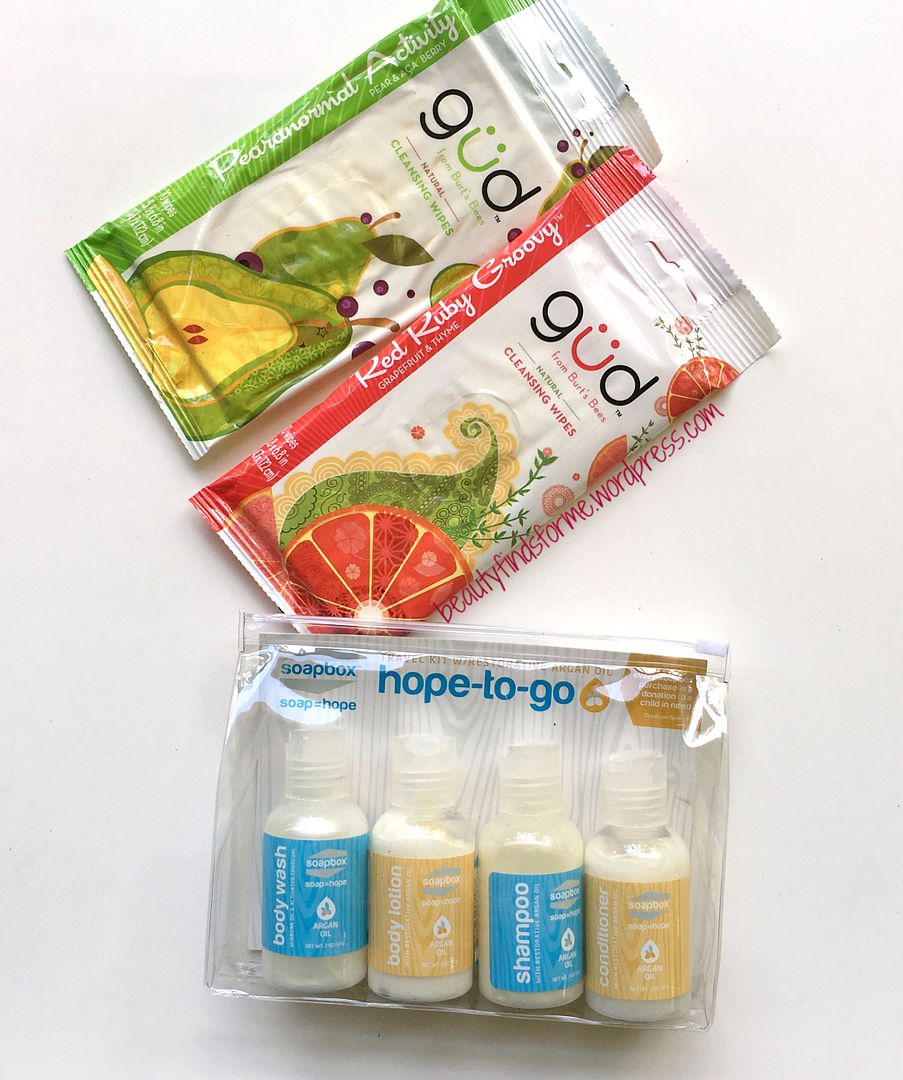 Burt's Bees Güd Natural Cleansing Wipes in Red Ruby Groovy and Pearanormal Activity   I remember when these first came out and I do love them.  I keep wipes like these in my car and at my desk at work ~ so that if I am a bit sweaty or need some freshening up, I just grab my wipe.  These are natural ones and the Red Ruby Groovy is in a grapefruit and thyme scent where Pearanormal (Fox Mulder would love this one) is in pear and acai berry. These do not contain parabens, phthalates, petrochemicals and are cruelty free. They are 97% natural as well!  I love the designs on these wipe packages too.  10 wipes each = 20 wipes RV $10.00 
Ingredients (they are the same): water, aloe barbadensis leaf juice, glycerine, camellia sinensis leaf extract, caprylyl/ capryl glucoside, citric acid, cucumis sativus (cucumber) fruit extract, dicaprylyl carbonate, glycine soja (soybean) oil, fragrance, polyglyceryl-4 caprate, tocopherol, xanthan gum, potassium sorbate, sodium benzoate, benzyl alcohol, phenoxyethanol
Soapbox Argan Oil  Hope To Go Travel Set  I have been getting Soapbox in my Target Beauty boxes and I do like this brand!  This is a nice travel kit with 4 2 oz bottles of fair-trade Argan Oil Shampoo, Conditioner, Body Wash and Body Lotion.  I love how the bottles are in blue and yellow ~ so French!!  These have a lovely light fruity scent to them.  SoapBox will donate a bar of soap to every person in need and this brand was created by two Eagle Scouts in 2010 who decided they wanted to make a different.  They have a full line of 100% natural soap bars, hand soaps and other products that will help those in need.  A bar of soap and clean water can save thousands of children daily. Soapbox products are 100% made in the USA, recyclable and certified cruelty free and vegan by PETA.   RV $15.00
SoapBox Argan Shampoo with Shea Butter will leave your hair sleek and healthy using the oil of the North African Argan tree.
SoapBox Argan Oil Conditioner is a calming, nourishing conditioner that gives back! Argan Oil, native to Morocco, is well known for its ability to smooth frizzy, damaged hair. Packed with Vitamin E, this oil is regarded by many as the "liquid gold" of benefit oils.
Soapbox Argan Oil Lotion luxuriates your skin with a rich layer of argan oil, moisturizing shea butter, aloe Vera, olive oil and jojoba. Argan oil is known for its abundance in Vitamin E and fatty acids that absorb deep into the skin layers, leaving your skin feeling smooth and hydrated. 
Soapbox Argan Oil Body Wash Pamper yourself with this hydrating body wash crafted with rich argan oil that absorbs into the skin for a luxuriously soft and smooth feel.
Final Thoughts
I really like this month's box!  The magnatic board is really cool and I love the soft aqua colors and the candle is so summery and fresh, also in a pretty watery ocean shade.  The travel pillow is a must no matter if you travel or not and the body care products are really nice ~ I love Güd and I know that they are really difficult to find now, as I think they no longer makes these and Soapbox has a great social message and argan oil is really good for your hair and body.  Peaches & Petals monthly subscription boxes are $19.99 a month and that includes shipping.   This month, the box looks to be of  a retail value almost $59.00.  Many thanks to Peaches & Petals to sending this me for review purposes ~ I always look forward to seeing what P&P puts in their boxes! Did you receive this month's Peaches & Petals box?  What was your favorite item and what do you think of it?  The board and travel pillow are mine!

If you would like to subscribe to Peaches and Petals, I wold love it if you used my referral links!

[ products were received complementary for review purposes.  All opinions are my own and are unbiased.   ]
[ Blog post contains affiliate links and referral links. Descriptions in italics from linked site ]
Save
Save
Save
Save