[ disclosure: Nooni product received complementary for review purposes. contains affiliate links ]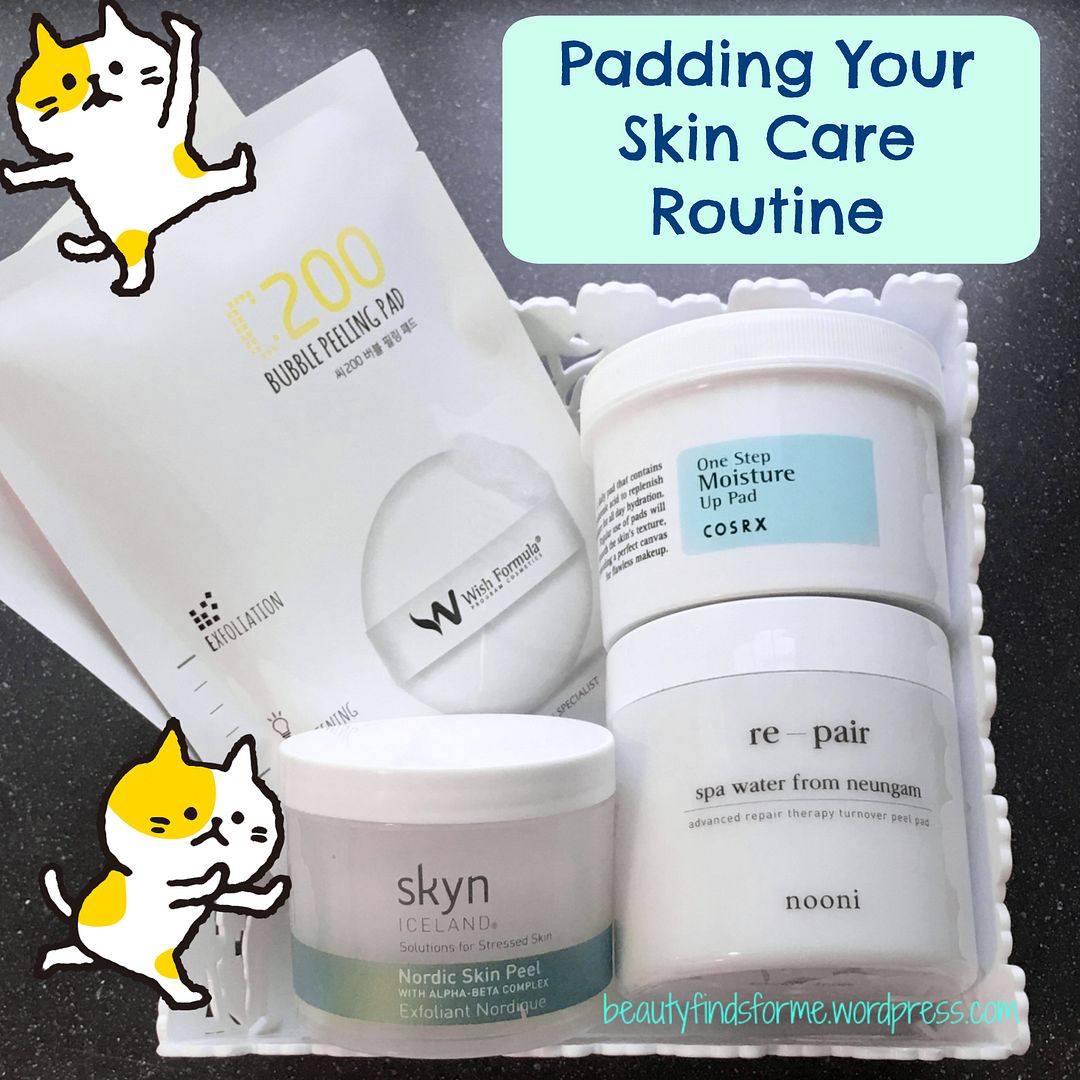 Can you create a skincare routine just using PADS?  You know, those little pre-soaked cotton rounds that will deep clean your skin, while providing targeted benefits?  I have an obsession with wipe on, wipe off products ~ whether it is cleansing wipes, cotton pads soaked with astringents or toners or pre-soaked pads.  I have reviewed pad products in the past ~ Neogen, Scinic and SkinFactory ~ but now I have some new brands to chat about!
Skin Type/Concerns: Oily, blemish prone with aging concerns ~ fine lines/wrinkles, hyper-pigmentation
Cleansing
The first step in your skincare routine is to cleanse.  Wish Formula C200 Bubble Peeling Pads are amazing.  Seriously good stuff.  I received a sample from Jolse and it languished on my coffee table for almost 2 months before I thought ~ "gee, I better try this as I owe Jolse a review on it."   I was going into thinking that this would be meh, as I had tried Wish Formula's C450 Body Bubble Peeling Pad and thought what a waste of time.  And then my life changed in such dramatic ways….no, it really didn't change in dramatic ways ~ lol.  BUT this peeling pad is fantastic and there are immediate results.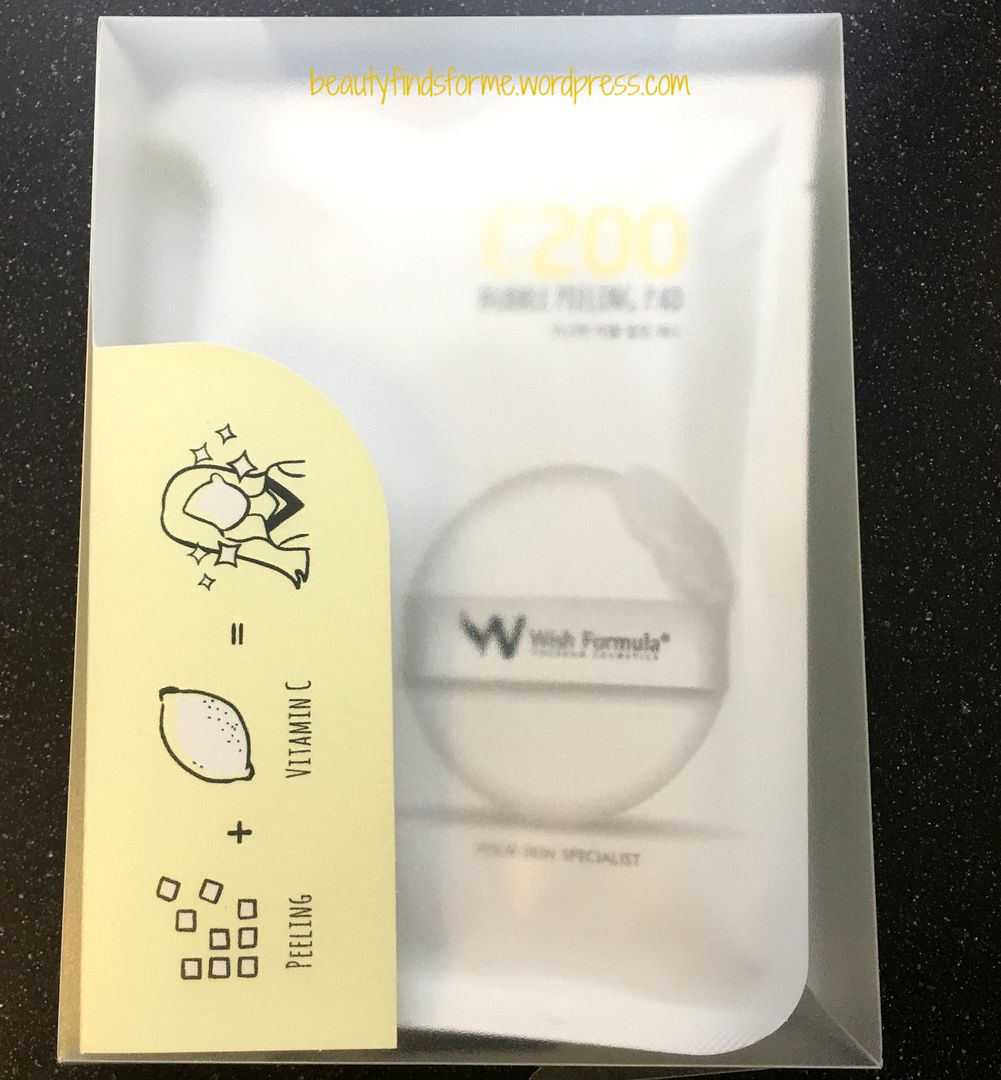 The packaging is ridiculous on this product.  If you get the 4 pack of pads, it comes in this plastic box, which is unnecessary as the pads are all individually packaged in a huge foil pouch.  I mean, I waste product as much as the next person, but this is absurd.  Carbon Footprint and Landfill Waste are two terms that Wish Formula need to get into their vocabulary soon.
This pad contains some really potent AHA acids and ferments, so please be careful if you have sensitive skin.  It contains lactic, glycolic and ascorbic acids, which are gentle AHA exfoliators  that will help dissolve dead skin cells, excess oil, dirt and other debris on your skin, sweeping it away and revealing clean and refreshed skin.   This also has polyglutamic acid, which is made from fermented soybeans (natto) and helps moisturize, nourish and exfoliate old skin cells. It can penetrate to the deepest layers in your skin, locks in moisture and helps increase the production of NMF (Natural Moisturizing Factor).  Hyaluronic acid and glycerin also play a big part in keeping your skin hydrated and moist, along with 200mg of Vitamin C to and anti-aging and moisturizing fermented botanical ingredients ~ olive, peppermint and clover ferments ~ these ingredients will provide your skin with nutrition and radiance.  This pad is designed to  work as a professional spa program at home ~ facial peel + vitamin treatment.   This does have a pH level of a 3, so it is very much an acidic, chemical exfoliator.

This is a two sided pad with a loop and its scent is slightly lemony, nothing really bad or amazing.  The first side is textured and you wet the pad to get some foam action going ~ then exfoliate away with the scrubby, textured side of the pad.

This is both a physical and chemical exfoliator, so if you have really sensitive skin, skip this step.  I don't have sensitive skin, so I am able to use this side for about 2 to 3 minutes, concentrating on my T-Zone ~ and it does sting a bit, so it is very potent. Flip over to the other side of the pad, which is a soft cushion and pat in the foam and essence into your skin.  I wait a couple of minutes to let the product soak into my face, so I then use the scrubby side of the pad and exfoliate my arms, hands and neck area with this.  I then rinse off and …..
OMGerd.  My face is really glowing at this point ~ it is a bit red with the exfoliation, but that goes away quickly.  My skin is so soft, so smooth and my pores are clean and look tighter in appearance.   My skin is brighter and more radiant.   Two thumbs up for this bubbling pad product.  Due to the expense, I save mine for when my skin really looks like it needs a pick-me-up K-Beauty Glow!  I wish these were more affordable, as they are a one time use pad.   Perhaps if Wish Formula WOULD GET rid of their horrible and wasteful packaging on this product ~ seriously, a plastic box and then plastic individual packages that are huge ~ the price could come down a bit. In fact, why not market the essence/cleanser in a bottle and sell this with reusable pads?
Ingredients: Water, Disodium Cocoamphodiacetate, Potassium Cocoyl Glycinate, Cocamidopropyl Betaine, Cocamide DEA, Lactic Acid, Glycolic Acid, Glycerin, Dipropylene Glycol, Ascorbic Acid, Lactobacillus/Olive Leaf Ferment Extract, Saccharomyces/Peppermint Leaf Ferment Filtrate, Lactobacillus/Clover Flower Ferment Extract, Hyaluronic Acid, Polyglutamic Acid, Apium Graveolens (Celery) Extract, Brassica Oleracea Capitata (Cabbage) Leaf Extract, Oryza Sativa (Rice) Extract, Solanum Lycopersicum (Tomato) Fruit/Leaf/Stem Extract, Brassica Rapa (Turnip) Leaf Extract, Daucus Carota Sativa (Carrot) Root Extract, Brassica Oleracea Italica (Broccoli) Extract, Arginine, Aloe Barbadensis Leaf Juice Powder, DMDM Hydantoin  cosDNA analysis
Unclogging Pores & Wiping Away the Remains of the Day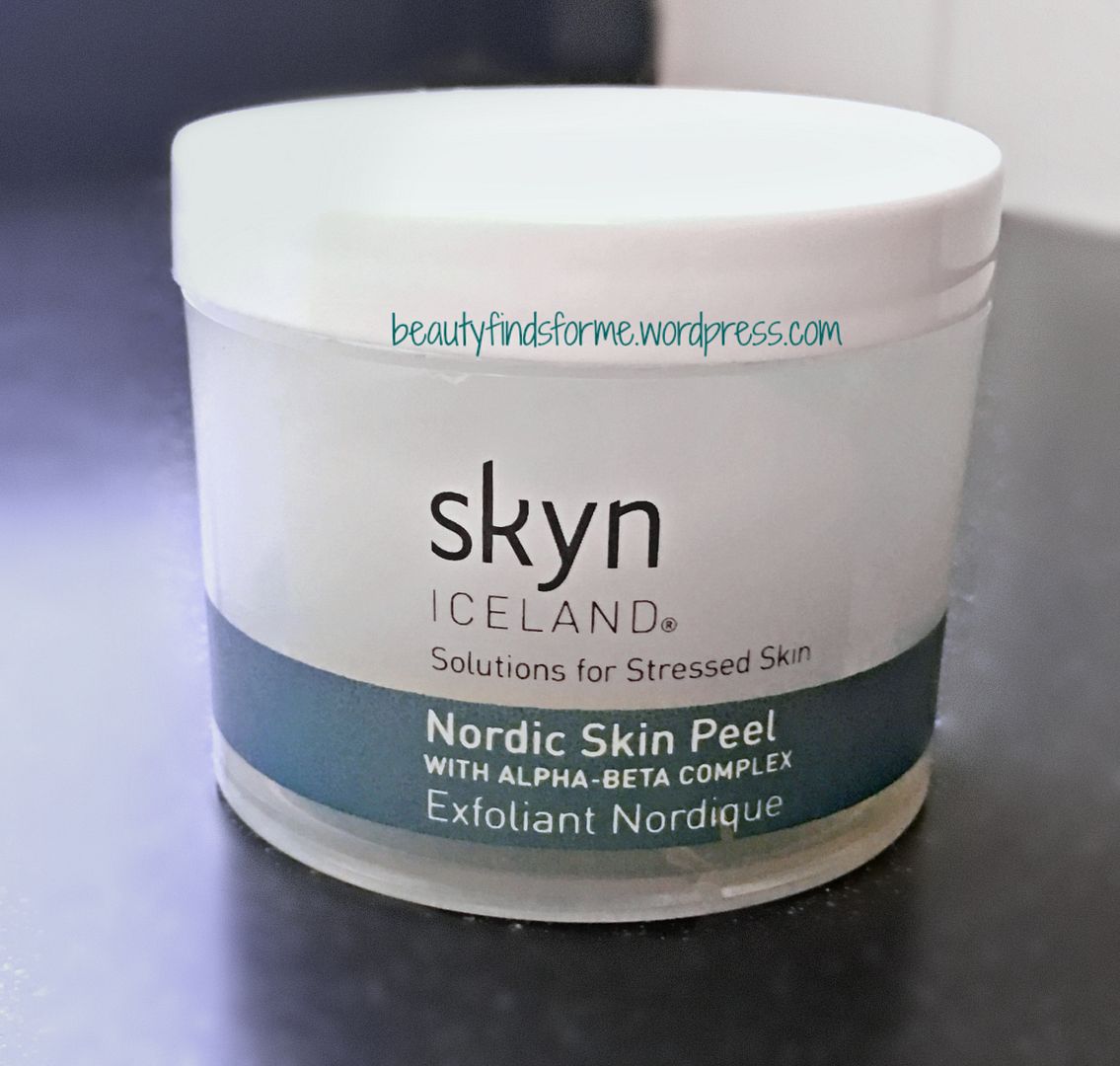 Skyn Iceland Nordic Skin Peel with Alpha-Beta Complex  For years, my poor brain translated Skyn into Sky-n Iceland ~ it is actually pronounced SKIN.  The Y is an I. Yeah, no flies on me.  haha.  Skyn Iceland is most hated by Paula's Choice, so of course, I love it.  I know that some people are very sensitive to essential oils and such, but not everyone is.  If essential oils were so bad, why didn't our great grandmother's faces fall off?   Anywho, Skyn Iceland makes some amazing products that are probably going to make your face fall off, but in the meantime, they are a joy to use.  These come in a nice big tube with 60 pads.
Now, yes, alcohol is the second ingredient and when you take a whiff of these pads, the best description I can give is herbal-alcohol with fresh minty scent. The scent is strong and despite the claim that it is dermatologist tested for sensitive skin, I would be careful about using these if you do have sensitive skin.  Oily skin, rejoice.   This has some great potent grease cutting ingredients ~ witch hazel, which is a soothing astringent that will help remove oil and reduce the appearance of pores, lactic acid ~ your AHA, which exfoliates the top layer of your skin, willow bark (salix alba) is the BHA competent and it will go deeper into your pores, unclogging and dissolving oils and dirt.  This also contains fermented papaya which contains papain, an enzyme exfoliator.  Despite the alcohol, these pads aren't drying on my skin, as there are some lovely seed oils in here, to keep my skin hydrated and moisturized, which Skyn Iceland calls "Icelandic Complex"

Icelandic Complex, a proprietary natural blend that replenishes the nutrients that stress depletes. Sourced from Iceland's pure and potent environment, it contains pollution-free Icelandic Glacial Water with 6 essential minerals to hydrate and detoxify skin, Arctic Cloudberry and Cranberry Seed Oils "super fruits of the Arctic" rich in Omega Fatty Acids, Vitamins and potent antioxidants as well as Pure Molecular Oxygen which delivers energy into skin's deepest layers to bring back a youthful glow.   
This is free from parabens, petroleum , mineral oil, chemical sulfates and phthalates and for my vegan friends, it is 100% vegan and cruelty-free. 
The pads have a loose weave, like a cloth and are not padded on one side or the other.  This weave also helps with the physical exfoliation and these a bit more scrubby than some other pads I have used.  This has a pH level of a 3, so it is acidic and will act as a chemical exfoliator as well.  They are soaked in essence and they really do remove excess oil, dirt, unclog my pores and leave my face feeling quite cool, refreshed with a refined skin texture.  I will say, even with my oily and tough skin, they do sting a little bit, but not a lot.  I just have to be careful not to be rough with the pads when using this product. I love using these in the summertime most of all ~ I keep them in the frig for a nice icy experience after a hot, muggy and sticky day.  I do use these several times a week during the warmer months.
Ingredients: Water, Alcohol, Hamamelis Virginiana (Witch Hazel) Water, Butylene Glycol, Lactic Acid , Salix Alba (Willow) Bark Extract , Lactobacillus/Papaya Fruit Ferment Extract, Oxycoccus Palustris (Arctic Cranberry) Seed Oil, Rubus Chamaemorus (Arctic Cloudberry) Seed Oil , Buddleja Davidii Extract, Thymus Vulgaris (Thyme) Flower/Leaf Extract , Camellia Sinensis Leaf Extract, Angelica Archangelica Root Water*, Perfluorodecalin, Avena Sativa (Oat) Kernel Extract, Leuconostoc/Radish Root Ferment Filtrate, Simmondsia Chinensis (Jojoba) Seed Oil , Glycerin, Hydroxyethylcellulose, Sodium Hydroxide , Acetyl Dipeptide-1 Cetyl Ester, Biosaccharide-1, Potassium Sorbate , Sodium Benzoate, Benzophenone-4, BHT, Laureth-3, Limonene, PEG-75 Shea Butter Glycerides, Glycosphingolipids, Biotin, Xanthan Gum, Phenoxyethanol, Benzoic Acid, Dehydroacetic Acid, Ethylhexylglycerin, Polyaminopropyl Biguanide, Fragrance  cosDNA analysis *With Minerals.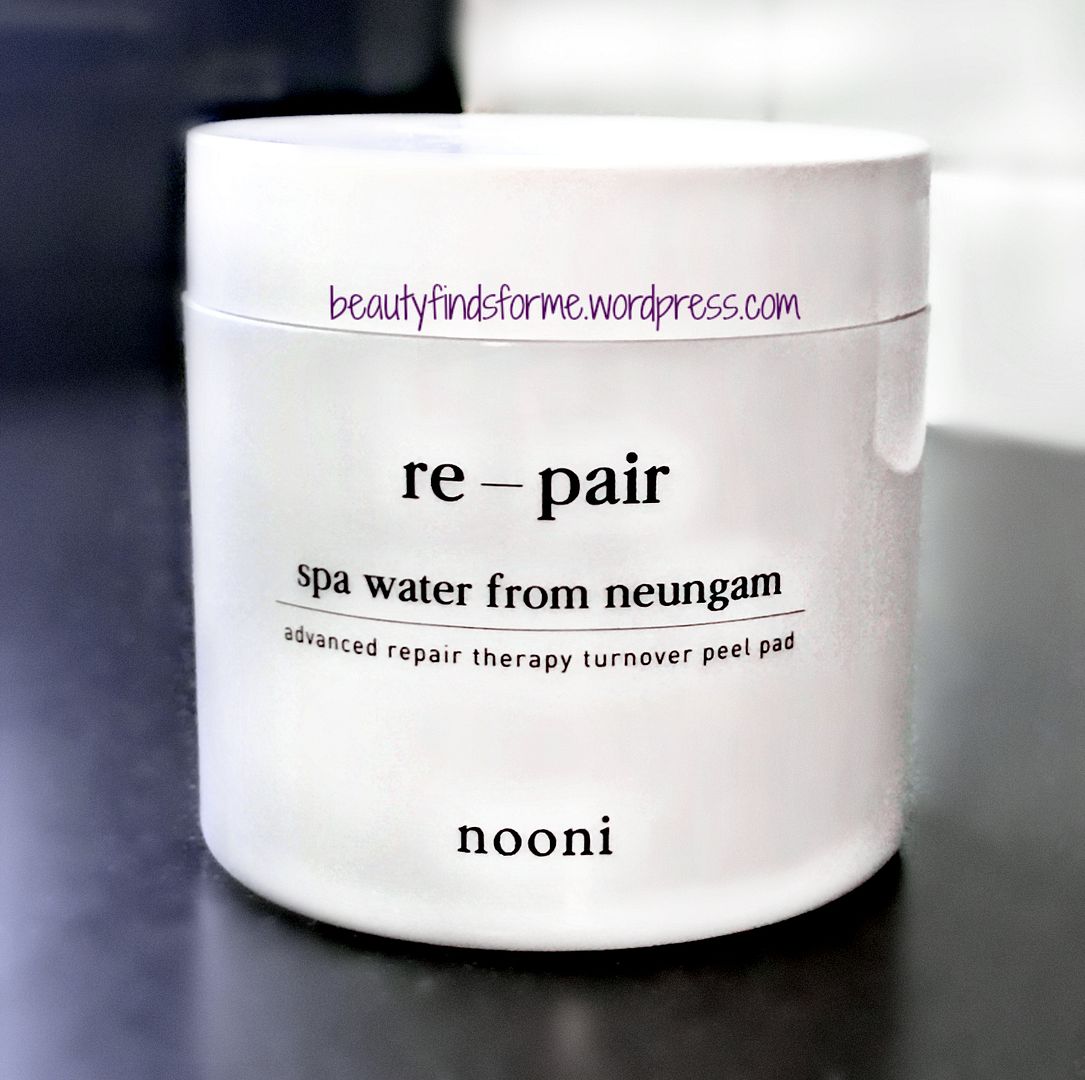 Before Memebox stopped selling products at their site, I received these Nooni Re-Pair Advanced Repair Therapy Turnover Peel Pads for review purposes.   I love these!  These are another great peeling product and this one also contains AHA and BHA ingredients to help remove flaky, clogged skin and really rejuvenate your skin so it is bright and radiant, not dull. These are made with 100% organic cotton pads, where one side is textured for physical exfoliation and the other side is more smooth (but I didn't notice it that much) to help hydrate and soften skin.  The pads come in a huge tub and you get 70 of them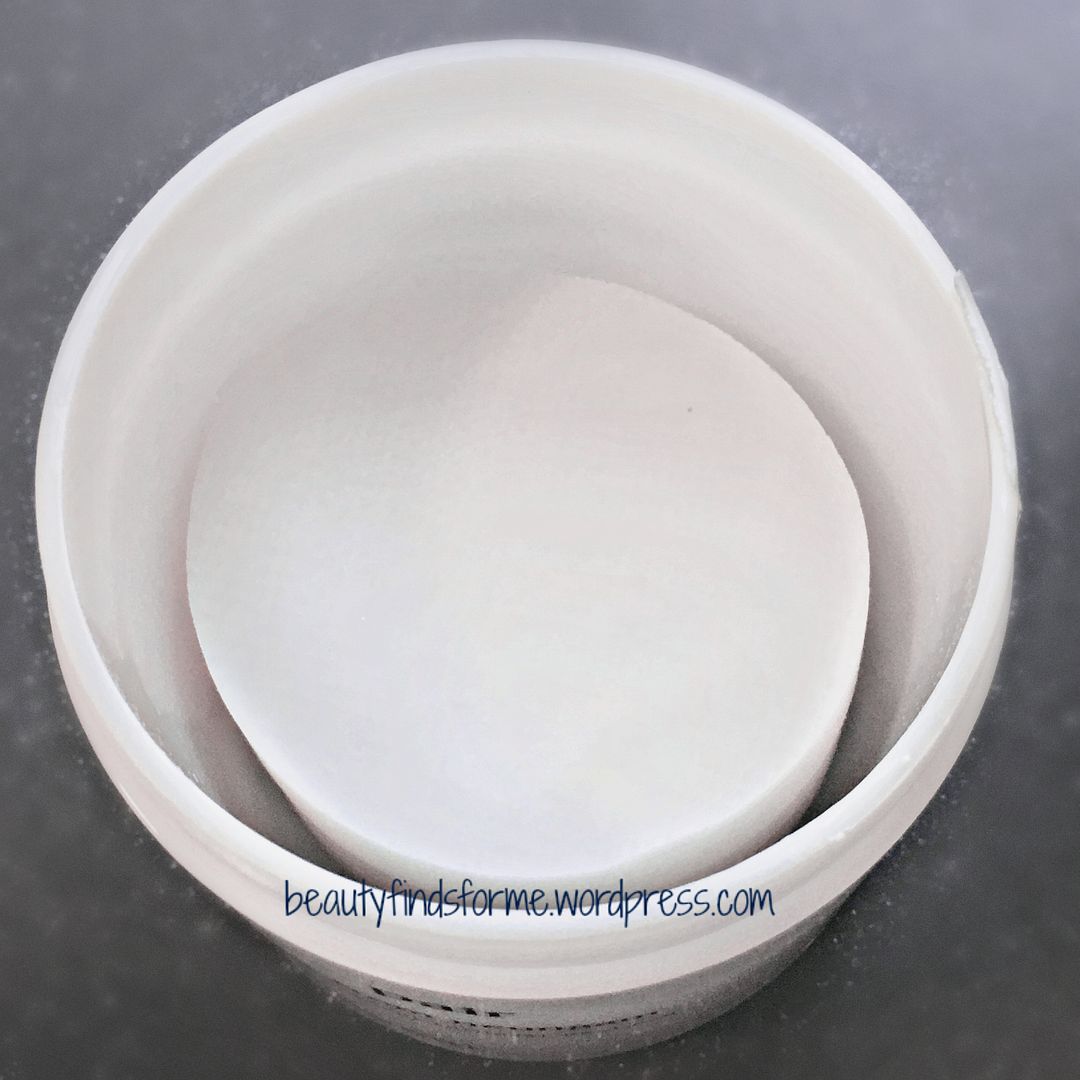 The pads contain lactic and glycolic acids, both AHA, that will remove surface oil, debris and promote cellular renewal.  This also contains salicylic acid, which is a BHA and that will go deeper into your skin, removing oil and dirt in your pores, really cutting through that sebum, while reducing blemishes.  Sodium lactate is an antimicrobial and will help to suppress bacteria on your skin, while also providing some extra exfoliation.  This product also contains niacinamide to help brighten and even out your skin tone, and a botanical mix that includes centella for repairing damaged skin, willow bark to reduce redness and  lavender which helps speed up wound healing, while fermented soy and ceramide provides anti-aging and moisture care. These pads are soaked in Onsen-Sui, natural spa carbonated water, which will add moisture back into your skin as well. 
These have a pH level of hovering around a 3, maybe a tick higher, but they are acidic and they do act as a chemical exfoliator.  These pads have alcohol in them, but I do not smell it ~ the essential oils of lavender, orange and mandarin along with the herbal extracts of oregano provide an herbal citrus scent that is very invigorating and I find myself just opening up the jar to smell it!  These pads can sting a bit initially, but that feeling goes away quickly.  My face really feels quite hydrated when I use these, due to all of the water-drenched hydrating ingredients and quite soothed as well, which is surprising for an AHA/BHA pad product.  My skin looks revived, brighter and clearer ~ I love using these right after I get out of the shower and just swiping it quickly over my face to reveal a brighter skin tone with pores that look smaller, due to the deep exfoliation action from these pads. 
Ingredients: Water, Aloe Barbadensis (Aloe) Leaf Juice, Methylpropanediol, Alcohol, Sorbitol, Lactic Acid, Sodium Lactate, Centella Asiatica Extract, Glycolic Acid, Niacinamide, Sodium PCA, 1,2-Hexanediol, Ficus Carica (Fig) Fruit Extract, C12-14 Pareth-12, Phenoxyethanol, Panthenol, Salicylic Acid, Onsen-Sui, Chamaecyparis Obtusa Leaf Extract, Origanum Vulgare (Oregano) Leaf Extract, Salix Alba (Willow) Bark Extract, Cinnamomum Cassia Bark (Cinnamon) Extract, Lactobacillus/Soybean Ferment Extract, Portulaca Oleracea Extract, Scutellaria Baicalensis (Skullcap) Root Extract, Xanthan Gum, Lavandula Angustifolia (Lavender) Oil, Ethylhexylglycerin, Disodium EDTA, Hydrogenated Lecithin, Citrus Aurantium Dulcis (Orange) Oil, Citrus Nobilis (Mandarin Orange) Peel Oil, Pentylene Glycol, Caprylyl Glycol, Ceramide NP, Litsea Cubeba (Litsea) Fruit Oil  cosDNA analysis

Hydrate Me!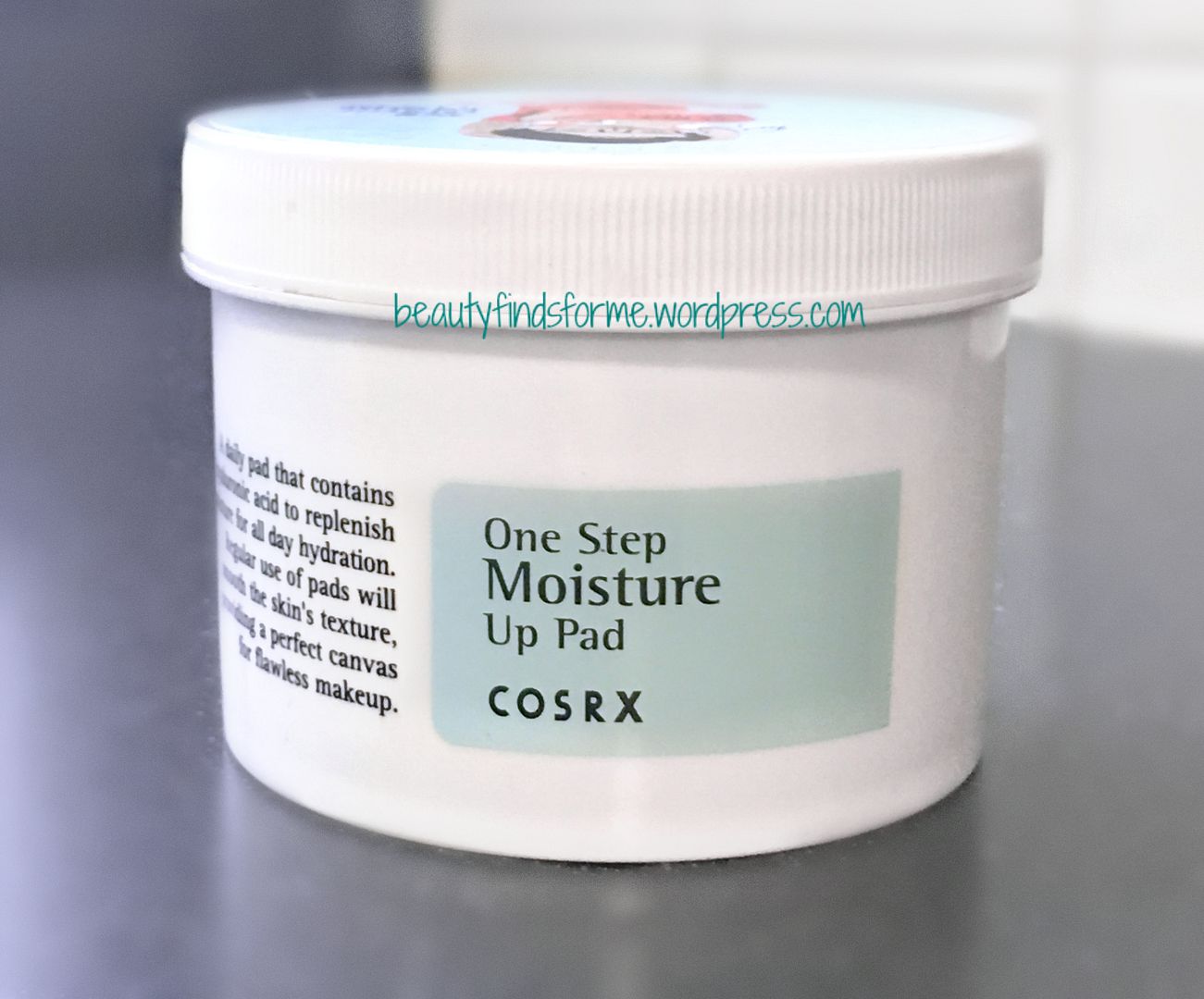 I highly recommend cosRX One-Step Moisture Up Pads  after using exfoliating products.  These pads will drench your skin with moisture and leave it feeling so moist and hydrated, you will wonder if you just stepped out of the shower.  My dear fellow blogger Angela at Beauty & the Cat reviewed these recently and she has dry skin ~ and she loved them!  So, I think all skin types can benefit from using these pads.  When I first purchased these pads, I was like, yeah, they hydrate, big woop, nice but I won't repurchase.  Well, since I am a woman, I am entitled to change my mind, which I did.   These pads are a amazing.  Once I started using them after I did chemical exfoliation, I really began to appreciate and love these simple hydrating pads.  These come 70 count in one tub and it has the Mr cosRX on the lid. I am in the minority here ~ I do not like Mr cosRX!! lol
These contain some really lovely hydrating and blemish busting ingredients: this contains 70% propolis, which is bee resin and  is a natural antibiotic that is produced by honey bees. This ingredient is wonderful for those with blemish prone skin or have other skin issues, as it really helps heal your skin. Glycerin and sodium hyaluronate are humectants and will help attract and retain moisture on your skin, making it look healthy, moist and soft.   Panthenol is also an excellent hydrating humectant, softening and reducing swelling and redness. Allantoin moisturizes, exfoliates and softens skin, making it look smooth and refined, while reducing and relieving irritation.   This does have a BHA in the form of betaine salicylate, but at a 5 – 5.5 pH level of this product too low to really get any  hard-core chemical exfoliation from that.  These pads really do not have a scent to them.

With this pad, you can really see that one side is quilted ~ that is your physical exfoliation.  It is very gentle, so I am not worried about using this pad after one of my chemical exfoliators.  Flip over to see a smooth side, where I just pat and smooth in the essence. This elevates my moisture level by 20%, which is fantastic for a pad product.
Now, this does initially leave a bit of film on my face, which I assume is the propolis extract at work, but it does dry down and absorb quickly, so I do not notice it anymore.  These pads are great to soften and deeply hydrate and moisturize my skin, but most importantly, to help soothe and protect my skin after I used a chemical exfoliator.  This is why I went from meh to YEAH over these pads.
Ingredients: Propolis Extract (70%), Butylene Glycol, Glycerin, Betaine, Cetearyl Olivate, Sorbitan Olivate, 1,2-Hexanediol, Betaine Salicylate, Panthenol, Allantoin, Hydroxyethyl Acrylate/Sodium Acryloyldimethyl Taurate Copolymer, Sodium Hyaluronate, Ethylhexylglycerin, Sodium Hydroxide, Xanthan Gum, Citrus Limon (Lemon) Peel Oil, Citrus Aurantium Bergamia (Bergamot) Fruit Oil cosDNA analysis
Final Thoughts
No, you cannot do a full skincare routine with just pads. I mean, YOU could, but I wouldn't recommend it.  I was just doing a click-bait thingie to grab your attention ~ haha.  What I do recommend is picking one of the 3 exfoliating pads to use and then follow up with a moisture pad. How often should you use an exfoliating pad? That is really based on your skin type and how much it can tolerate.  Wish Formula recommends using their pads 1 to 2 times a week and I think that is too much for even my skin type ~ plus the expense!  I use the Wish Formula C200 pads a couple of times a month.   Skyn Iceland states you can use their Nordic Skin Peel Pads daily and I do in the summertime.  Nooni recommends that you can use their pads daily as well. What I do is use one brand in the morning and a different one at night time. And finally, cosRX One-Step Moisture Up Pad can be used daily and I use them as many times as I want to. However, you know your own skin and if you do decide to purchase these pads, make sure to start slow and let your skin adjust to the ingredients.  With the exception of cosRX, these are chemical exfoliators and you want to be careful not to overdo it.
Would I repurchase?  Before Memebox when out of business with products, I did purchase another Nooni Re-Pair Advanced Repair Therapy Turnover Peel Pad jar, 2 of the cosRX One-Step Moisture Up Pad jars and I went a bit cray on the Wish Formula C200 Bubble Peeling Pads ~ I purchased 4 of the boxes because I couldn't beat the price, along with the 50% coupons they were offering at the time.  Skyn Iceland is a product I purchase yearly in the warmer months and I have been buying this product for several years now.   So yes, I would repurchase because I have!!
Is this the end of my pads?  Aren't there anymore to purchase?  I am glad you asked that question.  I recently purchased a trio of  Whamisa Peeling Finger Pads ~ Seeds Pore Care, Fruit Sebum(Oil) Care and Flowers Moisture Care.  Yes, Whamisa makes pads!!  I purchased mine from Amazon.com and this seller not only ships fast but gives you a ton of Whamisa foil samples as well.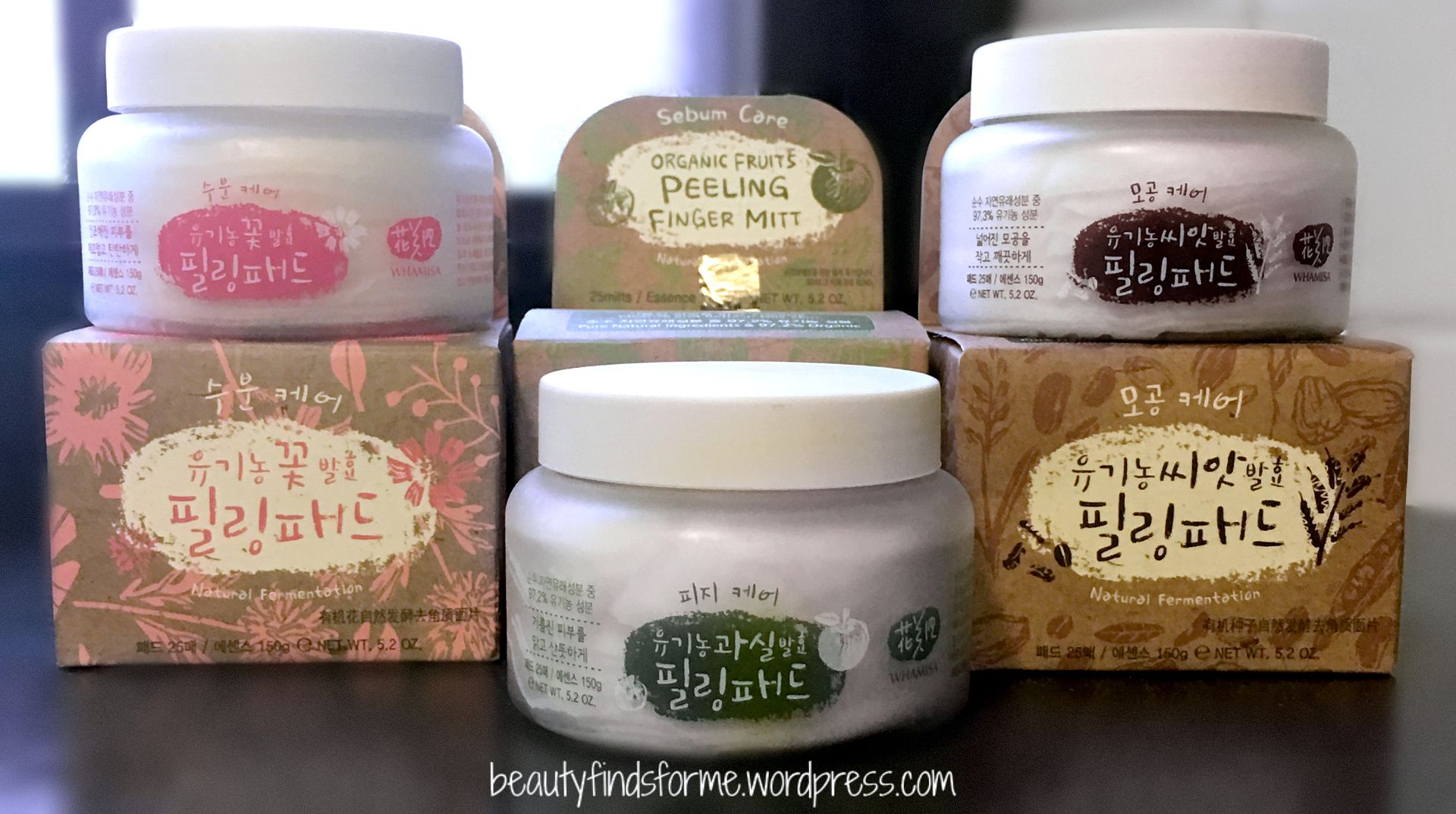 I have tried the Sebum one and so far, I like it.. I need to finish up or at least get close to finishing up my current open stash of pads before really diving into my Whamisa pads ~ but I will review them here at my blog once I do! BTW- if you get them from this seller on amazon and then review your Whamisa purchase within a month, you will get some free samples.  Now, I thought it was going to be foils, but nopes.  It was this!
WOW.  Yeah.  Original Lotion, Double Rich Lotion, Refresh Toner, Sebum Treatment Lotion, Oil Cleanser and Foaming Cleanser.

Where To Purchase
Wish Formula C200 Bubble Peeling Pads
I was lucky enough to purchase 4 boxes of these pads when Memebox was going out of business, at $18.00 for 4 pads.  Yes, they aren't cheap.  It gets worse now ~ I was spoiled by the $18.00 price tag.  Update: I have a special deal for my USA readers ~ if you purchase these bubble pads at Amazon.com with this link here ~WishFormula Bubble Pad ~ you can also get a free Bubble Pad!   These Bubble Pads are 20% off right now at $19.95 for a box  and if you add a box (4EA) to your cart and then an individual bubble pad (1EA) to your cart, use promo code MICHELE2 at checkout and you will get the individual pad free ~ this is a $7.00 savings!  Free Prime Shipping too.  This offer expires on September 30, 2017

Skyn Iceland Nordic Skin Peel with Alpha-Beta Complex
These have a retail value of $45.00, but you can find them a bit cheaper elsewhere.
Nooni Re-Pair Advanced Repair Therapy Turnover Peel Pad
These range around from $19.00 to $35.00 price tag
cosRX One-Step Moisture Up Pads
Just about everywhere! The prices for cosRX range from $15.00 to $25.00
Whamisa Peeling Finger Pads
These come in 3 varieties at Amazon and are $28.00 for 25 peeling finger pads. Leave a review within 30 days of purchase, send the seller a message and you will get a nice deluxe set of Whamisa samples!  Click here to purchase
Shipping Service
Korean Buddy:  This is the Korean shipping service I have been using for quite a while now and I have been very happy with the service from Chris.  He is very responsive and will even help you find the best price and go out of his way to get the products you are looking for.  It is really easy to use KB, but if you have any questions about how to use this service, you can ask them in the comments below and I will do my best to answer them.  If this is your first purchase with KB, you can save 50% off your handling fee by using me as the referral ~ just put in my blog https://beautyfindsforme.wordpress.com url when asked for the referral.
[ disclosure: Nooni product received complementary for review purposes. contains affiliate links ]