[ disclosure: product received complementary for review purposes. contains affiliate links ]
Once again, I am pleased to bring you another product that I was sponsored by Jolse, a premier K-Beauty site.  The generosity of Jolse is always appreciated and they value honest reviews, even if they are negative.  I have long wanted to find a Dr Jart+ product that I would love, as I have tried and failed in the past to really like this brand.  The search for that elusive product from Dr. Jart+ is now over, with the absolutely fabulous Cicapair Cream ~ if you live in the Western part of the world, it is also known as Cicapiar Tiger Grass Cream.   If you have been following and reading my blog, you know that I am currently trying out as many Centella products as I can.  I plan on having a mega post on Centella Asiatica, with links to reviews such as this one, plus new reviews.

Skin Type/Concerns:  Oily, blemish prone skin, aging concerns ~ hyper-pigmentation, fine lines/wrinkles
Dr. Jart+ is a dermatologist developed brand that initially marketed BB creams to the US.  Dr. Jart+ was founded in 2004 and they use advanced technology, safe and most effect ingredients with breakthrough formulas that create highly functional products.  Dr. Jart+ employs expert dermatologists using proven herbal ingredients with modern innovations. 
Cicapair Cream soothes skin damage caused by dryness, irritation, and inflammation. It's formulated with an advanced, Nolsome Capsule, which features a double-layer structure to improve penetration of ingredients. It's formulated with resurrection plant, houttuynia cordata, and yarrow to enhance the skin's viability and help support strong skin. It's infused with minerals, including sodium, potassium, calcium, and magnesium to help improve skin moisture levels and restore fatigued skin for a healthy appearance.
screenshot image
Cicapair™ Collection is inspired by the true legend of Asian Tigers, rolling in Centella Asiatica to heal their battle wounds. Also known as tiger grass, its medicinal use has been recognized for centuries. For generations, this active ingredient has also been recognized as a recovery system to help support wounded skin exhibiting inflammation, redness, or blemishes.
screenshot image
This cream will help soothe your skin, reduce irritations, swelling and redness and help heal blemishes while repairing your skin.   I did find it interesting that the Big Cats knew about the healing properties of Centella Asiatica!  Smart kitties
Ingredients of Note
This is a moisturizing, repair your skin barrier, while reducing sensitivity and blemishes.  It soothes and heals as well, because it contains not only centella asiastica, a plant that is rich in saponins and is an anti-inflammatory, calming your skin and aid in wound healing, but also derivatives of centella asiatica.  Centella extracts will helps minimize the appearance of pores, and since it stimulates collagen production, it will make your skin more supple and firm.  This formula contains five components extracted from centella asiatica ~ asiaticoside helps form collagen to strengthen your skin and speeds up wound  healing.  Asiatic acid is an anti-aging compound, that helps to plump up your skin, prevents wrinkles, fine lines and scar tissue. Madecassic acid helps aid in the production of collagen and tissue while madecassoisise helps soothe, reduce redness and inflammation and helps heal your skin. Centella asiatica meristem cell culture acts not only as a skin conditioner, but as an antioxidant as well so it will help fight free radicals and also help repair the damage they cause, which are fine lines, wrinkles and hyper-pigmentation.
Niacinamide is a powerful antioxidant that acts as an anti-inflammatory, improves your skin elasticity, enhance the skin barrier function and also it helps to even out skin tone and reduce post-inflammatory hyper-pigmentation. Sodium ascorbyl phosphate is a gentle derivative of Vitamin C, containing antioxidants that contribute to evening out and brightening skin tone.  Citric acid (AHA) will gently exfoliate and promote cellular turnover, so it will help brighten and smooth your skin.  Adenosine helps improve the reduction of wrinkles and is also an anti inflammatory.  Magnesium gluconate is an antibacterial, helping prevent infections and blemishes  while calcium gluconate has restorative properties and will soothe your skin.
Houttuynia cordata is a medicinal herb that is found in a lot in Asian skin care products. It is an antibiotic, which helps with preventing infection from skin problems, such as blemishes.  It also has powerful detox properties, is an astringent and anti-inflammatory.  Spirulina platensis is a micro algae which has powerful anti-aging, antioxidant benefits.  It contains  high sources of vitamin E and carotene, along with vitamins B complex and C, minerals, essential amino acids and enzymes, all which help with premature aging.  (source Natural Actives)

And finally, to lock it all in, the powerhouse of moisturizers ~ ceramides, which are a lipid found in our skin cells and as we age, those ceramides decline, leading to dry, flaky skin.  Introducing ceramides back to our skin via skincare products helps lock in moisture and create balanced skin. Shea butter contains a rich source of concentrated natural vitamins and fatty acids ~ oleic, stearic, palmitic, linolenic ~ and is highly moisturizing and nourishing.  It helps repair your skin, as well as reduce skin inflammation and it also smooths your skin to protect it from drying and it strengthens your skin over time as it helps aid in the collagen production. Macadamia oil has several fatty acids, which have anti-aging properties ~ palmitoleic acid:  delays skin and cell aging; oleic acid: moisturizing and regeneration properties; linoleic acid: prevents water loss from your skin tissues.  It is also high in phytosterols, which helps calm and soothe irritated skin. 
This is not a vegan product, as it does contain beeswax. Dr Jart+ Cicapair Cream is free from 10 harmful ingredients:  mineral oil, artificial fragrance,  artificial dyes,  denatured alcohol, triclosan, triethanolamine, sulfate surfactants,  propylene glycol, and DEA.  I do quibble over some of the items in their list as "harmful", but this is what the packaging states!

Ingredients: Water, Propanediol, Centella Asiatica Leaf Water, Butylene Glycol, Caprylic/Capric Triglyceride, Panthenol, Diisostearylmalate, Polyglyceryl-3 Methylglucose Distearate, Butyrospermum Parkii (Shea) Butter, Glyceryl Stearate, Niacinamide, Macadamia Ternifolia Seed Oil, Cetearyl Alcohol, Hydrogenated Poly(C6-14 Olefin), Hydrogenated Polydecene, Hydrogenated Polyisobutene, 1, 2-Hexanediol, PEG-8, PEG-100 Stearate, Polyacrylate-13, Palmitic Acid, Tocopheryl Acetate, Beeswax, Glycerin, Stearic Acid, Phenoxyethanol, Polyisobutene, Asiaticoside, Carbomer, Tromethamine, Madecassic Acid, Asiatic Acid, Spirulina Platensis Powder, Alcohol, Polysorbate 20, Ethylhexylglycerin, Lavandula Angustifolia (Lavender) Oil, Sorbitan Isostearate, Adenosine, Ceramide NP, Citrus Grandis (Grapefruit) Peel Oil, Hydrogenated Lecithin, Disodium EDTA, Rosmarinus Officinalis (Rosemary) Leafoil, Anthemis Nobilis Flower Oil, Sodium Hyaluronate, Centella Asiatica Extract, Theobroma Cacao (Cocoa) Extract, Dextrin, Houttuynia Cordata Extract, Anibarosodora (Rosewood)Wood Oil, Centella Asiatica Meristem Cell Culture, Madecassoside, Citric Acid, Achillea Millefolium Extract, Artemisia Absinthium Extract, Arnica Montana Flower Extract, Gentiana Lutearoot Extract, Sucrose Laurate, Sodium Glycerophosphate, Selaginella Lepidophylla Extract, Potassium Magnesium Aspartate, Lysolecithin, Magnesium Gluconate, Calcium Gluconate, Potassium Sorbate, Sodium Ascorbyl Phosphate, Sodium Benzoate, Xanthan Gum cosDNA analysis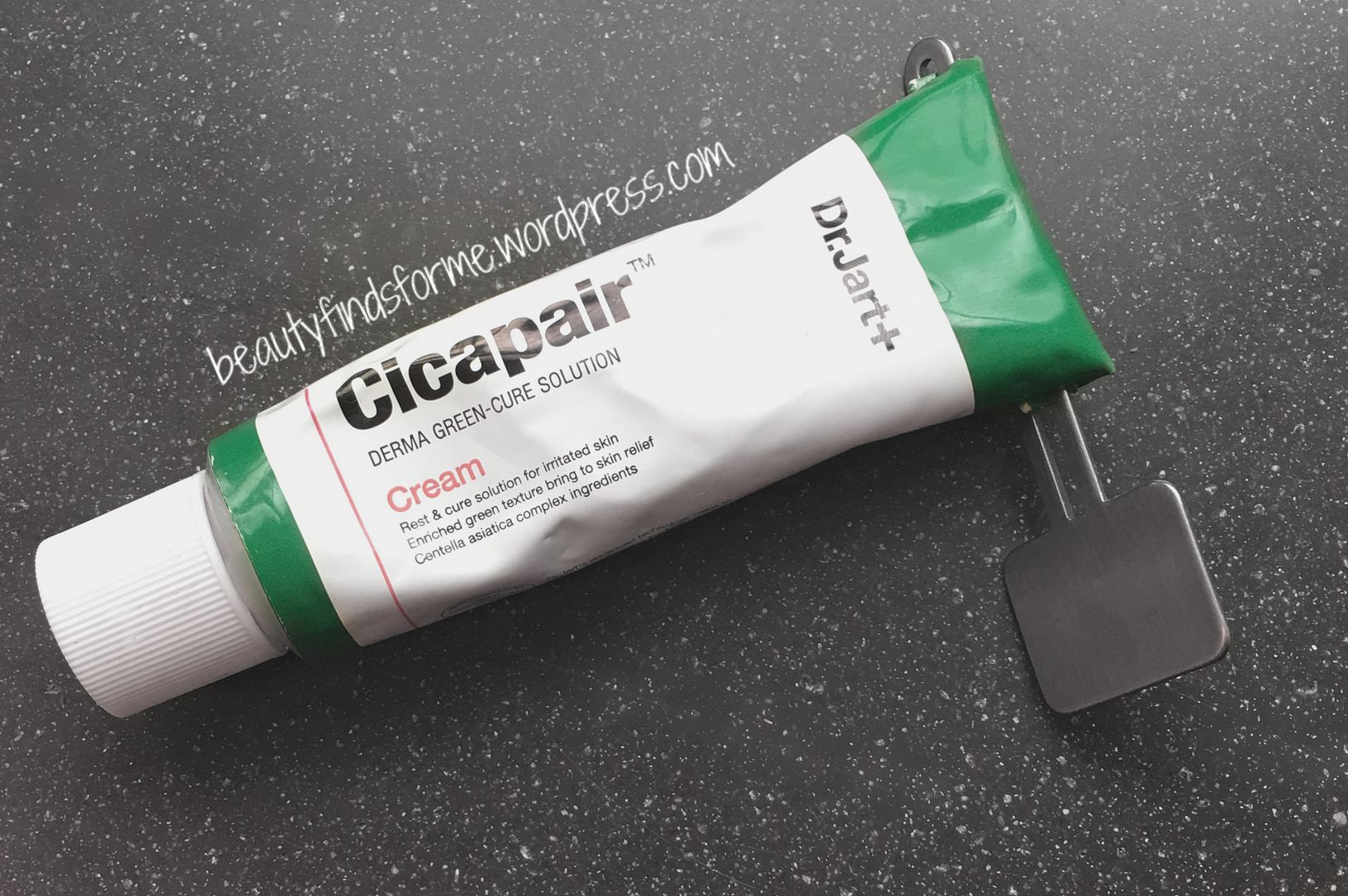 This cream comes in a metal flexible tube and it even comes with a metal twist key to help roll the tube down. This reminds of a sardine tin opener.  I don't recommend using this key until the tube is almost empty, because this product will just slide out and keep coming out if there is the slightest pressure pushing down on the tube.  The cream is a light green shade, which alas, looks yellow in my photos.  This product smells just amazing!  It is like an herb garden, very fresh and warm and it is one of my favorite things about this cream.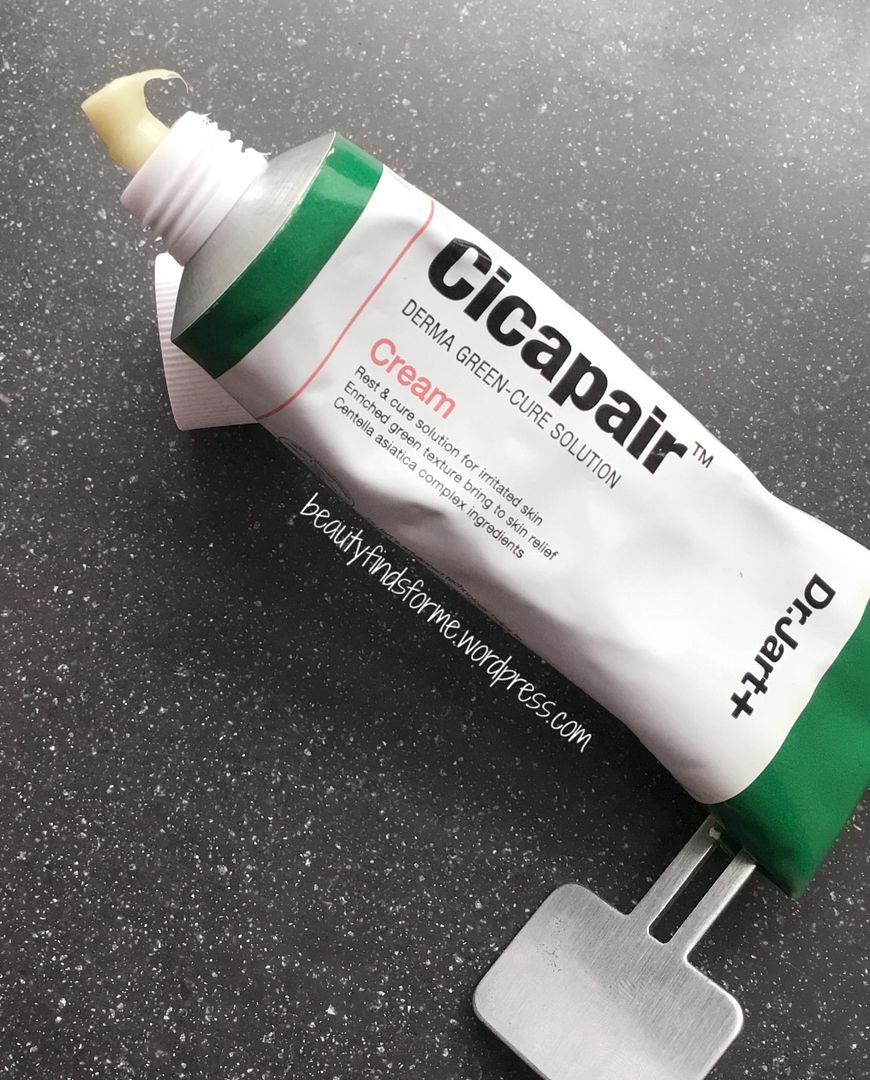 The cream is very rich and well, creamy for a lack of a better word ~ almost like soft butter.  It is quite dense, but it spreads nicely on my skin.  It feels so soothing on my skin and when I have blemishes, this cream really does help alleviate the pain. 
The first few times I used this cream, I used it only at night time, as I felt it was too rich for day time use.  In fact, I always felt like there was a layer of this cream sitting on top my skin, not being fully absorbed.  I then read the back of the tube, where it stated  "Help the skin absorb wrapped in the palm of your skin".  Huh. So, I started to do the following ~ after applying the cream to my face, I then gently pressed the palms of my clean hands to those areas.  I did this a few times and I found that the cream had melted into my skin, absorbing cleanly.  I could still feel that my skin was moisturized, but not with a filmy layer of product on top of it anymore.  The warmth of my hands helped push the cream into my skin and I then started using it during the day time, as my skin was no longer greasy.
This is a moisturizing cream ~ it increased my moisture by 22% which I was surprised by that result.  I felt it moisturized more than that ~ and I believe I think that because this is more of an occlusive cream ~ it is moisturizing my skin somewhat, but it then locks in all of the moisture into my skin, so it feels more moist and supple.  It increases my oil levels at 23% as well ~ just a bit more than the moisture levels ~  but overall, it normalizes my skin, helping it go from oily to normal skin.  To be honest, I was also surprised by this reading as well!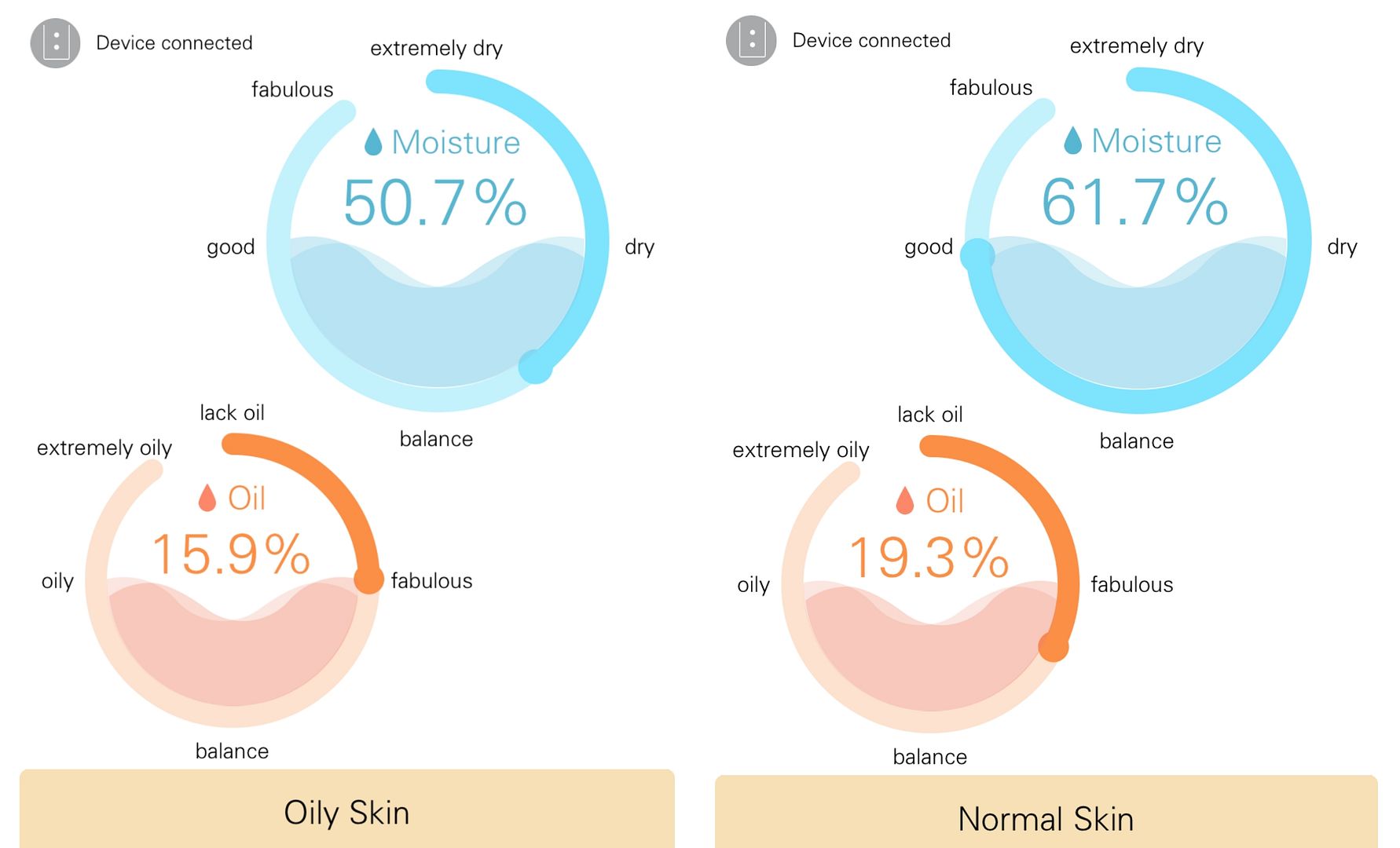 Final Thoughts
Since I have been using this cream, I have noticed that my blemishes are fewer and far between (knock on wood, watch them come out now) and when I do get them, this cream seems to help heal them faster and prevent my blemishes from turning into a long-term horror show of breakouts.  My pimples are always lonely and they seem to attract other pimples rapidly, but with this cream, I am stopping that party early on.  I am kind of in shock and surprised how well this cream worked for my oily skin type ~ I was certain that this would not work as a day time cream and would be only used at night time, due to its rich buttery texture.  But that was not the case for me ~ I applied this product on what I like to call my hot spots ~ my chin, nose and forehead and I did not notice any more oiliness in my skin when I used it. This product won the 2017 Best Derma Award in Korea and if you get a chance to try it, I highly recommend it.  I hate to plug another store here, but if you live near a Sephora and they carry this item, ask them to make a sample of it for you, so you can try it first that way.  But don't buy it at Sephora… I tell you why in a minute.  Have you tried Dr Jart+ Cicapair Cream yet? What did you think of it? 
Where to Purchase
screenshot image
I want to point out that the label on this cream ~ Cicapair Cream  ~ is the same item as the Cicapair Tiger Grass Cream that is found at Sephora.  It is the SAME product, but for some reason, the marketing for Western stores added the Tiger Grass to the packaging.   I also am very amused that Sephora sells this same product for almost $20.00 more than Jolse.  I guess that is $10.00 per added word on the label!
As much as I love Sephora, I love a deal much better and I highly suggest that you purchase this cream from Jolse (click here to purchase) at the price of $28.03 instead of $48.00!!  Jolse also carries another Cicapair Cream product ~ the SPF 30 color correcting cream as well.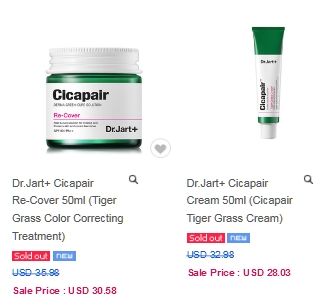 Jolse has free USA shipping for orders over $40.00 and give lots of samples.  I have found that their shipping times are also pretty fast coming all the way from Korea ~ I usually get my packages within 10 business days.

[ disclosure: product received complementary for review purposes. contains affiliate links ]