[ blogpost contains affiliate links ]
The theme for NMNL May box is Beauty Must-Haves  ~ containing the latest, trendiest Japanese beauty goodies to glam up your beauty routines

Tokyo Treat NMNL (no make, no life) will contain 5 to 7 full sized beauty products from Japan.   They will ship directly from Japan and it does have international free shipping to 120 countries.  This box will ship out between the 20th and 28th of the month prior.

nmnl comes in one size:  each monthly box contains a mix of 5 – 7 full-sized beauty items of the highest quality from 6 different categories (skin, body, make, hair, bath and tools) chosen for you by our in-house beauty consultant
The pricing varies based on your plan
$29.99/monthly

$87.00 for 3 months

$170.00 for 6 months

$330.00 for 12 months
Special!!!  If you order any of the Tokyo Treats boxes, you will save 10% off the life of your subscription! April is Tokyo Treat 2nd Birthday and they are doing a massive cross promotion where you can get a 10% off forever with
You can save $3.00 off your first box by using promo code UNBOXINGBEAUTY

Box Revealed
This does come with an informational pamphlet that tells you what you got.  I have repeated the information here from the pamphlet.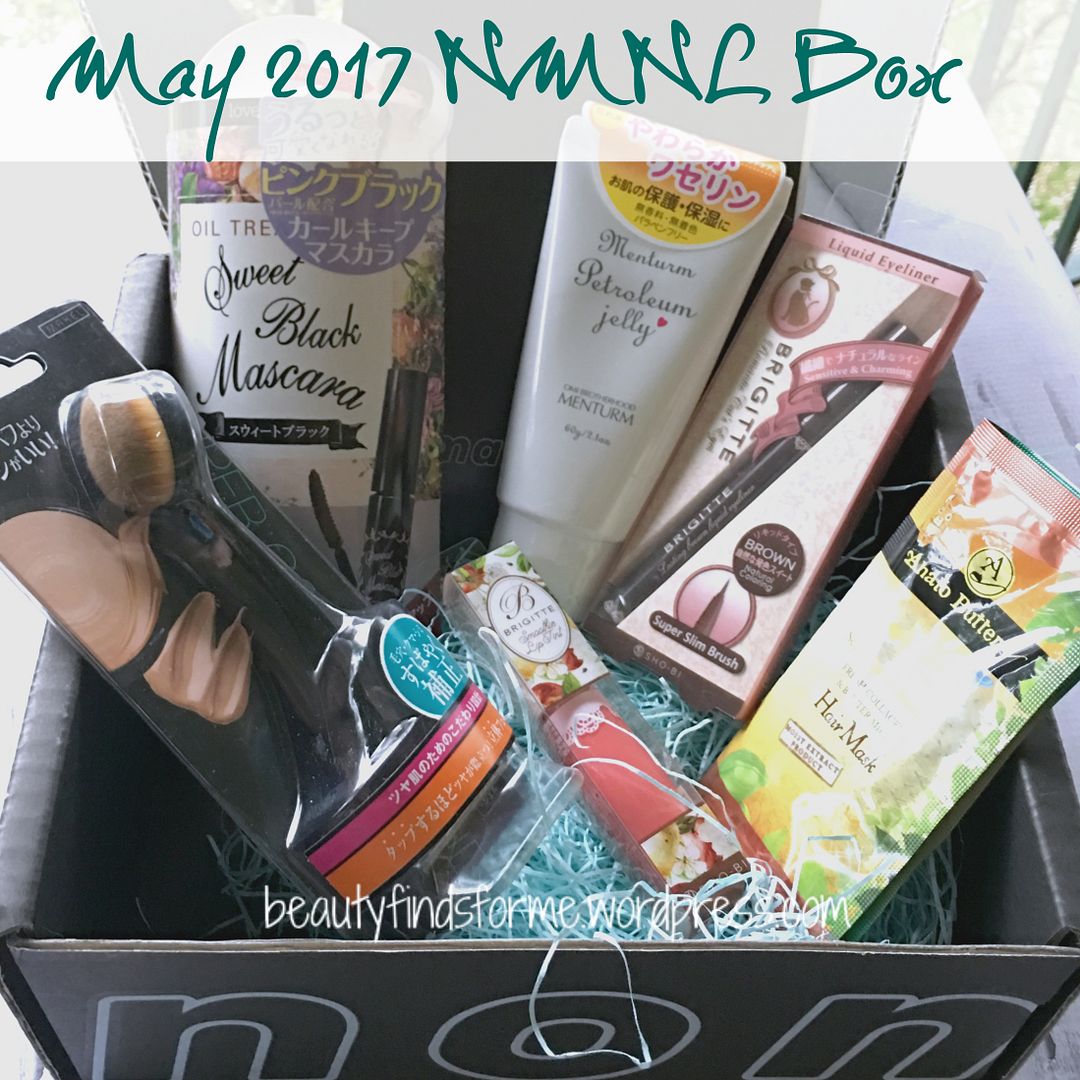 As I am still getting the hang of using various tools to help translate Japanese to English, my translations are still rough with the ingredient list.  If you do not see the cosDNA analysis at the end of the list, then that means I am not 100% sure that I translated this correctly.

Love Switch Oil Treatment Mascara in Sweet Black This is made with a oil based formula that is 20% lighter than most mascaras ~ it won't weigh your lashes down, so they will lift up and stay up. This is a water proof, waterless mascara and it is enriched with botanical oils, rich in vitamins to nourish your lashes and keep them strong: avocado, hazelnut, camellia seed, olive fruit and meadowfoam seed.
This has a nice curved brush and even though it is not the most volumizing or lengthening mascara, it has a nice natural look and it doesn't flake. The best thing about this? It smells like lavender ~ cool beans!  The informational card mentioned it smelled like lavender, but sometimes mascara scents get lost in translation and the senses, so I was really happy to discover it does smell like a herbal lavender oil.  The packaging on this mascara is one of the more elaborate boxes I have seen ~ The box has a front flap that opens up to reveal some information about the mascara and then you push down on the front to bring out an inner sleeve that holds the mascara itself.   Full Size 8.3 g RV $15.90
Ingredients: Hydrogenated polyisobutene, trimethylsiloxysilicic acid, beeswax, methyltrimethicone, microcrystalline wax, polyethylene, polysorbate 80, paraffin, DPG, carnauba wax, dextrin palmitate, octyldodecyl isostearate, pentaerythrityl hydrogenated rosin, vaseline, nylon -66, perfume, olive fruit oil, avocado oil, camellia seed oil, meadowfoam oil, hazelnut oil, tocopherol, phenoxyethanol, iron oxide, titanium oxide, talc, mica, silica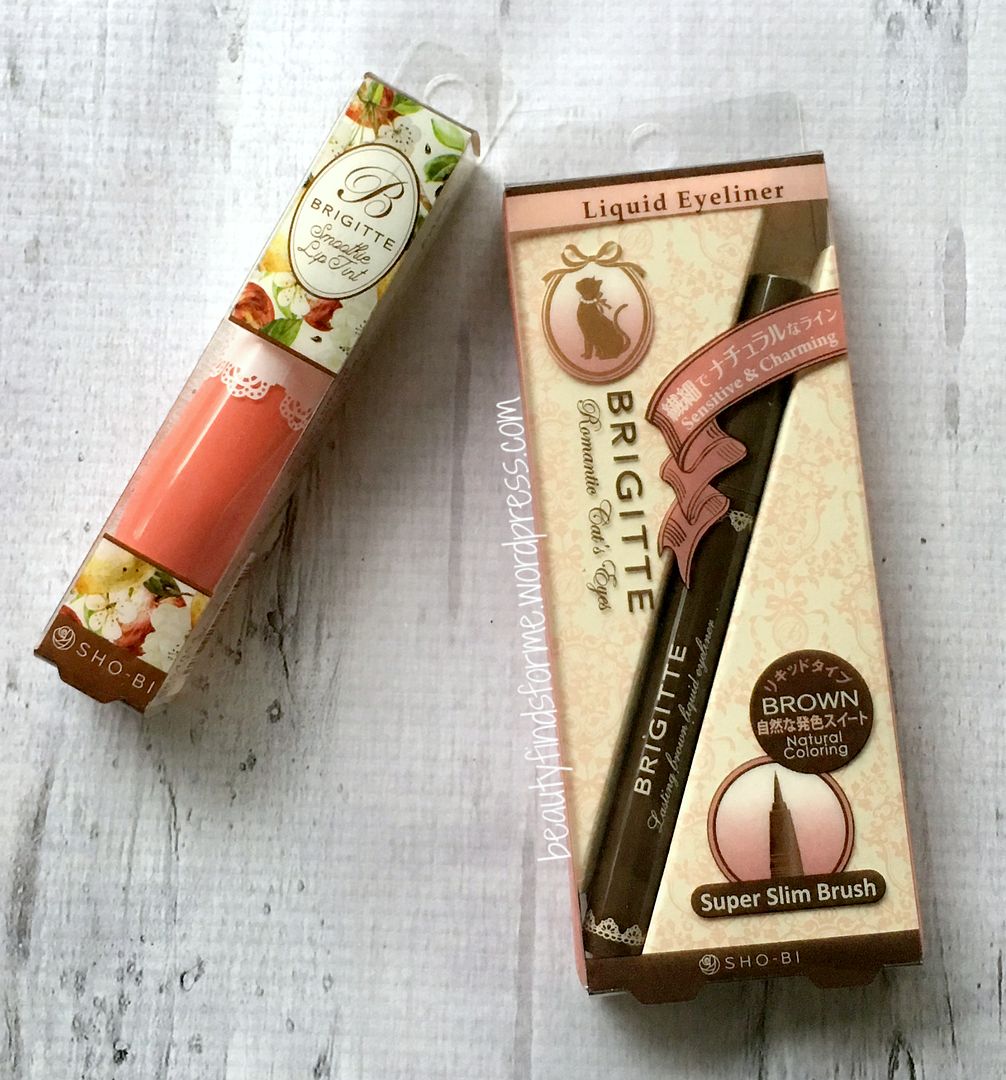 The next two makeup items are from the brand Brigitte.
Brigitte Smoothie Lip Tint in Fig Coral This is a really sweet looking lip gloss ~  The Japanese 2017 color trend is pink and this is a nice coral pink.  That said,  when I think of fig, I think of purples, but I am not sure how a purple coral shade would look like! This lip gloss is very sheer, as it is a tint ~ my swatch makes it look like a vivid coral, but once applied on the lips, it really is more of a glossy sheer wash of coral.  This has a flat paddle and application is quite easy.
This actually reminds me of a lip oil, the way it applies and feels on my lips. This is made with peach, apple, pomegranate, grapefruit and raspberry extracts and it is very moisturizing. This is a fun spring/summer shade and I am surprised how much I like this ~ it is not sticky at all.  Full Size RV $13.00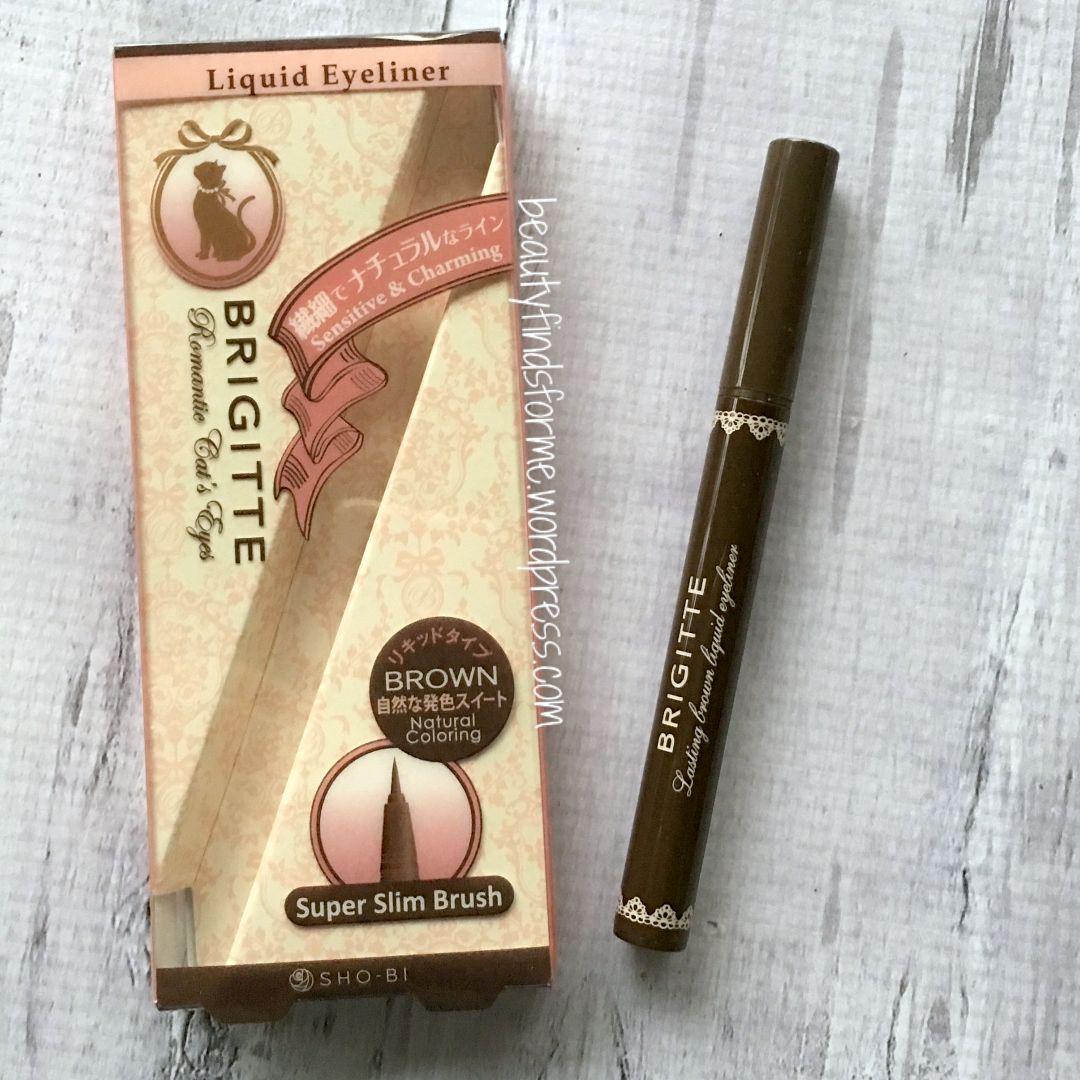 Brigitte Lasting Liquid Eyeliner in Brown I am actually happy to get a brown liquid eyeliner, just to shake things up and as spring is a "softer" makeup season, brown works well instead of jet black.
This has an ultra thin micro-fine brush ~ it reminds me of Jesse's Girl eyeliners and it is fast drying ~ smudge proof and long lasting. I will say I am really happy with the color too ~ this isn't a deep espresso brown, but a milk chocolate brown ~ it has a lot of yellow in it and I happen to like it a lot! It goes well with the Brigitte Smoothie Lip Tint in Fig Coral. This contains chamomile extracts to help moisturize your skin.  This is waterproof, sweat proof and resistant to tears and bleeding. RV $10.00 (eBay does sell it for more)
Ingredients: water, (styrene/acrylates) copolymer , BG, DPG, chamomile flower extract, poly aspartic acid Na, PEG-60 glyceryl isostearate, beheneth -30, silica, PVP, phenoxyethanol, methylparaben, dehydroacetic acid Na, EDTA-2Na, metaphosphate Na, simethicone, iron oxide, carbon black 
Omi Brotherhood Menturm Petroleum Jelly So this item is a bit strange for me ~ I am not sure I ever want to smear petroleum jelly on my oily face as a moisturizer, but I will use it to help remove makeup, soothe  rashes, bug bites and sores (warmer weather means my skin gets beat up more!!).  Petroleum jelly can also be used your lips too and I guess if you have very dry skin, your face. It is mild, hypoallergenic, contains no added fragrance, dyes or parabens and is safe for sensitive skin and babies. Oh, if you have a baby, this is great for diaper rash.  This is free from perfumes, parabens and dyes.   And yes, it is 100% vaseline! 60 gram RV $8.90

Lucky Wink Super Cover Foundation Brush I love these oval foundation brushes! This brand is Japan's #1 selling of these types of brushes and I love oval foundation brushes over sponges or flat brushes. It is like using my fingers but better ~ wait, let me say this ~ I always had great coverage by applying my foundation with just my fingers. When I went to sponges, I felt I lost control over how much foundation I put on my face and I had a hard time putting the right amount of coverage. That is why I am a foundation finger gal ~ but then I found these brushes a few years ago and I love them! These brushes give me the coverage I want, plus a silky finish.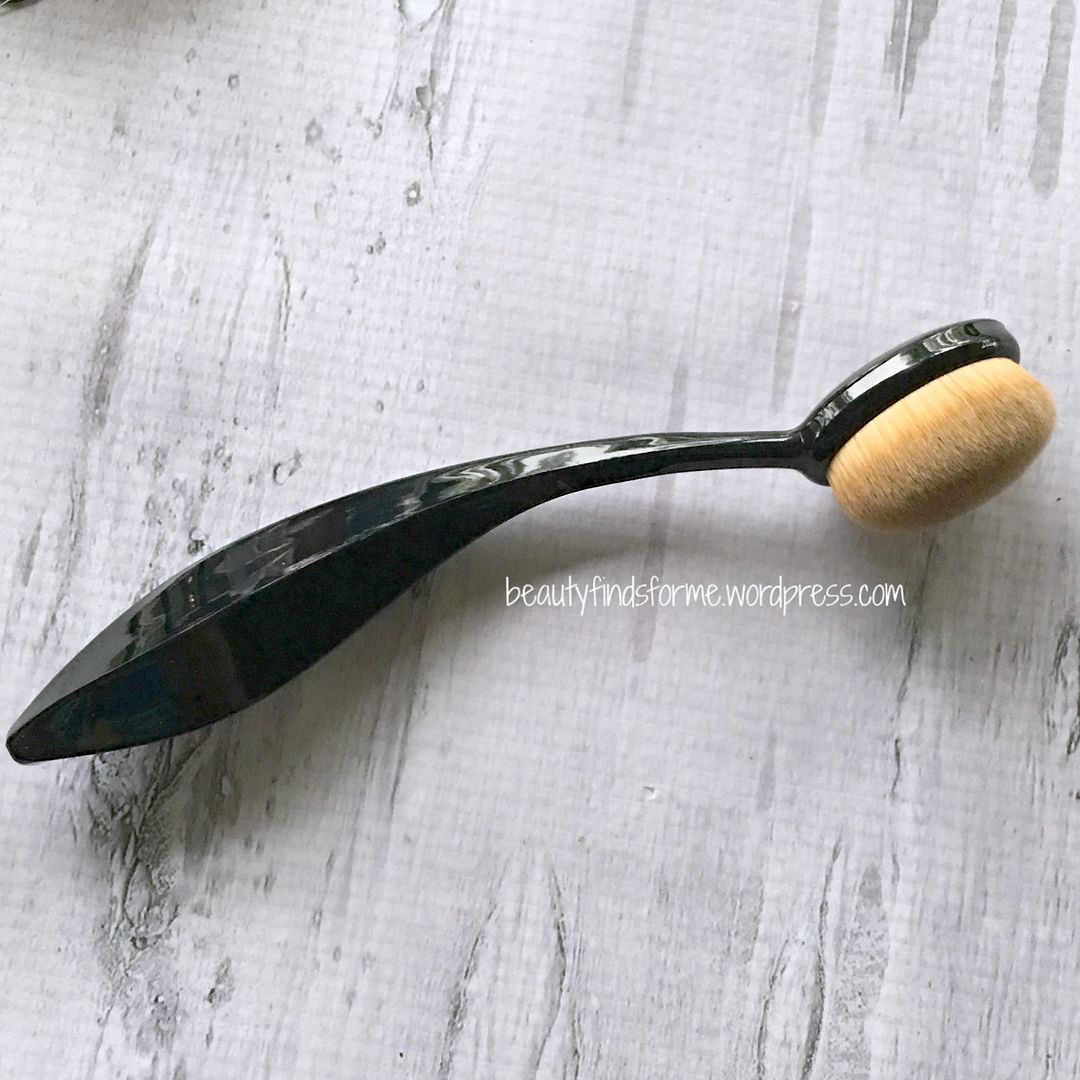 This compact brush has a dense medium nylon bristles (they are soft, but they hold their shape well) and it can cover into hard to reach areas. These brushes are easy to clean to ~ just use a mild soap, as it is made with synthetic fibers. I like this size as it isn't too long that when I use my magnifying mirror, it doesn't bump into it.  I am blind as a bat, and I hold my magnifying mirror fairly close to my face ~ any brushes with long handles are very inconvenient for close up work. RV $11.56
To use:  Using brush, dab a pearl size amount of foundation to your forehead, chin and cheeks. With a tapping motion, spread the foundation those areas. With a massaging motion, evenly  spread the foundation to cover the rest of your face. The video belong looks like it would take forever to apply your foundation ~ it doesn't.  They are going slow as they are teaching you how to use the brush.

U.S. Subscribers received an extra sample from Ahalo Butter, a popular franchise in Japan and they curate hair care products. They included a sample of their popular scalp care & relaxing shampoo and scalp care & relaxing hair mask.  They just started selling their products on line in the USA and provided a promo code AHALONMNL20  to use at their online store .  They are currently offering first time buyers in the USA a special deal (click here) and you can use the 20% off coupon too! You can select either a 3 pack which includes Shampoo, Conditioner and Hair Mas of the Rich Moist Series (for normal to dry hair), which includes Shampoo, Conditioner and Hair Mask or the  Premium Scalp Series (for normal to oily hair). I received the Scalp Series as my samples and I did purchase this deal ~ it is 28.00 (not including shipping or the discount). 
Ahalo Butter uses botanical ingredients with rich, natural butters such as  shea, mango, jojoba, murumuru and cacao butter, along with raw collagen, for ultimate hydration.  Ahalo Butter is cruelty free.  
Scalp Care & Relaxing Shampoo Description:  Rich lather gently yet effectively cleanses the hair and scalp free from any dirt, sebum or oil, and provides odor protection. 16 types of amino acids. 10 herbal extracts. Ghassoul clay to absorb oil and impurities. Silicon & sulfate free
Recommended for: normal to damaged hair. Scalp: normal to oily. Finish: smooth, moisturized hair without being weighed down  Fragrance Note: Fresh Botanical Herbs
Ingredients: water, cocamidopropyl betaine, cocamide dea, sodium methyl cocoyl taurate, sodium C14-16 olefin sulfonate, butylene glycol, disodium EDTA, PPG-7, gamma-docosalactone, clover flower extract, euterpe oleracea fruit oil, astrocaryum murumuru seed butter, sodium aspartate, acetyl tetrapeptide-3, irvingia gabonensis kernel butter, alanine, allantoin, argania spinosa kernel oil, arginine, arnica montana flower extract, aloe barbadensis leaf extract, isostearic acid, isostearoyl hydrolyzed collagen, isoleucine, disodium inosinate, citrus unshiu peel extract, alcohol, octyldodecanol, panax ginseng root extract, lamium album flower extract, nasturtium officinale leaf extract, gardenia tahitensis flower extract, cocoa seed butter, saccharomyces/persimmon fruit juice ferment extract, quillaja saponaria bark extract, disodium guanylate, citric acid, quaternium-18, glycine, glycerin, glucosyl hesperidin, glutamic acid, keratin, arctium lappa root extract, coriander fruit oil, averrhoa carambola leaf extract, shea butter, bis-ethoxydiglycol cyclohexane 1,4-dicarboxylate, cystine, perilla ocymoides leaf extract, ginger root extract, silk powder, pinus sylvestris cone extract, ivy leaf/stem extract, sambucus nigra flower extract, peppermint leaf extract, sage leaf extract, ceramide 2, serine, swertia japonica extract, prunus yedoensis leaf extract, soybean sterols, taurine, camellia sinensis leaf extract, tyrosine, camellia japonica seed oil, dextran, tocopherol, threonine, allium sativum extract, hybrid safflower seed oil, honey, witch hazel leaf extract, valine, hydroxypropyltrimonium hyaluronate, histidine hcl, eriobotrya japonica leaf extract, methylparaben, phenylalanine, propanediol, proline, behentrimonium chloride, jojoba butter, polyquaternium-10, meadowfoam seed oil, menthol, moroccan lava clay, coconut oil, citrus junos fruit extract, phytosteryl/octyldodecyl lauroyl glutamate, lysine hcl, leucine, rosemary leaf oil, rosemary leaf extract, anthemis nobilis flower extract, hydrogenated coco-glycerides, soluble collagen, lactic acid, sodium lactate, phenoxyethanol, sodium benzoate,fragrance
Scalp Care & Relaxing Hair Mask  Description: Richly textured treatment to focus on repairing severely damaged hair. Hair is left noticeably shinier and more manageable. 10 herbal extracts. 16 types of amino acids.  Heat protectant. Proprietary cmc repair technology. Proprietary nano repair technology
Recommended for: normal to damaged hair.  Scalp: normal to oily.  Finish: smooth, moisturized hair without being weighed down  Fragrance Note: Fresh Botanical Herbs
Ingredients: water, cetearyl alcohol, dimethicone, dipropylene glycol, petrolatum, behentrimonium chloride, C12-14 pareth-12, hydrolyzed soy protein PG-propyl methylsilanediol, butylene glycol, propylene glycol, gamma-docosalactone, clover flower extract, euterpe oleracea fruit oil, astrocaryum murumuru seed butter, sodium aspartate, acetyl tetrapeptide-3, irvingia gabonensis kernel butter, avocado oil, alanine, allantoin, argania spinosa kernel oil, arginine, porphyra yezoensis extract, arnica montana flower extract, aloe barbadensis leaf extract, isostearic acid, phytosteryl isostearate, isostearoyl hydrolyzed collagen, isopropyl alcohol, isoleucine, disodium inosinate, citrus unshiu peel extract, alcohol, octyldodecanol, panax ginseng root extract, lamium album flower extract, nasturtium officinale leaf extract, olive fruit oil, gardenia tahitensis flower extract, cocoa seed butter, saccharomyces/persimmon fruit juice ferment extract, licorice root extract, disodium guanylate, citric acid, sodium citrate, quaternium-18, quaternium-33, sophora angustifolia root extract, glycine, glycerin, glucosyl hesperidin, glutamic acid, keratin, arctium lappa root extract, coriander fruit oil, cholesterol, averrhoa carambola leaf extract, shea butter, bis-ethoxydiglycol cyclohexane 1,4-dicarboxylate, cystine, perilla ocymoides leaf extract, ginger rhizome extract, silk powder, steartrimonium chloride, sodium stearoyl lactylate, pinus sylvestris cone extract, ivy leaf/stem extract, sambucus nigra flower extract, peppermint leaf extract, sage leaf extract, cetearamidoethyldiethonium succinoyl hydrolyzed pea protein, ceramide 2, ceramide AP, ceramide NP, serine, cnidium officinale rhizome extract, swertia japonica extract, prunus yedoensis leaf extract, soybean sterols, taurine, camellia sinensis leaf extract, polianthes tuberosa polysaccharide, tyrosine, methylparaben, camellia japonica seed oil, momordica charantia fruit extract, dextran, angelica acutiloba root extract, tocopherol, threonine, allium sativum extract, hybrid safflower seed oil, honey, witch hazel leaf extract, valine, hydroxypropyltrimonium hyaluronate, histidine HCL, sunflower seed oil, phenylalanine, propanediol, proline, behenyl alcohol, pumpkin seed extract, polyglyceryl-10 pentastearate, jojoba butter, jojoba seed oil, macadamia integrifolia seed oil, mango seed oil, meadowfoam seed oil, menthol, peach leaf extract, coconut oil, citrus junos fruit extract, phytosteryl/octyldodecyl lauroyl glutamate, lysine HCL, leucine, rosemary leaf oil, rosemary leaf extract, anthemis nobilis flower extract, hydrolyzed keratin, hydrolyzed sesame protein PG-propyl methylsilanediol, hydrolyzed soy protein, hydrogenated coco-glycerides, soluble collagen, lactic acid, sodium lactate, alcohol denat., phenoxyethanol, fragrance