[ disclaimer: product received for review purposes ]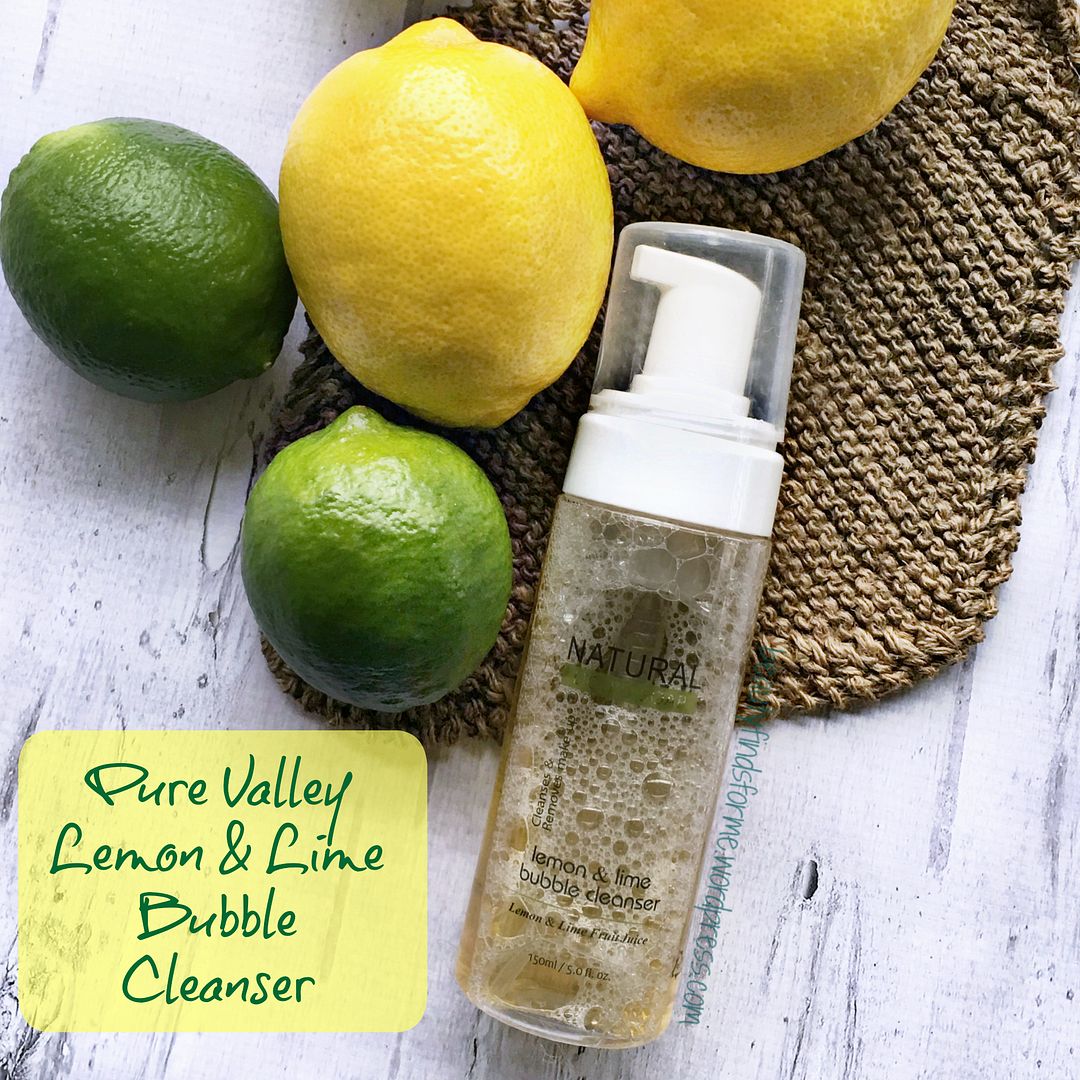 Before I learned about K-Beauty, I was (and still am) into eco-friendly, natural skincare products.   I still enjoy my organic skincare products, but it is rare for me to get one from Korea.  I am a Beauty Creator at MiniB Beauty, which is a fantastic social networking site where they get the latest beauty products from Korea and share them with their readers by hosting giveaways in exchange for reviews. Their Instagram feed is amazing, with videos and photos of the new trends and cool items from Korea. MiniB Beauty also supports Korean small beauty businesses, which is where this product comes into play.  When I was asked by Minnie, the creator of MiniB Beauty, if I would be interested in reviewing a natural, eco-friendly cleanser, I was thrilled!!  Added bonus ~ it is made with fresh lemon and lime juice extracts ~ I love my citrus products. 
This company is such a small business, that the only reference I found was by using Naver (which is Korea's Google) and the business looks like it is located at Donggang University in Gwangju.  Pure Valley has 25 years of research experience and creates natural cleansers without chemical additives, such as preservative and silicones, removing dangerous surfactants that are harmful to our eco-system.  Instead they use vegetable, natural, plant derived surfactants, made from coconut, olive, argan and jojoba oils.  
Skin Type/Concerns:  Oily, blemish prone, aging skin with fine lines/wrinkles and hyper-pigmentation.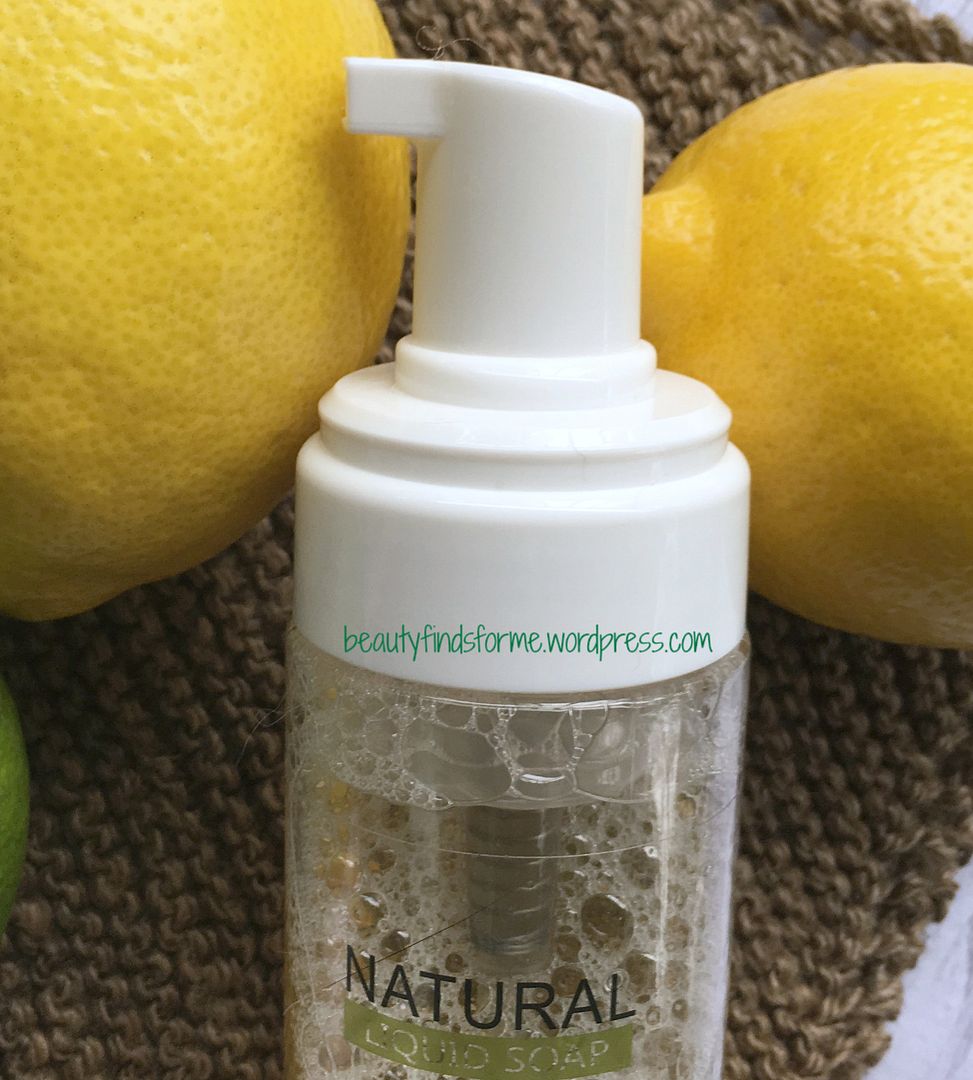 Pure Valley Lemon & Lime Bubble Cleanser comes in a nice pump bottle and mine is clear ~ some of the cleansers are in a white bottle.  It's the same product, they just happened to have two different bottles for packaging!  The liquid is truly a bubbling cleanser as there are bubbles suspended in the liquid cleanser all the time.  It was very hard for me to take a photo, as the bubbles kept getting in the way. MiniB Beauty thoughtfully provided the ingredients list as it was pretty hard for me to read the label ~ I would have had to translate it too, so I am grateful that she had the translation already on hand
Water, Sekken Soji-K (Potassium Soap Base),  Cocos Nucifera (Coconut) Oil, Olea Europaea (Olive) Fruit Oil, Oryza Sativa (Rice) Bran Oil, Argania Spinosa Kernel Oil), Citrus Limon (Lemon) Juice, Citrus Aurantifolia (Lime) Juice, Tocopherol, Citric Acid, Fragrance cosDNA analysis

Sekken Soji-K is made by the the fatty acids of vegetable oil and sodium hydroxide, and it is very mild while providing a rich foam.  This has some really nourishing and moisturizing and anti-oxidant oils ~ coconut, olive, rice bran, argan ~ rice bran will also help brighten as well.   This also has lemon and lime extracts, which are a natural source of vitamin C and the antioxidants bioflavonoids.  They have vitamins, sugars, citric acid and ascorbic acids and will help tighten the appearance of pores, as they are astringents.  The acidity of these citrus fruits help kill bacteria, hence reducing blemishes and helping them heal.   There are no synthetic surfactants, no preservatives and no coloring agents.
This cleanser smells wonderful ~ it reminds me of a sparkling lemon-lime soda and it is such a refreshing scent.   When I press down on the pump, the liquid soap gets air pumped into it and comes out as a silky, smooth cloud of foam.  The foam is so soft and velvety against my face ~ I can feel the oils in this whipped foam but it is lightweight, very airy and just feels luxurious against my skin.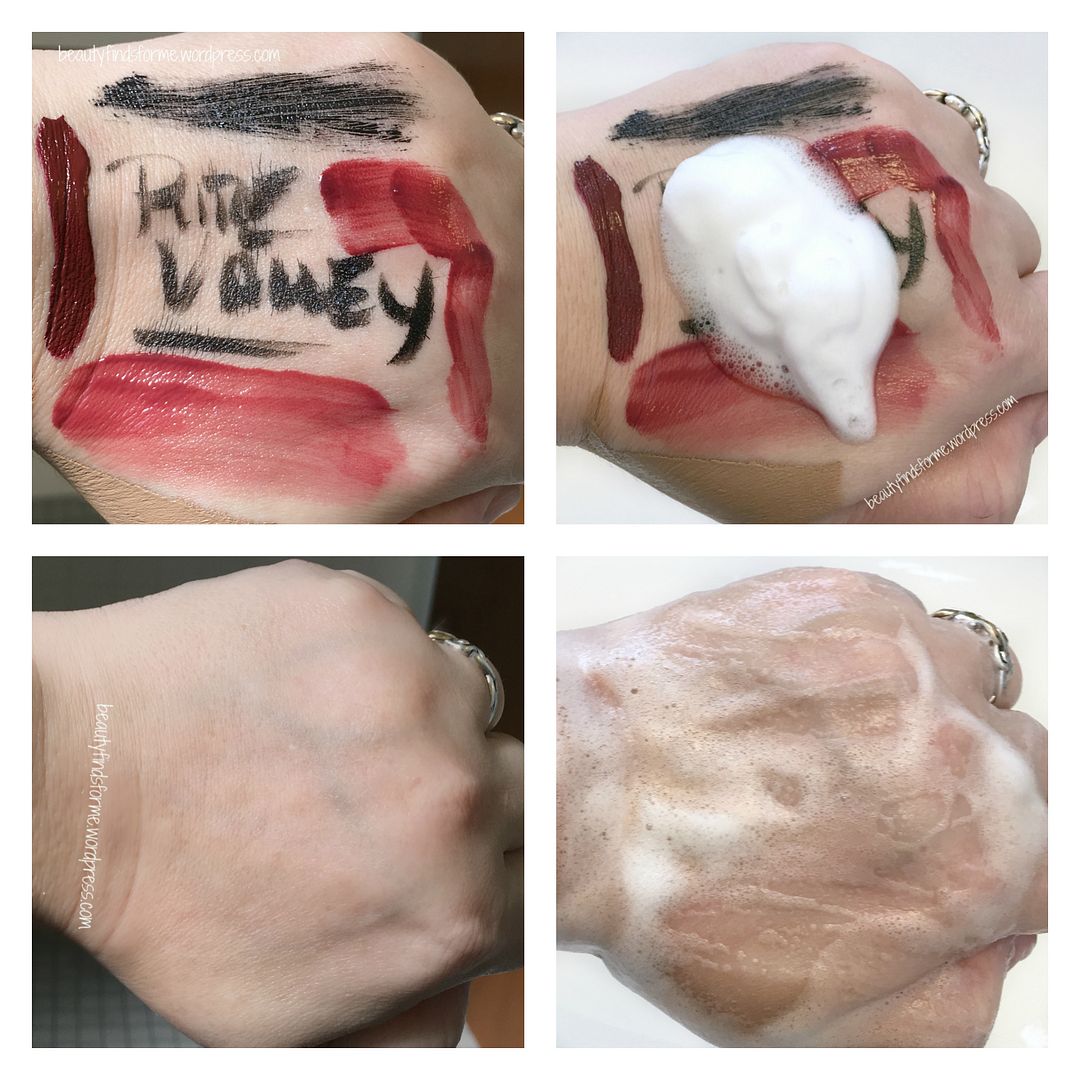 It cleans beautifully as well ~ the cleanser removed all of my stubborn, won't budge an inch makeup easily and without stripping my skin or making my skin feel dry and tight.  All of those nourishing oils in the foam just keep my skin soft and supple.  My only complaint is that it does sting if it gets in my eyes, which I attribute to the citrus extracts.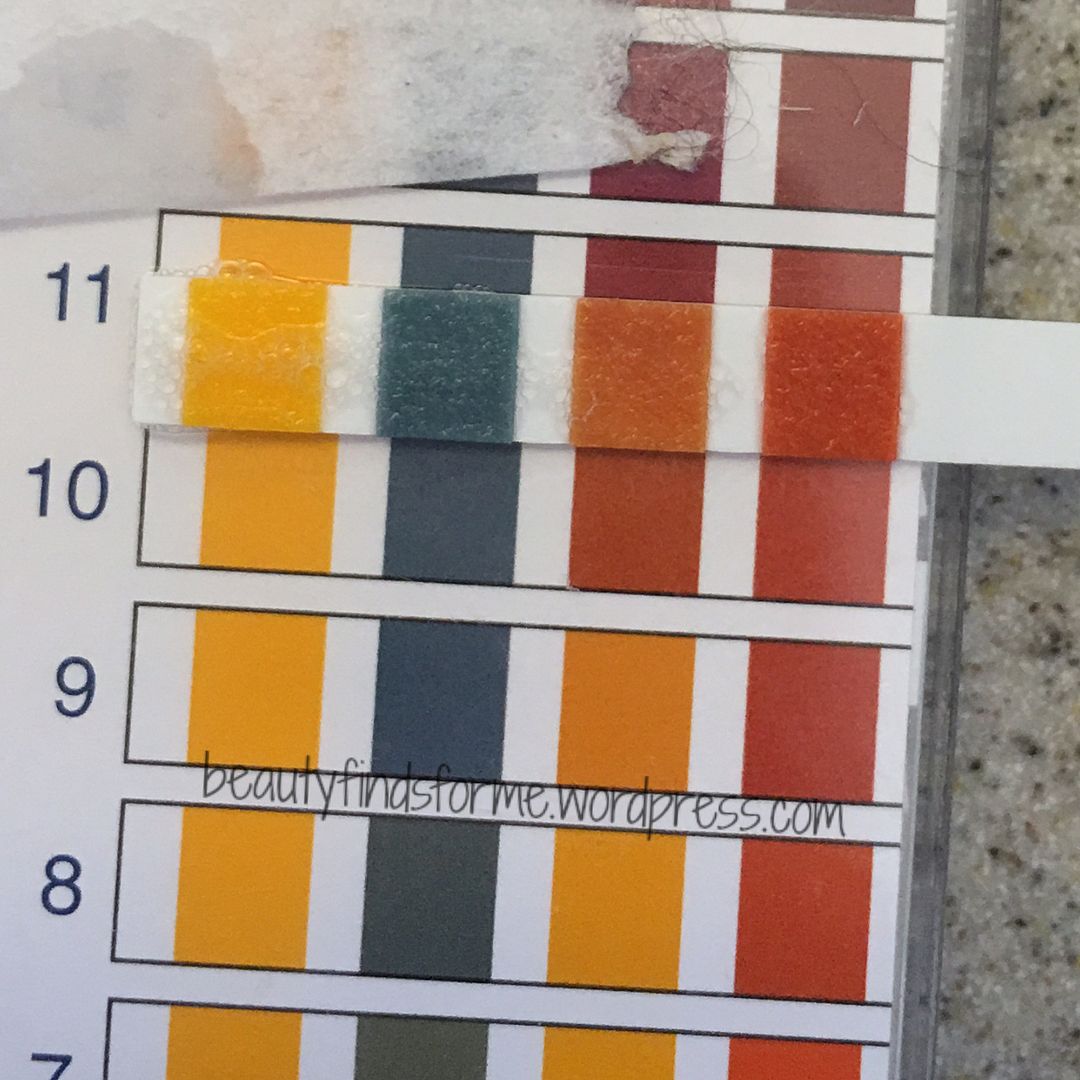 Yes, that is a pH of about 9.5 you see there.  Wait, wait wait.  By now, if you have read my reviews on hand-made bar soap, you know that all high pH cleansers are not equal.  Whenever I try a new cleanser, I do not do a pH test right away ~ I take the cleanser for a test drive and see how my skin reacts to it.  I have learned by doing this that my skin can tolerate and like higher pH levels and on the flip side, really have a bad reaction to low pH levels.   There is also a really good reason why this cleanser has a high pH level as well. 
A few years ago, I experienced a similar test like this with a nice, eco-friendly, all natural and organic cleanser.  I spoke with the owner and she explained to me why natural foaming cleansers are higher in pH levels.  Many brands who specialize in creating natural cleansers will purposely keep the pH level higher so it stays in the alkaline range of 8 to 9.  Bacteria and other microbes cannot grow in the slightly alkaline range and therefore there is no need to add harmful preservatives.  The optimal pH for a face wash is between 5.5 and 9 ~ and if the foaming cleanser is 7 and under, the brand has to add a preservative to ensure that there is no bacterial growth. Many natural brands feel that the benefit of avoiding harmful preservatives outweighs the small risk of the cleanser being drying with its slightly alkaline pH.  
I have used foaming cleansers in the 10 and 11 range and I know that, for the most part, I can use a higher pH cleanser without my skin feeling dry or tight.  There are exceptions, of course, but this cleanser is not one of them.  That said, this is my skin and how it behaves and I am certainly not an expert and I do not claim to be.  If you have compromised skin or very dry skin, you are probably correct that you need a lower pH level cleanser.  However, if your skin barrier is not compromised, you shouldn't be afraid to at least try a cleanser that has a higher pH level, especially if it is an organic natural one with no preservatives. 
Final Thoughts
I really wanted to try this cleanser as I felt it was time to talk about high pH levels in a liquid cleanser and why it might not be a horrible thing.    I did not know the level until recently, when I took the photos here in this review ~ a blind test is the best type of test, imho, and I really enjoyed using this natural, eco-friendly lemony-lime cleanser.  My skin always feels clean, soft and not dry or tight ~  I love the sparkling citrus scent and the silky, soft foam.  Alas, I do not know where you can purchase it commercially as currently, it seems you can only get it in Korea.   I really appreciate that MiniB Beauty sent this to me for review purposes and I hope to see more eco-friendly, natural organic K-Beauty products from them!
[ disclaimer: product received for review purposes ]