[ product was received for review purposes.  contains affiliate links ]
YesStyle was one of the first Korean online shops I came across back in 2014 and they not only sell K-Beauty products, but Asian skincare ~ Taiwanese, Japanese.  They also sell clothing and other items, but I primarily shop with them because of their skin care and makeup.   YesStyle also has a few Beauty Boxes that they sell and I received this one, courtesy of YesStyle.  If you are wondering how I received this, YesStyle offers this to beauty bloggers every once in a while and all you have to do is fill out the form with your Social Media Sites ~ blog, Insta, Youtube and then they will go thru the applications to decide who gets it.   Many thanks to YesStyle for selecting me out of the application process!  Originally this was not available for purchase, but due to the high demand from customers, YesStyle now has it for sale.

This box is their Sweet Spring Makeup Kit and it focuses on makeup that will get you ready in 10 minutes.  Let's see what I received.  First of all, look how pretty this box is ~ the box is very sturdy and I love the colorful ginkgo leaf design.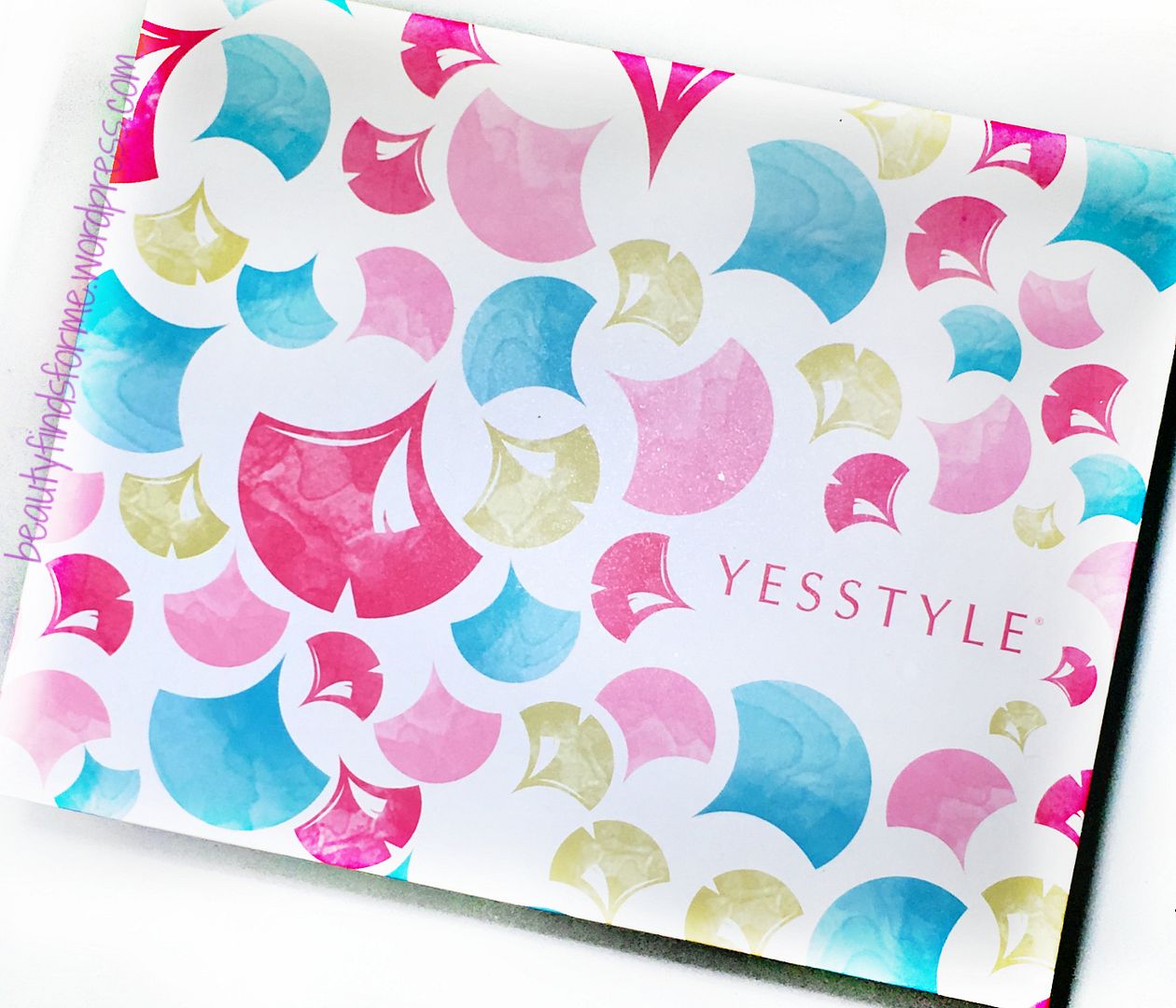 Informational Card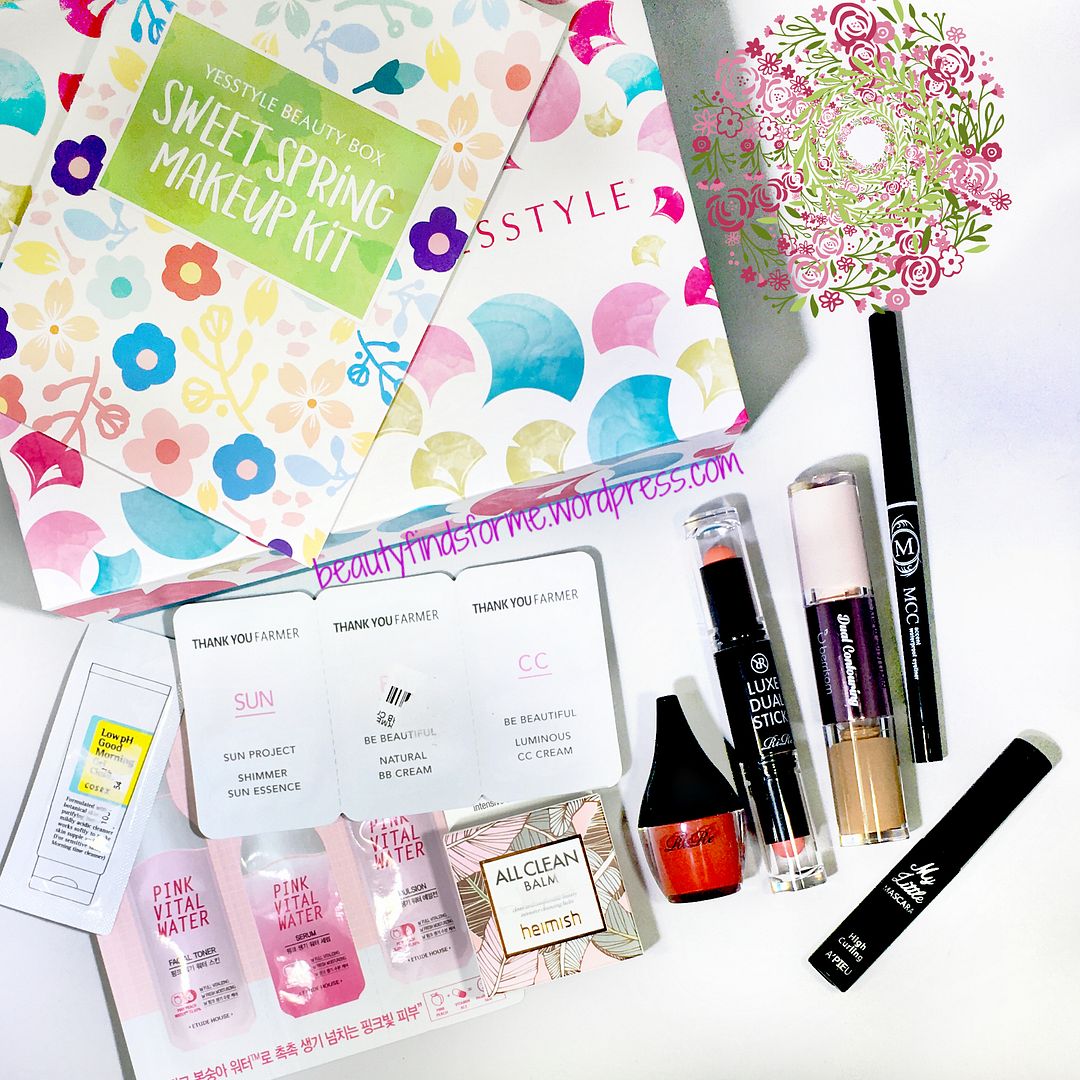 As there are so many products in this box, I will post the ingredients at the end of this blog post.  Not only did I received makeup, but YesStyle thoughtfully included cleansers, skincare and base makeup samples.
Heimish All Clean Balm  This is a fairly newish brand on the scene ~ it was about a year or so that people started to notice it.  This is a cleansing balm and it is the first step in removing makeup, dirt and oil on your face.  A cleansing balm is applied to dry skin, you massage it in, then apply water to emulsify it and then rinse off.   You should follow up with a cleanser to remove any oily residue.  I have an initial impression here as I have tried this sample in the past
This is an oil balm cleanser that you apply on your dry face and massage in to remove makeup and dirt. Add water for it to emulsify, massage a bit more and then rinse off.  Banila Clean It Zero was the first oil balm cleanser that I used and I think they might have started the trend ~ or at least made it popular.  This has a nice herbal scent to it ~ when I first took a sniff, it smelled more medicinal and bitter, but once I applied it on my skin, it became a warm, earthy herbal scent.  The texture is very smooth and not crumbly like some balms, and it is made with coconut oil, shea butter and donkey oil/milk ~ no mineral oils here ~ and that probably is why it is so soft and silky.  This does have jasmine and rose extracts, but they are far down on the list and I don't smell any floral scents with this product at all.  This is free from artificial scents, coloring and parabens.

cosRX Low pH Good Morning Gel Cleanser I have tried this cleanser before and you would use this cleanser after the Heimish cleansing balm as it will remove any oily residue from the balm.  It is another cult favorite but I personally think there are better gel cleansers out there.  You can read my full review here.
Etude House Pink Vital Water Trial Kit  This is cute!  I have sampled the emulsion before and this is what I thought of it
This emulsion has a light scent to it and it isn't that unpleasant ~ I love using emulsions because I have oily skin and have a hard time with traditional creams. Creams sometimes just "sit" on the surface of my skin, instead of being absorbed, leaving my face looking greasy. Whereas emulsions are light weight (even lighter than lotions) and since I layer hydrating products pre-emulsion step, this is all I need to lock in that moisture. I will give this a try and see how it works ~ it has some nice ingredients in it, such as peach, bilberry and Giant sequoia bud extracts (channeling primera products here ~ they are famous for their bud/sprout ingredients), vitamin C, vitamin E, beta-carotene and peptides
This also has the toner and serum included in this foil trio.  
Description Toner: This light and gentle facial toner contains 72% peach water to help restore hydration to skin after cleansing and maintain oil-and-water balance. Vitamins A, C and E and other nutrients found in its other botanical ingredients such as Portulaca Oleracea, Sequoiadendron Gigantea, Vaccinium Myrtillus and Gardenia Florida Fruit extracts help keep skin healthy.
Description Serum: Lightweight hydrating serum contains pink peach water for moisture, botanical ingredients such as Portulaca Oleracea, Sequoiadendron Gigantea, Vaccinium Myrtillus, Gardenia Florida Fruit extracts and silicones for skin smoothening and prolonged hydration. Apply after Pink Vita Water Skin.
Description Emulsion: Lightweight hydrating emulsion contains 69% pink peach water for deep moisture plus botanical ingredients such as Portulaca Oleracea, Sequoiadendron Gigantea, Vaccinium Myrtillus and Gardenia Florida Fruit extracts. Apply it at the last step of your routine to seal in all that moisture.
Thank you Farmer  Sun Project Shimmer Sun Essence + Be Beautiful BB Cream & CC Cream Trial Set   I have also tried the Thank You Farmer trio ~ I have reviewed the Sun Project Shimmer Sun Essence (here) and I love this one ~ it is a sheer, lightly shimmer pink sunscreen and really gives a great glow.  The BB cream and CC cream are a bit too thick for my oily skin, but if you have normal to dry skin and your skin tone matches these shades, these are really nice base makeup items!  My initial review on the Sun Project Shimmer Sun Essence
This essence is a brightening (whitening) and anti-wrinkle formula. This is more lightweight and despite the "shimmer" in the name, it is so subtle. It is perfect for highlighting and where ever you just want a bit of shine, without looking oily! This is a lightweight sunscreen, which is why it is called an essence ~ I have found that products described as essence are much more lightweight in texture and more watery. The cream is actually a pale pink with a pearl cast and when I apply it to my skin, the sheen is there, but barely noticeable. It is very natural and I love it, as it really makes my skin look brighter and more radiant with that glow! The scent is supposed to be the same as the Water Cream, but I found this one to be more natural in its fruity scent and not as perfume-y. Even though this is a shimmer product, there is no stickiness or tacky feeling and since this is lightweight, it also doesn't make my face look oily or greasy. Great product for those with oily skin. 
Now onto the Makeup!!  All swatches after all the items have been described

Berrisom Oops Dual Contouring in No.01 Highlighter & Shading  I have very oily skin and whereas I do use highlighter and contour products on occasion, they would not be cream or liquid~ I use powders. However, I decided to think outside of the box with this item and use it as an eyeshadow!  Hey, I've use an eyeshadow as a lippie, so why not in reverse?  This duo contains hydrating hyaluronic acid and moisturizing ingredients allantoin, arnica flower, hibiscus flower, portulaca and chamomile flower.
The highlighter is very pale pink and it looks almost to be a shimmer shade, but it really calms down quite a bit when I blend it in.  It is very neutral friendly on my skin tone (Mac NW20 for reference) and I use it as an all over lid  to brown shade ~ I normally use a neutral, similar to my skin tone shade on my lids that way as I have a lot of space between my lid and brow.  The contour is REALLY dark and a yellow based tan shade.  Honestly, I am not sure I would use this as a contour even if I did use creams!  However, it makes for a great crease color and upper lid shade.  I use my finger to blend it out and then I top it all with a translucent powder to prevent creasing.  This does stand up as long lasting for eye shadows as once this cream sets, it doesn't really budge.  Berrisom also makes an eye brightener and concealer in the same type of packaging, which is quite clever and I like the dual tube.  I think I would have liked to try that out.


RiRe Luxe Dual Stick #2 Shadow + Blusher  This is another dual ended stick, with one side a pale peach shade and the other which they are calling pink, but I call pink-coral.  Both are very light.  As eyeshadows, nope.  They crease way too much as they are very creamy on my very oily lids.  However, I like the pink-coral shade ~ the darker of the two ~ as a blush.  It is very light, however, and fades pretty quickly.  RiRe also makes a contouring dual stick and a concealer dual stick and I would like to try the concealer one ~ I see a pattern here!! lol
RiRe Lip Manicure Rouge Highfix in Brick Red  I really LOVE this shade.  This is another RiRe product and this is a deep creamy matte lipstick that comes in this cute little "hat" shaped jar.  Alas, because it is so little, the wand is little too and that does make for a tough time to apply this on my lips.  But this shade is a beautiful brick red ~ RiRe called it an orange red.  I love how smooth and creamy this goes on and it smells a bit fruity sweet too!  It is very long lasting as well and tough to budge once it sets.  This is one of the two best products in this box.  I wish RiRe would make this in a standard lip wand size as this one is a bit cumbersome to use.  Other than that, I am looking at some of the other shades RiRe has and thinking of purchase some more. 
MCC Accent Waterproof Eyeliner in #1 Accent Black  I actually like liquid eyeliners better than crayon type, but this one goes on nicely without a lot of tugging.  It isn't a jet black ~ think of the deepest darkest grey you can think of and this is it.   This is a waterproof eyeliner that contains Vitamin E extracts, that will help keep your skin nourished and moisturized and the tip is creamy.  Very creamy ~ with a twist up applicator.  You can smudge it easily to create a smokey eye.  I didn't find that this lasted as long as other Korean eyeliners and I wonder if it because it is such a creamy eyeliner.  I am happy to get one that isn't pure jet black and more of a dark smokey grey. 
A'Pieu My Little Mascara High Curling  This is the 2nd best thing in the box!  This is actually a full size mascara ~ it looks like a deluxe sample, but A'Pieu markets these as "My Little Mascara" and it is ~ lol.  This is an intense jet black mascara, not too dry or too wet and it really lengthens and curls my lashes.   The wand is curved so it helps lift those lashes and it is made with a long-lasting polymer formula, along with blackberries and rice extracts.  I have been wearing this every day since I got it and I love it.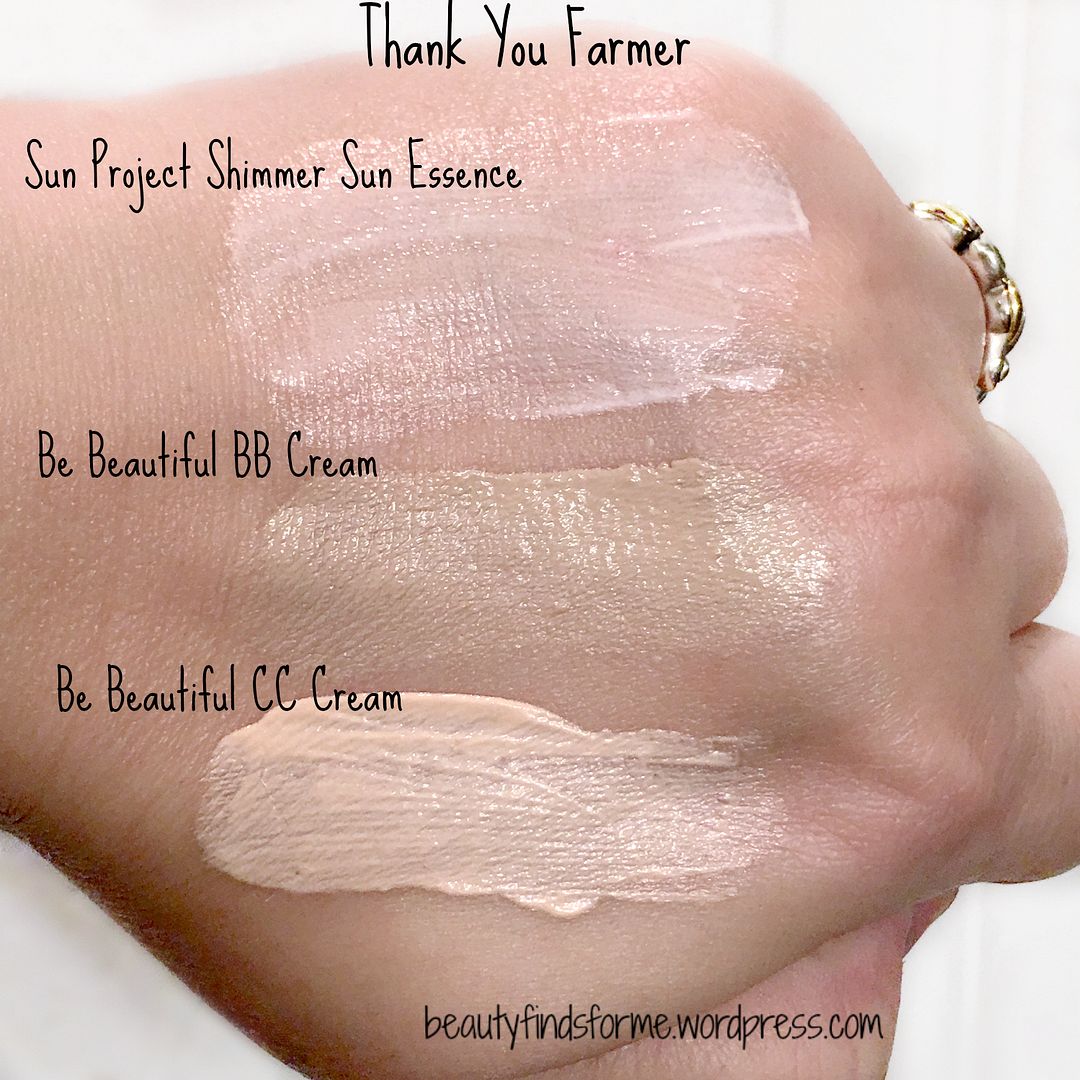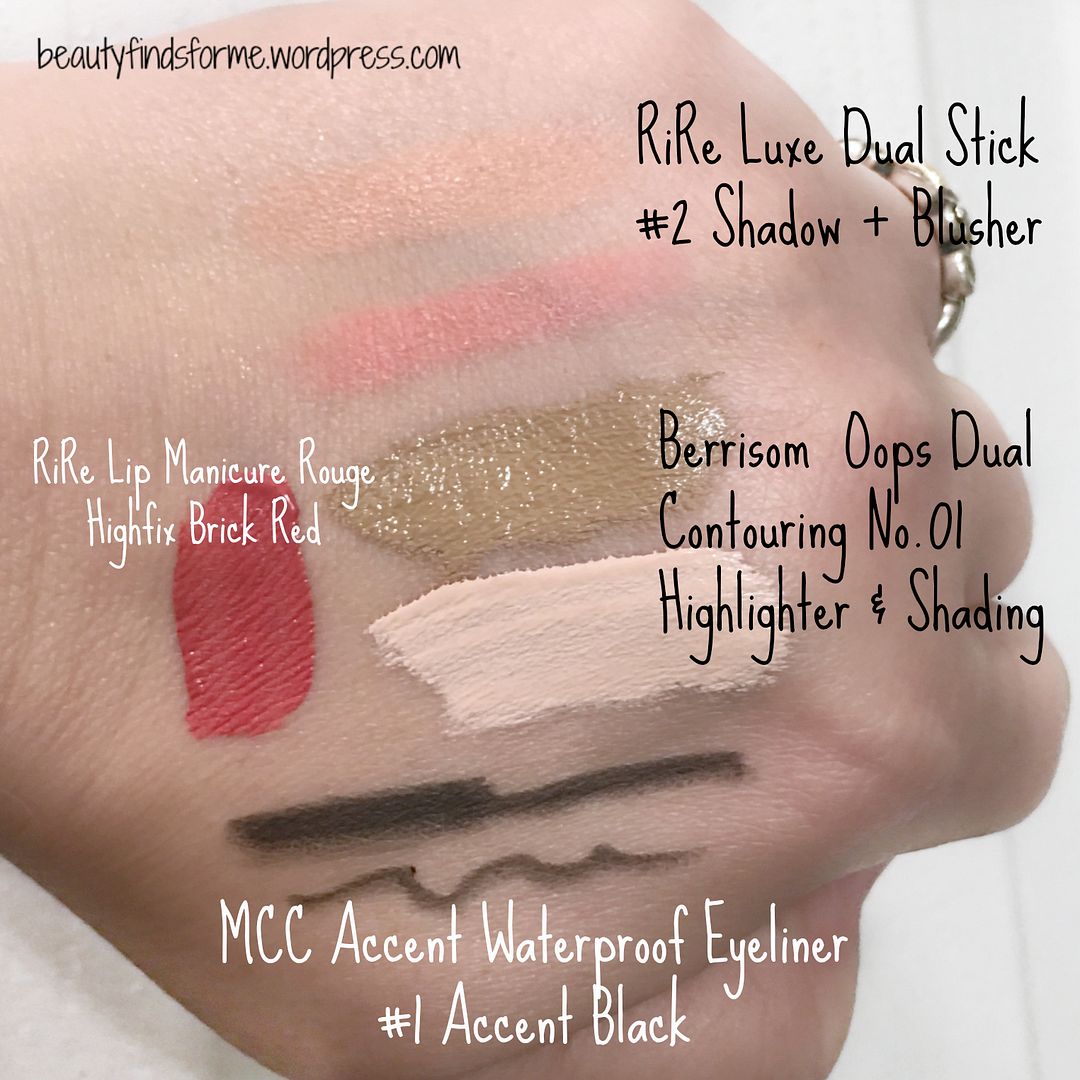 The Look
I decided to do a MacGyver with a few of these products ~ in case I am stuck somewhere with just these few items and if I can do a decent look with them.  I did use all three of the Thank You Farmer products and once again, I am firm in my belief that the BB and CC cream are totally unacceptable for oily skin.  It just settled into my pores and made my face a complete grease pit.  I do love the Shimmer Sun Essence, but it got covered by the BB and CC cream 😦  The Shimmer Sun Essence is too creamy for my oily skin type to work as a primer, btw.  I use it normally as a highlighter on my cheeks and forehead.  I did break my MacGyver rule and used a translucent powder to dampen down the shine.  I then used the pink-coral (the darker shade) of the RiRe Luxe Dual Stick #2 Shadow + Blusher and used my brand spanking new Alive:Lab Sili Puff to blend it out.  I then took the highlighting shade from Berrisom Oops Dual Contouring in No.01 Highlighter & Shading and applied that all over my lid and up to my brow bone, blending it out with my finger.  I also used a Q-Tip to pick up mistakes that my fat fingers can't get to.  Then I then used the Shading from the Berrisom product and applied on my lid, up to my crease and right above my crease, as I have heavy lidded eyes.  If I don't put product above my crease line, it won't show!  Again, blending with fingers and cleaning up with a Q-Tip.  I dusted my lids with a translucent powder to set it quickly and prevent creasing until it dried.   Next, I took the MCC Accent Waterproof Eyeliner in #1 Accent Black and drew a medium thick line and finished off my eyes with the amazing A'Pieu My Little Mascara High Curling  (I love this mascara!!)   And then the final touch ~ I used RiRe Lip Manicure Rouge Highfix in Brick Red on my lips. 
I have to say that this isn't a look I would normally do as I don't think the colors all go together and I spent way too much time on my eyes without getting a great result, but I proved my point.  I did wear this look to work and no one batted an eye.   I couldn't wait to get the Thank You Farmer stuff off my face, however.  It is just too heavy for oily skin.
Final Thoughts
Now, this box has a lot of full sized items in it and the total value of that is $35.50 which is a little bit over the purchase price of the box at $33.80.  There isn't a lot of savings in here if you purchase the box and you have to love all of these items to get your money's worth.  I didn't include the samples as part of the purchase price, as this is marketed as a makeup kit and the samples were skincare items.  With the exception of the Heimish, they were all foils, so the price would be negligible anyways.   However, I was able to work with all of the products even though a couple of them really were not for me ~ the two dual sticks were just not something I would purchase on my own.   The RiRe Lip Manicure and A'Pieu Curling Mascara are the two standout items in this box and I will keep these on my list to repurchase.  Seriously, a $5.00 mascara with these results, how could I not purchase it? The MCC Accent eyeliner is nice, but I found it did smudge too quickly for my oily lids.
What I really liked ~ I really appreciate the thoughtfulness that YesStyle Curation Team put behind this box.  They thought of how to do a complete face, and included skincare items as well ~ cleansing, moisturizing, sunscreen and base makeup.   I think that their team is doing a fantastic job with the boxes and hopefully will see more of them in the future!  What did you think of this box?  Are you interested in getting it or purchasing the individual items?
Where to Purchase
YesStyle carries all of these products in full sizes, plus the Sweet Spring Makeup Kit Box.  USA shipping is free for purchases $35.00 and over.
Sweet Spring Makeup Kit Beauty Box RV $33.80
Heimish All Clean Balm 120 mL RV $16.65 (currently on sale for 3 more days, retails for $42.90)
cosRX Low pH Good Morning Gel Cleanser  150 mL RV $10.05
Etude House Pink Vital Water Facial Toner 180 mL  25.90
Etude House Pink Vital Water Serum 80 mL RV $22.90
Etude House Pink Vital Water Emulsion 180 mL RV $25.90
Thank you Farmer Sun Project Shimmer Sun Essence 40 mL RV $20.27
Thank you Farmer Be Beautiful BB Cream 40 mL RV $26.09
Thank you Farmer Be Beautiful CC Cream 40 mL RV $26.09
Berrisom  Oops Dual Contouring in No.01 Highlighter & Shading   RV $8.90
RiRe Luxe Dual Stick #2 Shadow + Blusher   RV $8.90
RiRe Lip Manicure Rouge Highfix in Brick Red  RV $7.90
A'Pieu My Little Mascara High Curling   RV $4.90
MCC Accent Waterproof Eyeliner in #1 Accent Black  RV $4.90
Ingredients
Heimish All Clean Balm:  Ethylhexyl Palmitate, Cetyl Ethylhexanoate, PEG-20 Glyceryl Triisostearate, Polyethylene, PEG-8 Isostearate, Shea Butter, Donkey Milk, Cocos Nucifera (Coconut) Fruit Extract, Citrus Aurantifolia (Lime) Fruit Extract, Freesia Refracta (Freesia) Extract, Iris Versicolor (Blueflag Iris) Extract, Jasminum Officinale (Jasmine) Extract, Lilium Tigrinum (Asian Lily) Extract, Leontopodium Alpinum (Edelweiss) Extract, Nelumbium Speciosum (Lotus Flower) Extract, Narcissus Flower Extract, Rose Extract, Citrus Aurantium Dulcis (Orange) Peel Oil, Lavender Oil, Pelargonium Graveolens Extract, Amyris Balsamifera Bark Oil, Citrus Paradisi (Grapefruit) Peel Oil, Eucalyptus Globulus Leaf Oil, Tea Tree Leaf Oil, Juniperus Mexicana Oil, Frankincense (Boswellia Carterii) Oil, Citrus Aurantium Bergamia (Bergamot) Fruit Oil, Tocopheryl Acetate, 1,2-Hexanediol  cosDNA analysis

cosRX Low pH Good Morning Gel Cleanser: Water, Cocamidopropyl Betaine, Sodium Lauroyl Methyl Isethionate, Polysorbate 20, Styrax Japonicus (Japanese Snowbell) Branch/Fruit/Leaf Extract, Butylene Glycol, Saccharomyces Ferment, Cryptomeria Japonica (Japanese cedar) Leaf Extract, Nelumbo Nucifera (lotus) Leaf Extract, Pinus Palustris (longleaf pine)  Leaf Extract, Ulmus Davidiana (David Elm) Root Extract, Oenothera Biennis (Evening Primrose) Flower Extract, Pueraria Lobata (kudzu) Root Extract, Melaleuca Alternifolia (Tea Tree) Leaf Oil, Allantoin, Caprylyl Glycol, Ethylhexylglycerin, Betaine Salicylate, Citric Acid, Ethyl Hexanediol, 1,2-Hexanediol, Trisodium Ethylenediamine Disuccinate, Sodium Benzoate, Disodium EDTA  cosDNA analysis

Etude House Pink Vital Water Toner: Water, Propanediol, Alcohol, Glycerin, PEG-8, Prunus Persica (Peach) Bud Extract, Sequoiadendron Gigantea Bud Extract, Sodium Polyacrylate, Butylene Glycol, Vaccinium Myrtillus Bud Extract, Lecithin, Portulaca Oleracea Extract, Betaine, Beta-Carotene, Methoxy PEG- 114/Polyepsilon Caprolactone, Ascorbic Acid, Acrylates/Ammonium Methacrylate Copolymer, Ethylhexylglycerin, Ubiquinone, Xanthan Gum, Zinc Dna, Carbomer, Theobroma Cacao (Cocoa) Extract, Copper Tripeptide-1, Caffeic Acid, Caprylyl Glycol, Calcium Pantetheine Sulfonate, Cholesteryl Hexyl Dicarbamate Pullulan, Tocopherol, Tocopheryl Acetate, Tromethamine, Titanium Dioxide (CI 77891), PEG-60 Hydrogenated Castor Oil, Ammonium Acryloyldimethyltaurate/VP Copolymer, Sodium Hyaluronate, Hydrolyzed Millet, Polyacrylic Acid, Disodium EDTA, Phenoxyethanol, Fragrance cosDNA analysis

Etude House Pink Vital Water Serum: Water, Propanediol, Hydrogenated Poly(C6-14 Olefin), Cyclopentasiloxane, Squalane, Butylene Glycol, Cyclohexasiloxane, Prunus Persica (Peach) Bud Extract, Beta-Carotene, Ascorbic Acid, Tocopherol, Tocopheryl Acetate, Portulaca Oleracea Extract, Sequoiadendron Gigantea Bud Extract, Vaccinium Myrtillus Bud Extract, Gardenia Florida Fruit Extract, Theobroma Cacao (Cocoa) Extract, Polysorbate 20, PEG-60 Hydrogenated Castor Oil, Glycerin, Dextrin, Lecithin, Methoxy PEG-114/Polyepsilon Caprolactone, Styrene/Acrylates Copolymer, Acrylates/C10-30 Alkyl Acrylate Crosspolymer, Acrylates/Ammonium Methacrylate Copolymer, Ammonium Acryloyldimethyltaurate/Vp Copolymer, Ethylhexylglycerin, Alcohol, Ubiquinone, Xanthan Gum, Zinc Dna, Copper Tripeptide-1, Caffeic Acid, Caprylyl Glycol, Calcium Pantetheine Sulfonate, Cholesteryl Hexyl Dicarbamate Pullulan, Titanium Dioxide (CI 77891), Hydrolyzed Millet, Polyacrylate-13, Polyacrylic Acid, Polyisobutene, Tromethamine, Phenoxyethanol, Fragrance cosDNA analysis

Etude House Pink Vital Water Emulsion: Water, Propanediol, Cetyl Ethylhexanoate, Pentaerythrityl Tetraethylhexanoate, Prunus Persica (Peach) Bud Extract, Beta-Carotene, Ascorbic Acid (vitamin C), Tocopherol (vitamin E), Tocopheryl Acetate, Portulaca Oleracea Extract, Sequoiadendron Gigantea Bud Extract, Vaccinium Myrtillus Bud Extract, Copper Tripeptide-1, Caffeic Acid, C12-20 Alkyl Glucoside, C14-22 Alcohols, Glycerin, Glyceryl Stearate, Glyceryl Caprylate, Dextrin, Dimethicone, Lecithin, Methoxy PEG-114/Polyepsilon Caprolactone, Betaine, Butylene Glycol, Cyclopentasiloxane, Cyclohexasiloxane, Acrylates/Ammonium Methacrylate Copolymer, Ammonium Acryloyldimethyltaurate/VP Copolymer, Ethylhexylglycerin, Alcohol, Ubiquinone, Xanthan Gum, Zinc DNA, Gardenia Florida Fruit Extract, Carbomer, Theobroma Cacao (Cocoa) Extract, Caprylyl Glycol, Calcium Pantetheine Sulfonate, Cholesteryl Hexyl Dicarbamate Pullulan, Tromethamine, Titanium Dioxide (CI 77891), Polyacrylic Acid, PEG-100 Stearate, PEG-60 Hydrogenated Castor Oil, Hydroxyethyl Acrylate/Sodium Acryloyldimethyl Taurate Copolymer, Hydrolyzed Millet, Disodium EDTA, Fragrance  cosDNA analysis
Thank You Farmer Sun Project Shimmer Sun Essence: Water, Cyclopentasiloxane, Glycerin, Ethylhexyl Methoxycinnamate, Ethylhexyl Salicylate, Alcohol, Caprylic/Capric Triglyceride, Isoamyl p-Methoxycinnamate, Niacinamide, Diethylamino Hydroxybenzoyl Hexyl Benzoate, Glyceryl Stearate, Butyrospermum Parkii (Shea) Butter, Dimethicone, Titanium Dioxide,Polysorbate 60, Mica, 1,2-Hexanediol, Portulaca Oleracea Extract, Tocopheryl Acetate, Citrus Aurantifolia (Lime) Fruit Extract , Plukenetia Volubilis (sacha inchi) Seed Oil, Nelumbo Nucifera Flower Water, Aloe Barbadensis Leaf Extract, Althaea Rosea Flower Extract, Silica, PEG-100 Stearate, Cetearyl Alcohol, Triethoxycaprylylsilane, Beeswax, Ammonium Acryloyldimethyltaurate/VP Copolymer, Hydroxyethyl Acrylate/Sodium Acryloyldimethyl Taurate Copolymer, Stearic Acid, Sodium Acrylate/Sodium Acryloyldimethyl Taurate Copolymer, Xanthan Gum, Polyurethane-11, Isohexadecane, Polysorbate 80, Adenosine, Disodium EDTA, Tin Oxide, Fragrance, Phenoxyethanol, CI 14700  cosDNA analysis

Thank You Farmer Be Beautiful BB Cream:  water, cyclopentasiloxane, titanium dioxide, ethylhexyl methoxycinnamate, butylene glycol, butylene glycol dicaprylate/dicaprate, dimethicone, cetyl PEG/PPG-10/1 dimethicone,glycerin,hexyldecyl myristoyl methylaminopropionate, talc, ethylhexyl salicylate, niacinamide, phenyltrimethicone, zinc oxide, silica, dipentaerythrityl, hexahydroxystearate/hexastearate, hexarosinate ,disteardimonium hectorite, magnesium sulfate, dimethicone crosspolymer, polyglyceryl-4 isostearate, vinyl dimethicone/methicone silsesquioxane crosspolymer, iron oxides(CI 77492), phenoxyethanol, fragrance, iron oxides (CI  77491), methicone, polyglyceryl-6 polyricinoleate, trihydroxystearin, iron oxides(CI 77499), aluminum hydroxide, aluminum stearate, ethylhexylglycerin, adenosine, sodium hyaluronate cosDNA analysis

Thank You Farmer Be Beautiful CC Cream: water, ethylhexyl methoxycinnamate, titanium dioxide, glycerin, butylene glycol, alcohol denat,  ethylhexyl salicylate, isoamyl p methoxycinnamate, cyclopentasiloxane, diethylamino hydroxybenzoyl hexyl benzoate,niacinamide,glyceryl stearate,synthetic fluorphlogopite, mica, polysorbate 60, triethoxycaprylylsilane ,1,2-hexanediol, butyrospermum parkii (shea) butter, caprylic/capric triglyceride, cetearyl alcohol, PEG-100 stearate, portulaca oleracea extract, coco-caprylate/caprate, silica, phenoxyethanol, fragrance, ammonium acryloyldimethyltaurate/VP copolymer ,acrylates/ethylhexyl acrylate/dimethicone methacrylate copolymer, behenyl alcohol, hydroxyethyl acrylate/sodium acryloyldimethyl taurate copolymer, iron oxides(CI 77492), tocopheryl acetate, xanthan gum, sodium acrylate/sodium acryloyldimethyl taurate copolymer, isohexadecane, polysorbate 80, iron oxides(CI 77491), adenosine,  polyurethane-11, disodium EDTA,  tin oxide cosDNA analysis
RiRe Lip Manicure Rouge Highfix in Brick Red: isododecane, disteardimonium hectorite, hectorite, propylene carbonate, synthetic fluorphlogopite, isononyl  isononanoate, microcrystalline wax, dipentaerythrityl hexahydroxystearate/hexastearate/hexarosinate,  polybutene, trimethylsiloxysilicate, cyclopentasiloxane, persea gratissima (avocado) oil, rosa canina seed extract,  macadamia ternifolia seed oil, kyounin yu, sorbitan sesquioleate, tocopheryl acetate, butylparaben, fragrance, CI 15985, titanium dioxide, CI 77491, CI 15850:1, CI 77492, CI 77499 cosDNA analysis
[ product was received for review purposes. contains affiliate links ]