This month's theme is Earth Day ~  Look around and use renewable sources in your life!  Lots of beautiful wood scented products this month for the Earth Day theme.  Herb Stop just changed their labels so they are oil resistant and will not smudge the print if you get oil on them which is really smart ~ I was always smudging the color and print off the labels.  What is Herb Stop?

Herb Stop is located in Pine, AZ and has been recognized by the community and the state of Arizona  with a variety of awards.  They only use ingredients from  reliable and ethical sources and all of their essential oils are 100% pure, with the exception of their precious oils ~ such as Jasmine, Rose, Neroli, Sandalwood ~ and those will be blended with jojoba oil.    You will receive a box of 4 bottles, either 1/6 oz or 1/3 oz)  that can be essential oils, essential oil blends and/or roll-on essential oil blends.  You will also receive information about your oils and how to use them, including safety information.   Each box is $19.99 which includes shipping, USA only and Herb Stop will start mailing them out during the 10th thru 17th of every month.   Herb Stop has over 200 varieties essential oils alone, which means the boxes will be very different each month ~ as there are also custom-made blends as well.   You can auto subscribe here.   Use Promo Code BFFM15  and receive 15% off your first box!
What's In Your Aroma Box?

All of the essential oils, unless otherwise noted, have a screw top lid and there is a plastic lid inside that has a tube, so that you don't spill out all of your oil if you drop the bottle (and it doesn't break).  I also like that the oils are in dark cobalt blue glass bottles to help protect them from UV rays and light.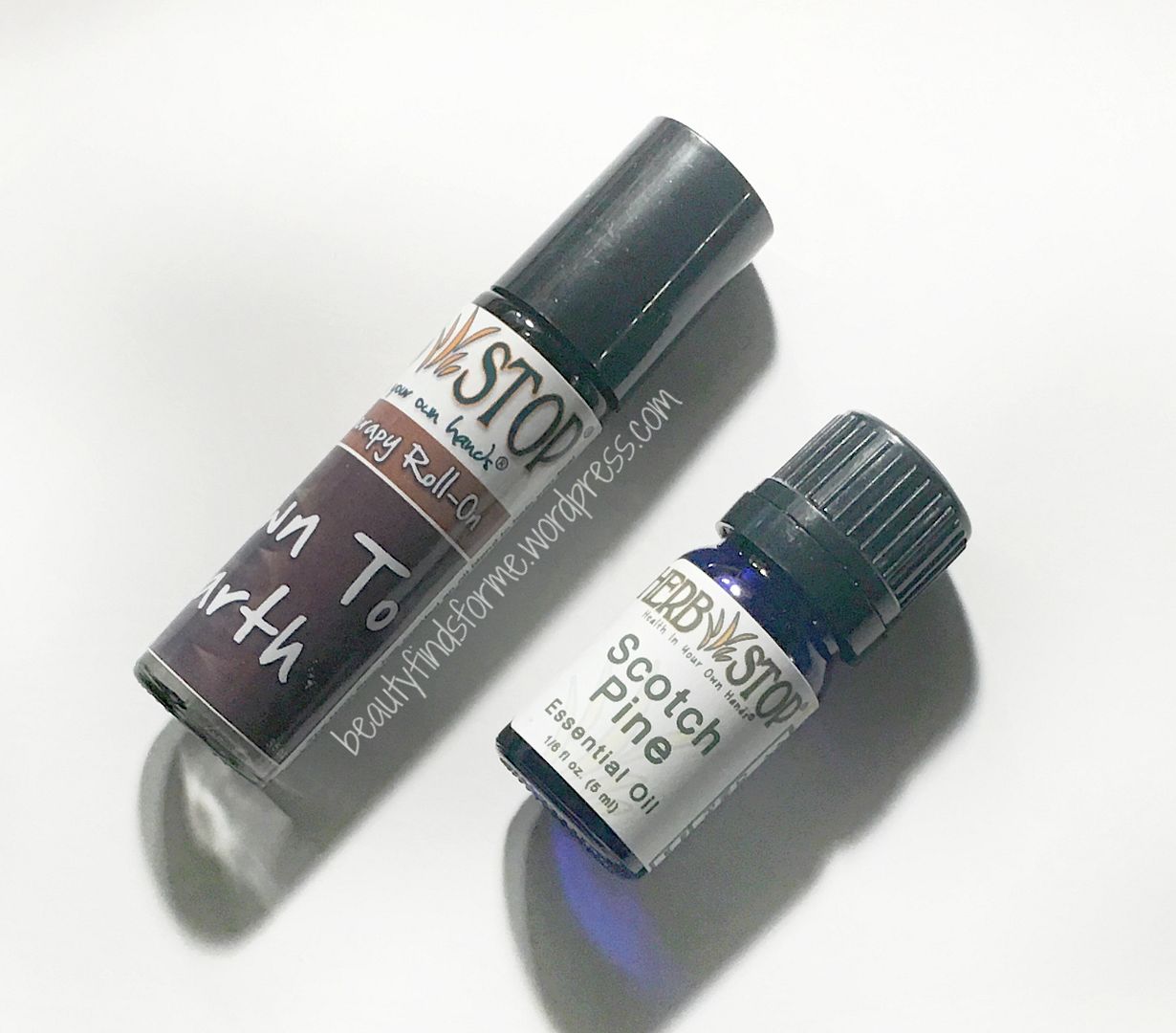 Down to Earth Aromatherapy Perfume Roll On  Normally, we get an oil roll on, which I use as a perfume, but they can also be used as a treatment oil.  This month is actually a perfume roll on, and its base is not jojoba oil, but food-grade alcohol.  This means, I don't need to worry about evaporation time with an oil, as the alcohol will evaporate quickly on my skin.   Herb Stop actually makes this scent into soaps and bath salts and they say it was one of their best selling scents.  It really is a heavy, seductive scent, good for both women and men ~ I can really smell the clove and patchouli in this fragrance. This has benzoin liquid resin, which has a sweet scent, with vanilla undertones and it shares many properties with frankincense ~ its name (styrax benzoin) comes from Arabic, meaning frankincense from Java and it has healing, anti-inflammatory properties. Due to the alcohol content in this perfume, do not apply this over cuts and rashes and keep away from open flames. RV $18.95
Description: Grounding, warming cinnamon and clove with earthy tones of Patchouli entice you to gently come back to earth when you need to. 

 Ingredients: Patchouli, Clove, Cinnamon, Benzoin Liquid Resin in a base of 95% food grade alcohol
Scotch Pine (pinus sylvestris) Pure Essential Oil   Scotch pine is not only a great disinfectant around your home, but can also be used to help with muscle pain, arthritis and to disinfectant your cuts and rashes on your skin, as it kills germs.  This has a nice light pine scent, not too overpowering and can really help clear up your airwaves just by breathing in the aroma.  This oil is not food safe and like the majority of essential oils, must be diluted with a carrier (oil, lotion, cream) if applied to the skin. 5mL RV $3.30

Description:  Traditionally used as a mild analgesic for muscular aches and pains, rheumatism, arthritis and neuralgia. May be used for cuts, sores, excessive perspiration, scabies, lice, deodorizer, and to kill germs. Commonly used for respiratory complaints, fatigue, nervous exhaustion and stress-related conditions.

Ingredients: 100% Pure Pinus sylvestris (Pine) Essential Oil.

Origin: Hungary

Parts Used: Needles & Twigs

Extraction Method:  Steam Distilled

Food Chemical Codex: No

Blends Well With:  Cedarwood, Clary Sage, Cypress, Eucalyptus, Frankincense, Lavender, Marjoram, Peppermint, Ravensara, Rosemary, Thyme, Sandalwood
Texas Cedarwood (juniperus mexicana) Pure Essential Oil  Oh, this smells great!  I have a couple of old cedarwood chests and this smells just like it. Warm, spicy with that "old wood" scent that cedarwood has.  This 100% natural and pure essential oil, vegan and vegetarian safe and I like using this in my diffusers to help me relax, as well as adding a few drops to a cotton ball and then placing that in my sweater drawers ~ as it will help repel moths.  This also helps oily skin and scalp and I am thinking I might just add this in a facial oil to see how it will help treat excess oil production. 5 mL RV $2.73
Description:    Traditionally known for its antiseptic, mucolytic/anti-catarrhal properties (pulmonary and genito-urinary). May be helpful in treating acne and oily skin, dandruff, eczema and greasy hair. Commonly used as an excellent insect and vermin repellent for mosquitoes, moths, woodworms, rats, etc.  Blend Cedarwood with Citronella as an insecticide. Texas Cedarwood has a deeper, more woody fragrance than Atlas Cedarwood.
Ingredients:   100% Pure Juniperus mexicana (Texas Cedarwood) Essential Oil.
Origin:  United States
Parts Used: Wood
Extraction Method: Steam Distilled
Food Chemical Codex: No
Blends Well With:  Bay, Bergamot, Cardamom, Cypress, Frankincense, Geranium, Grapefruit, Lavender, Marjoram, Orange, Neroli, Palmarosa, Sandalwood, Ylang Ylang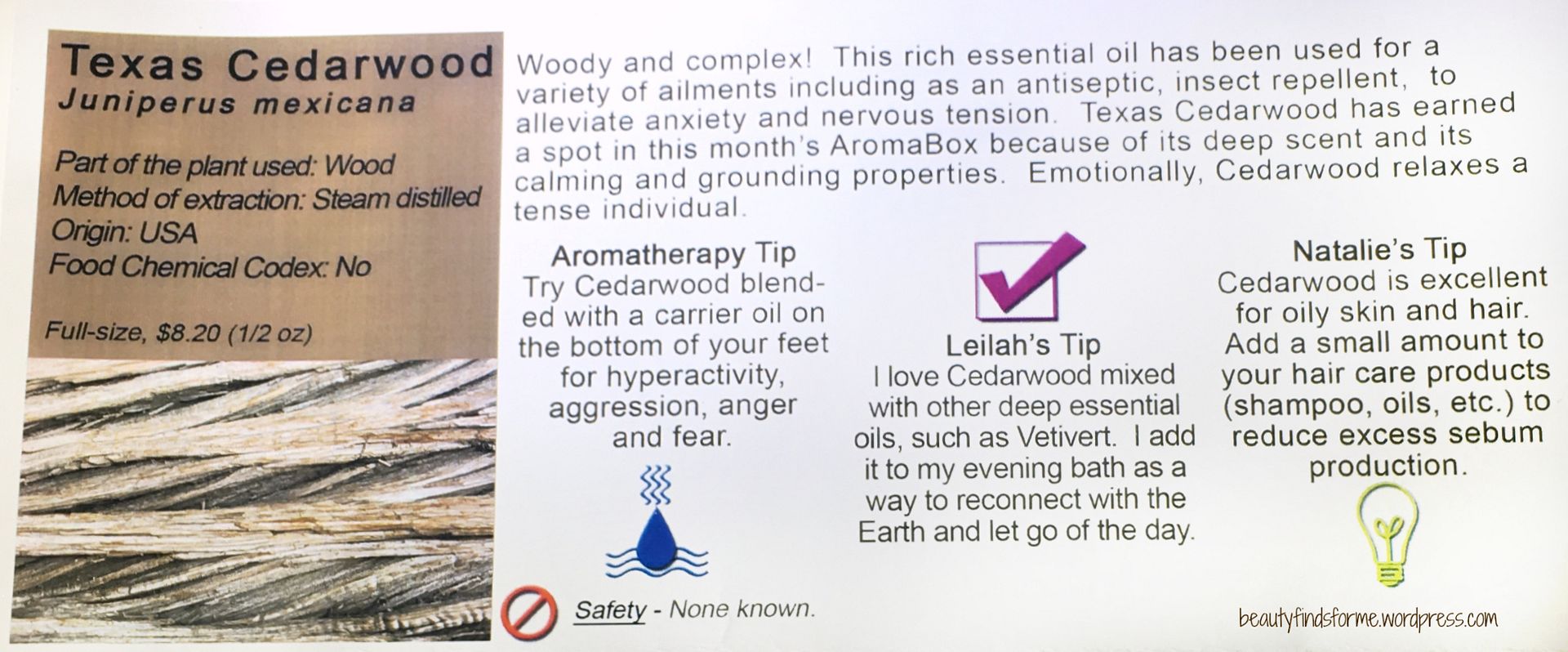 Muhuhu/Wild African Sandalwood (brachyleana hutchinsii) Essential Oil This has a sharp, balsamic scent to it and is an anti-fungal, anti-inflammatory and an astringent, so it is good for blemish prone and oily skin.  Its scent helps with easing anxiety, depression and stress.  This is all natural, with no fillers or additives, vegan and bottled in the USA.  5 ml RV $6.50
Description: Traditionally known for its sedative, anti-inflammatory, tonic and emollient properties. May be used during meditation practices for calming, grounding and balancing qualities. Commonly used for anxiety, depression, stress and to promote a sense of calm. Use Muhuhu in skin care for dry or oily skin, acne, redness, inflammation and infections.
Ingredients:  100% Pure Brachyleana hutchinsii (Wild African Sandalwood/Muhuhu) Essential Oil.

Origin: Kenya

Parts Used: Wood

Extraction Method: Steam Distilled
Food Chemical Codex: No
Blends Well With:  Bergamot, Cedarwood, Cypress, Frankincense, Jasmine, Lavender, Marjoram, Orange, Neroli, Rosewood, Sandalwood, Ylang Ylang

Herb Stop also included a "Beard Oil Blend" recipe  ~ 20 drops Cedarwood, 5 drops Muhuhu, 3 drops Pine, 10 drops Tangerine (optional), 2 oz carrier Oil. Blend all in a 2 oz glass bottle and shake well. Apply a small amoutn to the hands and rub them together. Gently apply to the beard. You can adjust the scent by adding or removing the essential oils. They also have included a promo code to save 10% off any of their full sized oils and roll-on's in their shop  ~ use ABAP17
I am very happy with the Earth Day Tree themed box from Herb Stop.  I love the Down to Earth perfume and the Texas Cedarwood is really one of my favorite scents.  Muhuhu is a very interesting scent and unique to my collection of oils!  I paid $19.99 for this and received a value of  $31.48, which included a custom blend recipe roll on.  If you are interested in subscribing, you can do so here and use promo code BFFM15  to receive 15% off your first box!
Please note, essentials oils are not to replace seeing a doctor if you have serious ailments or issues.  However, aromatherapy, scents and herbal tinctures/oils have been used for centuries with great success.   I would never state that this should replace seeing your doctor, but if you know your body and you have discussed this with your doctor, you should be able to use essential oils for minor treatments.

Have you signed up for Herb Stop's essential oil box?  Are you interested in doing so?

[ all descriptions in italics from Herb Stop. Blog post contains affiliate link ]