[ products received complementary for review purposes  blog post contains affiliate and referral links ]
This review is long overdue!!  I have been using and enjoying 107 One O Seven products for a while now ~ I was introduced to them through Beautibi with a couple of wonderful soaps, facial sheet masks and lots of great samples from this Korean company whose key ingredient is natural fermented vinegar.  I reached out to One O Seven about their newest additions to their soap line and lovely Chloe sent me a beautiful package, filled with not only a soap, but skincare products.  I am totally thankful for One O Seven's generosity, as there were so many skincare items ~ I even split this review into two parts as it was getting so large!  Click here to read Part 2, which focuses on the Core Flex skincare line.
One O Seven  A bit of history ~ One O Seven is a family owned business and they also run Korea's largest naturally  fermented vinegar brand~ Hanega.  Ohk Ran Chung, a pharmacist,  developed a specially aged vinegar with 20 oriental herbs which will produce essential amino acids, which helps rejuvenate and purify your skin.

One O Seven is a Korean cosmetics brand that develop cleansing foam and skincare products using natural fermentation vinegar as the raw material based on 107 magic formulas succeeded for 35 generations. Ohk Ran Chung is a pharmacist and the 35th chairman of Hanega, Korea's biggest natural fermentation vinegar brand. She developed premium vinegar cosmetics after she noticed that the quality natural fermentation vinegar fermented for over 5 years helps relieving skin troubles including atopic dermatitis and prevents aging. During the research process, she discovered seven essential amino acids and organic materials including saccharomyces and lactobacillus that naturally forms from natural fermentation vinegar. Combination of craftsmanship and high-tech research brought creation to an innovative cosmetics brand, One O Seven.
There are 7 essential amino acids in the One O Seven fermented vinegar and they are all natural and organic.  Our body will easily absorb natural nutrients and these essential amino acids are anti-aging, increase the skin's tone and elasticity, while healing and strengthening your skin.  If you are wondering what 107 stands for, it is their 107 secret secret formulas which have been in their family for 35 generations.

One O Seven works with UHIC to help children in Tanzania, Africa.  They donate office space to the 20 child care facilities, which work to help prevent the spreading of diseases. One O Seven also donates part of their proceeds to UHIC every month while supporting the volunteer and events sponsored by UHIC.  One O Seven's philosophy is to make the world a better place for all of us. 
Key Ingredient
Vinegar, of course!!  This is made with cosmetic grade vinegar that has been naturally fermented 🏺 for over 5 years and contains 7 essential amino acids. Vinegar is a natural anti fungal, antibacterial, and anti-inflammatory and it will help restore the pH balance to your skin. It contains acetic acid and is known to kill off bacteria and reduce acne. By restoring pH balance to your skin, it will help make your skin inhospitable for bacteria as well, while helping your skin create essential proteins and fatty acids. The vinegar used in these products are from wheat grown in the Gurye region in Korea ~ why is this interesting? The Gurye region grows its wheat completely free of agricultural chemicals and it is processed free from preservatives and bleaches.
Skin Type and Concerns:  I have oily, blemish prone skin, with aging concerns, hyper-pigmentation,  fine lines and wrinkles.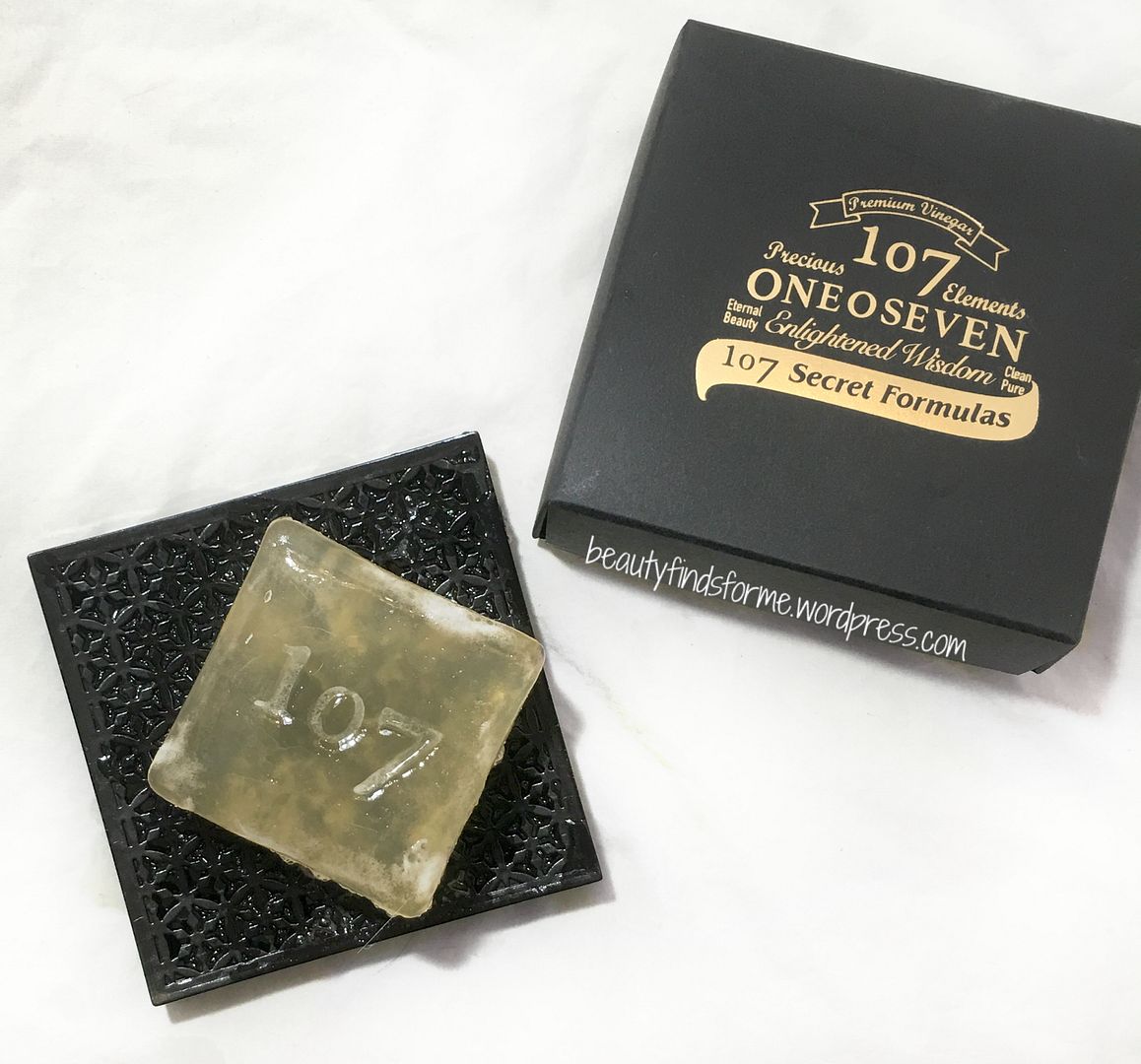 107 Premium White Soap  I have used this soap before and this is why I really was interested in 107 products.  This soap is amazing.   I had received a deluxe sample in my Beautibi Fresh Box last fall and that is when I fell in love with 107 soaps! Since I have used this before, I can tell you a bit about it and my opinion.  Not only is this made with the 5 year old fermented cosmetic grade vinegar, but it also contains 20 Asian medicine herbs, known for their rejuvenating and hydrating properties. Their soaps also contain coconut oil, which is rich in vitamins and minerals ~ vitamins C, E, B1, B3, B5 and B6, iron, phosphorus, calcium ~ and natural proteins which help soothe and moisturize your skin. It helps add moisturize back to dry skin, leaving it smooth and glowing.  Its vitamins C and copper will enhance your skin elasticity, so that it can prevent wrinkles, sagging skin and hyper-pigmentation. It also has natural essential fatty acids that soothe and treat dry skin.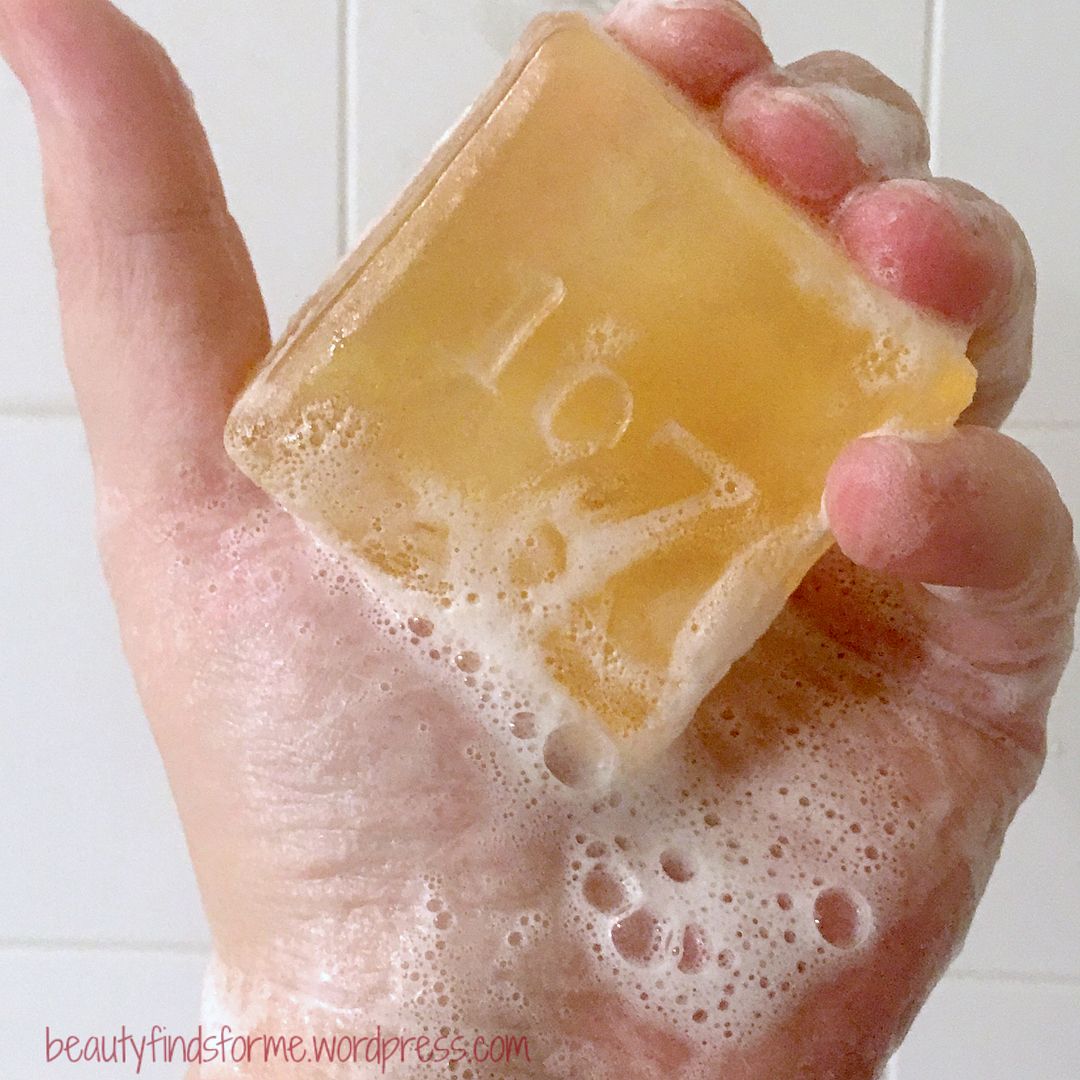 I love this soap because it is so foamy and really gives my skin a great cleanse ~ the foam is so soft and bubbly and the soap doesn't smell like vinegar at all ~ it just smells fresh and clean.
This does have a pH level of about a 9, but I do not have compromised or dry skin, so I have no worries using this. Handmade soap is naturally alkaline and its pH level can range from 8.5 to 10.5 and that doesn't mean it is necessarily harsh.  I wrote up some information on handmade bar soaps before when I was investigating bar soaps, so I will repeat that information here
Ahh yes, high pH cleansers. They get such a bad rap and I was even into this for a brief while until I realized that my dermatologist has prescribed high pH cleansers for me in the past ~ my doctors aren't quacks, ignorant or know less than me.  And I cannot discount personal experience ~ for decades of my long life, I used high pH cleansers and my skin has not been irreparably damaged from a cleanser. I look at my mother's skin (she of the bar soap)  ~ soft, glowing skin with age appropriate wrinkles.  Now that said, I won't force a high pH cleanser down someone's throat, but then again, I won't automatically speak evil of it. Like all cleansers, low or high, I have to try it out first before I can say yeah or nay.  Skincare and skin types are so personal and whereas I, with my naturally oily and healthy skin that is prone to hormonal acne, can use a high pH level without any fear, others cannot.  Those with dry skin, sensitive skin or skin that has been compromised so badly that it is apparent that you shouldn't go near it.  The lovely Sample Hime had a great blog post a year ago that discussed this and the amazing Japanese skincare blogger Ratzilla tweeted out a study (found here) that showed that the skin's pH level was not significantly raised by with cleansers, regardless of the cleansers pH level.
There are times when I love a cleanser that by chance is low pH (Ciracle TeaTree Anti-Blemish) and hate it when it is low pH (cosRX Good Morning).  Same with high pH cleansers ~ some I love ~ Missha Fermentation Cleansing Foam in Citron and others I loathe ~ the reasons were not "high pH ~ curses!", but for other reasons that made the cleanser a loser.  There will be people who have tried everything to help with their skin concerns and they turned to low pH cleansers for help ~ that I will not deny ~ that is what worked for them based on their skin needs.  Everyone's skin care needs are different and I do not subscribe to "high pH is automatically bad". That is just my opinion, based on what I have used and works for me.  Reviews are to help you decide if this is a product that you wish to use or not.  It's all copacetic and I don't profess to be a skincare expert at all.  Now off my soapbox (hahaha) and onto why I went on a bit about this.
Normally, handcrafted soaps are produced through the saponification process and these types of soaps are naturally alkaline and its pH level can range between 8.5 and 10.5.  However, from my research (and remember, I am not an expert),  that doesn't necessarily mean it is harsh.  What makes a high pH soap harsh is something called "free alkali", which is a leftover alkali solution that was used during the saponification process ~ excess alkaline that didn't get removed after the soap making process.  Mass manufactured soap has this problem.  This "free alkali" will take your natural oils in your skin and leave your skin dry and squeaky clean. If you face feels squeaky clean after cleansing, your soap is too harsh.  Quality handcrafted soap shouldn't have this issue ~  A high pH organic handmade bar of soap can be safe so long it has a triglyceride and free fatty acid (FFA) content.  In other words, it comes down to ingredients and process.  Which just goes to show that a high pH level isn't necessarily a bad thing so long your skin is healthy and has not been compromised.  The next time you get a really lovely handcrafted bar of organic, natural soap, think about that.
This soap does not leave my skin feeling dry or stripped, just clean and moisturized.  107 One O Seven soaps are actually solidified liquid soaps, so they could be less harsh than traditional bar soaps and actually be moisturizing like a liquid facial cleanser.  I am going to try some more soaps from their line and I have purchased from their site for some new scents!

Description: 107 Premium White soap contains precious traditional vinegar that has been naturally fermented for over 5 years of time. The soap has over 20 oriental medicinal herbs that rejuvenates and hydrates the skin. It gives maximum moisturizing while cleansing dried up dirty oils in your pores. It deeply cleanses skin of dirt and gives fresh and healthy looking complexion.
Ingredients: Myristic Acid, Stearic Acid, Lauric Acid , Triethanolamine, Propylene Glycol, Sugar, Sorbitol, Alcohol, NAOH, Tetrasodium EDTA, BHT, Sodium Sulfite, Naturally Fermented Vinegar (Gamun's Hyo 5 years), Coconut Oil, Oriental Herb Complex (Panax Ginseng Root Extract, Saururus Chinensis Extract, Angelica Root Extract, Green Tea Extract, Artemisia Capillaris Extract, Sophora Flavescens Extract, Chamaecyparis Obtusa Leaf Extract, Houttuynia Cordata Extract, Dandelion Extract, Chrysanthellum Indicum Extract, Phellodendron Amurense Bark Extract, Glycyrrhiza Extract, Morus Alba Bark Extract, Cnidium Officinale Root Extract, Rehmannia Chinensis Root Extract, Acorus Calamus Root Extract, Portulaca Oleracea Extract, Pinus Densiflora Leaf Extract, Opuntia Ficus-Indica Extract, Nettle Extract), Fragrance cosDNA analysis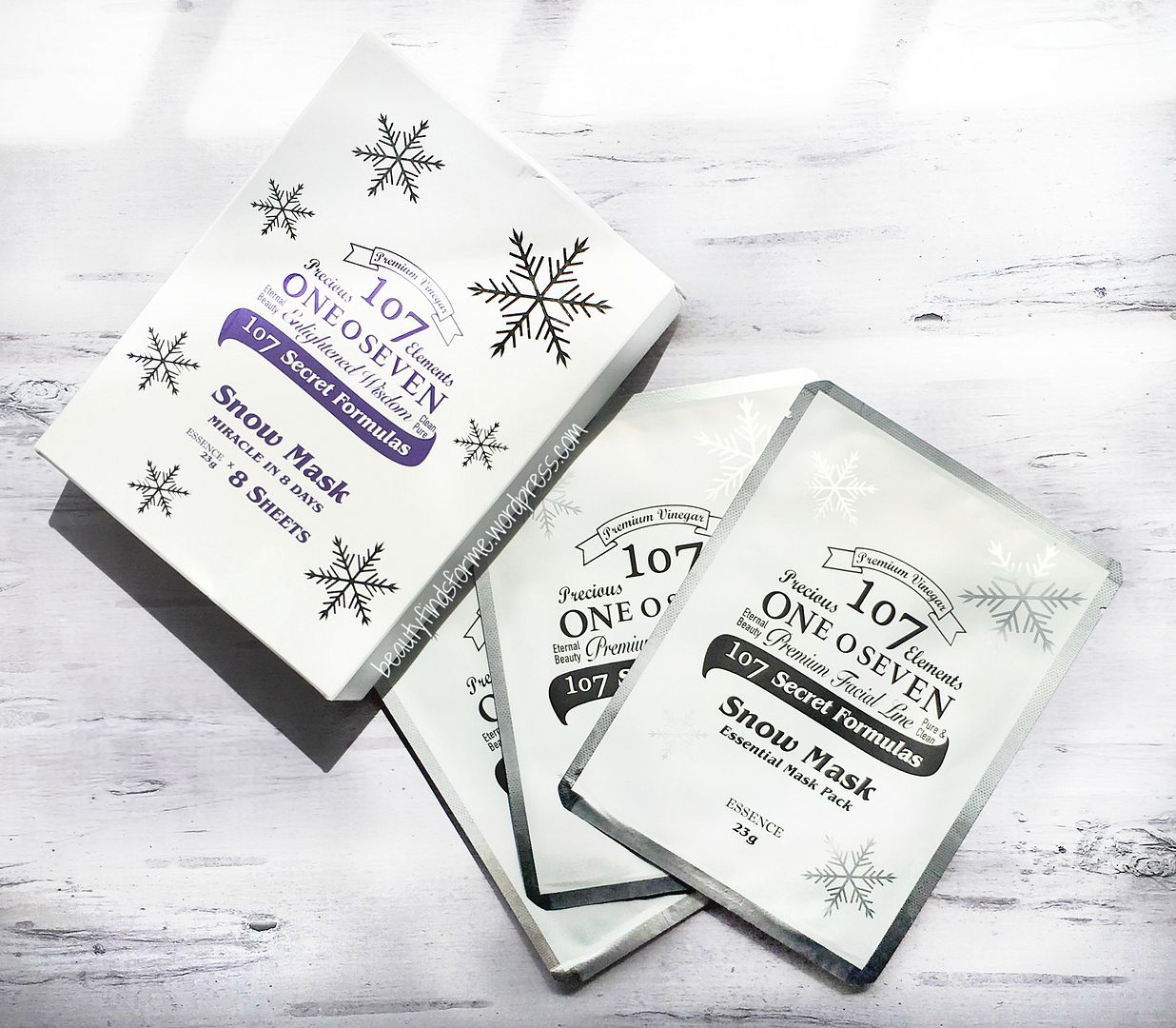 107 Premium Snow Essential Mask Pack  One O Seven not only makes lovely soaps, but facial sheet masks and this one is a brightening mask.  I have used this before and I LOVE IT.  When I first used the mask initially, I thought it only had a slight improvement on brightening my skin tone, but with repeated use, I can say that it really does brighten and make my skin look more radiant. It does contain some lovely ingredients to help make your skin more radiant and glowing.
Niacinamide, vitamin B3, is a powerful antioxidant that acts as an anti-inflammatory, improves your skin elasticity, enhance the skin barrier function and also it helps to even out skin tone and reduce post-inflammatory hyper-pigmentation.
Mulberry helps brighten skin tones as the roots of this tree help suppress tyrosinase enzymes, which are responsible for darkening the skin.  It also is an anti-bacterial so it will help improve your skin, by healing and preventing blemishes.
Pearl powder evens out skin tone and smooths the texture of your skin.  It will help boost superoxide dismutase, which is one of the strongest antioxidants enzymes in our bodies and breaks down harmful oxygen molecules and prevents skin tissue damage.  Pearl powder also will aid in the production of collagen, leaving your skin firm and youthful.  Rich in amino acids and minerals, it is reported to heal blemishes, reduce the appearance of pores and reduce redness and swelling.
It also has some healing and hydrating ingredients, such as snail secretion filtrate, allantoin, beta glucan and propolis.  
The mask is of a medium weight, not too thin, not too thick and adheres to my face nicely. The eye holes are a bit too big, but I wear eye gels when I use this mask to make up for it.  Other than that, the fit is really good with lots of coverage around the space between the nose and upper lip.  The essence is not watery, but a bit thicker and most of it is on the mask ~ there isn't that much left over in the pouch. The scent is a bit tangy, hanbang herbal to me ~ very much so with the Asian herbs that make up this mask.   I was able to leave this mask on for 40 minutes and when I removed it, my face still was quite damp from the essence.  I did notice a more refined texture around my pores and a brightening improvement.  I didn't put anything else on my face overnight, and the next morning, my face felt really smooth, soft and I could notice that it was brighter overall ~ seriously, it was like it needed time to work its magic overnight.  This is a mask that I like using in less humid days and when it is a bit more drier, as it is very moisturizing on my skin.  I have purchased these since I tried them initially last fall and I do love them a lot.   If it is hot outside or you feel hot inside, place them in the frig before applying, as they really have a lovely cooling effect on your skin.

Ingredients: Water,Glycerin,Naiacinamide, Butylene Glycol, PEG/PPG-17/6 Copolymer, Panthenol, Snail Secreation Filtrate, Propolis Extract, Morus Alba Bark Extract, Pearl Extract, Beta-Glucan, Thuja Orientalis Extract, Xanthan Gum, Carbomer, Hydroxyethylcellulose, PEG-60 Hydrogenated Caster Oil, Allantoin, Disodium EDTA, Illicium Verum (Anise) Fruit Extract, Propanediol, 1,2-Hexanediol, Caprylyl Glycol, Tromethamine, Chlorphenesin, Phenoxyethanol, Fragrance  cosDNA analysis

Final Thoughts
I am such a huge fan of the soap and facial sheet masks.  In fact, I just placed an order on 107 One O Seven online store to purchase some soaps that I haven't seen or tried before ~ Hawaiian Breeze, Aussie Breezy, Oriental Herb and Milky Cream Honey.  I currently own the Milky Cream Lemon and Premium Black Soap, so I will probably do a huge blog post on their soaps that will take me a few months!!   If you want a really lovely bar soap, for your face or body, I highly recommend looking into 107 vinegar soaps.  And do your own research on the pH factor thing ~  I am not an expert, nor do I claim to be, but I have chatted with a few people in Korea and Japan and they honestly don't get this weird fixation on the pH level for soaps.   It does seem to be a Western obsession, that is for sure. 
The Snow masks are fantastic too!  If you are looking for a nice soothing, relaxing hanbang mask that will brighten and soften your skin, these have your name on it.  I love these masks and I am hoarding my last few as I do need to purchase some more!  And I am not done with 107 One O Seven ~  I am going to review the 3 skincare items 107 One O Seven sent me next ~ Core Flex Liquid, Core Flex Essence Cream and Cream Flex Hydro Rich Cream.   
And I will be showing off my new skin water/oil tester too ~ Susee Nano Spray.  It isn't just a spray mister for my face, but it does skin moisture/oil level readings too!  It is really cool. 
Where to Purchase
The soap is between $14.00 and $18.00, depending on where you purchase it and the masks come in a box of 8, retailing for $20.00.  Beautibi also sells them in singles for $2.75, if you want to try before committing to a larger purchase. Beautibi carries quite a bit of their skincare line (click here).  If you have never shopped at Beautibi before, use my referral link (here)  and get a coupon to receive $5.00 off your first purchase.  Jen, the owner at Beautibi is great and gives out lots of samples and confetti 🙂
Update: Nordstrom is carrying One O Seven now (here)!
https://www.instagram.com/p/BXwRf5CAWpy
One O Seven has teamed up with Nordstrom's for a special event ~ for a limited time only. Purchase one or more of the following items
And One O Seven will give you a special gift ~ their new Rose Vinegar Water Mist + other special goodies from Korea!  To received this gift
You must purchase any one of the Coreflex items above from Nordstrom's online store

Post a review of your product on Instagram and tag @107oneoseven

DM @107oneoseven  or email them (they have their email in IG) with the review
And you will get that special gift!  This event ends on September 30th, 2017, so get moving!  I finished my  Cream Essence, so I just made a purchase myself!
You can also purchase them directly from One O Seven (click here).  I shopped here to purchase items that Beautibi doesn't carry, plus they ship internationally as well.
[ products received complementary for review purposes  blog post contains affiliate and referral links ]