This month's candle extravaganza from Flickerbox contains 3 classic scents ~ perfect for the Back to Basics Theme. 

What is Flicker Box?
Flicker Box is inspired by a love and appreciation for handmade candles. We believe that people appreciate products produced by quality artisans made in the United States. We want to connect candle lovers with people who love to make candles. Each Flicker Box contains a variety of artisanal candles made from candle artists from around the United States. We share their story and ship subscribers a delightfully curated box right to their doorstep. Flicker box costs as low as $25/month and can be purchased as an automatically-renewing monthly subscription or 3, 6, or 12 month term subscriptions.  from myflickerbox
Information Card
Another View Starting on the left:  Eco Candle Co "Eucalyptus Mint", Bridge Nine Candles "Oregon Lavender", Baitx Made "Lemon Verbana"

Eco Candle Co "Eucalyptus Mint"  Eco Candle is one of my favorite candle brands and I love the fresh green scent of this candle.  It doesn't really smell like eucalyptus but it has a nice soft fresh green and minty scent.  Perhaps they didn't want to have a strong eucalyptus scent because then it would remind people of menthol!  The scent is described as "herbal eucalyptus leaves with a cooling blend of spearmint and peppermint"  I think it is more fresh, green herbal with soft mints.  I love the pretty pale mint green color of this and this one has the delicate recycled glass jar with the natural, kraft brown paper "lid" on this candle. Eco Candle Co is located in Appleton, WI and this is a 100% soy candle, made from midwest-grown soybeans.   5 oz RV $12.00
Bridge Nine Candles "Oregon Lavender"  Bridge Nine is also a fan favorite and I love this cute jelly jar with the purple cut-out tin lid.  This candle is made in Portland, OR and is hand poured using all natural ingredients, such as soy, which is 100% sourced from American farmers, 100% cotton braided wicks and lavender essential oils from Liberty Natural Farms in Clackamas, Oregon.  This has a great strong herbal lavender, not floral lavender, scent (there is a difference!) and I swear there is almost a citrus scent lurking in the background ~ Bridge Nine describes their scent as "smells like you are walking through a freshly bloomed lavender field."   It is really nice and I love lavender scents!  They are one of my top 5 floral scents that I love.  Burn Time: 20 hours 4 oz RV $12.00 Promo Code:  Save $10.00 on any purchase of $50.00 or more at Bridge Nine Candle Co  with promo code FLICKERBOX. Expires 6/1/2017.  Free shipping in the USA for any orders $50.00+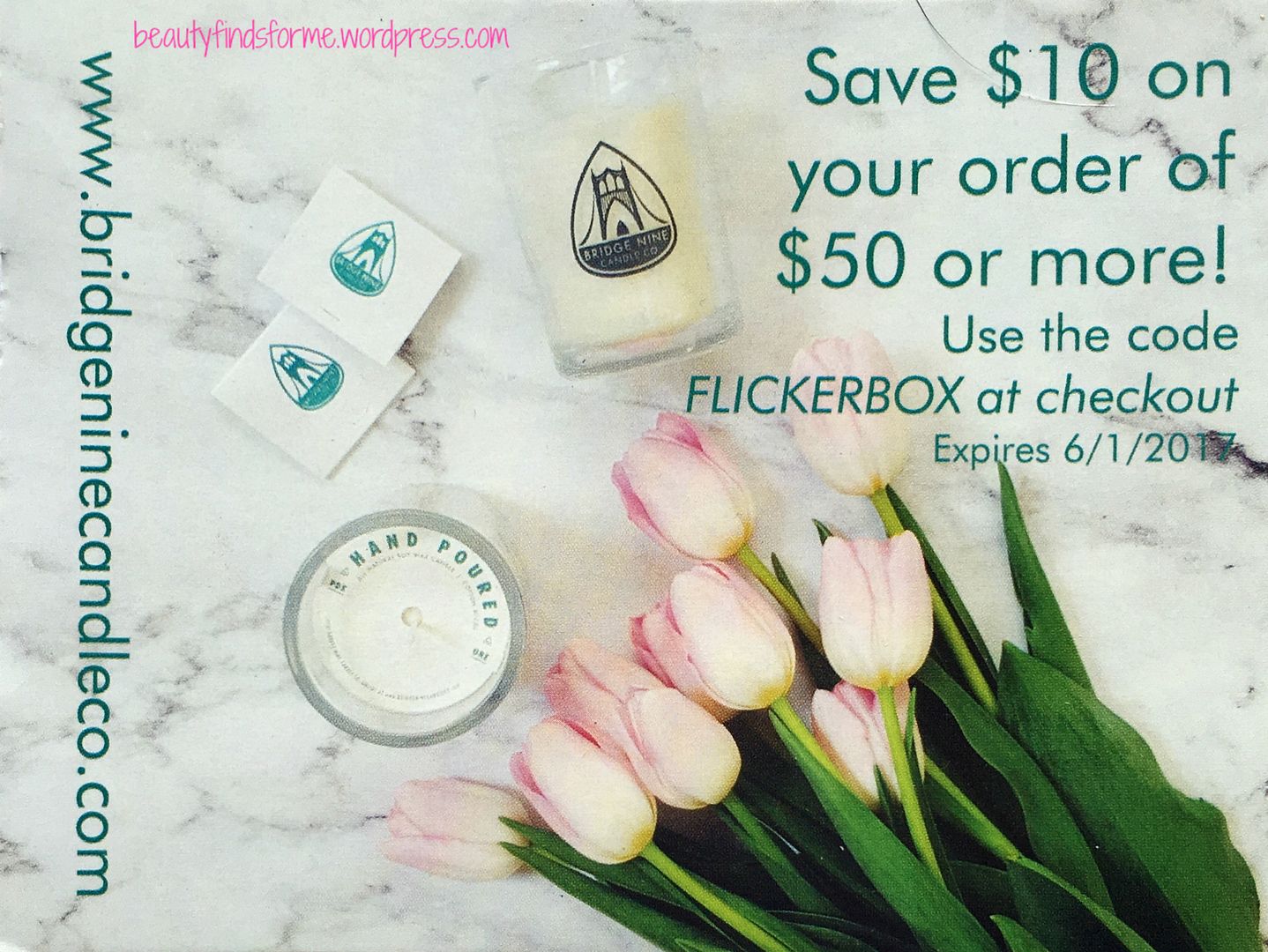 Baitx Made "Lemon Verbena"  This is a brand new etsy vendor for Flickerbox!  It is pronounced Bates Made, and Baitx Made hand pores their 100% vegan candles in California.  This is described as "A refreshing blend of lemon and floral verbena make this fragrance one of our bestsellers. It has notes of tangy lime, grapefruit and lemon, and is infused with essential oils, including citronella, lemon and orange."   This really is my favorite scent of the month here ~ It is very citrusy and fresh ~ this will be a great candle to use outside at night time, as it also has citronella in it (bugs hate this scent, but I love it!).  This is a huge 12 oz candle made from American grown soybeans, all natural soy ~ soy is a renewable, sustainable, eco-friendly, vegan product that has a neutral carbon footprint.  Soy candles burn clean and slow, and this candle has a lead and zinc free cotton core wick, no added dyes and they use only phthalate free fragrances.  I hope we see more of Baitx Made candles in our future Flickerboxes! 12 oz RV $18.00

Not so much as back to basics as really fresh, spring scented candles, imho.  The candle scents here are very green, herbal and citrus scented and just beautiful in their simplicity.  These are the type of candles that work well in any room, indoor or outdoors.   This box's value is $42.00 and I paid $34.00 for my box, as I am on a month to month subscription and I am grandfathered in, so my shipping is included in the price tag.    That is a great retail value for the box, as it isn't normally over $40.00.  When you subscribe to Flickerbox, don't expect to have a HUGE value placed on it, as shipping costs for candles is expensive and the products are made by artisans, making their eco-friendly candles with their own scents and hand crafted, it is a great deal.  If you would like to subscribe, they currently have two promo codes:   BOX4U 15% off any subscription or save $15.00 off  3, 6 or 12 month subscription using code HELLOAGAIN.  Expires 4/23/2017

https://www.instagram.com/p/BTE74jcg1BX/?taken-by=myflickerbox
Flickerbox also has a store, where you purchase candles that were featured in their past boxes.

Do you subscribe to Flickerbox?  What did you think of this month's candles?  Let me know in the comments below!
Sneak Peek into Next Month's Box
https://www.instagram.com/p/BSeKurSAfyW/?taken-by=myflickerbox
[ descriptions in italics from the product linked website ]