[ disclosure: products reviewed for review.  all opinions are my own & unbiased ]
[UPDATE] This configuration of Saranghae's products no longer exists.  As of August 2017, they reformulated and also replaced their products.  Two of the products they replaced ~ the eye serum and night serum ~ were the only two items I enjoyed in the original bundle, so I respectively declined another chance to try their new formula.  I feel that Saranghae's products are for dry/combo-dry skin and are not really formulated for oily skin and it would not be fair to review again, as they would be unsuitable for my skin type
Saranghae is a new Korean/American skincare company that recently launched a North American presence.  Saranghae (Sa-ran-hay is how I say it) means "I love you" in Korean, which you should love your skin!  The concept behind Saranghae skincare is finding a balance between science and traditional Korean medicine of using botanical ingredients to help protect, heal and renew your skin. They have created anti-aging skincare that will help combat and rejuvenate your skin, using formulas that contain ingredients such as collagen, soy, green tea, chamomile, olive oil and lotus extracts, just to name a few and they are harvested responsibly.  They do not use formaldehydes, heavy metals, parabens and phthalates and do not conduct animal testing.  The formulas are created in South Korea, but all of their products are manufactured and bottled, packaged and shipped from FDA approved laboratories from California.

Saranghae's active ingredients are derived from the essence of 10 ancient plants, herbs and flowers that grow from nutrient rich volcanic soil on a small island in South Korea. Volcanic soil is extremely rich in minerals and nutrients, so rich that Green Tea leaves harvested from volcanic soil show 250% greater concentration of antioxidants than ordinary Green tea. This means that these 10 ingredients harvested for Saranghae boasts the highest concentration of antioxidants, minerals and nutrients. (source)

I reached out to Saranghae when they held their blogger reviewer campaign and I was thrilled to receive their 5-step Goddess Bundle package, which contains a 5-step routine of a cleanser, 6 facial sheet masks, eye serum, night serum and a cream.  I did have reservations about one of the items, due to my oily skin.   I had done a story unboxing but stories on IG get removed, so I did do a follow-up unboxing on IG a week or so later.  I have been using these products for 3 weeks now.

https://www.instagram.com/p/BRlZ5k1BVFP/
Skin Type/Concerns:  Oily, blemish prone, aging skin with sun damage hyper-pigmentation, fine lines and wrinkles.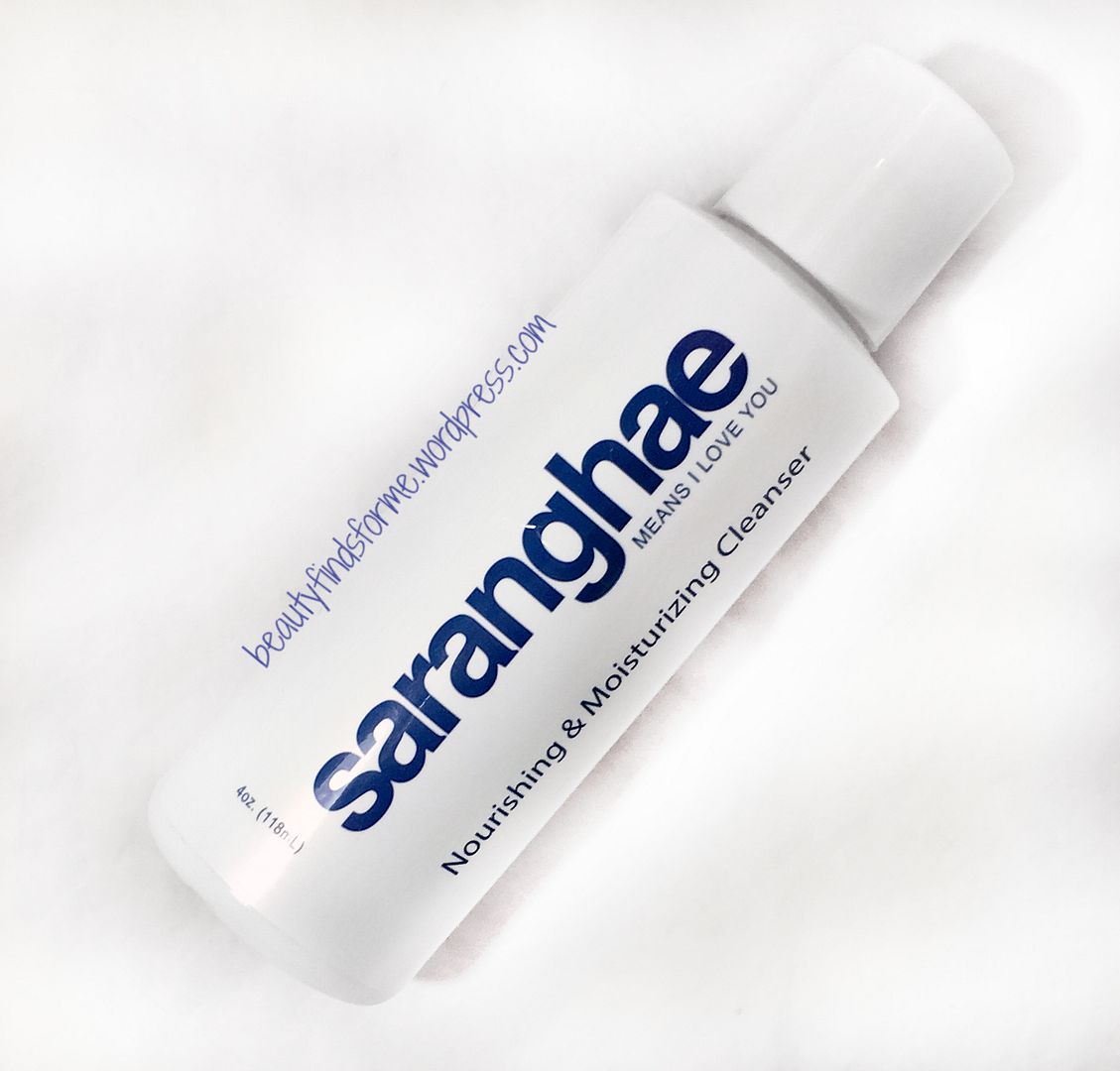 Nourishing and Moisturizing Cleanser  (4 oz) This is an oil based cleanser that contains the "good sulfate", sodium laureth sulfate ~ a gentle and mild cleansing agent that is safe to use.  It looks to be a hybrid of an oil and foaming gel cleanser as it contains several nourishing oils ~ olive, sunflower, soybean ~ along with antioxidant and brightening ingredients such as green tea and licorice.   It is is clear with a runny, watery texture ~ when I add water to it, it quickly emulsifies into a milky substance and it does foam up ~ I use my pore brush for everything, so I tested the foaming action with my hands and I did get foam!   It removes my makeup and any dirt and excess oils from my face very well, without leaving my face dry or tight. 
I would have to say that the only complaint I have is the scent ~ as it reminds me of a generic fancy hotel soap scent.  It isn't unpleasant, but I would rather this be unscented as I cannot stop thinking ~ hotel soap ~ when I use it!   For those interested, this has a pH level of around 7 to 7.5
Ingredients: Olive Fruit Oil, Green Tea Seed Extract, Sunflower Seed Oil, Soybean Oil, Olive Leaf Extract, Muira Pauma Root Extract, Licorice Extract, Grape Seed Extract, Laureth-4, Decyl Olivate, Squalane, Polysorbate 20, Sodium Laureth Sulfate, Fragrance cosDNA analysis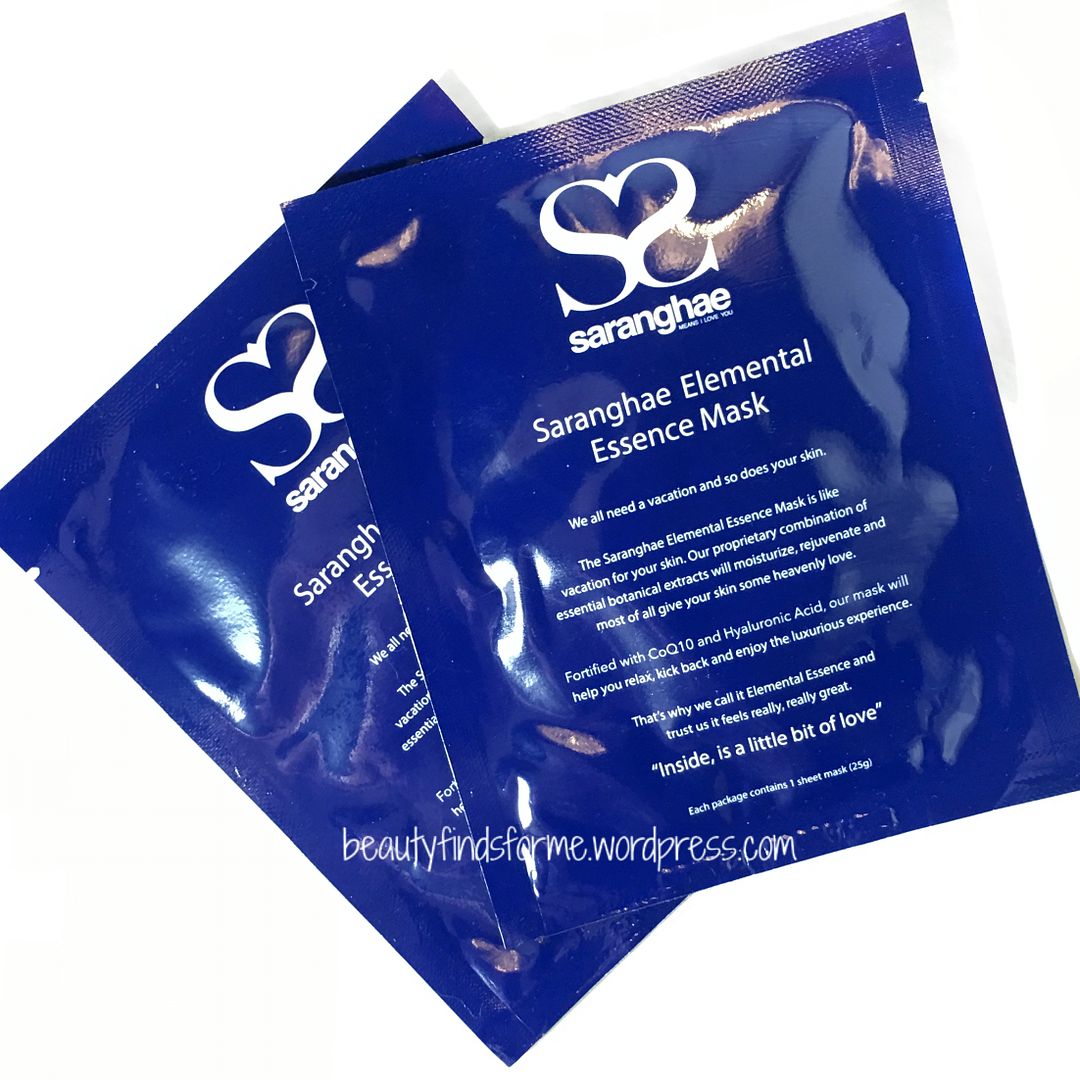 Elemental Essence Mask  (6 masks) After cleansing, using a facial sheet mask is the right thing to do!  haha   I always chuckle when I read skincare companies say to use a sheet mask once or twice a week ~ they don't know me! I use them daily ~ sometimes twice a day 😀  This mask scared me a bit as it stated not to use it if you had active acne, which I do around my chin.  But my face is a testing ground, so I thought what the hell, and tossed it on.  I am happy to report that my face did not erupt into one huge angry red boil because I used it on my acne prone skin!  In fact, it did reduce redness and inflammation.   That said, despite having the soothing and astringent witch hazel and blemish busting tea tree ingredients, make no mistake ~ this is an anti-aging, rich mask, which has peptides, green tea, collagen and fermented lotus extracts, along with skin brightening CoQ10 (ubiquinone).  The sheet mask itself is made with a soft, micro fiber, the essence is watery and there is extra in the package to pat on your face ~ it also has a light herbal-floral scent.  The fit was exceptionally good on my face.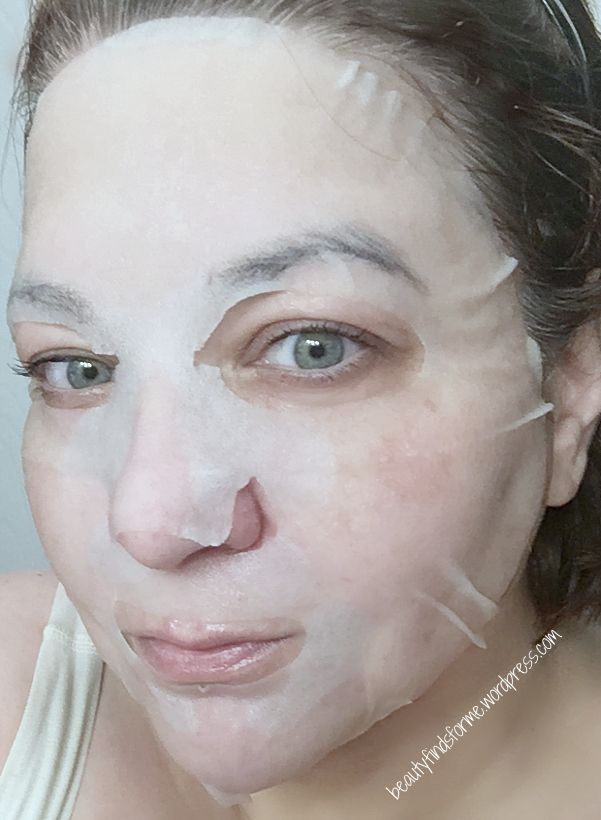 My face did feel very moisturized after I used this mask and I only recommend this as a night time mask, as it left a filmy residue on my face ~ this happens to me with masks that contain collagen, which is why I am not a fan of masks that contain this ingredient.  I didn't experience any breakouts from this (see no angry boil comment) but this would be a mask that I would only use if my skin was raw, chapped or sunburned, as it is just too intense for oily skin.  I did find it funny that the back of the package warns not to use it on irritated or sunburned faces, but maybe they have to be extra careful with sensitive skin types.  For me, this is a very moisturizing and soothing mask and I would use it as such.  I did give a couple of masks to a friend of mine who has dry skin and she loved them!  So, I do think these are better suited for drier skin than myself.
Ingredients: Purified Water(Aqua), Glycerin, Dipropylene Glycol, Butylene Glycol, PEG-40 Hydrogenated Castor Oil, Panthenol, Acrylates/C10-30 Alkyl Acrylate Crosspolymer, Nelumbo Nucifera Callus Culture Extract, Nelumbo Nucifera Flower Water, Adansonia Digitata Seed Extract, Hydrolyzed Collagen, Pulsatilla Koreana Extract, Usnea Barbata (Lichen) Extract, Zanthoxylum Piperitum Fruit Extract, Camellia Sinensis Leaf Extract, Spirulina Platensis Extract, Melaleuca Alternifolia (Tea Tree) Leaf Extract, Anthemis Nobilis Flower Extract, Camellia Japonica Flower Extract, Sodium Polyacrylate, Hydroxyethyl Acrylate/Sodium Acryloyldimethyl Taurate Copolymer, Hamamelis Virginiana (Witch Hazel) Leaf Extract, Pinus Densiflora Leaf Extract, Acetyl Hexapeptide-8, Copper Tripeptide-1, Palmitoyl Pentapeptide-4, Sodium Ascorbyl Phosphate, Ubiquinone, Polysorbate 60, Sorbitan Isostearate, Xanthan Gum, Caprylic/Capric Triglyceride, Lecithin, Polysorbate 20, Allantoin, Hydrogenated Lecithin, Sodium Hyaluronate, Tromethamine, 1,2-Hexanediol, Caprylyl Glycol, Adenosine, Tropolone, Disodium EDTA, Chlorphenesin, Phenoxyethanol, Fragrance cosDNA analysis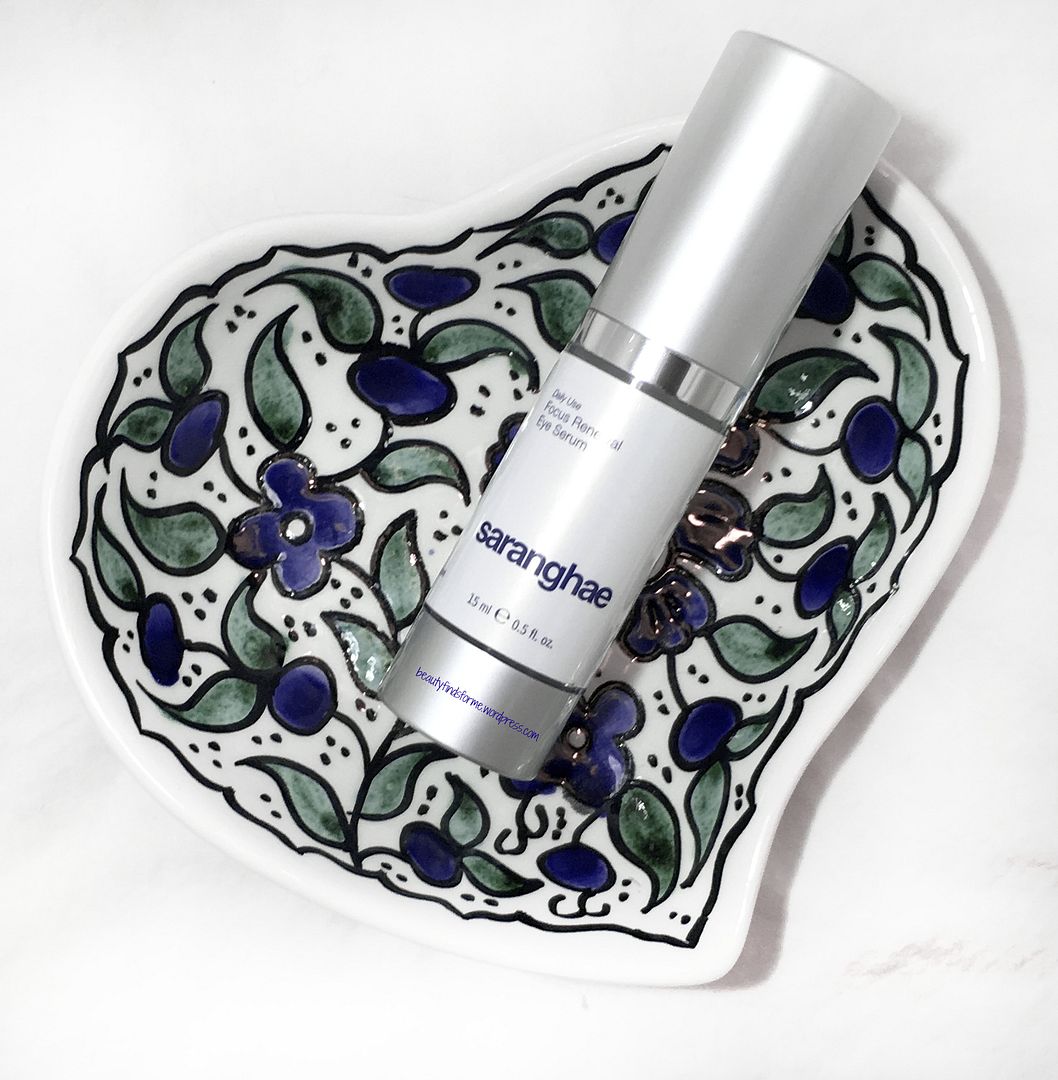 Focus Renewal Eye Serum  (15 mL) Now, will I ever be happy with any of these products, you are asking yourself? YES!  This is the first of two stand out items in this bundle.   An eye serum is a more lightweight, hydrating skincare product that helps prep your delicate eye area for a heavier moisturizing cream.  My thoughts on eye serums are ~ you have serums for your face and you still use a lotion or cream, so why not apply that concept to your eyes?   I love the ingredients in this ~ it contains anti-aging peptides along with soothing, anti-inflammatory ingredients such as chamomile, witch hazel and cucumber extracts.  Cucumber is also very hydrating too and witch hazel will help shrink puffy skin around your eyes. Hesperidin methyl chalcone is found in citrus fruits and it is a bioflavinoid ~ this ingredient is reported to help reduce the dark circles under your eyes, but I haven't seen that yet.   This scentless serum has a light, gel like texture and I use one pump to apply under and over my eye area ~ yes, I do my eye lids as well with this serum, as they need some hydration and protection too!  I found this absorb quickly into my skin and then I dot on an eye cream to lock in all of those nourishing ingredients.  I did an oil/water test and this serum increased my moisture levels by almost 83%!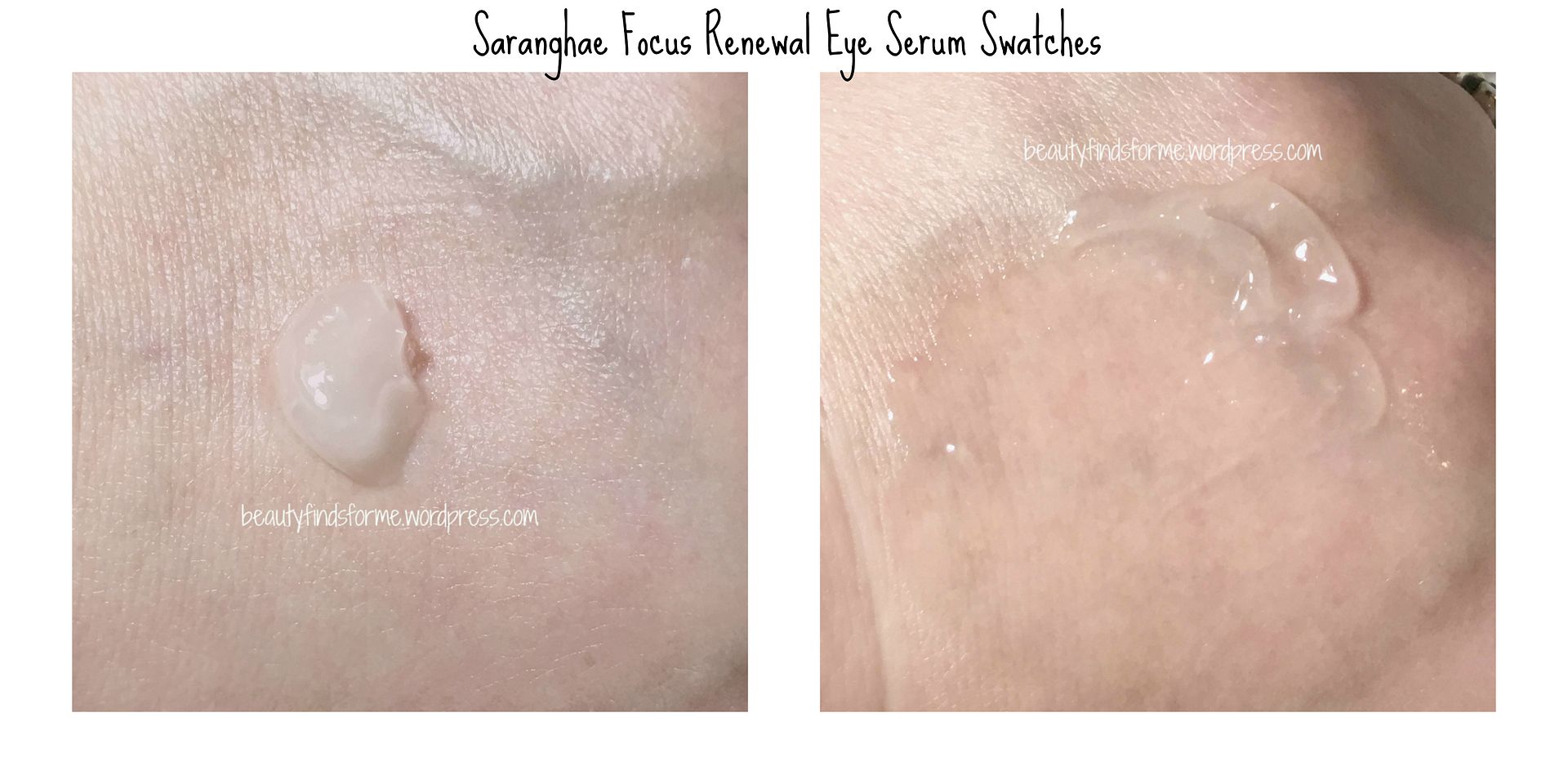 If you have "younger" skin around your eyes and no wrinkles, you can use this alone without a cream.  However, for most of us, locking in the nutritious benefits of this serum with an occlusive, moisturizing eye cream is a must step.  My only complaint with this serum is the packaging ~ the pump is so temperamental ~ sometimes it gently dispenses the eye serum and other times, it is so forceful.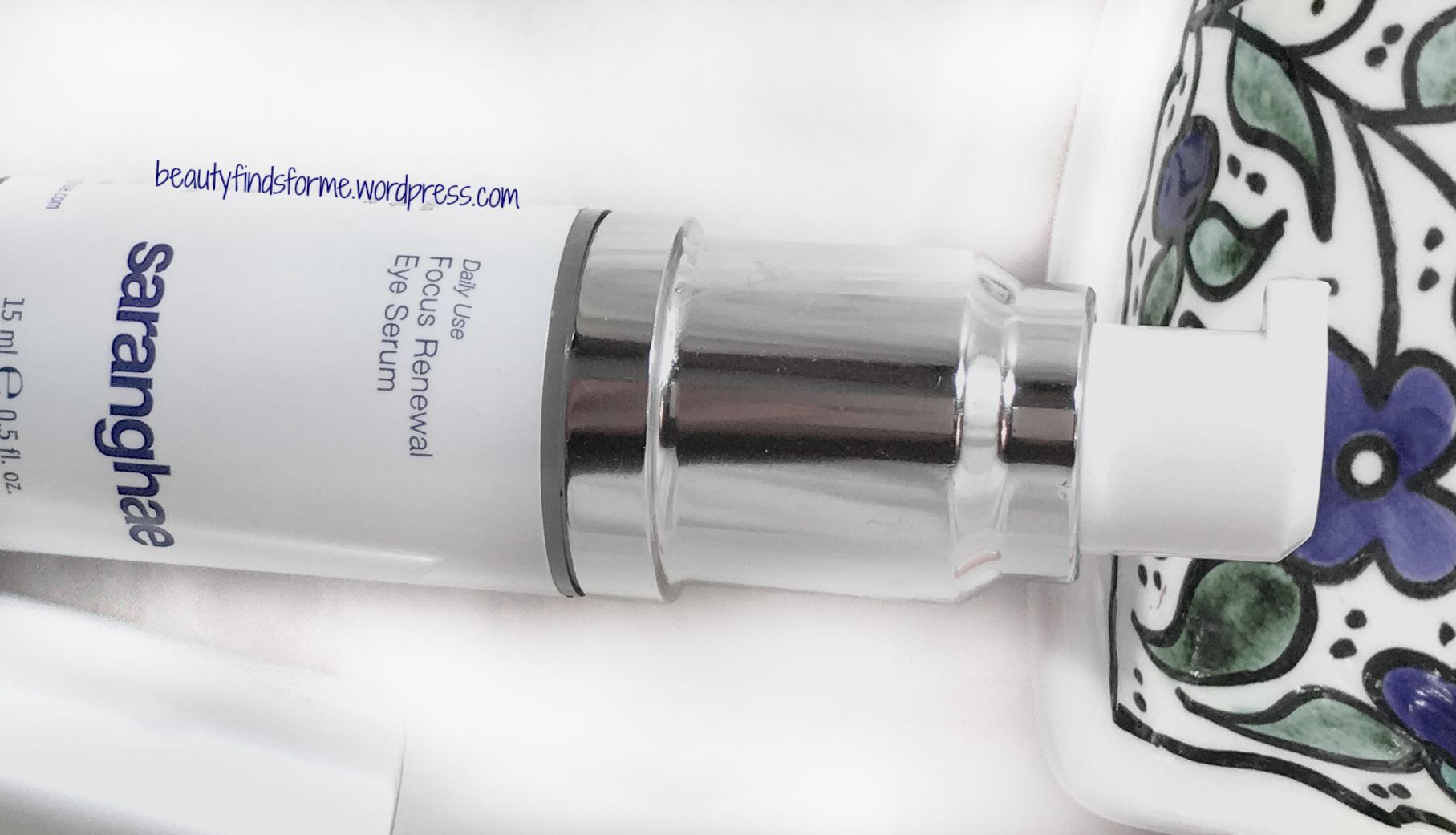 I normally will pump a product on the back of my hand and it has ricocheted off my hand and onto my bathroom wall.  Other than that, this is a great product ~ very hydrating, depuffs my eye skin and I think allows for better absorption of a more thicker moisturizing eye cream.  I also wish this serum came in a larger bottle, like a 30 mL (1 oz).
Ingredients: Purified Water, Dimethicone, Glycerin, Hesperidin Methyl Chalcone, Steareth-20, Dipeptide-2, Palmitoyl Tetrapeptide-7, Butylene Glycol,Chamomilla Recutita (Matricaria) Extract, Symphytum Officinale (Comfrey) Leaf Extract, Cucumis Sativus (Cucumber) Fruit Extract, Hamamelis Virginiana (Witch Hazel) Extract, Polysorbate 20, Palmitoyl Tripeptide-1, N-Hydroxysuccinimide,  Chrysin, Carbomer, Sodium Hydroxide, Phenoxyethanol, Ethylhexylglycerin cosDNA analysis

Infinite Repair Night Serum with Advanced Peptides  (30 mL) This is the second standout item for me.  I thought this was going to be an oil, but it isn't!  This is a light weight, scentless serum that just glides onto my skin and absorbs quickly ~ leaving behind  very hydrated, moisturized skin.  I was very concerned when I read the ingredients list, as its first ingredient is  collagen ~ collagen has a tendency to leave an ugly film on my skin and makes me break out in blemishes.   Collagen is used in skin care to help deeply moisturize and protect your skin, but it doesn't always agree with my skin type.  I am happy to report this serum does not leave a film or cause my skin to have any "troubles" (blemishes).   This also contains arbutin, which is known for its brightening properties and will help reduce the appearance of spots caused by hyper-pigmentation.   Lycopene, which comes from tomatoes, is a carotenoid ~ this antioxidant compound will help fight free radicals and reverse their skin damaging hyper-pigmentation, fine lines and wrinkles. It also provides UV blocking benefits, which means it protects your skin from the sun, reduces inflammation aids in cellar renewal and slows down the destruction of collagen.  This also contains 2 anti-aging peptides which will help your skin firm, retain moisture by binding water to your skin, stimulate collagen and elastin production, which will help repair damage to your skin and reducing wrinkles and lines.
This is a watery serum and I just directly apply it via the dropper, to my forehead and cheeks, then I pat in the serum.  There is no ingredient in this list that prevents me from using it during the daytime, so I have been loving this in my morning routine.  This serum leaves my skin soft and smooth, hydrated and it is very much a fine essence with no sticky or greasy residue, despite the collagen.  This only increased my moisture level by around 18% but I will follow up with a lotion. The dropper applicator and packaging is perfect as well ~ the dropper end is slightly curved, which is fantastic as it allows me to control when I want to release the serum on my face.  This is another item in this skincare line that I totally recommend!!
Ingredients: Soluble Type-1 Collagen, Purified Water, Glycerin, Alpha-Arbutin, Butylene Glycol, Carbomer, Polysorbate-20, Palmitoyl Oligopeptide, Palmitoyl Tetrapeptide-7, Caesalpinia Spinosa Gum, Potassium Sorbate, Disodium EDTA, Lycopene, Phenoxyethanol, Ethylhexylglycerin cosDNA analysis

Firm & Lift Cellular Regeneration Cream (1 oz) This is the product I was concerned would be too rich for my oily skin.  I was right on that and I have been using it as a neck and decolletage cream ~ and it is perfect for that.  Your skin is thinner around your neck and chest area and it is woefully neglected in skincare routines, so this is a nice fluffy-thick (does that make sense?) moisturizing cream that my thinner skin absorbs quickly.  It has a light herbal-floral scent to it.  On my face, it was too heavy and oily, but it is perfect for my neck.   This has some very nourishing botanical oils, such as apricot, sunflower and olive, along with occlusive shea butter.  This also anti-aging and antioxidant soy, vitamins E and C and wheat proteins.  This contains a trio of anti-aging amino acid peptides that will help strengthen your skin barrier and aid in the production of collagen and elastin, while a duo of lipids will intensively moisturize your skin as they will help penetrate deeper into your skin and deliver rejuvenating and conditioning ingredients.  This only increases my moisture level by 13%.
I am not sure why the ingredient list on the website is different from the jar label ~ I am using what is on the jar label below.

Ingredients: Purified Water, Glyceryl Stearate, PEG-100 Stearate, Stearic Acid, Glycerin, Dimethicone, Palm Extract, Sodium PCA, Safflower Extract, DermalRX (yeast extract), Soy Amino Acids, Apricot Kernel Oil, Sunflower Seed Oil, Sodium Hyaluronate, Olive Fruit Oil,  Shea Butter, Tocopheryl Acetate (Vitamin E), Wild Evening Primrose Flower Extract ,Leontopodium Alpinum (Edelweiss) Flower Extract, Hydrolyzed Wheat Protein, Ascorbic Acid (Vitamin C), Butylene Glycol, Carbomer, Polysorbate 20, Phospholipids, Sphingolipids, Palmitoyl Tripeptide-1, Palmitoyl Tetrapeptide-7, Acetyl Hexapeptide-8, Xanthan Gum, Sodium Hydroxide, Phenoxyethanol, Ethylhexylglycerin cosDNA analysis

Final Thoughts
For me, the two products that were standout and outstanding were both of the serums ~ eye and facial.  I have oily skin and I felt that the mask and cream were not suitable for my skin type on a regular basis.  I do think that for dry or normal to dry skin types, all 5 of these items are good for you … however, I feel that Saranghae has created a skincare line that somehow assumes that if you have aging skin, you have dry skin.  That is a common misconception, as Western skincare for decades also followed this assumption ~ perhaps Saranghae is working on a skincare line that is more tailored for oily skin.  I miss having a toner and I think that an oily skincare routine should include a tea tree and chamomile cleanser, facial sheet mask for pore and oil care, a hydrating toner and a lightweight lotion.  The two serums are fantastic and can be used for all skin types.  I would also change the packaging on the eye serum, as it is too temperamental.  Also, adding an eye cream to complement the eye serum would be fantastic, as the eye serum is not enough on its own for aging skin.
All in all, I enjoyed the chance to try these products and finding out which ones were superior for my skin type!  Many thanks to Saranghae for sending me their Goddess Bundle to use and review.
Where to Purchase
At Saranghae's Online Shop! You can purchase each item individually and they also have several different sets.  The prices on these skincare products are expensive.  I would love to see Saranghae come out with a travel kit, so that people can try a travel size item first.  That said, Saranghae does have a 30 day money back guarantee, which is good as these are pricey.
Venus Bundle ~ includes  Firm & Lift Cellular Regeneration Cream, Nourishing and Moisturizing Cleanser & Elemental Essence Mask (6 masks)
Day Essentials Bundle ~ includes Firm & Lift Cellular Regeneration Cream, Nourishing and Moisturizing Cleanser & Focus Renewal Eye Serum
Night Essentials Bundle ~ includes Firm & Lift Cellular Regeneration Cream, Nourishing and Moisturizing Cleanser & Infinite Repair Night Serum with Advanced Peptides
Goddess Bundle ~ This is what I received and it includes all 5 items.
If you purchase their bundles, you can go on an VIP auto-delivery program where the longer you stay on it, you will save more money as Saranghae will provide greater discounts.  You can always pause, switch or cancel the VIP membership program.  Shipping and handling is free with all purchases and right now, it only ships to the USA and Canada.  
Learn More About Saranghae

[ disclosure: products reviewed for review.  all opinions are my own & unbiased ]