ToGoSpa is a customizable subscription service, revolving around eye gels and face masks ~ with a special bonus product, called The Benefit, which can be skincare, body pampering, lifestyle.  Every month, we get a hint what the next month's Benefit theme is and it was "Orange you glad winter's almost over?"  At the end of each unboxing, I always try to guess what the next month's product will be and see how close I get to it. I was thinking a Vitamin C serum….  Let's see what the Benefit is this month!
Before I head into the unboxing, I want to briefly tell you what ToGoSpa Society is, if you don't know.  If you do know, you can skip down a bit to my unboxing 🙂 I subscribe to ToGoSpa Society just to get their amazing eye gels monthly and they also add in a "benefit" product(s) that varies monthly.  The benefit product can be something from their own line or another vendor.    A bit more on ToGoSpa Society
A monthly membership that gets you EYES by ToGoSpa each month because we think you should use them ANYTIME if you want to – AND The Benefit,- a gift selected by us – just for you!
What is The Benefit?  It's a special gift from us to you!  On our never ending quest to discover the best of the best in "on the go" spa products, we find some extraordinary things! We want to share some of this booty with you, and The Benefit allows us do just that! Each month, along with your EYES,  you'll receive a unique and special gift of one of our favorite products. It could be a gift of our own ToGoSpa brand products, or another brand that we covet. The Benefit will be a full size, spa quality, awesome gift valued from $20 – $50. We won't tell you what it is, but we know you're going to LOVE it!

Which flavor of EYES will I receive?  Your call. You'll get to choose between Refreshing Ice Water, Rejuvenating Green Tea,  Anti-Aging Pomegranate and Replenishing Coconut.

I am on the $27.50 variety plan, but I have been grandfathered in, so I pay $22.00 a month ~ and will receive the same Benefit product as the other plans, so I am glad that I am not missing out on that! ToGoSpa makes it really easy to switch your plans online as well. The $27.50 variety plan will supply me 2 packs of eye gels  ~ randomly selected from Ice Water, Green Tea, Coconut and Pomegranate packs  with each pack containing 3 pairs of gels (6 treatments total) ~ plus  a "benefit" product, which could be one of their products or a product that they really like ~ valued at $20.00 to $50.00.  Save 15% off your first box by using promo code Unboxing15.

ToGoSpa Box Revealed!

Informational Card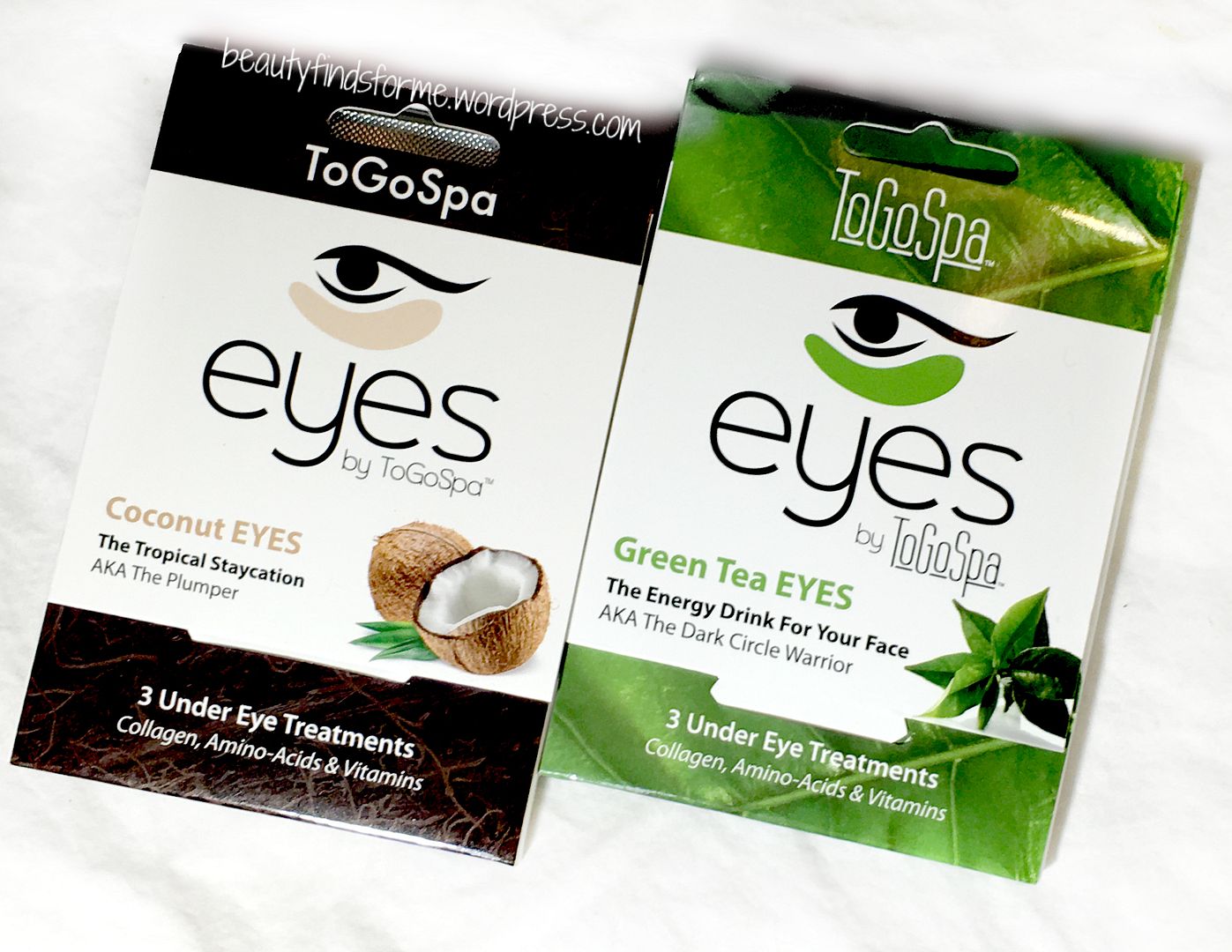 I received 2 packs of gels, but you can read my in-depth review on the EYES in my original March post.  If ToGoSpa comes out with a new type, I will review those at that time.    I will state what I received and if you are interested about the full information on the EYES, please read my ingredient and description blog post on these eye gels. All of the EYES products have these benefits
Activated by the body's temperature, the nutrients stored in each flexible EYES by ToGoSpa® gel pads work together to aide stressed, tired and aging eyes and skin
Relaxes, calms, and pumps up hydration levels to new heights.
De-puffs and reduces the appearance of dark circles.
Reduces irritation and redness.
Minimizes pores with clarifying, cleansing oils.
Hydrates crepe-like skin and fine lines.
This month, I received Green Tea EYES The Energy Drink For Your Face AKA The Dark Circle Warrior and Coconut EYES The Tropical Staycation AKA The Plumper. Value $25.00 Total packs =2.  Total treatments =  6.  Value $25.00
The "Benefit" Product
Neroli Balm by ToGoSpa   This is a lovely butter for both your face and body! Since I have oily skin, I will use this as a body butter, but it is safe for your face and if you have really dry skin, it would work well for you … my mom, who has dry skin, uses a coconut body butter on her face and she loves it..  This has some lovely ingredients
Shea Butter contains a rich source of concentrated natural vitamins and fatty acids ~ oleic, stearic, palmitic, linolenic ~ and is highly moisturizing and nourishing.  It helps repair your skin, as well as reduce skin inflammation due to its lupeol cinnamate compound.  It also smooths your skin to protect it from drying and it strengthens your skin over time as it helps aid in the collagen production.
Evening Primrose Oil is rich  in Omega 6 fatty acids, such as gamma linoleic acid (GLA),  and helps heal wounds, as well as inflammation. It can help reduce blemishes as well as hydrate your skin, and it has astringent benefits as well.

Meadowfoam Oil has excellent anti-oxidant and skin softening properties and benefits. It has rich texture that helps with your skin's barrier and locks in your skin's moisture, preventing dryness. It also is used to extend the shelf life of other oils

Neroli Oil is made from the blossoms of the bitter orange tree and it takes 1000 pounds of blossoms to make 1 pound of oil.  It aids in the suppleness of your skin, soothes and is rich in antioxidants and vitamin C, helping to combat free radicals and protect your skin against environmental stress and pollution, reducing inflammation and redness.  It is also one of the few citrus oils that isn't phototoxic and it will help aid in collagen production.
Carrot Seed C02 Oil contains a ton of antioxidants, including vitamin C and E, which help heal, rejuvenate and add a suppleness to your skin.   Carrot seed oil contains carotol, which helps soften and repair signs of aging and skin damage.  This oil helps aid in the growth of new skin cells and also provides moisture without clogging pores.


This also has frankincense and vetiver oil in it, so the scent is quite a sexy, herbal-citrus scent.  I would say that it is a uni-sex scent as well, and both women and men would enjoy this balm. The balm is dense, but once I apply it to my skin, it just melts away and is absorbed into my skin, leaving behind a nice smooth, soft and glossy finish.  RV $30.00
Ingredients:  shea butter, evening primrose oil, grape seed oil, meadowfoam oil, jojoba oil*, virgin coconut oil*, beeswax, tocopherol (vitamin E) oil, neroli oil, carrot seed C02 oil, frankincense oil, vetiver oil, orange oil, rosemary extract *certified organic 
So you can tell that I love my eye gels as I have a box that is dedicated in providing me with 6 pairs monthly!  I love the Neroli balm as the scent is just out of this world ~ very sexy and smooth, plus the balm itself is very nourishing to my skin.  My legs need some TLC after this winter and body butters/balms are the perfect way to provide some extra care! I paid $22.00, which included shipping and received a value of $55.00. If you order before the 15th, you can still get this  month's box.  Next month, ToGoSpa hinted that it will be "Bring on Your Gypsy Soul!"  Hmm, the first thing that comes to mind is Stevie Nicks ~ lol.  But there are Gypsy Soul shops out there, ranging from apothecaries to jewelry and accessories.   What do you think?

Are you interested in ToGoSpa Society?  If you are, let me know in the comments below and you can join here and tailor your monthly box to your needs!  Save 15% off your first box by using promo code Unboxing15.  I highly recommend this subscription.  If you already are a member, what did you think about this month's box?

 

[ description in italics from the linked product site ]
[ this blog post contains affiliate links ]