[ this blog post contains referral & affiliate links ]
This month's theme is "Time to Blossom"… Well, I would love to, but Mother Nature has decided to snow dump the Northeast!!  Hopefully, it will all melt away in a week or so.  What is Yogi Surprise?   

Yogi Surprise Lifestyle Box
6-8 full-size yoga lifestyle items

Vegetarian and GMO-Free

$70+ retail value in every box

$44.95/month + free shipping
This month's theme is "Time to Blossom" ~ This month's offerings help you transition to spring after a long rest.  There are tools in here to help you ground yourself and seek balance during this transition period into the season of rebirth. 
Informational Card

Soul Flower Boho Headband in Water Spirit  This is really cool!  I have received Soul Flower items in the past and I love their store ~ this headband is larger at 8 inches wide, so it is very unique looking when you wear it. Water Spirit is a great azure blue with a bright blue-aqua mandala printed with low-impact dyes on it, which is supposed to calm your mind and soul.  It is made in the USA with eco-friendly materials ~ 50% upcycled excess scrap fabric made from organic cotton and 50% recycled plastic bottles.  It is very stretchy and comfortable to wear and if you are having a bad hair day or forgot to wash your hair and need to run around to do shopping and errands, this is the headband to wear!  RV $16.00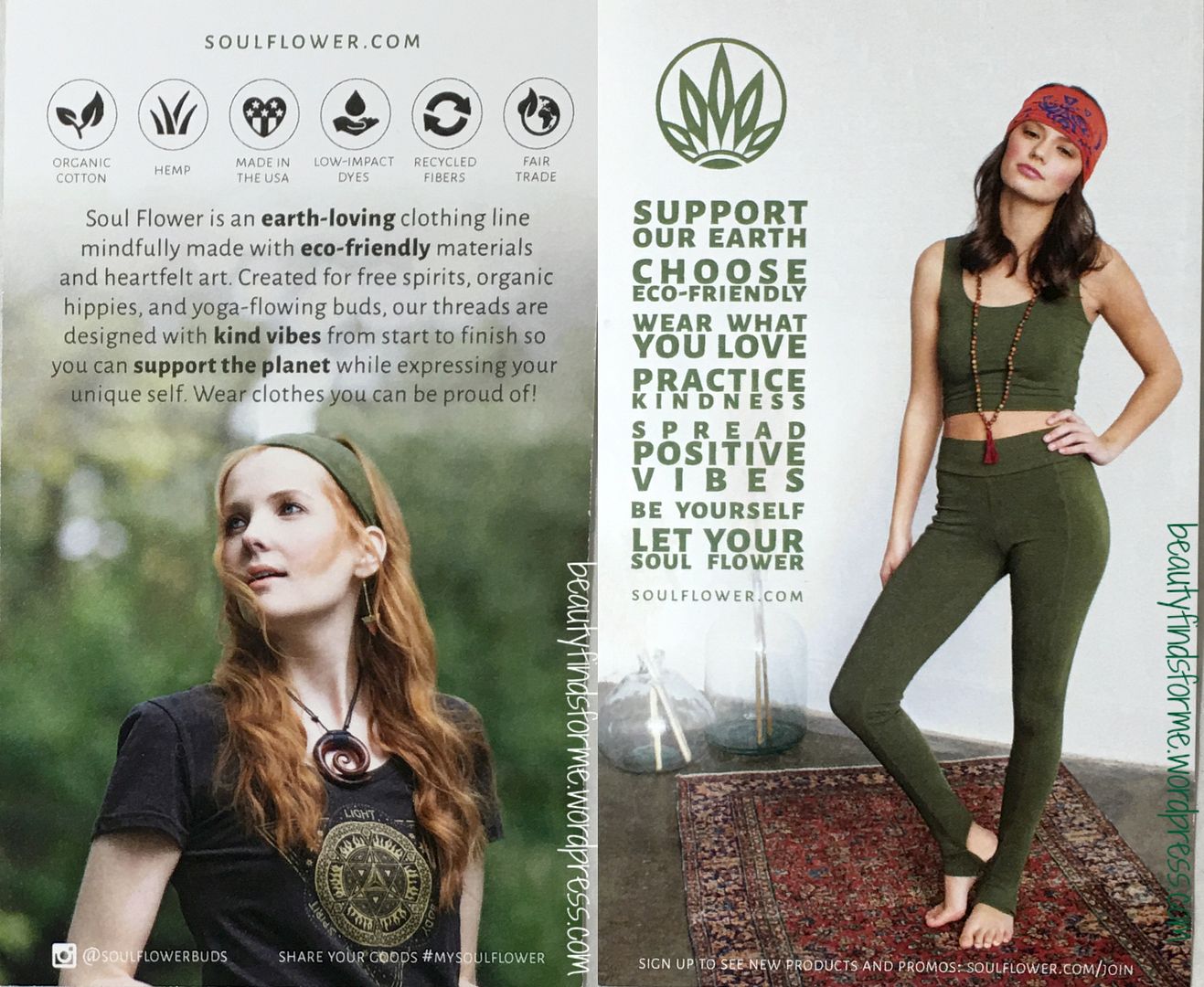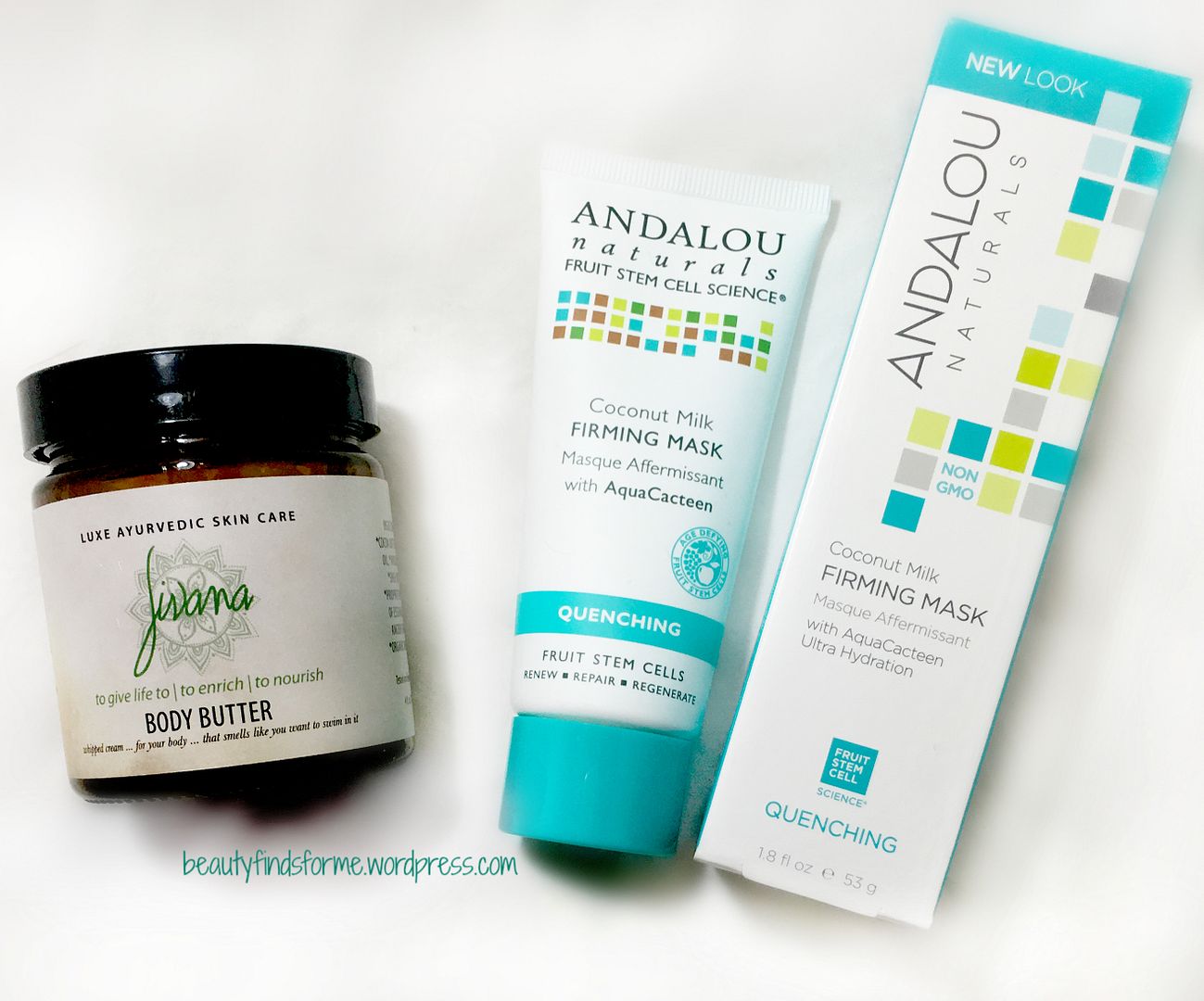 Jivana Ayurvedic & Yoga Body Butter  This is the time of year to use body butters!  I love the rich, smooth and velvety feel of them on my skin and they really help get my legs and arms ready for spring and summer ~ gotta bare them!  This is a blend of botanical butters and oils that looks really dense in the jar, but once I scooped a little bit out, I could feel that it has a whipped like texture. 
It starts to melt immediately on my skin, leaving a high gloss finish initially, but it does completely absorb into my skin.   I don't need much as a little of this rich and nourishing butter does go a long way.  This has a proprietary mix of essential oils for the fragrance, but it is a wonderful sweet citrus and refreshing mint scent.  Body butters are great to show a little bit of shine on your legs as it will also highlight muscle definition too!   Jivana also makes a 9 oz version of this butter.   4 oz RV $21.00   Promo Code: Use YOGI!15 to save 15% off any purchases at Jivana. Expires 6/30/2017
This little bit moisturized my whole arm.  You can see how it is already melting on my skin just from my natural body temperature. BTW, I am going to be labeling swatches as Photobucket employees have a dirty mind. They removed other skincare product swatches of mine because it looked too much like body fluids (rolling eyes here)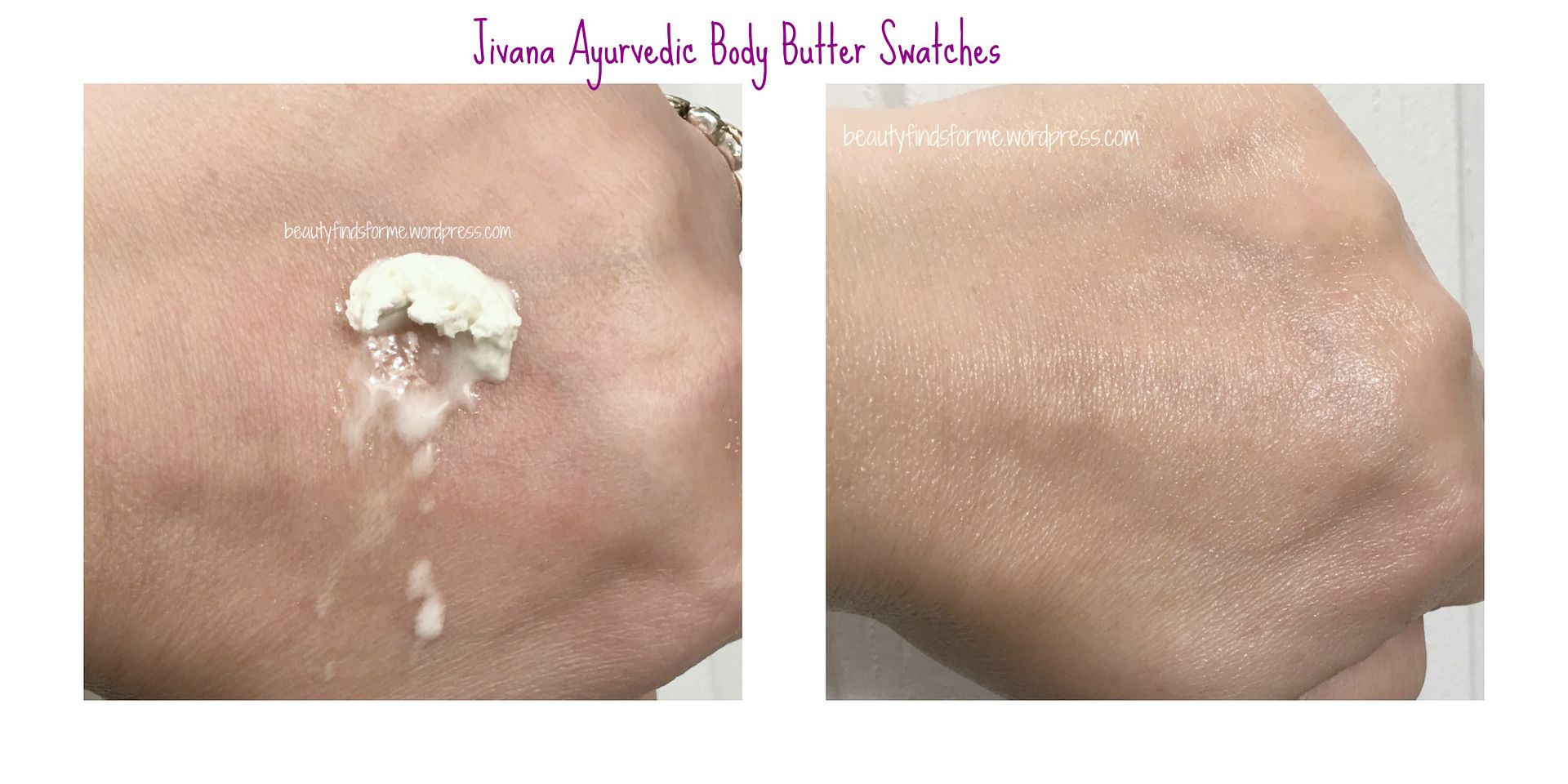 Ingredients: *cocoa butter, *olive oil, *sunflower oil, *apricot kernel oil, *almond oil, grape seed oil, *shea butter, candelilla wax, vitamin E, *proprietary essential oil blend  *organic ingredient

Andalou Naturals Coconut Firming Face Mask I love Andalou products ~ I have tried their masks, facial and wash off in the past (review here) and this is one that I haven't tried!  I usually purchase my Andalou products from iHerb or Whole Foods and now Target carries them as well.  Coconut water is rich in minerals, electrolytes and potassium and helps bring moisture immediately to your skin to prevent it from drying and cracking.  It will help soften your skin, control oils, is an anti-inflammatory and helps soothes and relieve your skin.  This has a cream/lotion-like texture and looks dense out of the tube, but spreads quickly into a lighter lotion ~ it does have a nice scent of coconuts!  This is a wash off mask pack which you apply to clean skin for 20 minutes before rinsing off, but I don't know why you couldn't leave it on overnight as a sleep pack if you wanted to. I am pretty excited to give this a try!   Full Size 1.8 oz  RV  $14.99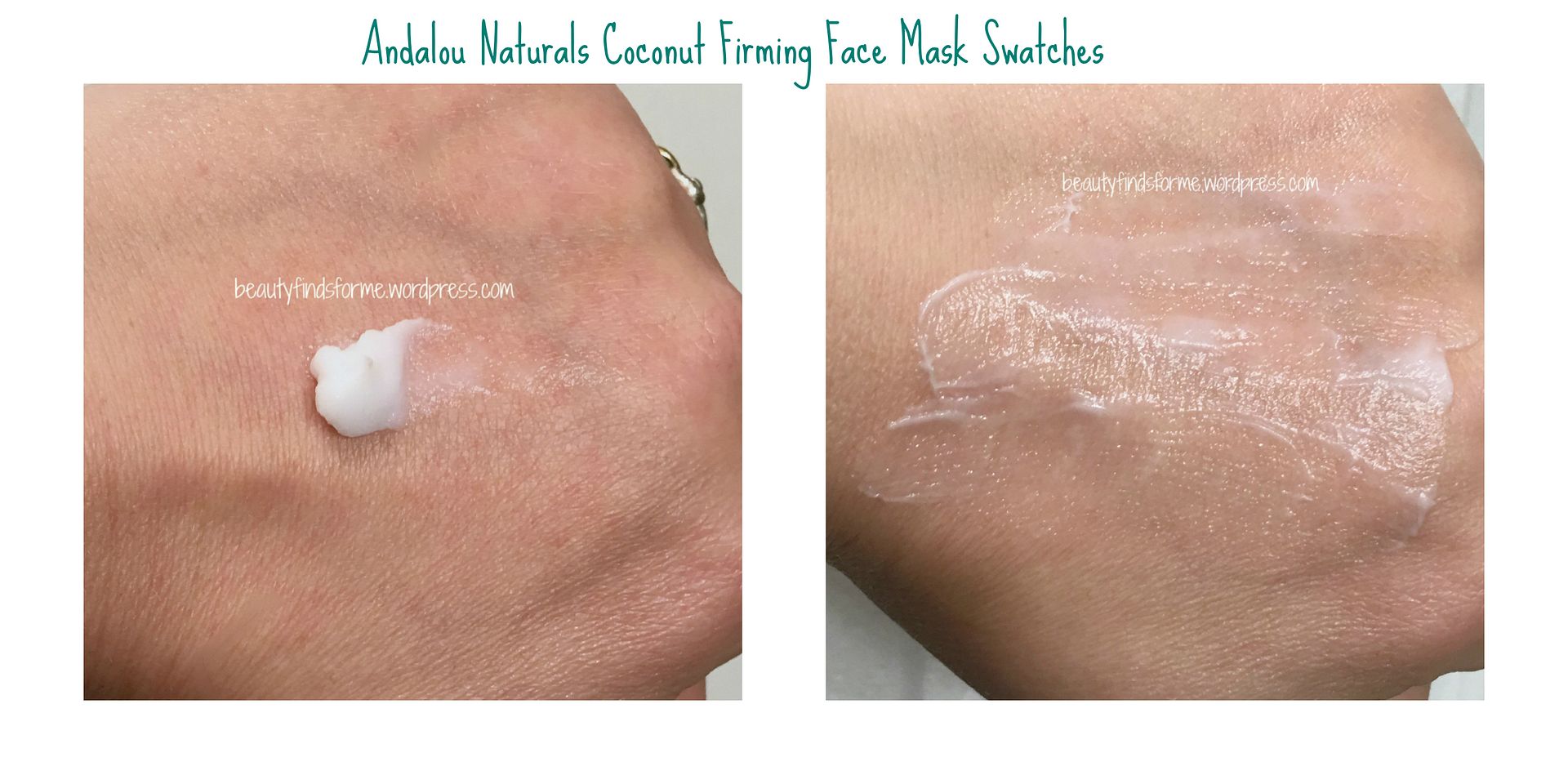 Description: For Parched/Depleted Skin: This nutrient-rich facial mask, with coconut milk amino and essential fatty acids, hydrates, fortifies, softens, and conditions, improving the appearance of skin tone and texture for a healthy, smooth complexion. AquaCacteen, derived from prickly pear cactus, nourishes and soothes as water-binding nutrients provide lasting hydration for a lifted, firmer appearance and renewed vitality. ECOCERT certified
Ingredients: Aloe Barbadensis Leaf Juice*, Purified Water , Cocos Nucifera (Coconut) Water*†, Vegetable Glycerin, Dicaprylyl Carbonate, Cocos Nucifera (Coconut) Milk*†, Glyceryl Stearate, Cetyl Alcohol, Cocos Nucifera (Coconut) Oil*†, Stearic Acid, Opuntia Ficus-Indica (Prickly Pear) Stem Extract*, Fruit Stem Cells (Malus Domestica, Solar Vitis) and BioActive 8 Berry Complex*, Panthenol, Allantoin, Skin Firming Complex: [Cichorium Intybus (Chicory) Root Oligosaccharides, Caesalpinia Spinosa (Tara Tree) Gum, Coffea Arabica (Green Coffee) Extract*], Opuntia Ficus-Indica (Prickly Pear) Seed Oil*, Magnesium Ascorbyl Phosphate (Vitamin C), Tocopherol, Camellia Sinensis (White Tea) Leaf Extract*†, Aspalathus Linearis (Rooibos) Extract*†, Phenethyl Alcohol, Ethylhexylglycerin, Coconut Isolates, Citrus Aurantifolia (Lime) Peel Oil*, Mentha Spicata (Spearmint) Leaf Oil*  cosDNA analysis *Certified Organic Ingredients †Fair Trade Ingredients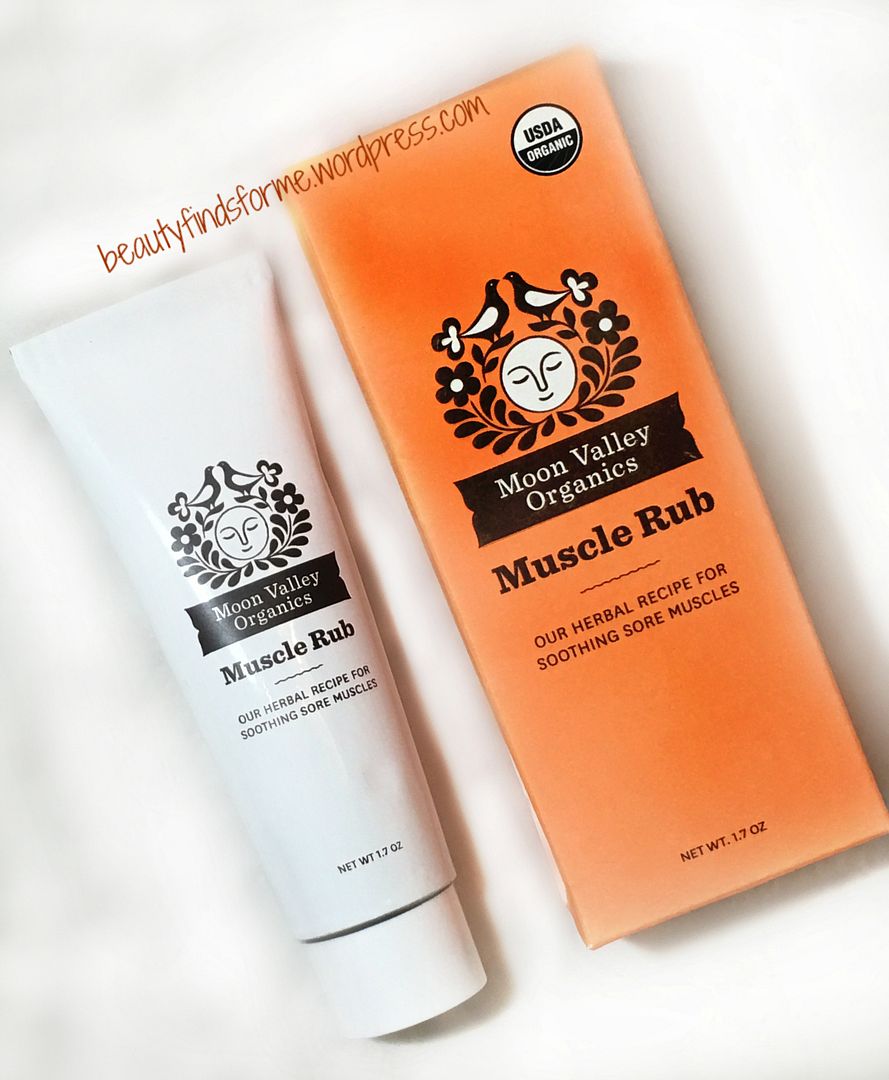 Moon Valley Organics Muscle Rub  Moon Valley is one of my favorite eco-friendly, indie shops!  I even have them in my Discounts page as that is how much I adore this shop ~  They make some awesome honey based products and their lotion bar is amazing. They also make medicinal salves and balms and I have purchased them in the past, including this one!  I suffer from both lower and upper back issues ~ lower is from a herniated disk that I got from sailing years ago and my upper back is from whiplash and hunched over a computer all day long for years.  I do use stronger pain rubs when the pain is really bad, but I like a lighter salve for just minor aches and pains.  Moon Valley's Muscle Rub is a nice salve that helps bring temporary relief to minor muscle pain.  This herbal balm is made with nourishing safflower oil and cayenne, arnica and clove ~ the latter three ingredients help penetrate into your muscles with some heat-relieving action.  When I say heat, it is VERY mild ~ it isn't going to burn your skin.  The salve/balm is a light orange shade from the cayenne and has a mild citrus scent, so people won't even know you are using a muscle pain balm.  I don't find this formula to be greasy as it absorbs pretty quickly into my skin.
This is made in the great state of Washington, certified organic and is gluten free.  The box is made from 100% recycled material and the metal tube is 100% recyclable.  Full Size 1.7 oz RV $13.00  Promo Code: Save 20% off your first purchase by using my referral link (click here)   I highly recommend this shop!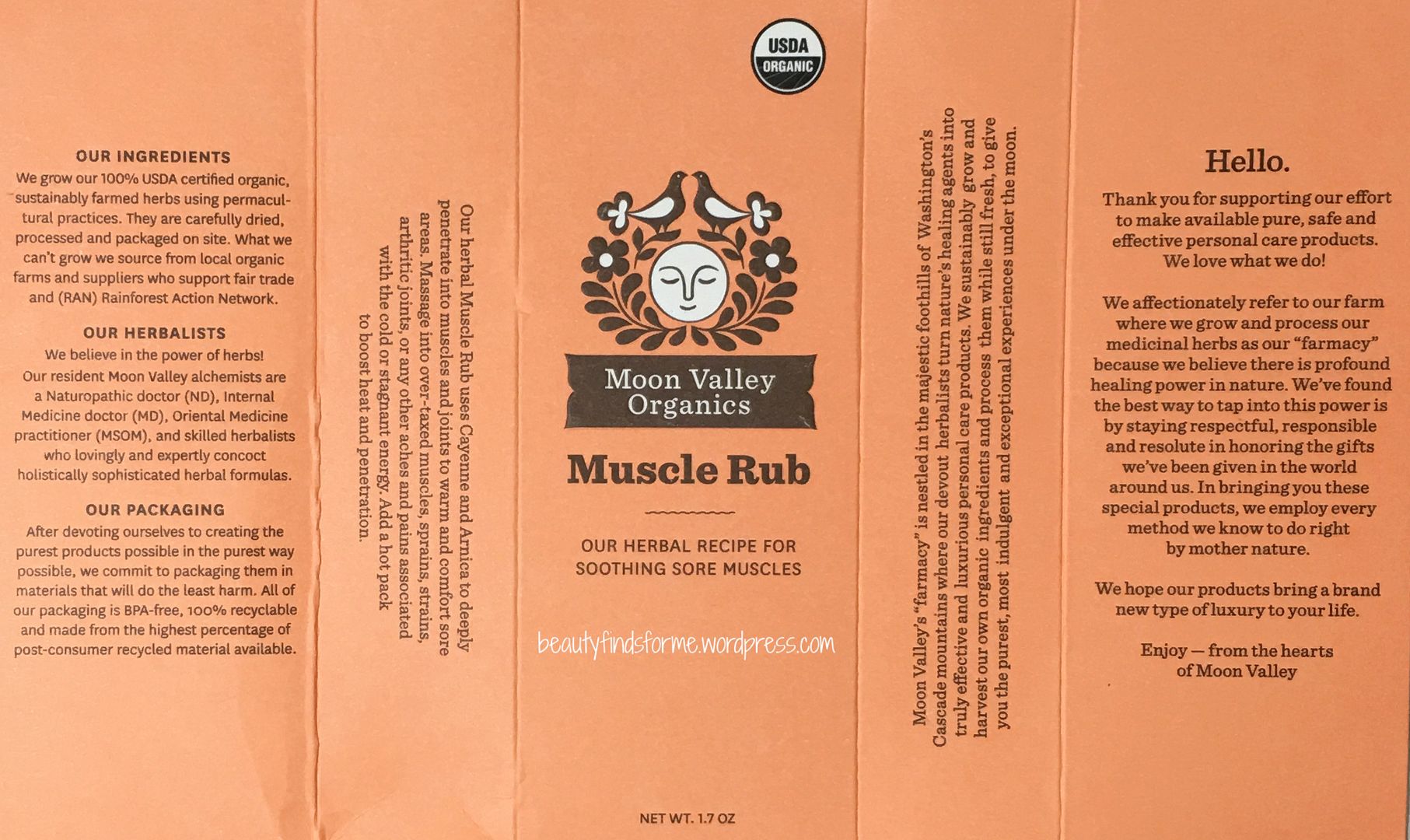 Description: Our herbal muscle rub uses cayenne and arnica to deeply penetrate into sore muscles and joints to stimulate circulation and relieve minor aches and pains.  Massage into over-taxed muscles, sprains, strains, arthritic joints, or any other aches and pains associated with the cold or stagnant energy.  Add a hot pack to boost heat and penetration.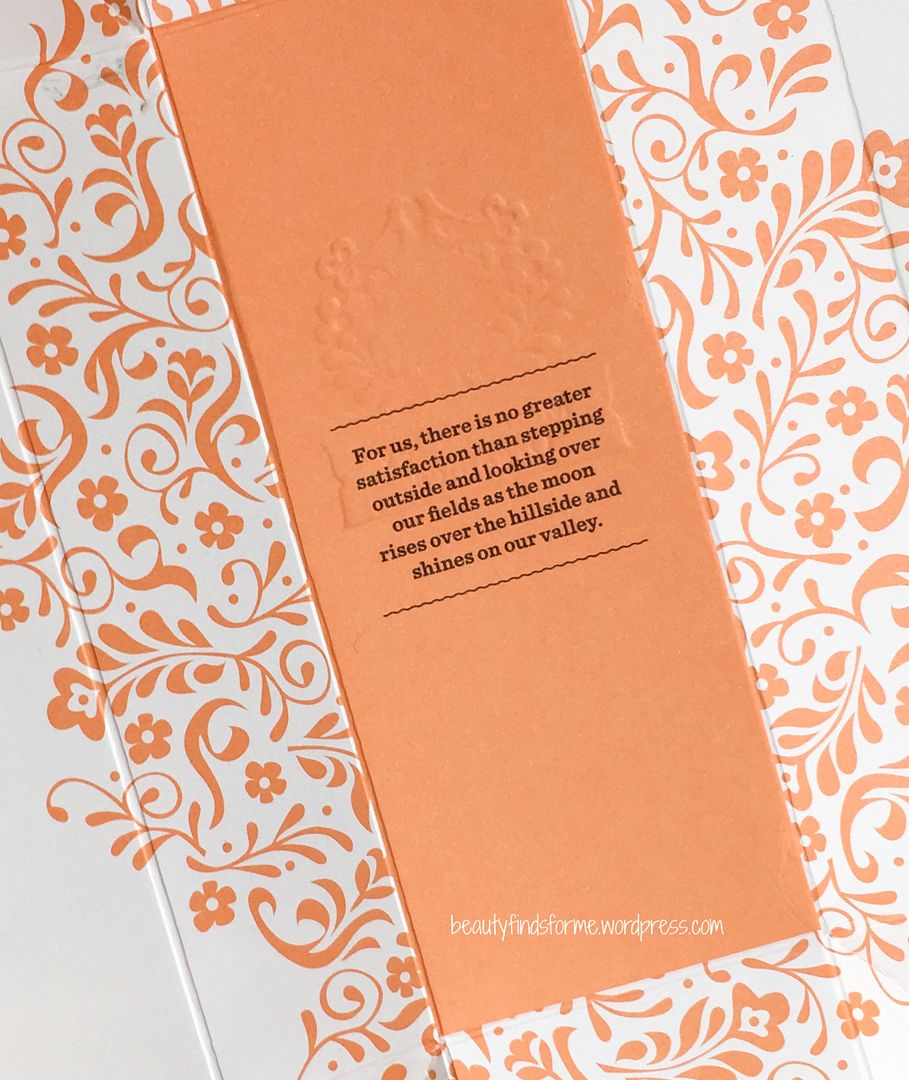 Ingredients:  Organic Safflower Oil, Organic Beeswax, Organic Tapioca Starch, Organic Arnica, Organic Cayenne, Organic Habanero, Organic Safflower Herb, Organic Ginger, Organic Lobelia, Organic Clove oil & Orange Essential oils, and Natural vitamin E made from sunflowers.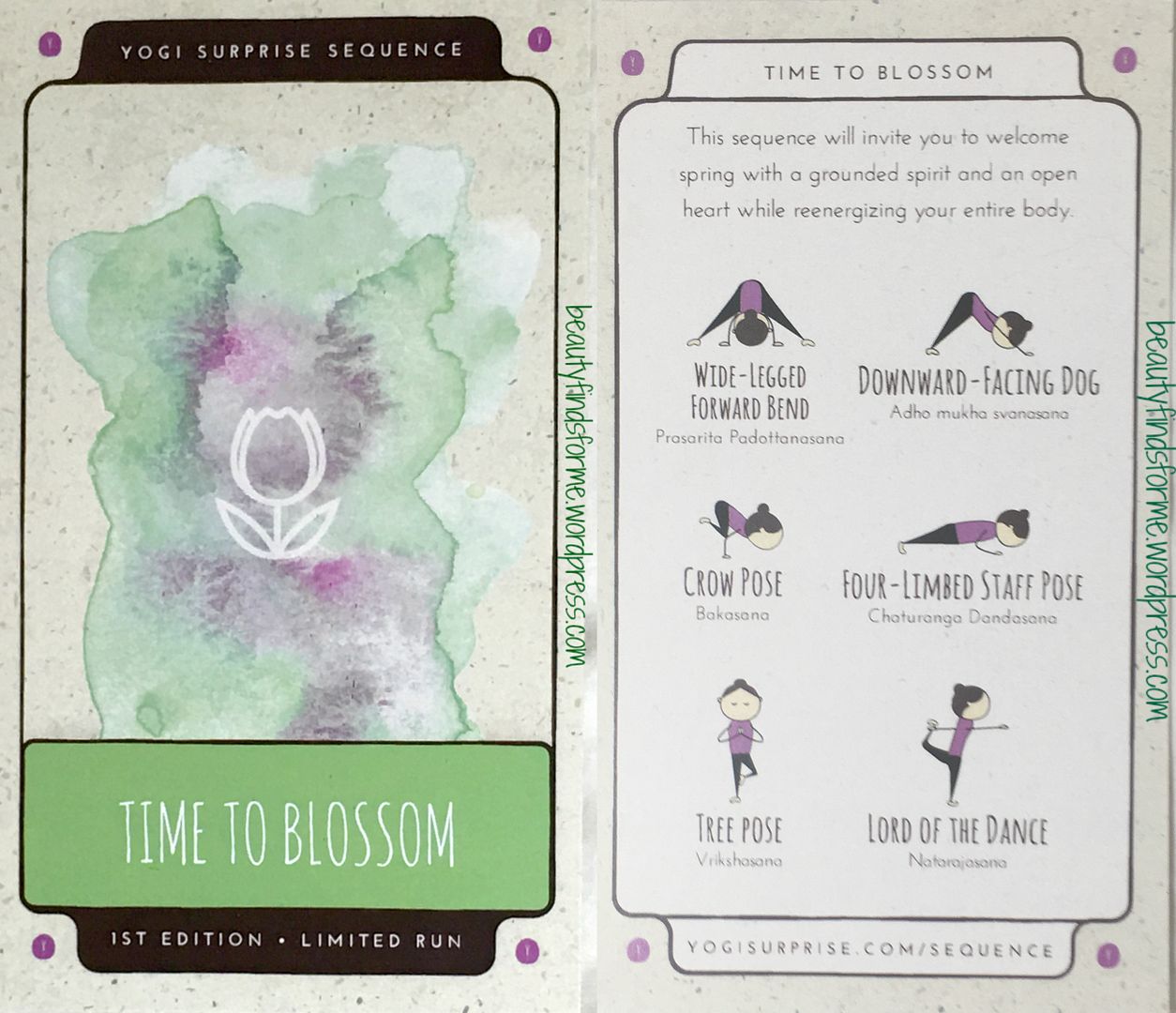 Bonus Item: Yogi Surprise Yoga Sequence Series Card: March Time To Blossom This sequence will invite you to welcome spring with a grounded spirit and an open heart while re-energizing your entire body. Yogi Surprise always has a sequence card in every lifestyle box with poses and positions that reflect the theme of the box.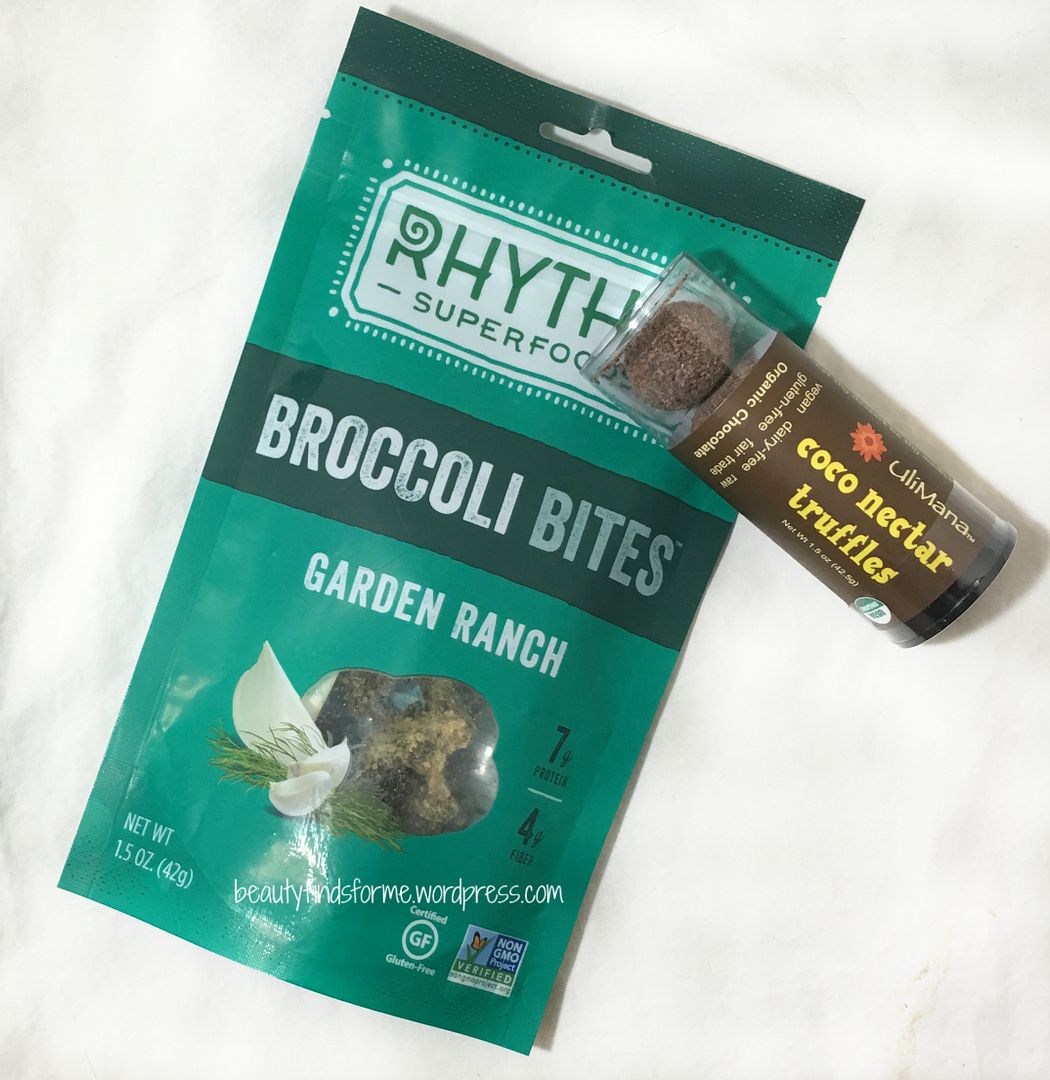 Rhythm Superfoods Broccoli Bites in Garden Ranch   Okay, broccoli is one of the veggies I dislike for the most part and seeing them in here as a snack, made my stomach recoil ~ lol.  But they are covered in a garden ranch dressing, so maybe they will be good.  Broccoli florets are  dehydrated at low temperatures  and are covered in a dressing made with seeds, nuts, herbs and other spices and are a great source of potassium, protein, vitamins A, B6 and C, as well as fiber. Broccoli, sunflower seeds and cashews are considered super-foods and these little bites have all 3 of those ingredients.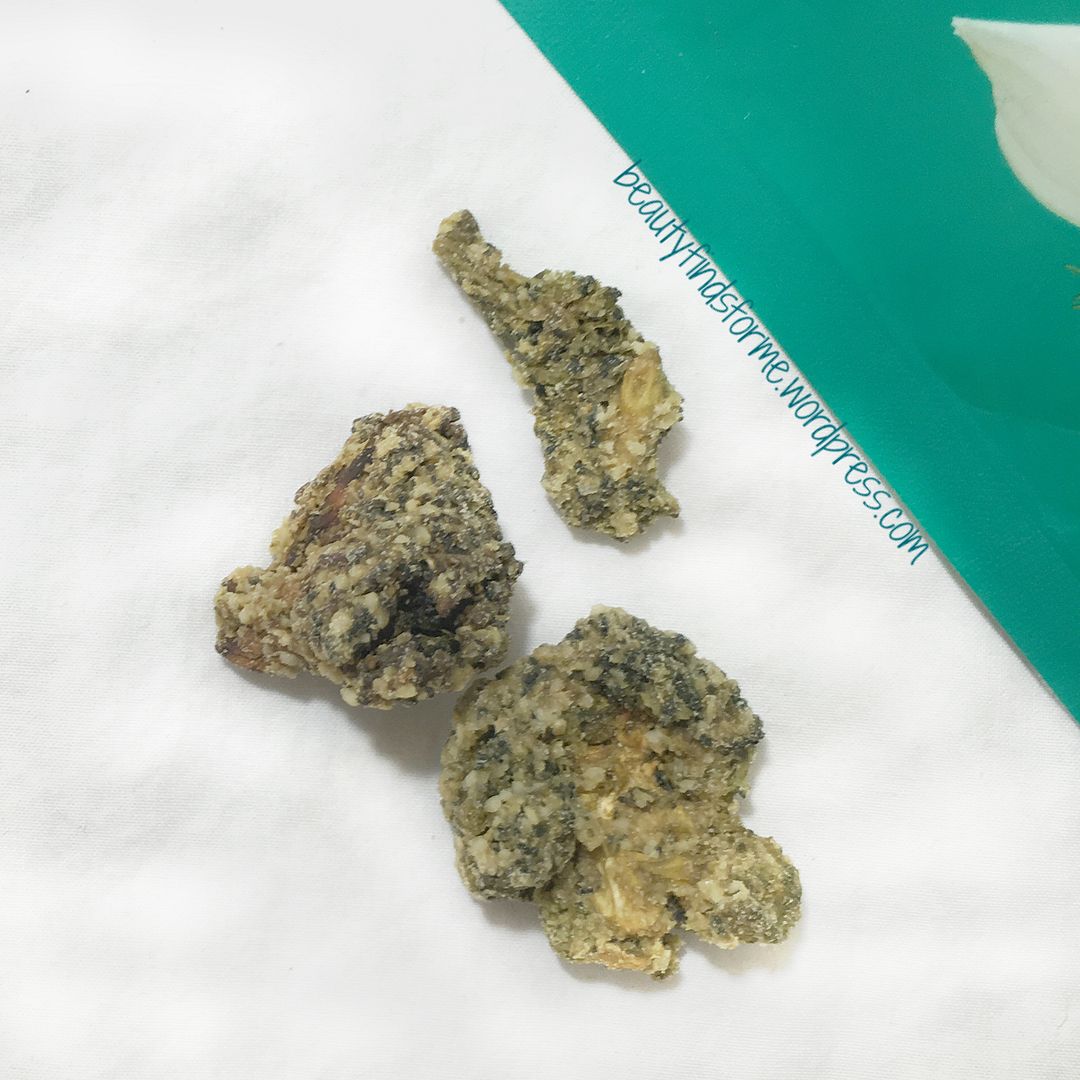 They aren't very attractive looking ~ it looks like something a small herbivore would poop out ~ haha.  Oh wow, I don't like these ~ I can taste the broccoli, but unlike raw broccoli which is sweet, these are bitter, like overcooked broccoli.  The nuts and seeds get stuck in my teeth too… There is a weird aftertaste as well and they smell like burnt broccoli.  No, not for me at all ~ maybe the squirrels will like them.   These are vegan, certified gluten free and non-GMO project verified. I just don't care for the taste at all.  I would have rather tried their beet chips, as I do love root vegetables.  1.5 oz bag RV $4.00
Ingredients: Broccoli, Sunflower Seeds, Cashews, Apple Cider Vinegar, Onion, Cane Sugar, Lemon Juice, Dill Weed, Sea Salt, Garlic, White Pepper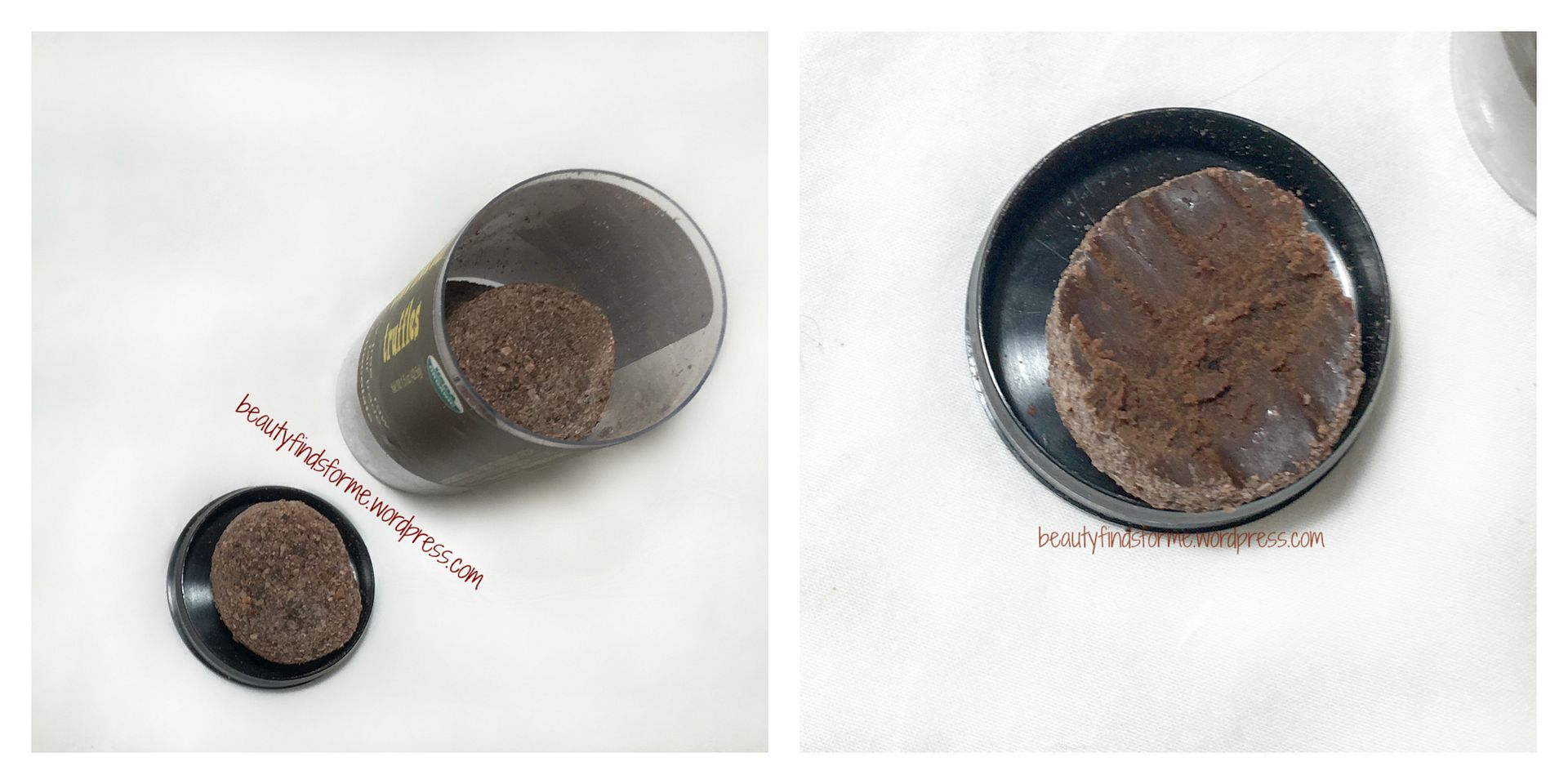 Ulimana Coco Nectar Truffles This is more like it!  These are chocolate truffles that are sweetened with coconut sugar ~ so it is low glycemic, which is great for me, as I found out recently I am pre-diabetic.  They are 100% certified raw organic, vegan and free from gluten, soy and dairy. Non-GMO and Fair Trade ingredients. There are four truffles in here and as you can see in the photo above, I did bite into one!  No knife to cut them open for me ~ I do taste the food items I review!  These are very dense, but moist and they are bittersweet.  If you don't care for bittersweet chocolate, you will not care for these ~ but these are not as bitter or acidic tasting as some dark chocolates.  This also has a nice aftertaste of the sea salt.  Great with a warm buttered croissant and coffee and only 50 calories per truffle.  I do like these a lot!  1.5 oz RV $5.39 
Description: Sweetened with Coconut Nectar:  One of the lowest glycemic index sweeteners (GI 35), our organic coconut sugar is highly nutritious, ecologically beneficial and provides sustained energy with a similar taste to soft brown sugar.  Dr. Oz says it's "the best cane sugar alternative".
Ingredients:  proprietary blend of fair trade, organic cacao, organic coconut nectar, organic cacao butter, Celtic Sea Salt, organic vanilla
Nutritional Facts:   Serving Size: 1 truffle (11g), Per Serving: Calories 50, Calories from Fat 25, Total Fat 3g (6% DV), Saturated Fat 2g (12% DV), Trans Fat 0g, Cholesterol 0mg, Sodium 60mg (3% DV), Total Carbohydrate 6g (3% DV), Dietary Fiber 1g (4% DV), Sugars 4g, Protein 1g, Vitamin A (0% DV), Vitamin C (4% DV), Calcium (1% DV), Iron (2% DV).
I don't like the broccoli bites, but I love everything else!  Yogi Surprise Lifestyle boxes are winners and if you like to mix spiritual, lifestyle and skincare together, I highly recommend this subscription.  I am always happy with the accessories ~ I love that we get yoga socks and things for yoga, and now a great headband ~  and the skincare items are just fantastic this month ~ the body butter, coconut wash off mask pack and citrus scented muscle rub balm.  This box has a retail value of over $74.00

Do you subscribe to Yogi Surprise Lifestyle Box?  What was your favorite item this month?

If you are interested in signing up to Yogi Surprise for either their Lifestyle or Jewelry box, I would love it if you used my referral link   They are currently running a 10% off special for the first month, no promo code needed.   Check out the spoilers for next month's boxes below!    If you sign up for the Lifestyle box, use YOGILOVE to get 15% off the life of your subscription!

Next Month Spoilers

Finding Peace In Nature: Join us this April as we become immersed in all of the nature around us and begin to feel grounded by it's stillness.
If you sign up now, you get a free gift worth $20.00 ~ Chakra Healing Stones  (these came in the May box ~ see my unboxing here)
Jewelry Box:  Tree of Life Turquoise Necklace ~ We couldn't help but connect to nature with this beautiful pendant as we honor Earth Day and our next month's theme "Finding Peace in Nature". The Tree of Life provides the breath of life. Turquoise is a master healer stone promoting communication and helping dispel negative energy and can be worn to protect against outside influences or pollutants in the atmosphere.


Lifestyle Box:  ToeSox and White Sage Spray.  ToeSox helps you stick to your practice in these take-anywhere grip socks. Whether indoors or taking your practice outside, we have you covered. Need to clear the air? This magickal sage spray can turn any space into a sacred haven. It is charged with the power of quartz crystal-infused water and pink Himalayan sea salt. Breathe in delicious rose and lemon essential oils that increase the energy of sage, known for its incredible psychic cleansing clearing properties.
[ all descriptions in italics from linked website.  this blog post contains referral & affiliate links ]