This month's theme is Spring Cleaning ~  Time to deep cleanse your home and make it fresh and clean!  Herb Stop recently added to their info cards whether their oil is safe to use in foods as well with the Food Chemical Code Index ~ if yes, it is safe to add in food.  What is Herb Stop?

Herb Stop is located in Pine, AZ and has been recognized by the community and the state of Arizona  with a variety of awards.  They only use ingredients from  reliable and ethical sources and all of their essential oils are 100% pure, with the exception of their precious oils ~ such as Jasmine, Rose, Neroli, Sandalwood ~ and those will be blended with jojoba oil.    You will receive a box of 4 bottles, either 1/6 oz or 1/3 oz)  that can be essential oils, essential oil blends and/or roll-on essential oil blends.  You will also receive information about your oils and how to use them, including safety information.   Each box is $19.99 which includes shipping, USA only and Herb Stop will start mailing them out during the 10th thru 17th of every month.   Herb Stop has over 200 varieties essential oils alone, which means the boxes will be very different each month ~ as there are also custom-made blends as well.   You can auto subscribe here.   Use Promo Code BFFM15  and receive 15% off your first box!
What's In Your Aroma Box?

All of the essential oils, unless otherwise noted, have a screw top lid and there is a plastic lid inside that has a tube, so that you don't spill out all of your oil if you drop the bottle (and it doesn't break).  I also like that the oils are in dark cobalt blue glass bottles to help protect them from UV rays and light.
Tea Tree (melaleuca alternifolia) Pure Essential Oil   Oh my bae.. (see blog post here).  Tea Tree and me go way back for helping me with skin issues (aka blemishes).  Tea tree oil is used for many infections and diseases due to its healing and disinfectant properties ~ antibacterial, fungicide, antiseptic, antimicrobial, antiviral and can help speed up wound healing and reduce scarring, as it is a cicatrisant. It helps with preventing dry, flaky skin and because of its antibacterial properties, can help heal current blemishes while reducing future blemishes and control excess oil. It helps with rashes, allergic skin reactions and fungal infections, such as ringworm and athlete's foot. It can also be used to help relieve achy sore muscles and feet, as it is an anti-inflammatory and can promote blood circulation to where ever you apply it. Tea Tree oil is for topical use only and should not be used directly on your skin full strength.  However, it is included here because it can be used to help clean and deodorize your home since it kills bacteria. Add it to water and vinegar to make a all purpose cleaning spray.  You can add other essential oils to help mask the strong and medical scent of tea tree, but since I've used it for so long, I quite happen to like the scent! This is pharmaceutical grade tea tree and is 100% pure, natural and vegan, bottled in the USA.  5 mL RV $4.35

Description: Traditionally used as an antiseptic, anti-viral, anti-fungal, immune tonic, a powerful killer of all sorts of bacteria. Commonly used externally on deep wounds, fungal infections, head and pubic lice, pimples, and sinus congestion. Tea Tree may protect the skin from radiation burns during cancer treatments.

Ingredients: 100% Pure Melaleuca alternifolia (Tea Tree) Essential Oil.

Origin: Australia

Parts Used:  Leaves

Extraction Method: Steam Distilled

Food Chemical Codex: Yes (but why would you??)

Lemongrass (cymbopogon citrates) Hydro-Diffused Pure Essential Oil   It's funny how I know these oils from skincare!! Lemongrass is a natural toner, it shrinks pore size and tightens and firms skin. Lemongrass also has unique anti fungal, antimicrobial and antiseptic properties that allows it to be an amazing astringent. The combination of these effects are essential to fighting acne vulgaris, the bacteria that causes acne.  This is different from my April 2016 Lemongrass oil, as it is hydro-diffused, not steam distilled and it is from Haiti, not Guatemala.  Hydro-diffused is a newer method, is quicker than distilling and from what I read, its process is like a coffee percolator and is less harsh than steam distillation.  Lemongrass is not a citrus, but it does smell like lemons and limes ~ very smooth, yet tart and refreshing. This oil is 100% natural and vegan and you can use this with other oils to repel insects ~ I mix a bit of sandalwood and cedar in mine. Lemongrass is also a powerful antiseptic and can help heal blemishes and other skin infections. This is an oil I like to scent my hair with, as it is such a bright and sunny scent.  For house cleaning, it is a great disinfectant and can be added with tea tree to really have a nice fresh scent.  5mL RV $2.40

Description:  Traditionally used to increase circulation, detoxify, cellulite, muscle and joint pain and as an insect repellent which is often combined with Citronella. Lemongrass may have a revitalizing action and is commonly used for fatigue, exhaustion, depression, jet lag, and as an antiseptic used to treat acne and skin infections. May stimulate hair growth (dilute well before use).

Ingredients: 100% Pure Cymbopogon citrates (Lemongrass) Essential Oil. FCC.

Origin: Haiti

Parts Used: Grass
Extraction Method:  Hydro-Diffused
Food Chemical Codex: Yes

Blends Well With: Basil, Black Pepper, Cedarwood, Coriander, Cypress, Fennel, Geranium, Ginger, Marjoram, Orange, Palmarosa, Patchouli, Rosemary, Tea Tree, Thyme, Ylang Ylang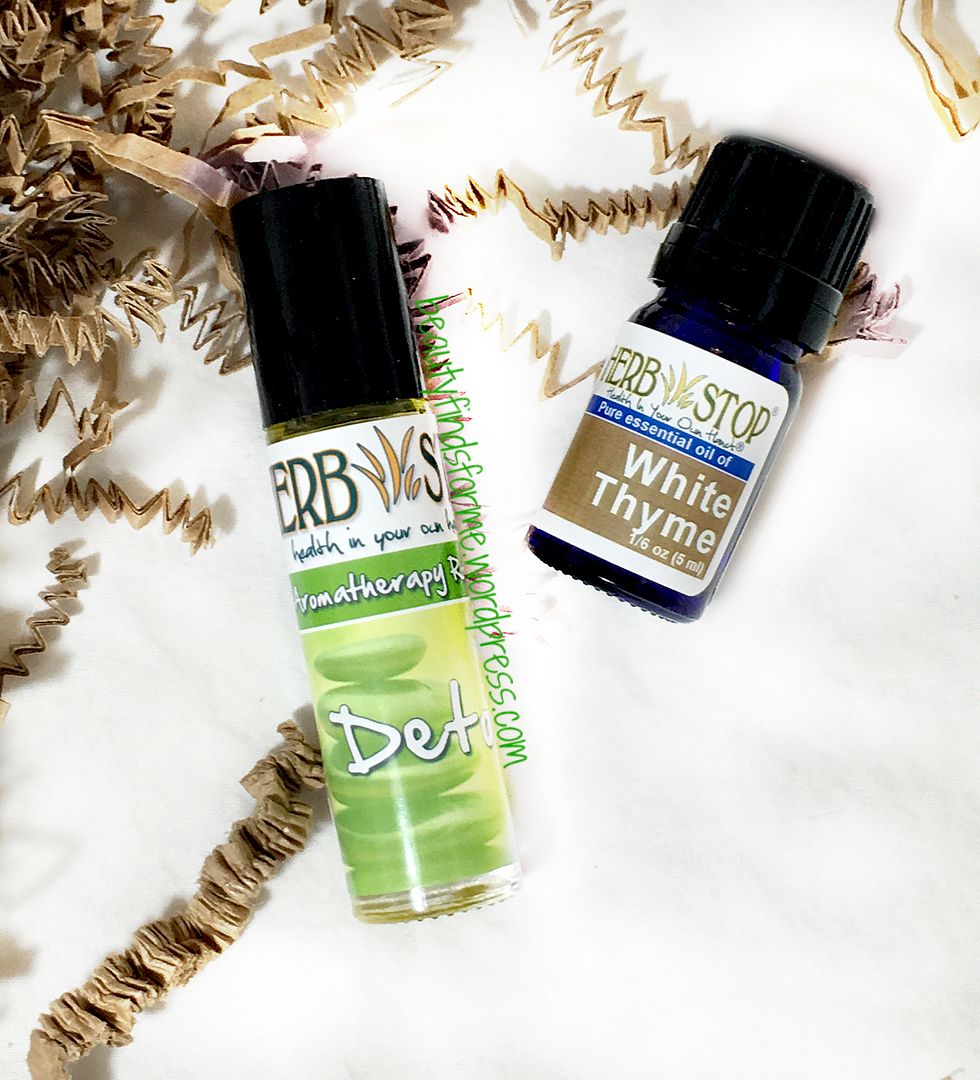 Detox Roll On  Every month, we get a custom blend roll on perfume oil ~ these roll on's have properties that aren't just for fragrance, but to help with targeted concerns.   This roll on oil will help spring clean your body and help purify and detox on physical, mental and emotional levels.  This has such a great scent!  I can smell the mint and lemon right away and it is so refreshing and uplifting!   As it dries down, I can pick up on the grapefruit and juniper scents. This is going to be a favorite spring scent for me.  100% natural and vegan and made in the USA by The Herb Stop.  Full Size RV $16.95
Description: Detox was created to encourage the process of detoxification and eliminate the "old". The carefully selected essential oils are known to gently cleanse and detoxify the body on all levels – physical, mental and emotional.  Spring cleaning the body, as well as our homes, is an important part of a healthy lifestyle.

Suggested Use: Massage a small amount of oil onto the wrists, bottoms of the feet or simply inhale.  Avoid sensitive areas such as the eyes and mouth.
Ingredients: 100% Pure Essential Oils of Rosemary, Grapefruit, Juniper, Lemon, Spearmint, Lemongrass, Tea Tree and Ginger in a base of Certified Organic Pure Golden Jojoba Oil.

White Thyme (thymus zygis) Pure Essential Oil  OMG, this does smell like thyme!! It smells so good ~ I just want to toast some bread and dip it into an olive oil and thyme mixture.  You can add this to your dish soap and clean your wooden cutting boards ~ this will help disinfect them. You can also make household cleansing wipes as well by adding a few drops of thyme and lemongrass to a watery soapy mixture.  Add paper towels to soak up the liquid and then place the towels in dispensing bag to use. Another 100% natural, non-GMO and vegan/vegetarian oil, bottle in the USA by Herb Stop.  5 mL  RV $7.40
Description:   Traditionally used externally as an anti-septic and anti-biotic. Herbalists use Thyme for parasites, hair loss and as a mouthwash. When inhaled, White Thyme may be used for tension headaches. Emotionally, Thyme is stimulating, strengthening and balancing to the emotions. White Thyme essential oil is produced by further re-distilling Red Thyme.

Ingredients:  100% Pure Thymus zygis (White Thyme) Essential Oil.

Origin: Spain

Parts Used: Leaf

Extraction Method: Steam Distilled
Food Chemical Codex: Yes
Blends Well With:   Eucalyptus, Geranium, Grapefruit, Lemon, Rosemary, Tea Tree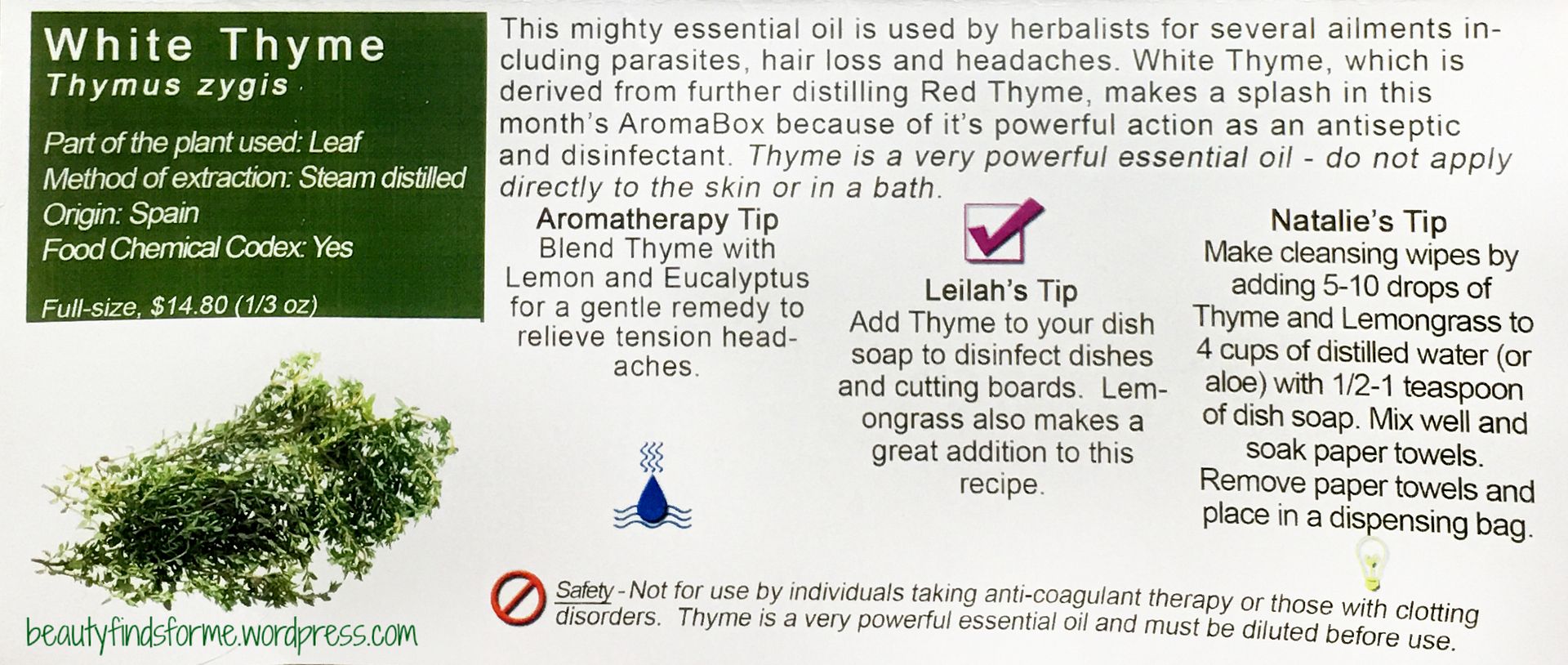 Herb Stop also included a "Fresh Bathroom Spray" recipe ~ you will need 20 drops lemongrass, 10 drops tea tree, 5 drops thyme, 20 drops orange (optional), 5 oz distilled water and 3 oz clear alcohol (vodka). Add alcohol to an 8 oz bottle with a sprayer. Add essential oils and mix well and then add water, place the cap on the bottle and shake well. Use this spray to freshen up your bathroom and shake well before each use.  They also have included a promo code to save 10% off any of their full sized oils and roll-on's in their shop  ~ use ABM17
Another great box featuring some of my favorite scents like tea tree and lemongrass and I now have some new ways to use them!  I really love the informative cards that Herb Stop adds in each monthly box, because it gives me more ideas on some favorite oils.  The roll on is perfect as I do use these as perfumes and I love the sparkling scent of lemon and mint. I paid $19.99 for this and received a value of  $31.10, which included a custom blend recipe roll on.  Please note, essentials oils are not to replace seeing a doctor if you have serious ailments or issues.  However, aromatherapy, scents and herbal tinctures/oils have been used for centuries with great success.   I would never state that this should replace seeing your doctor, but if you know your body and you have discussed this with your doctor, you should be able to use essential oils for minor treatments.  If you are interested in subscribing, you can do so here and use promo code BFFM15  to receive 15% off your first box!
Have you signed up for Herb Stop's essential oil box?  Are you interested in doing so?

[ all descriptions in italics from Herb Stop. Blog post contains affiliate link ]