March is here and spring might be around the corner.. maybe… in Boston, it just started snowing again and a huge snowstorm is coming in a few days 😦  #WinterNeverEnds What is Yogi Surprise?   

Yogi Surprise Jewelry Box
2 handmade pieces + 1 organic treat

Handcrafted in Bali. Fair Trade

$65+ retail value in every box

$24.95/month + free shipping
The Jewelry box will contain two handcrafted yoga inspired jewelry pieces, that are fair trade, sustainably harvested materials, nickle-free, lead-free and cadmium free.  These are made in Bali, Indonesia and 10% of all proceeds will be given to education the Balinese families to make these beautiful pieces.   It also contains an organic chocolate treat.

This month's theme is "Time To Blossom" ~ The Spring Equinox marks the return of the light after a long period of rest and rejuvenation throughout winter's darkness. As the Earth comes to reach the point where day and night are of equal length before light begins to overwhelm dark once again, we're reminded of our need to ground ourselves and seek balance while we transition into the season of rebirth.  
Informational Card
Tiger Eye and Lava Rock Grounding Mala  This was our spoiler and wow, this is long!!  Not only can this be worn as a necklace, you can also wrap it around your wrist as well.  It is so beautiful ~ I know that the blacks and browns might be too dark and not spring-like right now, but I love the combination of the deep matte black, pitted lava stones against an accent of three highly polished, golden brown tiger eye beads.  This has a three inch black tassel and it is hard to see, but these are not just knotted in-between each bead ~ there is a small black faceted bead that sparkles when it catches the light.  This is gorgeous! RV $86.00
Lava:  Crown and Higher Crown Chakras
Basalt, also known as Lava,  is a stone of strength and courage, it allows one the opportunity for stability throughout changes in their life. If you are going through a lot of shifts in your life then basalt would be a helpful stone for you. Basalt helps to diminish the negative aspects of one's character and allow us one to see where modification of your character can be helpful.  source

Tiger Eye and Lava Rock Adjustable Bracelet  This is the matching adjustable bracelet for the mala ~ it has three tiger eye beads on the "top" part of the bracelet, with  18 lava beads.  The ends of the adjustable strings are capped with tiger eye beads.  This is a fun bracelet!  I really love the dangles on the ends as it is very flirty! This is going to fit a wrist anywhere from 5 1/2 inches to 11 inches.  RV $38.00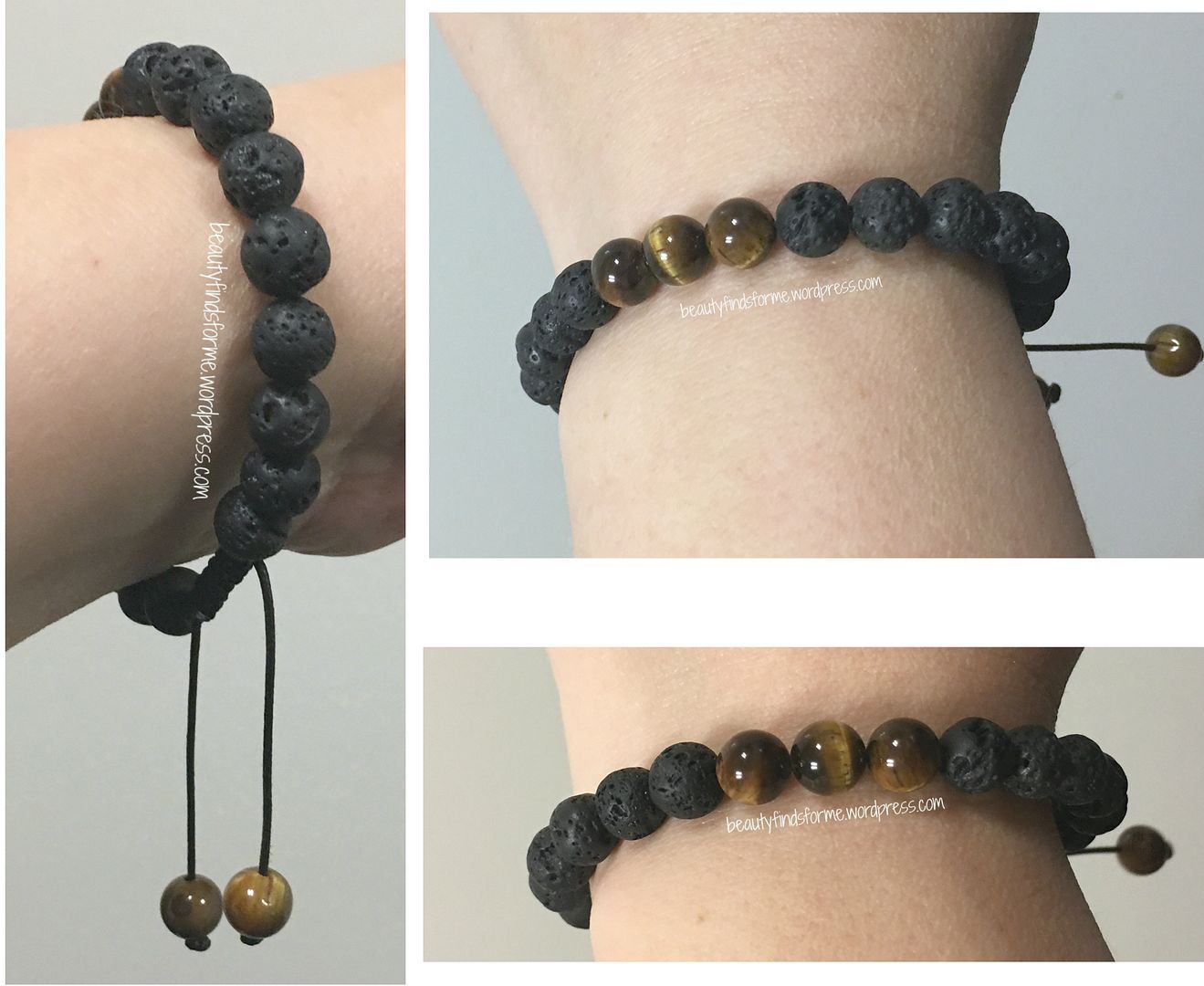 Tiger Eye ~ Base, Sacral, Solar Plexus Chakras ~  This history of the Tiger Eye quartz goes back to the ancient Roman empire, when this stone was made into talismans worn by the soldiers, to help keep calm, focused and brave.   Tiger Eye helps bring balance and harmony , giving off good will.  It will help you be grounded and focus, while pulling in all of the energies together. It can help you realize your deepest desires and will boost your creative energy.  

Santosha Chocolate Coconut & Hawaiian Pink Salt This is a paleo, vegan and low glycemic chocolate bar made with 70% raw cacao.  It is quite a pretty looking piece of chocolate too, as one side is just thickly layered in coconut flakes and the other is a smooth, deep dark chocolate. 
It is very bittersweet ~ this is not a chocolate bar if you have a sweet tooth ~ this is almost a savory bar, due to its lack of sweetness.   I had to have a sweet drink while I was eating this as it is very astringent on the taste buds, but it was really good too. Santosha makes their chocolate bars with raw, fair trade, certified organic Peruvian cacao beans so it will help preserve the micronutrients  and living enzymes, which are very nutritious.  It is low glycemic as it is sweetened with organic coconut palm sugar and it is free from soy, nut, dairy and gluten.  These are hand wrapped with recycled packaging and all inks are vegetable based.  1 oz RV $4.00

Description: Coconut and Hawaiian Pink Salt are two of the earth's most potent tropical treasures. Coconut has long served as both food and medicine worldwide. Among Pacific Islanders, the coconut palm tree is even known as "The Tree of Life." Infused with red volcanic clay, Hawaiian Pink Salt has over 80 unique minerals. Carefully blending these ingredients with raw cacao creates flavors that perform a hula dance under tiki torches on your tongue!**
Ingredients: Organic Raw Cacao Beans*, Organic Raw Coconut*, Organic Coconut Palm Sugar*, Organic Vanilla Bean*, Hawaiian Pink Salt *Certified Organic Contains Coconut
Amount per serving: Calories 140, Total Fat 8g (10% DV), Saturated Fat 4g (20% DV), Trans Fat Og, Cholesterol Omg (0% DV), Sodium 40mg (2% DV),Total Carbohydrate 16g (6% DV), Dietary Fiber 2g (8% DV), Total Sugars 6g, Includes 6g Added Sugars (10% DV), Protein 3g, Vitamin D Omcg (O IU) (0% DV), Calcium 15mg (2% DV), Iron 1 mg (2% DV), Potassium 226mg (4% DV), Magnesium 60mg (15% DV). %DV = %Daily Value
As I stated before, I love the raw,unfinished look of the black lava beads against the highly polished and the chatoyancy of the tiger's eye beads.  I am really pleased that I can wear the Mala as either a necklace or wrap it around my wrist as a bracelet.  The chocolate bar was bitter, but very good and it is something that you should only eat a little bit at a time, as it is so rich.  This box has a Yogi Surprise retail value of $128.00, which I rarely pay attention to.  I go by the value of the pieces to me and once again, I feel that this box is worth it!  Part of the proceeds from this box will go back to the local artisans that made these items and help educate their community.

Do you subscribe to Yogi Surprise?  Which box do you get and what was your favorite item this month?  Let me know in the comments below, I would love to read them 🙂
If you are interested in signing up to Yogi Surprise for either their Lifestyle or Jewelry box, I would love it if you used my referral link   They are currently running a 10% off special for the first month, no promo code needed.   Check out the spoilers for next month's boxes below!    If you sign up for the Lifestyle box, use YOGILOVE to get 15% off the life of your subscription!

Next Month Spoilers

Finding Peace In Nature: Join us this April as we become immersed in all of the nature around us and begin to feel grounded by it's stillness.
If you sign up now, you get a free gift worth $20.00 ~ Chakra Healing Stones  (these came in the May box ~ see my unboxing here)
Jewelry Box:  Tree of Life Turquoise Necklace ~ We couldn't help but connect to nature with this beautiful pendant as we honor Earth Day and our next month's theme "Finding Peace in Nature". The Tree of Life provides the breath of life. Turquoise is a master healer stone promoting communication and helping dispel negative energy and can be worn to protect against outside influences or pollutants in the atmosphere.


Lifestyle Box:  ToeSox and White Sage Spray.  ToeSox helps you stick to your practice in these take-anywhere grip socks. Whether indoors or taking your practice outside, we have you covered. Need to clear the air? This magickal sage spray can turn any space into a sacred haven. It is charged with the power of quartz crystal-infused water and pink Himalayan sea salt. Breathe in delicious rose and lemon essential oils that increase the energy of sage, known for its incredible psychic cleansing clearing properties.
[ all descriptions in italics from linked website.  this blog post contains referral & affiliate links ]