I didn't received my February Peaches & Petals Box until a few days ago ~ they ran really late this month.  They changed when they send out the boxes  ~ mid-month for all ~ and I think they still need to work out the bugs a bit.  The theme this month is "Made with Love"   Peaches & Petals is a subscription service that is focused on lifestyle and beauty products.  From their website  "Experience our world of fun, flirty and fashionable vintage-modern lifestyle in a hand-curated box delivered to you each month"  This box was sent to me for review purposes from Peaches & Petals and I thank them for their generosity as always 🙂  I am always appreciative of companies who look for honest feedback on their services.
Informational Card
Explanation on valuing products:  Since Peaches & Petals does not give a value on their products,  I normally will use the Retail Value from the vendor's site or an average if I find the product on multiple sites with varying prices.  Subscription boxes are usually basing their value on Retail Value, not Markdown or Sale Values.  With that in mind, you can usually find products for less, just like anything else in the marketplace.
Slightly Melted Bath Bomb in Come Hither Slightly Melted is a brand that Peaches & Petals like to include in their boxes ~ I have received their sugar scrubs in the past and I really like them.  This is a handmade, fruity scented bath bomb with magenta sugar sparkle sprinkles.  This bath bauble contains sunflower and rice bran oil, which hydrates and conditions your skin, so not only does this cleanse your skin, it will moisturize it as well.  Slightly Melted is an etsy shop and I love it when etsy vendors are added in boxes as I love to support small vendors!  Sign up for their newsletter here and receive a 15% coupon!  3.7 to 4.3 oz   RV $4.50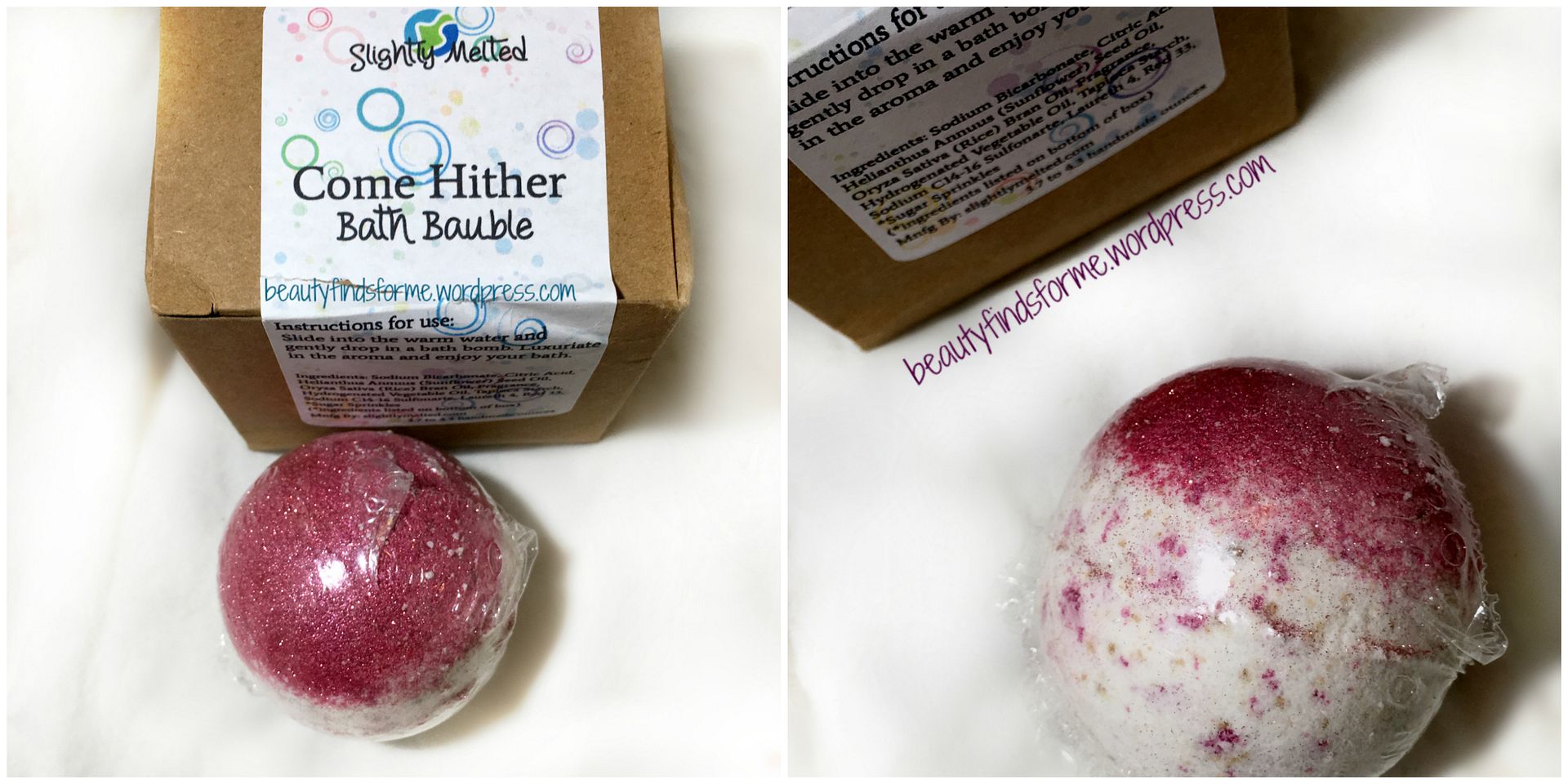 Ingredients: sodium bicarbonate, citric acid, helianthus annuus (sunflower) seed oil, oryza sativa (rice) bran oil, fragrance, hydrogenated vegetable oil, tapioca starch, sodium C14-16 sulfonarte, laureth 4, red 33, sugar sprinkles (sodium bicarbonate, citric acid, helianthus annuus (sunflower) seed oil, oryza sativa (rice) bran oil, fragrance, hydrogenated vegetable oil, tapioca starch, sodium C14-16 sulfonarte, laureth 4, red 33, sugar sprinkles (sugar, soap(sodium cocoate, sodium palm kernelate, sodium safflowerate, glycerin, water, sorbiotol, soribitan oleate, avena sativa protein extract, triticum vulgare protein extract),  theobroma cacao (cocoa) seed butter, cocos nucifera (coconut) oil, glycerin, cocoamide MEA, sodium laurel sulfoacetate, sodium C14-16 olefin, oryza sative (rice) flour, sorbitol, glyceral stearate, PEG-100 stearate, fragrance, cetyl alcohol, propylene glycol, diazolidinyl urea, iodopropynyl butylcarbamate, red  33, blue 1) )
Look Good, Feel Good: 206 Beauty & Fitness Secrets Book   WOW. I love getting books in my lifestyle boxes!! This is a fantastic as it is all about spa luxury and relaxation, exercises and beauty zen secrets!
Description: A contemporary, beautiful, and best of all, highly practical guide to the whole world of beauty, fitness, and relaxation for women of all ages. Created in the basic style of our best-selling manual series (lead title, The Total Outdoorsman, with over 200,000 copies in print), but designed with a lush, feminine touch this book highlights quick, easy ways to health and beauty. In today's busy world, everyone's looking for quick, easy, affordable ways to bring a little luxury and pampering into their lives. This book delivers on that promise, with hundreds of wellness and beauty treatments, from simple home beauty treatments to sensual massage techniques to easy-to-do meditation and breathing exercises.
This is broken up into sections, with multiple chapters within each section ~ De-Stress, Refresh, Energize and Indulge.  They have easy exercises, mediation, DIY facials and treatments and more!  I did laugh at the "Cultivate your Mona Lisa Look" as my mom used to call me Mona Lisa when I was a small child ~ I never gave a toothy smile, but the close lipped one, like Mona Lisa ~ so secretive!! lol   This is a great book and I will get a lot of use out of it!  RV $25.00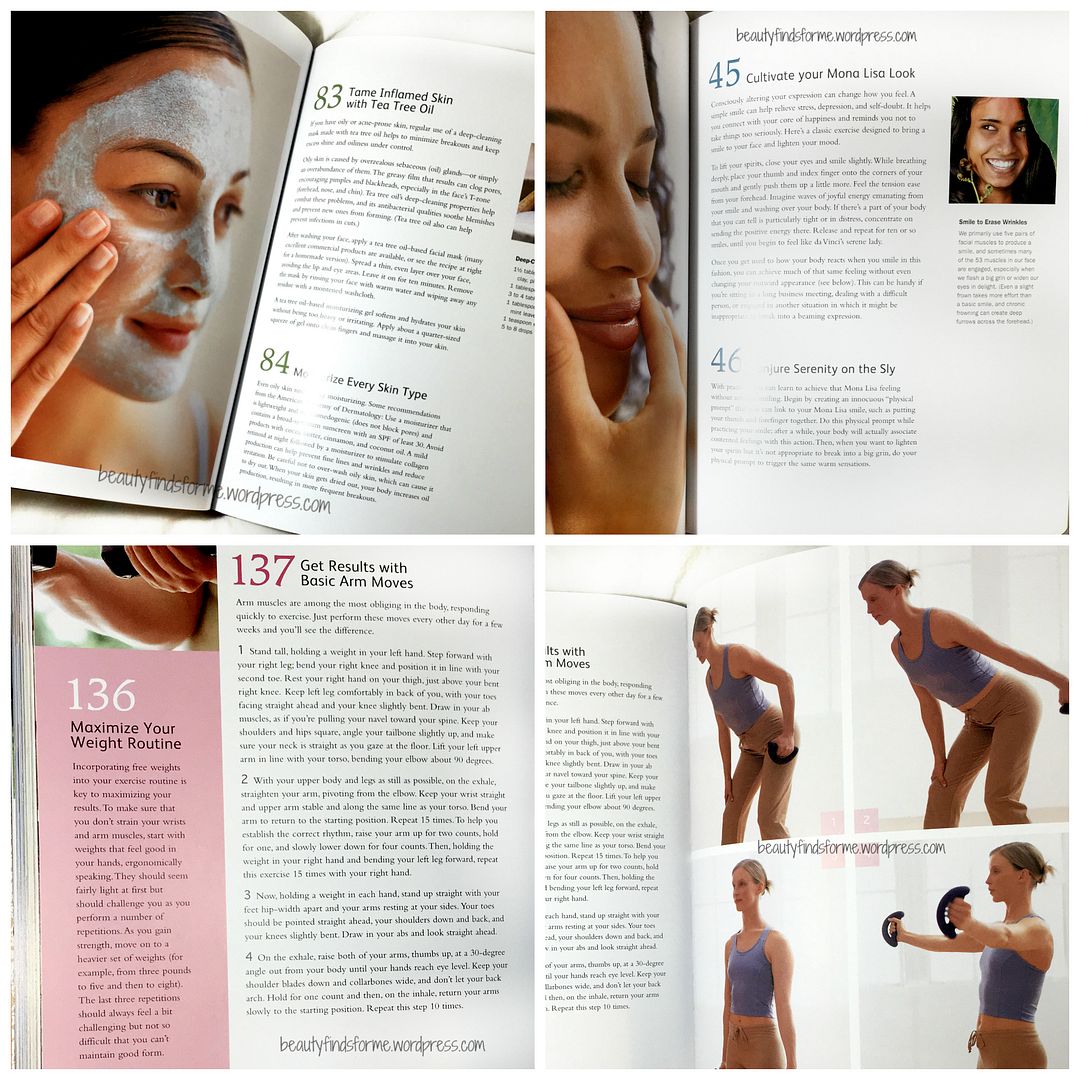 Wilton Heart Cookie Pops Pan   This is an aluminum baking pan with four heart shapes and it even has a slot for lollipop sticks.  You can purchase pre-made cookie dough or make your own, press the dough into the pan, insert optional lollipop/cookie stick, bake, cool and decorate!  You can create a bouquet of cookie hearts to give to your loved one. They included recipes and designs on the back of the insert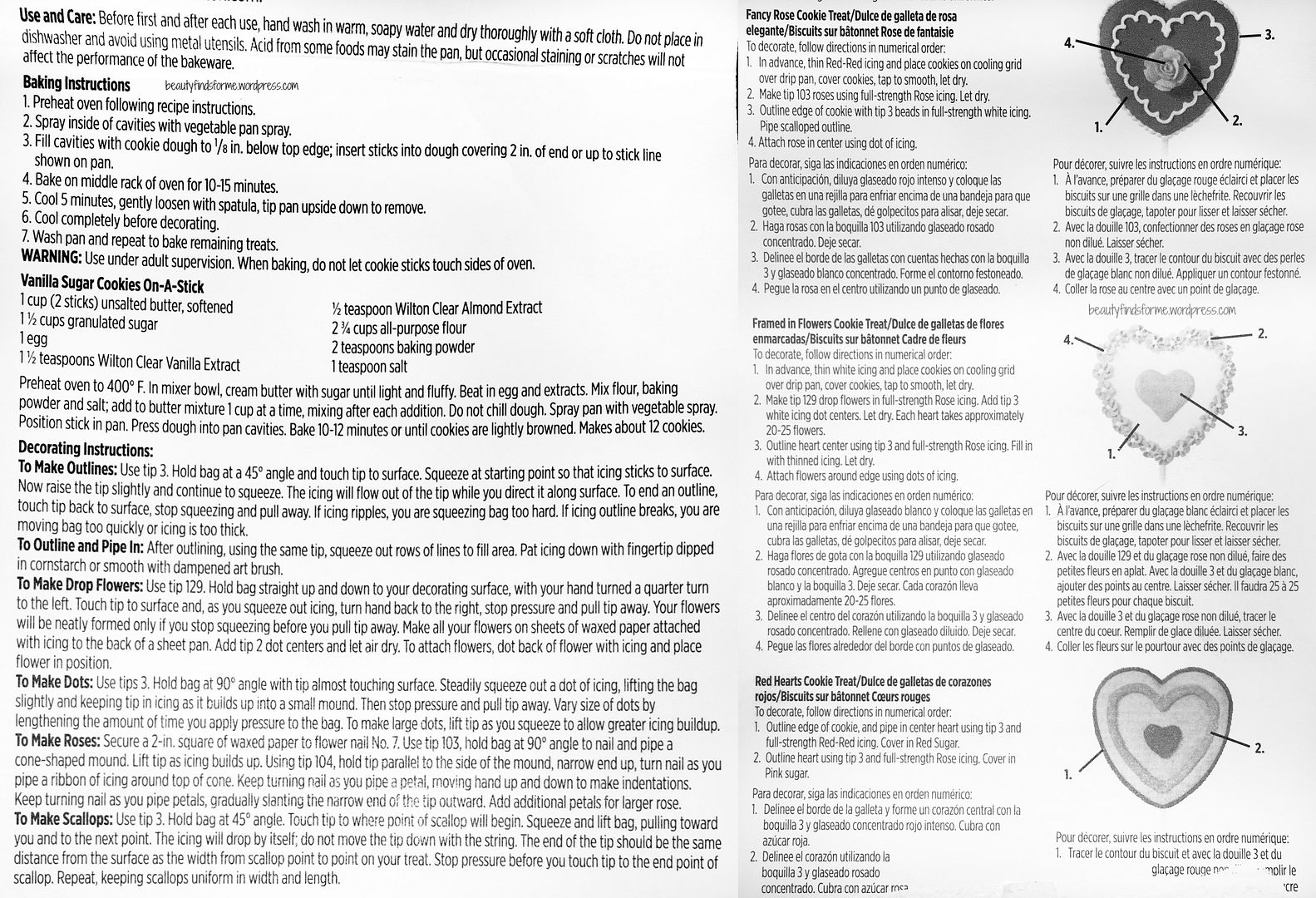 These can also be used for making candy, rice krispie treats, jello, pudding and I like to make faux cream cheese tarts in these ~  I take plain low fat yogurt, dump it into a cheesecloth and let the liquid drain out.  This gives me a cream cheese like texture, which I add vanilla and confectioners sugar too ~ I guess you could use vanilla yogurt as well.  Then I place into the heart mold and chill ~ serve with raspberries and strawberries, with a dusting of sweet cocoa on top.   This is the low fat version of Coeur à la Crème.  Pan size is 9.4 inches wide by 11 inches with the heart molds about 4 inches.  RV $5.35

Take A Little Pizza My Heart Coasters  Welllll, I don't like design at all ~ it is ugly, imho, but I love the play on words ~  channeling the late, great Janis Joplin with her famous song "Piece of My Heart"  with these coasters…
These look to be ceramic coasters with a cork backing, so these will not cause water stains on your tables!  I am going to say these are around $2.00 each, so $4.00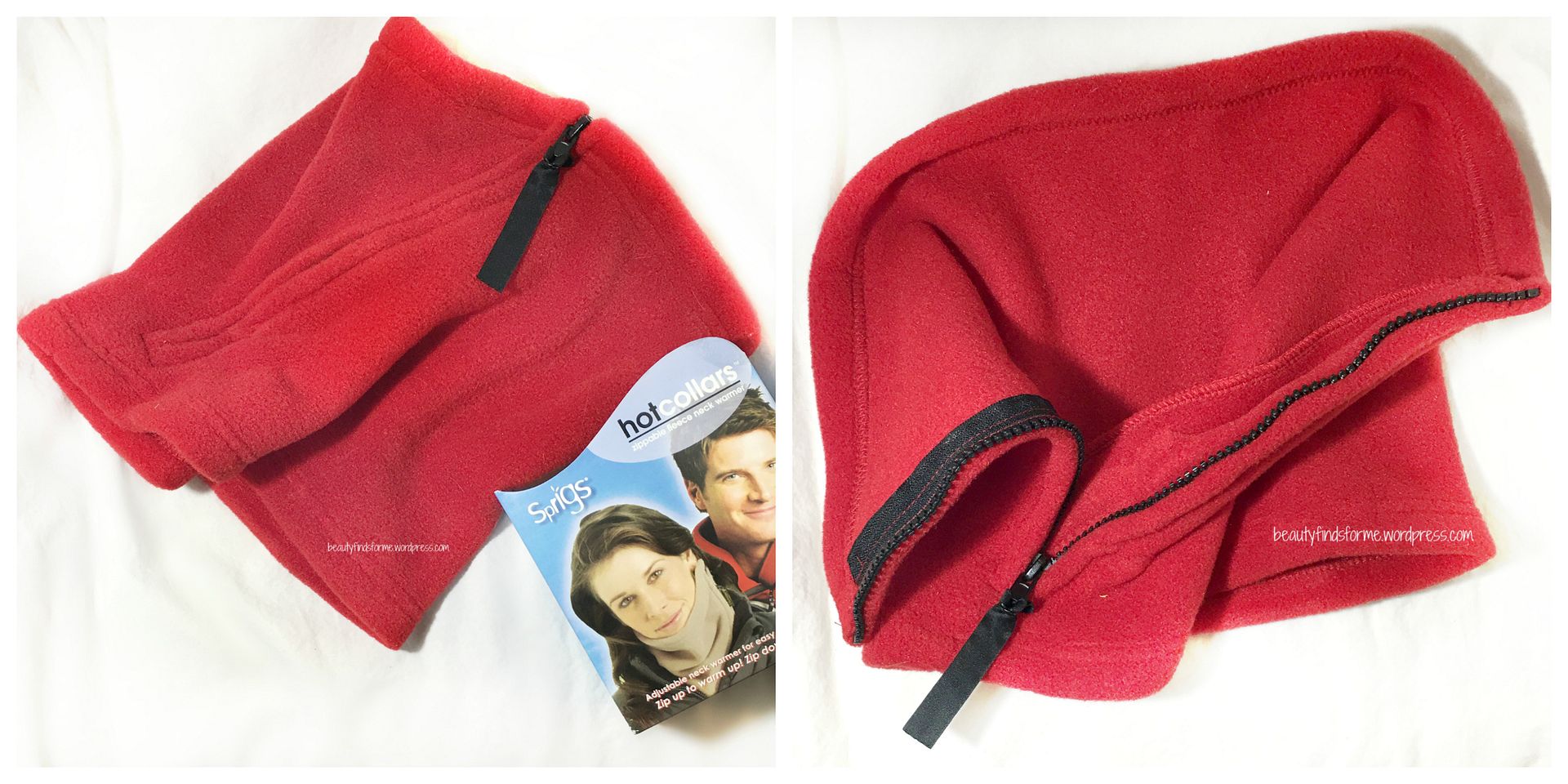 Sprigs Hot Collar Neck Warmer The color we could get can vary ~ I've seen black, white and gray so far, and I received a cherry red color ~ very festive. As winter is almost over, I won't be able to wear it now. Next winter, however, I will use this when I am shoveling snow or hiking. This has an adjustable opening via a zipper, made from a soft comfortable fleece.  It has more material on the bottom of the front side, so you can zip under a jacket and it has a curved cut on the backside, so it won't bunch up.  I would have rather had a nice scarf instead of this item, as this seems so boring.  It is very utilitarian for a box that is supposed to be fun and flirty.   RV $9.95

Final Thoughts
Hmmm, since Valentine's Day is February 14th, even if they mailed this out mid-month, instead of the end of the month, a lot of these items just fall flat as it came so late.  If you are going to do a theme centered around a holiday, you should make sure that the box arrives BEFORE the holiday.  Just sayin'.  However, I do like the bath bomb and cake pan and just LOVE the Spa Book.   The coasters are an ugly design ~ nothing flirty there ~ and the neck warmer will be put aside for next winter.  I do think Peaches & Petals followed the theme appropriately ~ it just came out way too late for Valentine's Day.   So, the curation was good (it could have been better), but the lateness of the box is not.  I hope that they send out March's box around mid-month, instead of the end of the month.  
How could they have made this box better?  Instead of those horrid coasters, maybe a more "fun & flirty" design instead? Coasters are fine, that pizza thing is not ~ maybe some flowers or even a faux marble design.  The neck warmer ~ yeah, I am okay wearing it, but it is very "sensible" ~ not fun or flirty.  They have given us scarves before, so maybe something other than this ~ taking in account that not everyone lives in the cold north.  The heart cookie pan, bath bomb and spa book are fantastic ~ it is just the coasters and neck warmer that really dragged this box down and out of the fun and flirty category.   Maybe this should have been a spa basket that has bath slippers and bath brush which would have been nice to go with the bath bomb and spa book.  I do get these boxes for free, but that doesn't mean that I love every item and my criticism is to help Peaches & Petals curate better boxes.  I know they can, they have in the past.

Peaches & Petals monthly subscription boxes are $19.99 a month and that includes shipping.   This month, the box looks to be of  a retail value almost $49.00 in retail value.  Many thanks to Peaches & Petals to sending this me for review purposes ~ I always look forward to seeing what P&P puts in their boxes! Did you receive this month's Peaches & Petals box?  What was your favorite item and what do you think of it?

If you subscribe to Peaches and Petals currently, you could win a Crimson Heart Umbrella by entering in their giveaway.   Seriously, this umbrella is so cute ~ why couldn't THIS have been in this month's box instead of the neck warmer?  This is fun and flirty.

I have no idea what next month's theme is ~ it seems that it could either be "Spring is in the Air", which is their FB banner OR  "I just want to ride bikes with you", which is their banner on their site to subscribe.  Maybe it is all things to do with Spring?

[ products were received complementary for review purposes.  All opinions are my own and are unbiased.   ]
[ Blog post contains affiliate links and referral links. Descriptions in italics from linked site ]