As I mentioned about a month ago, I've been waiting for Tokyo Treat to create a Beauty Box and they finally have ~ I purchased their very first box and let's see what I think of it…What is NMNL?
Tokyo Treat NMNL (no makeup, no life) will contain 5 to 7 full sized beauty products from Japan.   They will ship directly from Japan and it does have international free shipping to 120 countries.  This box will ship out between the 20th and 28th of the month prior.  nmnl comes in one size:  each monthly box contains a mix of 5 – 7 full-sized beauty items of the highest quality from 6 different categories (skin, body, make, hair, bath and tools) chosen for you by our in-house beauty consultant
The pricing varies based on your plan
$29.99/monthly

$87.00 for 3 months

$170.00 for 6 months

$330.00 for 12 months
Save $5.00 off the March box  ~ use promo code  SAKURA  at checkout.  This is good until 2/28/2017 and is good for March's box only.   If you want to save $3.00 off your box after that ~ use UNBOXINGBEAUTY
Box Revealed!
Informational Card
Just like with their Tokyo Treats box, they include a pamphlet with descriptions of the items.  I hope to get better with the translation of Japanese skincare products, so if I don't have a full list, it is because I had a hard time translating them.
Limited Edition ざわちん Zawachin x Noyl Eyeshadow Palette  in NEP-108  This palette was one of our spoilers.  Now, I purchased my box before any spoilers, so once I saw this, I knew that I was either going to love it or hate it, based on the color choices I might get.  This is a limited edition with Zawachin's name on it ~ Zawachin is a Japanese television personality and is famous for her  impersonation makeup (monomane meiku) where she transforms herself into famous pop idols and models.  This palette was randomly selected from four different palettes and I did get the one I liked least!  Of course!  This has 12 shimmer colors and based on the reviews, these are very sheer but are buildable.  My color choices are a trio of peach/orange shades, a trio of greens, 4 purples and 2 blue shades.  They are pretty looking, but they aren't for me.  I would have loved NEP-107 or NEP-105. Now, this is a cheap eye shadow palette but that is okay ~ some of the best makeup I own is from Wet N Wild, NYX and e.l.f, so cheap-o doesn't mean bad-o.  For me, it was the colors and how they would not work for my skin tone.   RV $3.95

Puchi Animal (Hitsujichan) Hand Cream in Soap This is really cute!  The hand cream comes in a blue silicone carrying case (which was dirty!) and there were 3 scents that were randomly selected ~ soap, rose or honey. The soap version has a little sheep (hitsuji-chan) on the front and this hand cream is part of their "organic series" ~ based on the lovely Japanese google translate app on my phone, there is only one organic ingredient marked on this product ~ coconut oil, so don't think that it is all organic, because it is not.  It also has  mineral oil, hyaluronic acid and palm oil fatty acid glycerides, so this is not only a hydrating hand cream, it is a deeply moisturizing one with ingredients that will help lock moisture in your skin.   There was also a different item that you could have received, which was a nail polish set. 30 grams RV $4.50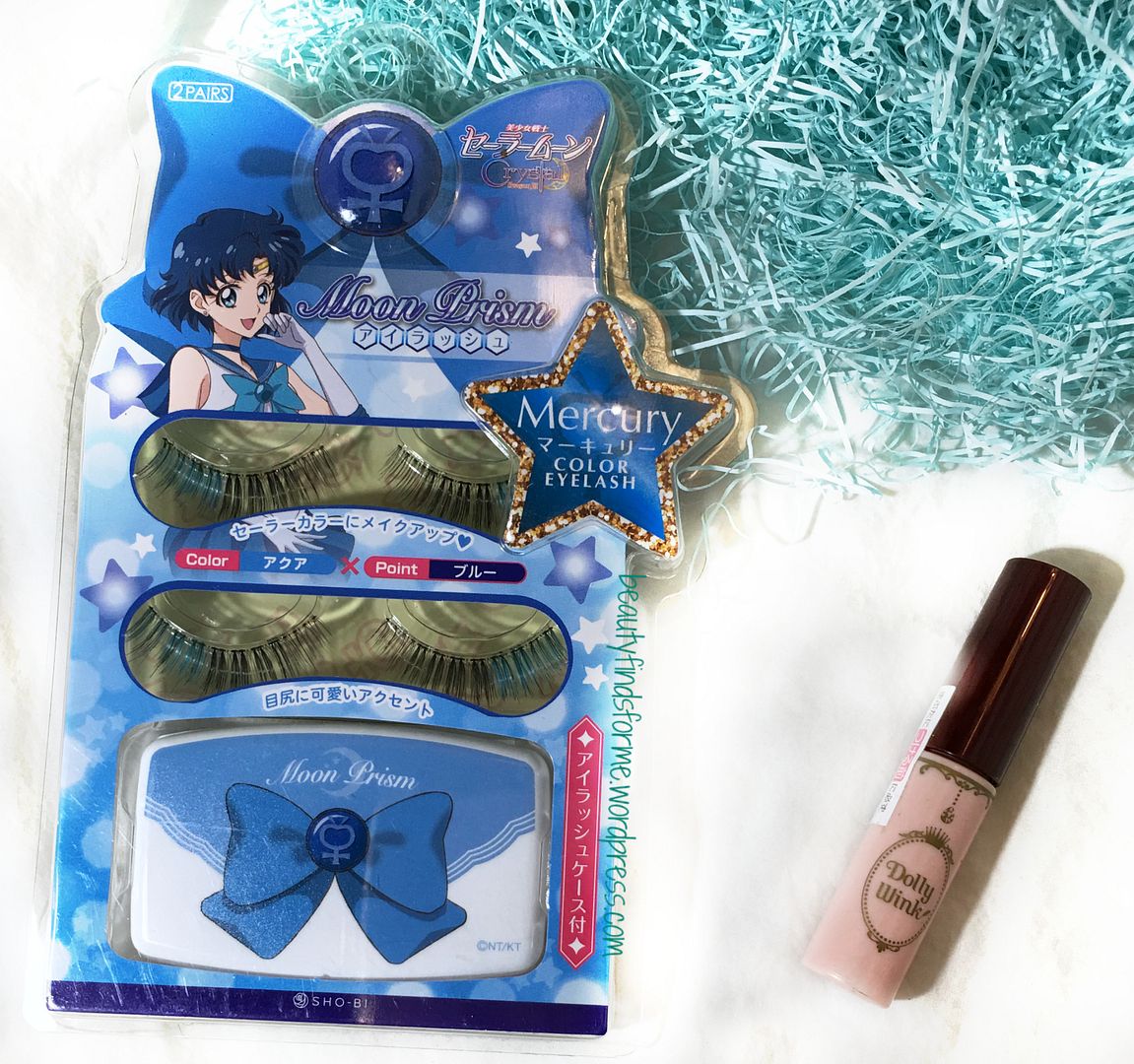 Sailor Moon Crystal Season 3  Moon Prism Eyelash with Lash Case in Mercury  This was another one of the spoilers for this month ~ I do not wear false eye lashes, but I will say these look very nice and well made.  Mercury is a beautiful aqua, so the nylon lashes are black and then a few rows of the aqua color.  Sailor Moon is really popular, so I am sure when I have a giveaway with these, there will be interest!! There were 4 shades that were randomly selected, so you may get a different choice.  This also comes with a cute lash case as well, but no glue… but wait for it…   RV $15.84

Dolly Wink Koji Fix Hard Type Eyelash Glue As the falsies didn't come with glue, NMNL thoughtfully added an eyelash glue!  This is one of the more popular Japanese eyelash glues and it is made by one of Japan's popular "gyaru" model ~ BTW, I had to look up what gyaru means ~ it is the Japanese transliteration of the English word 'girl', so girl model!  This glue is the hard fix type, so it is waterproof and sweat proof, and according to the description, it has a light rose scent as it does contain rose essence.  This applicator lets you apply a fine thin line which you can see as it is milky white, but it drys quickly and transparent, while being  long lasting.   As I said, I don't wear false eyelashes, but I appreciate that NMNL added this glue for those who do!  This product is made by Masuwaka Tsubasa in Japan.  RV $11.64
Japan Gals Hello Kitty Moisture Sakura Facial Mask  Yeah!  This is fantastic ~ I am really happy about this item. There are 8 facial sheet masks in this bag and they are made with sakura, which is cherry, essence.  I am not sure if these are printed or not ~ the 10 piece bag contains 2 printed masks, but this is an 8 piece bag.  I love the design on the resealable bag ~ Hello Kitty is in a beautiful pink kimono.  Based on my really rough translation, this mask contains
Hyaluronic Acid is an intensive moisturizing ingredient which bonds water to keep skin hydrated.   It is a natural substance found in the human body and it made up of amino and uronic acids, and helps retain 100 to 1,000 times its own water weight in our skin cells.
Cherry leaf and fruit extracts ~ Cherries contain concentrated high amounts of antioxidants, over 17 different compounds, including vitamins A and C.  This helps combat free radicals, helping slow down fine lines, wrinkles, hyper-pigmentation while reversing existing damage.  Sakura is also helps aid in collagen production and has anti-inflammatory and antibacterial properties. 
Green Tea is  full of powerful anti-oxidants, due to its high concentration of polyphenols, green tea helps reduce the appearance of fine lines and wrinkles.
8 piece mask set RV $15.00
Ingredients (this is roughly translated): water, butylene glycol, glycerin, glycyrrhizic acid, water soluble collagen, hyaluronic acid, prunus yedoensis (Yoshino cherry) leaf extract,  aloe vera leaf extract, wild cherry fruit extract, rosemary leaf extract, camellia sinensis leaf extract, hydroxyethyl cellulose, xanthan gum, caprylyl glycol, phenoxyethanol, NA citrate, citric acid, fragrance
Sakura Natural Facial Moisturizing Bar Mini-Soap  I love this as well!  This was another spoiler in our box.  This is a pretty round soap that smells like sweet cherry blossoms.  I do not have issues using bar soap on my face and this is a cute size.  Sakura not only has anti-aging benefits, it also has anti-inflammatory and antibacterial properties.  It helps remove toxins and bacteria from your skin, making this also great for blemish prone skin.  This soap is made by Max Soap, which is located in Uematsu-machi, Yao-shi, Osaka prefecture and they have been making bath and body products for over 100 years.  The packaging of this is so pretty too, with the cherry blossoms.  35 grams  5o cents
Ingredients: soap base, cherry leaf extract,  EDTA – 4Na, etidronic acid 4Na, butylene glycol,  titanium oxide, glycerin, fragrance, red 504
Final Thoughts
For its premier box, I have to give NMNL 3 out of 5 stars.  I feel that they focused way too much on eye makeup in this box, with 2 items that many people do not use ~ false eyelashes and lash glue.  If they had just the eye shadow or just the lashes and glue, that would have ticked this up to 4 out of 5 stars.  For me personally, I was not that happy with any of the eye products, but I would have been fair about it.  I did think it was very nice that they did include the glue for the lashes, so you didn't need to go out and purchase it.  The shadows ~ meh.  I have the feeling even if I DID get the palette I wanted, I wouldn't have liked it because the shadows are so sheer and shimmery.  I like bolder colors, so that is a personal preference.  The rest of the box was fine ~ the Kawaii hand cream and the fantastic cherry blossom masks and soap!   I used a 30% off promo for this box, so I paid $20.99 and received a retail value of about $51.00.
I am still signed up for NMNL and probably will stay for a few months to see if they improve.  I am hoping that they start curating the boxes with products that they are promoting at their website ~ which are much more interesting ~ more skin care, hair and body care, plus tools and the makeup is more on the lines of brows, lips and mascara.  If you want to see what March will contain, check out my blog post on the theme and spoilers for that box ~ it looks fantastic and I do hope it is much better than this one.  Save $5.00 off the March box  ~ use promo code  SAKURA  at checkout.  This is good until 2/28/2017 and is good for March's box only.   If you want to save $3.00 off your box after that ~ use UNBOXINGBEAUTY
[ blog post contains affiliate links ]