Instead of going with a romantic theme, Flickerbox fought back and joined the #Resistance with a Girl Power theme!  Empowering woman of all ages around the world!  #RunLikeAGirl and be proud of it!  What is so cool is that any Flickerbox subscription purchased in January donated $2.00 and $1.00 from every overstock order to She Should Run,  a nonprofit inspiring women and girls to run for office.  

What is Flicker Box?
Flicker Box is inspired by a love and appreciation for handmade candles. We believe that people appreciate products produced by quality artisans made in the United States. We want to connect candle lovers with people who love to make candles. Each Flicker Box contains a variety of artisanal candles made from candle artists from around the United States. We share their story and ship subscribers a delightfully curated box right to their doorstep. Flicker box costs as low as $25/month and can be purchased as an automatically-renewing monthly subscription or 3, 6, or 12 month term subscriptions.  from myflickerbox

Information Card

Another View
Starting on the left:  Big White Yeti "SuffrageYETI City",  Karmalit "Girl Power",  Mosley Lane "the Dreamer, the Doer, the Thinker"

Big White Yeti "SuffrageYETI City"  I love Big White Yeti candles ~ the names of the candles are witty and on point and who can resist their mascot?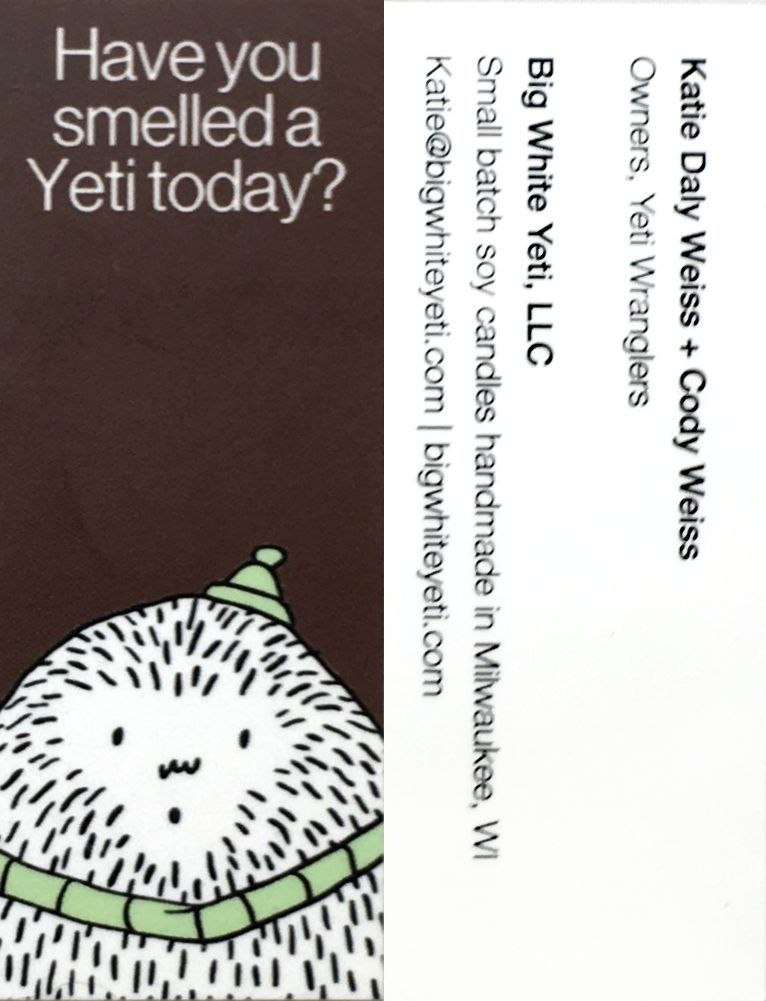 This month's offering from Big White Yeti is a take on both the amazing ladies who fought against huge odds and some even died to obtain basic freedoms and equality for women ~ things we take for granted today, like voting AND the wonderful late, great David Bowie's song "Suffragette City"   From Big White Yeti's FB page, they described the scent and reason behind it
Rhubarb and fig. Because Eve probably gave Adam a fig, not an apple. And we like rhubarb- while the leaves are poisonous, the stalks are delicious. Interesting duality that seemed to make sense to us for this theme
I can really smell the rhubarb in this candle and it is warm, fruity scent.  Love it and it was made just for this box!  Big White Yeti candles are made from 100% soy and are hand poured in Milwaukee, WI.   Burn Time 35 hours  6oz  RV $10.00

Karmalit "Girl Power"  I am not sure what the scent on this candle is ~ it is very hard to place, so I emailed Karmalit and they said it is their Wanderlust candle.  It is a sage, lavender and amber scents, so it both refreshingly clean ~ that was the main impression I picked up on ~ and also woodsy.    At first, I wasn't sure what to think of it and if I liked it or not, but it did grow on me ~ I think this is a nice complex scent.  KarmaLit handcrafts their candles from Denver, CO and they use 100% natural soy wax, fragrance oils and pour their candles in a re-usable mason jar. Each candle sold will have a part of its proceeds go directly to non-profit organizations that are education, health/fitness, or overall child happiness based. Burn time is 40+ hours 4 oz RV $12.00 Approx. 2.75″ diameter by 2″ tall

Mosley Lane "the Dreamer, the Doer, the Thinker"  I love Mosley Lane candles ~ they are HUGE and they have such vibrant and vivid scents.   This one smells just like a fresh ruby red grapefruit and it is so wonderful.  So invigorating, refreshing and very much needed during these gloomy days.  Mosley Lane is an eco-friendly family owned business from Ohio and this huge candle in a mason glass jar with a gold screw top lid, nothing fancy, but it will work in every room.  Mosley Lane's hand poured candles are made with 100% USA ingredients: 100% natural dye free soy wax and beeswax blend, lead free, natural fiber cotton wick and concentrated fragrance oil that are phthalate free. Burn time is 50+ hours 11 oz RV $15.99

Such a cool month ~ not only for the scents and variety, but seriously, the theme and statement Flickerbox made.  Love it!   This box's value is $37.99 and I paid $34.00 for my box, as I am on a month to month subscription and I am grandfathered in, so my shipping is included in the price tag.   When you subscribe to Flickerbox, don't expect to have a HUGE value placed on it, as shipping costs for candles is expensive and the products are made by artisans, making their eco-friendly candles with their own scents and hand crafted, it is a great deal.

Flickerbox also has a store, where you purchase candles that were featured in their past boxes.

Do you subscribe to Flickerbox?  What did you think of this month's candles?  Let me know in the comments below!
Sneak Peek into Next Month's Box
https://www.instagram.com/p/BQT1NesgSgT/?taken-by=myflickerbox
[ descriptions in italics from the product linked website ]