Kloverbox is an eco-friendly, organic lifestyle box and I love how they introduce new and innovative products each month.  Kloverbox delivers deluxe and full size products and I have been impressed with their packaging and curating of their boxes. You can subscribe to Kloverbox  either as a month-to-month at $25/monthly, 3 month subscription at $23.75/monthly or a 6 month subscription at $22.50/monthly

Informational Card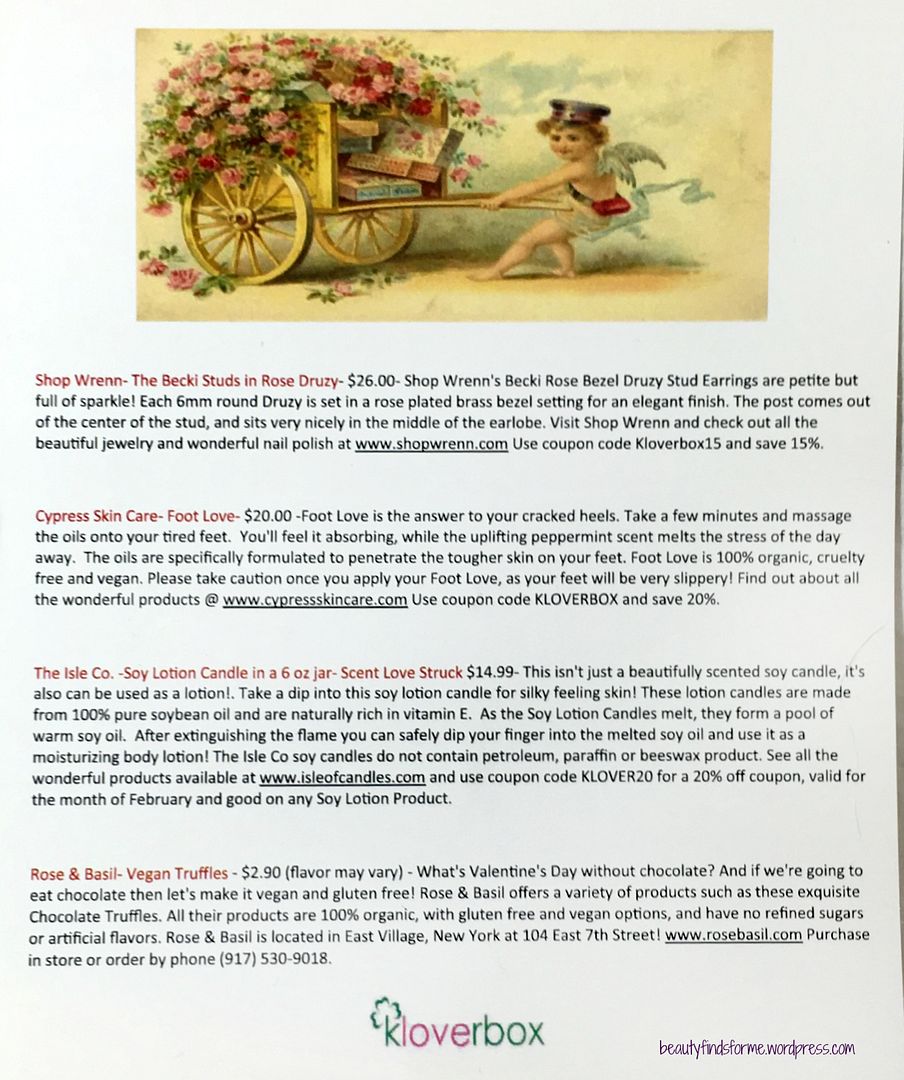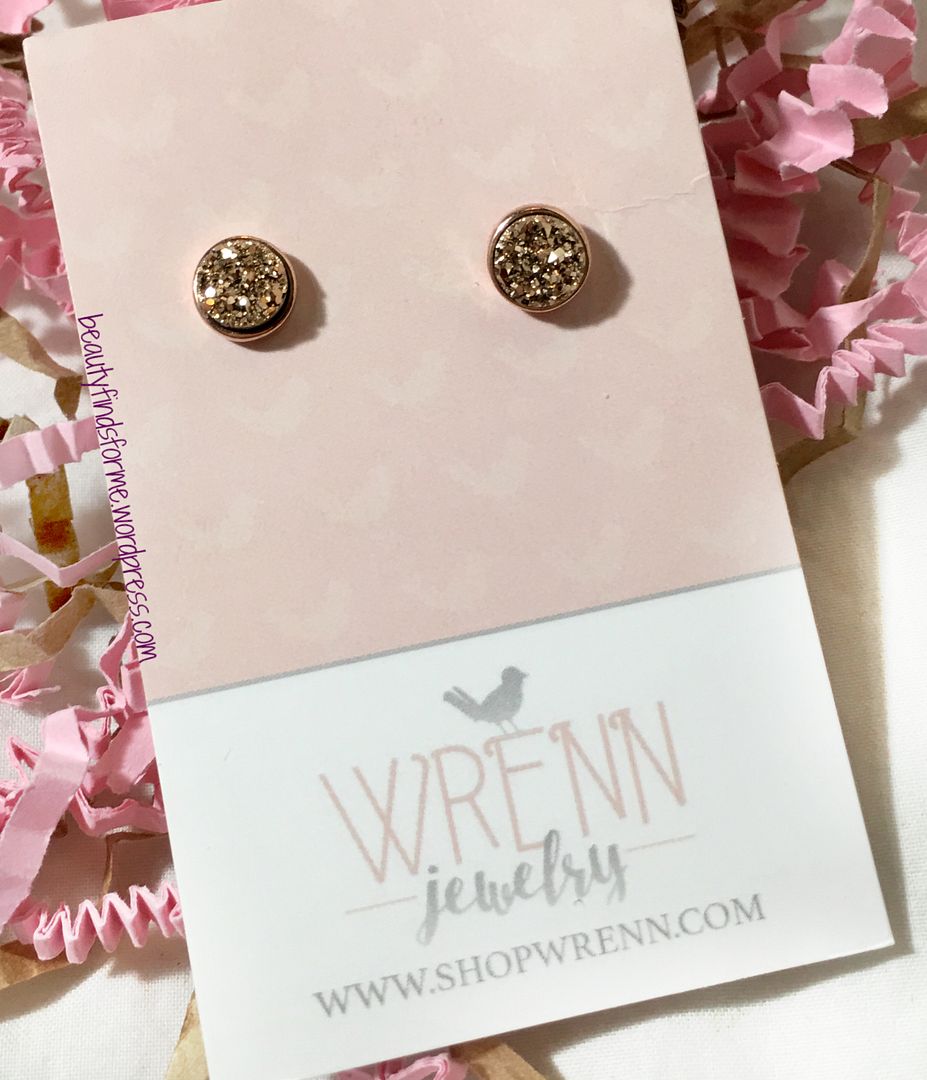 Wrenn Jewelry Becki Earrings in Rose Druzy.  Wow, these are so pretty!  Druzy is a stone where a thin layer of quartz crystals cover the top of another stone ~ think of a geode.  The druzy stones are 6mm and are rose gold in color ~ hard to photograph here, they really are rose gold in color ~  in rose plated brass bezel setting.  I have multiple piercings in my ears, so I like these stud type earrings in my upper-most holes and I will get good use out of these.  One complaint and this is something that Kloverbox needs to know ~ these earrings did not come protected in bubble wrap and the heavy candle must have caused the posts to bend downwards.  I was able to push them back up into place without any problem, but for others, it might break off.   At Wrenn Jewelry, you can select the choice of metal color ~ rose, silver or gold plated brass. RV $$26.00    Promo Code: Save 15% at Wrenn Jewelry by using code kloverbox15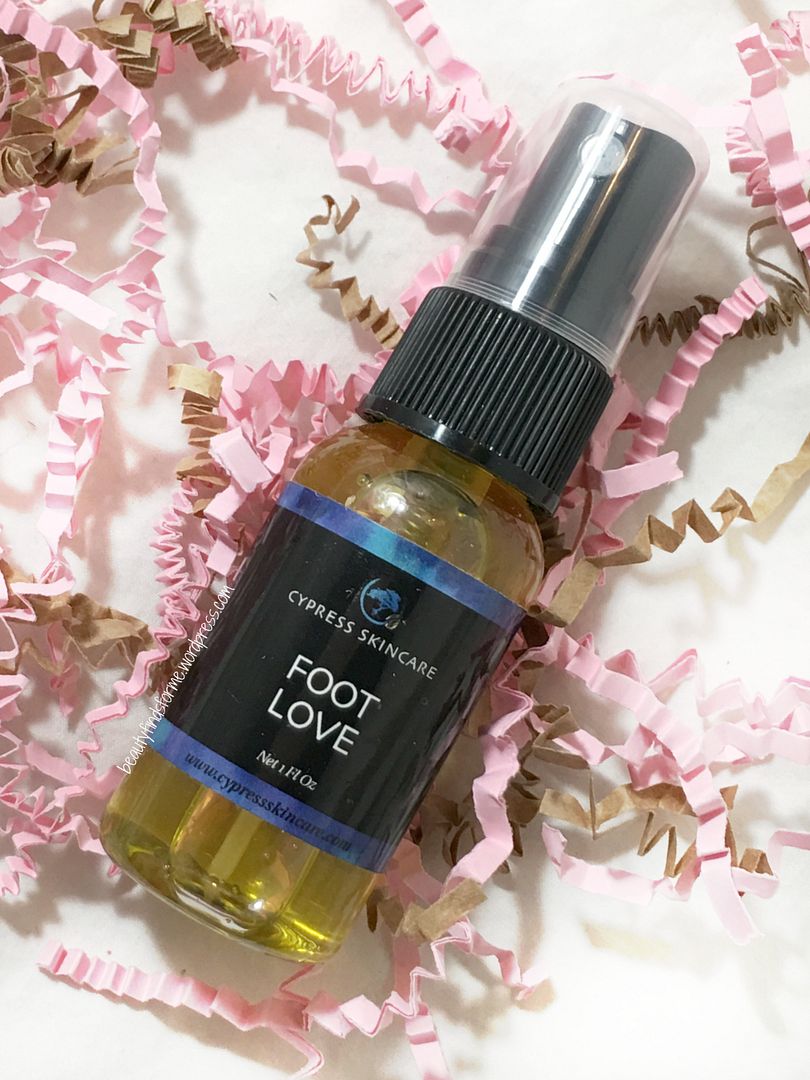 Cypress Skincare Foot Love  I love my feet and care for them regularly and I love the scent of peppermint.  To have a peppermint scented foot oil is nirvana.  This is a thick oil and a little goes a long way ~ seriously, I did one spritz from the spray applicator on my hand and I moisturized my hand and arm.  This has a warm peppermint smell and not overpowering.  This is handcrafted in Laguna Beach, California, where you want to have great looking feet at the beach!  Cypress Skincare has other products, like facial and body oils, cleanser and hair oils.  They are vegan, cruelty free and use 100% organic ingredients.  This foot oil is made with just a few intensely moisturizing and anti-oxidant ingredients: 100% organic almond oil, cold pressed coconut, olive, jojoba and castor oils and peppermint essential oil. Travel Size 1 oz RV $20.00 (I don't know about this price ~ Cypress Skincare sells a 4 oz bottle for $40.00 at their etsy shop, so this is probably worth $10.00)  Promo Code: Save 20% at Cypress Skincare by using code kloverbox  
Description: Foot Love is the answer to your cracked heels.  Take a few minutes and massage the oils on to your tired feet.  You'll feel it absorbing while the uplifting peppermint scent melts the stress of the day away.  The oils are specifically formulated to penetrate the tougher skin on your feet.  Use daily for the best results and get your feet ready for summer sandals and those fancy heels. We are 100% organic.  Much of what you put on your skin absorbs into your bloodstream.  You probably eat organic, less processed, it's time to take the truth one step further and nourish the largest organ in your body, your skin. Always cruelty free and vegan.
The Isle Co Soy Lotion Candle in Love Struck  I was initially worried that Love Struck would be a rose scented candle, but instead, it is a delightful sweet, berry and citrus scented candle. And talk about innovative products ~ this isn't just a candle, folks…this is a scented soy candle that also is a moisturizer! After burning your candle for a while, blow out the candle and then wait until the melted soy oil is warm ~ using your fingers, dip into the oil and use as a body lotion!  50 shades of gray there!  hahaha  The Isle Co only uses USA sourced soy beans and they do not add additives to their products.  This comes in a nice glass jar and you can kinda tell from looking at the wax, that is is softer than most candles.  In fact, I was able to use some of this as a lotion without warming it up … and it is a really nice lotion! It isn't greasy or oily, plus it smells great too. Fantastic idea!  Burn Time: 20 hours 6 oz candle RV $14.99   Promo Code: Save 20% at The Isle Co by using code klover20
Description:  Take a dip into our soy lotion candles for silky feeling skin! Our lotion candles are made from 100% pure soybean oil and are naturally rich in vitamin E.  As the Soy Lotion Candles melt they form a pool of warm soy oil.  After extinguishing the flame you can safely dip your finger into the melted soy oil and use it as a moisturizing body lotion! Soothes dry damaged skin. Soy is a natural alternative to paraffin based waxes ~ Soy is environmentally friendly ~ Soy is a natural/renewal resource ~ Soy is biodegradable ~ Soy candles burn cooler, longer and cleaner than wax ~ Our soy candles do not contain petroleum, paraffin or beeswax product ~ Our soy candles are made from 100% U.S. Grown Soybeans ~ Our soy candles do not contain additives ~ Our soy candles are dye free.
Rose & Basil Truffles  Located in the East Village in NYC, I received 2 artisan crafted truffles from Rose & Basil.  These were randomly selected, so yours might be different from what I received.  It looks like I got an espresso truffle, basing that on the coffee bean on top, and a  matcha truffle, basing that on the color!   Both of these truffles are organic, Kosher, gluten and sugar free. The espresso is also lactose free and vegan.   The espresso truffle is very moist and it isn't so heavy that I need to chug a glass of milk or water.   The matcha truffle has a dark chocolate base and at first, I couldn't taste the matcha. But then, as I swallowed the first bite, it hit my taste buds ~ that rich green tea flavor of matcha.  OMG.  This was SO DAMN GOOD.  Both of these had a nice creamy texture and I can tell it is made with coconut cream.  The base formula is almond meal, cocoa butter, cocoa powder, dark vegan chocolate, almond milk, Madagascar vanilla, salt, coconut flour and coconut cream.  Then the appropriate flavorings are added to create their unique truffles.  These ARE REALLY GOOD and you can order online!  2 truffles RV $2.90 Promo Code: Use Gift when ordering 9 truffles or Joy when ordering 12 truffles to get a 10% discount at Rose & Basil
Description: The Espresso Truffle is an homage to Ioana's love for coffee and how Spring feels like the morning rush you get after you've had a pretty good cup of Espresso! With a Dark Base, the truffle is filled with a delicious expresso flavored 'mouse', covered in Milk Chocolate and garnished with intense Coffee crunches! You're welcome!  Organic x Gluten Free x Lactose Free x Sugar Free x Kosher x Vegan

The Matcha Truffle is inspired by a delicious Matcha Layered Cake Ioana is known for.  With a Dark Base, the truffle is filled with a delicious Matcha 'mouse', covered in white Chocolate and garnished with a White Chocolate and powdered with a bittersweet Match powder. Fresh and as vibrant as Spring! Yum! Organic x Gluten Free x Sugar Free x Kosher

I am really pleased this month's Kloverbox ~ I love foot products and having a peppermint scented one makes me very happy.  The truffles are fantastic and now they are gone, as I had to eat them for this unboxing to let you know if they were good or not ~ lol.   I love the stud earrings, so sparkly and I do love rose gold jewelry and the candle/lotion in a fun fruity scent is pretty cool and very innovative. I paid $15.00 due to a Black Friday promo code + renewing 3 month subscription and received of almost $54.00.  Do you subscribe to Kloverbox?  What was your favorite product this month?

Current Promo:  Want to save 10% off your subscription?  Use my referral link here    One and three month terms automatically renew, the six month is a one time purchase.   The monthly subscription has an option to skip a month!

[ descriptions in italics from linked website.  contains referral link and affiliate links ]