disclaimer: this product was sent to me for review purposes. all opinions are my own and are unbiased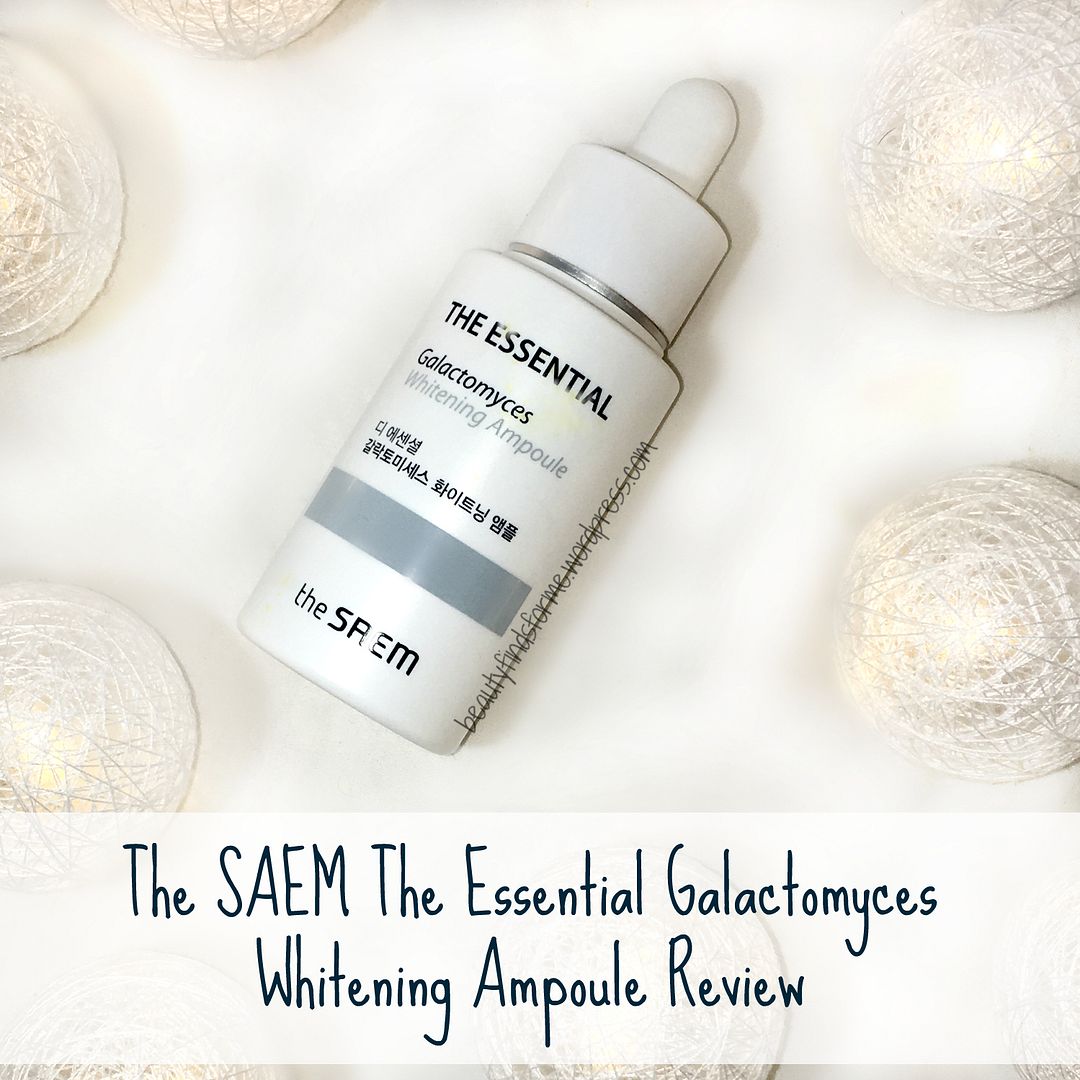 I am surprised that I am back with another review on a The Saem product, but this one was such a failure for me on so many levels, that I had to discontinue using it.  Hence my review before its time on The Saem The Essential Galactomyces Whitening Ampoule.
Jolse, a premier Korean online store, recommended that I look at The Saem products when I was choosing a few items to review ~ as they are very good products, but not as well known as other brands.  I picked this item out of Jolse's large inventory of products and I do like The Saem brand ~ I don't think I have had a bad item from them.  I am a huge fan of galactomyces and other fermented yeasty ingredients and I am always looking for products that claim to brighten and lighten my hyper-pigmentation.  Of course, I am probably tilting at windmills with the last claim.  Just so it doesn't scare folks, whitening just means brightening your skin and lightening hyper-pigmentation.  It is a common term in Korean skincare, but for us Westerners, it just means brightening and to even out the skin tone.

My skin type and concerns:  Oily but aging.  Blemish prone, pores, hyper-pigmentation, fine lines and wrinkles.

Ingredients of Note
Galactomyces Ferment Filtrates are fermented yeast filtrates and are highly moisturizing as well as being a powerful anti-oxidant and anti-inflammatory. They help fight free radicals and reverse and slow down the aging process in your skin, by reducing the appearance of existing fine lines and wrinkles while preventing new ones and also by brightening and evening out your skin tone by fading hyper-pigmentation spots. It also controls cell turnover and oiliness, which helps purify and clarify your skin.  The Saem The Essential Galactomyces Whitening Ampoule has galactomyces as the active ingredient and it contains 74% of this filtered fermented ingredient.  Once reason why fermented ingredients are so effective and gentle on your skin, is that a fermented ingredient has smaller particles and can quickly penetrate your skin, going deeper into your skin layers.  It injects moisture, nutrients, minerals, vitamins and amino acids that will act on brightening, hydrating and toning your skin as it can promote cellular turnover and create new skin cells while sweeping away dead ones.  
Niacinamide (Vitamin B3) is a powerful antioxidant that acts as an anti-inflammatory, improves your skin elasticity, enhance the skin barrier function and also it helps to even out skin tone and reduce post-inflammatory hyper-pigmentation.
Tri-White Complex consists of bisabolol (German chamomile), cinnamonum camphora (camphor)  and pancratium maritimum (sea daffodil) and it will help provide brightening effects to your skin, while healing , calming and hydrating your skin.
Nymphaea Alba (water lily) is an anti-aging and anti-inflammatory ingredient, helping to soothe irritated skin while nourishing and moisturizing your skin. It has brightening properties and helps soften fine lines and wrinkles, as well aid in cellular turnover. 

Centella Asiatica is a common herbal ingredient that is used medicinally to help speed up wound healing, such as blemishes and skin rashes. It also helps minimize the appearance of pores. 
Houttuynia Cordata is a medicinal herb that is found in a lot in Asian skin care products. It is an antibiotic, which helps with preventing infection from skin problems, such as blemishes.  It also has powerful detox properties, is an astringent and anti-inflammatory. 
Salvia Hispanica Seed (chia seed) is an ancient seed used by Aztec and Mayan civilizations and is considered a superfood, due to its rich store of nutrients and full of fiber and protein.  Chia actually means "Strength" in Mayan, as they knew how important this food item was in their diet.  Chia seeds can hold up to 10 times their weight in water.  In skincare, the antioxidant rich seeds are used to help reduce wrinkles and hydrate.  They also contain omega-3 fatty acids, so it will help calm your skin as it is an anti-inflammatory.

Ingredients: galactomyces fermentation filtrate (74%), butylene glycol, 1,2-hexanediol, glycerin,  niacinamide, dimethicone, triethylhexanoin, glyceryl stearate, diglycerin, methylpropanediol, bis-PEG-18 methyl ether dimethyl silane, caprylic/capric triglyceride, PEG-100 stearate, hdi/trimethylol hexyllactone crosspolyer, water, polyacrylamide, salvia hispanica seed (chia seed) extract, centella asiatica extract, houttuynia cordata extract, C13-14 isoparaffin, synthetic fluorphlogopite, titanium dioxide (CI 77891), algae extract, propanediol, acrylates/C10-30 alkyl acrylate crosspolymer, triethanolamine, laureth-7, ethylhexylglycerin, xanthan gum, silica, tetramethyl acetyloctahydronaphthalenes, coptis chinensis root extract, dipropylene glycol, sodium palmitoyl proline, dextrin, theobroma cacao (cocoa) extract, hydroxyhexyl 3-cyclohexene carboxaldehyde (lyral), butylphenyl methylpropional, nymphaea alba (water lily) flower extract, citronellol, citrus aurantium dulcis (orange) peel oil, bisabolol, cinnamonum camphora (camphor) leaf extract, pancratium maritimum extract, phenoxyethanol, fragrance  cosDNA analysis

Packaging

The packaging on this is very nicely done ~ this comes in a sturdy white box that opens up like a present.  One reason why I love The Saem is that they always print the ingredients in English, so it makes it easy for me ~ I don't have to hunt down the ingredients list on HwaHae 화해 app or worse, use google translate.  This comes in a nice squat white glass bottle with an eye dropper applicator.  It looks really good on the exterior BUT that applicator is awful.  I don't know if it my bottle or if this is common with this product, but I can barely squeeze up any product with the applicator.  I have to squeeze and then grab a drop, squeeze, grab another drop and just repeat this process until I have enough. This is not a user friendly product.

BTW ~ I  don't know what those yellow spots are on my bottle, but I wonder if that is from when I colored my hair and some dye got on the bottle.  Not sure, but I cannot remove those spots but I just wanted you to know that I had done that, not The Saem.

Performance
Description: This whitening aura ampoule containing radiant pearl formula creates luminous complexion and treats the dull and shady skin. Whitening ampoule for skin with dark blemish ~ Skin texture and moisturizing ~  Skin soothing with elasticity ~ Wrinkle care and pore care
Nothing.  But then again, I stopped using this as I dislike this product.  The ampoule reminds me of Elmer's Glue and even though this isn't thick or sticky, I cannot shake that comparison out of my head when I use it.  The ampoule is white, a bit pearlized ~ this is what The Saem meant by "aura" ~ but it doesn't make my skin look like a disco ball, thankfully. 
It looks very opalescent when it is wet, but once it is absorbed by my skin, it dries down without glitter. The Essential Galactomyces does not leave a tacky or sticky residue and dries down without a trace.  Too bad I cannot say that about the scent ~  It has a very perfume-floral scent, which I dislike a lot and it lingers after application. 
I started using this about 6 weeks ago and I did not see any improvement.  It didn't cause any adverse reaction to my skin, but it didn't really do anything else.  It is moisturizing, I will give it that ~ it increased my moisture levels by 50%.
However, due to the scent and difficult applicator, I just feel that there are other products out there that are superior in terms of moisturizing without all of the hassle.

Final Thoughts
So usually, you can find some type of reviews at the brand's online store and even though it is in Korean, you can get a sense that yeah, people tried it and thought enough about it to form an opinion.  This product at The Saem's site had no reviews, so I guess this item is not very popular at all.  I normally am thrilled with products that have galactomyces in them, but not this one!  I honestly don't recommend this item.  I normally LOVE The Saem products and I love galactomyces, but this item just was so disappointing.  From the difficult-to-use applicator, scent and non-results, I will have to give this a thumb's down.  Perhaps it is just my skin, but I found this did nothing other than moisturize.  
I am appreciative that Jolse sent this to me to review and hopefully, this review will help you form an opinion on it.  On another note, I am becoming more skeptical about 'brightening' products in terms of lightening my sun-damaged hyper-pigmentation spots on my skin.  I am thinking that I need a good acid to help with that as I have tried a lot of products that have brightened my overall skin tone, but have not lightened or reduced the appearance of my sun-damaged hyper-pigmentation.   That said, that doesn't mean I won't still be looking and trying products with those claims!

If you are still interested in this product, you can purchase the 30 mL bottle of The Saem The Essential Galactomyces Whitening Ampoule for under $19.00 USD  ~ prices will fluctuate slightly due to the Korean Won/USD conversion.  Jolse has 3 products in the SAEM The Essential Galactomyces line, in case you were interested in the other items. Jolse has free shipping for purchases over $40.00, ships internationally and gives out free samples.  Have you tried any of The Saem's products?  Which ones worked for you?

image credit from jolse
disclaimer: this product was sent to me for review purposes. all opinions are my own and are unbiased