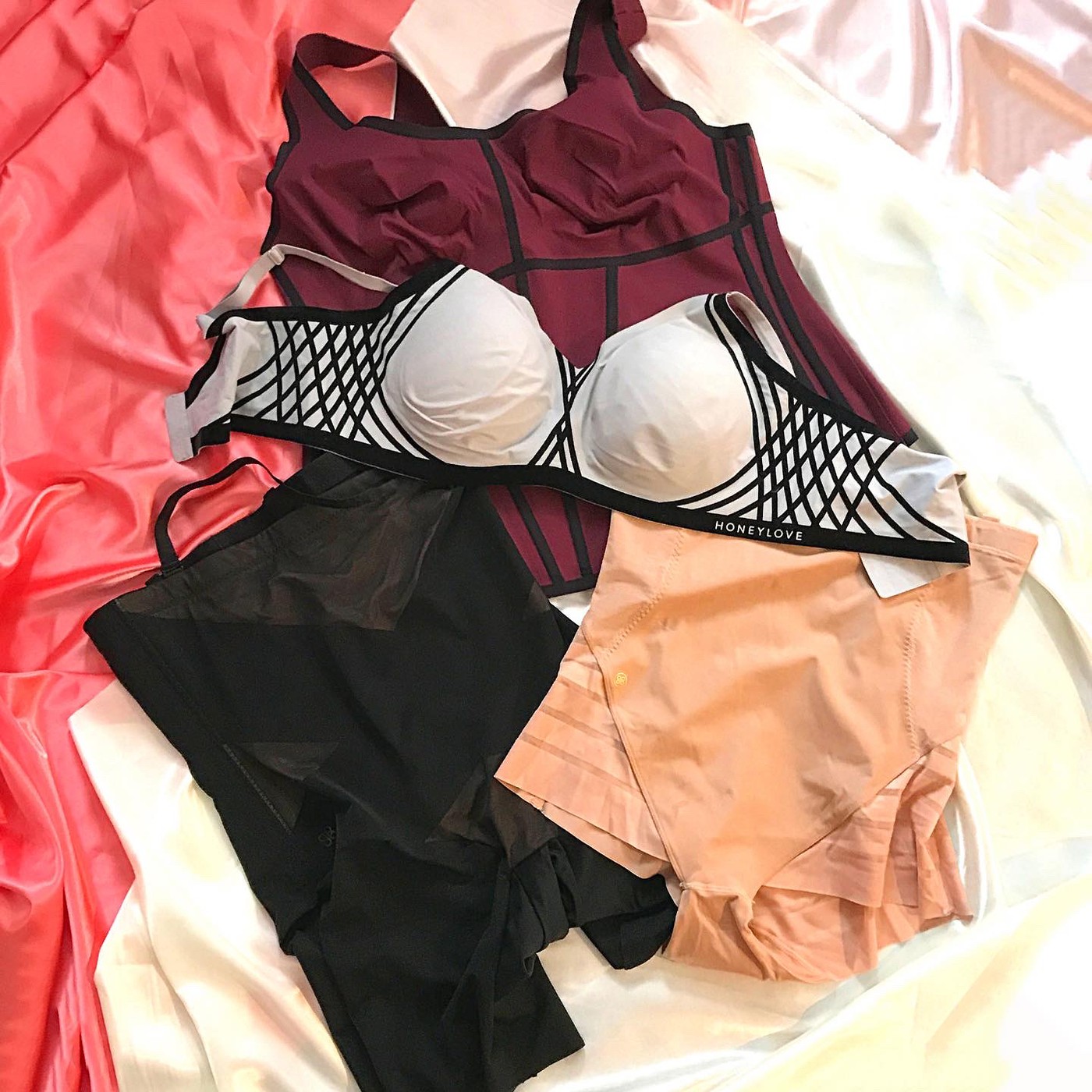 I am a Honeylove Ambassador!  What is Honeylove?  Well, it is shapewear that uses targeted compression, so that your curves are showcased to give you a beautiful silhouette.  I was sent several products from Honeylove to try out and I will have a 3-part series on these garments, as I have a lot!  This blog post will focus on four products:   Boldness Tank in Fig,  Silhouette Bra in MoonDust, SuperPower Short in Runway and Queen Brief in Sand.   To purchase, I would love it if you used my affiliate link here at Honeylove 
 

Some products were complementary to review and was not paid.  All reviews are my own honest opinion and  I never have been asked to write copy for a brand.  This blog post might contain promo codes, affiliate and referral links, which using my links will help generate a small commission that helps support my blog at no extra cost to you.
Honeylove spends one to two years testing their garments with women of all shapes and sizes, so they really stand by their products.  I found that Honeylove is a bit more expensive than some other popular shapewear, but these garments are very high-quality and well designed, plus they are really beautiful!  Some of their products can be used as regular garments, that is how pretty they are. 
I had three abdominal surgeries in less than nine months about a decade ago.  These surgeries required the doctor to actually cut me open THREE times as the first one was an emergency – I had a perforated colon – and the rest were all related to that first surgery.
Since then, I haven't been able to use my core muscles that much without support.  It has been difficult and of course, when your body is in pain, you don't move as much. I gained weight and I have tried to get support from other shapers, only to have them ROLL up on me, have weird shapes poke thru my clothing, like those  little hooks in the front of the corset type shape or be so uncomfortable that I just ripped them off of me. t.  For me, shapewear is important, as it  makes me feel less jiggly and more confident in myself, which is a struggle on a daily basis. 
Honeylove is not like that at all.  I am not saying that because I got these as PR ~ I actually went out of my way to contact them and tell them my journey as I was very interested in their brand, based on how they started:  The  founder Betsie Larkin was a vocalist for some huge EDM acts and travel the worlld on tour.  Shapewear is a must on the stage, but brands she tried either rolled down, squeezed in the wrong areas and had no structure.  She wanted bold, effective shapewear, that would be made of high quality materials, so she created her own.  All Honeylove products are designed by their in-house team and each garmet has fit instructions, letting you know if you should size up or down.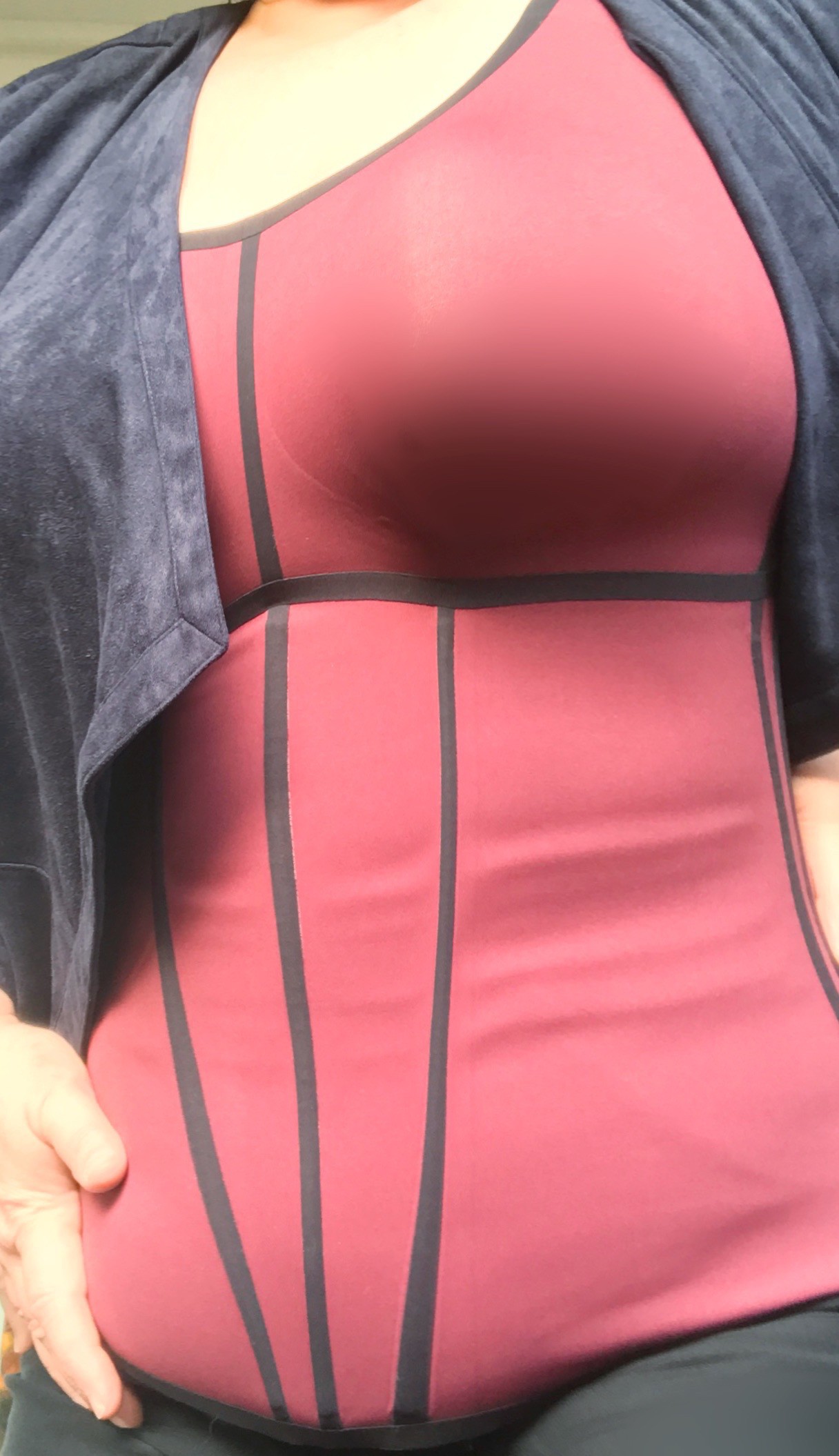 Boldness Tank in Fig is the first item I tried from Honeylove.  This garment is really a true sculptwear item, with a very strong midsection support but gives me a waistline!  Fig is a wonderful aubergine shade and has flexible boning in a contrasting black.  None of the products that I have tried from Honeylove has wires, and this is no exception ~   just properly placed bonded panels and 360° boning help define the midsection while supporting posture.  All of the tops and bras are padded but the inserts can come out.  If I am not wearing a bra under this, I keep the padding.   I love how my waist line is more indented and defined. 

To wear, all of their cami's and tanks should be STEPPED into.  The Boldness Tank is a tough one to get up and over properly, but what I do is roll it up a bit and then pull once I get it over my waist.  Make sure that none of your skin is DAMP, you need to be totally dry for this to go on without massive tugging and pulling.  Once it is in place, though, it is there.  It ain't going to budge.  Sizing wise, I did originally get this in my normal size, but just couldn't get it up over my boobs, so I sized up one size ~ this really helped me, as I cannot have a lot of pressure on my abdomen due to all of the scarring.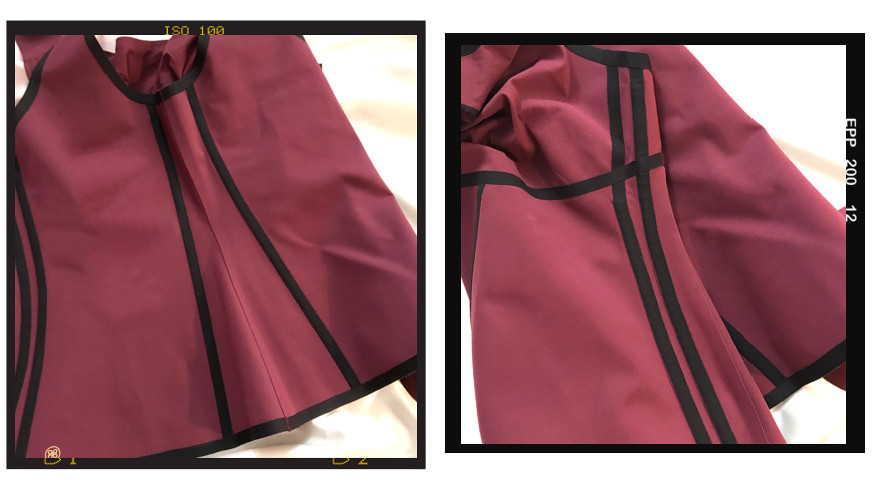 Even though I went up one size, it still gives me shape and holds everything in.  This is a classy tank ~ you can wear it as a normal tank top ~ the Fig has black boning, so that really makes a statement.  The other shades are Jet Black and Sand with no contrasting boning and Rose Tan with contrasting black boning. RV $129.00

Fabric Details: Body/Corps: 62% Nylon, 38% Spandex   Bra Cup: 91% Nylon, 9% Spandex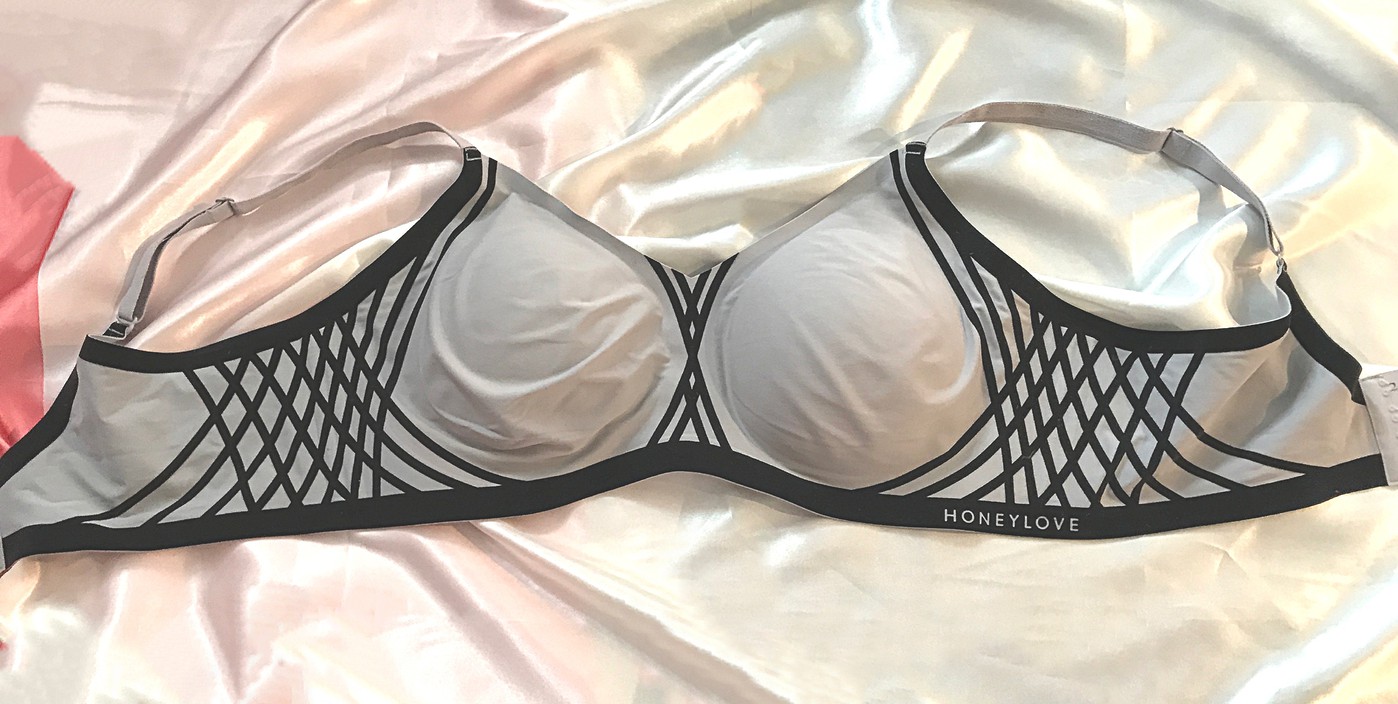 Silhouette Bra in Moondust  is one of three bras that I will be reviewing.  Moondust is a light, very pale grey with soft, velvet piping in black.  This is wireless, supportive bra and the piping is for extra reinforcement on the side and center panels.  The bonded bust support keeps the breasts lifted and this has a hook/eye back closure, along with thin adjustable straps.   This bra has a lower neckline, so you will be showing some cleavage here as it is only medium coverage.   This is padded but they are removable.  One thing on the pads is that they sometimes flip around and in half, so I wind up having to remove the pads and then re-inserting them to get them to lie smoothly.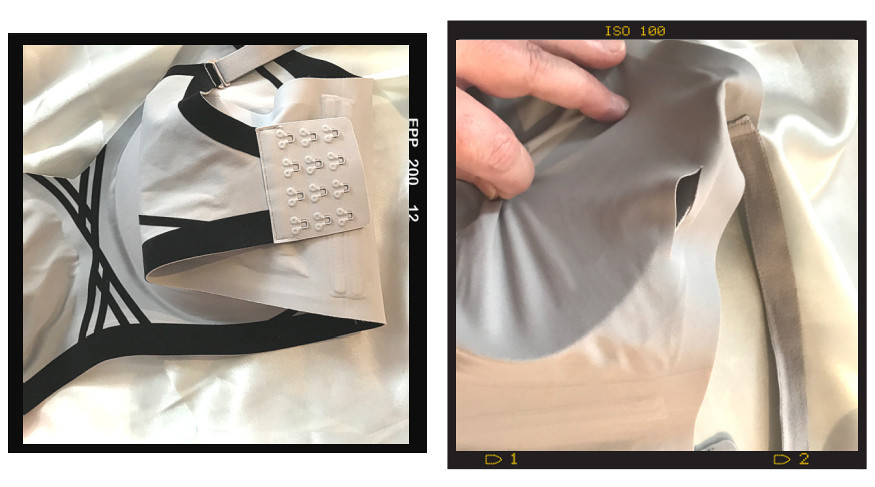 This is a comfortable bra, but for me, I don't find this as supportive as I would like.  The straps twist around too much for my liking, but this does cover my breasts well with no side boob spillage.  I feel that the bonded bust support is a bust for me, it really doesn't work that well with my not so perky boobs.  I would love to see a bra with the boning as the support instead, as that works really well.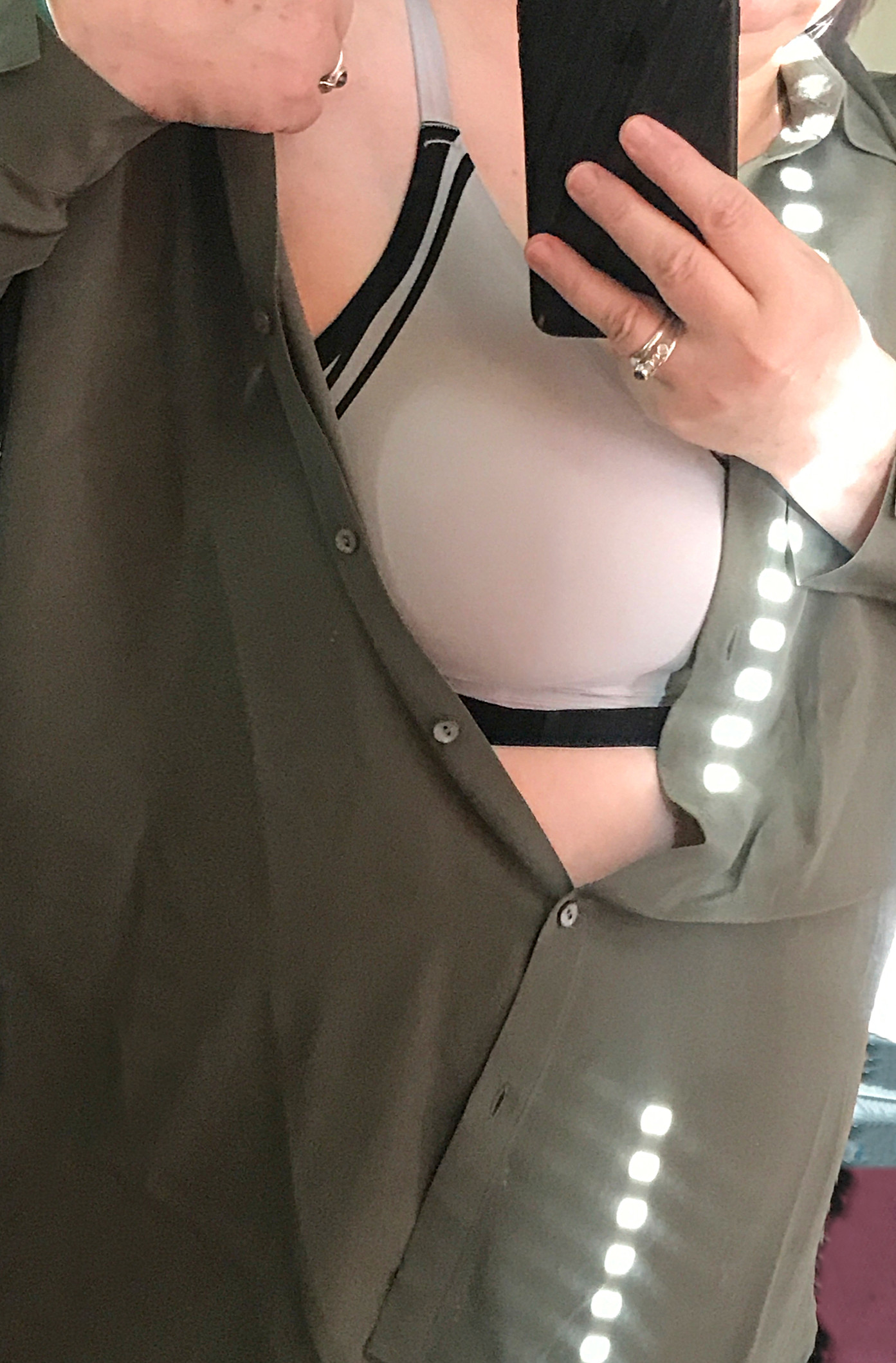 I do wear this, but not with any form fitting tops, but more with baggy sweaters as I do not feel that this works that well to keep my ta-ta's up and lifted.  It is a beautiful bra and if you have perky or small boobs, this probably will give you the support you are looking for!   This also comes in the shades Vamp (black), Rose Tan, Fig with contrasting black piping, Sand, Astral (white) and Cinnamon. RV $64.00
Fabric Details: Body: 62% Nylon, 38% Spandex  Bra Cup: 91% Nylon, 9% Spandex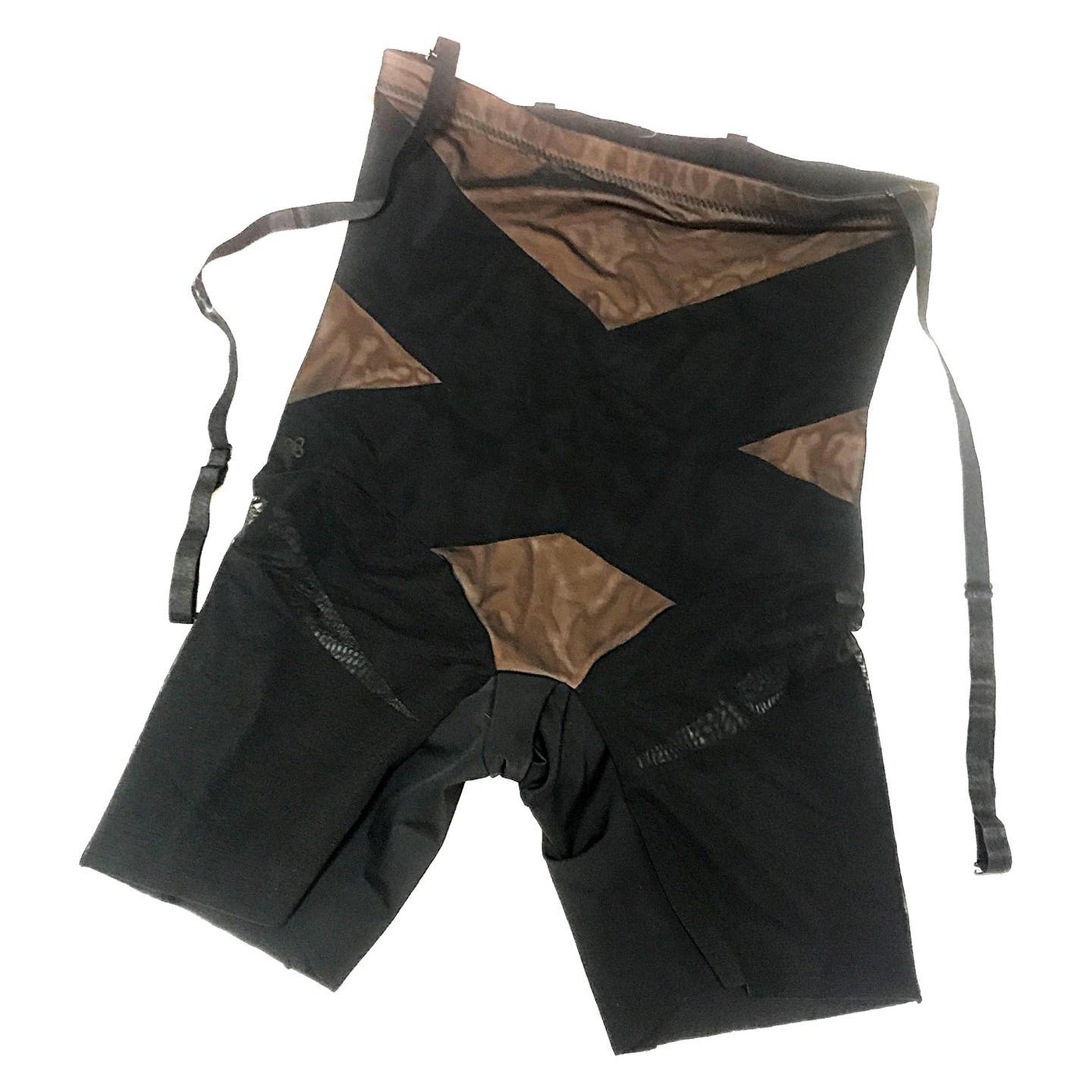 SuperPower Short in Runway. Runway is a beautiful shade choice as it is black with brown accents.    SuperPower Short is their original shapewear and wowowow, this is the some shapewear!  This uses panels of varying degrees of compression to target and shape the areas that need it and release it were you don't.  This has sheer mesh alongside compression material, so Honeylove tells you to be very careful if you have long nails ~ do not dig into the the short while putting it on as you might tear the mesh.  This is probably the strongest compression shapewear I have used and it does require some rolling up, sucking in and tugging gently to get into place, but once it is in place, it does make a difference! 


The targeted X compression bands crisscross over the belly and waist and leaves space around the waistband and leg hems, so I don't get that muffin look.  This Short goes all the way up under the breast line as well, so there is a smooth silhouette.   If you find that you have a longer torso or need more length, there are straps included that will help the short reach up to your bra line.
BEFORE
AFTER
Once on, this doesn't BUDGE.  The flexible boning in the side seams and back of short keep this baby in place, no matter how much I move around.  There are even BoostBands that circle around the upper back legs, so it lifts up my butt!  I am not going to lie, this SuperPower Short is hard to get on and off, so they even designed an opening in the crotch area so it is bathroom friendly ~ For myself, I find this to be a bit messy, but this SuperPower Short is for Super Special Occasions, imho. It isn't shape wear that I would wear daily due to the difficulty of getting it in place,  but for those occasions where you really need that extra support and  lift.  Other than that, this is very comfortable and I do feel very pulled in and secure when I wear this.  This also comes in shades Sand, Mocha (brown), Vamp (black) and Cinnamon.  RV $89.00
Fabric Details: Body: 75% Nylon, 25% Spandex Lining: 81% Nylon, 19% Spandex Gusset: 100% Cotton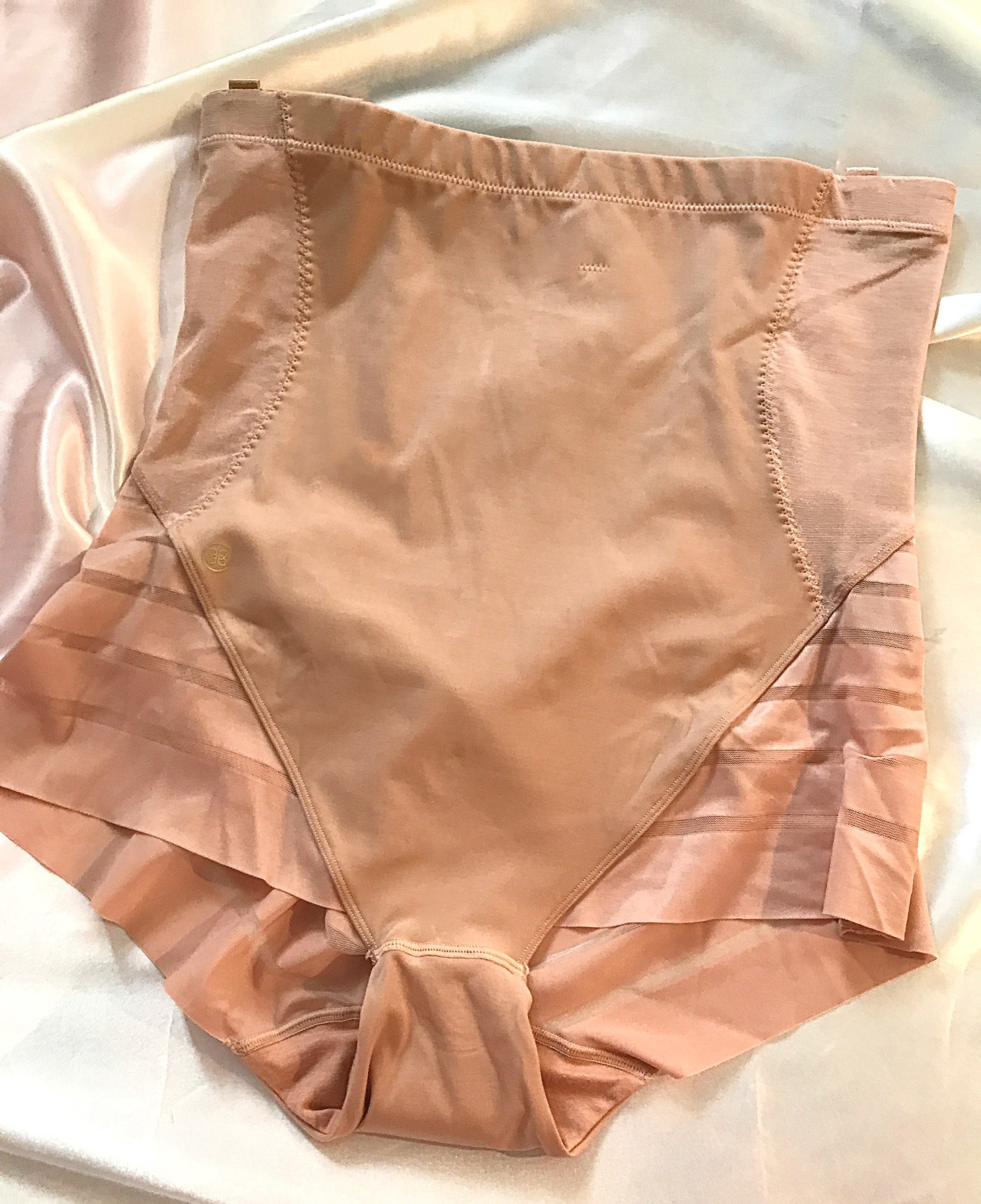 Queen Brief in Sand is all about comfort. Sand is a nice light beige color that for me, works well  with my skintone. Just like the SuperPower Short, this has targeted X-band compression but has an hourglass, diamond-like design over your abdomen will provide a nice smooth fit.  It uses opposite forces to shape and smooth your tummy.   I also love that this has sweat wicking material as well and there aren't panty lines with this brief, due to  the stretch compression fabric.  It looks really cute too, as the stripes in the fabric alternate between the mesh and spandex.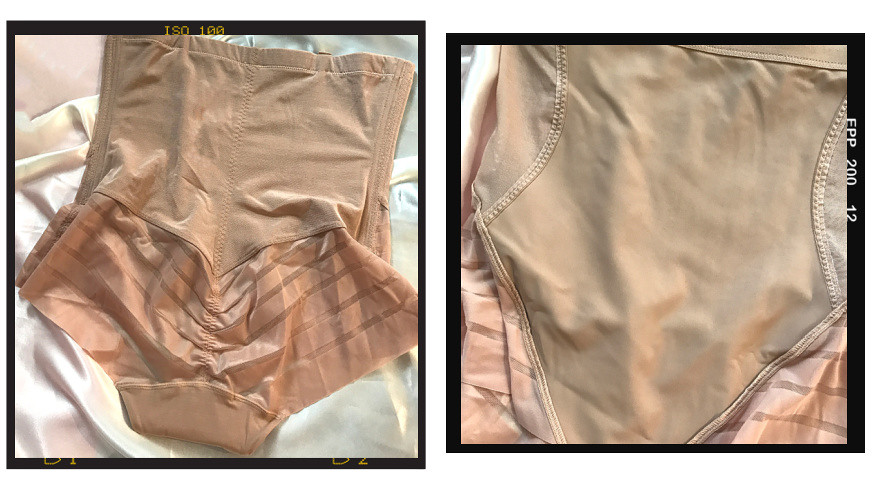 The SoftFlex boning along the sides and back seams are not stiff and moves with you, but it is powerful enough to support good posture and won't roll down.  This is very comfortable to wear and it does smooth nicely.  It isn't as strong as the SuperPower Short, but this is great for daily wear.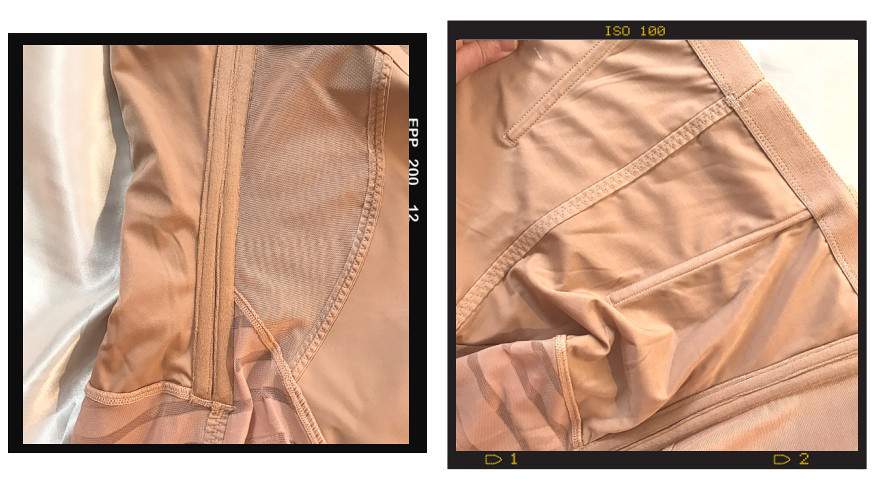 This also comes with straps as this needs to come right under your bra-line and if your torso is long or you need extra help, just attach the straps and it will stay in place.  I wish I had this when I was going thru the healing process for my surgeries, as this is a great replacement for a tummy binder.  This also comes in shades Astral (white) and  Vamp (black).  RV $84.00
Fabric Details:  Body: 65% Nylon, 35% Spandex  Lining: 80% Nylon, 20% Spandex  Gusset: 100% Cotton
So that is the first installment on Honeylove Shapewear garments!  I want to reiterate that there are no wires, no digging, no budges with this shapewear and IT STAYS IN PLACE!  Are you ready to purchase some yourself?  Please  use my affiliate link if you are interested (click here) as I make a small commission at no cost to you ~ support your favorite bloggers!   You also save 20% if you purchase more than one AND Honeylove makes exchanges really easy for you as well.   My second blog post on Honeylove garments will be on the EverReady Pant in Black, LiftWear Cami in Cinnamon SuperPower Brief in  Runway and LiftWear Cami in Runway. 
 [ products received complementary for review purposes.  blog post contains affiliate links ]