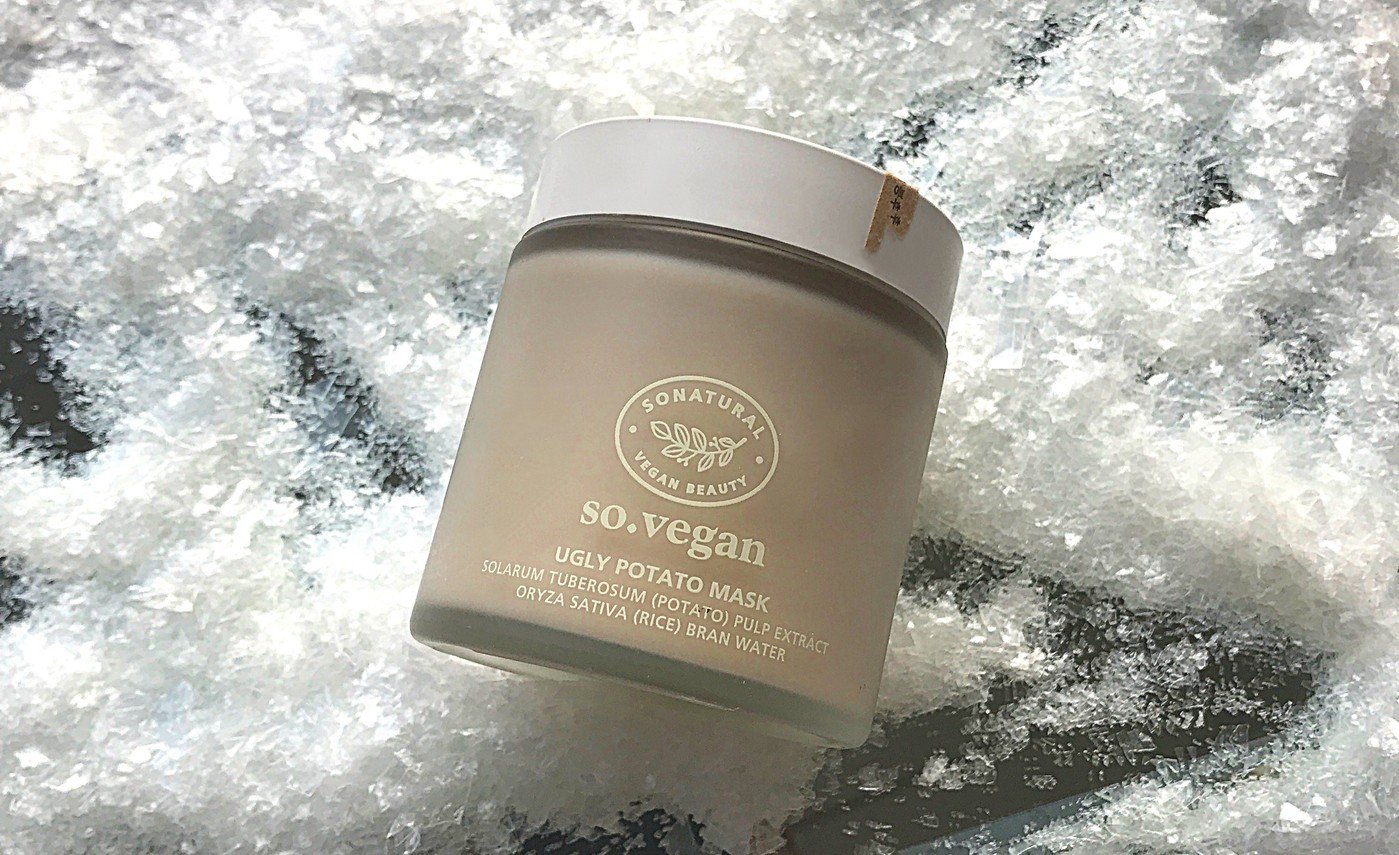 Did you read my reviews on So Natural So Vegan wash off mask packs?  If not, check them out by clicking here.  I am always on the lookout for new vegan friendly skincare products, and even though So Natural isn't a new brand, I do believe the So Vegan line is fairly new.   Jolse,  a premier online KBeauty store, sent me this product complementary for review purposes.
Skin Type/Concerns: oily, blemish prone, aging concerns, pores, fine lines/wrinkles, hyper-pigmentation
I received these products complementary to review and was not paid.  All reviews are my own honest opinion and  I never have been asked to write copy for a brand.  This blog post might contain promo codes, affiliate and referral links, which using my links will help generate a small commission that helps support my blog at no extra cost to you.
Ingredients
Well, potatoes of course ~ 10%, in fact.  Why is this called UGLY Potato Mask, you ask?  Or at least I asked myself, as this mask is ANYTHING but ugly!  So Natural uses upcycled "ugly" potatoes ~ potatoes whose shape isn't perfect as they were allowed to grow naturally. Mystery solved!  Potatoes are a great skincare ingredient as it is an anti-inflammatory, helping reduce redness and calming the skin.  There are claims that potatoes can help with a variety of skincare issues, but there are no clinical studies done that have proven these claims ~ as with always, YMMV on the effects of potatoes in your skincare.  So, the claims are that potatoes can help with lightening post inflammatory hyperpigmentation (PIH ~ scarring and spotting from blemishes), age spots and hyperpigmentation, due to the existence of niacinamide and enzyme catecholase, helping to brighten and lighten your skin, but take that with a grain of salt.
Niacinamide is a powerful antioxidant that acts as an anti-inflammatory,   improves your skin elasticity, enhance the skin barrier function and also it helps to even out skin tone and reduce post-inflammatory hyper-pigmentation. Another skin-brightening ingredient is found in rice bran water, rich in vitamins, saccharides and nucleic acids, helping keep your skin clear and moisturize.  It evens out your tone, giving a brightening effect. 
This has some moisturizing and hydrating ingredients with humectants glycerin and hyaluronic acid, helping to attract and bind moisturize to your skin. Prebiotic fructooligosaccharides helps keep your microbiome healthy and balanced.  It can help in strengthening  your skin barrier, reduce inflammation due to irritation or blemishes and is also a natural hydrating ingredient. Prebiotic fructose and hydrating glucose are humectants that draw  and bind  moisture to your skin
 Chlorella vulgaris is a green algae that has anti-aging benefits, as it contains carotenoids.  It helps prevent the disintegration of collagen and elasticity in your skin, and it actually aids in the production of collagen.  It helps tone and firm your skin.  It also contains amino acids, which are protein building blocks and it is believed that chlorella can help refine and smooth your skins texture. Green tea contains polyphenol antioxidants: catechins, tannins, flavonoids ~ which are anti-bacterial agents as well as acting as an astringent and retains skin moisture and hydration
Cypress has antiseptic, anti fungal and antiviral properties to heal blemishes and minor skin issues, like abrasions and rashes, and purifying your skin. Rosemary leaf oil helps decongest clogged pores, acts as an astringent, balances and tones the skin while providing anti-microbial benefits to prevent blemishes.  Turmeric is a popular ingredient for blemish control, as it has both anti-inflammatory and anti-oxidant properties.  Turmeric soothes blemishes and heals acne, while reducing redness and swelling.
Indian mulberry leaf, aka noni, helps skin tone, elasticity as it contains vitamins A and C, flavoniods and amino acids.  It also has phytonutrients to help repair collagen.  Holy basil leaf is an anti-inflammatory, soothing and calming skin, while healing blemishes and lightening hyperpigmentation.   Caffeine helps reduce puffiness, by stimulating and improving blood circulation
Ingredients: purified water, solanum tuberosum (potato) pulp extract(10%), caprylic/capric triglyceride, 1,2-hexanediol, glycerin, dipropylene glycol, ethanol, cetearyl alcohol, indian mulberry flower extract, bergamot oil, rosemary leaf oil, indian mulberry leaf extract, chlorella vulgaris extract, cacao seed extract, turmeric root extract, holy basil leaf extract, sodium hyaluronate, corallina officinalis extract, cypress leaf extract, pine seed extract, gujju pine cone extract, rosemary leaf extract, thyme leaf extract, rice bran water, green tea extract, purslane extract, glyceryl stearate SE, polyglyceryl-3 methyl glucose distearate, sodium polyacrylate starch, sorbitan stearate, palmitic acid, phenyl trimethicone, stearic acid, sodium polyacrylate, caprylyl glycol, cetearyl glucoside, menthyl lactate, hydrogenated lecithin, niacinamide, ethylhexyl glycerin, sorbity laurate, pentylene glycol, butylene glycol, glucose, dextrin, trisodium ethylenediamine disuccinate, acetylglucosamine, fructooligosaccharide, fructose, myristic acid, arachidic acid, hydroxyacetophenone, lauric acid, oleic acid, sodium hyaluronate crosspolymer, tocopherol, caffeine, limonene, linalool  cosDNA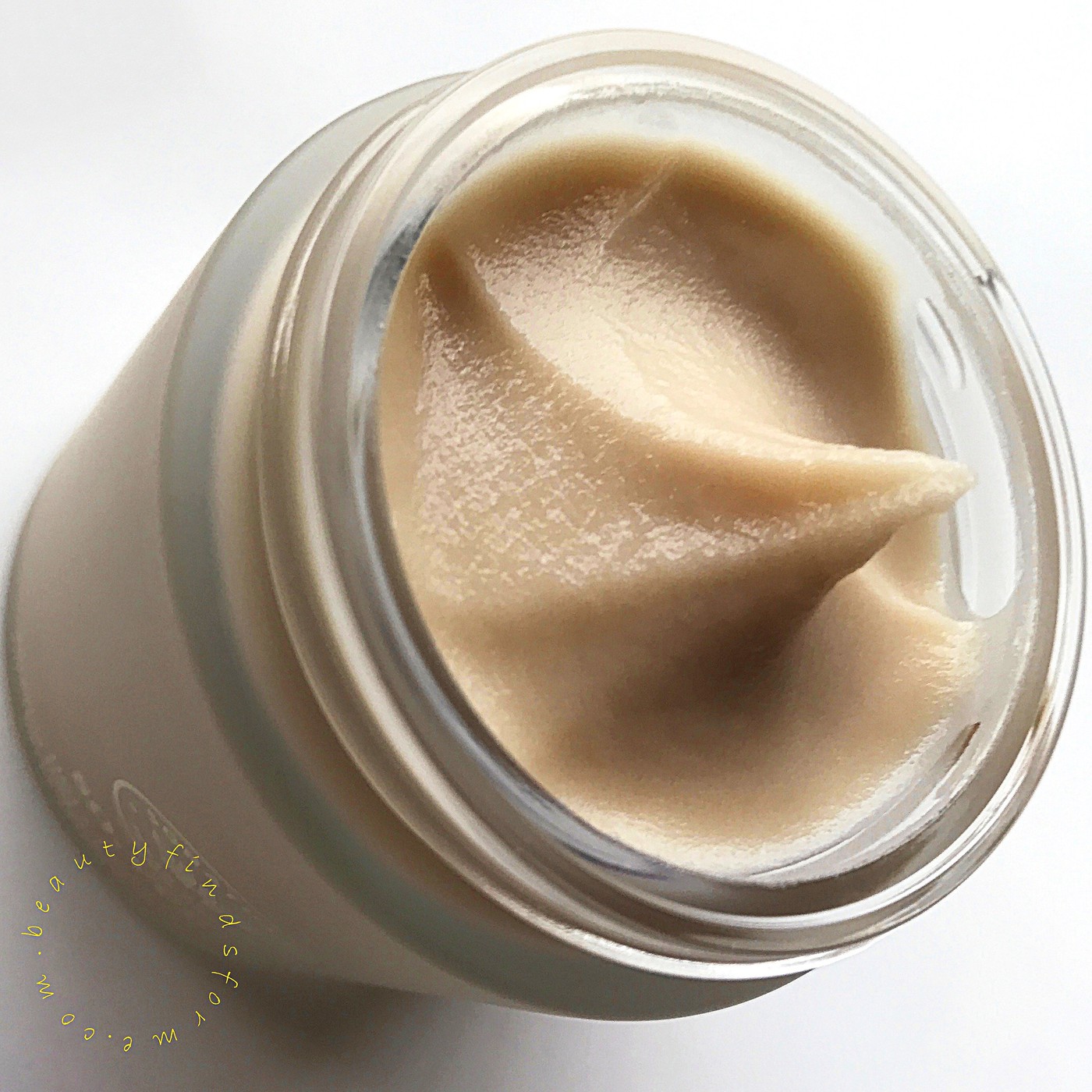 Based on the ingredients list, this is a moisturizing sleep pack with skin brightening benefits and pore care.  The description of the texture is lost in translation "creamy texture like a crunchy potato".  Well, it is half correct! 
This smooth, silky and dense mask pack is very creamy and has a cream color to them.  The texture is similar to Nutella Spread, as it is so silky smooth without lumps.   I won't lie, I was a bit disappointed when it didn't smell like potatoes ~ not that I want potato smelling skincare products, but that would be a fun thing to report on!  Instead, this has a light citrusy lemon scent to it ~ reminds me of lemon tart ~ very nice ~ Nutella, lemon tart??  I have food on my mind!!  

This goes on SO smooth, and I do feel a protective layer on my skin, but it isn't greasy or oily ~ just thick.  It has a nice cooling sensation on the skin, despite the thickness.  This mask would be great to use if your skin has a sunburn or is chapped by the outdoor elements ~ it is very protective and soothing.   In the morning, the mask pretty much has absorbed into my skin, leaving it soft and supple.  I noticed that it doesn't clog pores and cause blemishes, but instead helps heal them so blemishes are not as red and irritated.  2
Where to Purchase
Jolse carries So Natural! So Vegan skincare products, as well as the regular So Natural! line. The So Natural, So Vegan Ugly Potato Mask retails for under $23.00 USD (click here to purchase)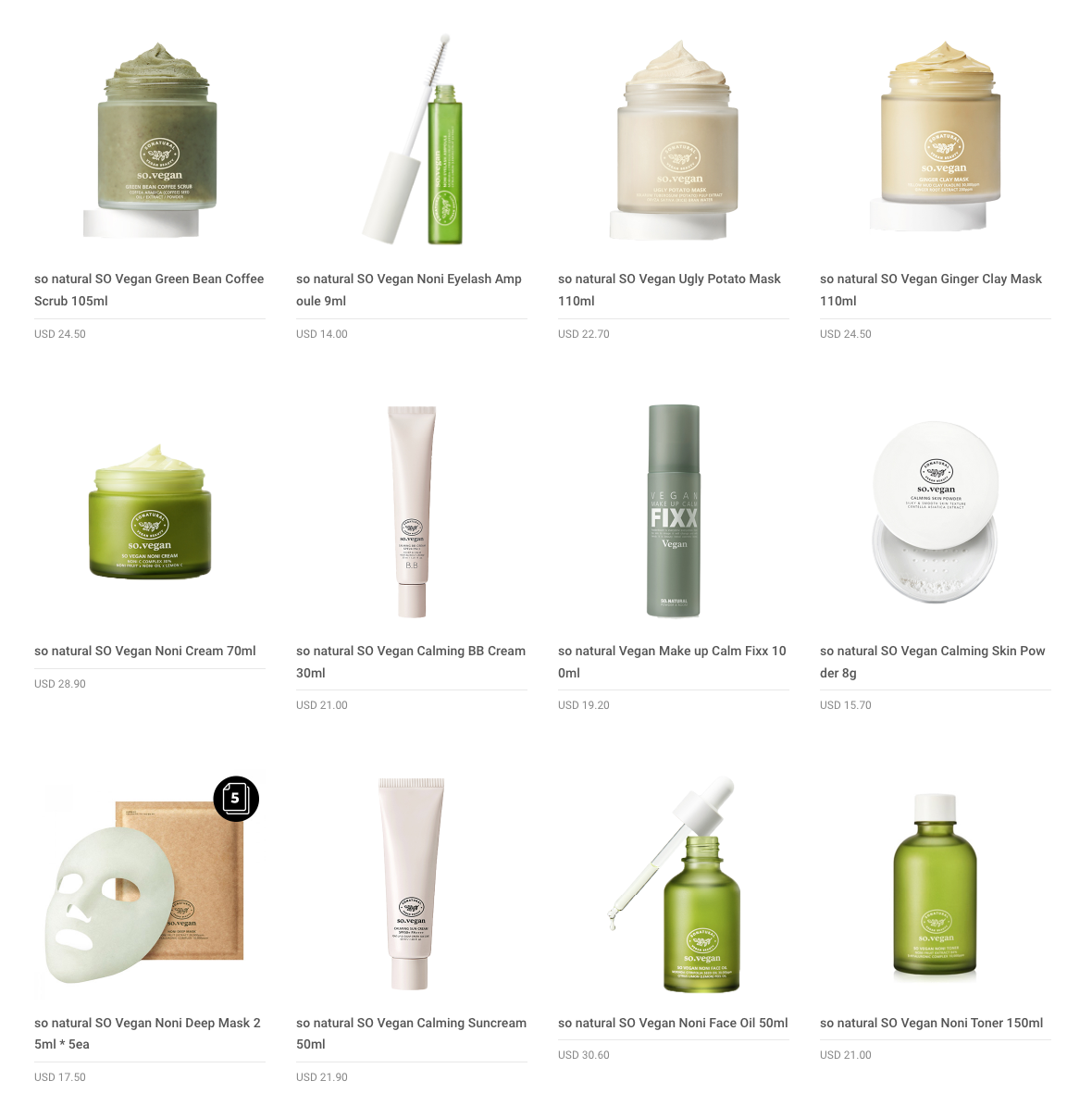 All prices are in USD ~   Jolse offers free global shipping plus gives a lot of samples out ~ the more you purchase, the more samples you get! Please note that the prices do fluctuate a little bit due to the WON to USD exchange rates. Make sure to check your coupon zone (click here) for money saving discounts. You need to log into Jolse first, then download the coupons before you use them. Coupon savings usually are $5.00 off a $50.00+ purchase, 5% off $100.00+ purchase and 10$ off a $200.00+ purchase

[ products received for review purposes.  blog post contains affiliate links ]