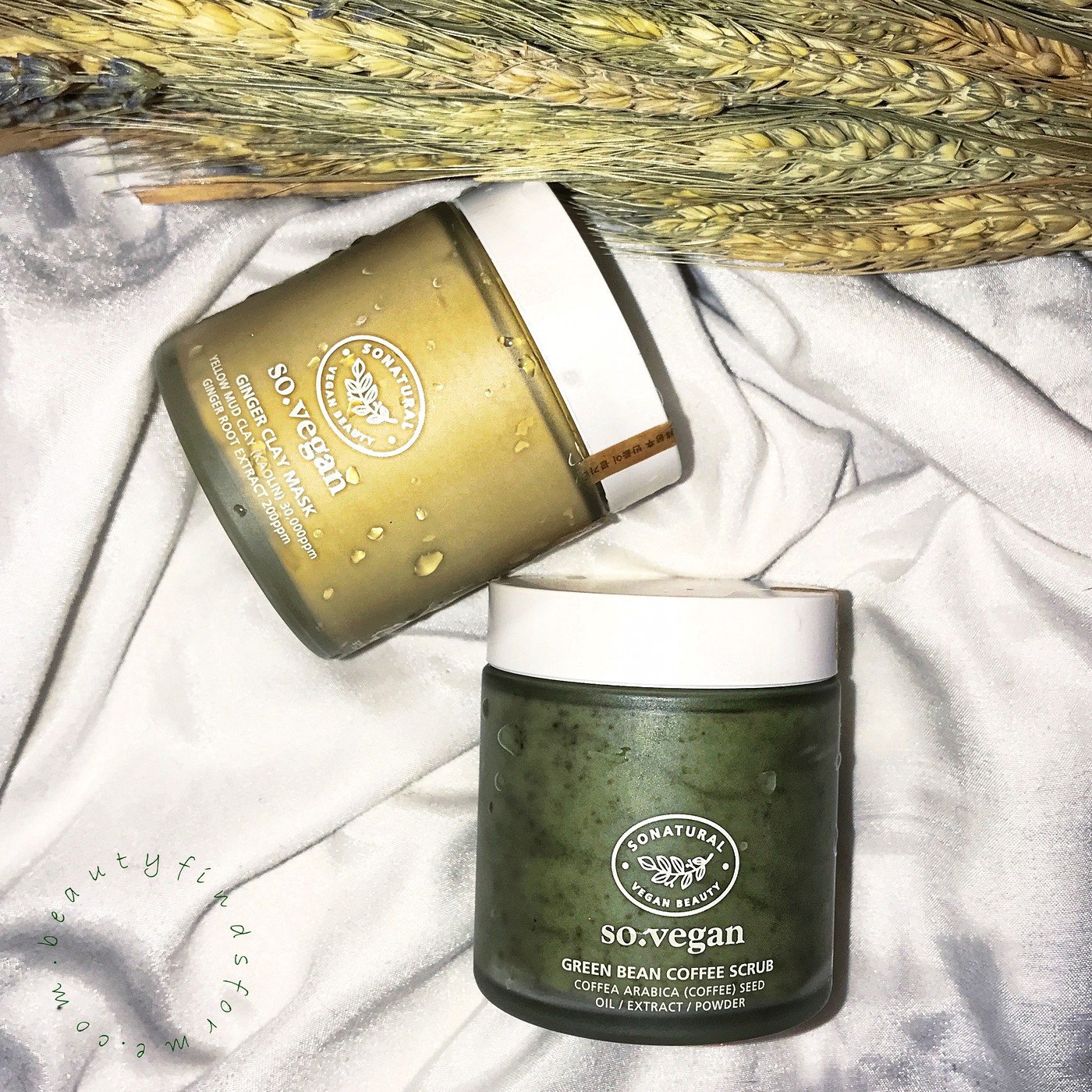 I really love finding new K-beauty brands to try and if they are VEGAN, well, that is just a happy bonus!!  I saw this line at Jolse, a premier online KBeauty shop, called So Natural! and they have a vegan line called SO Vegan.  So Natural! isn't really THAT new of a brand as they have been around since 2008, but they are gaining more of an online presence in Global K-Beauty shops recently.  Jolse sent me three of the so Vegan products from so natural for review purposes ~ this blog post is on the two wash off masks ~ a clay mask and a scrub mask.
Skin Type/Concerns: oily, blemish prone, aging concerns, pores, fine lines/wrinkles, hyper-pigmentation
I received these products complementary to review and was not paid.  All reviews are my own honest opinion and  I never have been asked to write copy for a brand.  This blog post might contain promo codes, affiliate and referral links, which using my links will help generate a small commission that helps support my blog at no extra cost to you.
Brand Introduction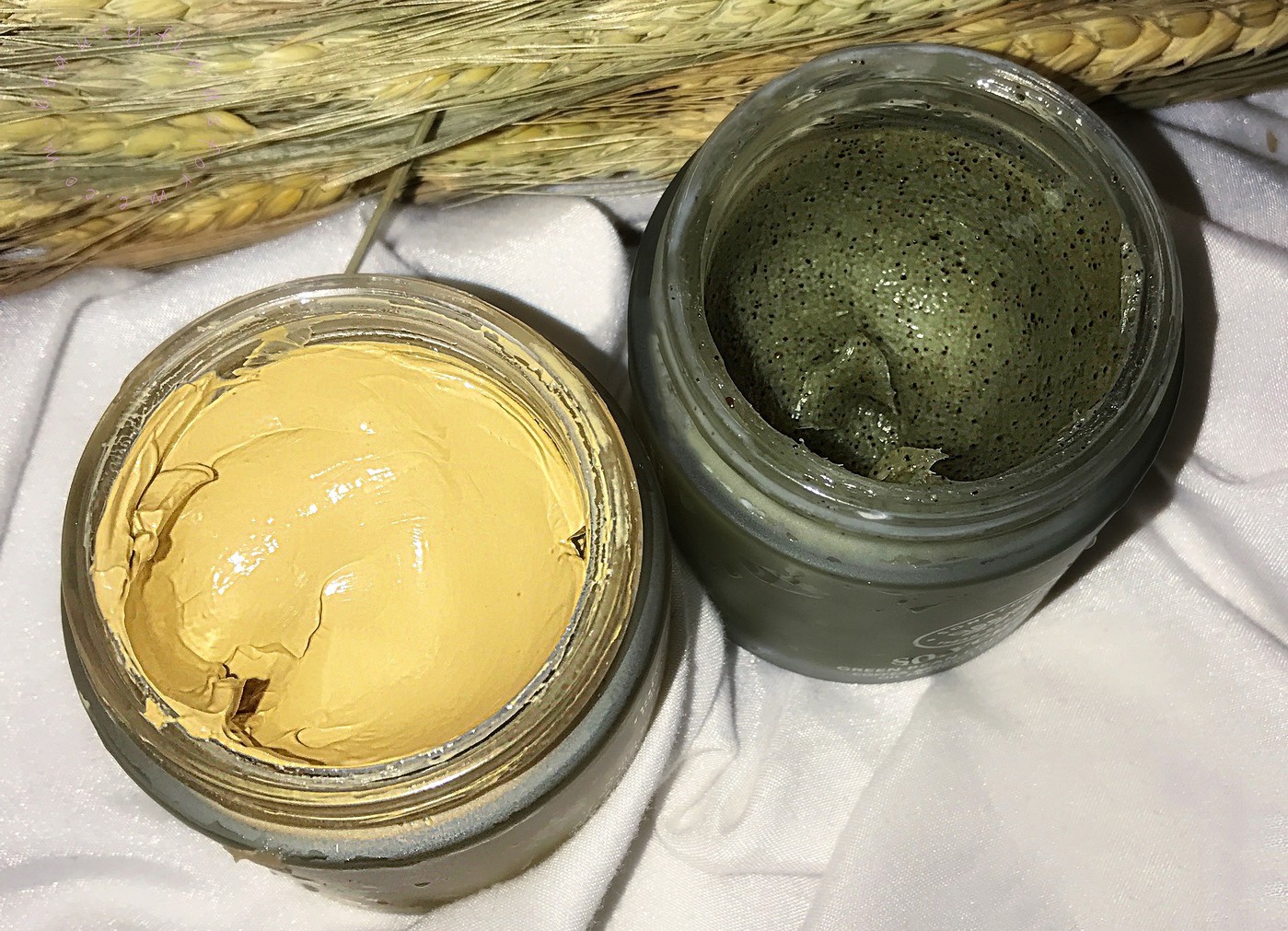 So Natural! was established in 2008 in South Korea and  and has launched globally, bringing their naturally derived ingredients with  minimal additives  formulas, including their best selling items ~ with over 2 million sold alone in South Korea!  So Natural! skincare products uses ECOCERT-certified raw ingredients and minimizes the use of artificial colors and fragrances.  They collaborated with La Prairie's Sven Gohla Lab, using the latest research and technologies, while manufacturing all of their  products in South Korea.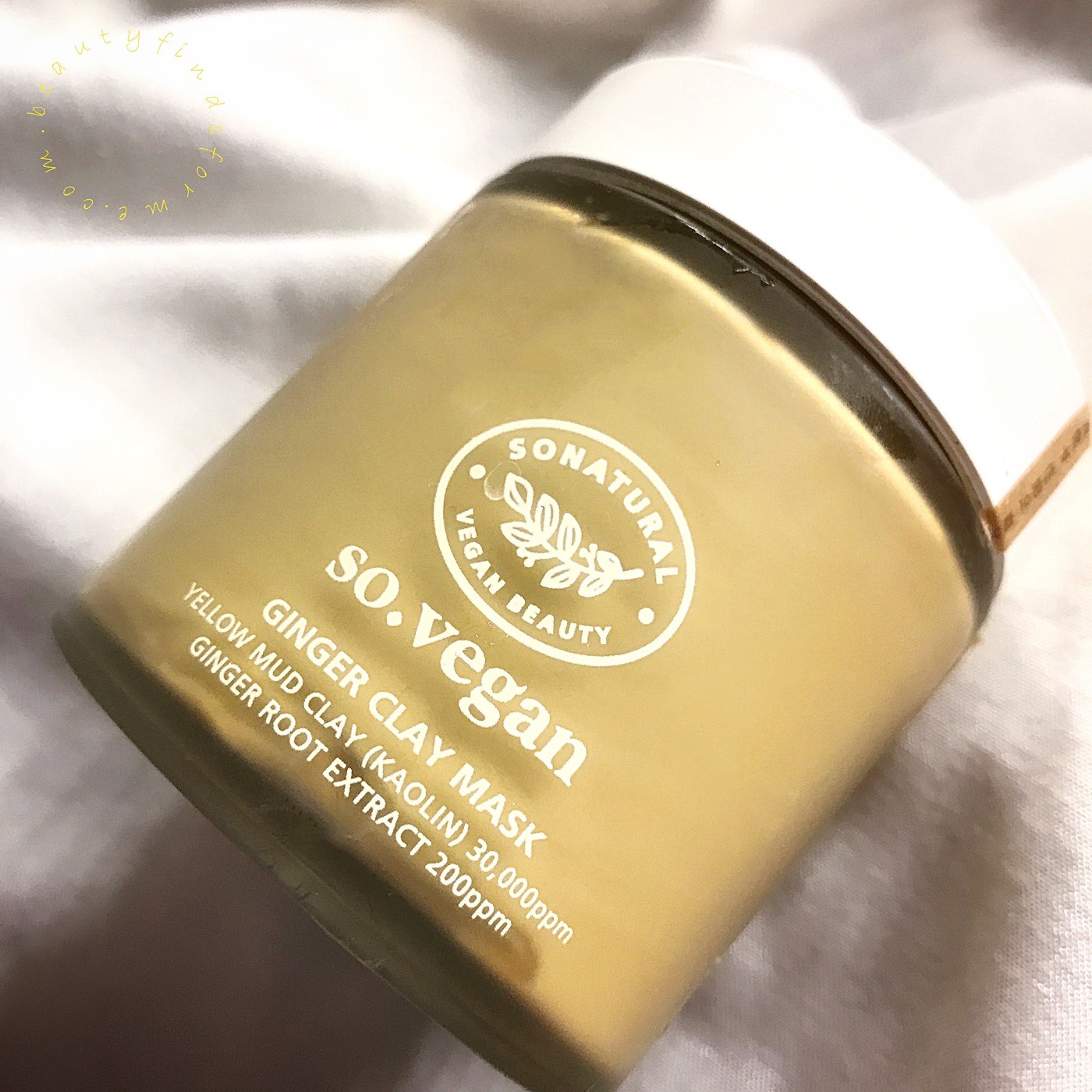 So Natural! SO Vegan Ginger Clay Mask contains 300,000ppm of kaolin, a white clay that helps remove dirt and debris on your skin, while absorbing excess oil and reducing shine. Kaolin is very good for oily and blemish-prone skin.  This also has volcanic ash-derived bentonite clay, to help  for smooth, exfoliate, clean out pores while  improving overall skin tone.
This also has some traditional Korean hanbang ingredients with 200 ppm of ginger extract, which contains 40 antioxidant compounds that help with anti-aging, removes toxins and stimulates your blood circulation. Ginger is also an anti-septic and antimicrobial, which helps keep blemishes away and its anti-inflammatory properties help reduce redness and swelling of the skin. It also helps reduce the appearance of hyopigmented scarring ~ these scars are lighter than your skin tone and occur when your skin loses its pigmentation ~ it is the exact opposite of hyper-pigmentation. It also is a skin brightener and can help even out your skin tone by inhibiting the production of melanin.  
Centella asiatica is a common herbal ingredient that is used medicinally to help speed up wound healing, such as blemishes and skin rashes. It also helps minimize the appearance of pores. Tea tree is known for its topical antiseptic and anti-fungal properties and help target and treat blemish-prone skin. It also reduces oil and sebum production on your skin, while not disrupting the moisture level. 
Sodium hyaluronate is an intensive moisturizing ingredient which bonds water to keep skin hydrated and several EO ~ vitamin C-rich bergamot not only provides some brightening effects;  rosemary has antimicrobial and anti-septic properties, preventing bacteria from infecting pores as well as antioxidant benefits, supporting collagen growth and combating free radical damage and geranium, known to help balance oily skin, improves skin elasticity, calms and soothes irritated skin, heals blemishes and other skin issues, as it has astringent and antiseptic benefits. 
Ingredients: purified water, kaolin (300,000 ppm), bentonite, 1,2-hexanediol, sodium hyaluronate, bergamot oil, rosemary leaf oil, ginger extract (200 ppm), tea tree leaf water, pelargonium graveolens flower oil, centella asiatica extract, butylene glycol, caprylyl glycol, ethylhexylglycerin, tocopherol, xanthan gum, limonene, yellow iron oxide (CI 77492)  cosDNA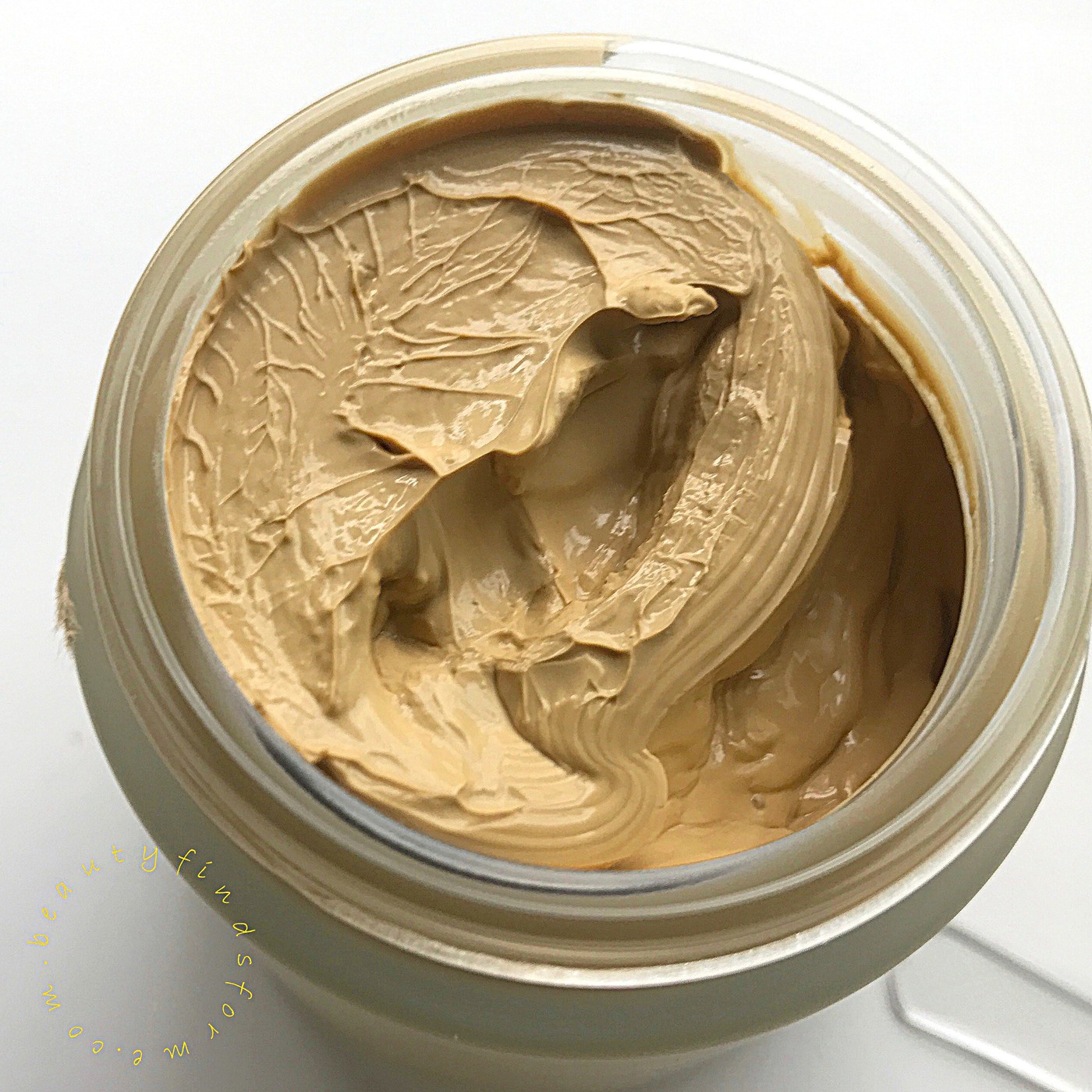 This comes in a lovely frosted, 110 mL glass jar and the shade is a rich mustard yellow, which comes from yellow iron oxide, a natural substance.  The scent is an herbal-geranium, a bit spicy, a bit floral ~ no ginger scent here.  SO Vegan Ginger Clay Mask has a very smooth, very creamy texture, like cream cheese.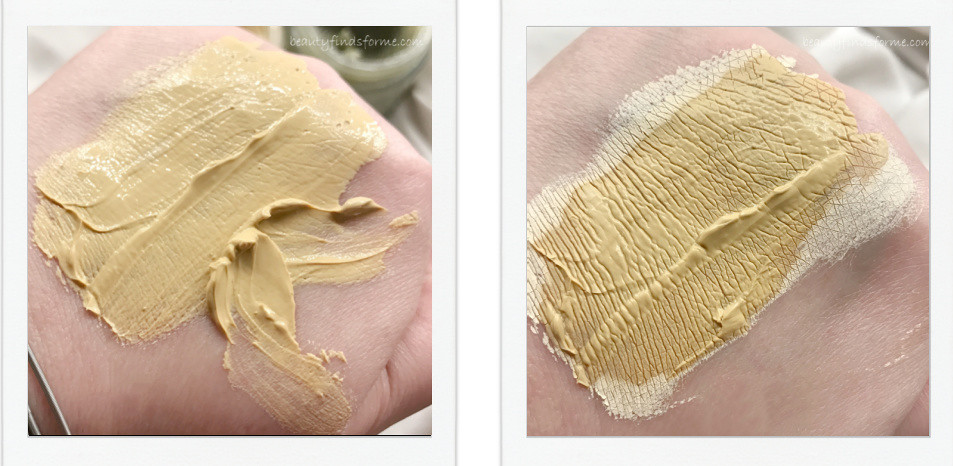 It applies well and dries down nicely.  It doesn't tighten or pull on my skin nor does it give an "itchy" feeling that some clay masks have when they dry down.   To rinse off, I suggest using this mask before you take a shower, as once it is wet again, it becomes very difficult to remove, as it wants to stay on my face.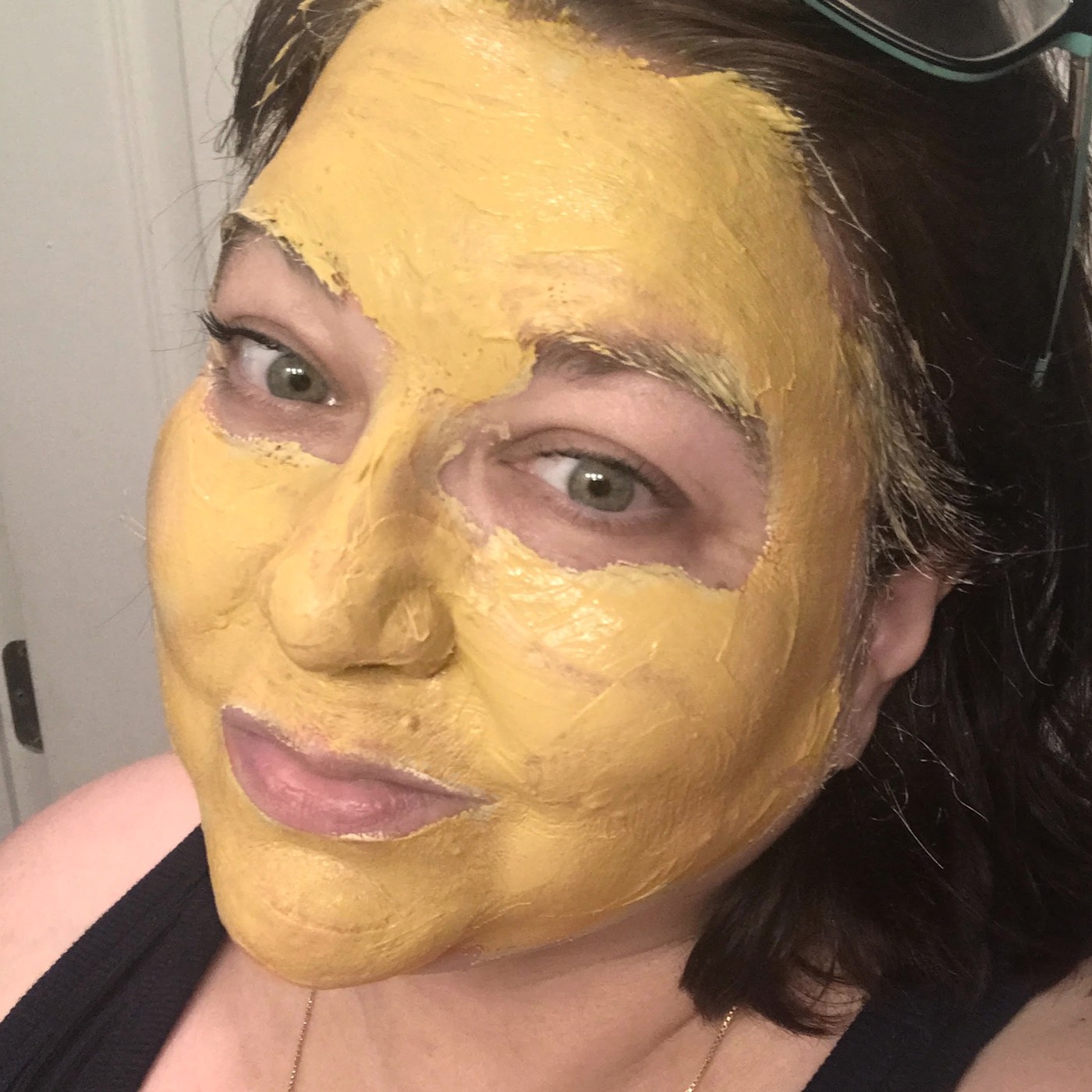 By removing it in the shower, I can ensure that I get all of the mask off cleanly.  Aftermath?  My pores look clean and appear smaller, my face looks brighter and more refreshed, less oily.  Two thumbs up for this clay mask!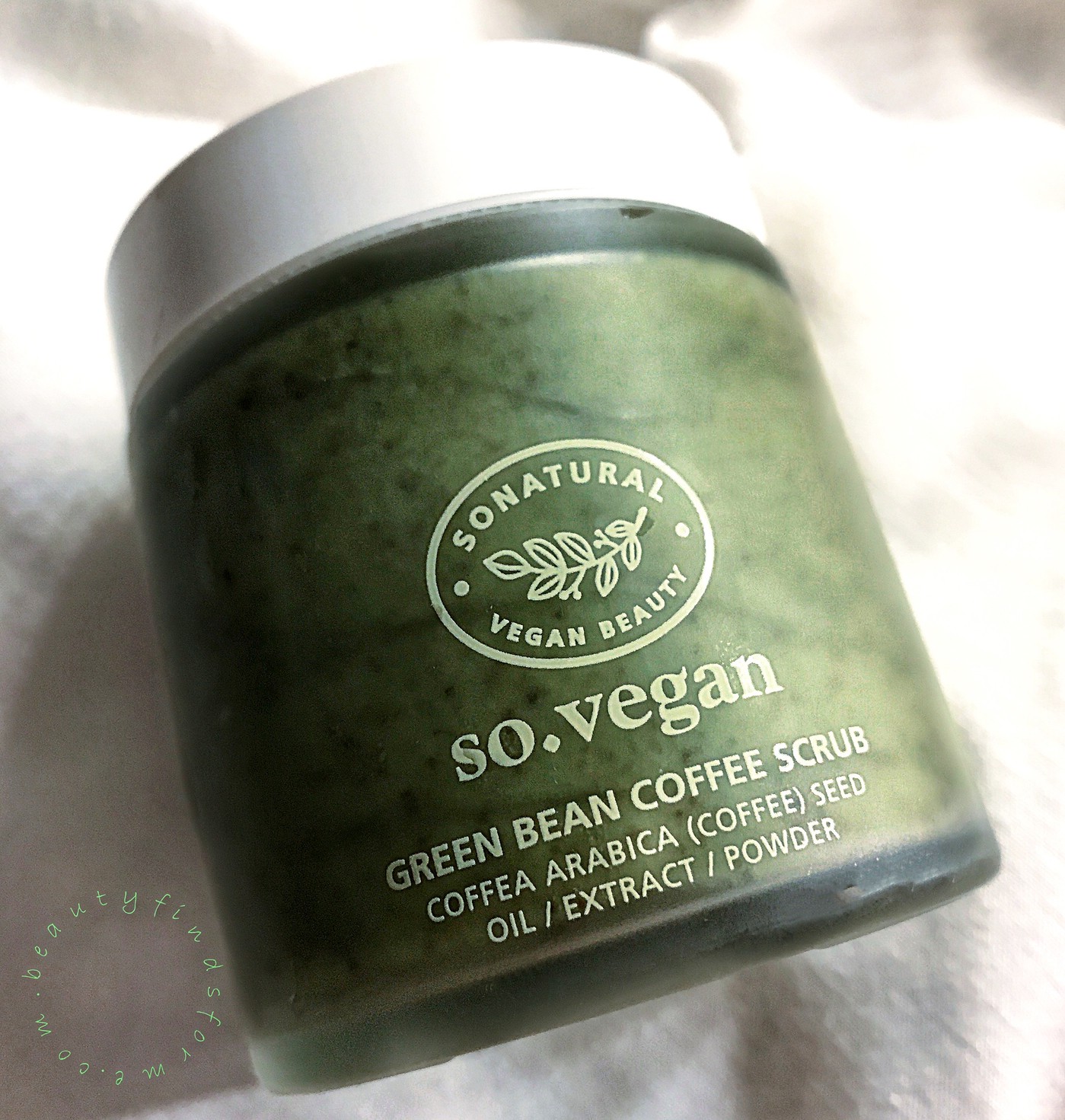 So Natural! SO Vegan Green Bean Coffee Scrub  is made from unroasted coffee beans, roasted coffee powder and green coffee beans: 10,000ppm coffee bean powder, 5000 ppm coffee bean oil and .1ppm  coffee bean extract.  Coffee beans contain amino acids which help smooth and refine skin texture, provide pore care and are rich in antioxidants and vitamin E, helping to repair damaged skin.  Coffee bean oil can also brighten your skin and aid in the production of collagen and  elastin. The caffeine in coffee helps boost blood circulation, bringing a natural glow to your skin.  
The first ingredient is glycerin, a hydrating humectant, followed by sucrose ~ sugar crystals are the exfoliator here along with the coffee bean powder.  Shea butter and cacao seed butter provide intense moisturization, as they are rich in fatty acids, such as oleic, linolenic, palmitic and stearic acids and will help combat free radicals and limiting the damaging effects on your skin, while softening and smoothing your skin.   
This also has healing, pore appearance minimizing centella and green tea.  Green tea is full of powerful antioxidants and due to its high concentration of polyphenols ~ catechins, tannins, flavonoids ~ helping to soothe, protect and repair your skin from both internal and external aging stressors. Green tea helps reduce the appearance of fine lines and  wrinkles while restoring your skin's moisture barrier over time.  Just for fun, menthol makes an appearance in here, providing a cooling effect that isn't icy or too cold
Ingredients: glycerin, sucrose, shea butter, cacao seed butter, glyceryl stearate, PEG-100 stearate, purified water, dipropylene glycol, polysorbate 20, polyglyceryl-10 behenate/eicosadioate, 1 ,2-hexanediol, isopropyl palmitate,  coffea arabica bean powder (10,000ppm), fragrance, coffea arabica bean oil (5,000ppm), sodium citrate, butylene glycol, melia azadirachta leaf extract, menthol, citric acid, ethylhexylglycerin, portulaca oleracea extract, melia azadirachta flower extract, xanthan gum, caramel, coffea arabica bean extract (0.1ppm), green tea extract, centella asiatica extract cosDNA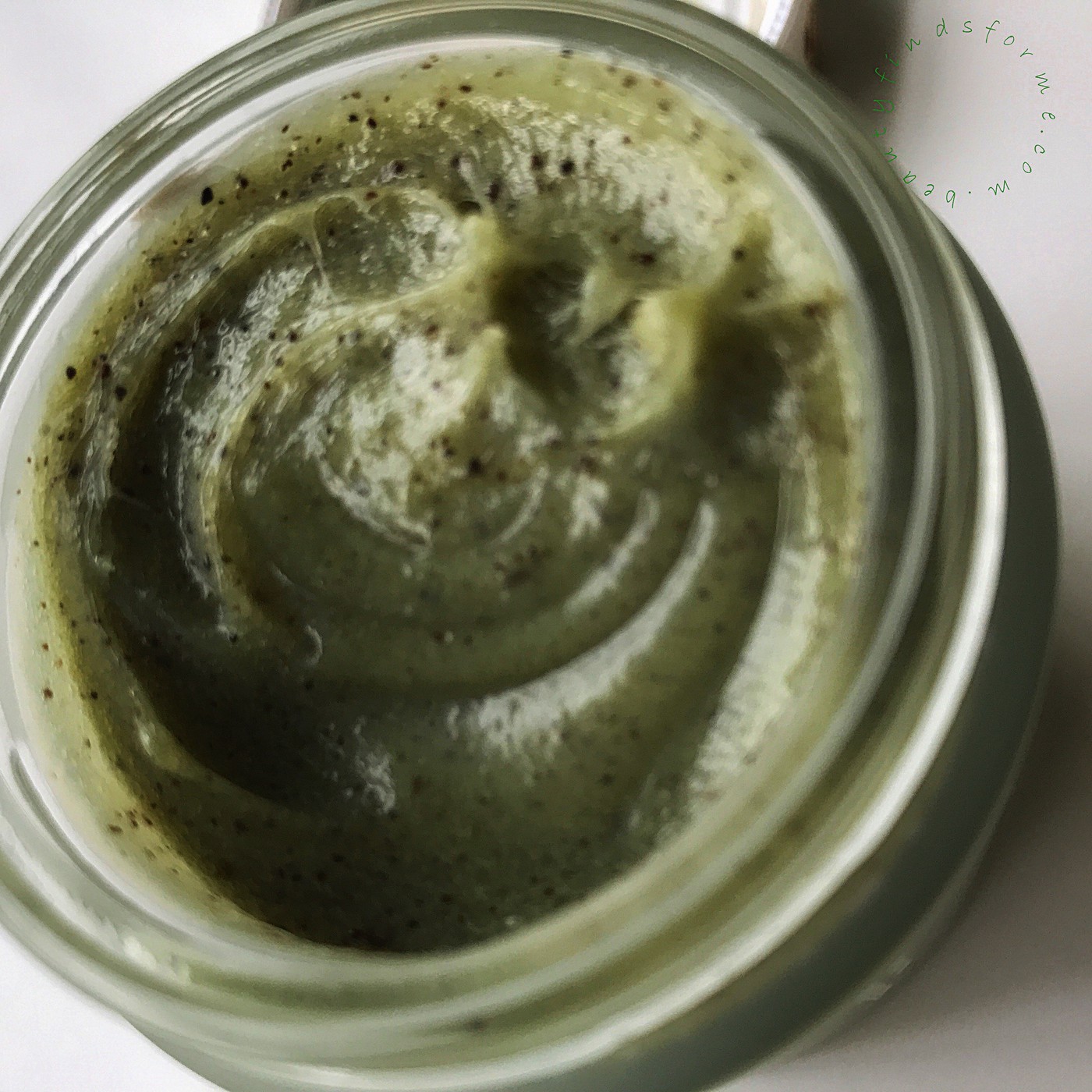 This scrub is in the same frosted glass jar as the Ginger Clay Mask, with a cool looking green shade, which is natural based on the ingredients.  The scent is a rich warm coffee scent with a hint of breezy coolness from the menthol.  The texture reminds me of vaseline, which is due to the shea and cacao seed butter mix, very occlusive.   I can see the brown bits of coffee bean powder in here as well.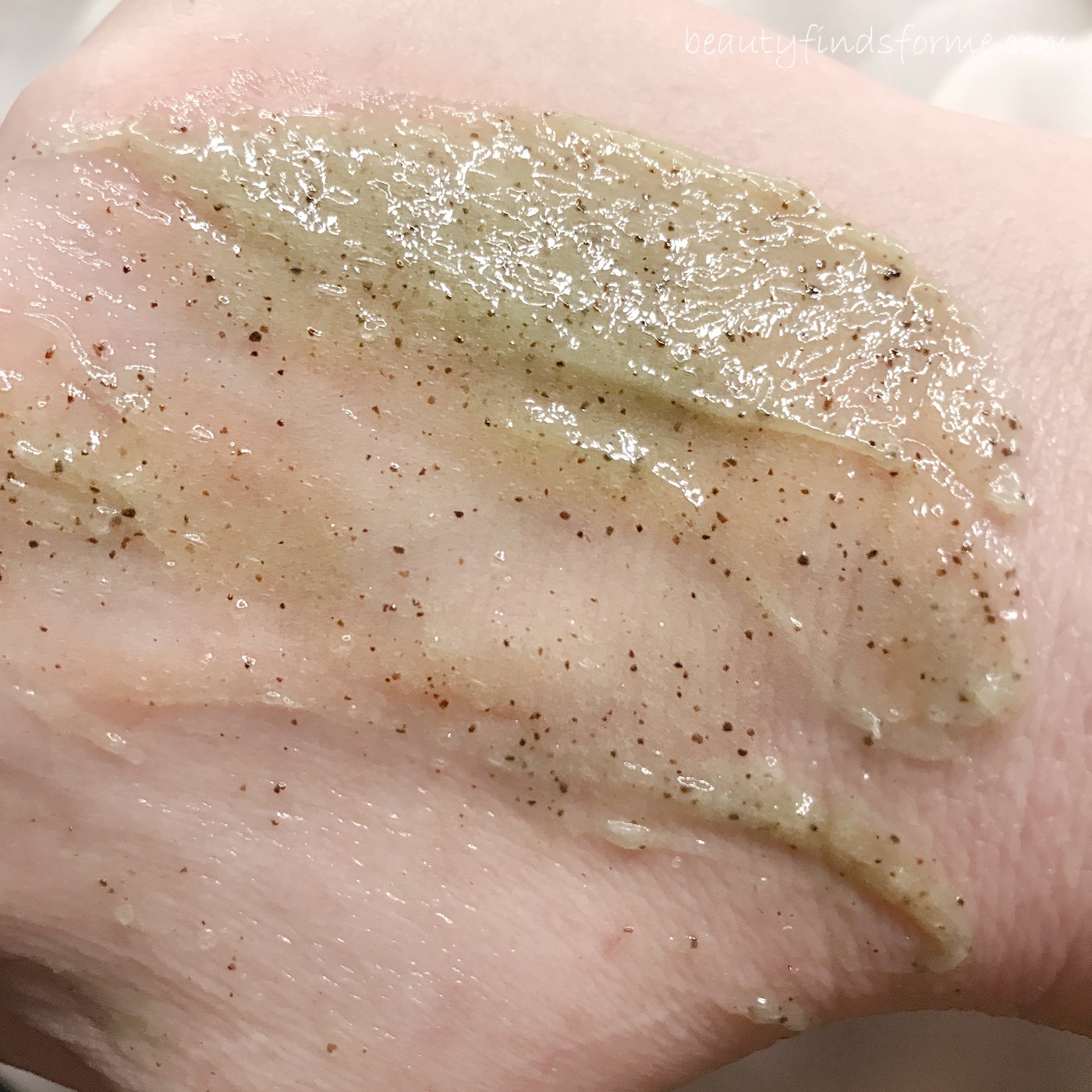 This is a sticky mask, so make sure that you apply it before you take a shower, as it is a bit difficult to get off. It feels really nice on, despite the stickiness as it has both a warming and cooling sensation to it. When I massage it into my skin, the vaseline-texture of the product heats up a bit but then when I stop, the menthol kicks in. I don't know if that was an intended side effect or if that is just my own skin reacting to it. This product never dries down, so don't expect it too ~ just wait a few minutes, then rinse off using massaging motions so it exfoliates the skin.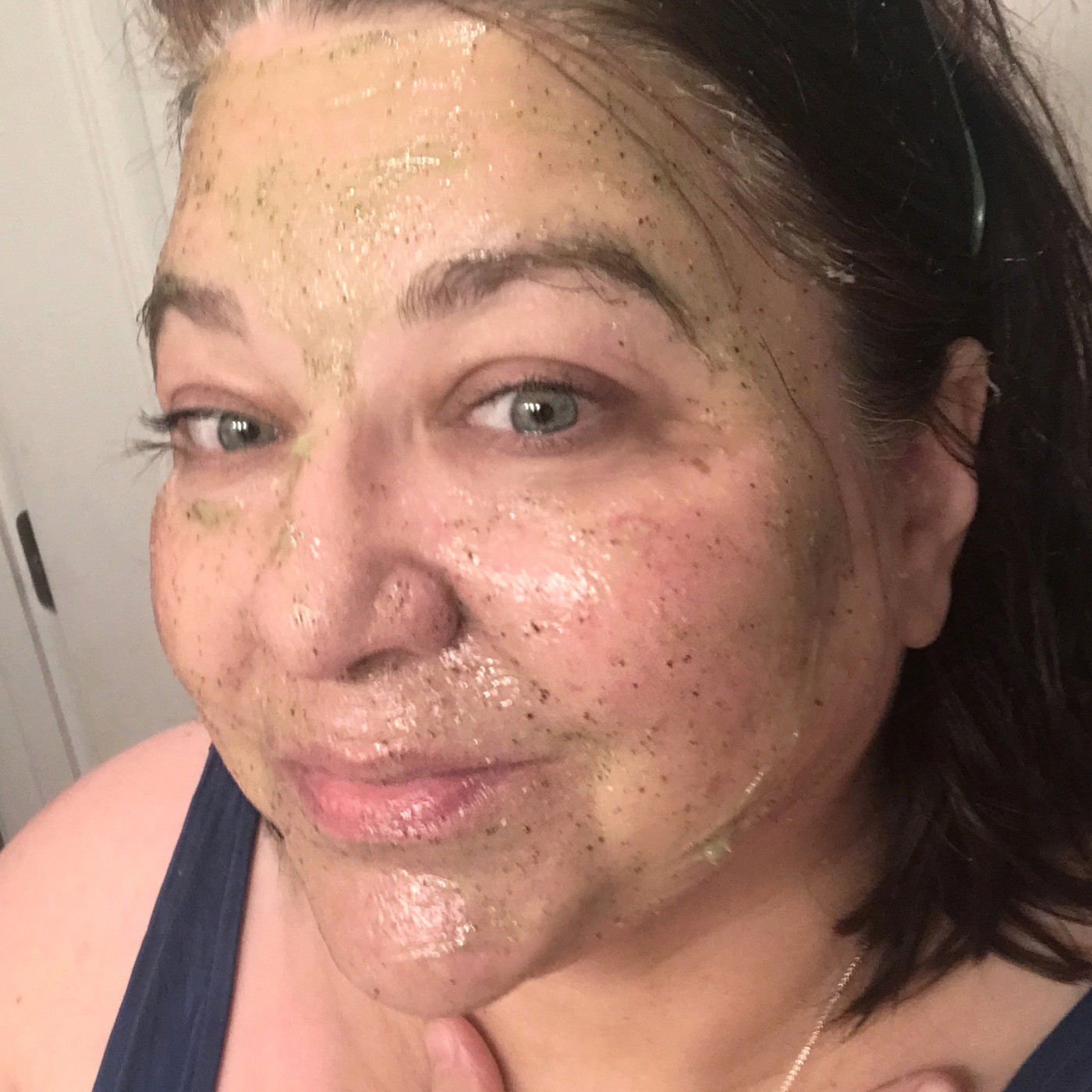 So Natural  describes this as a peeling scrub, but it is just a rich, moisturizing facial scrub that helps to remove dead skin, unclog pores and leave my face feeling very nourished and not dry.  This is a great mask for all skin types and perfect for the cooler months, as it has that dense sticky texture that really helps soothe the skin.   This is another winner from this brand and out of the two packs, I like this one the best, due to its unique texture and wonderful coffee scent. The third item I will be reviewing is the Ugly Potato Mask, which is a sleep pack! 
Where to Purchase
Jolse carries So Natural! So Vegan skincare products, as well as the regular So Natural! line.  So Natural! So Vegan Ginger Clay Mask retails foe $24.50 USD for 110 mL jar and So Natural! So Vegan Green Bean Coffee Scrub is $24.50 USD for 105 mL jar. I am interested in the Noni line!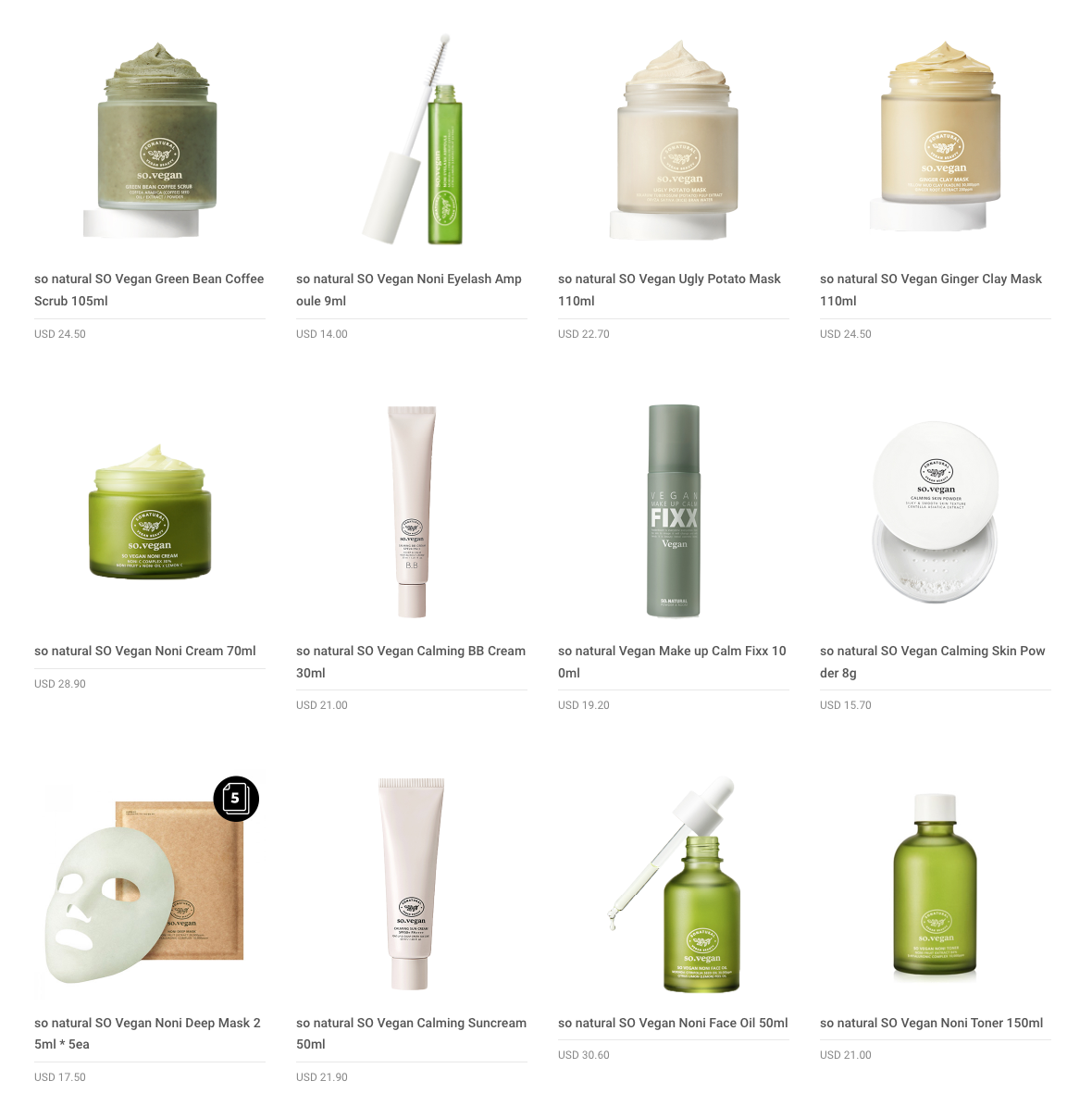 All prices are in USD ~   Jolse offers free global shipping plus gives a lot of samples out ~ the more you purchase, the more samples you get! Please note that the prices do fluctuate a little bit due to the WON to USD exchange rates. Make sure to check your coupon zone (click here) for money saving discounts. You need to log into Jolse first, then download the coupons before you use them. Coupon savings usually are $5.00 off a $50.00+ purchase, 5% off $100.00+ purchase and 10$ off a $200.00+ purchase

[ products received for review purposes.  blog post contains affiliate links ]