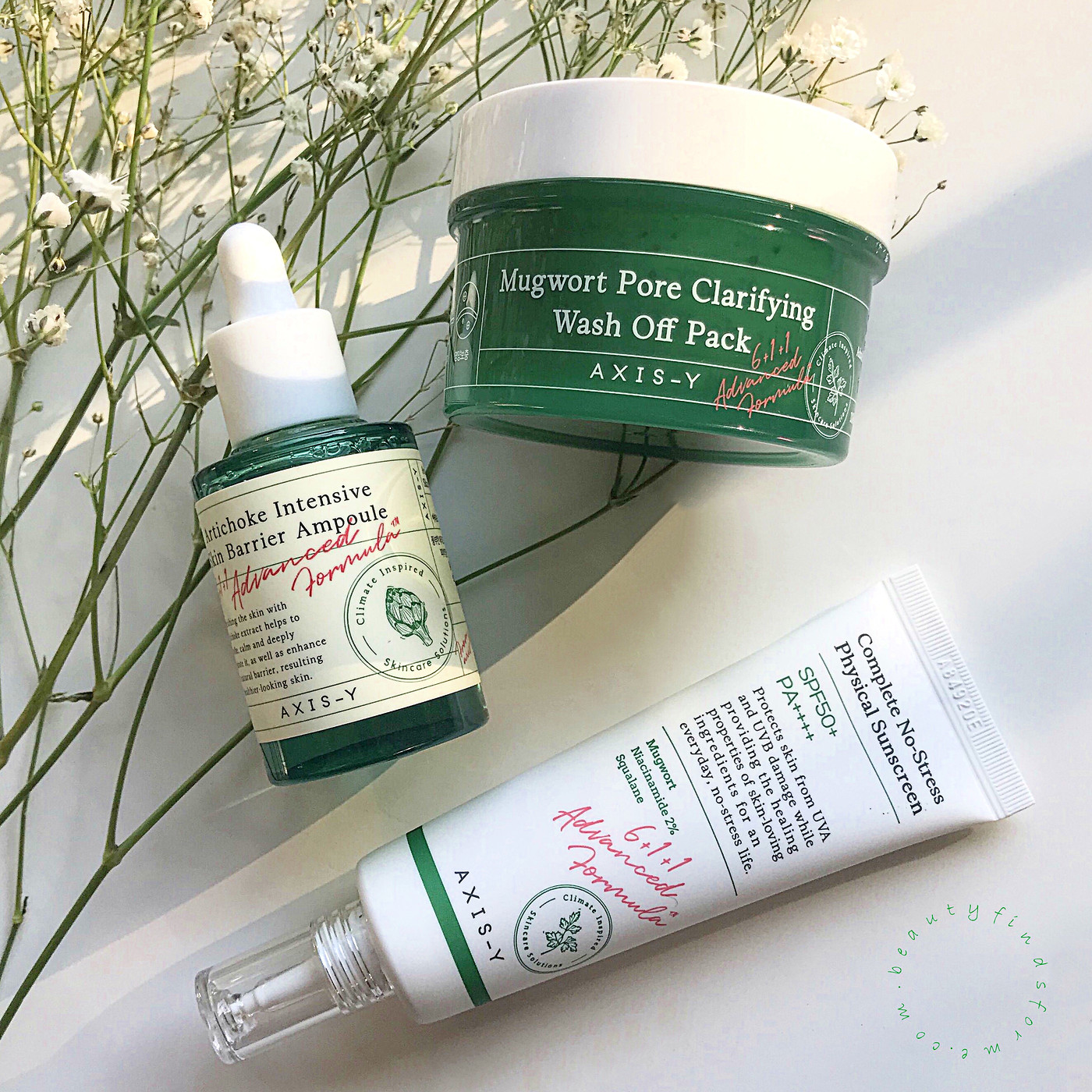 You may know of this brand, but a lot of people may not ~ this is my first official review on the brand AXIS-Y and not only will I give my opinion on the three products I personally chose, but I will also talk about the brand and what they are trying to achieve.  All products were provided by AXIS-Y for review purposes.  You can follow AXIS-Y on Instagram at @axisy_official
Skin Type/Concerns: Oily, blemish prone, pores, aging, hyper-pigmentation, fine lines/wrinkles
All reviews are my own honest opinion and  I never have been asked to write copy for a brand.  This blog post might contain promo codes, affiliate and referral links, which using my links will help generate a small commission that helps support my blog at no extra cost to you. 
Brand Introduction
I first heard of AXIS-Y about a year ago and I remember how they were using ingredients that were rarely seen in skincare, such as quinoa and artichoke.  I also remembered that their brand was formulated more for oily and blemish prone skincare, so both of these points ~ unusual ingredients and my skin type concerns ~ left an impression on me.
 AXIS-Y is a cruelty-free, vegan brand that does not contain any artificial colors or fragrances.  Any scent from the product is from the ingredients and not added fragrances.  AXIS-Y also curates their products based on the climate, as someone in a hot, humid area would have different needs from someone in a cold, arid area. 
 AXIS-Y uses ingredients such as nourishing superfood quinoa, which helps create supple and smooth skin as it aids in the production of collagen and elastin. Antioxidant artichoke helps prevent moisture loss and will build up your cell wall density so your skin is firmer, making your pores look smaller in appearance.   Another fascinating ingredient are adzuki beans which help physically exfoliate your skin, removing surface debris and it also contains saponin, which helps to clean and unclog pores, absorb excess oil and remove dead skin as it naturally has a foaming action.
Why I Chose These Products
I wanted to experience a "flavor" of what AXIS-Y offers and not necessarily a skincare routine.  The Mugwort Pore Clarifying Wash Off Pack is a purifying, healing and deep cleansing product, Artichoke Intensive Skin Barrier Ampoule provides soothing and hydrating care and finally, the Complete No-Stress Physical Sunscreen is a protective skincare product.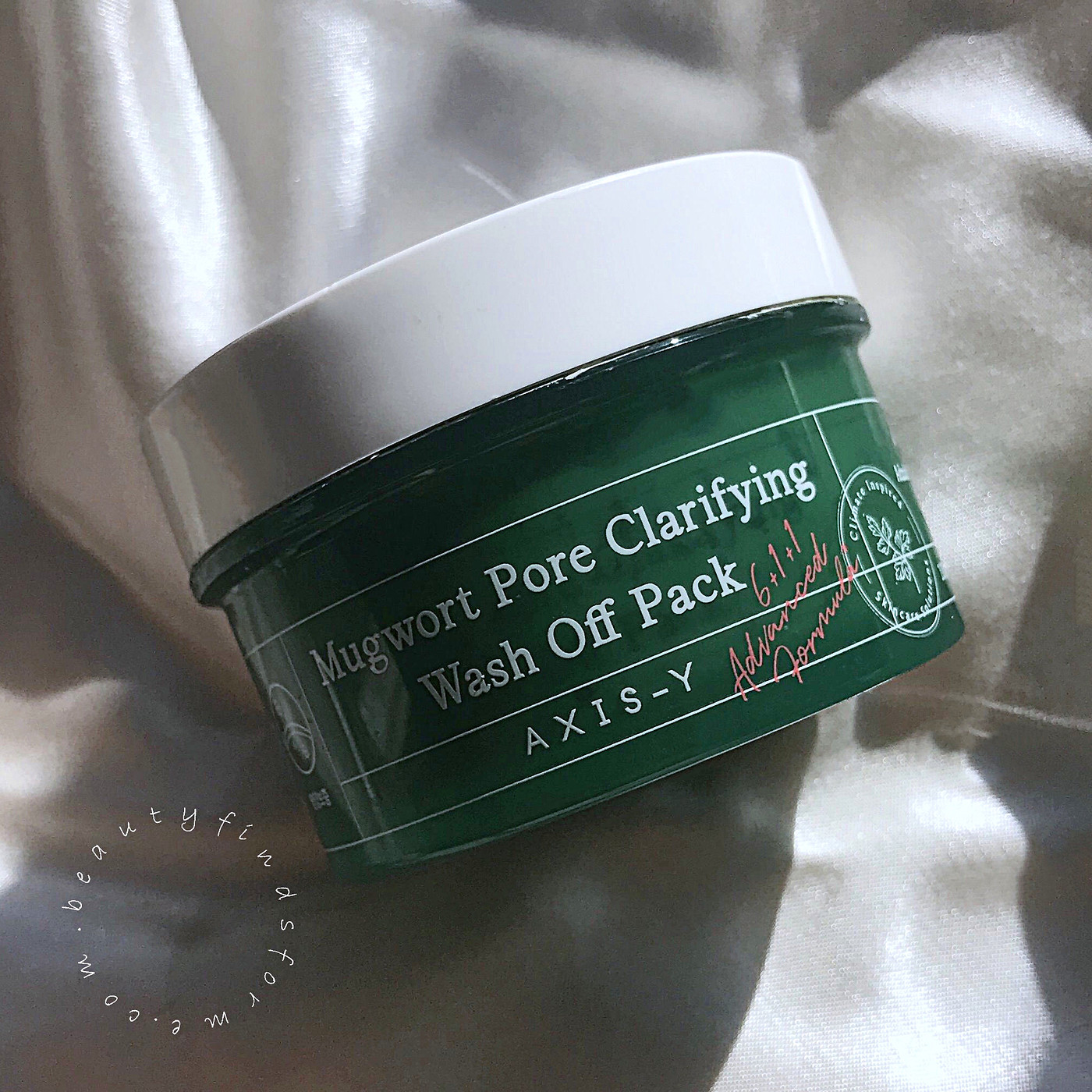 Mugwort Pore Clarifying Wash Off Pack ~ I love clay mask packs due to my oily skin that still gets zits at my ripe ol' age!  It's not fair to get pimples AND wrinkles at the same time.  This is made with  61% mugwort, a  traditional herbal medicine. Mugwort helps heal skin wounds and contains a rich source of antioxidants and is famous for its skin purifying properties.   Its primary benefit is as an anti-inflammatory and it is quite soothing and gentle on the skin. Mugwort helps reduce redness, rashes and other skin issues, including allergic reactions. Mugwort helps heal skin wounds, such as blemishes, as it has anti-bacterial and anti fungal properties.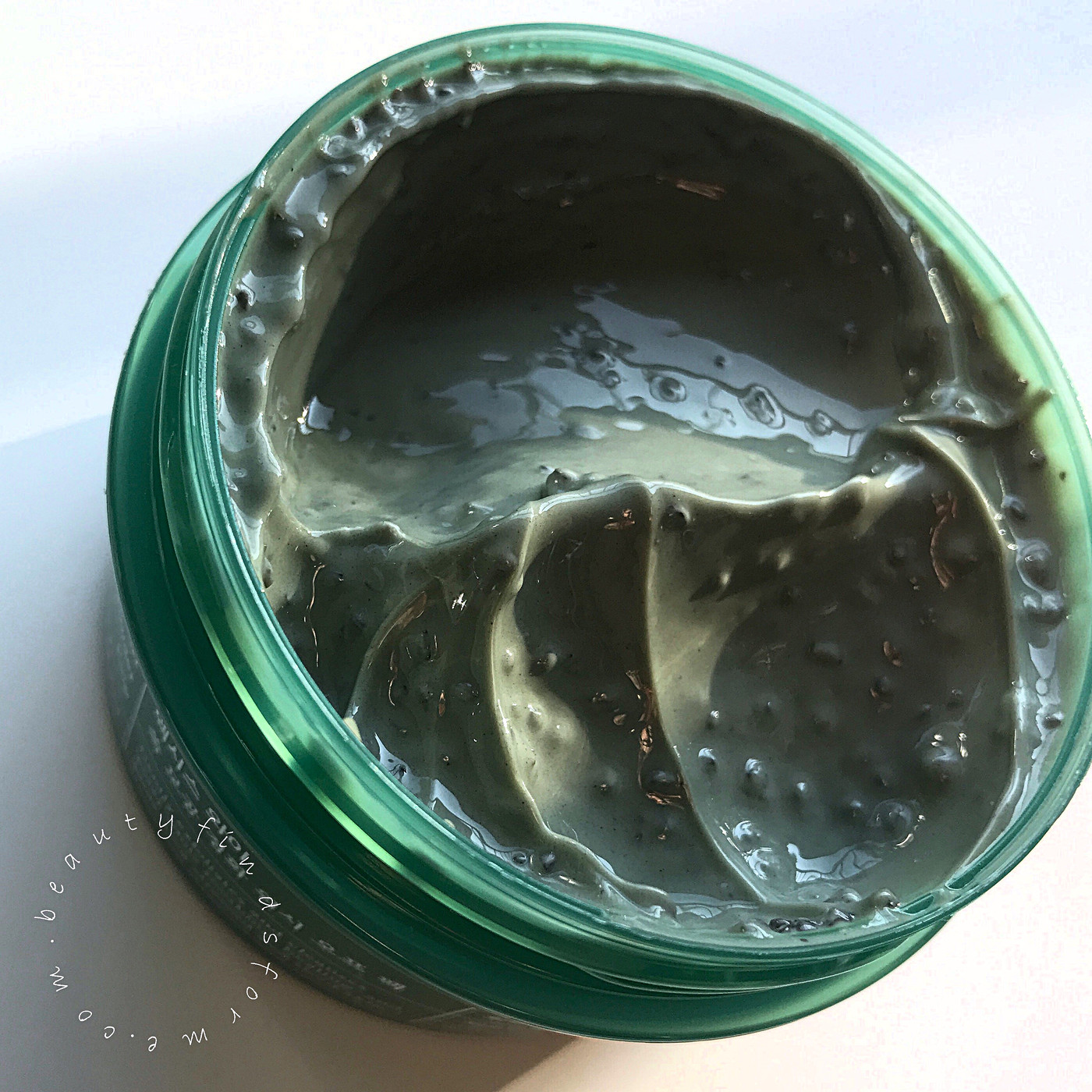 This product also has the exfoliating adzuki bean seed powder and it also has houttuynia cordata, another medicinal herb that is found in a lot in Asian skin care products. It is an antibiotic, which helps with preventing infection from skin problems, such as blemishes. It is also a potent antioxidant, as it contains anti-aging compounds such as flavonoids and triterpenoid, which helps strengthen, purify and revitalize your skin . It also has powerful detox properties, is an astringent and anti-inflammatory.  This also has one special patented technology, Dermatic AC 3, which will help fight blemishes, while hydrating your skin: saccharomyces ferment filtrate, Japanese cedar and lotus leaf extracts.   
And what is a mud mask WITHOUT MUD? Or in this case, clay ~ kaolin his mask contains kaolin, a white clay that helps remove dirt and debris on your skin, while absorbing excess oil and reducing shine. Kaolin is very good for oily and blemish-prone skin. It also has bentonite clay, which is for smoothing, exfoliating, cleaning pores and improving overall skin tone.  Also included is charcoal powder which will absorb excess oil and detox your skin.  This does contain rosemary EO, which has antibacterial benefits as well as brisk scent.
This mask is sooo pretty!  It has the lovely light pine green color, which comes from the chromium oxide greens pigments.  Then you see the bits of adzuki beans mixed in.  The mask does smell like rosemary, very nice and herbal, with a sharpish aroma.  The texture, outside of the bean powder, is very smooth and lightweight and it is not a dense mask at all.   However, it is not a gloppy mask and once it is applied on the skin, it will stay put.   This feels so refreshing and cooling on my skin.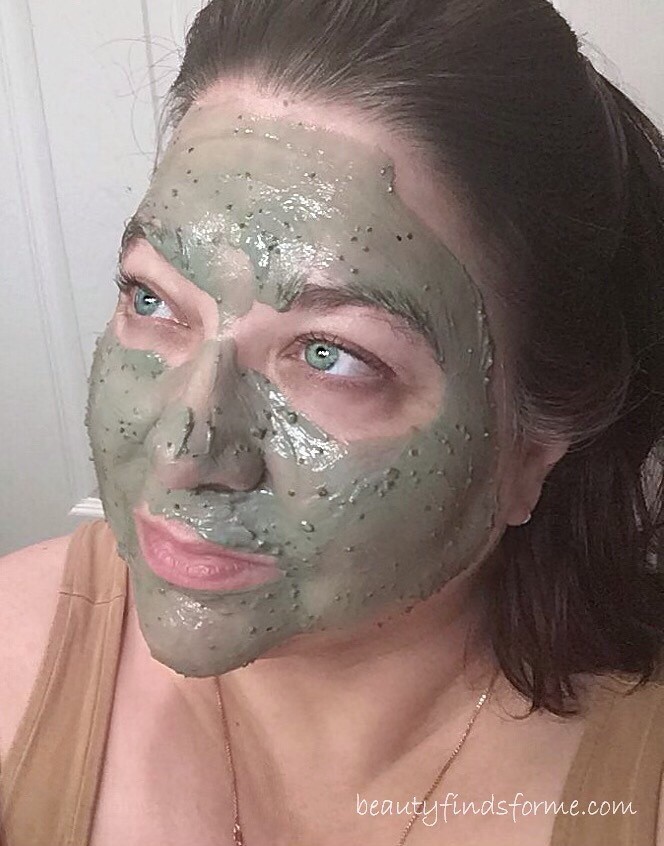 The dry down doesn't cause the mask to crack and harden like most clay masks ~ since this has hydrating and moisturizing ingredients like beta-glucan, polyquarterium-51, hydrolyzed hyaluronic acid, betaine and glycerin, this mask stays pretty flexible on the skin while it is dry.  To wash off is a bit more work, as water will rehydrate the mask, so I suggest to rinse off in the shower ~ I always do my wash off masks in the morning before I shower, so the mess of removing them is lessened.   The result?  My skin feels nice and clean, my pores look more smaller in appearance because of the excess sebum and dirt has been removed and my skin looks brighter and less inflamed where I have pimples.  Great mask ~ lovely texture, fantastic scent, effective results.
Ingredients: Artemisia Princeps Extract (61%), Kaolin, Dipropylene Glycol, Bentonite, Betaine, Phaseolus Angularis Seed Powder, Laminaria Japonica Extract, Eclipta Prostrata Leaf Extract, Avena Sativa (Oat) Kernel Extract, Pteris Multifida Extract, Cynara Scolymus (Artichoke) Leaf Extract, Glycyrrhiza Uralensis (Licorice) Root Extract, Vigna Radiata Seed Extract, Houttuynia Cordata Extract, Cryptomeria Japonica Leaf Extract, Nelumbo Nucifera Leaf Extract, Hydrogenated Lecithin, Sodium Hyaluronate, 1,2-Hexanediol, Methylpropanediol, Xanthan Gum, Glycerin, Chromium Oxide Greens, Charcoal Powder, Water, Beta-Glucan, Polyquaternium-51, Fructooligosaccharides, Allantoin, Hydrolyzed Hyaluronic Acid, Butylene Glycol, Camellia Sinensis Leaf Powder, Saccharomyces Ferment Filtrate, Hydroxyacetophenone, Ethylhexylglycerin, Rosmarinus Officinalis (Rosemary) Leaf Oil cosDNA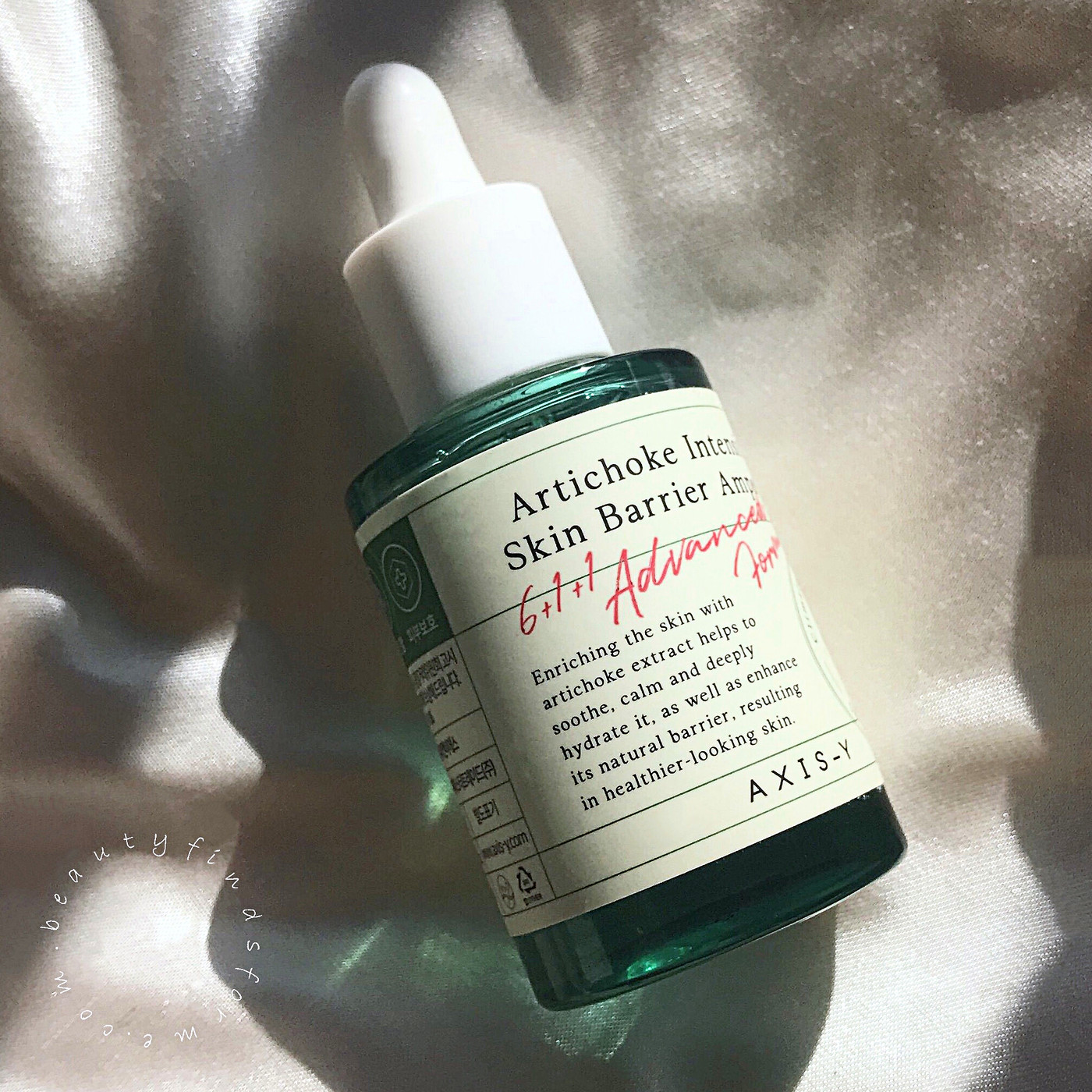 Artichoke Intensive Skin Barrier Ampoule ~ I love a good ampoule as well and this one is really nice! In addition to the artichoke ingredient which helps moisturize and firm your skin, this also has 110,000 ppm of centella  asiatica, is a common herbal ingredient that is used medicinally to help speed up wound healing, such as blemishes and skin rashes.  Another 10,000 ppm of tea tree will help fight off the bacteria that leads to blemishes, as it has anti-fungal and anti-inflammatory qualities.   This also has so many good hydrating and  sodium hyaluronate, beta glucan, okra, polyglutamic acid, glycerin and prebiotic hydrating sorbitol.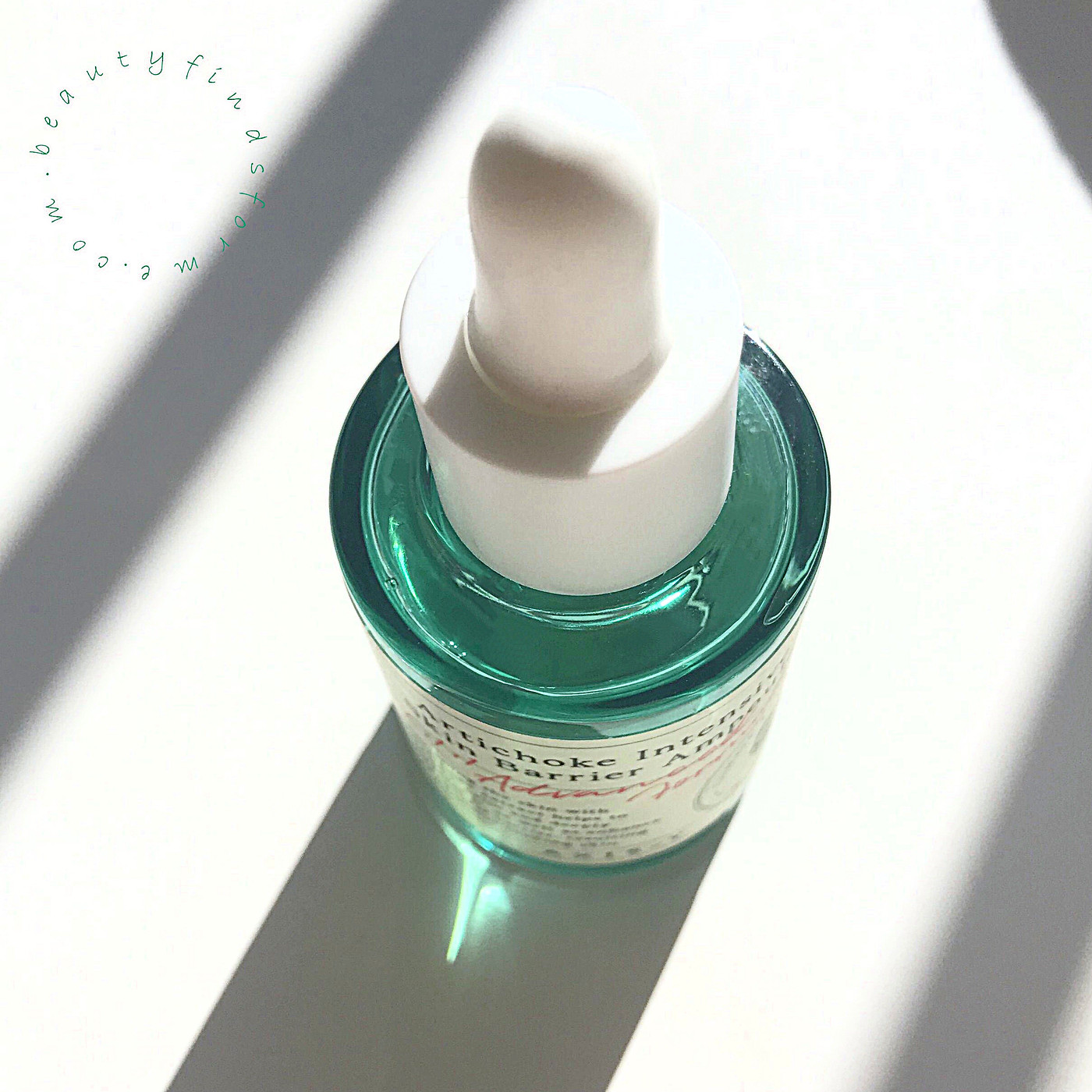 AXIS-Y states there is an AHA in here, but it is is more of an ingredient that has exfoliating properties, sugar cane.  I find that these types of extracts are not as potent as the actual acid, which in this case would have been glycolic acid, as it is derived from sugar cane.   I did do a pH test on this and it was mildly acidic at 5. This also has skin brightening antioxidant licorice as well, which has anti-inflammatory benefits.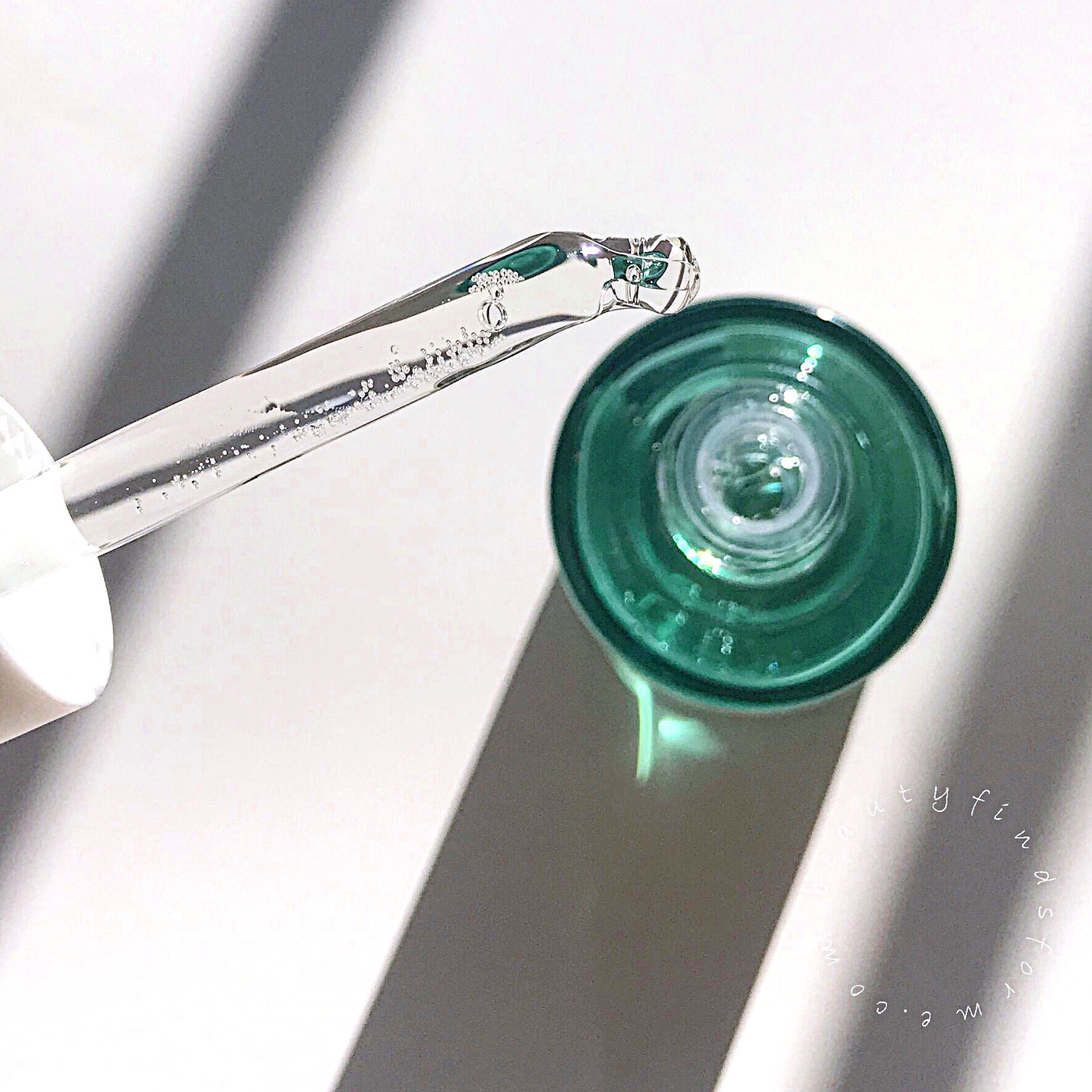 This comes in a cute green glass bottle with a glass pipette ~ in the bottle, this serum looks very thick and sticky, but looks are deceiving. This colorless serum is very lightweight and not sticky at all ~ it has a very faint tea tree scent to it and it absorbs quickly into my skin, leaving no residue.  My skin feels very supple and hydrated.  Now, according to AXIS-Y, this will boost your skin hydration level after every application and keeps skin hydrated for more than six hours.   I can't speak to the 6 hours, as I use other skincare products over my ampoule, but I do notice a quick intense boost of hydration when I apply this.  It is very soothing and cooling on the skin, and it doesn't cause a dewy look ~ just a natural finish.  This is my favorite item out of the three that I tried and I totally recommend this one!

Ingredients: Water, Aloe Barbadensis Leaf Water, Butylene Glycol, Sodium Hyaluronate, Centella Asiatica Extract(110,000ppm), Glycerin, Betaine, Glycyrrhiza Glabra (Licorice) Root Extract, Alcohol, Cynara Scolymus (Artichoke) Extract, Sorbitol, Sorbitan Sesquioleate, Hieracium Pilosella Extract, Rheum Palmatum Root Extract, Althaea Rosea Flower Extract, Aloe Barbadensis Leaf Extract, Dimethyl Sulfone, Chlorphenesin, Xantham Gum, PEG-60 Hydrogenated Castor Oil, Ethylhexylglycerin, Polyglutamic Acid, Beta-Glucan, Arginine, Linum Usitatissimum (Linseed) Seed Extract, Hibiscus Esculentus Fruit Extract, Aloe Barbadensis Leaf Juice, Arctium Lappa Root Extract, Hibiscus Mutabilis Flower Extract, Corchorus Olitorius Leaf Extract, Allantoin, Carbomer, Adenosine, Melaleuca Alternifolia (Tea Tree) Leaf Oil (10,000ppm)  cosDNA
Whenever I do a sunscreen review, I always like to include this in my blog post.  It may seem repetitive if you are familiar with my blog posts, but not everyone reads every review or clicks on resources to find out what I am referring to.  If you already know this information, skip over to read the review of AXIS-Y Complete No-Stress Physical Sunscreen 
We all know what SPF rating means, but what does PA stand for?   I am very familiar with SPF (sun protection factor) and that it ranks based on protection from UVB :: ultraviolet B (shortwave) rays.  But the PA rating is something newish to a lot of Western readers, and I really notice it on Asian sunscreens, not so much American brands.    PA is the amount of protection the sunscreen offers from UVA :: ultraviolet A (long-wave) rays.  PA ranks with + signs and the higher the + signs, the more protection you will get from UVA rays.
UVB is what causes sunburns and reddened skin and has direct links to cancer.  UVA is what causes us to tan, and age ~ wrinkles and deep lines are caused by UVA exposure.  A really fantastic article about ultraviolet rays and how they affect our skin can be found here at the Skin Cancer website  and I highly recommend reading it.   One thing I have learned is that a broad spectrum sunscreen is the proper choice as it will help deflect the UV rays and not allow them to penetrate into your skin layers.  All of the make p:rem UV Defense Me sunscreens are rated SPF 50+ PA++++
TL;DR:  You need to wear them.  Don't skimp on or skip this step.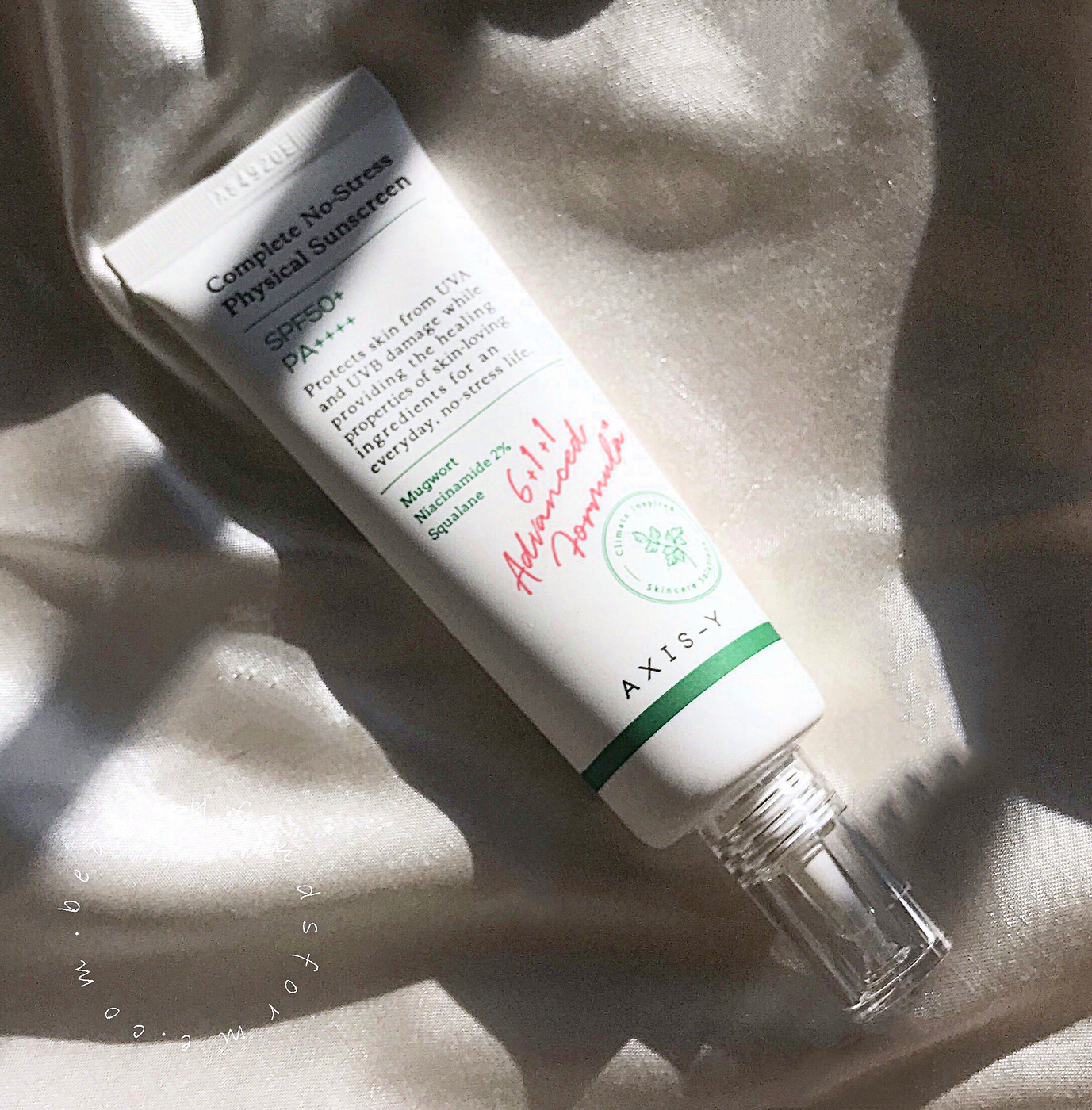 Complete No-Stress Physical Sunscreen contains two physical UV filters:  UVA/UVB zinc oxide and titanium dioxide. But this isn't just a sunscreen, it has been formulated to help calm and soothe your skin with skin-cooling mugwort,  herbal healing calendula, and anti-inflammatory chamomile.  This also has anti-oxidant green tea and grape seed extracts, to help fight free radicals and help reverse some of the damage done to your skin.  To keep your skin hydrated and soft, this does have squalane and skin softening allantoin.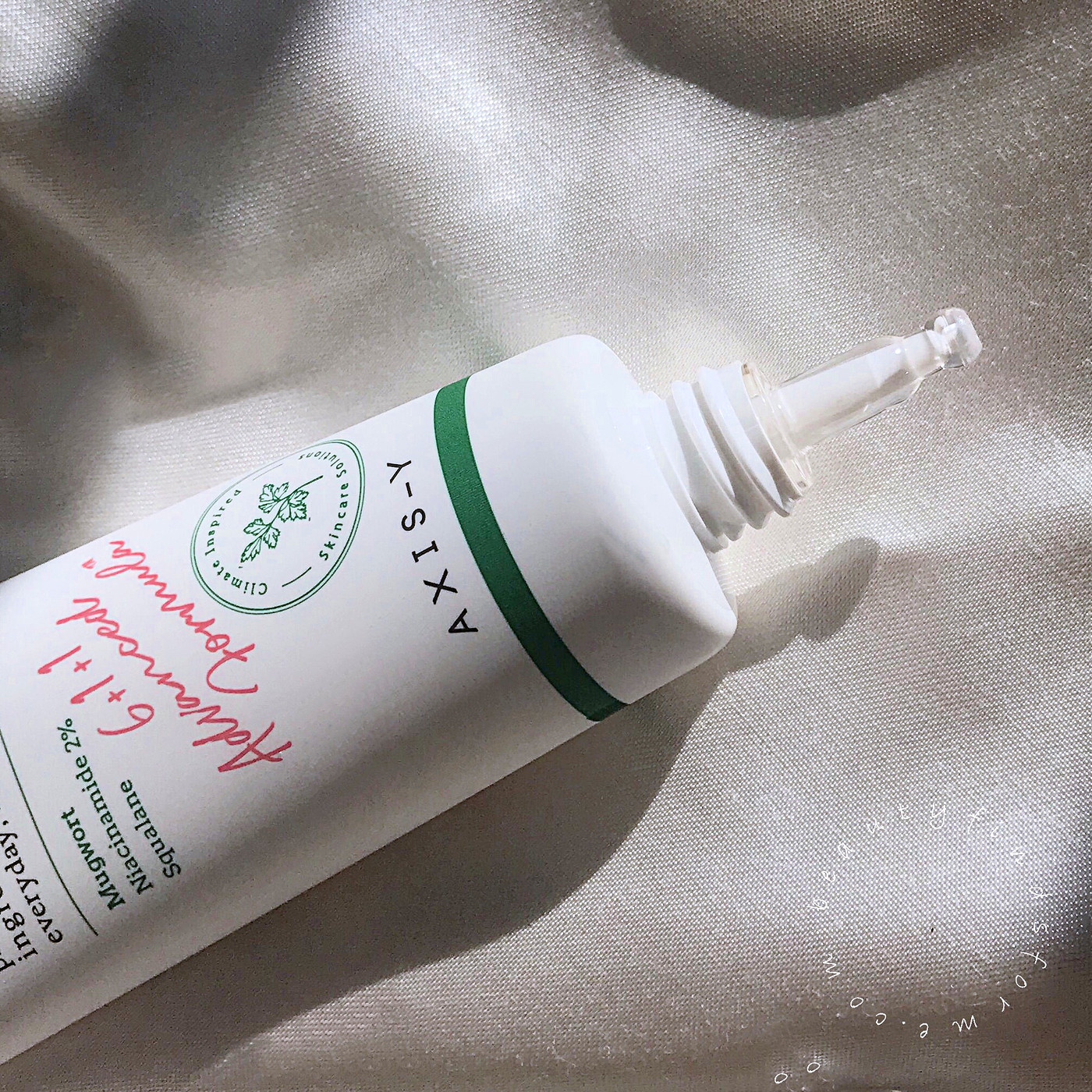 This also has a patented ingredient, SYN-COLL, which will help promote collagen-1, hyaluronic acid  and glycoprotein  laminin V production.  This will also protect collagen from stress,  aid in damaged skin repair caused photo-aging, and help firm up your skin.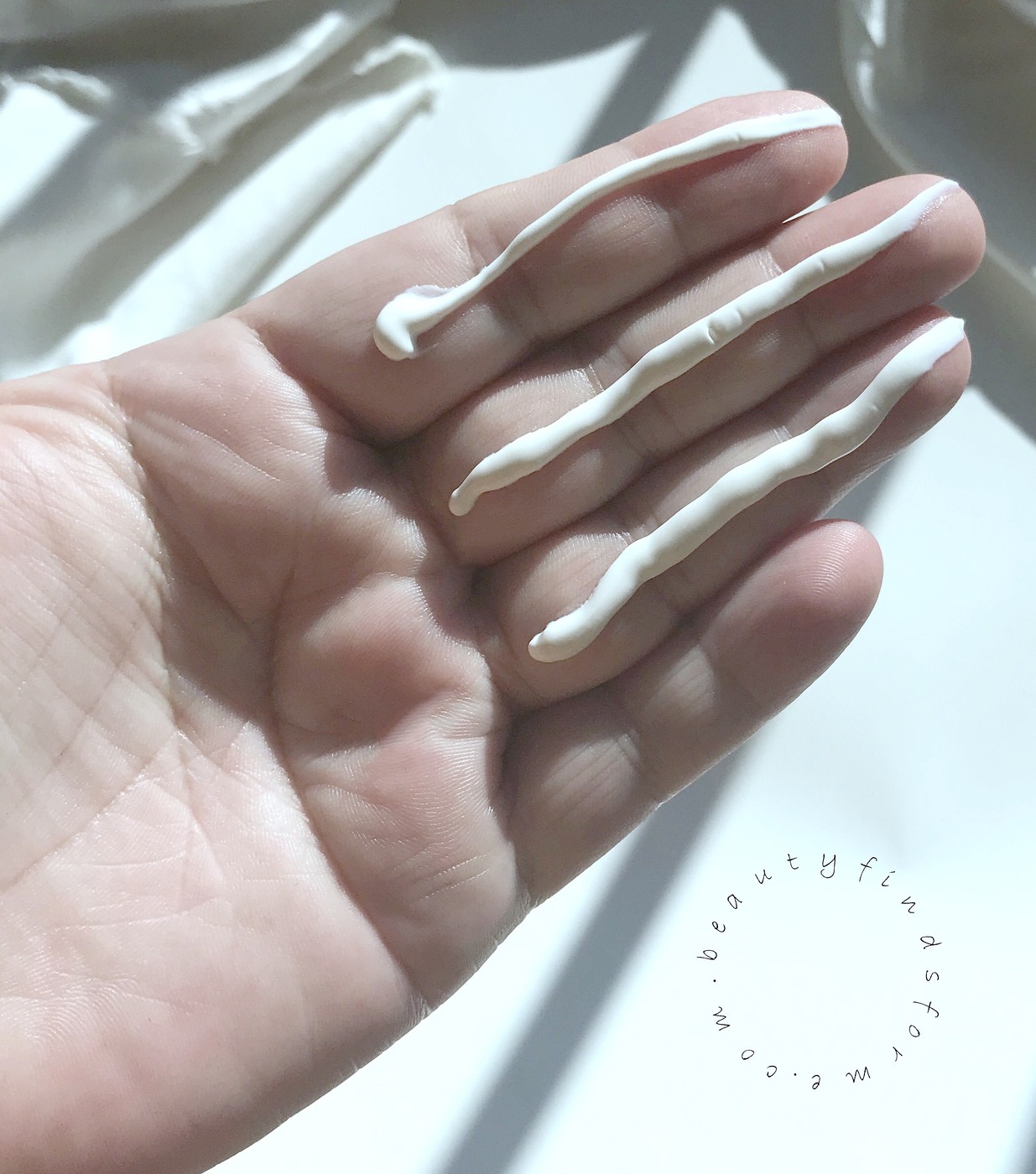 The tube is quite nice ~ I like the rounded bulb at the tip of the applicator, so you don't scratch your skin if you apply it directly on your face.  Remember to use an adequate amount of sunscreen ~ I follow Jude @fiddysnails three finger rule ~ I apply a stripe down my three longest fingers and then apply that to my face.  This is very white and it looks thick, but it actually spreads easily on my skin and absorbs nicely. This does have a bit of a chemical scent to it, but it isn't that off-putting.  I will say that this does brighten up my skin tone, as it does leave a white cast ~ on my light-medium skin tone, it just looks like my skin is brighter, but if you have a darker complexion, I think this could look ashy, but don't quote me.   

As far as a physical sunscreen goes, the white cast is not that noticeable on me, this absorbs quickly, my skin feels soft and supple and not dry. It is not a matte finish, but it isn't a dewy finish either ~ it just looks natural.  
Ingredients: Water, Cyclohexasiloxane, Zinc Oxide, Titanium Dioxide (CI 77891), Propanediol, Polyglyceryl-3 Polydimethylsiloxyethyl Dimethicone, Dibutyl Adipate, Niacinamide, Caprylyl Methicone, 1,2-Hexanediol, Disteardimonium Hectorite, Betaine, Magnesium Sulfate, Hydrogen Dimethicone, Inositol, Aluminum Hydroxide, C30-45 Alkyl Cetearyl Dimethicone Crosspolymer, Polyglyceryl-2 Dipolyhydroxystearate, Styrene/Acrylates Copolymer, Stearic Acid, Butylene Glycol, Pentylene Glycol, Ethylhexylglycerin, Octyldodecanol, Adenosine, Glycerin, Squalane, Allantoin, Anthemis Nobilis Flower Water, Echium Plantagineum Seed Oil, Artemisia Capillaris Extract(0.005%), Vitis Vinifera (Grape) Seed Extract, Calendula Officinalis Flower Extract, Camellia Sinensis Leaf Extract, Cardiospermum Halicacabum Flower/Leaf/Vine Extract, Helianthus Annuus (Sunflower) Seed Oil Unsaponifiables, Leuconostoc/Radish Root Ferment Filtrate, Dicaprylyl Carbonate, Sorbitan Sesquioleate, Palmitoyl Tripeptide-5, Tocopherol  cosDNA
AXIS-Y Skincare Products
You can purchase AXIS-Y products at YesStyle.  All of these products are affordably priced and YesStyle does ship globally.  YesStyle will give you additional discounts depending on your purchasing level, so if you are at a Gold Level, you will pay less than the listed price below ~ all prices in USD.   They also have free shipping on orders over a certain price ~ for USA, it is $35.00 or more.  Remember, if you use my links, I make a small commission at no cost to you, so if you like my content, please support my blog by using my links.  
Their other skincare products are
Sunday Morning Refreshing Cleansing Foam: "Set at pH 5.5 to cleanse the skin of dirt, excess oils, and other impurities deep in the pores without stripping the skin. With its special patent skincare technology, Aquaxyl, this cleansing foam keeps the skin moisturized and balanced." 120 mL $19.90
Quinoa One Step Balanced Gel Cleanser: "A loving cleanser that clears makeup and pores in one step while delivering a gentle and hydrating wash at your skin's natural pH. The combination of quinoa and healthy nutrients remove environmental toxins to reveal healthy, lively skin" 180 mL $26.90
Daily Purifying Treatment Toner: "Clears out bacteria and pollution stuck deep in pores that cause persistent inflammation and acne. Nutrients from our natural ingredients then soothe skin and promote healing" 200 mL $30.90  
Dark Spot Correcting Glow Serum: "A Niacinamide based serum that corrects dark spots and improves uneven skin tone. With the help of plant-derived Squalane, this serum retains moisture to keep your skin glowing and healthy wherever you go" 50 mL $18.90
Cera-Heart My Type Duo Cream: "A "U Zone" and "T Zone" cream that tends to your skin's year-round, ever-changing moisturizing needs for a youthful, nourished glow" 60 mL $23.90 
descriptions in italics are from AXIS-Y website
[ products received in exchange for a review ]