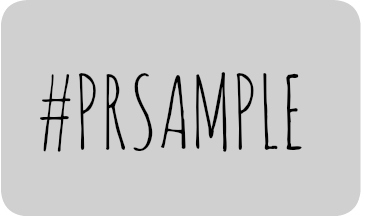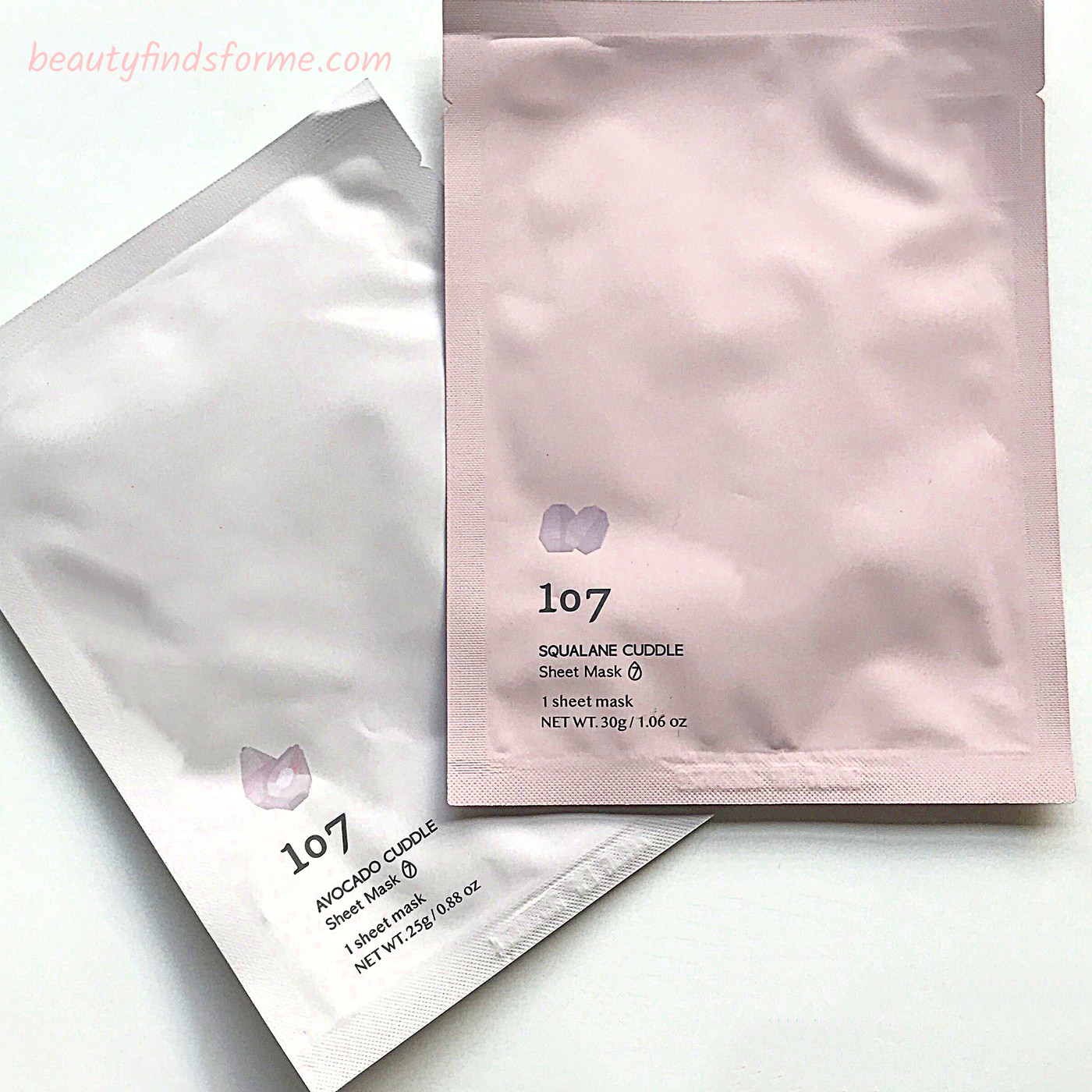 107 (One O Seven) is a brand that I truly love and have loved from the beginning.   They are such a fantastic brand, using naturally fermented vinegar as their key ingredients.  107 is a family owned business and they also run Korea's largest naturally  fermented vinegar brand~ Hanega.  Ohk Ran Chung, a pharmacist,  developed a specially aged vinegar with 21 oriental herbs which will produce essential amino acids, which helps rejuvenate and purify your skin.
One O Seven is a Korean cosmetics brand that develop cleansing foam and skincare products using natural fermentation vinegar as the raw material based on 107 magic formulas succeeded for 35 generations. Ohk Ran Chung is a pharmacist and the 35th chairman of Hanega, Korea's biggest natural fermentation vinegar brand. She developed premium vinegar cosmetics after she noticed that the quality natural fermentation vinegar fermented for over 5 years helps relieving skin troubles including atopic dermatitis and prevents aging. During the research process, she discovered seven essential amino acids and organic materials including saccharomyces and lactobacillus that naturally forms from natural fermentation vinegar. Combination of craftsmanship and high-tech research brought creation to an innovative cosmetics brand, One O Seven.
There are 8 essential amino acids in the award winning 107 fermented Hanega vinegar and they are all natural and organic.  Our body will easily absorb natural nutrients and these essential amino acids are anti-aging, increase the skin's tone and elasticity, while healing and strengthening your skin.  If you are wondering what 107 stands for, it is their 107 secret formulas which have been in their family for 35 generations.   
107 went thru a redesign and slightly reformulated some of their original classics, which I will review later.  107 does not use mineral oils, SLS/SLES, synthetic dyes or fragrances, formaldehyde and they test their formulas to ensure that there is no 1,4-dioxane contamination, which is a trace element that can be found in skincare.  It is considered a human carcinogen, causing irritation to skin.   You can read more about it here at the FDA website.  107 is a cruelty free brand and now has recyclable packaging.
I wanted to go over the brand new products that were recently launched, their Cuddle Sheet Masks.  The name itself makes me feel good about them!  I received these sheet masks complementary for review purposes from 107 Skincare
Skin Type/Concerns: Oily, blemish prone, pores, aging concerns with fine lines/wrinkles and hyper-pigmentation
I received these products complementary to review and was not paid.  All reviews are my own honest opinion and  I never have been asked to write copy for a brand.  This blog post might contain promo codes, affiliate and referral links, which using my links will help generate a small commission that helps support my blog at no extra cost to you.
Key Ingredients
Vinegar, of course, is the main key ingredient!!  107 uses cosmetic grade vinegar that has been naturally fermented for over 7 years and contains 8 essential amino acids, for a total of 17 amino acids, along with glutamic acid and acetic acid.  One of the revamps 107 did to the formula was to use vinegar that had been fermented longer, from 5 years to 7 years ~ as the longer it ages, the higher the concentration of postbiotics.  Okay, we know what probiotics and prebiotics are, but what are POSTbiotics? 
Postbiotic uses the "non-viable bacterial products or metabolic by-products from probiotic bacteria". * Postbiotics are the by-product from probiotic bacteria fermentation and it isn't a new type of "biotic".   I have never heard that term before, but examples are peptides, enzymes, polysaccharides, acids ~ such as lactic acid. So postbiotic is a proven beneficial ingredient in skincare. * source dermatologytimes  
Vinegar is a natural anti fungal, antibacterial, and anti-inflammatory and it will help restore the pH balance to your skin. It contains acetic acid and is known to kill off bacteria and reduce acne. By restoring pH balance to your skin, it will help make your skin inhospitable for bacteria as well, while helping your skin create essential proteins and fatty acids.  The vinegar used in these products are from wheat grown in the Gurye region in Korea ~ why is this interesting? The Gurye region grows its wheat completely free of agricultural chemicals and it is processed free from preservatives and bleaches.
Common ingredients in both masks include skin brightening niacinamide, hydrating humectants of glycerin and sodium hyaluronate while anti-aging amino acid arginine and yeast derived adenosine help promote collagen production and provide anti-inflammatory benefits.  A botanical cocktail of antioxidants to help skin bright, firm and healthy is found with green tea leaves and licorice, ginger and Chinese goldthread roots. Both of these masks do contain some oils that could be sensitizing for some ~ eucalyptus, juniper and lavender, but neither of these masks have a scent that I can detect.  Cuddles sheet masks use 100% vegan cellulose material that is very silky and smooth to the touch.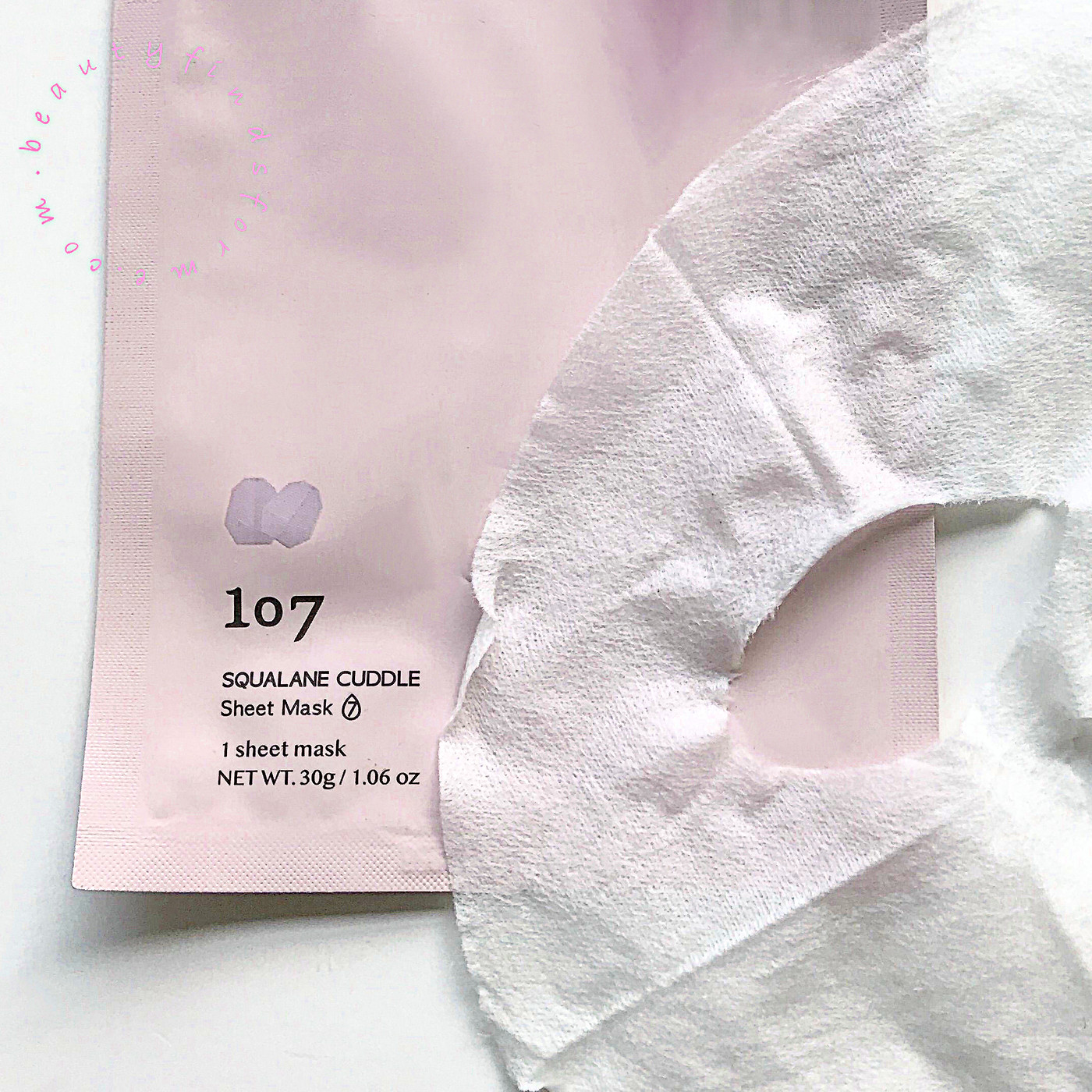 Squalane Cuddle Sheet Mask has all of the above ingredients in the Key Ingredients section but contains additional ingredients to help firm and protect your skin from TEWL (transepidermal water loss).  They use a squalane ingredient that is derived from olives and olive fruit extracts. Antioxidant squalane is a wonderful moisturizing ingredient, which can absorb quickly into your skin.  This also contains additional hydrating humectants of hydrolyzed hyaluronic acid and sodium acetylated hyaluronate while hydrolyzed vegetable protein provides deep moisturization and protects your skin as it mimics NMF (Natural Moisturizing Factor). Polysaccharide maltodextrin is a plant based sugar that helps moisturize while not being irritating to the skin.
The mask fit is very good and the sheet material is soft and plush.  It isn't a thin mask, but it isn't stiff and it is very pliable and conforms to the shape of my face. Squalane Cuddle contains a lot of clear jelly essence ~ don't forget to squeeze out the pouch to apply the essence to your neck and arms!
aren't you gelly of all this jelly?
As this has so much essence, I could leave this mask on for about 40 minutes and it was still damp when I removed it ~ so I could have worn it for another 20 minutes easily!  My skin does feel a lot more firmer after wearing this mask ~ yes, it is temporary but sometimes that is all you need for a special occasion.   I have oily skin so I felt that this mask essence didn't fully absorb into my skin, even after an hour, so it was a bit tacky to the touch.  However, once I applied other skin care products over this, it was no longer sticky. That said, I would say this is more of a night time mask for me as it is quite rich and nourishing and did leave my skin with a dewy glow.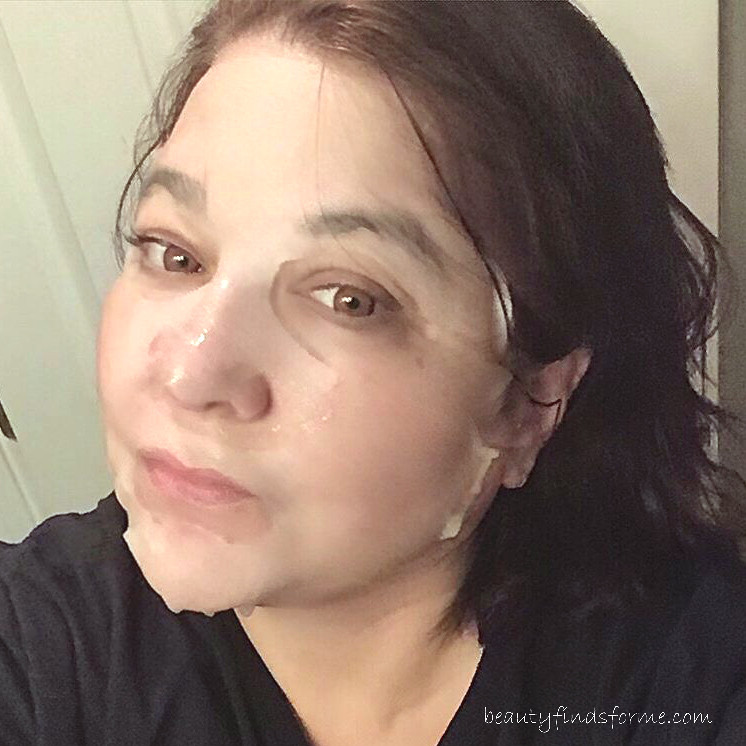 Ingredients: Water, Glycerin, Dipropylene Glycol, Niacinamide, Squalane, 1,2-Hexanediol, Hydroxyethylcellulose, Arginine, Butylene Glycol, Polyglyceryl-10 Myristate, Polyglyceryl-10 Laurate, Carbomer, Coptis Chinensis Root Extract, Glycyrrhiza Glabra (Licorice) Root Extract, Zingiber Officinale (Ginger) Root Extract, Camellia Sinensis Leaf Extract, Ethylhexylglycerin, Adenosine, Sodium Phytate, Olea Europaea (Olive) Fruit Extract, Sodium Hyaluronate, Citrus Nobilis (Mandarin Orange) Oil, Citrus Limon (Lemon) Fruit Extract, Hydrolyzed Hyaluronic Acid, Vinegar, Eucalyptus Globulus Leaf Oil, Juniperus Mexicana Oil, Lavandula Angustifolia (Lavender) Oil, Pinus Palustris Oil, Hydrolyzed Vegetable Protein, Maltodextrin, Sodium Acetylated Hyaluronate  cosDNA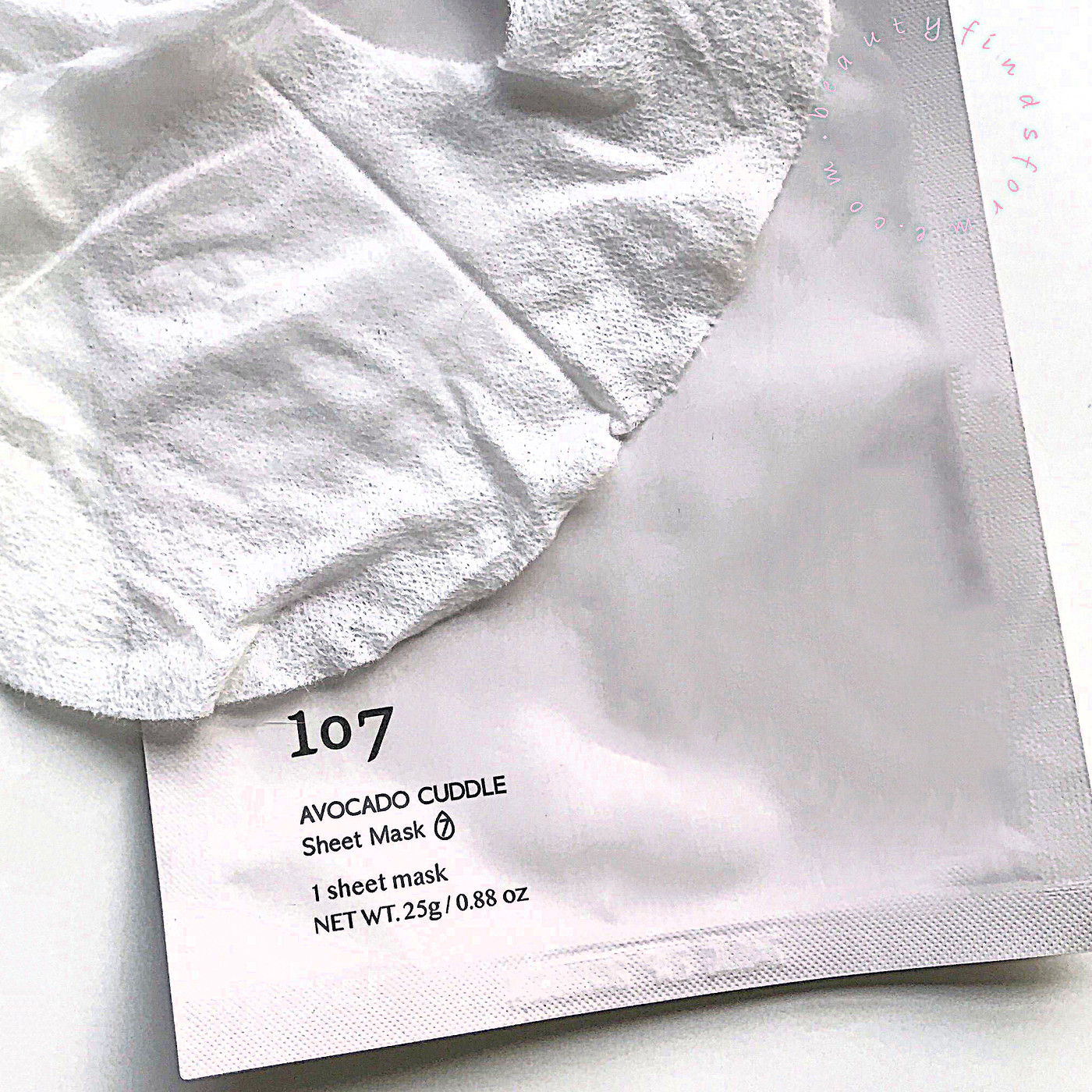 Avocado Cuddle Sheet Mask was one that I received a full box of and I was initially worried that this mask might be a bit too rich for my skin type.  Oh boy, was I wrong!! This is my favorite mask out of the two ~ this contains a soft, milky cream essence formulated not only with the key ingredients but additional moisturizing and softening ingredients ~  super food antioxidant avocado, full of alpha and beta carotene, helping to protect your skin from  environmental damage and premature aging. Full of vitamin C and E to help aid in collagen production and firmer skin, it also has oleic acid (omega-9), which helps create a moisture barrier, making skin soft and moisturized.  Sweet almond oil and hydrolyzed jojoba esters help soften your skin, absorbing quickly and protecting your skin from drying out while strengthening your skin barrier barrier function.
it's difficult to take swatches & not have it look dirty
Allantoin moisturizes, exfoliates and softens skin, making it look smooth and refined, while reducing and relieving irritation.  This also contains a common patented ingredient called Aquaxyl, a hydrating compound made from ingredients derived from vegetable origin sugars ~ xylitylglucoside, anhydroxylitol, xylitol and glucose. Aquaxyl will also reinforce your skin barrier function, limiting water loss in your skin and preventing skin dehydration on a cellular level.
And wow ~ so many antioxidant amino acids in here as well: glycine, serine, glutamic acid,  aspartic acid, leucine, alanine, lysine, tyrosine, phenylalanine, proline, threonine, valine, isoleucine, histidine, cysteine, methionine.  Amino acids help with keeping your skin hydrated, your skin's texture smooth and your skin's elasticity.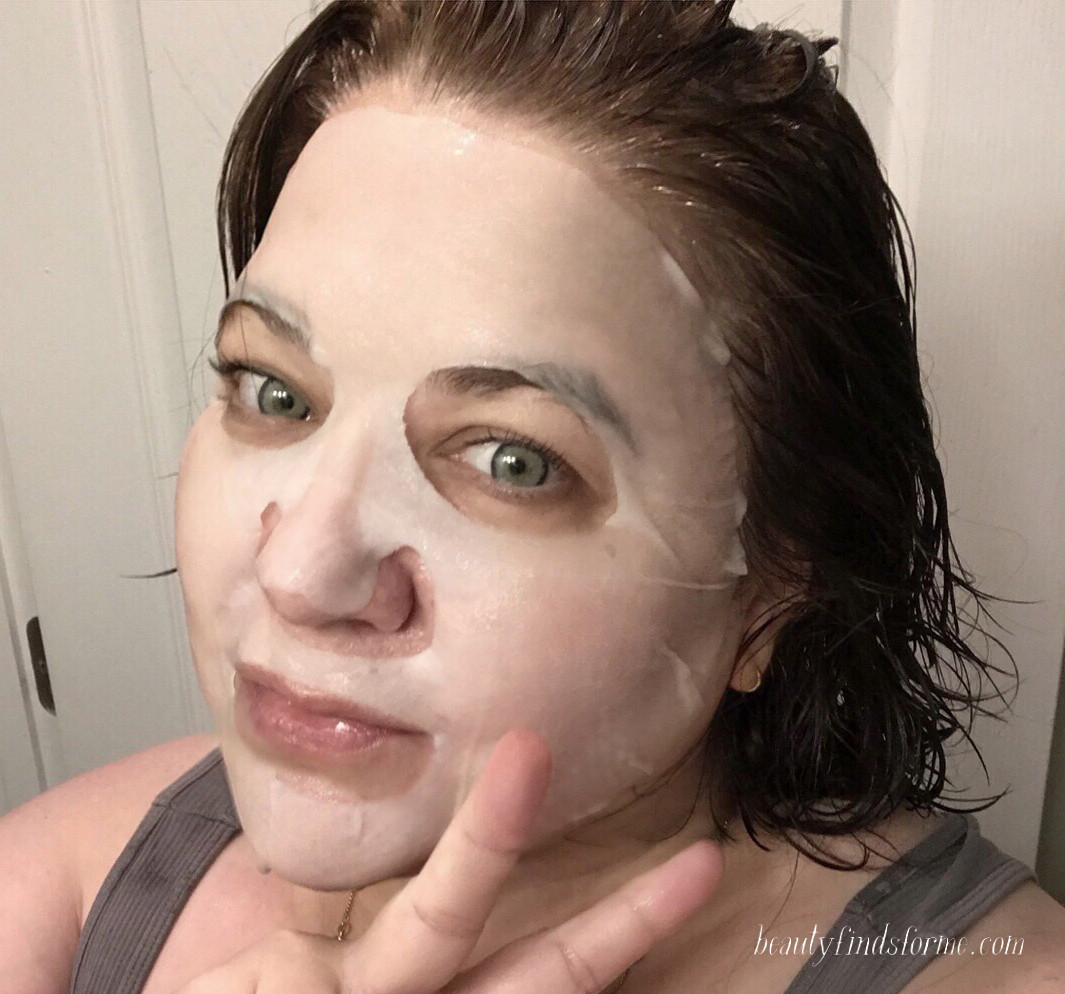 The mask is the same fit, thickness and softness as the Squalane Cuddle whereas the essence is lightweight and creamy.  Again, lots of essence left over in the pouch, so use it up on your face, neck and arms.  Just like the Squalane Cuddle Mask, this mask was so full of essence that I could leave it on for more than the 20 minute recommendation.  I did leave this on for an hour and the mask was still not fully dried out.  My skin felt so hydrated, soothed and even a little bit more brighter after I removed this mask.  Initially, there is a bit of stickiness, but it dried down quickly as my skin finished absorbing the essence.  This one is my favorite of the two, as I feel that I can use this in the morning ~ since I am working from home right now during the pandemic, I find I can sheet mask longer in the morning as I am not in a hurry to get out of the house!  I love how hydrating and calming this mask is ~ I am very happy I received a full box of them. 
Ingredients: Water, Caprylic/Capric Triglyceride, Glycerin, Niacinamide, Propanediol, Persea Gratissima (Avocado) Fruit Extract, 1,2-Hexanediol, Ethylhexylglycerin, Polyglyceryl-3 Methylglucose Distearate, Glyceryl Stearate, Arginine, Hydroxyethylcellulose, Carbomer, Hydrolyzed Jojoba Esters, Allantoin, Sorbitan Stearate, Sorbitan Sesquioleate, Butylene Glycol, Dipropylene Glycol, Adenosine, Dipotassium Glycyrrhizate, Disodium EDTA, Sodium Hyaluronate, Prunus Amygdalus Dulcis (Sweet Almond) Oil, Coptis Japonica Root Extract, Schisandra Chinensis Fruit Extract, Glycyrrhiza Glabra (Licorice) Root Extract, Sucrose Cocoate, Zingiber Officinale (Ginger) Root Extract, Camellia Sinensis Leaf Extract, Xylitylglucoside, Anhydroxylitol, Citrus Aurantium Bergamia (Bergamot) Fruit Oil, Xylitol, Juniperus Mexicana Oil, Glucose, Caprylyl Glycol, Glycine, Serine, Glutamic Acid, Vinegar, Aspartic Acid, Leucine, Alanine, Lysine, Tyrosine, Phenylalanine, Proline, Threonine, Valine, Isoleucine, Histidine, Cysteine, Methionine  cosDNA
Final Thoughts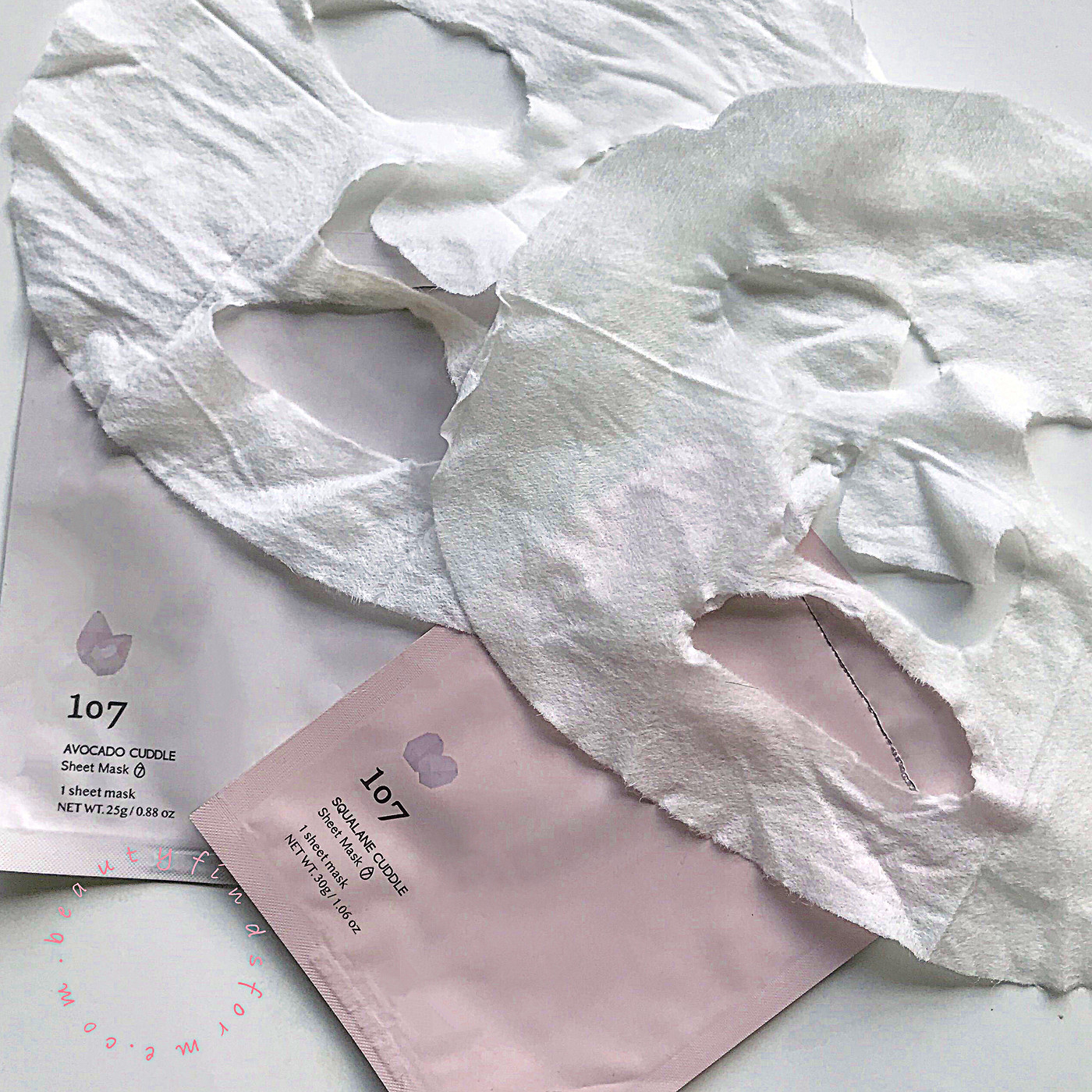 I feel that both masks would work for any skin type, but if I could only pick one ~ I would pick the Avocado Cuddle Mask for my oily and dehydrated skin.  It was such a happy surprise that a creamy milky essence mask filled with such a rich nourishing ingredient like avocado worked so well on my skin without a tacky residue.  If you tend towards the drier side, the Squalane Cuddle is would be perfect for you as it really has a rich base of jelly essence and gives your skin that added dewiness and glow-up!  
Where to Purchase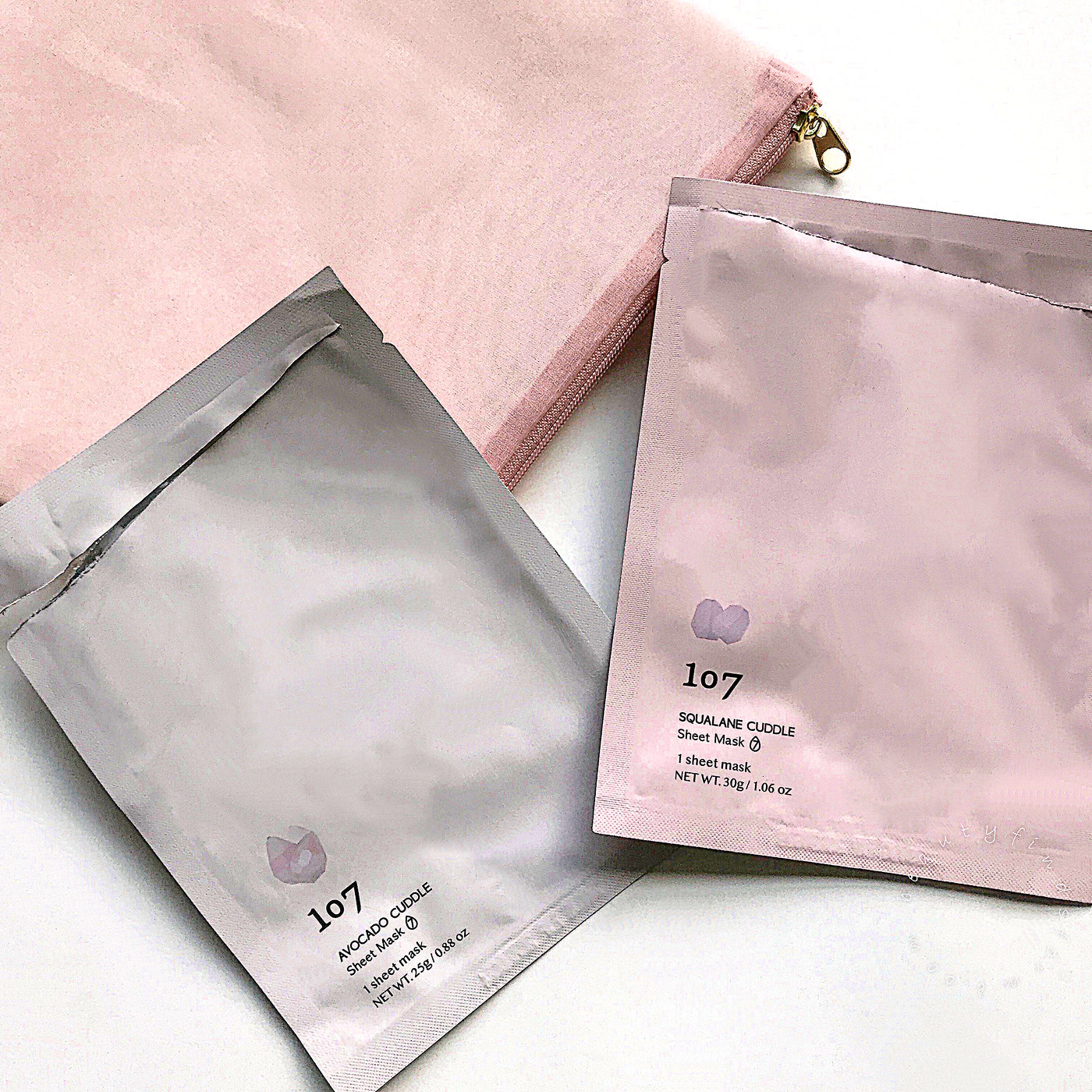 with pink bojagi pouch 
Currently, 107's online shop for USA addresses!  They have free shipping for orders $50.00+ with free samples. The masks retail for $6.00 apiece or a box of 5 sheet masks $26.00 USD.   They also have a special Holiday Set as well which is a REALLY great price  ~ choose either a box of either Squalane or Avocado Cuddle Sheet Masks for $23.00 and get a free, limited edition pink bojagi pouch ~ I have it featured in one of the photos here.
For international orders,  107 can fulfill your orders from their Korean office, subject to international shipping feeds.  Email them at intlship@107beauty.com for further assistance and information.
Watch my IGTV Unboxing of all of the latest products from 107!
[ products received complementary for review purposes ]