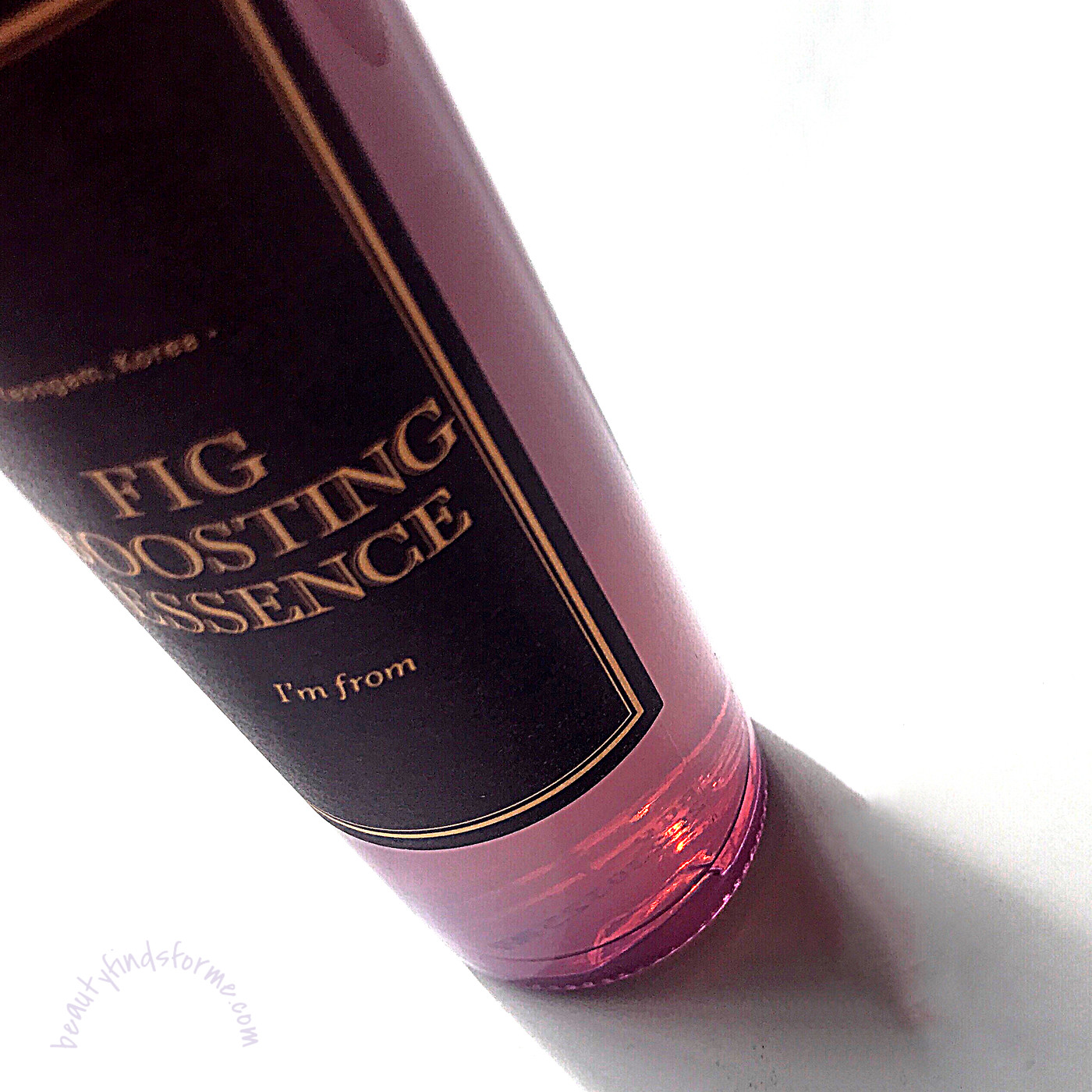 Wishtrend sent me from the brand new I'm From Fig Skincare line for review purposes ~ a cleansing balm, sugar scrub and boosting essence.  I am a huge fan of I'm From (check out my reviews here) and this new line featuring a rarely used ingredient was immediately of interest to me.   I have already reviewed the cleansing products here and now it's time for the Boosting Essence!  
Skin Type/Concerns:  Oily, dehydrated, blemish prone, aging skin with hyper-pigmentation, fine lines/wrinkles.
  Some products were complementary to review and was not paid.  All reviews are my own honest opinion and  I never have been asked to write copy for a brand.  This blog post might contain promo codes, affiliate and referral links, which using my links will help generate a small commission that helps support my blog at no extra cost to you. 
Key Ingredient
I already researched and wrote up a HUGE bit on Figs, based on my earlier review, so in case you didn't read it or forgot, I did copy it here. 
Figs, of course!  In traditional folk medicine, figs were used for warts and wounds, brushing teeth to help relieve sore throats and King Mithridates of Pontus  ~ modern day northeastern part of Turkey  ~  ordered his people to eat one fig a day as he believed they were a cure for illnesses.   Why all the fuss around ficus carica? 
image from wishtrend
Rich in antioxidant vitamins A, C, B1 and B2, minerals, omega fatty acids and high concentrations of polyphenols, flavonoids, anthocyanins, figs can help brighten skin and even out the skin tone.  These antioxidants will also help reduce the damage from free radicals so your skin is softer with a reduction in appearance  of fine lines and wrinkles.  Figs also help clear your skin, reduce sebum and act as an astringent.  Figs contain a proteolytic enzyme called ficin, which help break down dead skin cells, so your skin is smoother as it acts as an exfoliator.  
The figs used in I'm From Fig Skincare Line is from Yeong-am, South Korea and they have been grown with eco-friendly farming methods, without pesticides.  Yeong-am has a climate that is similar to the Mediterranean ~ warm and dry with four seasons and is near the ocean. The soil is a rich in organic matter and minerals as it is consists of mainly ocher.  Figs grown in this soil will have a higher sugar content.  The figs are hand harvested every year and since figs have the highest sugar content at dawn, these farmers start picking the fruit prior to 4 am in the morning, while it is still dark.   
I'm From creates three different types of fig extracts
Fig Powder:  The figs are harvested, washed and thinly sliced.  They are dried for 12 hours and then finely ground into a soft powder.  This powder is used in the I'm From Fig Scrub Mask (review)

Fig Water

: After an early morning harvest of young figs, they are washed and thinly sliced.  The raw fig slices are then compressed into polymers using the VegeLive ™ method ~  this method is an eco-friendly extraction method that will draw out the pure water of the raw figs from the cells.  This extract is used in the I'm From Fig Boosting Essence 

Fig Oil-Water

: After harvesting and washing the figs, finely crush the figs.  At room temperature, an Oil Macerating Extraction ™, which immerses the crushed figs into an oil liquid, is used to extract the active ingredients of figs into that oil.  This oil-water is used in the I'm From Fig Cleansing Balm (review)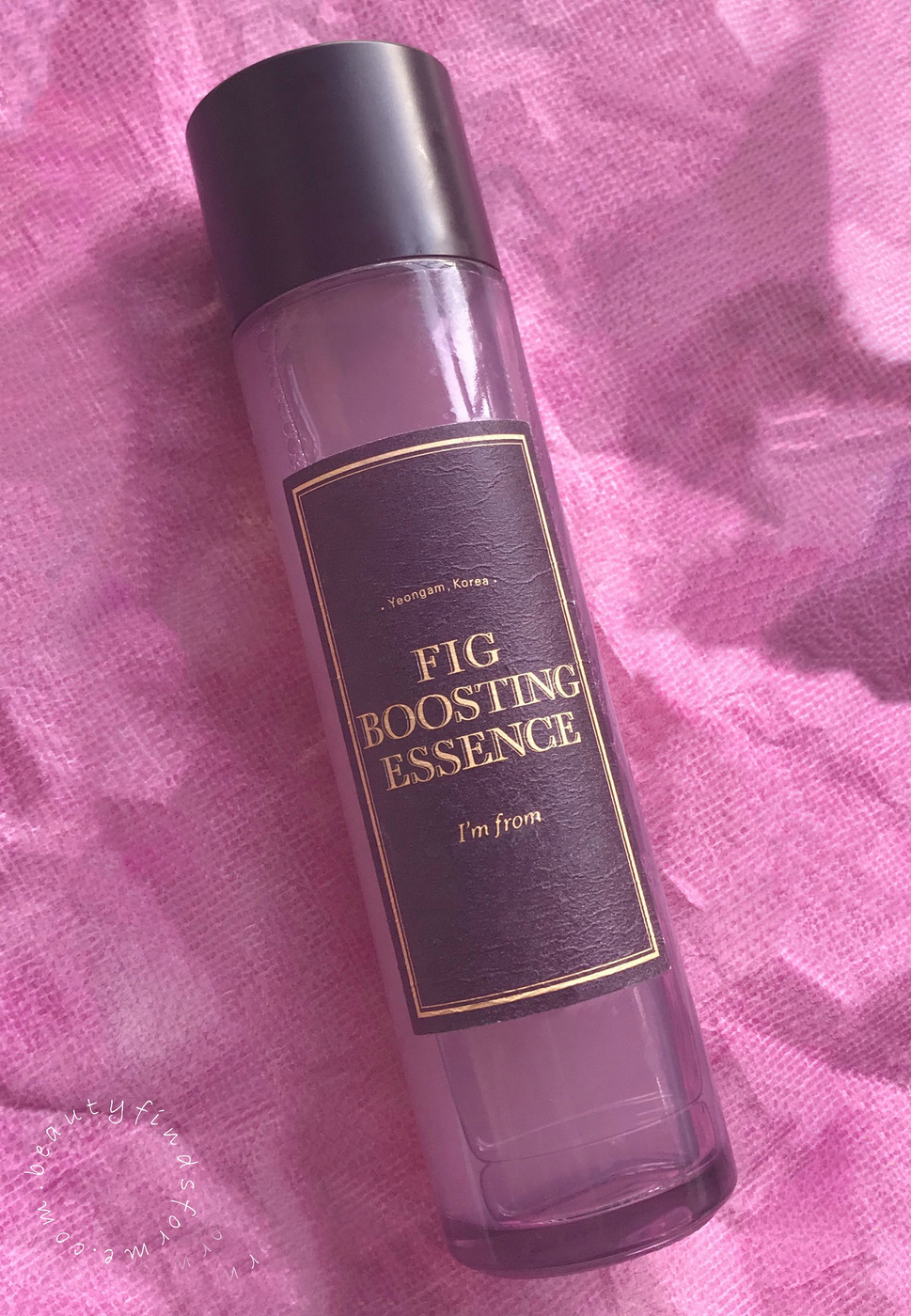 I'm From Fig Boosting Essence is one that a lot of people have been waiting to see a review outta me!  Sorry it took so long, but I really enjoyed this and wanted to continue using it for a longer period of time than normal before reviewing.  This contains contains 62.7% of the fig water along with hydrating humectants glycerin, sodium hyaluronate, panthenol, glucose and fructose hep keep your skin moisturized while attracting and retaining moisture.  Humectants helps keep your skin looking soft, smooth and plumped up with moisture. 
Betaine salicylate (BHA/beta hydroxy acid) is an exfoliator that helps reduce the appearance pore size, helps prevent acne, remove dirt and debris from clogged pores by dissolving the dead skin cells and smooths the skin. It is also an anti-inflammatory and antibacterial.  Allantoin moisturizes, exfoliates and softens skin, making it look smooth and refined, while reducing and relieving irritation.
Full of antioxidants, soybeans moisturize, help reduce the appearance of fine lines and wrinkles, helps firm skin and can reverse UV sun damage over time. It has anti-inflammatory properties so it helps reduce blemish swelling and redness. The power of soybeans contain amino acid glycine, which helps repair damaged tissue and to speed up healing, which means it is great for blemish prone skin as well.   Tocopherol is vitamin E, providing antioxidant and anti-aging benefits to facilitate radiant healthy skin, while helping to heal scars and skin issues
Chlorella vulgaris is a green algae that has anti-aging benefits, as it contains carotenoids. It helps prevent the disintegration of collagen and elasticity in your skin, and it actually aids in the production of collagen. Chlorella can help tone and firm your skin. It also contains amino acids, which are protein building blocks and it is believed that chlorella can help refine and smooth your skin's texture.
Prebiotic fructooligosaccharides helps keep your microbiome healthy and balanced.  It can help in strengthening  your skin barrier, reduce inflammation due to irritation or blemishes and is also a natural hydrating ingredient.  This has no added fragrance and is cruelty free.  
Ingredients: Ficus Carica (Fig) Fruit Extract (62.7%), Dipropylene Glycol, Glycerin, Propanediol, 1,2-Hexanediol, Water, Pentylene Glycol, Polyglyceryl-10 Laurate, Chlorella Vulgaris Extract, Glucose, Panthenol, Butylene Glycol, Ethylhexylglycerin, Diphenyl Dimethicone, Fructooligosaccharides, Fructose, Triethylhexanoin, Sodium Hyaluronate, Xanthan Gum, Disodium EDTA, Glycine Soja (Soybean) Seed Extract, Allantoin, Betaine Salicylate, Hydrogenated Lecithin, Octanediol, Tocopherol cosDNA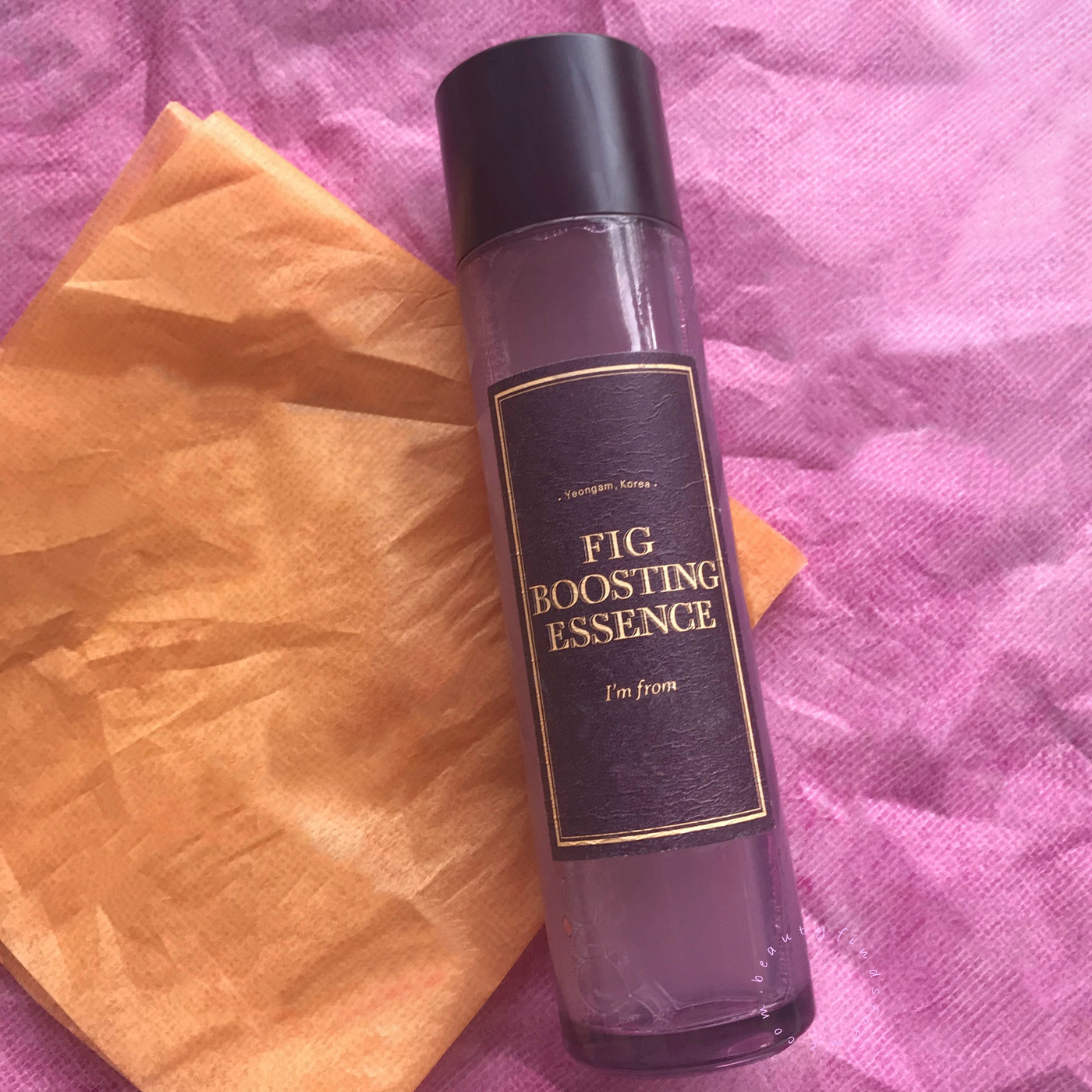 Like all of I'm From toners, this comes in a tall 150 mL pale plum colored glass bottle, with a plum colored label and plastic cap to match the figgy fruit color.  This has a pin hole applicator and thankfully, this essence has a nice viscous texture, so it isn't that runny.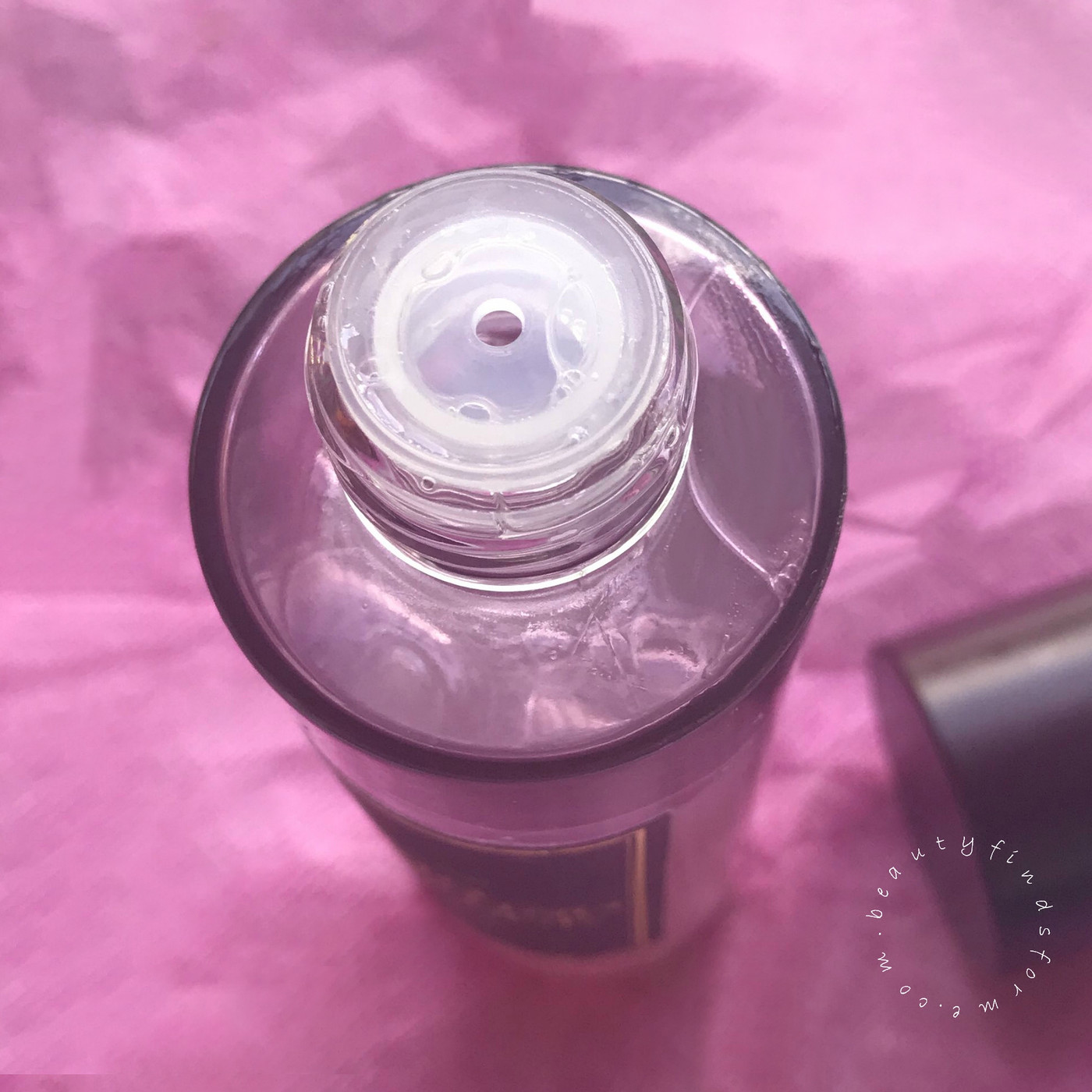 There is no scent that I can detect.   The Boosting Essence has a pH level of a 5, which is mildly acidic.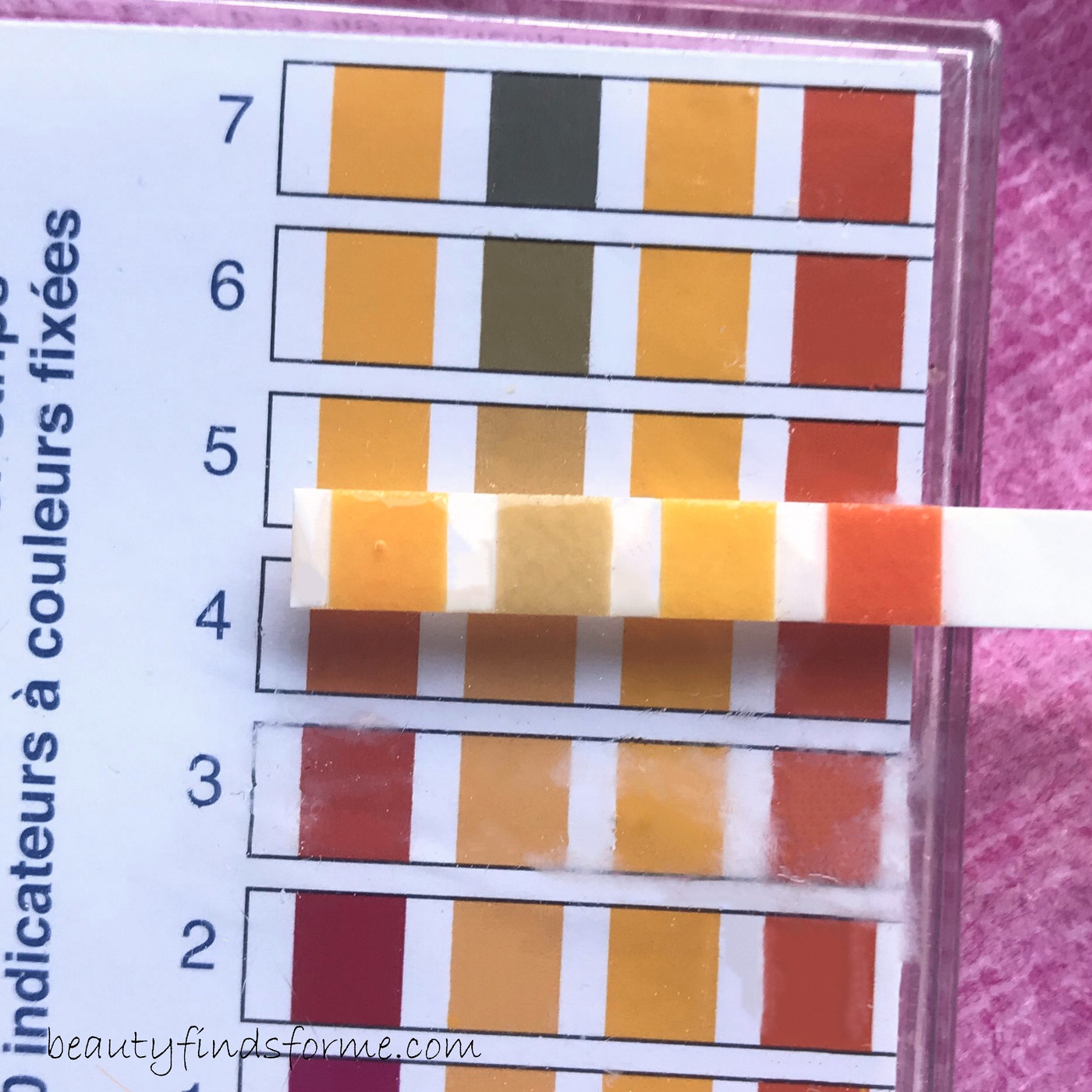 This liquid essence is very hydrating and feels almost greasy when I first apply it.  With my oily skin, it does take a minute or so to completely absorb and even then, my skin feels slick, but it isn't oily but has a very bouncy feeling.  There is no irritation or stinging with this toner on my non-sensitive skin. Once I apply other skincare products over it, that slick feeling goes away.  This does make my skin VERY moisturized and hydrated, so it is great for me either day or night, but I really love using it at nighttime as I really like to use it in layers.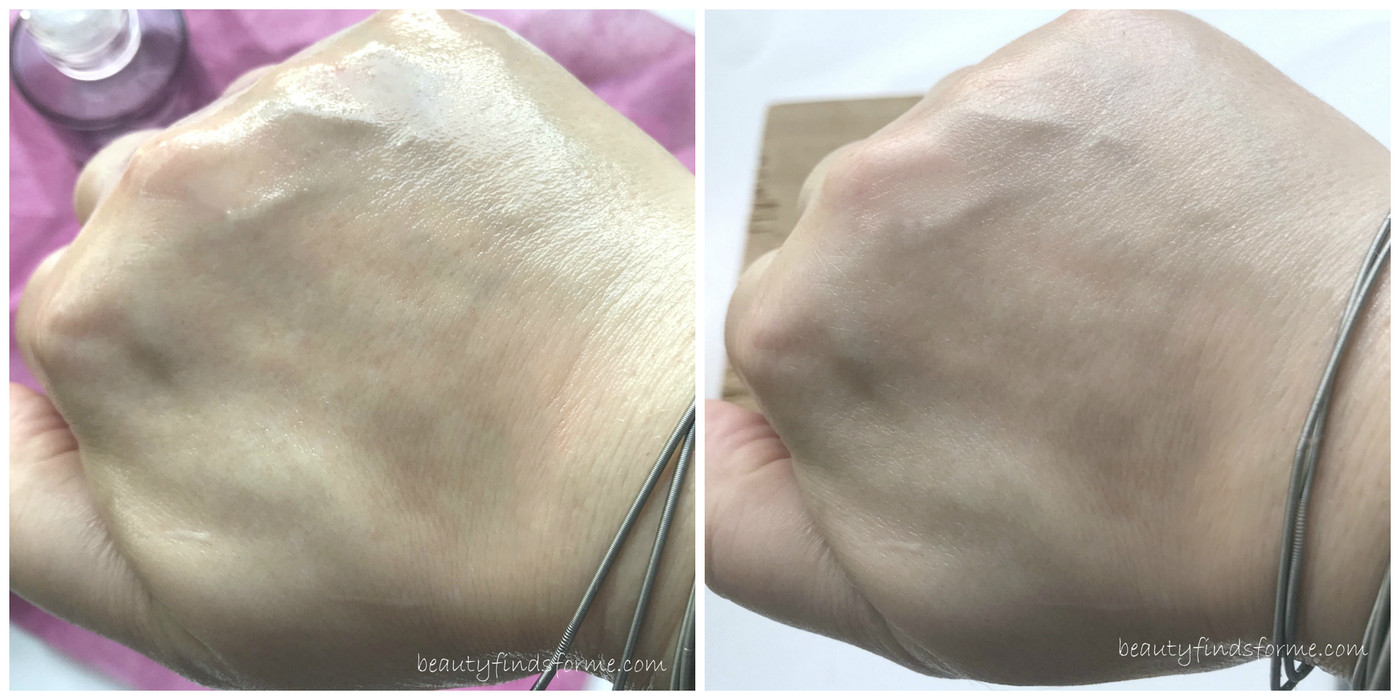 This doesn't clog my pores at all and even though I don't know the percentage of the BHA in here, I do think that with its mildly acidic pH level and the inclusion of a BHA, that it is helping to keep my pores clean and unclogged, despite the rich nature of this essence.  My skin is more glowy and plumped up ~ I would say that all skin types would enjoy this for its hydrating factor and from an oily skin perspective, even just using it in your night time routine would be beneficial due to the ingredients for anti-inflammatory and blemish healing properties  
Where to Purchase
Wishtrend, of course!  The I'm From Fig Boosting Essence is $35.00 USD (click here to purchase) for a 150 mL bottle.  You automatically receive Free Shipping with purchases $60.00 USD and over.  Wishtrend ships globally and you can pick your own samples now!  I have two affiliate promo codes right now ~ MICHELE15 to save 15% and that is good until July 31, 2020 and UNBOXINGWISHTREND to save 10% with no expiration date
[ some products were received in exchange for a review. contains affiliate links for a small commission