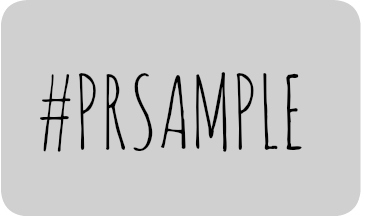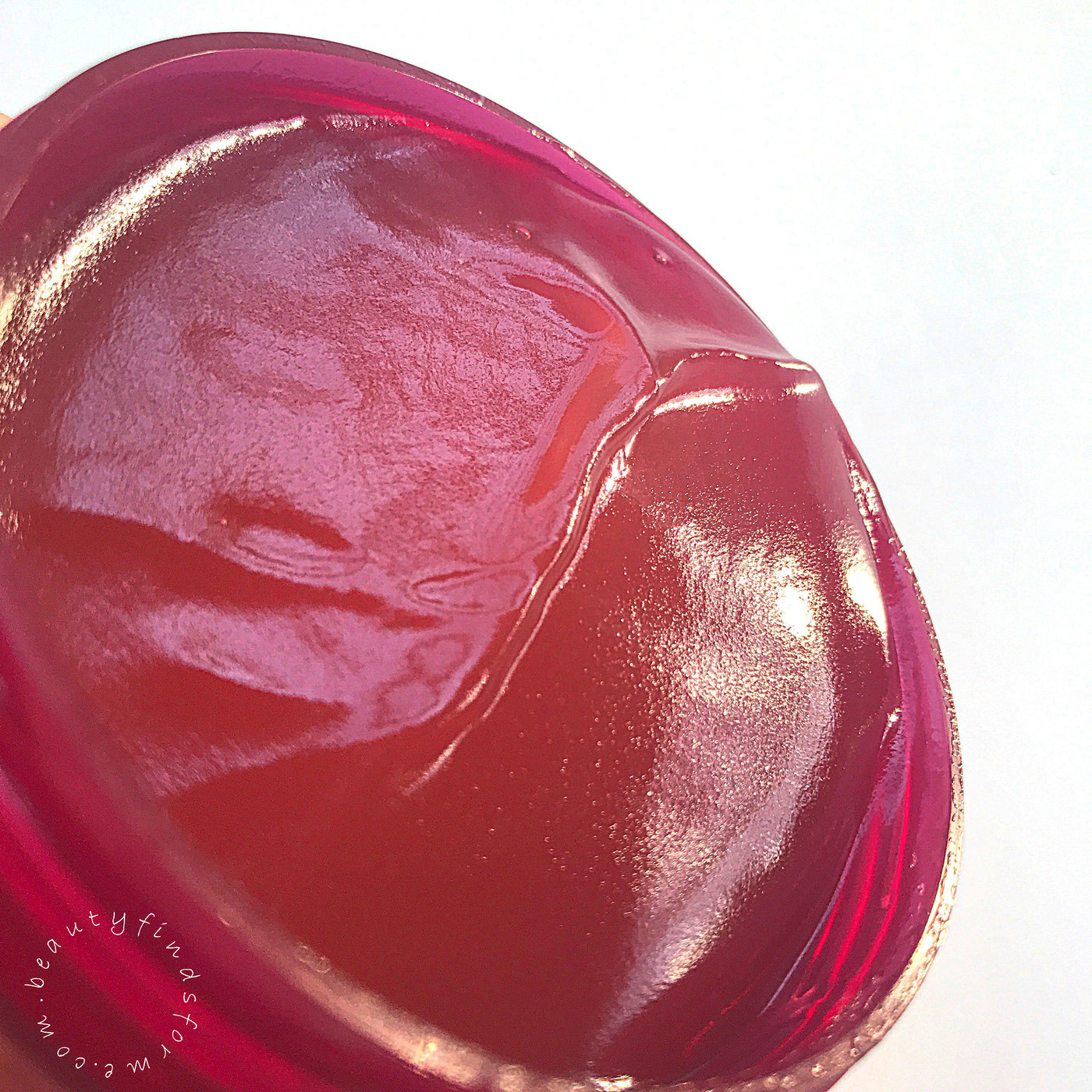 Naruko has some of the longest skincare product names I have ever seen!  I have reviewed so many Naruko products  in the past (see reviews here). Naruko is a Taiwanese brand that I was introduced to by the now defunct monthly sheet mask service MaskGenie which had a Naruko Snail mask it. 
I have been on a long love affair with Naruko, especially their tea tree line, but I also love their Job's Tear line as well.  Glowie Co, a new USA based online shop, which specializes in Taiwanese, Japanese and Korean skincare products, sent me this product complementary for review purposes.  You can save 10% with my promo code of UNBOXINGGLOWIE10 (no commissions, just a promo code for my readers)
Skin Type/Concerns: Oily, blemish prone, pores, aging skin with fine lines/wrinkles and hyper-pigmentation ~ sun damage and PIH
All reviews are my own honest opinion and  I never have been asked to write copy for a brand.  This blog post might contain promo codes, affiliate and referral links, which using my links will help generate a small commission that helps support my blog at no extra cost to you.
Why do you need a sleeping mask pack?   You can use a cream, I know I have ~ but make sure it is an occlusive cream.  A sleeping mask pack is more occlusive than most moisturizers and the reason for this is simple.  It helps lock in all of your other skin care products and can reduce trans-epidermal water loss, which is very important as you sleep.  One thing to note ~ occlusive ingredients do not bring moisture into your skin, but use the existing moisture to reabsorb it back into the skin, due to its barrier function.  That is why just a sleeping pack is not enough at night ~ you need to ensure that you have done a hydrating skincare routine before locking it all in with a sleeping mask pack. Occlusives don't feel that great on my oily skin for day time use ~ it is too greasy, too oily ~ but for nighttime use, I do not mind.  Your skin needs to recover and with a good occlusive product, it can help reset or reboot your skin, resulting in smoother and softer skin when you wake up.  Your skin will repair itself overnight, so using a product with beneficial nutrients and ingredients as your last step will create a protective barrier to lock in ingredients and prevent your skin from drying out.   
Key Ingredients
Job's tears (Coix lachryma-jobi)  by Leonardo da Vinci
Job's Tears (coix lacryma-jobi)  also known as Chinese Barley, Pearl Barley, Adlay Millet.  This ingredient is an anti-inflammatory and will help reduce redness and swelling, along with helping to detox and firm your skin.  It also contains coixenolide, a fatty acid, which helps reduce blemishes and hyper-pigmentation as it can inhibit the melanin production of your skin.  Job's Tears are also rich in iron, phosphorus and calcium minerals as well as a trio of B vitamins: B1 (thiamine), B2 (riboflavin) and B3 (niacin) and niacin is known for its skin brightening properties.   
Other skin brightening ingredients include tranexamic acid, derived from lysine. This synthetic amino acid has smoothing, brightening and astringent properties. It helps suppress the effects of melanin, causing a reduction of hyper-pigmentation. Niacinamide is a powerful antioxidant that helps even out skin tone, reduce post-inflammatory hyper-pigmentation while acting as an anti-inflammatory, enhancing your skin barrier function and improving skin elasticity.
This has a stable form of vitamin C in ethyl ascorbic acid, which is an derivative of ascorbic acid.  This makes this vitamin C soluble in water and oil. Vitamin C is an antioxidant that is essential for tissue growth, repair and collagen production and it has skin brightening effects. Retinol (retinyl)  palmitate is one of my favorite ingredients and this is an ester/derivative of retinol. It will convert to retinol and then to retinoic acid once it is applied and absorbed topically by the skin. Retinyl palmitate is less irritating than retinol, but its benefits are similar, but on a more gentle level, so effects will take longer. Retinol is an active and it helps promotes cellular turnover and I have used Retin-A, a prescription strength version, years ago and it really helped with my blemishes. Its other side effect that makes this ingredient so wonderful, is it will help lighten PIH, age/sun-damage hyper-pigmentation and reduce fine lines and wrinkles, while making your skin smooth.
What else is in here?  Naruko is well known for its long ingredient list, but they are effective formulas.  PHA gluconolactone  functions like an AHA and will help improve your skin's texture by aiding in cellular turnover, unclogging pores and removing dead skin cells.  PHA will help refine and smooth your skin, while providing anti aging and anti-inflammatory benefits ~ again, similar to AHA, but PHA can used by people with rosacea and atopic dermatitis. Oleanolic acid is an anti-inflammatory antioxidant. Melia azadirachta (neem) has antiseptic properties and will help control blemishes and help them
Salix alba (willow) bark is a BHA (beta hydroxy acid) which helps exfoliate skin by removing dead skin cells, contains salicylic acid, to help combat acne. It is also high in anti-oxidants, which tone and reduce inflammation as well as being an astringent, to control oil. Salicylic acid is fat soluble, so it can really get to the oil that is inside your pores.  Herbal houttuynia cordata is an antibiotic, which helps with preventing infection from skin problems, such as blemishes. It is also a potent antioxidant, as it contains anti-aging compounds such as flavonoids and triterpenoid, which helps strengthen, purify and revitalize your skin . It also has powerful detox properties, is an astringent and anti-inflammatory.
Rich in minerals and vitamins, glycine soja protein is a derivative from soybean amino acids.  This will help nourish your skin, improve the softness, strengthens, reduces fine lines and wrinkles and moisturizes. 
Phytoferulin is Naruko's blend of 11 concentrated herbal ingredients: kalanchoe spathulata, glycyrrhiza glabra (licorice) root, alpine skullcap (scutellaria alpina), masterwort (peucedanum ostruthium), ginkgo biloba, alps wormwood (artemisia umbelliformis),  leontopodium alpinum , alpine willowherb (epilobium fleischeri) , calendula officinalis , chamomilla recutita (matricaria) and , camellia sinensis (green tea) extracts.   This complex will help prevent hyper-pigmentation and environmental stress to your skin, while being a powerful antioxidant and brightening agent. This complex is very effective in hydrating your skin, while controlling oil.
Ingredients: Water, Taiwan Jobs Tears (Coix Lacryma-Jobi) Extract, Butylene Glycol, Glycerin, Gluconolactone, Ammonium Acryloyldimethyltaurate/VP Copolymer, Bis-PEG-18 Methyl Ether Dimethyl Silane, Sodium Polyacrylate Starch, Dimethicone, Tranexamic Acid, Niacinamide, Phenoxyethanol, Chlorphenesin, Curuma Kwansiensis/Curcuma Wenyujin Rhizome Extract, Ethyl Ascorbic Acid, Ethylhexylglycerin, Kalanchoe Spathulata Extract**, Sodium Hyaluronate, Tremella Fuciformis Sporocarp Extract, Saccharide Isomerate, Ascorbyl Glucoside, Arbutin, Dipotassium Glycyrrhizate, Creatine, Salicyloyl Phytosphingosine, Propylene Glycol, Xanthan Gum, Glycyrrhiza Glabra (Licorice) Root Extract**, Scutellaria Alpina Flower/Leaf/Stem Extract**, Peucedarium Ostruthium Leaf Extract**, Ginkgo Biloba Leaf Extract**, Artemisia Umbelliformis Extract**, Leontopodium Alpinum Extract**, Epilobium Fleuischeri Extract**, Calendula Officinalis Flower Extract **, Chamomilla Recutita (Matricaria) Flower Extract** , Camelia Sinensis (Green Tea) Leaf Extract**, Yeast Extract, Octyldodecyl Myristate, Aesculus Hippocastanum Extract, Phragmites Karka Extract, Fragrance, Ammonium Glycyrrhizate, Panthenol, Zinc Gluconate, Caffeine, Biotin, Poria Cocos Extract, Coix Jacryma-Jobi Seed Extract, Vibrio Alginolyticus Ferment Filtrate, Tocopheryl Acetate, Phellodendron Amurense Bark Extract, Enantia Chlorantha Bark Extract, Polyoxyethylene-Sorbitan-Monooleate, Retinol Palmitate, Iris Florentina Root Extract, Mulberry Bark Extract, Vitis Vinifera Leaf Extract, PEG-60 Hydrogenated Castor Oil, Glyceryl Caprylate, Lactobacillus/Pear Juice Ferment Filtrate, O-Cymen-5-Ol, Salix Alba Bark Extract, Rehmannia Chinensis Root Extract, Melia Azadirachta Leaf Extract, Scutellaria Baicalensis Root Extract, Houttuynia Cordata Extract, Glycine Soja Protein, Oleanolic Acid cosDNA
** Phytoferulin is an exclusively patented complex formulated with 11 plant extracts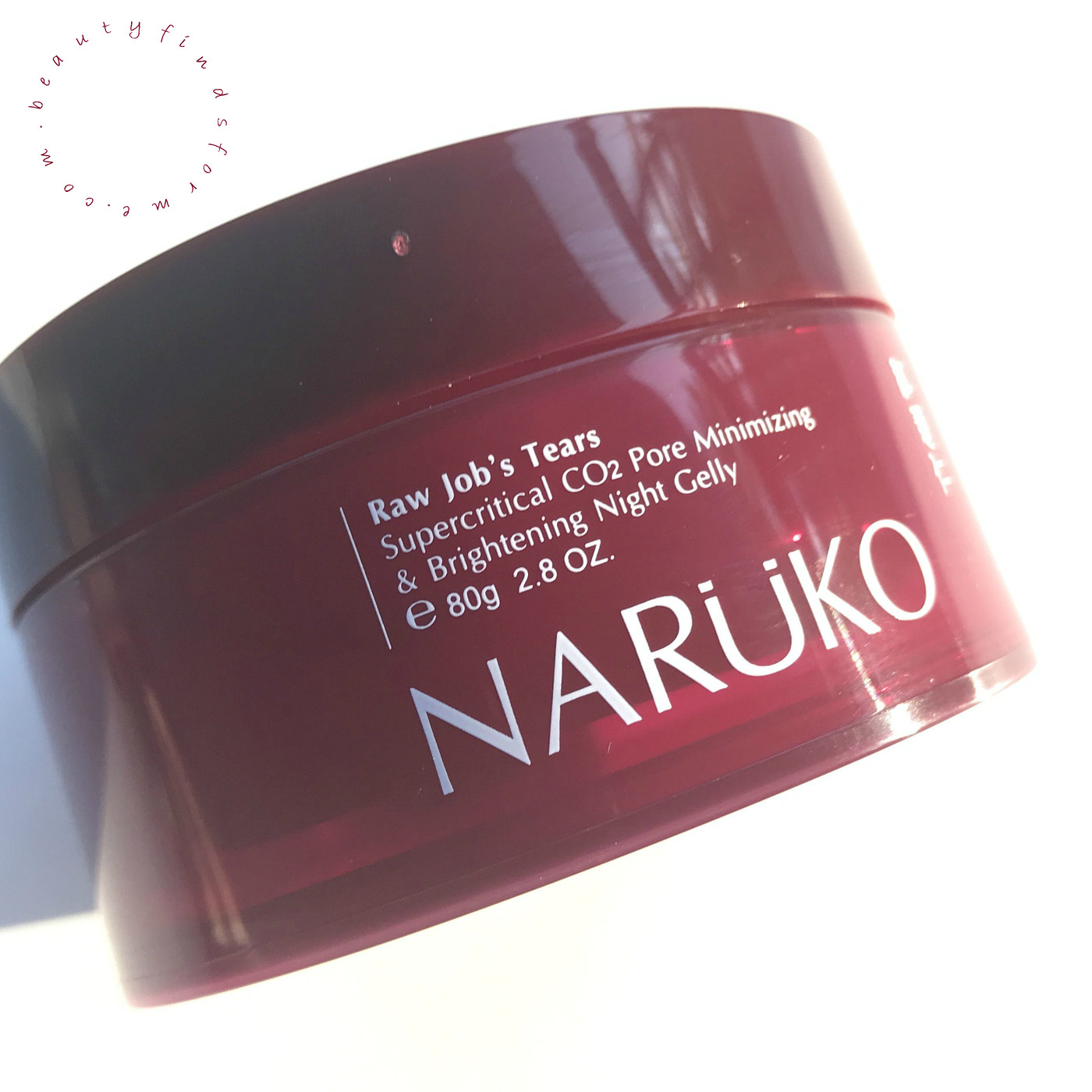 Like all of Naruko's Sleeping Packs, this comes in a nice tub, color coordinated to the line ~ a deep maroon.  This gel reminds me of agar jelly before it sets completely.  This is not totally translucent, it looks almost grainy (but it isn't) and is a very pale pale pink shade before I massage into my skin.  The texture is a jelly and it has a warm, earthy grain scent to it, like yeast, which makes sense with the Job's Tears in here.  This is also a memory cream, which means that no matter how I poke and prod at the jelly, it will always go back to a flat surface, like it was never touched. 
The jelly is cooling to my skin and it doesn't really dry down quickly. In fact, I would recommend using less product first as Naruko Raw Job's Tears does pill and roll up into balls if  I use too much.  Seriously, it looks like boogers.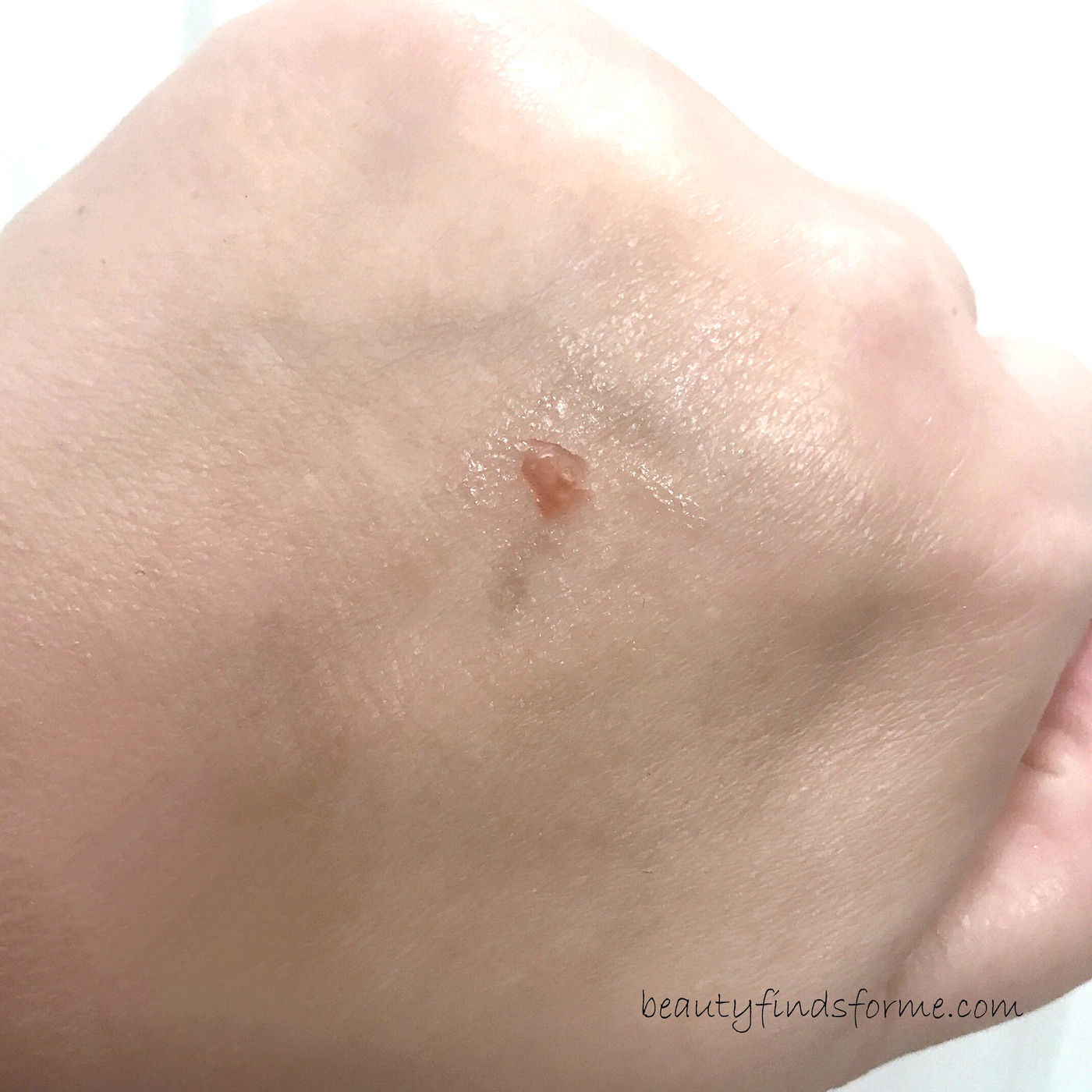 Just make sure to pat into the skin well.  My skin does feels very moisturized at this point and it is not sticky or tacky.  

In the morning, if I haven't patted the product well the night before, I will wake up to little balls of this jelly on my skin, but since I am going to rinse my skin clean of my night time products, that doesn't bother me too much.   I didn't notice any wowza brightening effects or pore minimizing, but I did notice that this jelly does control my oil and leaves my skin looking and feeling less greasy, while leaving my skin looking healthy.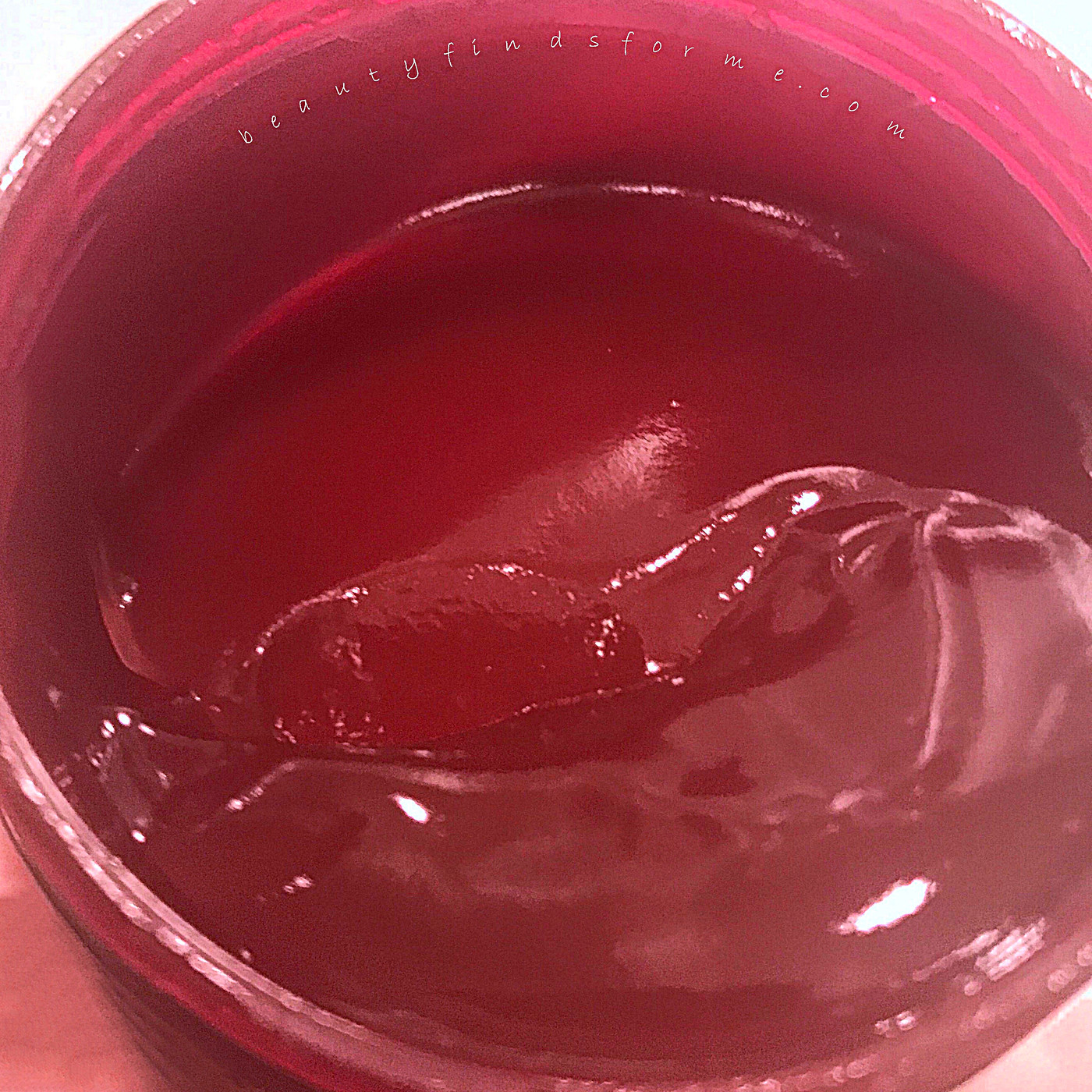 You can purchase Naruko Raw Job's Tears Supercritical CO2 Pore Minimizing & Brightening Night Gelly for $24.00 USD (click here).  Glowie Co also has a lot of Naruko products, including my beloved Tea Tree line and HG LaCreme Face Renewal Miracle Essence.  You can save 10% with my promo code of UNBOXINGGLOWIE10
[ some products were received in exchange for a review ]