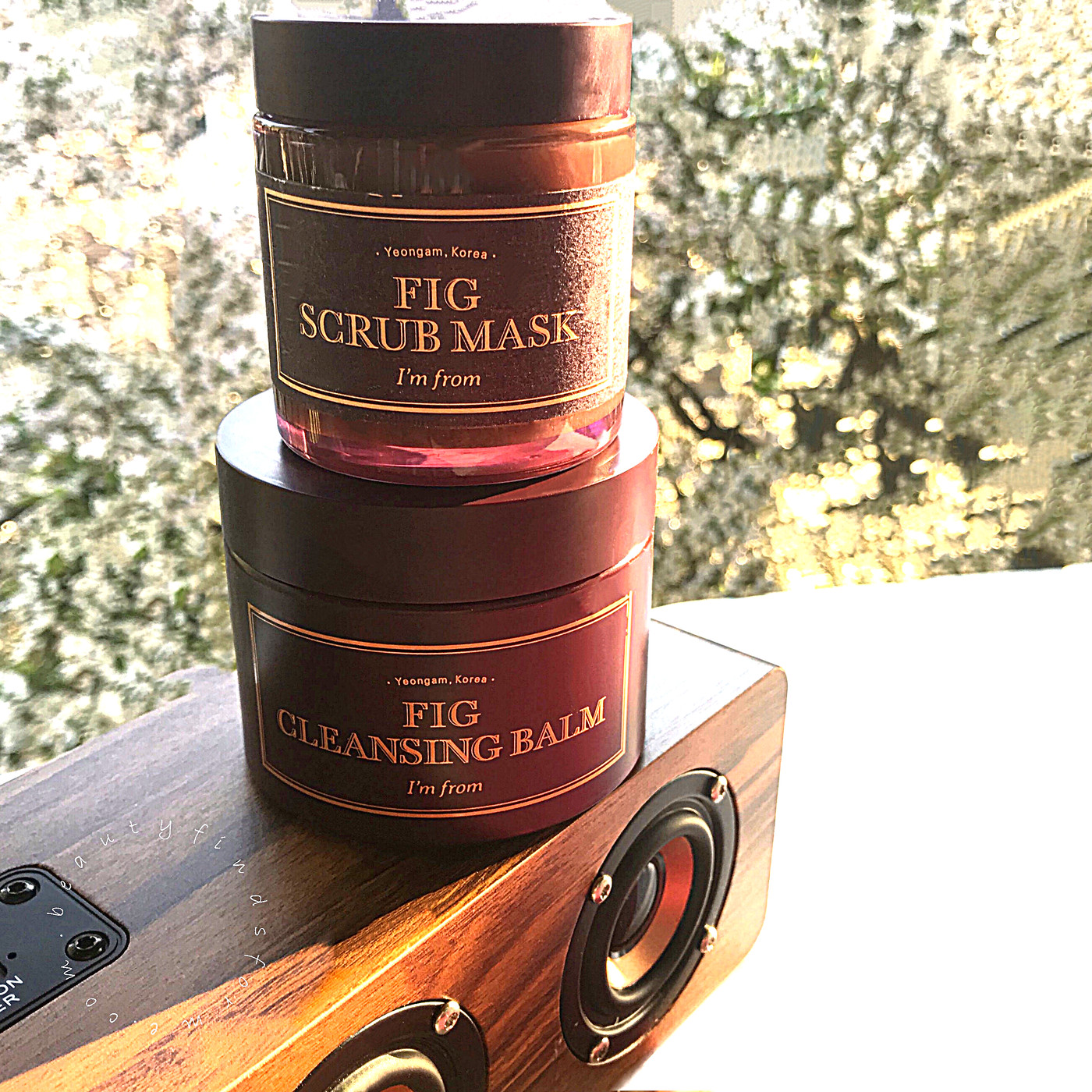 Wishtrend sent me from the brand new I'm From Fig Skincare line for review purposes ~ a cleansing balm, sugar scrub and boosting essence.  I am a huge fan of I'm From (check out my reviews here) and this new line featuring a rarely used ingredient was immediately of interest to me.   Thank you so much Wishtrend and this review will focus on the cleansing products. 
Skin Type/Concerns:  Oily, dehydrated, blemish prone, aging skin with hyper-pigmentation, fine lines/wrinkles.
  Some products were complementary to review and was not paid.  All reviews are my own honest opinion and  I never have been asked to write copy for a brand.  This blog post might contain promo codes, affiliate and referral links, which using my links will help generate a small commission that helps support my blog at no extra cost to you. 
Key Ingredient
Figs, of course!  In traditional folk medicine, figs were used for warts and wounds, brushing teeth to help relieve sore throats and King Mithridates of Pontus  ~ modern day northeastern part of Turkey  ~  ordered his people to eat one fig a day as he believed they were a cure for illnesses.   Why all the fuss around ficus carica? 
image from wishtrend
Rich in antioxidant vitamins A, C, B1 and B2, minerals, omega fatty acids and high concentrations of polyphenols, flavonoids, anthocyanins, figs can help brighten skin and even out the skin tone.  These antioxidants will also help reduce the damage from free radicals so your skin is softer with a reduction in appearance  of fine lines and wrinkles.  Figs also help clear your skin, reduce sebum and act as an astringent.  Figs contain a proteolytic enzyme called ficin, which help break down dead skin cells, so your skin is smoother as it acts as an exfoliator.  
The figs used in I'm From Fig Skincare Line is from Yeong-am, South Korea and they have been grown with eco-friendly farming methods, without pesticides.  Yeong-am has a climate that is similar to the Mediterranean ~ warm and dry with four seasons and is near the ocean. The soil is a rich in organic matter and minerals as it is consists of mainly ocher.  Figs grown in this soil will have a higher sugar content.  The figs are hand harvested every year and since figs have the highest sugar content at dawn, these farmers start picking the fruit prior to 4 am in the morning, while it is still dark.   
I'm From creates three different types of fig extracts
Fig Powder:  The figs are harvested, washed and thinly sliced.  They are dried for 12 hours and then finely ground into a soft powder.  This powder is used in the I'm From Fig Scrub Mask

Fig Water

: After an early morning harvest of young figs, they are washed and thinly sliced.  The raw fig slices are then compressed into polymers using the VegeLive ™ method ~  this method is an eco-friendly extraction method that will draw out the pure water of the raw figs from the cells.  This extract is used in the I'm From Fig Boosting Essence, which I will review separately.

Fig Oil-Water

: After harvesting and washing the figs, finely crush the figs.  At room temperature, an Oil Macerating Extraction ™, which immerses the crushed figs into an oil liquid, is used to extract the active ingredients of figs into that oil.  This oil-water is used in the I'm From Fig Cleansing Balm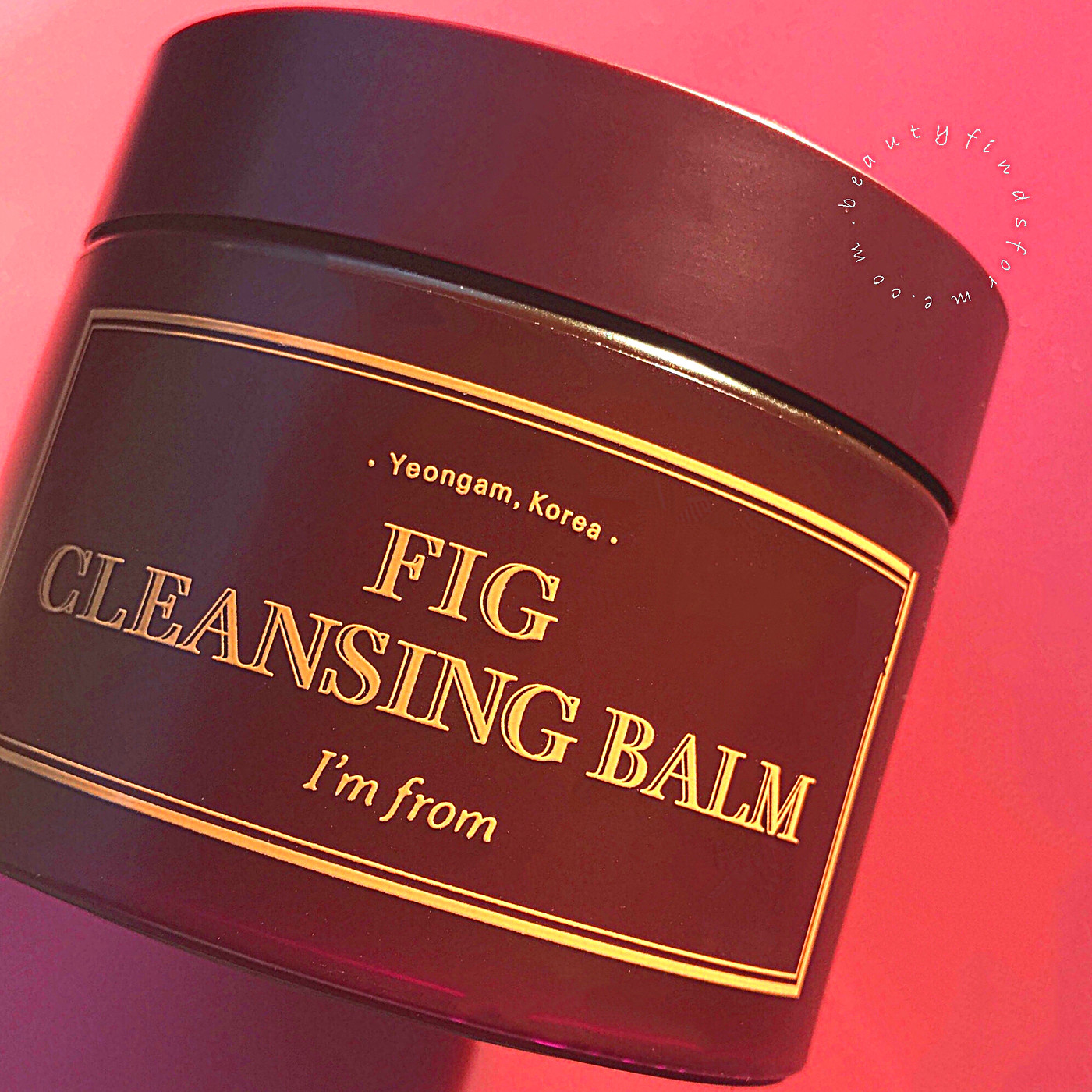 I'm From Fig Cleansing Balm contains 7.8% of the fig oil-water extract along with moringa oil, which has purifying and have antiseptic benefits, with anti-inflammatory properties ~ helping with blemish care. Melia azadirachta (neem) has antiseptic properties and will help control blemishes and help them while holy basil reduces inflammation, clears blemishes and can lighten hyper-pigmentation.  Turmeric is a popular ingredient for blemish control, as it has both anti-inflammatory and anti-oxidant properties.  Turmeric soothes blemishes and heals acne, while reducing redness and swelling.   Corallina officinalis is a red algae and has exfoliating benefits, removing dead skin cells and also antioxidant benefits, to prevent free radical damage. 
Ingredients: Cetyl Ethylhexanoate, Polyethylene, Synthetic Wax, Ficus Carica (fig) Fruit Extract (7.8%), PEG-10 Isostearate, PEG-20 Glyceryl Triisostearate, Caprylic/Capric Triglyceride, Fragrance, Sorbitan Sesquioleate, Caprylyl Glycol, Ethylhexylglycerin, Moringa Oleifera Seed Oil, Curcuma Longa (turmeric) Root Extract, Melia Azadirachta Flower Extract, Melia Azadirachta Leaf Extract, Melia Azadirachta Bark Extract, Corallina Officinalis Extract, Ocimum Sanctum (holy basil) Leaf Extract cosDNA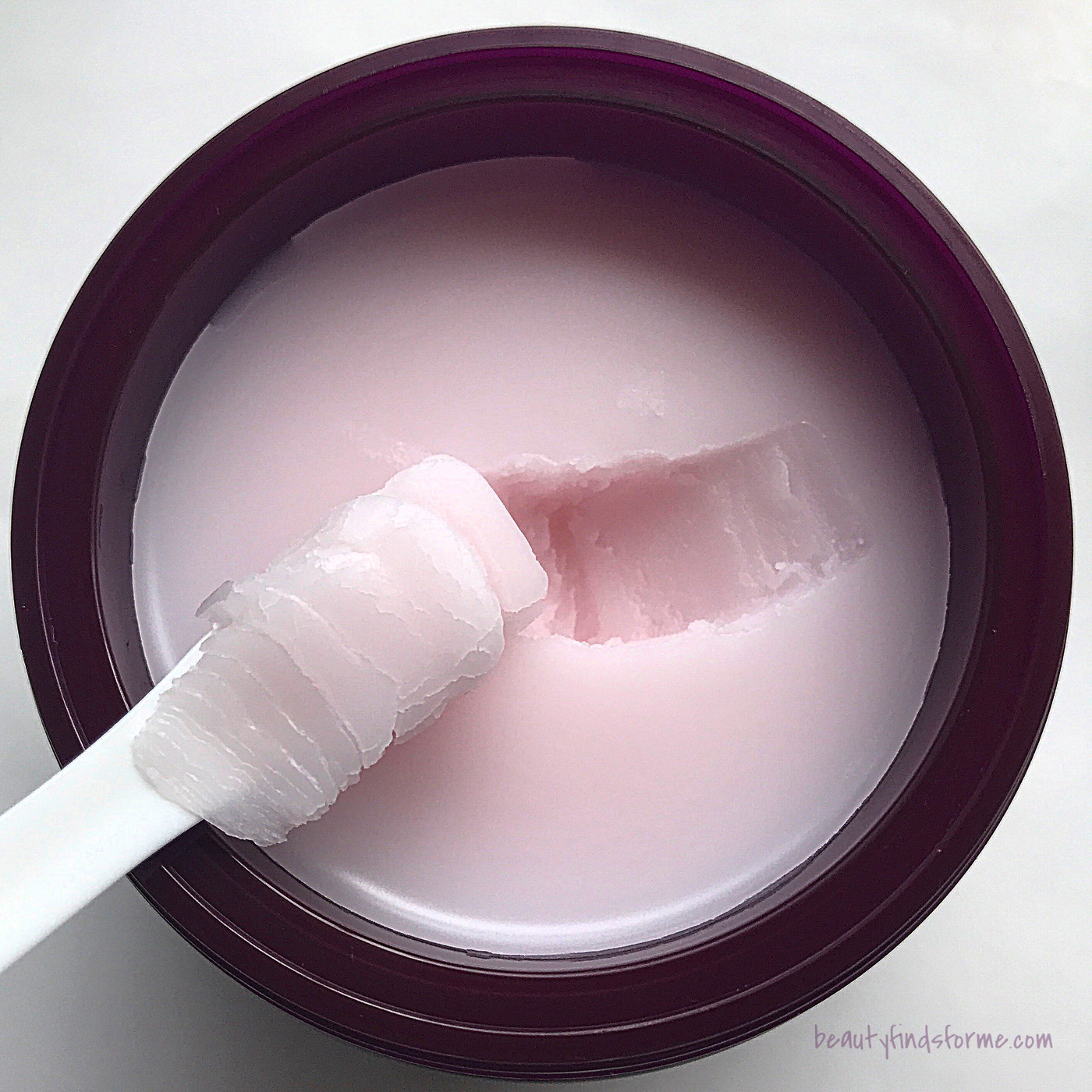 This comes in a lovely plum (or FIG) colored plastic tub that has an inner lid with a spatula that fits INSIDE the lid ~ no losing that spatula!  The cleansing balm is quite firm in the tub and has a lovely light plum color to it.  The scent is not figgy, but more a light sweet herb and it is delightful ~ I know that some people dislike scents in their cleansing products and I can understand that.  However, because I find the scent pleasant and it fades quickly, I do not mind it.

This balm is thicker and less "sherbety" than other cleansing balms and while it does melt into an oil, it does so on my face, not in the tub.  The oil seems heavy but once I add water to it, it does turn to a milky emulsion and thins out.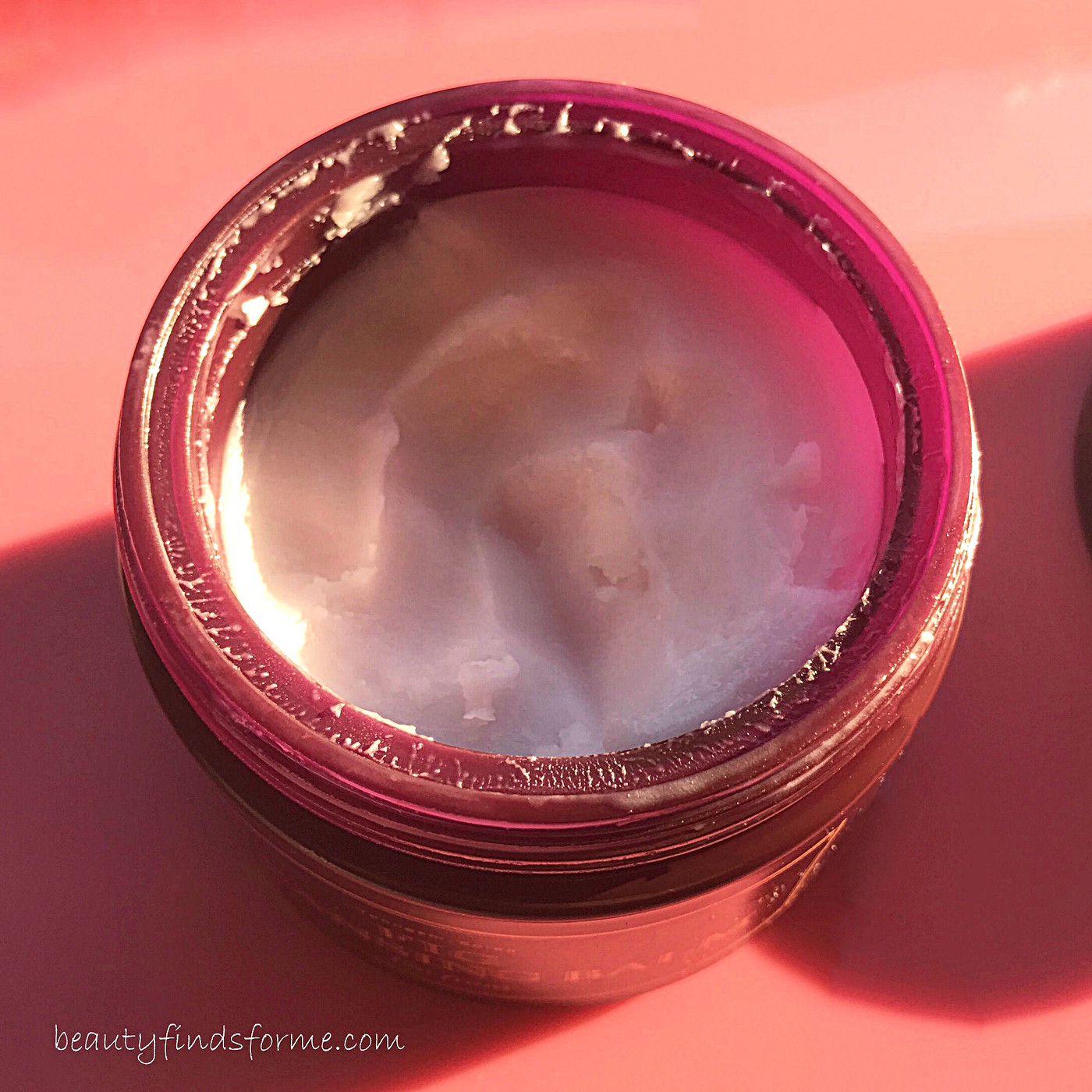 This works really well on sunscreen and makeup, breaking it down almost immediately and it doesn't leave any residue on my skin after I rinse it off.  For someone with oily skin, I do enjoy a cleansing balm that doesn't leave a filmy residue behind, even though I always follow up with a foaming cleanser.  My skin feels very soft and hydrated, as this balm does not strip my skin dry.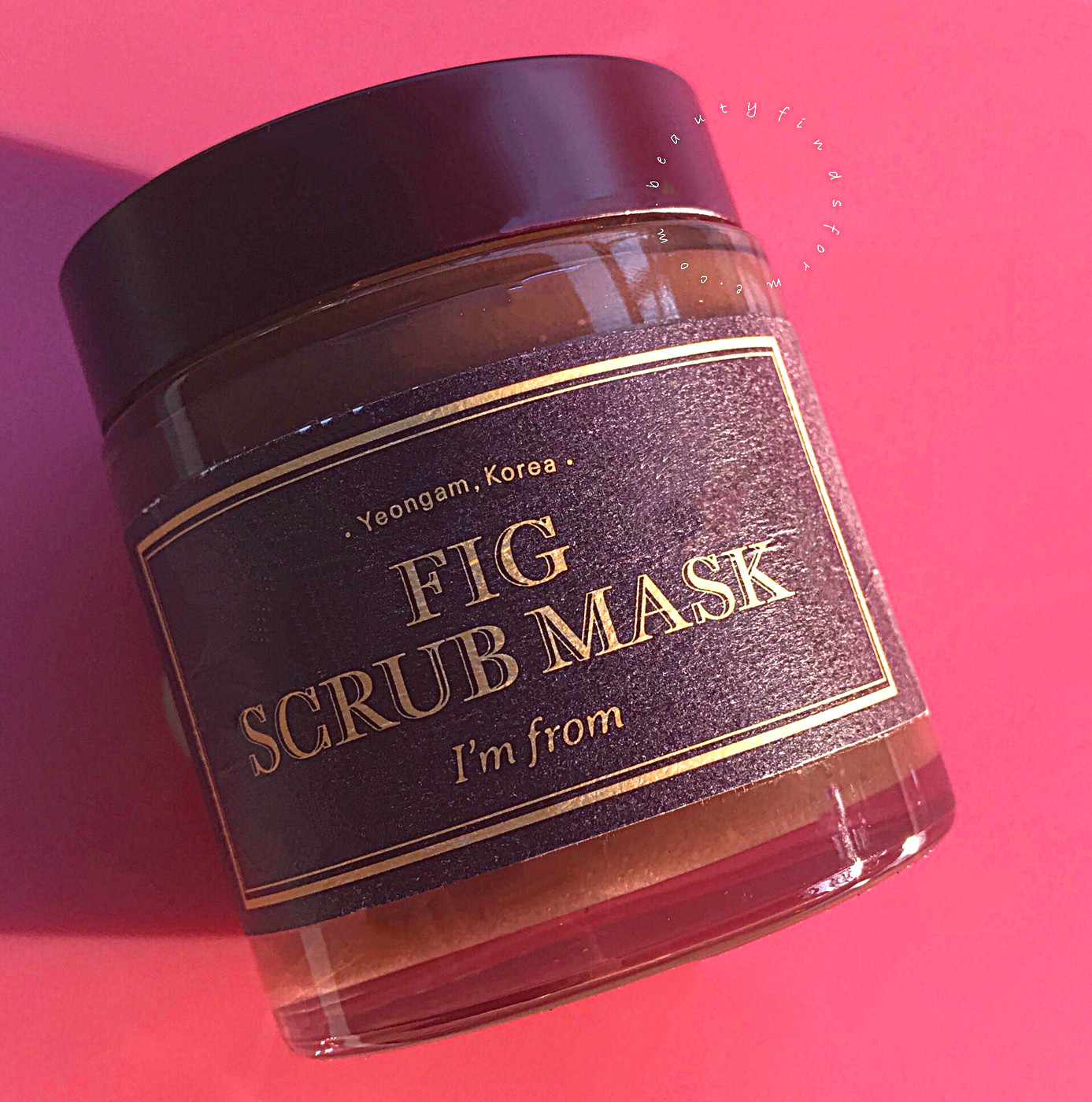 I'm From Fig Scrub Mask is a fast favorite of mine!  This gentle exfoliator has a combination of 1.2% fig powder and black sugar ~  hydrating sugar is not only a physical exfoliator, it has natural AHA benefits which helps it be a chemical exfoliator as well, helping to break down the external layers of dead skin, so new cell growth can occur.  This also has sweet almond seed meal and finely ground walnut shell powder for additional exfoliation.  This has some really good occlusive ingredients in here to help prevent moisture loss: caprylic/capric triglyceride, candelilla wax along with lubricating PEG-7 glyceryl cocoate  and humectant caprylyl glycol. This mask is cruelty free.
Ingredients: Caprylic/Capric Triglyceride, Sucrose, PEG-7 Glyceryl Cocoate, Stearalkonium Hectorite, C13-15 Alkane, Ficus Carica (Fig) Fruit Powder (1.2%), Euphorbia Cerifera (Candelilla) Wax, Prunus Amygdalus Dulcis (Sweet Almond) Seed Meal, Fragrance, Juglans Regia (Walnut) Shell Powder, Caprylyl Glycol, Caramel cosDNA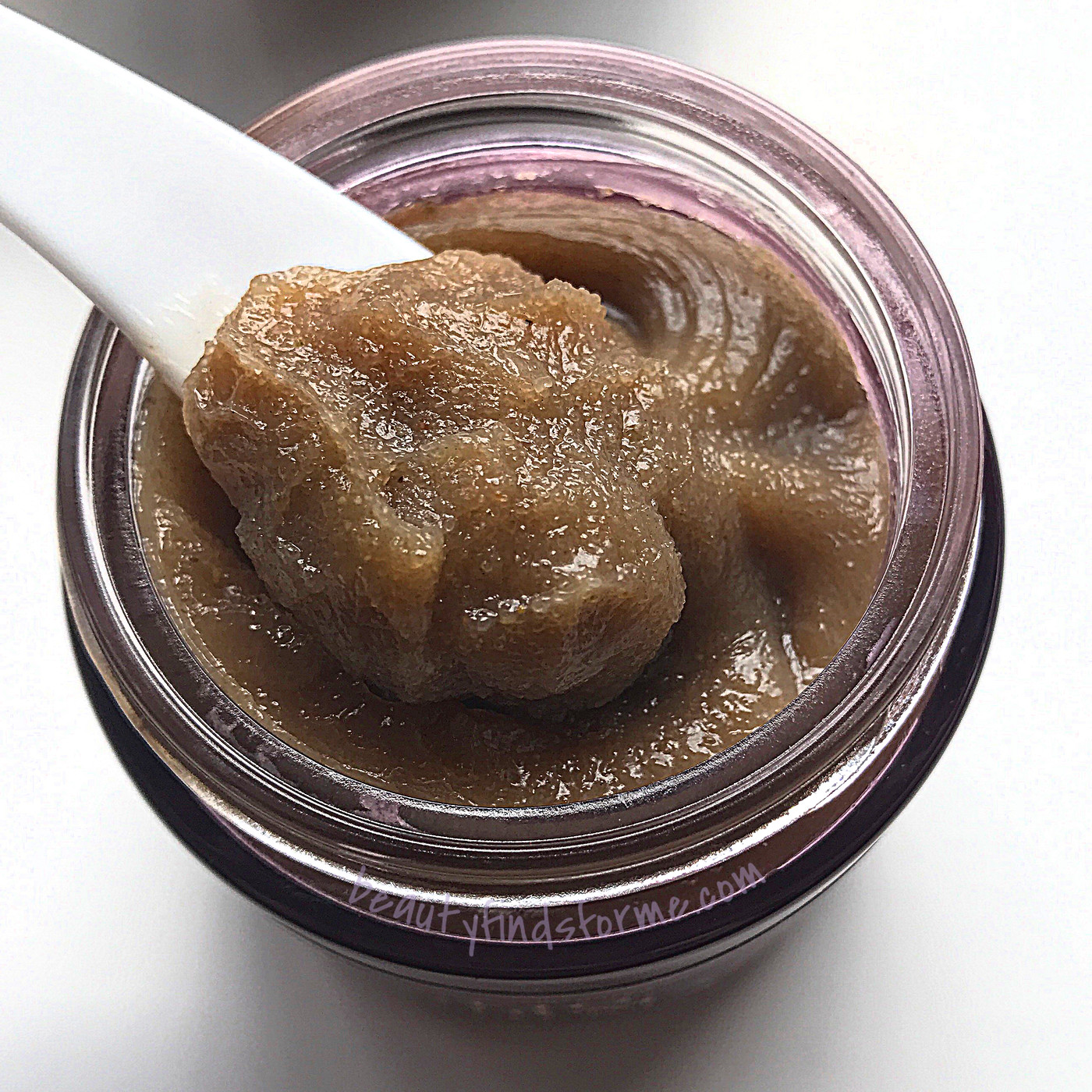 This comes in the classic glass jar for wash off masks that I'm From is known for and the sugar scrub is a deep amber shade that smells like fig jam.  This is quite moist and easy to apply.  Just leave on for 10 to 15 minutes, so the enzymes and other good stuff in the mask can do its job and then rinse off with warm water, while massaging to get the physical exfoliation.
The powder grains in here are so fine that it doesn't scratch or tear the skin and with all of the moisturizing ingredients, it is buffered as well.  This does leave a moisturizing film on my skin, but it absorbs fairly quickly, leaving behind soft and glowing skin.  I do love this scrub mask as I feel it helps remove oil and dead skin while keeping my skin moisturized.  I find it to be very similar to Klair's Youthful Glow Sugar Mask with that balmy scrubby texture and it is going to be one I want to reach for a lot.  I have oily skin, so I physically exfoliate 2 to 3 times a week in the warmer weather, as my skin does get clogged and congested. 
Where to Purchase
Wishtrend, of course!  You automatically receive Free Shipping with purchases $60.00 USD and over.  Wishtrend ships globally and you can pick your own samples now!  I have two affiliate promo codes right now ~ MICHELE15 to save 15% and that is good until May 31, 2020 and UNBOXINGWISHTREND to save 10% with no expiration date
[ some products were received in exchange for a review. contains affiliate links for a small commission