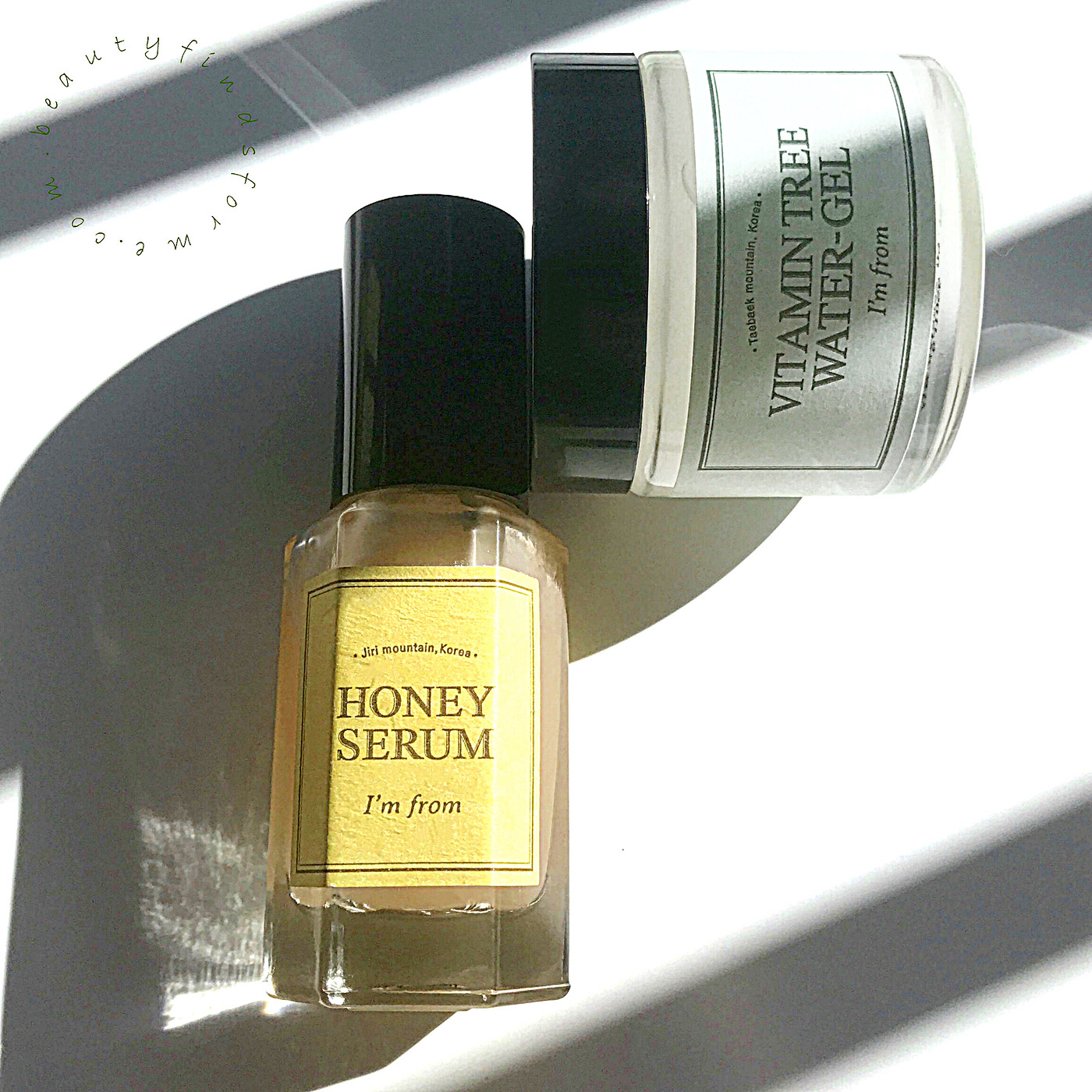 Wishtrend sent me two products from I'm From, a favorite brand of mine for years ~ a brand new I'm From Honey Serum and an older product that I have not used before ~ I'm From Vitamin Tree Water Gel.   There is a reason why I am reviewing these two products together, as I think they go together like "peas & carrots" ~ famous line from the movie Forrest Gump.  You can read all of my other reviews on I'm From skincare items here.  I have tried and reviewed a lot, as I do really enjoy this brand.   
During this time of stress, I find that I am looking for products that make me feel good about my skin.  We don't have a lot of control over what is going on with the covid-19 pandemic, so we get depressed, angry and scared.   For me, watching a Chinese or Korean drama, trying out new recipes or finding a surprise combination of skincare products that work, make me feel a bit less anxious.  
Skin Type/Concerns:  Oily, dehydrated, blemish prone, aging skin with hyper-pigmentation, fine lines/wrinkles.
  Some products were complementary to review and was not paid.  All reviews are my own honest opinion and  I never have been asked to write copy for a brand.  This blog post might contain promo codes, affiliate and referral links, which using my links will help generate a small commission that helps support my blog at no extra cost to you.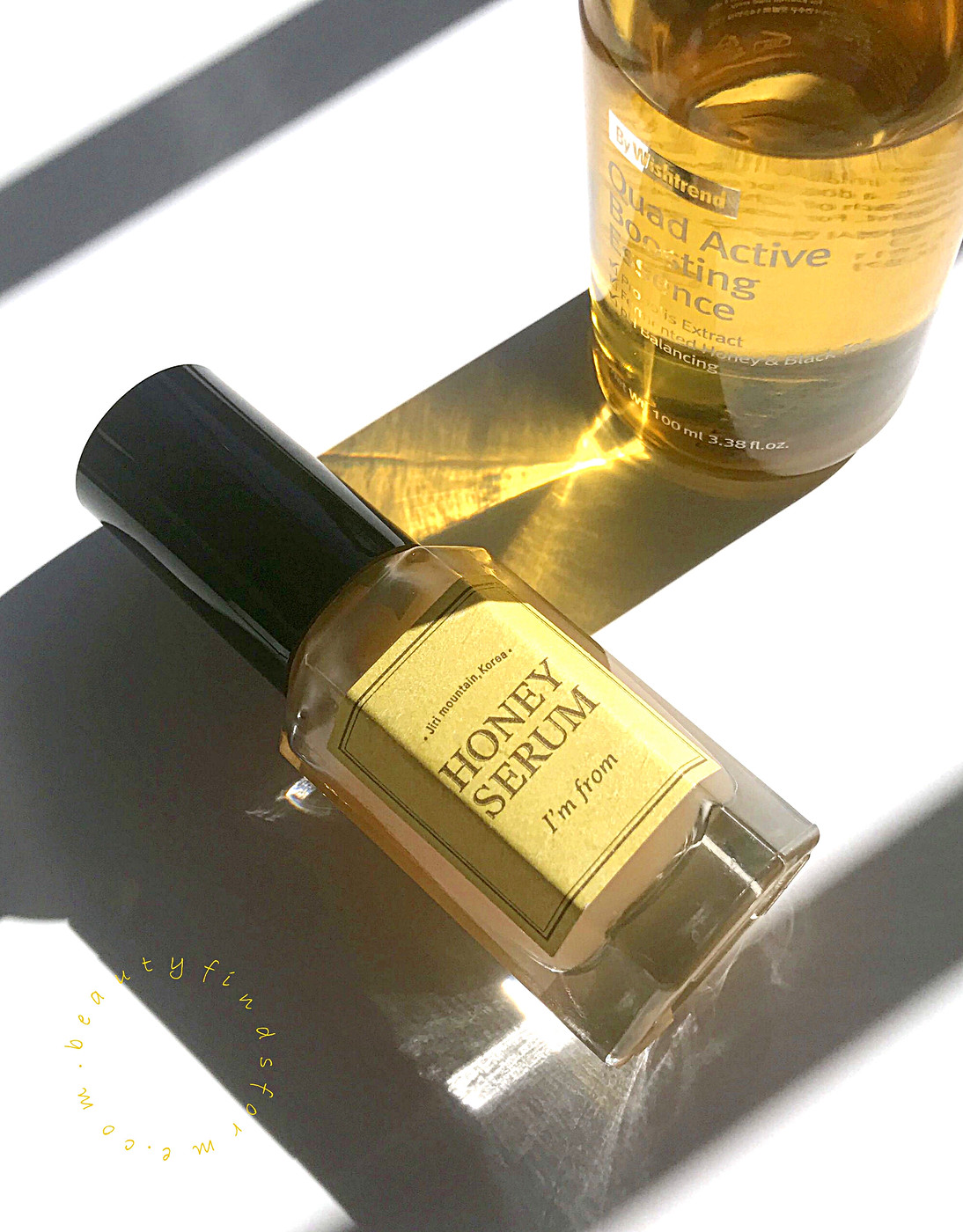 I'm From Honey Serum ~ I love the I'm From Honey Mask ~ it's not something I use all the time as it is very moisturizing but when I do use it, I love how glowing and soft my skin is, plus it smells like real honey.  I was really excited to try out the new I'm From Honey Serum because of my positive experiences with the wash-off mask pack.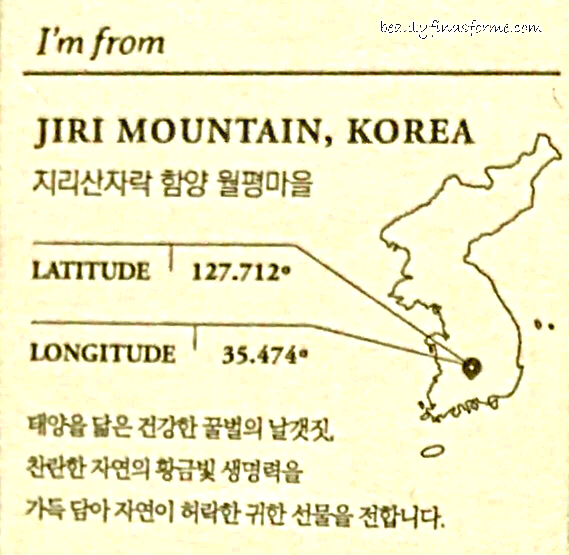 This is made  with 30.63% of Honey Glow Queen Complex, a unique formula of seven ingredients
Honey has antibacterial properties, that can speed up healing in your skin ~ think acne, rashes, cuts ~ and prevent additional infection. The wonderful texture of honey will keep moisture close to your skin, which makes for a glowing and radiant complexion. Not only does honey keep moisture in your skin, but it is humectant, which means it attracts moisture too! Honey is also an antioxidant, which means it helps repair and combat any damage caused by free radicals and prevents premature wrinkling.  I'm From sources their honey from Werl-Peyung Village, located in the Jiri Mountains, S.Korea. This honey is sourced from over 1000 kinds of herbs and flowers
Black bee propolis (bee glue) is created by honey bees by using the sap from evergreens or the sap on conifer, evergreens and other trees whose leafs are needle-like. This sap is then combined with beeswax and results in a sticky, resinous goo that is used to build their hives.  Propolis has been used for medicinal purposes for thousands of years, and is known for its anti-bacteria, antiseptic, anti-inflammatory and anti-fungal properties as well as speeding up the healing time on wounds. It contains anti-oxidant properties due to its slew of vitamins ~ A, B1, B2, B3, C, bioton (H), bioflavonoids (P) ~ and minerals ~ calcium, magnesium, iron, zinc, silicon, potassium, phosphorus, manganese and cobalt and has over 50 different flavonoids. It also is an emollient, so it is not only a good blemish and anti-aging treatment, it also moisturizes your skin as well
Royal jelly is another honey bee product ~ it contains B-complex vitamins, nucleic acid, decanoic acid, flavonoids, essential fatty acids, amino acids, enzymes, minerals and natural antibiotic and antibacterial compounds. It is an anti-aging ingredient as well, as it can increase collagen production in your skin.
Bee venom,  aka "Nature's Botox",  tricks your skin into thinking that it has been stung by a bee. This will result in your body pumping blood into that area, boosting collagen production and increase circulation as to heal your skin, which also helps with blemishes too.
Turmeric helps treat skin issues, like blemishes and eczema, providing anti-inflammatory and anti-oxidant benefits.  It can help reduce redness, heal blemishes and rejuvenate the skin.
Bee pollen contains nucleic acids, which help aid in the new skin tissue growth and can help prevent wrinkles (source) Bee pollen nourishes your skin as it contains vitamins and minerals that will make your skin radiant. It also acts as a detox as well and promotes wound healing.
Cinnamon has anti-inflammatory properties, so it will help soothe, reduce swelling and redness and will also moisturize your skin. As cinnamon has tannins, it is also an astringent, anti-septic and antibiotic, so it will help with pore and blemish control.
This honey complex will help moisturize while providing anti-inflammatory and anti-bacterial benefits. This also contains yeast-derived adenosine helps improve the reduction of wrinkles and is also an anti inflammatory. which has anti-aging, anti-wrinkle and anti-inflammatory properties.  Two forms of acids are in here: ascorbic acid (vitamin C) is an antioxidant vitamin that is essential for tissue growth, repair and collagen production. It is one of the best anti-aging ingredients, as it does combat free radicals. Citric acid (AHA) will gently exfoliate and promote cellular turnover, so it will help brighten and smooth your skin.  
Glycerin will moisturize and hydrate the skin, leaving your face feeling smooth and soft while powerful antioxidant niacinamide acts as an anti-inflammatory, improves your skin elasticity, enhance the skin barrier function and also it helps to even out skin tone and reduce post-inflammatory hyper-pigmentation.  Centella is a common herbal ingredient that is used medicinally to help speed up wound healing, such as blemishes and skin rashes. It also helps minimize the appearance of pores.   Centella derived madecassoside helps soothe, reduce redness and inflammation and helps heal your skin. 
Natural polysaccharide levan is  safe and clinically tested to deliver moisture deep into your skin, preventing T(rans) E(pidermal) W(ater) L(oss), reduces the appearance of wrinkles by plumping them up. Jubube can help reduce the appearance of wrinkles, treat dry skin, improve tone and firmness while reducing the appearance of scars.  This  serum does have a lot of dimethicones in here, which contribute to the thick, almost Vaseline texture of this serum.  This is not vegan but I'm From does state it is cruelty-free.  Whew, they packed a lot into this serum, but oh boy, the results ~ the results….
Ingredients: Glycerin, Water, Butylene Glycol, Dimethicone, Cyclopentasiloxane, Niacinamide, PEG/ PPG-18/18 Dimethicone, Undecane, Cyclohexasiloxane, Tridecane, 1,2- Hexanediol, Sodium Chloride, Dimethicone/ Vinyl Dimethicone Crosspolymer, PEG-10 Dimethicone, Disteardimonium Hectorite, Boswellia Serrata Resin Extract, Honey Extract, Adenosine, Cinnamomum Cassia Bark Extract, Curcuma Longa (Turmeric) Root Extract, Levan, Decyl Glucoside, Olea Europaea (Olive) Leaf Extract, Ethylhexylglycerin, Disodium EDTA, Pollen Extract, Phenethyl Alcohol, Ziziphus Jujuba Seed, Centella Asiatica Extract, Royal Jelly Extract, Propolis Extract, Bee Venom, Citric Acid, Ascorbic Acid, Madecassoside, Fragrance, Butylphenyl Methylpropional, Geraniol, Limonene, Citral cosDNA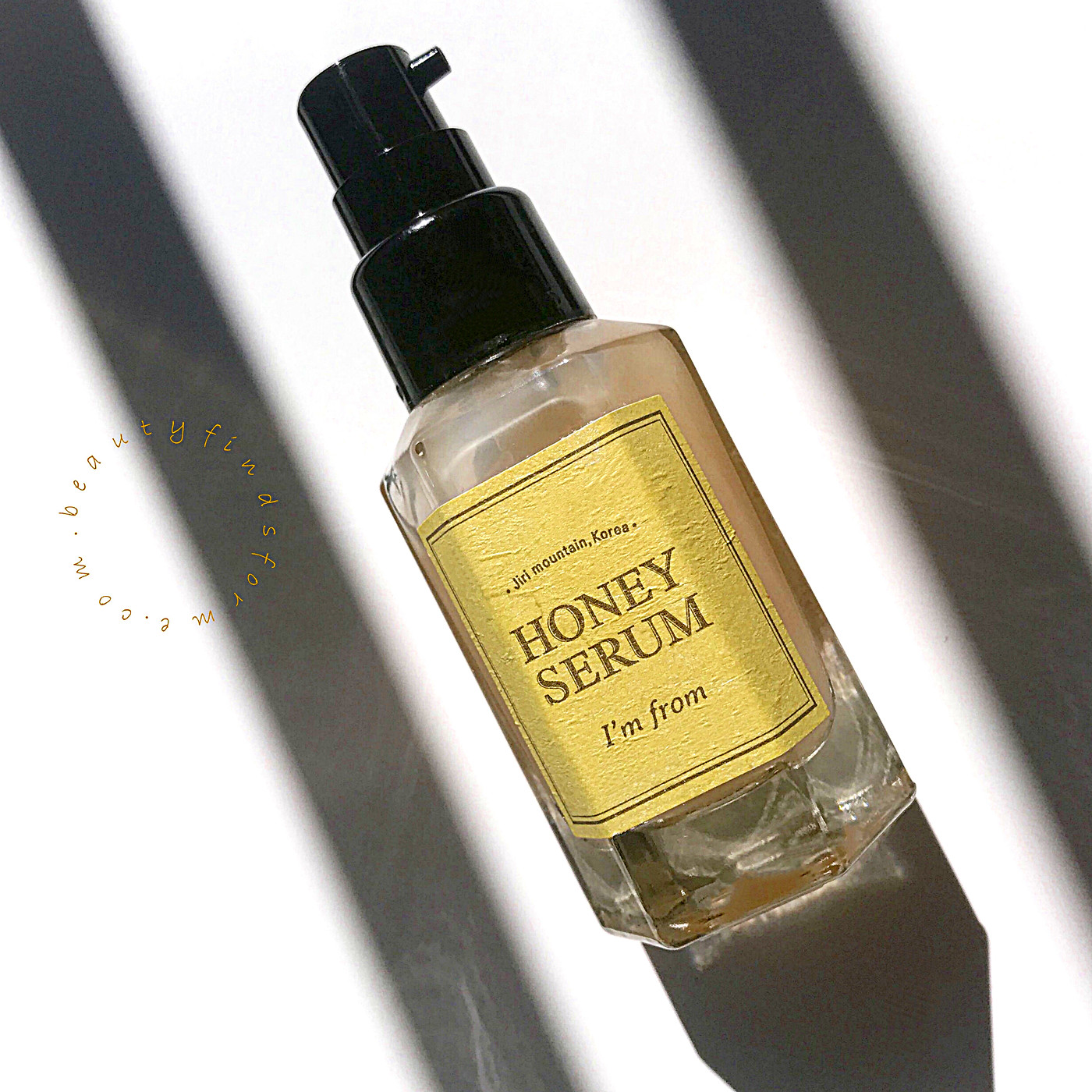 This comes comes in a lovely glass hexagon shape, so it mimics the bee's honeycomb. It has a black cap and a pump applicator.  This is a very lovely looking bottle!  The serum has a thick, waxy feel to it ~ reminds me of Vaseline ~ and its scent is not honey, but a light sweet floral.  I am a bit put out by that ~ I LOVE the smell of the wash off mask!  

When I first starting using this, it was as a daytime serum, but it took forever to dry down so it wasn't really great for a morning routine.  It always had that sticky residue on my skin, even when I applied other skin products over it. My makeup would just slide off.  So, I switched it as a nighttime serum, as it made more sense ~ I don't mind sticky residue because I am going to sleep.  Overnight, this serum absorbed into my skin and when I awoke, my skin was so smooth and glowing.   Honestly, what type of witchcraft is in this bottle that only costs $28.00?  My skin looks so healthy when I use this and I really am enjoying this serum.  I will repurchase for the colder months as that is when my skin needs this type of moisture locking barrier skincare product.   
If you have drier skin than me or a damaged skin barrier, I recommend this for daytime use as well.  For my oily skin, it just seemed to add on to my oiliness, leaving my skin feeling suffocated ~ I did feel like a honey-glazed donut, which might be a good thing for people whose skin is very dry, but not on my skin.  This product didn't clog my pores as I never broke out, but I could feel that layer on my skin during the daytime and I didn't like it.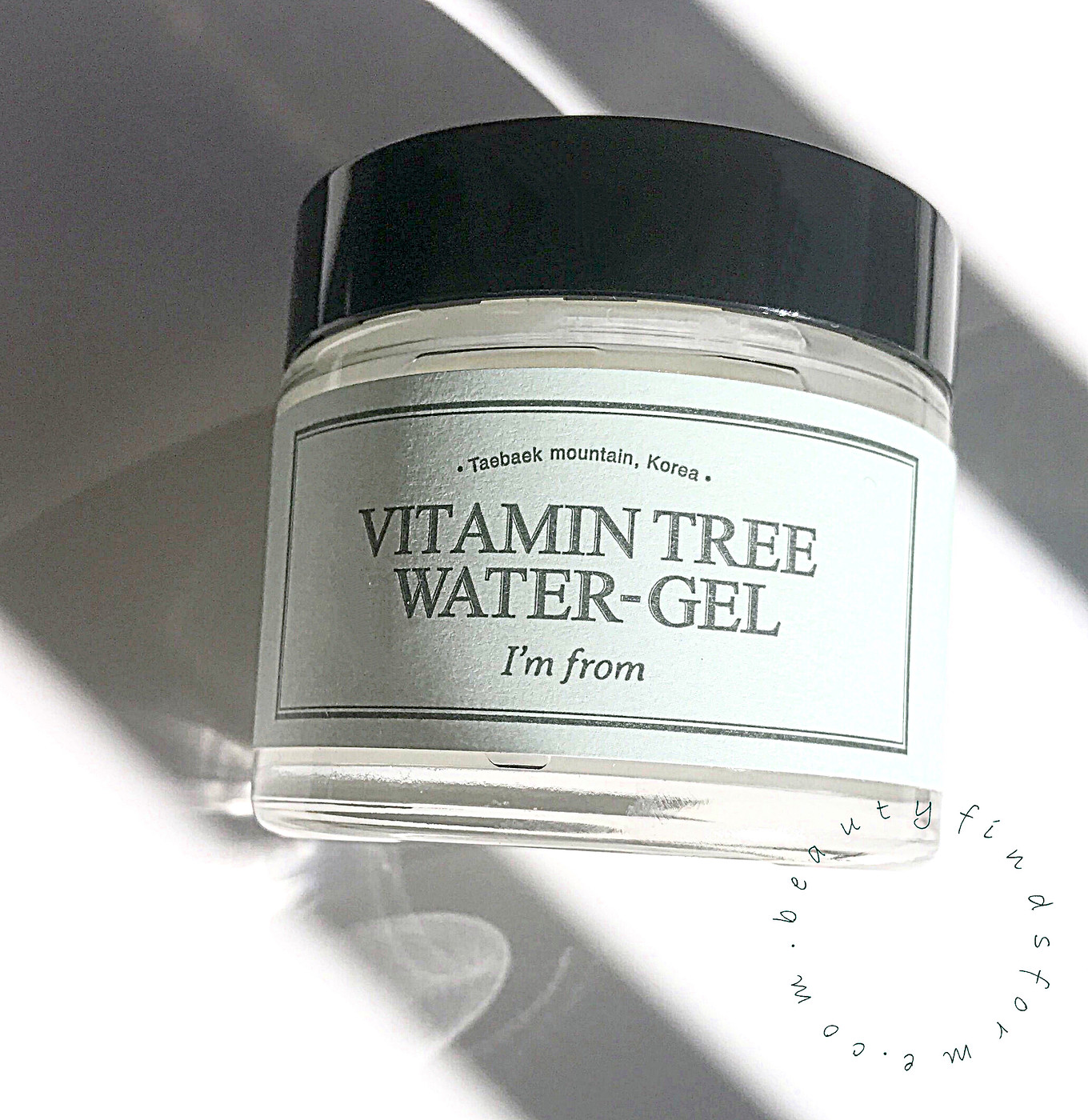 I'm From Vitamin Tree Water Gel is a product I should have tried a long time ago but never did.  I did enjoy their Vitamin Tree Wash Off Mask pack so I decided this was the time to finally try out this gel!  This is made with 67% vitamin tree leaf water (sea buckthorn) from the Taebaek Mountains in S. Korea.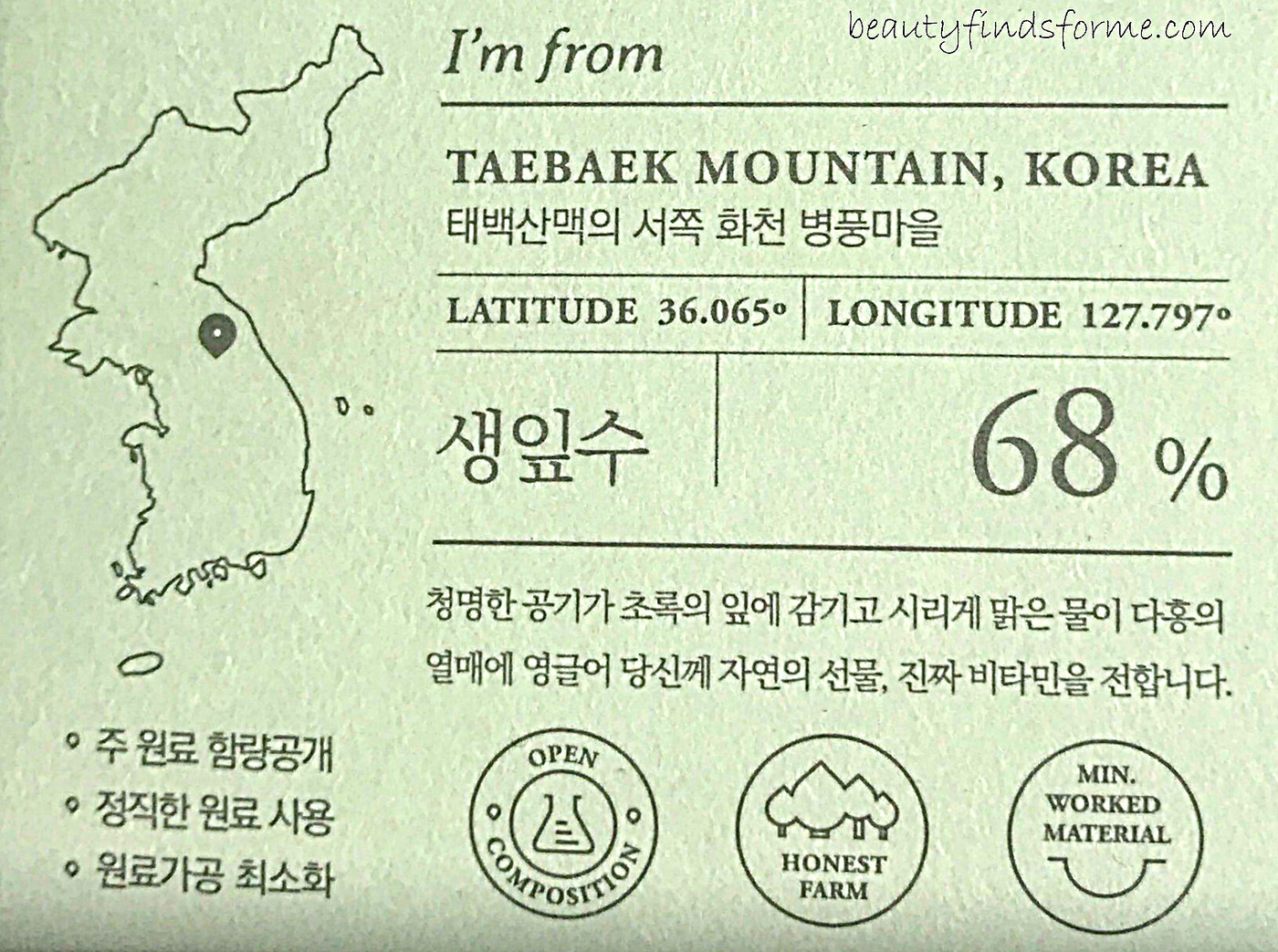 Sea buckthorn (aka vitamin tree aka hippophae rhamnoides) contains vitamins C, A and E, beta carotene, minerals, amino acids and fatty acids. Vitamin C is important for brightening and stimulating collagen production. It contains 200 to 800 times more vitamin C than apple and it is known for its antioxidant properties to help slow down aging and to regenerate new skin cells, while penetrating deep into your derma layer and locking moisture inside.
There are also several other skin brightening ingredients in here besides sea buckthorn: antioxidant niacinamide,  stable vitamin C 3-0-ethyl ascorbic acid and anti-irritant, anti-inflammatory dipotassium glycyrrhizate. Hydrating humectants glycerin,  sodium hyaluronate and panthenol help trap moisture while it attracts it to your skin, leaving it smooth and moist.
Chamomile can calm down the skin and relieve redness effectively while witch hazel has antibacterial and antiseptic qualities, helping clear up acne while removing excess oil from skin. It also helps shrinks blood vessels, which tightens our skin so it is a mild astringent, refreshing and refining pores, while sealing in moisture.  Allantoin moisturizes, exfoliates and softens skin, making it look smooth and refined, while reducing and relieving irritation.  Arginine is an amino acid that promotes healing and detoxes your skin. It also helps guard against the formation of wrinkles and loss of skin firmness.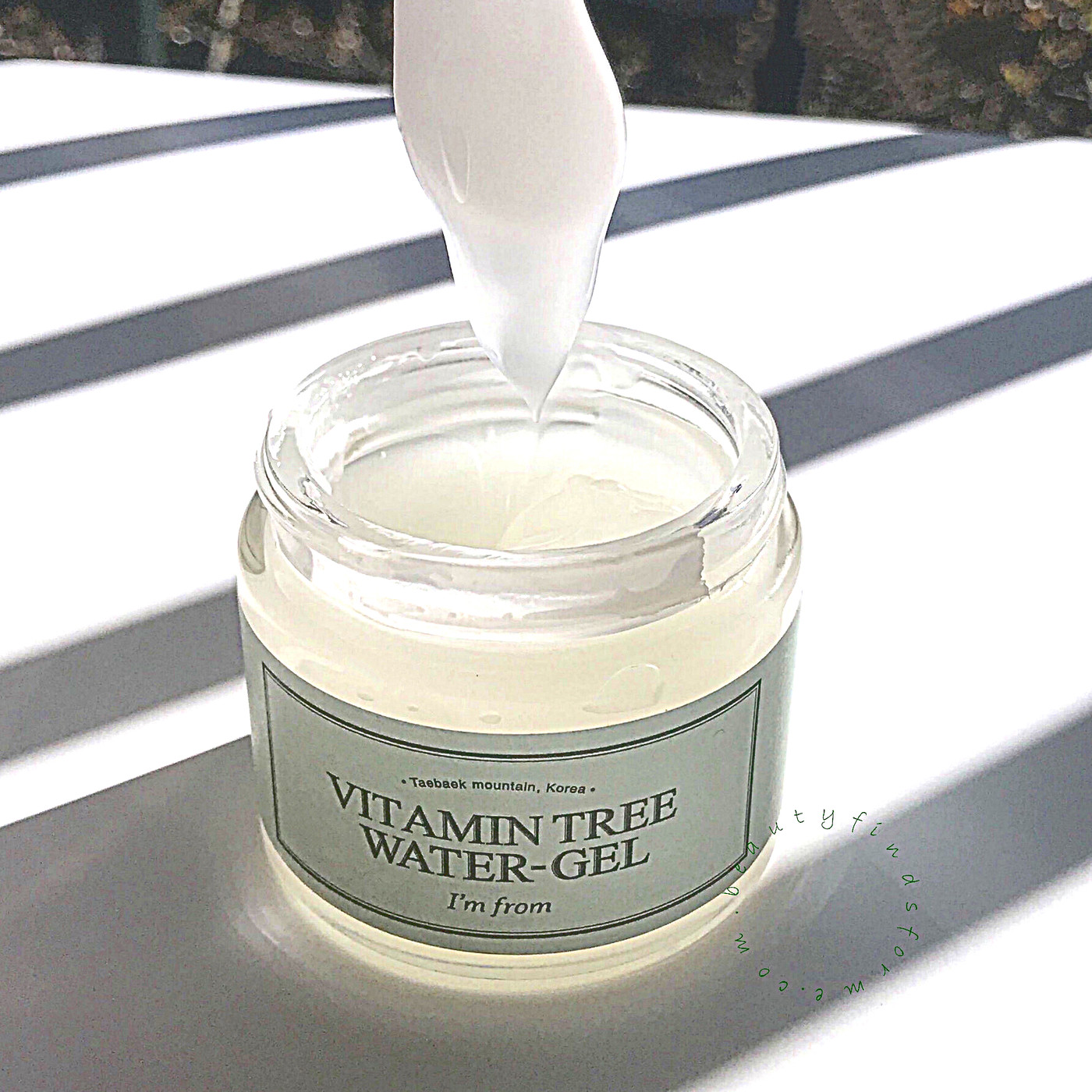 This also contains more botanical waters: soothing bamboo contains over 70% of silica, which is a crucial item when it comes to your skin's connective tissue, collagen. By stimulating certain cells, silica helps strengthen your collagen and elastin, which in turn will help firm and tone your skin and plump up your skin, so fine lines and wrinkles are not as noticeable.  Lotus hydrates your skin and refines the texture to a more smoother finish and makes your skin feel refreshed. It is rich in minerals, such as iron, copper and potassium to help restore health and glow to your skin, while reducing swelling.  Lotus has multi-purpose benefits ~ it is an astringent, an emollient, with anti-bacterial, antimicrobial and anti-fungal proprieties, so it will keep your skin clean, moisturized and healthy.  Aloe soothes, treats inflammation, helps speed up skin healing and also has a plethora of antioxidants which help improve your skin's firmness and keeps your skin moist and hydrated
This also has a lot of lubricating emollient and booster ingredients: methylpropanediol, selaginella lepidophylla aka The Rose of Jericho aka Resurrection plant and silicones cyclopentasiloxane and cyclohexasiloxane.
Ingredients: Hippophae Rhamnoides Water (67%), Glycerin, Butylene Glycol, Methylpropanediol, Dipropylene Glycol, Water, Niacinamide, 1,2-Hexanediol, Cyclopentasiloxane, Hippophae Rhamnoides Fruit Extract, Cyclohexasiloxane, Sodium Polyacryloyldimethyl Taurate, Biosaccharide Gum -1, Sodium Hyaluronate, Panthenol, Dipotassium Glycyrrhizate, Hydrogenated Polydecene, Trideceth-10, Portulaca Oleracea Extract, Hamamelis Virginiana (Witch Hazel) Leaf Extract, Chamomilla Recutita (Matricaria) Flower Extract, Saussurea lnvolucrata Extract, Rubus Chamaemorus Fruit Extract, Selaginella Lepidophylla Extract, Carbomer, Arginine, Allantoin, Bambusa Vulgaris Water, Nelumbo Nucifera Flower Water, Aloe Barbadensis Leaf Water, Pentylene Glycol, Caprylhydroxamic Acid, Boswellia Serrata Resin Extract, Ethylhexylglycerin, 3-0-Ethyl Ascorbic Acid, Phenoxyethanol cosDNA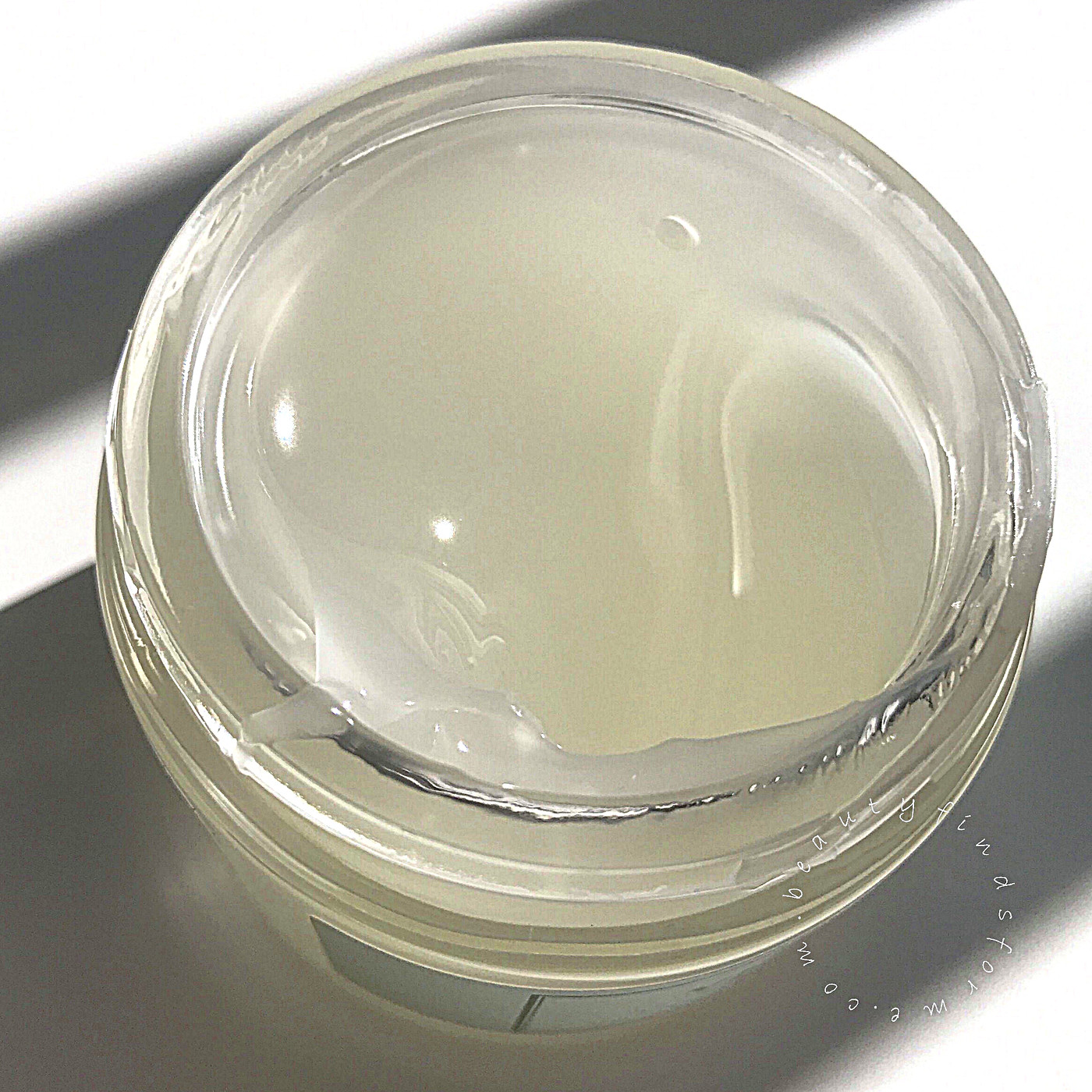 This comes in a clear glass tub and the gel is an opaque "clear".  I mean, it's clear, but it is also opaque, like Vaseline but without the yellow tinge.   This is quite a GEL ~ it looks so thick and it plops back into the jar with a satisfying sound.  This has no scent to it and it initially spreads on really thick ~ even when I pat it out, it feels really dewy and heavy. 
But miracles never cease and within a minute or two, this gel absorbs completely into my skin, leaving no sticky or oily residue.  It has a lovely cooling effect on my skin ~ When I first felt it, I was wondering if I was getting chills or something, then I read the description on this gel. It does dry down with a light cooling sensation.  My skin feels like velvet ~ smooth, soft with my fine lines and wrinkles filled in with this gel.  It is so hydrating and yet lightweight once it absorbs into the skin all the way.

It doesn't irritate or trigger any redness or reactions, isn't pore clogging and almost leaves a matte like finish on my skin.  With the I'm From Honey Serum's magic from the night before, adding this to my daytime routine finishes off that lovely hydrated, rejuvenated and clear skin treatment.  I can also see this gel being effective when I get sun burnt or get overheated, as it has that cooling property.   Again, this is a lovely miracle gel for oily skinned and combo/oily skinned folks and it is under $30.00 for a 75 gram tub.  I suggest getting both the Honey Serum and the Water Gel and using them in your skincare routine! 
Where to Purchase
Wishtrend, of course!  You automatically receive Free Shipping with purchases $60.00 USD and over.  Wishtrend ships globally and you can pick your own samples now!  Save 10% at Wishtrend with my promo code of UNBOXINGWISHTREND
[ some products were received in exchange for a review. contains affiliate links for a small commission ]