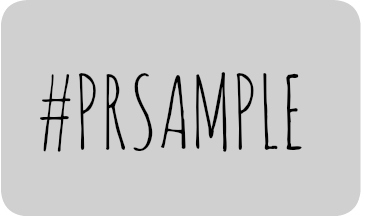 More Mugworty Goodness! I am on a mission to review these new 100% Mugwort Essences that so many brands are creating now!  There seems to be a trend with these "single essence" treatments going on ~ whether it is Amore Pacific Vintage Single Essence made with fermented green tea or these fermented and aged mugwort essences.  Thanks to online K-Beauty store Jolse, I can continue with my mugwort essence obsession.

Skin Type/Concerns: Oily, blemish prone, pores, aging, hyper-pigmentation, fine lines/wrinkles
Some products were complementary to review and was not paid.  All reviews are my own honest opinion and  I never have been asked to write copy for a brand.  This blog post might contain promo codes, affiliate and referral links, which using my links will help generate a small commission that helps support my blog at no extra cost to you. 
What is 🍃🍃Mugwort?  Well Mugwort is an ingredient that has been used in traditional Asian medicines for centuries and there are several different types of mugwort;  From wiki: 
Artemisia annua – annual mugwort
Artemisia argyi – Chinese mugwort, used in traditional Chinese medicine
Artemisia douglasiana – Douglas mugwort, native to western North America
Artemisia glacialis – alpine mugwort
Artemisia indica – Japanese mugwort
Artemisia japonica – Oriental mugwort
Artemisia ludoviciana – western mugwort, native to North America
Artemisia norvegica – Norwegian mugwort
Artemisia princeps – Japanese mugwort ("yomogi"), Korean mugwort ("ssuk"), used as a culinary herb and in traditional Chinese medicine.
Artemisia stelleriana – hoary mugwort
Artemisia verlotiorum – Chinese mugwort
Artemisia vulgaris – L.–mugwort, felonherb, green-ginger, common wormwood
For example, I reviewed the I'm From Mugwort Essence and that is made with Korean mugwort or artemisia princeps.  Missha Time Revolution Artemisia Treatment Essence is made artemisia annua ~ this mugwort was the key player in the 2015 Nobel Prize in Physiology or Medicine, as artemisinin was discovered in this type of mugwort.  Artemisinin is one of the major global health contributions from China.  (source NCBI)  Artemisia annua or annual mugwort, is a powerful antioxidant, as it produces compounds such as flavonols and courmarins,  therefore helping to combat free-radicals.  In fact, according to studies, "A. annua is one of the four medical plants with the highest Oxygen radical absorbance capacity (ORAC) level." (source 1 source 2)   Missha harvests their mugwort in September, from Gangwha Island off the western coast of Korea and this mild marine climate will help improve the mugwort's quality.   Missha uses a double fermentation method ~ first inside a warm environment and then in a cooler temperature, using traditional Korean pots, called onggi (옹기).  This double extraction and fermentation method will enrich the essence even further, making it safe enough for sensitive skin, moisturizing while calming and soothing your skin. 
Mugwort helps reduce redness, rashes and other skin issues, including allergic reactions.  It contains a rich source of  vitamin C, essential amino acids such as histidine, valine, leucine, and isoleucine. It also has non-essential amino acids including arginine, glutamic acid, glycine, serine and tryosine.  Due to its gentle nature, mugwort leaves can be added to a baby's bathwater to help soothe and reduce any skin dermatitis.  It helps heal skin wounds, such as blemishes, as it has anti-bacterial and anti fungal properties and it is a topical anesthetic.  It contains a rich source of antioxidants as well and has been known to reduce and lighten hyper-pigmentation caused by age, sun damage and blemishes.  It is very well suited for all skin types, including sensitive skin.   Fun Fact: Wort comes from an old term that meant a useful plant
I found this great video from Beauty Blogger, Soo Beauty, who explains the 100% mugwort claim, preservatives and why are these essences so darn expensive??
In a nutshell, Soo Beauty explains that it isn't really just 100% mugwort ~ the plant is put in a solvent, such as water, alcohol or oil, and the plant matter is dissolved in those solvents.  They all have some type of preservative ~ she mentioned that I'm From Mugwort has 1,2-hexanediol, which is a non-irritating preservative.  She didn't mention what the Missha has, but they all need some type of preservative to prevent the product from going bad.   The expense behind these essences, and I am sure this applies to any single essence, is due to the special technology that each brand uses to extract the essence.   It is a really good video, so if you have time, I highly suggest watching it!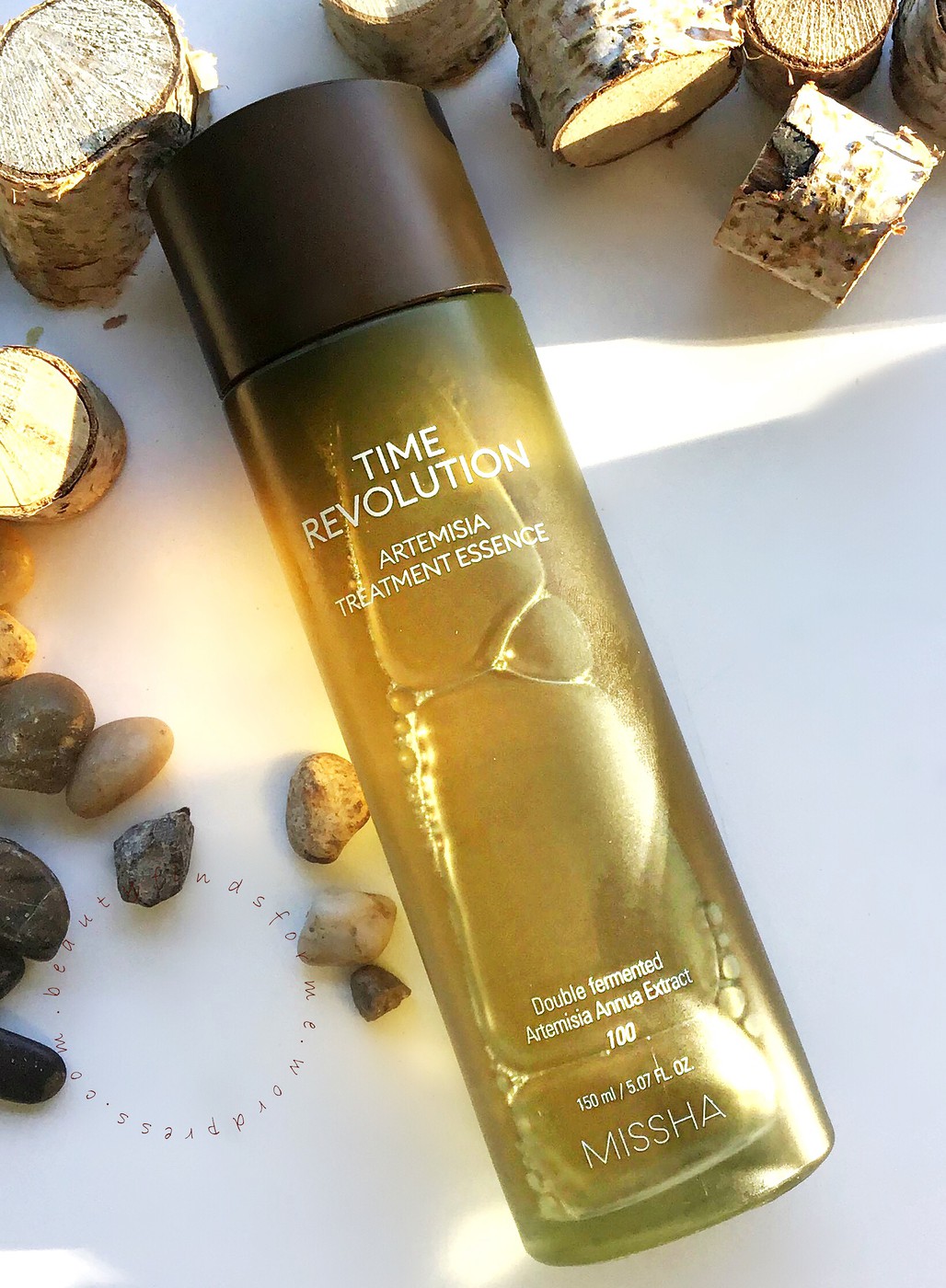 This essence comes in a tall 150 mL glass bottle that has a lovely flat oblong  shape with green ombré shading ~ starting with a deep forest, shading to olive and lightening up until the bottle is clear at the bottom.  The cap is a dark brown and it twists off to reveal a pin hole applicator.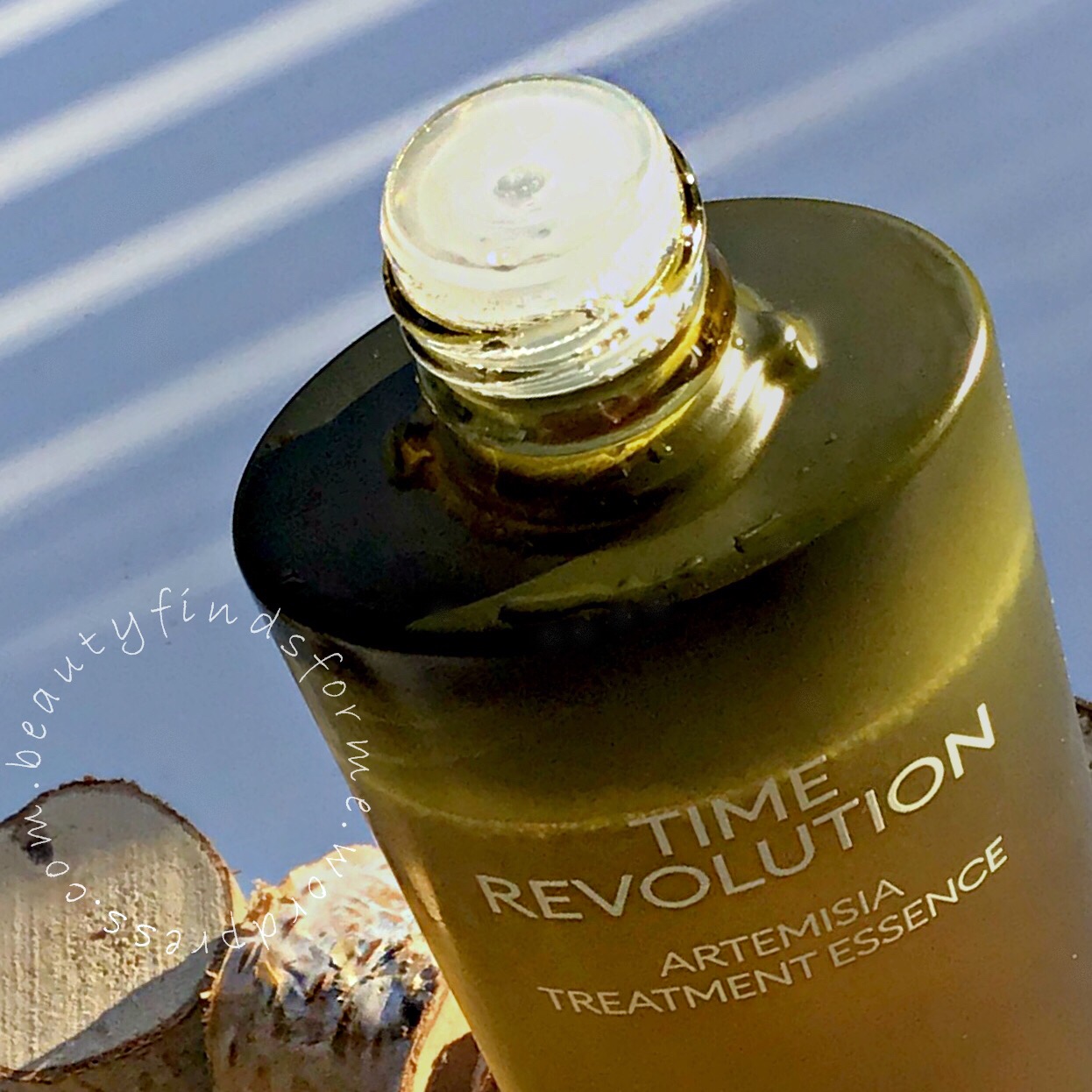 Missha only has listed one ingredient, but based on Soo Beauty's video, it most likely has a preservative in it ~ this has the 100% Artemisia Annua.  This has a very thin watery texture, much more than I'm From and it has a light herbal scent ~ much more than I'm From, but it is still light. The color is a beautiful pale golden green-tinged shade.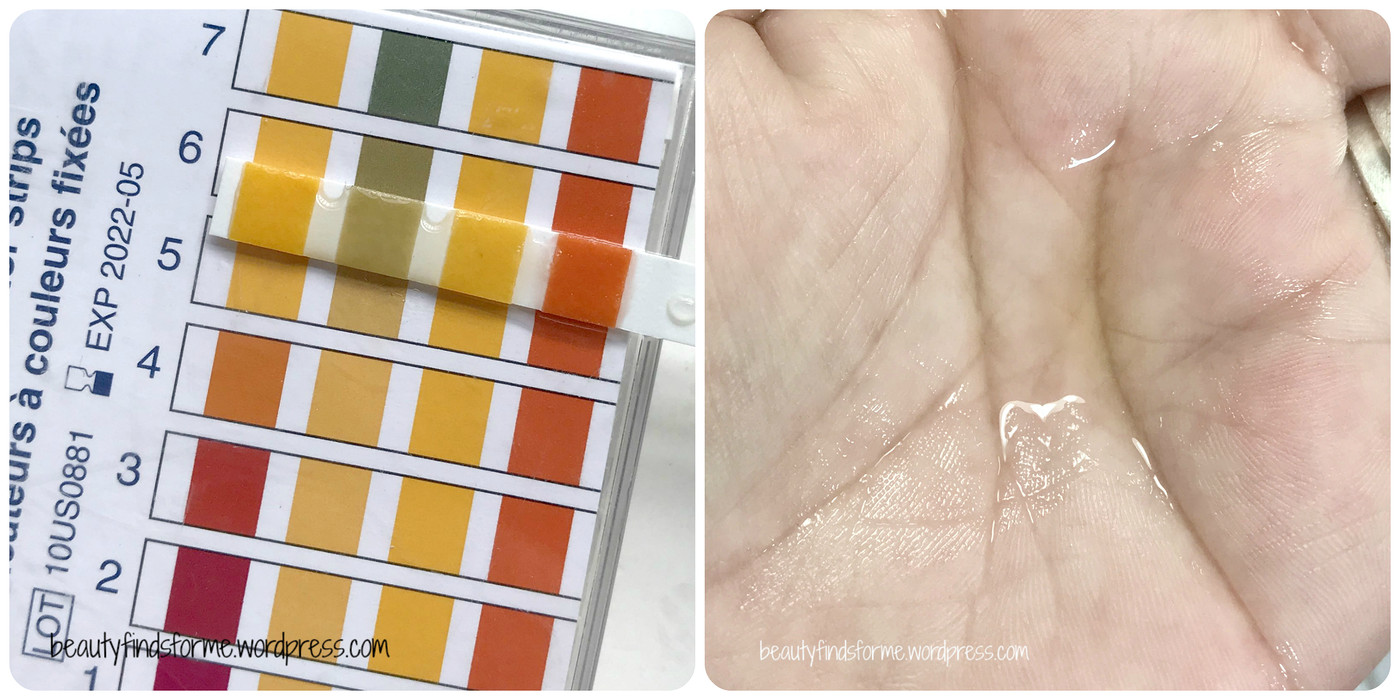 It is not sticky or tacky, dries down quickly but it isn't the most hydrating essence ever ~ it increased my moisture levels by 13% while increasing my oils by 12% but it didn't make my skin feel oily.  Instead, my skin felt smooth as if I applied a lightweight emollient on my face.   This is another essence that is great to use in the 7 layer toner method but it does take a little bit longer to dry on my skin.  This has a pH level of about a 5.5, which is lower than the I'm From Mugwort Essence.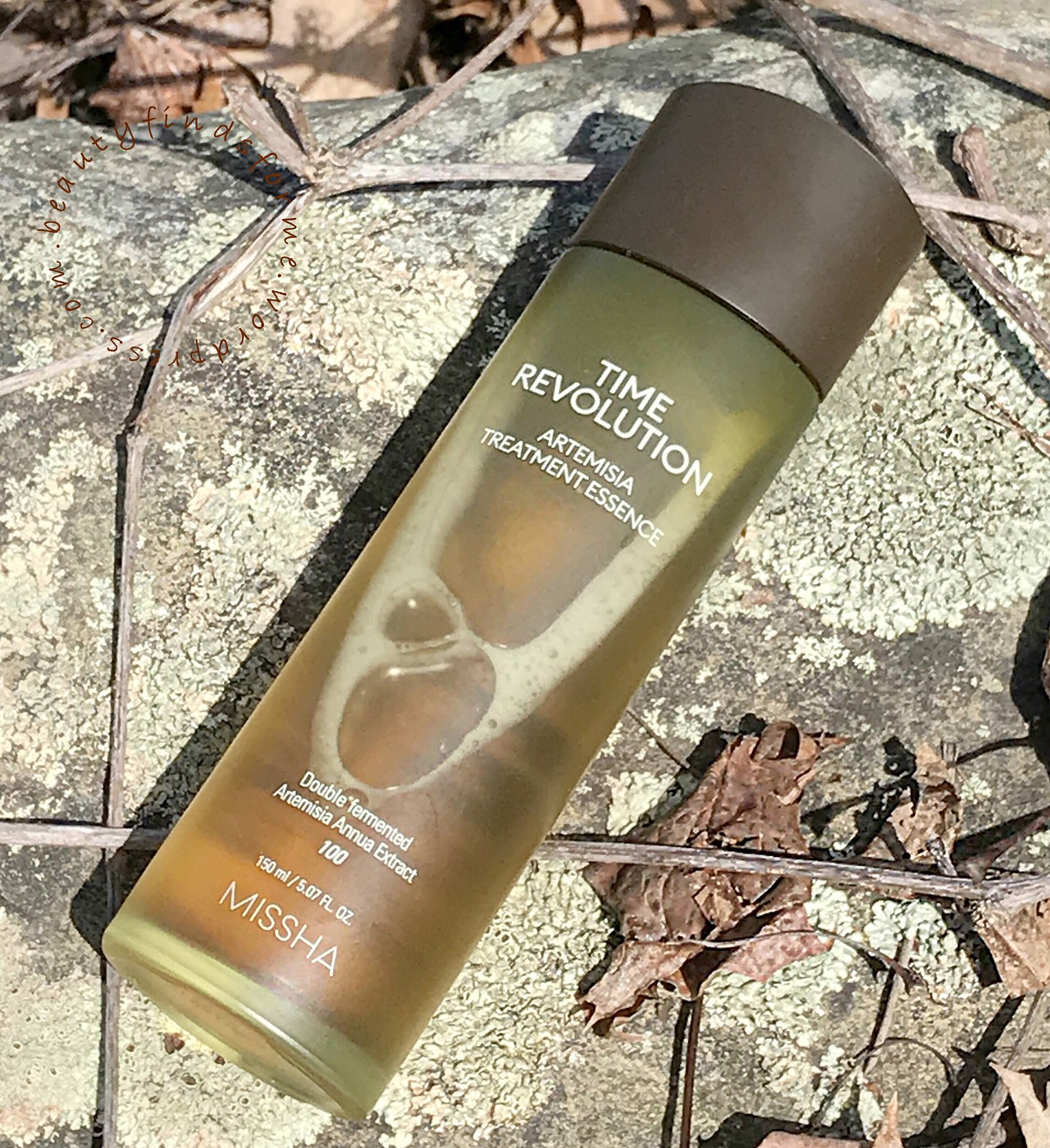 What I noticed about this essence is that the claims are more around soothing, reducing redness and calming the skin and Missha's Time Revolution Artemisia Treatment Essence does do a fantastic job at reducing redness on my skin.  I think that the moisturization is a bit overrated, however, this is just the first step in my skin care routine.   You can also use this as a mask pack; just soak cotton pads or compressed dry mask in the essence and apply to you face for 5 minutes.  This helps with immediate relief and reducing redness.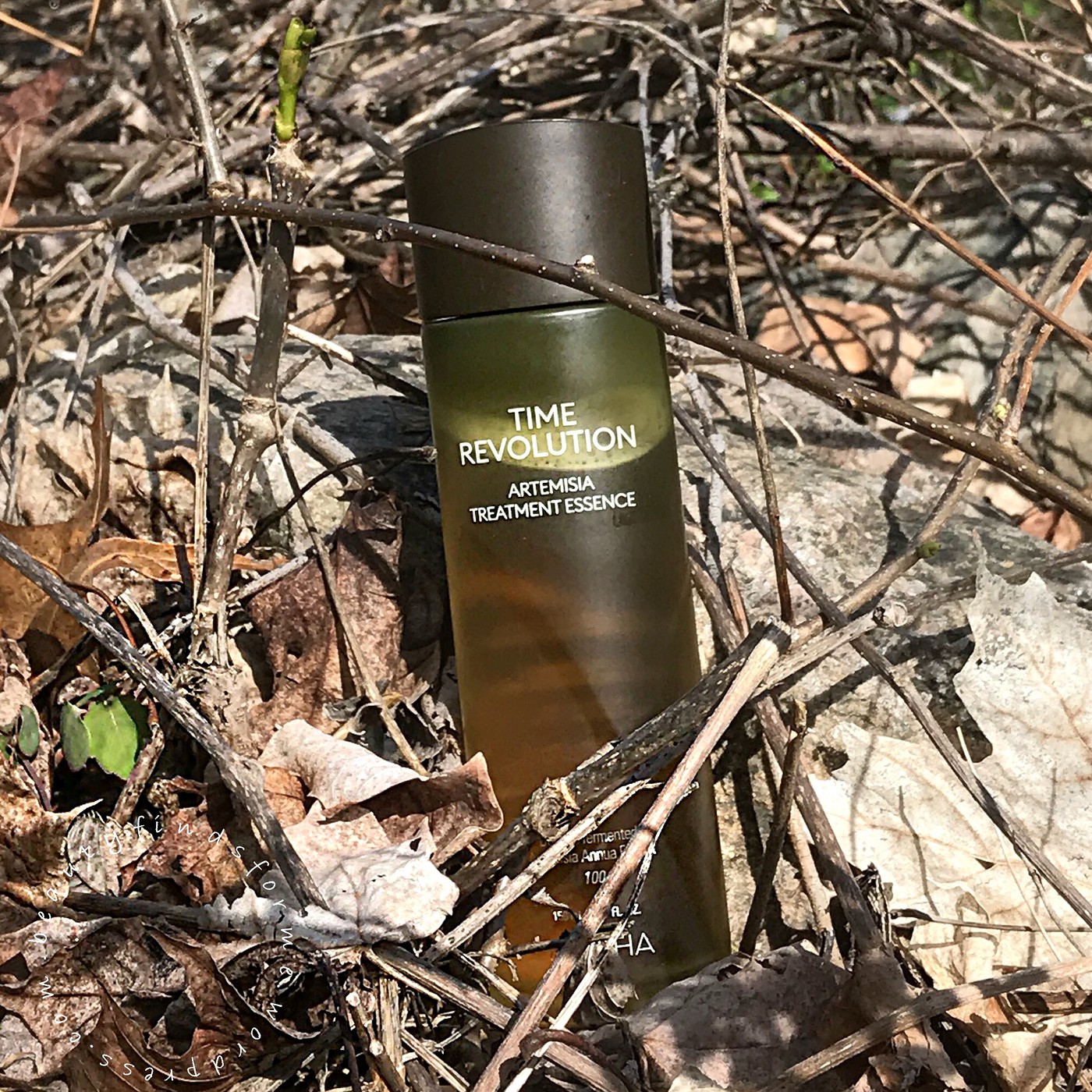 I don't think this is as cooling or refreshing as the I'm From Mugwort Essence for some reason ~ this one seems more "warm" if that makes sense.  However, it does soothe and calm my skin down quickly!  When I finish my mugwort essence testing, I will compare all of them together.  I have several more that I own and I think I will start with the Tonymoly From Ganghwa Wormwood First Essence next!
Where to Purchase
Missha Time Revolution Artemisia Treatment Essence  is sold at Jolse for under $27.00 USD for a 150 mL bottle  (click here)~ this is a great price, btw.  I have seen it as high as $45.00 USD.  Jolse has free shipping, ships globally and they give out lots of free samples! 
[ some products were received in exchange for a review. contains affiliate links for a small commission ]