Once again, to repeat myself, I fell in love with Naruko because of their Tea Tree Shine Control & Blemish line ~ their sheet masks, night jelly, BB cushion, sunscreen and body shower gel are all favorites of mine.  In fact, I reviewed quite a bit of them in my Tea Tree Mega-Blog post a couple of years ago.   Naruko Canada reached out to me this past winter and asked if I would like to try some more products ~ they sent me 2 of my favorites and one brand new item (to me at least!!) in their Tea Tree line!  Did you know... Your oil production increases 10 to 20% for each degree the temperature of your skin rises?   Hot weather is not a friend to us oily skinned peeps and what I do is turn to some tea tree products to help keep my oily skin under control.

Skin Type/Concerns: Oily, blemish prone, pores, aging skin with fine lines/wrinkles and hyper-pigmentation (both sun damage and PIH)
All reviews are my own honest opinion and  I never have been asked to write copy for a brand.  This blog post might contain promo codes, affiliate and referral links, which using my links will help generate a small commission that helps support my blog at no extra cost to you.
Key Ingredients
Of course, these products contains tea tree oil, known to be used for many infections and diseases due to its healing and disinfectant properties ~ antibacterial, fungicide, antiseptic, antimicrobial, antiviral and can help speed up wound healing and reduce scarring, as it is a cicatrisant. It helps with preventing dry, flaky skin and because of its antibacterial properties, can help heal current blemishes while reducing future blemishes and control excess oil. It helps with rashes, allergic skin reactions and fungal infections.
More common ingredients include BHA active that is especially beneficial for oily or clogged pores ~salicylic acid, which helps to combat acne, gently exfoliating your skin and removes dead skin cells and excess oil.  Salicylic acid is fat soluble, so it can really get to the oil that is inside your pores. Witch hazel is an blemish prone skin's best friend because it has antibacterial and antiseptic qualities which helps clear up acne and it removes excess oil from skin. It also helps shrinks blood vessels, which tightens our skin. Witch Hazel can speed up healing and is a powerful anti-inflammatory, which also helps soothe skin. Finally, witch hazel refreshes and rejuvenates skin, refines the pores and seal in moisture.
Sodium hyaluronate is an intensive moisturizing ingredient which bonds water to keep skin hydrated. It is a natural substance found in the human body and it made up of amino and uronic acids, and helps retain 100 to 1,000 times its own water weight in our skin cells. It helps attract moisture while binding it to our skin.
Naruko uses a patented formula consisting of 11 organic plant extracts certified by ECOCERT (France) called Phytoferulin in their products.  According to Naruko, Phytoferulin will help prevent hyper-pigmentation and environmental stress to your skin, while being a powerful antioxidant and brightening agent. This complex is very effective in hydrating your skin, but controlling oil. This blend of 11 concentrated herbal ingredients includes kalanchoe spathulata, glycyrrhiza glabra (licorice) root, alpine skullcap (scutellaria alpina), masterwort (peucedanum ostruthium), ginkgo biloba, alps wormwood (artemisia umbelliformis), leontopodium alpinum , alpine willowherb (epilobium fleischeri) , calendula officinalis, chamomilla recutita (matricaria) and  camellia sinensis (green tea) extracts.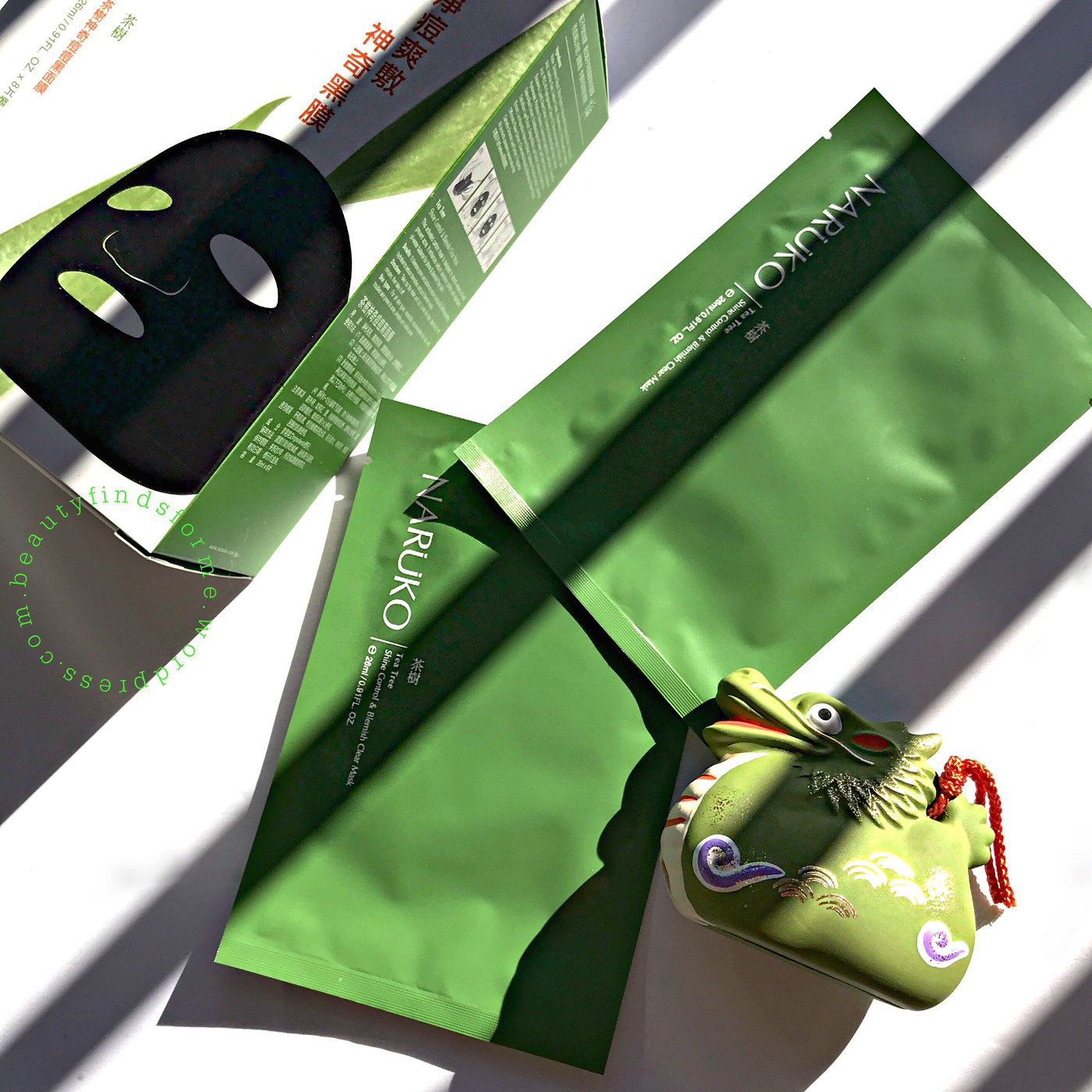 I will just say it… Taiwanese masks are my favorites. For some reason, every Taiwanese mask I have tried has left my skin feeling cool, refreshed, hydrated and with a nice matte/soft finish ~ no dewy sticky mess for me!! Which brings me to …. Naruko Tea Tree Shine Control & Blemish Clear Mask.  This is one of my favorite sheet masks and I am glad I am getting a chance to re-review it, thanks to Naruko Canada. Naruko makes one of the best tea tree lines out there and I have tried a lot, including this mask, which was the first item I tried from years ago. This is a charcoal mask, made with carbon which helps detox and purify your skin ~ black masks are great for oily skinned folks, as it will absorb oil as well. Not only does this have the key ingredients listed above, this also has transexamic acid, a brightening ingredient that is highly stable and it can help prevent the appearance of hyper-pigmentation at the skin's surface, as it reduces the production of melanin.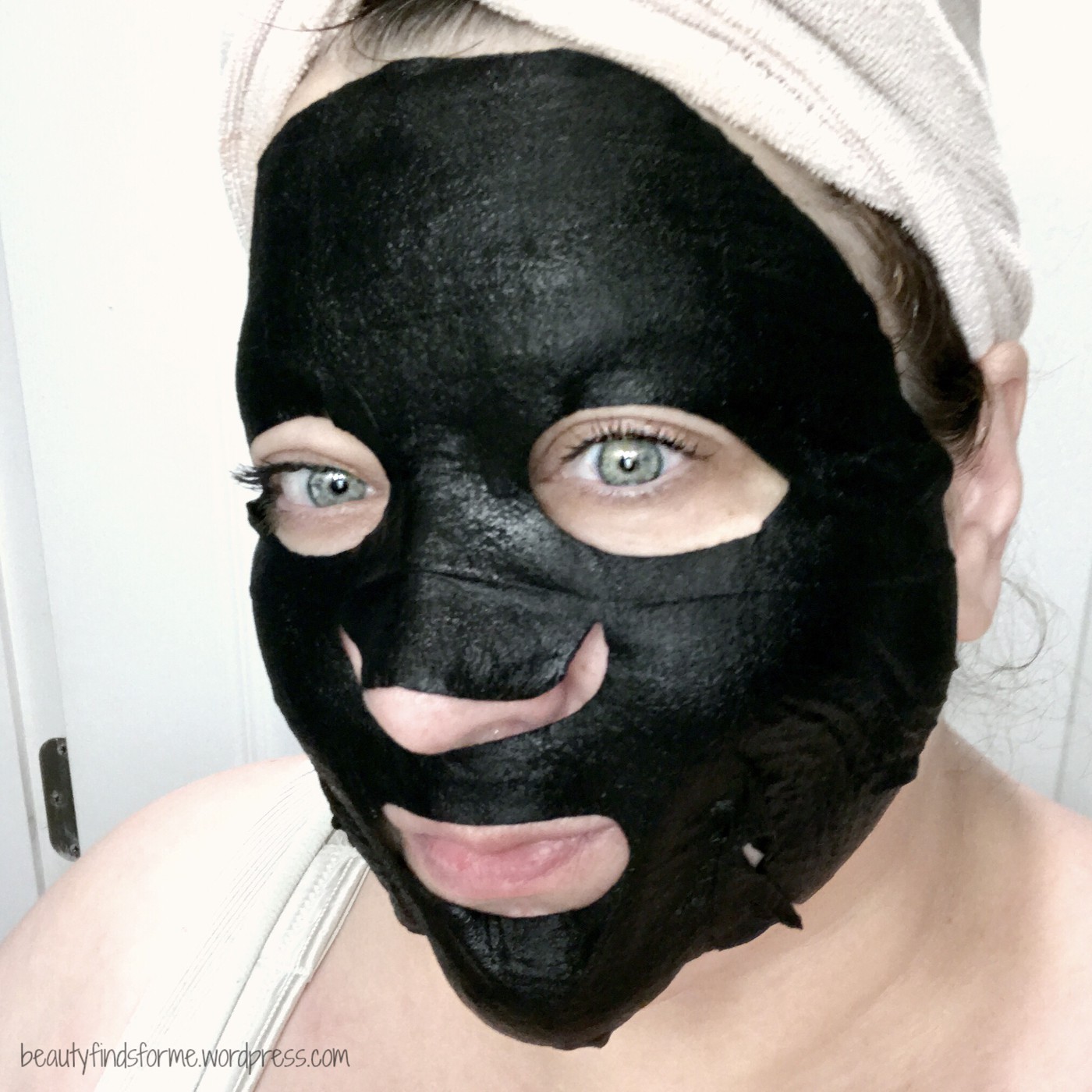 The mask is a bit smaller on the sides than I like, but it fits fine ~ the placement on the mouth, nose & eyes are great and I don't have to do a lot of adjusting ~ there are cuts around the lower jaw line so it can be adjusted for all face shapes & sizes. Since this is a charcoal mask, the material is thicker than most Naruko masks ~ but it adheres well. This is a very moist and wet mask with tons of clear watery essence ~ it is very JUICY. It has a nice light scent of spearmint/citrus, which is due to the essential oils in here. While I am wearing this mask, it feels really cool & refreshing, since this contains peppermint oil. After 30 minutes, I removed the mask ~ my face is SO moist and wet, but once it dries down, there is no sticky or tacky residue, just a nice matte finish. My skin feels smooth and oil-free and it looked more brighter and less red & the appearance of my pores looked smaller.  This is a lovely tea tree mask, helping to soothe & heal blemishes, while providing some mild exfoliation & oil control. Two thumbs up for this Naruko mask ~ have you tried this one yet? What is your favorite Naruko Mask? 
Ingredients: purified water, butylene glycol, ethyl alcohol, hamamelis virginiana extract, transexamic acid, xanthan gum, 2-phenoxyethanol, sodium citrate, chlorphenesin, salicylic acid, PEG-40 hydrogenated castor oil, serenoa serrulate fruit extract, lens esculenta (lentil) seed extract, enantia chlorantha bark extract, sodium hyaluronate, piroctone olamine, kalanchoe spathulata extract*, glycyrrhiza glabra (licorice) root extract*, scutellaria alpina flower/leaf/stem extract*, peucedanum ostruthium leaf extract*, ginkgo biloba leaf extract*, artemisia umbelliformis extract*, leontopodium alpinum extract*, epilobium fleischeri extract*, calendula officinalis flower extract*, chamomilla recutita (matricaria) flower extract*, camellia sinensis leaf extract*, essential oils of tea tree (melaleuca alternifolia), orange (citrus nobilis), spearmint (menta viridis), lemon (citrus limonum), lime (citrus auantifolia), peppermint (metha pipertia), grapefruit (citrus paradise), niaouli (melaleuca viridiflora)  cosDNA  *PhytoFerulin ingredients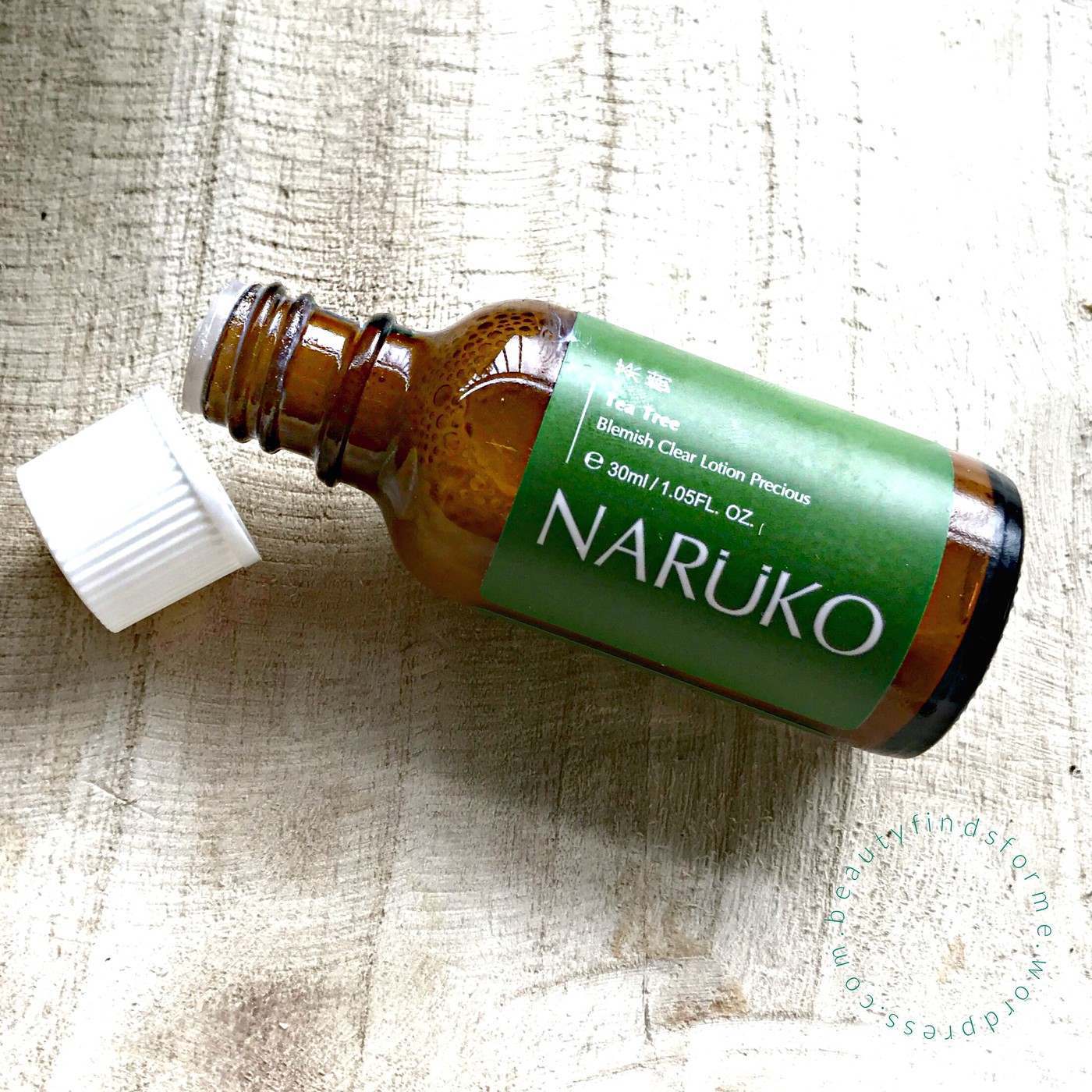 My PRECCIOOUSSSS…  Naruko Tea Tree Blemish Clear Lotion Precious:  I thought this was a moisturizer when I looked at the name, but it is actually a treatment product!! I am sure many of you are familiar with the "pink powder" blemish treatments that leaves huge pink spots on your face, but this one from Naruko is "invisible".  This has tea tree, along with 2% salicylic acid, .025% sulfur for helping dry up and heal blemishes with antibiotic and anti fungal benefits to help purify and disinfect your blemishes. 2.5% zinc PCA helps control excessive oil on your skin, while providing astringent and anti-microbial benefits. Magnesium aluminum silicate also absorbs oil on your skin, peppermint oil has antibacterial, astringent benefits as well as a cooling sensation. This isn't all drying, as it contains panthenol and snow fungus (tremella), the "queen of natural moisturizers", for long-lasting moisturization. This does have calamine in here, for soothing and brightening care, but it isn't a pink product.  People with G6PD deficiency are advised not to use this product as it contains menthol, which provides a cooling sensation.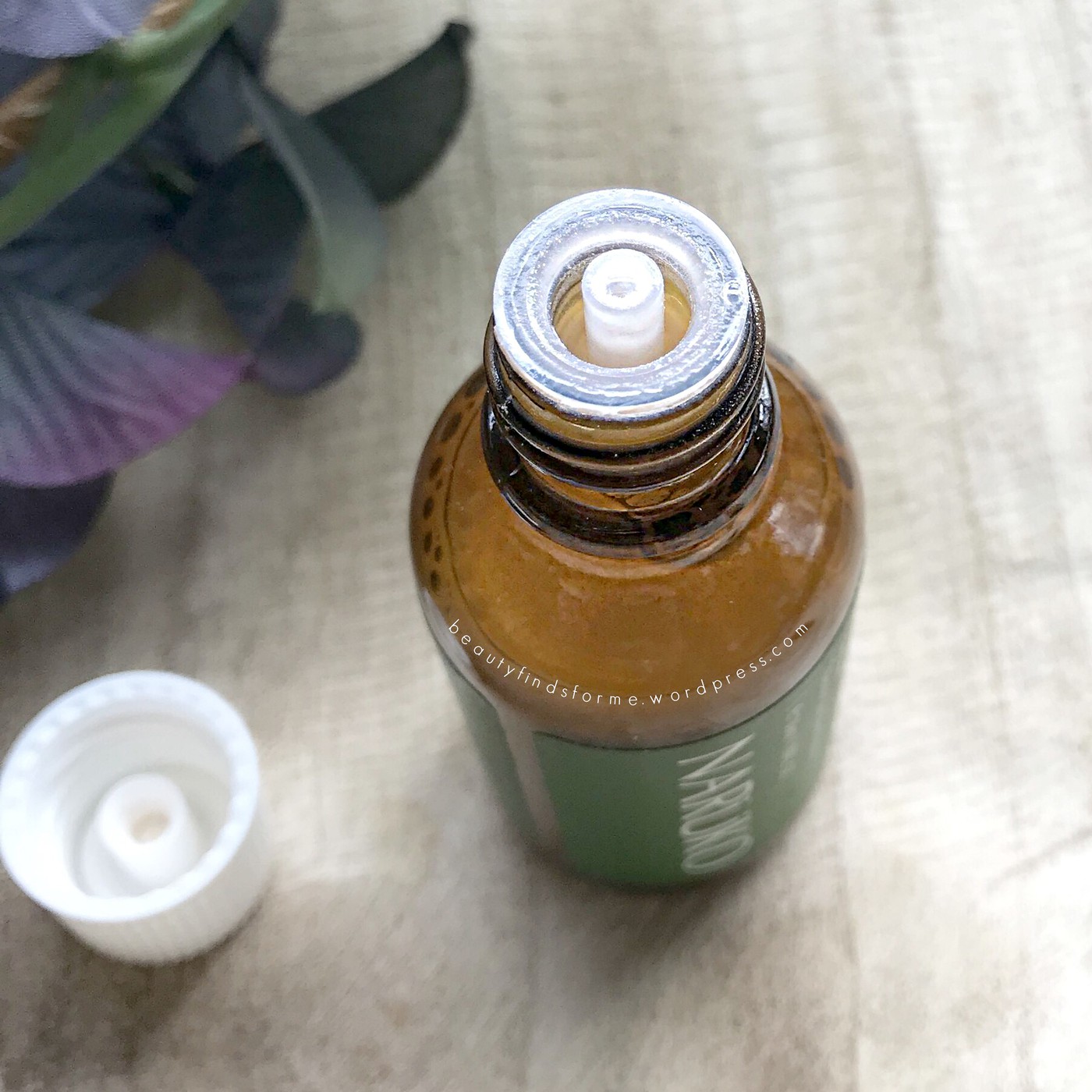 This comes in a cute little amber-brown glass bottle with a very unusual applicator ~ it looks like a pin hole/flange ~ just shake well to mix up the powders with the liquid. I usually put some in my hand and then use a cotton swab to apply ~ it initially comes out as a whitish liquid, but by tapping it into my skin, it disappears and I do not see a white cast.   This product is made without parabens, artificial dyes or preservatives and is good for all skin types, especially oily or blemish prone skin. 

This also smells amazing ~ very citrus-minty fresh and it is very refreshing on the skin, due to the mint oils. This DOES work to dry up and heal my blemishes ~ the best use of this is on a freshly popped or coming to head pimple, but it can be used on blackheads or just on your pores, to keep your skin clear and clean. This doesn't work well on deep closed comedones ~ this product is best used as either a maintenance or pimples that are already on the surface of the skin.  All in all, this is one of the better "powder" treatments for blemishes that I have used ~ it smells fantastic, dries down invisible, so I can use it during the day  and it doesn't dry out my skin ~ it seems to target pimples, not the actual surrounding skin. Great product for oily, blemish prone skin!!
Ingredients: Active Ingredients (W/W): Salicylic Acid 2%, Sulfur 0.025%  Other Ingredients: Purified Water, Alcohol, Magnesium Aluminum Silicate, Butylene Glycol, Zinc Oxide, Calamine, PEG-7 Olivate, Witch Hazel (Hamamelis Virginiana) Extract, Zinc PCA (2.5%), Pentylene Glycol, Essential Oils of Melaleuca Alternifolia (Tea Tree) Leaf, Grapefruit (Citrus Paradisi), Lemon (Citrus Medi Limonum ), Lime (Citrus Aurantifolia), Orange (Citrus Nobilis), Niaouli (Melaleuca Viridiflora), Mentha Piperita (Peppermint), Spearmint (Mentha Viridis), Allantoin, Camphor, Panthenol, Menthol, Phenoxyethanol, Sodium Hyaluronate, Snow Fungus (Tremella Fuciformis) Extract, Iodopropynyl Butylcarbamate, Kalanchoe Spathulata Extract*, Glycyrrhiza Glabra (Licorice) Root Extract*, Scutellaria Alpina Flower/Leaf/Stem Extract*, Peucedanum Ostruthium Leaf Extract*, Ginkgo Biloba Leaf Extract*, Artemisia Umbelliformis Extract*, Leontopodium Alpinum Extract*, Epilobium Fleischeri Extract*, Calendula Officinalis Flower Extract*, Chamomilla Recutita (Matricaria) Flower Extract*, Camellia Sinensis Leaf Extract* cosDNA *Phytoferulin® is an exclusively patented complex formulated with 11 different plant extracts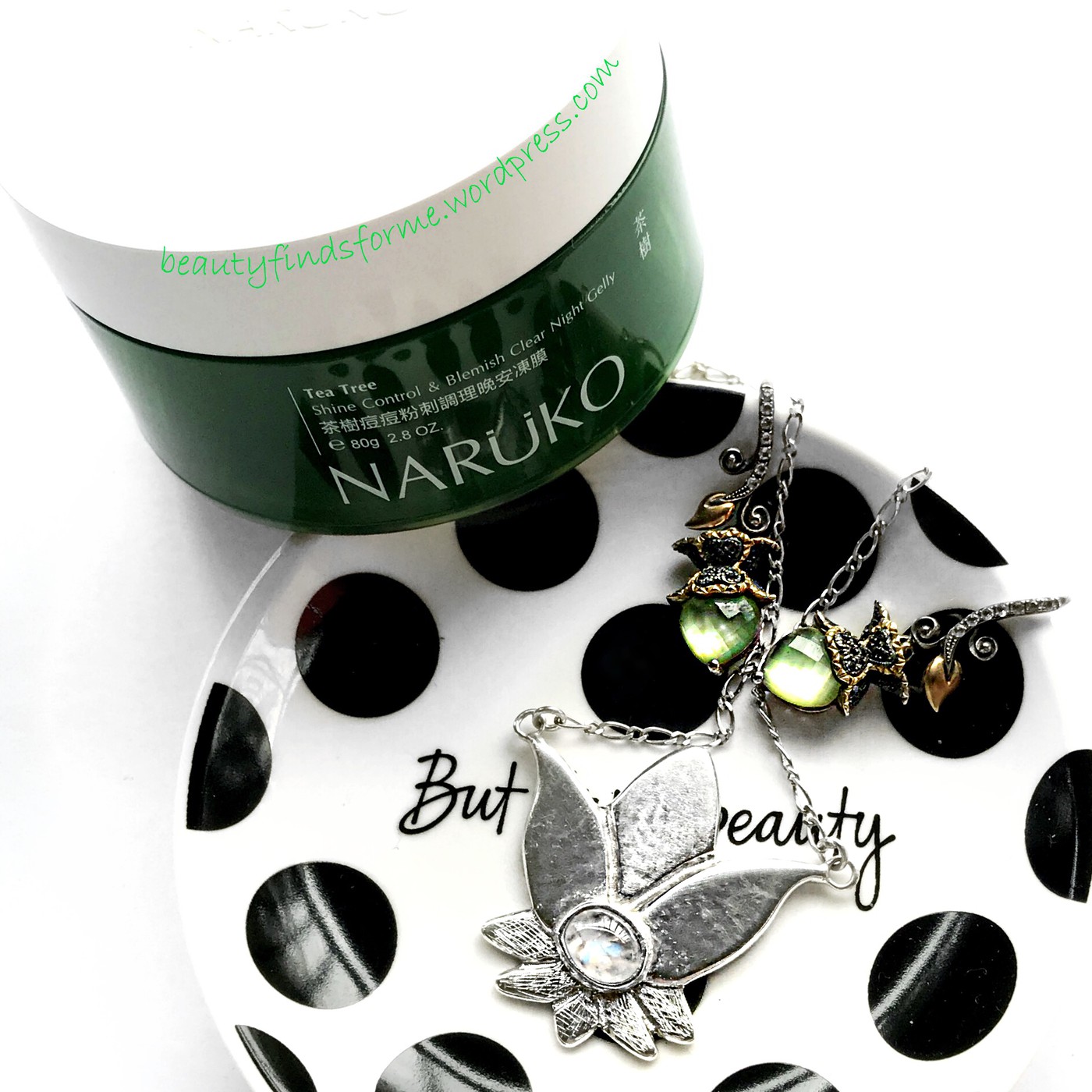 Naruko Tea Tree Shine Control & Blemish Clear Night Gelly  This is a Holy Grail item for me and it originally was an item that I wasn't excited about trying initially.   This sleeping pack is a must have for those with oily skin, even if you do not have blemishes.   It is hydrating, yet doesn't leave your face feeling greasy in the morning, so it has to be controlling oil to overnight, it helps reduce future blemishes, reduce swelling and redness from any blemishes you have and it heals blemishes.  If you have other skin issues that tea tree will help with, this would most likely help with rashes and flaky skin, and so on.  In addition to the key ingredients, this also includes the following: serenoa serrulata help control oil production, as it contains free fatty acids that block oil production; Lentil seeds are rich in oligonucleotides ~ minerals that are anti-inflammatory, anti-aging and antioxidants  ~ helping to firm skin by working with collagen production, refining pores and balancing oil production;  It contains 0.5% salicylic acid, which is the ingredient that helps heals existing blemishes and prevents future outbreaks.  Niancinamide and transexamic acid can reduce hyper-pigmentation and have an overall effect to even out your skin tone. Allantoin moisturizes, exfoliates and softens skin, making it look smooth and refined, while reducing and relieving irritation.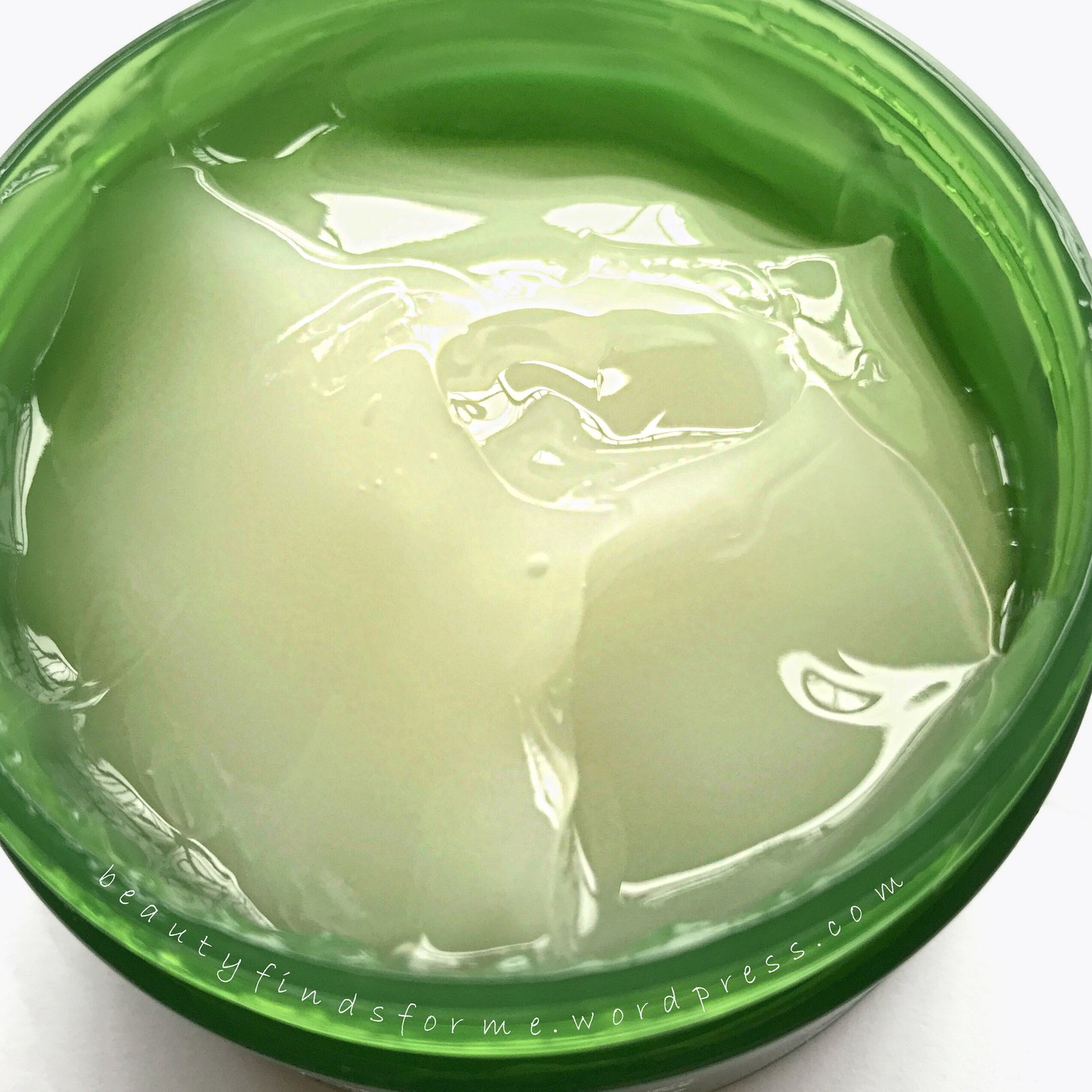 This is a lightweight gel that smells like spearmint ~ I think a lot of the Naruko's tea tree line has this wonderful sweet minty scent.  This gel has a nice weight to it, but it is not so thick that you have to work it into your skin for it to absorb ~ it glides on and then it melts into your skin.  It has a nice cooling effect and it does leave a protective barrier on my skin ~ I would say that I can feel it even after it absorbs into my skin. I don't find it to be sticky or tacky, however. 

This jelly is paraben and preservative free as well.  I love this night jelly ~ I usually like to have 2, maybe 3 sleeping packs options at any given point ~ and I find I reach for this one a lot.  It is soothing, cooling, refreshing ~ smells great, helps reduce the oil on my skin while healing blemishes and controlling new outbreaks.  I know that when I have some breakouts or feeling like I have acne struggling to come to a head, I reach for this jelly as it does the trick in helping heal my zits quickly.  This is a perfect summertime sleeping pack for oily skin folks.  Oh and it is very hydrating ~ my average oil/moisture tests had 45% in oil increase and 46% in moisture increase ~ it is very balanced, so don't worry about the oil increase.   I totally recommend this product.   
Ingredients: Active Ingredients: salicylic acid 0.5%, Inactive Ingredients: purified water, butylene glycol, alcohol, niacinamide, dimethicone, sodium lactate, acrylates/C10-30 alkyl acrylate crosspolymer,  triethanolamine, hamamelis virginiana (witch hazel) extract, phenoxyethanol, sodium acrylate/sodium acryloyldimethyl taurate copolymer, cetyl ethylhexanoate, hydrogenated polyisobutene, glycosyl trehalose, chlorphenesin, panthenyl ethyl ether, tocopheryl acetate, hydrogenated starch hydrolysate, essential oil of tea tree (melaleuca alternifolia), lens esculenta (lentil) seed extract, serenoa serrulata fruit exract, sodium hydroxide, essential oil of spearmint (mentha viridis), phospholipids, piroctone olamine, saccharide isomerate, tranexamic acid, polyquaternium-51, ethylhexylglycerin, zinc pca, snow fungus (tremella fuciformis) extract, kalanchoe spathulata extract*, glycyrrhiza glabra (licorice) root extract*, alpine skullcap (scutellaria alpina) flower/leaf/stem extract* masterwort (peucedanum ostruthium) leaf extract*,ginkgo biloba leaf extract*, alps wormwood (artemisia umbelliformis) extract*,  leontopodium alpinum extract*,  alpine willowherb (epilobium  fleischeri) extract*, calendula officinalis flower extract*, chamomilla recutita (matricaria) flower extract*,  camellia sinensis (green tea) leaf extract*,  phragmites communis extract, poria cocos extract, sodium hyaluronate, iodopropynyl butylcarbamate,  essential oils of grapefruit (citrus paradisi), lemon (citrus limonum),  lime (citrus aurantifolia), orange (citrus nobilis) niaouli (melaleuca viridiflora), peppermint (mentha piperita) *Phytoferulin  cosDNA
Final Thoughts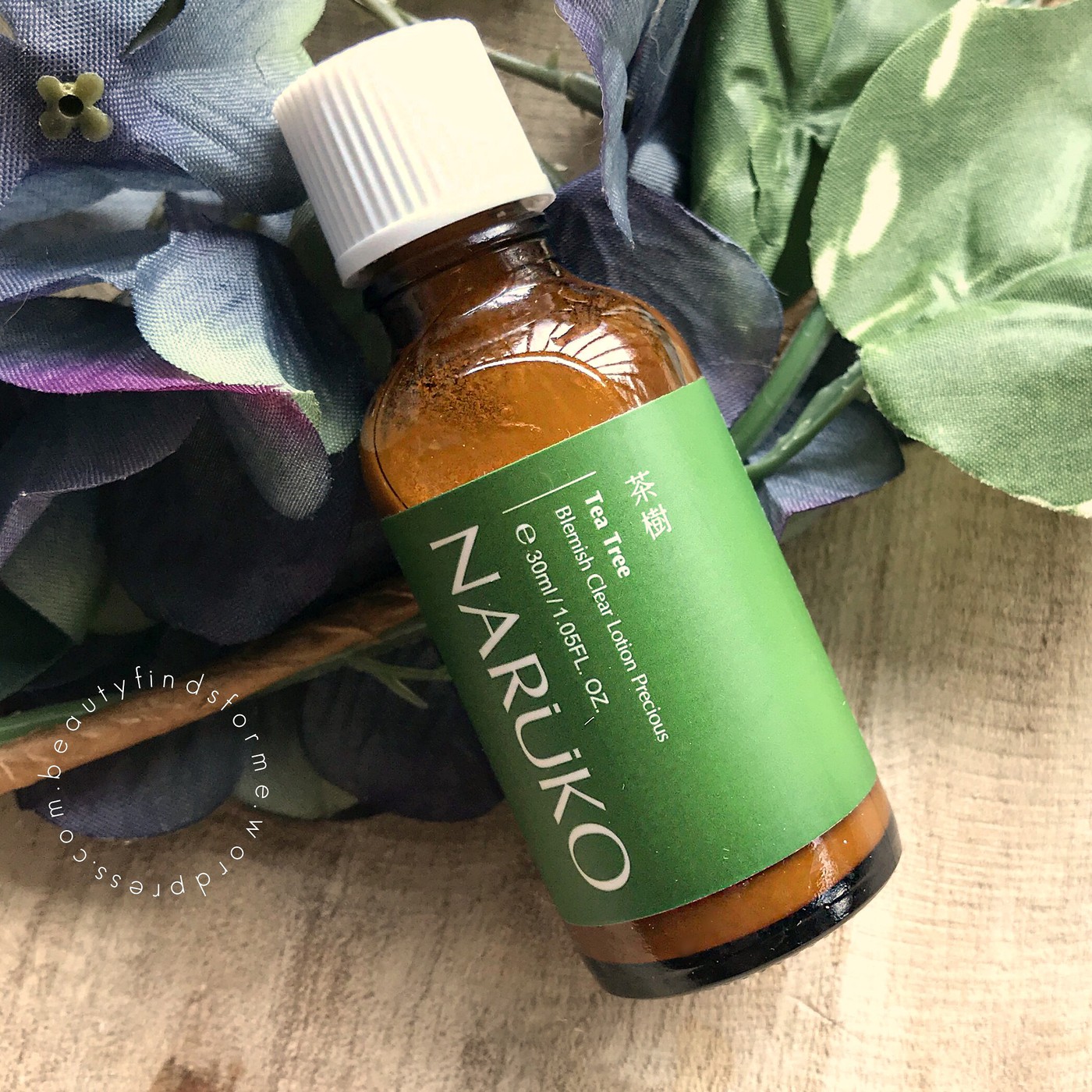 Seriously, the Tea Tree Line from Naruko is amazing ~ check out my other reviews here for Naruko products that I have tried over the years.  I was happy to try out two of my Holy Grails, the sheet mask and the sleeping jelly pack and discover a fantastic blemish busting treatment as well!  Have you tried any products Naruko's Tea Tree line?  What is your favorite item in their Tea Tree line or one that you really want to try out?
Where to Purchase
Naruko, of course!  Naruko has several different stores around the world too.  Naruko Canada not only ships to Canada but to the USA as well!  
Naruko USA  Naruko USA will also give free gifts and you earn points when you purchase at their store.  These reward points then can be converted to spend on any product you want. For USA orders, if you order $40.00 or more, you automatically get free shipping.  Naruko USA will ship internationally, so check here for more information.
[ disclaimer: products received for review purposes.   contains affiliate links ]