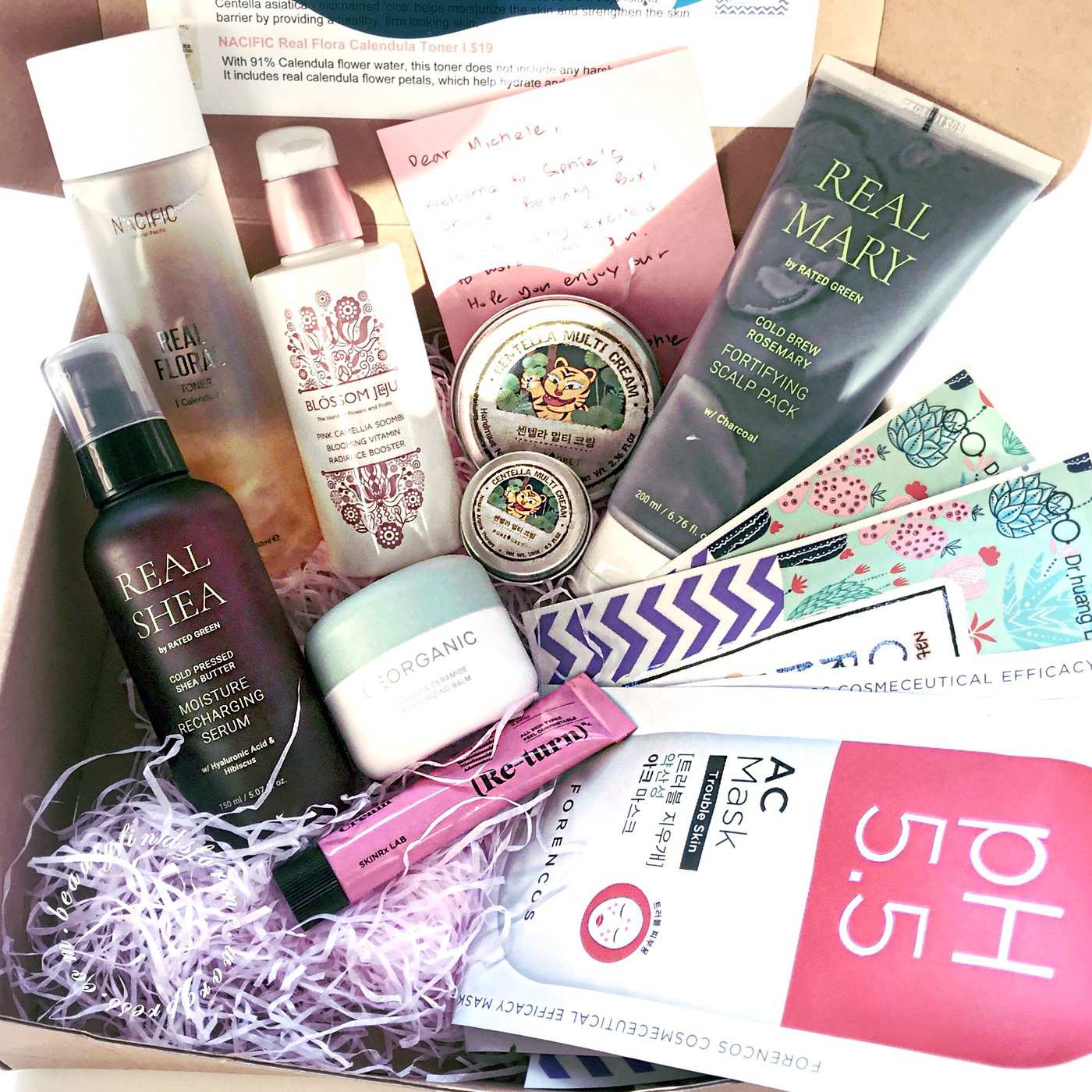 Sophie's Choice Beauty Box is an amazing press sample set out by a brand new private influenster community created by Sophie at Sophie's Beauty Box. The owner, Sophie Park, reached out to me back in October and asked if I would be interested in receiving a box with Korean skincare and hair care products.  I was very interested and said yes to it, and when I received the box, it totally blew away my expectations!!  It was brimming full of quality Korean beauty products with some brands I wasn't even aware of!  I promised you that I would create a blog post of all of the products and where you can purchase them (just click on the links), so here it is.  Let's dive into the unboxing and my initial impressions on each product, which were originally posted on my Instagram account.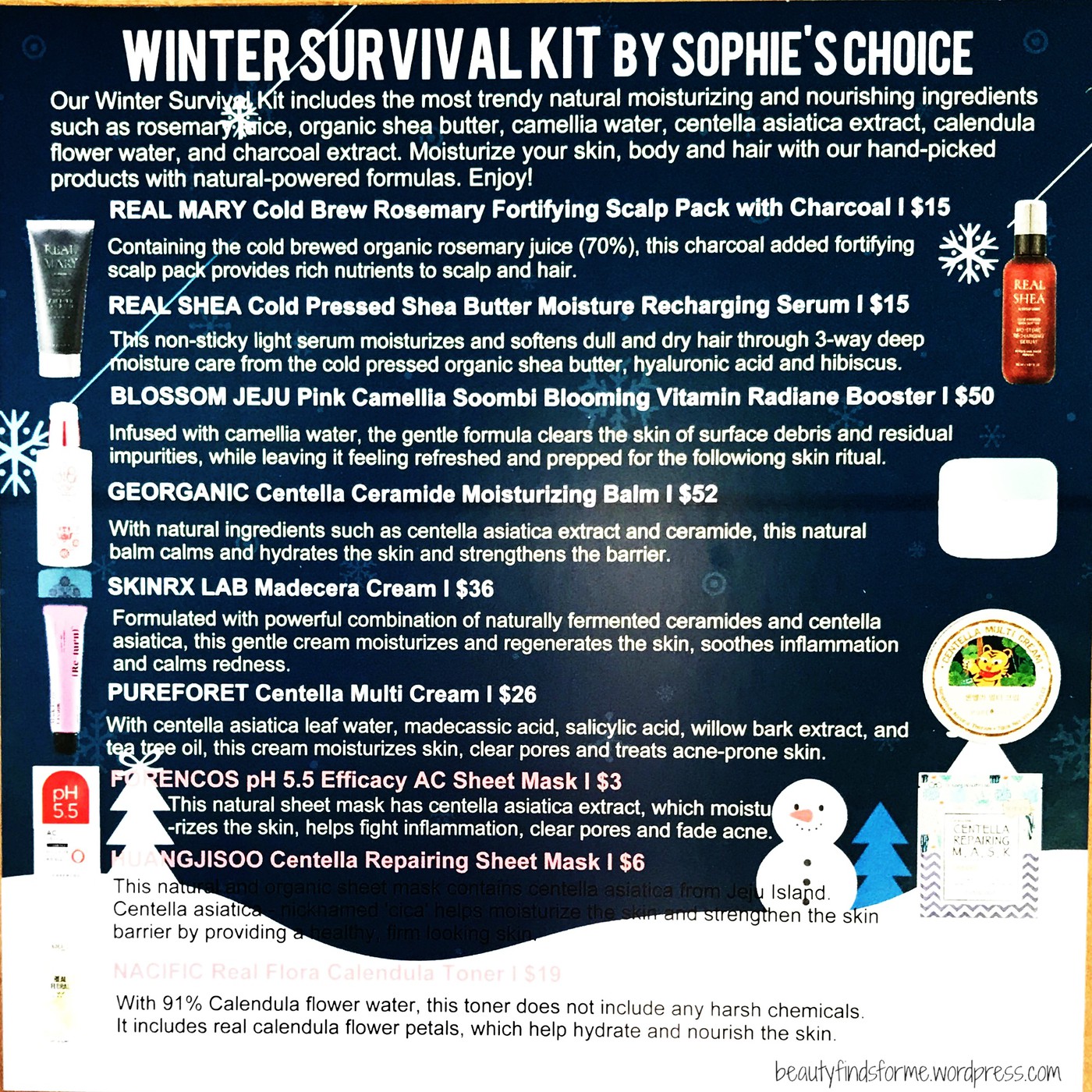 Skin type/concerns:  Oily, aging, blemish prone, pores, hyper-pigmentation, fine lines and wrinkles. 
I received these products complementary to review and was not paid.  All reviews are my own honest opinion and  I never have been asked to write copy for a brand.  This blog post might contain promo codes, affiliate and referral links, which using my links will help generate a small commission that helps support my blog at no extra cost to you.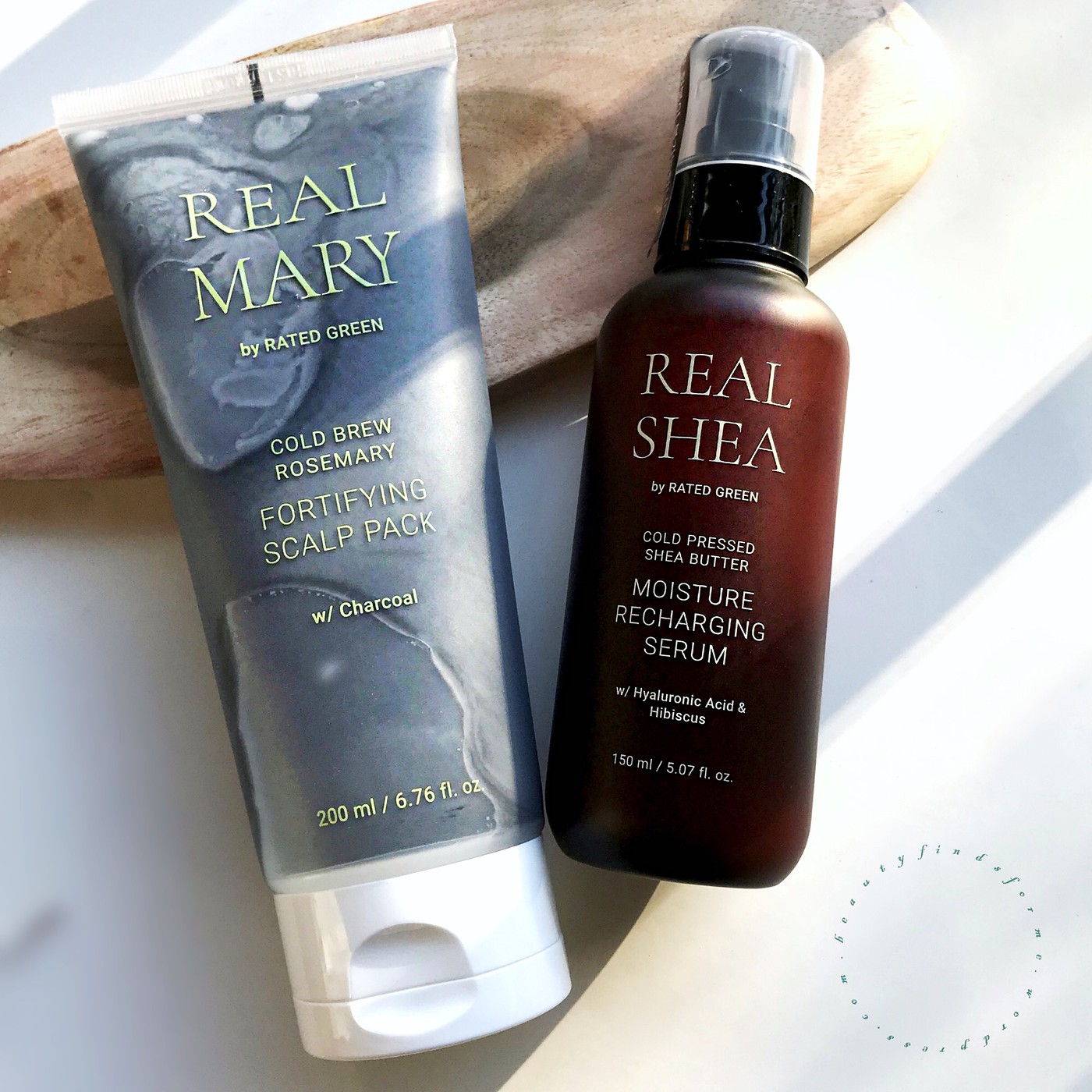 There were 2 hair care items in here by a new brand to me called Rated Green.  The first item is Real Mary Fortifying Scalp Pack with Charcoal, which contains 70% cold brew organic rosemary leaf oil (3500ppm), which stimulates hair follicles and hair growth by enhancing blood circulation to the scalp ~ which will promote healthy, stronger and shiner hair.  It also helps with conditioning and soothing your scalp and will clear up dandruff.   This also has charcoal to help detox your scalp, unclogging pores and removing excess sebum.  There is also tea tree, peppermint, sweet almond, jojoba, sunflower, orange peel, lemon, lavender, basil oils, and ginger, oat kernel and panthenol.  This scalp pack doesn't contain SLS, SLES, parabens and silicon and is great for sensitive scalps too.
This is a nice smooth thick mud green-black scalp pack that smells like rosemary!  I love the scent of rosemary ~ do you?  After washing my hair, I apply this on my scalp and hair, massage in and leave on for 2 to 3 minutes. Rinse off and I don't even need to use conditioner afterwards, as this leaves my hair soft and conditioned.  I have used this several times already and this doesn't dry out my scalp or hair, leaves a nice rosemary scent and it removes all of my styling care buildup~ which it does build up, even with normal shampoo and conditioner.  I really love this one!  Where to Purchase: [ Rated Green Korean Site ]   
For the Rated Green products, I cannot find them yet globally, so if you want them, you need to use a shipping service.  If you are in Korea, you obviously can order directly from the Korean site. I recommend Korean Buddy (click here) ~ I have used them many times in the past and have always been pleased with their service.  All you have to do is send them the links and they will come up with the product total.  You pay them, they get the products, weigh it and then give you the shipping costs.  If you have never used Korean Buddy before, you can save 50% off the handling fee by using my blog as a referral https://beautyfindsforme.wordpress.com  
Real Mary Fortifying Scalp Pack with Charcoal Ingredients (translated by me from Rated Green and all mistakes are mine): rosemary leaf water, glycerin, methylpropanediol, cetyl alcohol, isoamyl laurate, stearyl alcohol, purified water, 1,2-hexanediol, behentrimonium chloride, rosemary leaf oil, charcoal powder, menthol, soybean extract, chamomile flower oil, oat kernel protein, coconut oil, tea tree leaf oil, peppermint oil, olive oil, avocado oil, sweet almond oil, jojoba seed oil,  thyme oil, orange peel oil, lemon peel oil, bergamot fruit oil, lavender oil, ginger extract, basil oil, pelargonium graveolens flower oil, sage leaf extract, grapefruit extract, cetyl esters, cetrimonium chloride, ethylhexylglycerin, pentylene glycol, butylene glycol, caprylyl glycol, panthenol, tocopherol, disodium EDTA, sodium benzoate, potassium sorbate cosDNA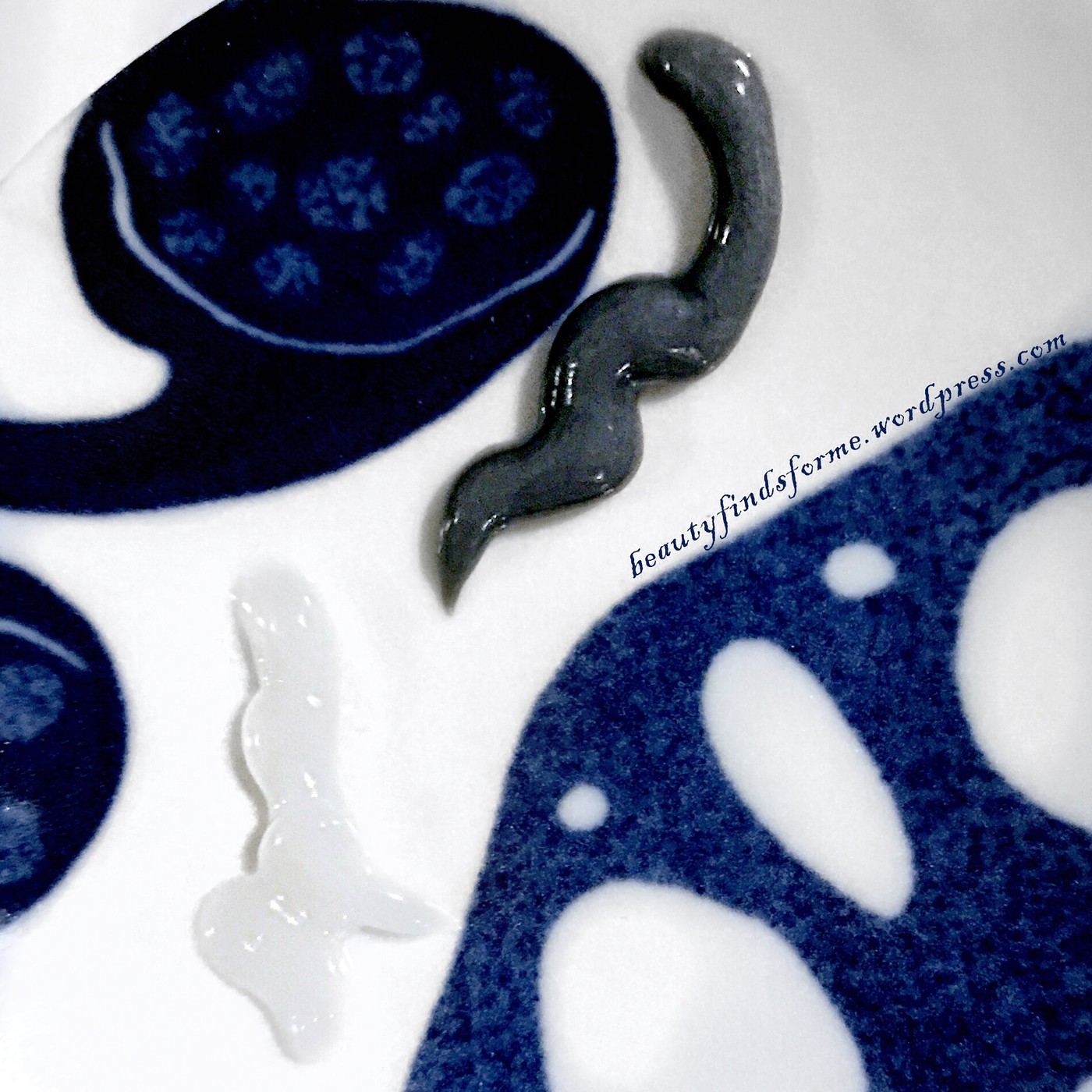 Top: Real Mary Fortifying Scalp Pack  Bottom: Real Shea Moisture Recharging Serum
The next item is Real Shea Moisture Recharging Serum, made with organic shea butter ~ this is certified by ECOCERT.  I first thought this was a facial serum and even swatched on my hand, stating it felt really lovely and smooth ~ hahaha ~ but it is a serum for your hair! Shea butter has been used for thousands of years to help moisturize skin and hair.  Rated Green uses environmentally friendly, high quality organic shea butter that cultivated and distributed through fair trade, and they use a cold press method to extract the butter, so that the vitamins and nutrients are not lost.   This also has hydrating hyaluronic acid and hibiscus, full of vitamin C, phosphorous and carotene, and helps prevent hair loss.  This serum has a milky gel-like texture, smells soapy to me ~ and I just run it through the ends of my fine, color-treated hair before I blow dry my hair ~ if you have coarse, curly or thick hair, you can use from the roots to the ends ~ for me, I put serums at the ends as that is where I need the most help. My hair is very smooth at the ends and super shiny!! It isn't weighed down at all and I did try it all over my hair ~ I don't recommend that for oily fine hair types, as it is a bit too much.  However, I have used this as a night hair care treatment all over my hair and it leaves my hair even more shiny and soft!  Are you excited about this brand, Rated Green? So far, it looks like they just specialize in hair care products.  I wonder if they will branch out to skincare?  Where to Purchase: [Rated Green Korean Site ]
Real Shea Moisture Recharging Serum Ingredients (translated by me from Rated Green and all mistakes are mine):  purified water, dimethicone, glycerin, propylene glycol, cyclopentasiloxane, aloe vera leaf juice, orange peel oil, soybean extract, shea butter, safflower extract, hibiscus sabdariffa flower extract, rosehip fruit extract, rose extract, sheeps sorrel extract, aminopropyldimethicone, butylene glycol, acrylate/C10-30 alkyl acrylate crosspolymer, aminomethyl propane, petrolatum, polysilicon-11, pectin, pentylene glycol, 1,2-hexanediol, caprylyl glycol, ethylhexylglycerin, hyaluronic acid, hydrolyzed hyaluronic acid, sodium hyaluronate, xanthan gum, alcohol, disodium EDTA, fragrance cosDNA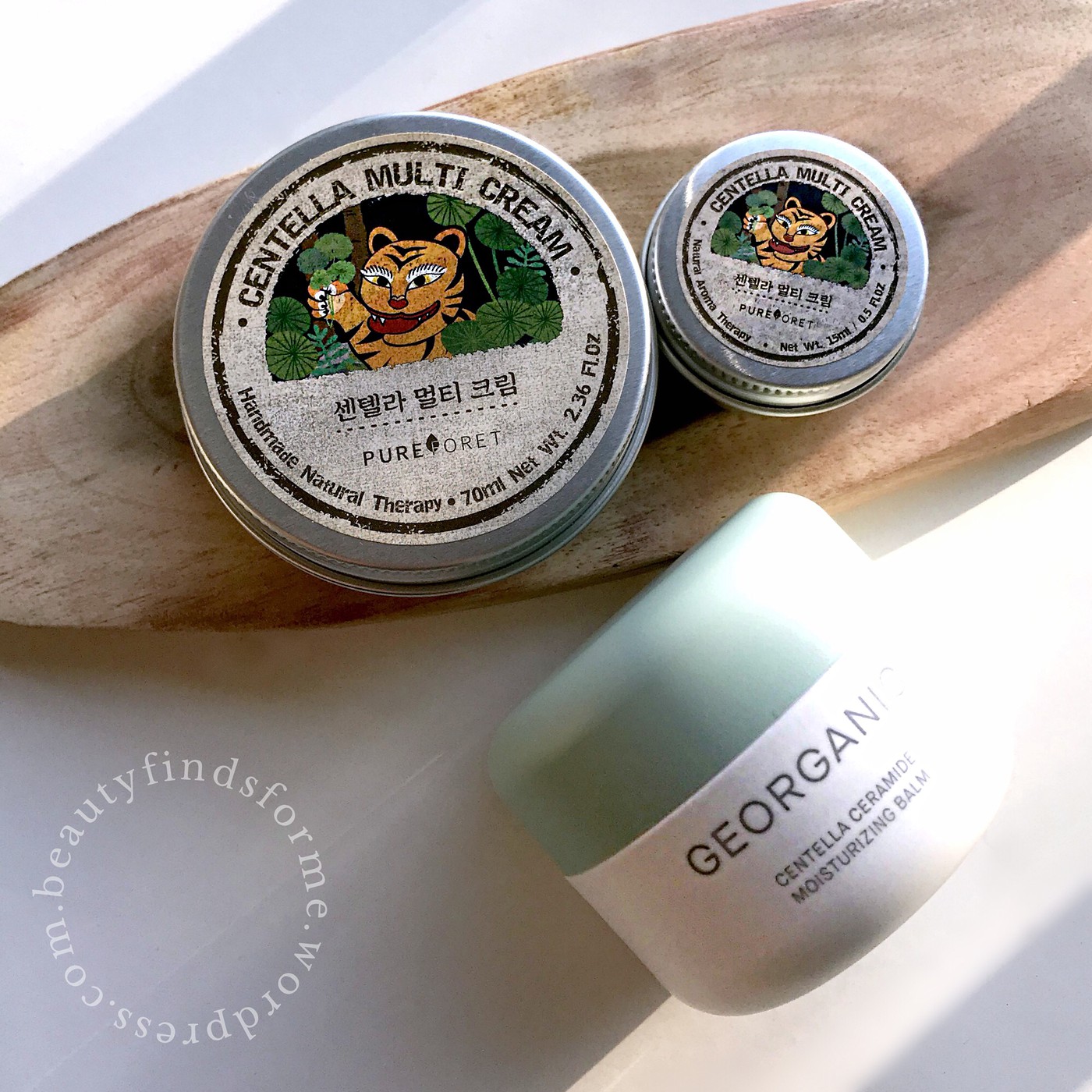 I received these two lovely centella centric skincare creams ~ first up, is PureForet Centella Multi Cream, which has the most adorable packaging and logo ~ Centella is also called Tiger's Grass, as it is known that tigers would roll in patches of centella to help heal their wounds.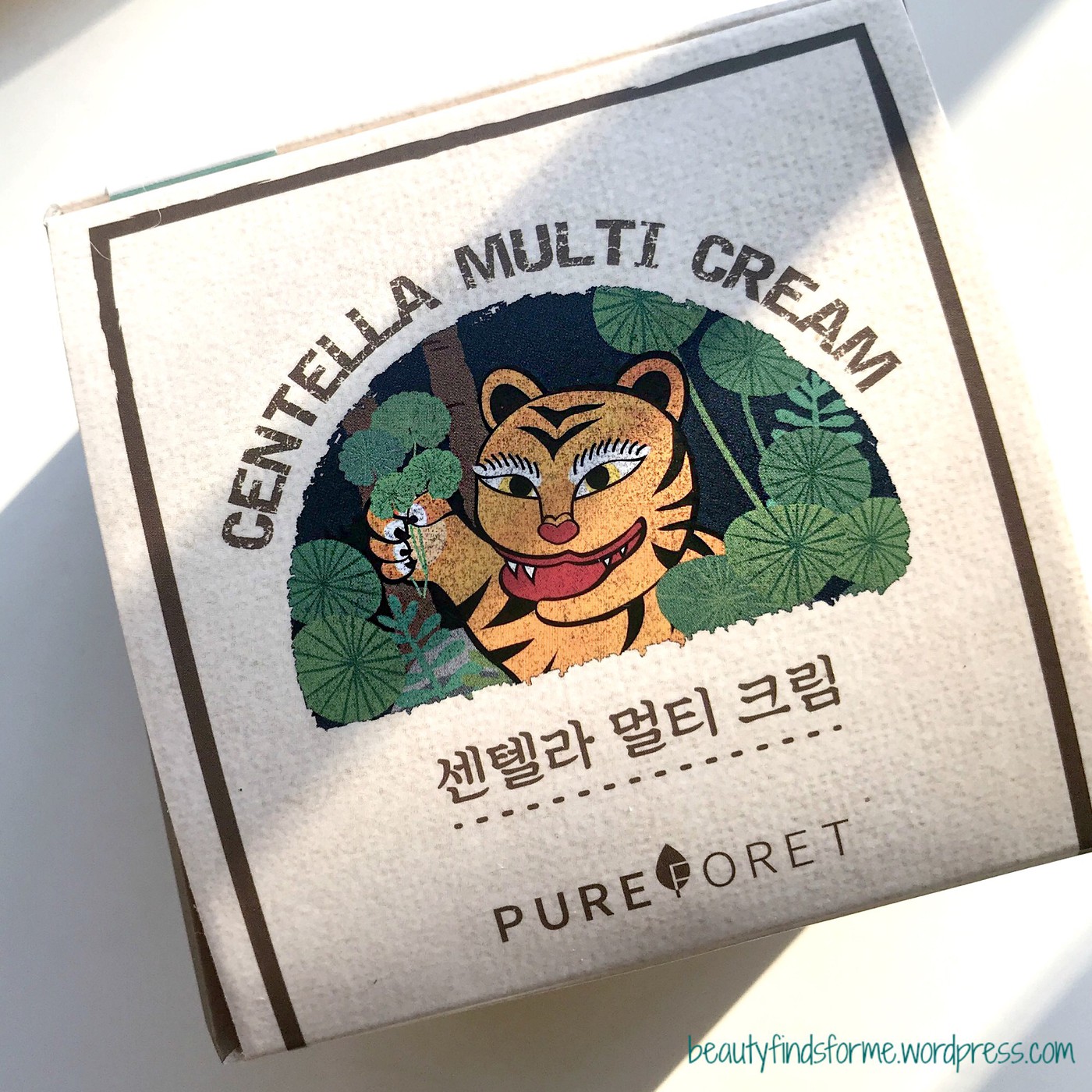 Centella is an ancient medical herbal remedy and is used for healing, soothing and calming the skin ~ this contains both centella water and extracts. This also hash anti-aging peptides and vitamin E, hydrating glycerin and sodium hyaluronate, healing houttuynia, moisturizing jojoba,macadamia and shea butter, antiseptic and healing tea tree, BHA willow and salicylic acid.  This does have a tea tree scent to it, which I do love and its texture is so lightweight and smooth on my skin. It absorbs quickly, leaving my skin feeling moisturized without being heavy.  There is no tacky or sticky residue.  Based on its texture, I would say this is more like an emulsion or lotion, and it is great to layer.  This is great for oily skinned folks as it doesn't leave a dewy finish and is one of my absolute favorite items in this box!  This comes with a smaller tin so you can decant the larger tin into the smaller one. Where to Purchase: [ Amazon USA | Beauty Tap  (use unboxing15 to save 15%) | Full Face Project ]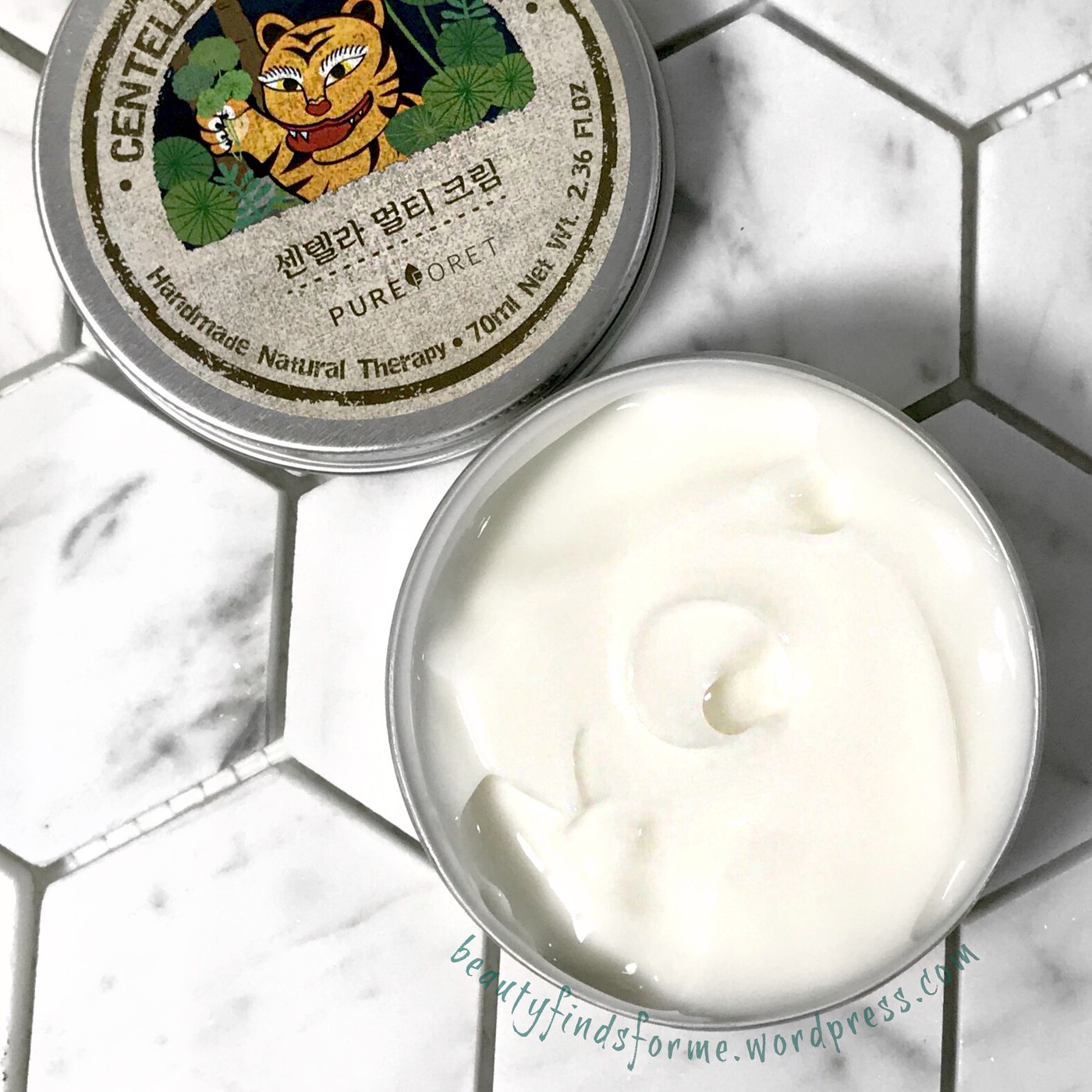 PureForet Centella Multi Cream Ingredients: Centella Asiatica Leaf Water, Propanediol, Helianthus Annuus (Sunflower) Seed Oil, Sodium Hyaluronate, Macadamia Ternifolia Seed Oil, Beeswax, Polysorbate 80, rh-Oligopeptide-1(1ppm), Glycerin, 1,2-Hexanediol, Glyceryl Stearate, Sorbitan Sesquioleate, Tocopheryl Acetate, Simmondsia Chinensis (Jojoba) Seed Oil, Stearic Acid, Sodium Polyacrylate, Hydrogenated Polydecene, Cetearyl Alcohol, Arginine, Polygonum Cuspidatum Root Extract, Carbomer, Scutellaria Baicalensis Root Extract, Camellia Sinensis Leaf Extract, Houttuynia Cordata Extract, Salix Alba (Willow) Bark Extract, Panthenol, Allantoin, Butyrospermum Parkii (Shea) Butter, Lecithin, Ethylhexylglycerin, Melaleuca Alternifolia (Tea Tree) Leaf Oil, Salicylic Acid, Lavandula Angustifolia (Lavender) Oil, Salvia Sclarea (Clary) Oil, Centella Asiatica Extract cosDNA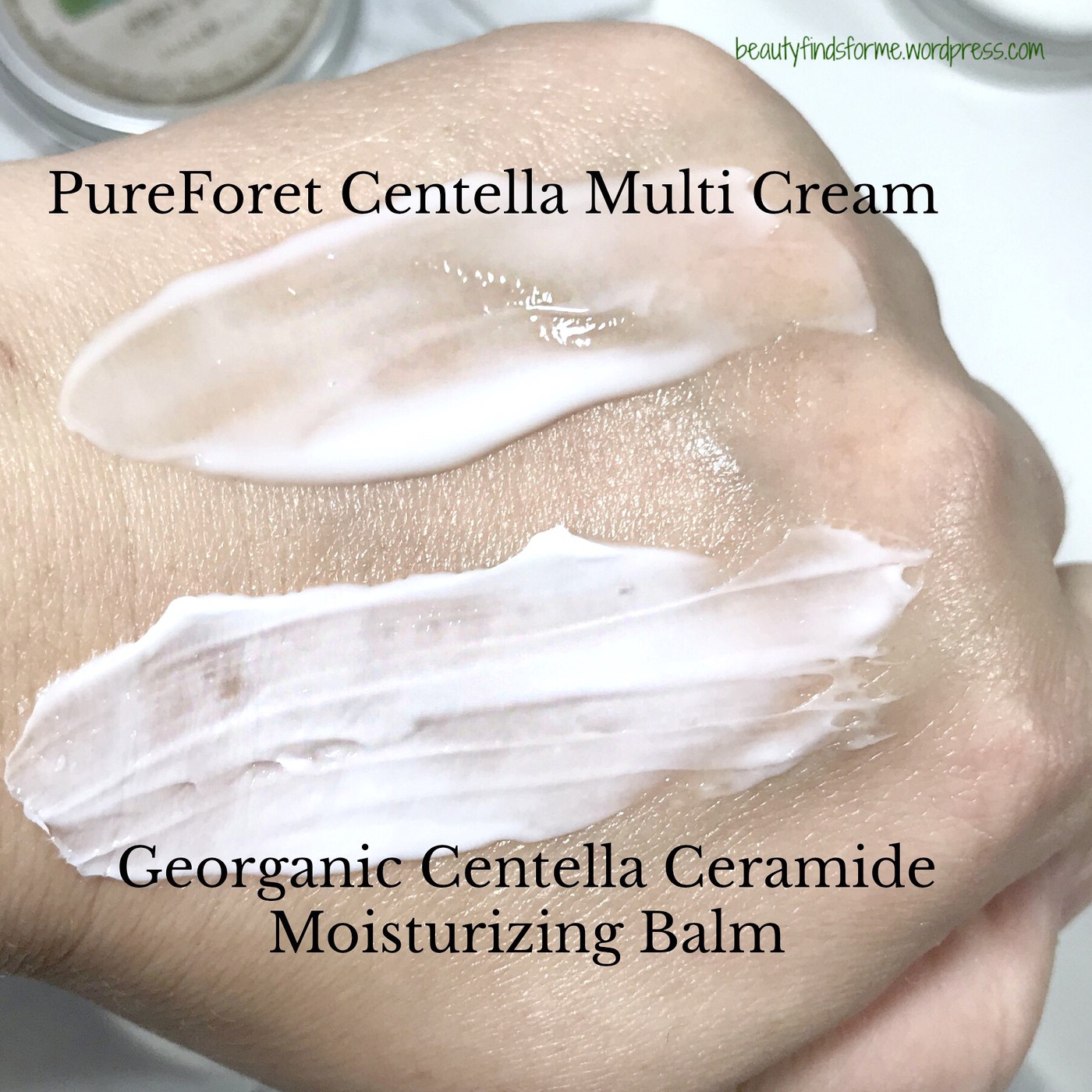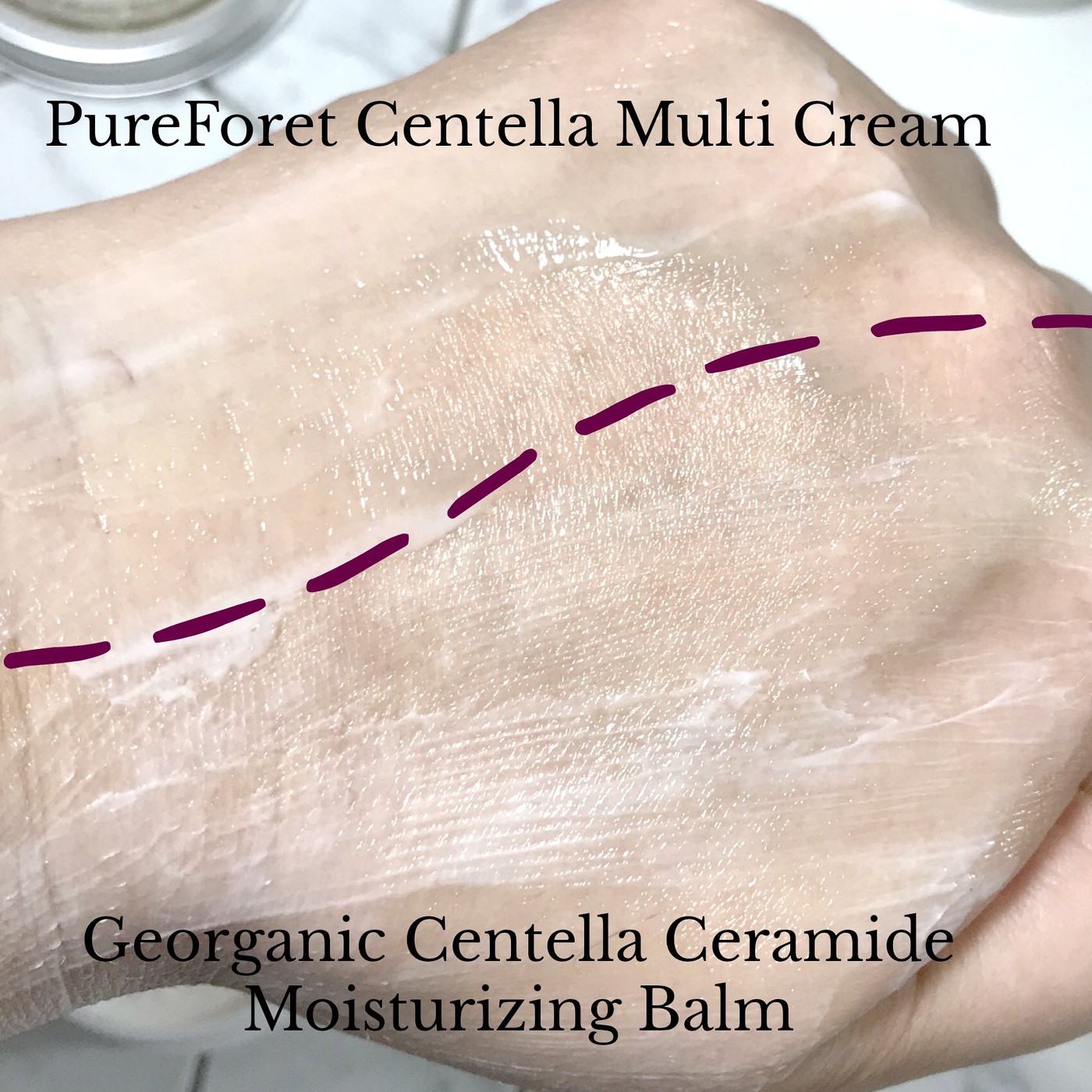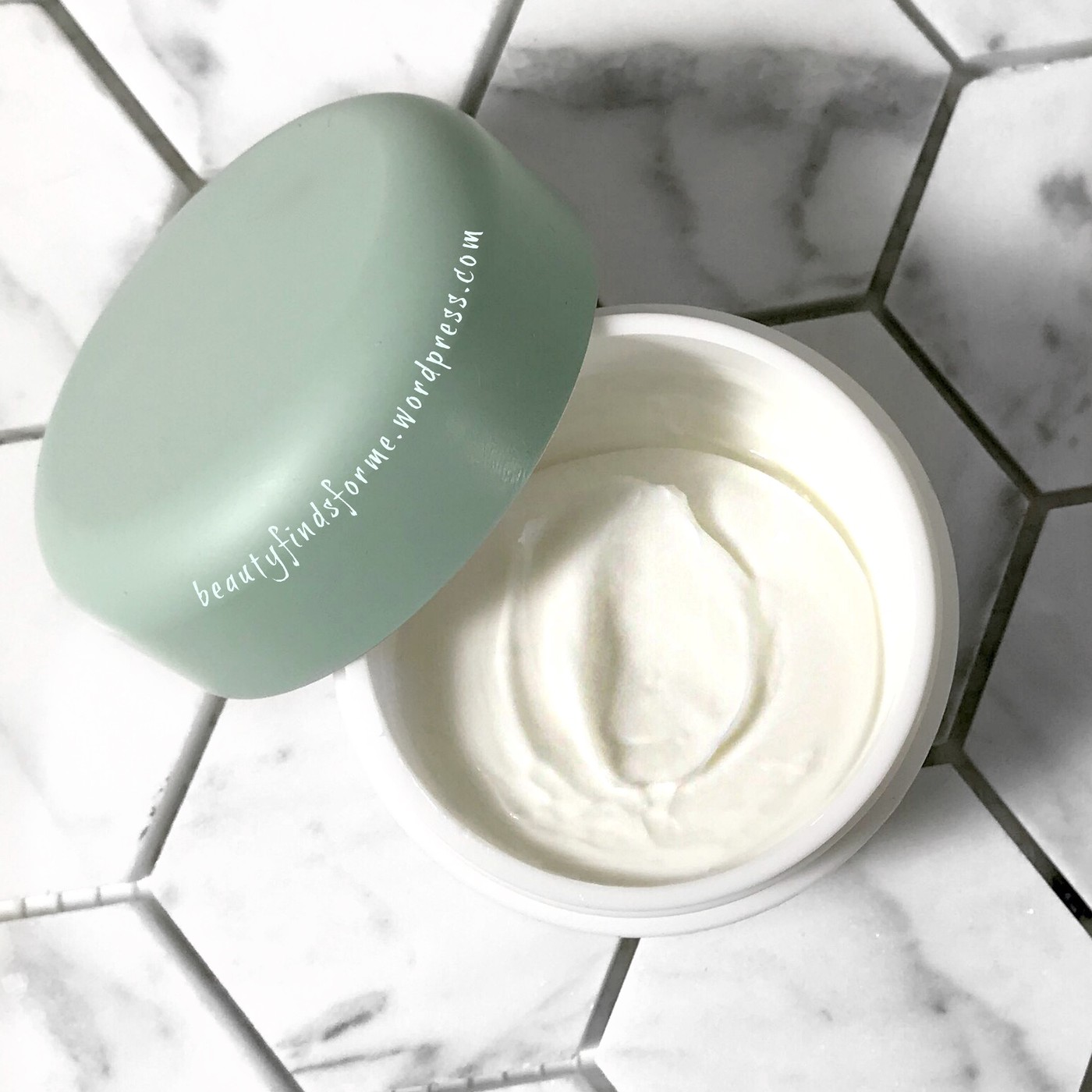 The other centella cream is the Georganic Centella Ceramide Moisturizing Balm. Don't let the name fool you, it isn't a waxy balm or even a heavy cream. I was scared by the name, but once I opened up this cream, I found it to have a medium weight to it, that absorbs without a tacky residue.  This not only has soothing 65% centella, but ceramides, which helps improve your skin's moisture and elasticity.  It also has anti-aging peptides and amino acids, along with moisturizing squalane, shea butter, jojoba and olive oils  This has no scent to it and I like using this at night time as it is a bit rich for me during the day time.  It does leave my skin supple and very soft!   I have not experinecd any blemishes or skin issues with either of these two lovely centella products!   Where to Purchase: [Amazon USA | Full Face Project ]
Georganic Centella Ceramide Moisturizing Balm Ingredients: Centella Asiatica Extract(65%), Glycerin(Ecocert Organic), Butrospermum Parkii (Shea)Butter(Ecocert Organic), Caprylic/Capric Triglyceride(Ecocert Natural), Sorbitan Olivate, Cetearyl Olivate(Ecocert Natural), Ceramide NP(1%,10,000), Glycosaminoglycans, Fucoxanthin, Polyglyceryl-10 Stearate(Ecocert Natural), Cetearyl Alcohol(Ecocert Natural), 1,2-Hexanediol, Simmondsia Chinensis(Jojoba) Seed Oil(Ecocert Organic), Olea Europaea(Olive)Fruit Oil, Squalane,sh-Polypeptide-11, Lysolecithin(Ecocert Natural), Sclerotium Gum(Ecocert Natural), Xanthan Gum(Ecocert Natural), Pullulan(Ecocert Natural), Hydroxyethyl Acrylate/Sodium Acryloyldimethyl Taurate Copolymer, Glyceryl Stearate(Ecocert Natural), Beeswax(Ecocert Natural), sh-Oligopeptide-1, Allantoin, Hydrolyzed Pea Protein(Ecocert Natural), Lecithin(Ecocert Natural), Phytosterols(Ecocert Natural), Propanediol(Ecocert Natural), Butylene Glycol(Ecocert Natural), Lysine, Histidine, Arginine,Aspartic Acid, Threonine, Serine, Glutamic Acid, Proline, Glycine, Alanine, Valine, Methionine, Isoleucine, Leucine, Tyrosine, Phenylalanine, Cysteine, Hydrogenated Lecithin, Dipotassium Glycyrrhizate, Panthenol, Sodium Hyaluronate, Water, Hyaluronic Acid(Ecocert Natural), Chlorella Vulgaris Powder, Camellia Sinensis Leaf Powder cosDNA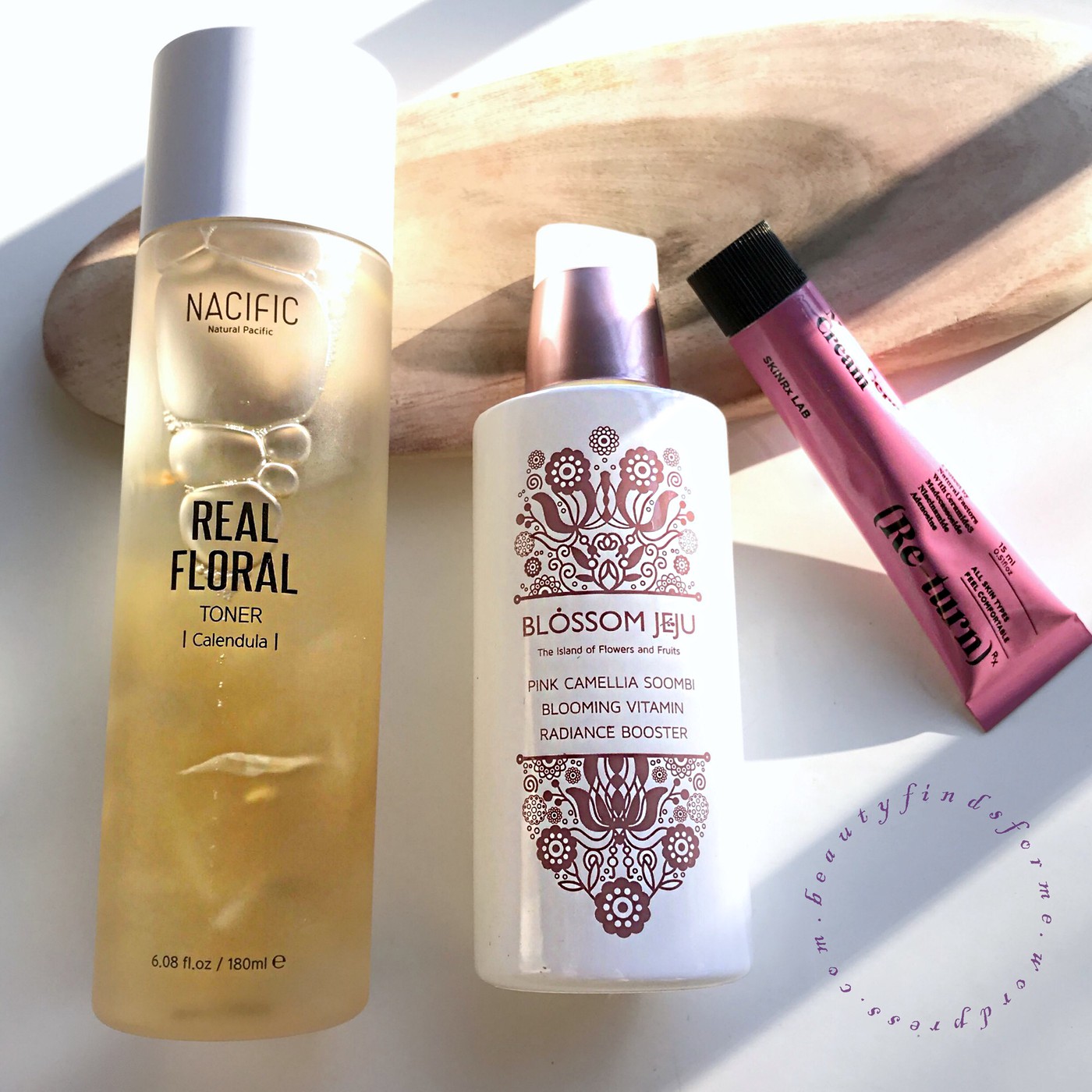 A floral bouquet of products ~  Nacific Real Floral Calendula Toner (was Natural Pacific):  I used this last year (review here) and am happy to get it again! It has lovely calendula petals floating in this toner: This is a very light, watery toner and it doesn't have much of a scent.  They reformulated the ingredients just a little bit, with the notable difference of removing beta-glucan and adding centella.  Made with 91% calendula water, this ingredient heals chapped, irritated skin and there are some ingredients that are for those who suffer from oily and/or blemish prone skin ~ tea tree, lavender, rosemary, peppermint, lemongrass and chamomile help soothe, repair, heal and provide antiseptic and antibacterial relief to your skin.   I think this is more of a gentle AC Control toner, due to its ingredients and while it does provide a bit of hydration, it seems to be tailored more for healing acne and other skin issues. It doesn't control oil and it does act like an astringent around my pores. I enjoyed the original toner quite a bit, and this one is pretty much the same as last year's. It keeps my skin refreshed and clean, while providing healing, soothing properties to my skin. Have you tried this toner yet? What did you think of it?   Where to Purchase: [ Amazon USA | YesStyle | StyleKorean ]
Nacific Real Floral Calendula Toner Ingredients: Calendula Officinalis Flower Water(91%), Butylene Glycol,  Sodium Hyaluronate, Calendula Officinalis Flower Extract, Propanediol, Hydroacetophenone, 1,2-Hexanediol,, Centella Asiatica  Extract, Dipropylene Glycol,  Melaleuca Alternifolia (Tea Tree) Extract, Rosmarinus Officinalis Extract, Mentha Piperita (Peppermint) Leaf Extract, Cymbopogon Schoenanthus Extract, Lavandula Angustifolia (Lavender) Flower Extract, Anthemis Nobillis Flower Extract, Chrysanthellum Indicum Extract, Allantoin, Calendula Officinalis Flower, Disodium EDTA, Dipotassium Glycyrrhizate  cosDNA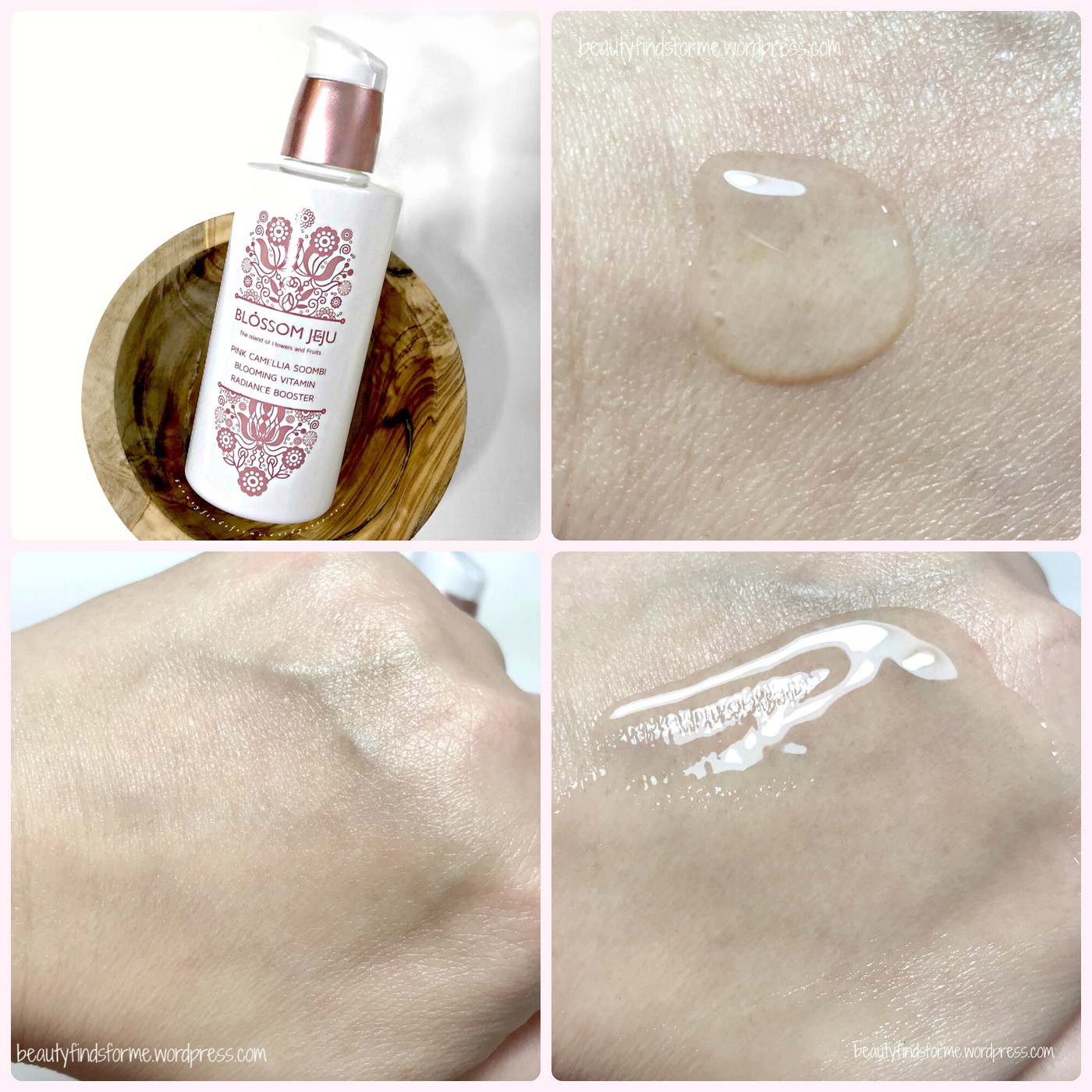 Blossom Jeju Pink Camellia Soombi Blooming Vitamin Radiance Booster  This is my first Blosson Jeju ITEM!!  I love everything about it ~ from the white glass bottle with the rose/rose-gold accents, the lovely lightweight essence, the natural floral scent, which is so delicate and pretty.  This contains camelia oil ~ rich in vitamin A (retinol), vitamin E and omega fatty acids  ~ this oil will also provide moisture deep into your skin, antioxidant green tea, broccoli, niacinamide and algae to help brighten and smooth skin texture, anti-aging beet root ~ rich in vitamin B3.  Healing and calming centella and chamomile will soothe your irritated skin and reduce redness.  This does have rose and jasmine oils in it, but they are the last two ingredients in a long list, and I did not have any adverse reaction to this essence.  My skin feels hydrated and supple, and helps with overall radiance! It does not leave a sticky or greasy residue and dries down to a satin finish.   This is just lovely and one of my favorite things this year!  Where to Purchase: [ Glow Recipe (1st time purchase?  Use my referral link to save 15%!) | Amazon USA | Skinsider UK ]
Blossom Jeju Pink Camellia Soombi Blooming Vitamin Radiance Booster Ingredients: Camellia Japonica Flower Extract, Beta Vulgaris (Beet) Root Extract, Glycerin, Water, Propanediol(EcoCert, Natural Origin), Pentylene Glycol(EcoCert, Natural Origin), Niacinamide, Xanthan Gum, 1,2-Hexanediol, Panthenol, Polyglyceryl-10 Laurate, Caprylyl Glycol, Polyglyceryl-10 Myristate, Citric Acid, Glycyrrhiza Glabra (Licorice) Root Extract, Betaine, Adenosine, Sorbitan Caprylate, Opuntia Ficus-Indica Fruit Extract, Centella Asiatica Extract, Undaria Pinnatifida Extract, Camellia Sinensis Leaf Extract, Hizikia Fusiforme Extract, Polygonum Cuspidatum Root Extract, Scutellaria Baicalensis Root Extract, Algae Oligosaccharides, Aloe Barbadensis Leaf Extract, Bioflavonoids, Brassica Oleracea Italica (Broccoli) Extract, Ecklonia Cava Extract, Hyaluronic Acid, Rosmarinus Officinalis (Rosemary) Leaf Extract, Sargassum Fulvellum Extract, Levulinic Acid, Chamomilla Recutita (Matricaria) Leaf Extract, Citrus Unshiu Peel Extract, Vitis Vinifera (Grape) Skin Extract, Pyrus Malus (Apple) Fruit Extract, Silybum Marianum Extract, Vaccinium Angustifolium (Blueberry) Fruit Extract, ,Rose Flower Oil, Jasmine Oil cosDNA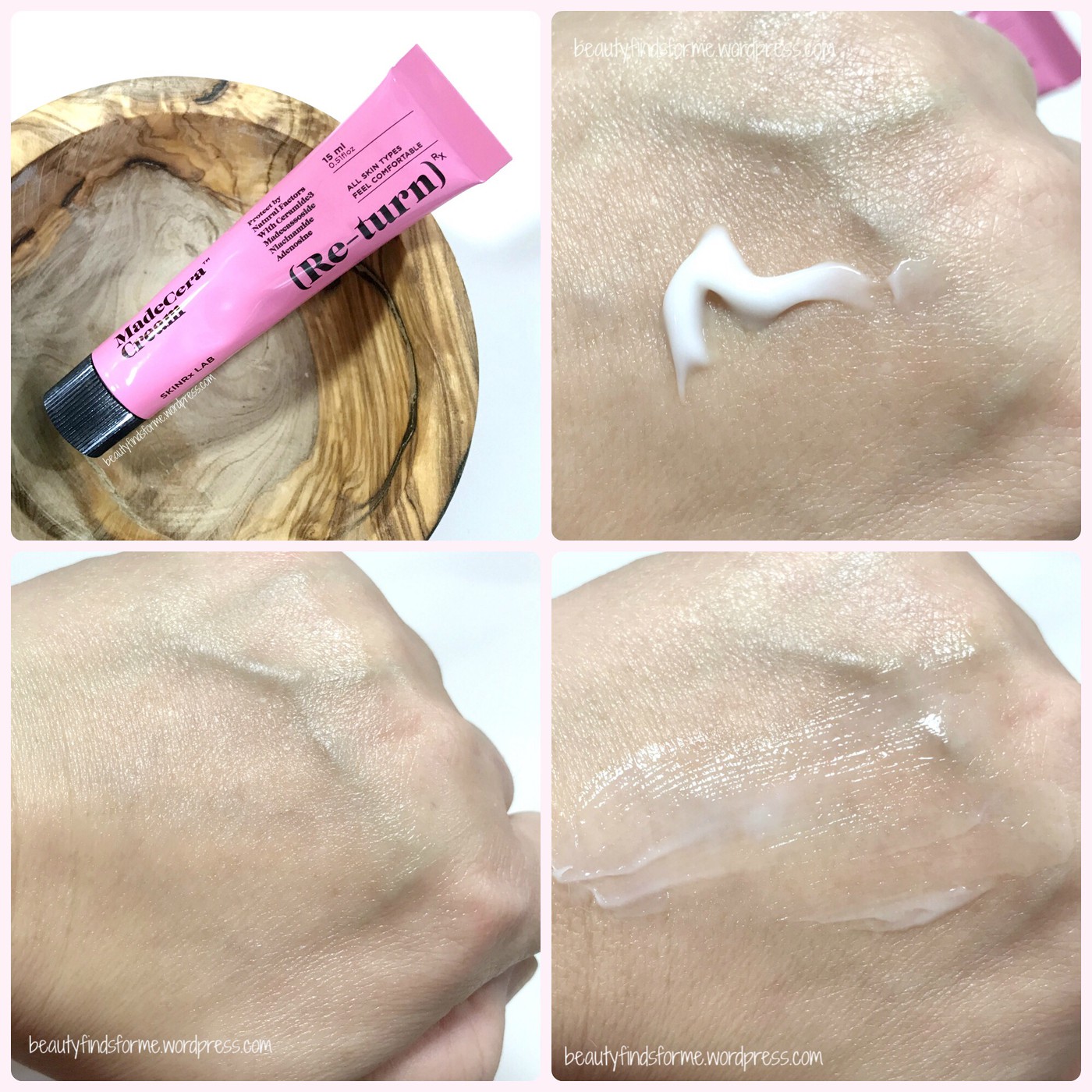 SkinRX Lab Madecera (Re-Turn) Cream:  This is the only product that I dislike in my Sophie's Box and it is due to the scent ~ a really strong sweet, perfumed floral.  If it was more natural and less strongly scented, this would be a favorite, as the cream is actually quite lovely.  This formula contains four components extracted from centella asiatica ~ asiaticoside helps form collagen to strengthen your skin and speeds up wound  healing.  Asiatic acid is an anti-aging compound, that helps to plump up your skin, prevents wrinkles, fine lines and scar tissue. Madecassic acid helps aid in the production of collagen and tissue while madecassoside  helps soothe, reduce redness and inflammation and helps heal your skin.   Ceramides are lipids (fats) which are important in helping to repair and protect your moisture barrier.  Squalane penetrates and absorbs rapidly into your skin and has anti-oxidant properties and there is moisturizing lanolin and olive oil as well in here with brightening niacinamide. This cream fights inflammation, reduces redness while brightening, softening and moisturizing skin.  I used this at night, as it was too rich for day time use and I only needed a tiny bit of this product to cover my face.  This did leave my skin nice and smooth, not irritated, but my nose was assaulted by the scent.   Some people love it, some people hate it.  I fell in the latter category   Where to Purchase: [ Amazon USA | Soko Glam (1st time purchase?  Use my referral link to save 20%!)  | Urban Outfitters ]
SkinRX Lab Madecera (Re-Turn) Cream Ingredients: Water, Glycerine, Butylene Glycol, Betaine, Niacinamide, 1,2-Hexanediol, Hydrogenated Lecithin, Behenic Acid, Stearic Acid, Myristic Acid, Stearyl Alcohol, Behenyl Alcohol, Caprylic/Capric Triglyceride, Olea Europaea (Olive) Fruit Oil, Arachidyl Alcohol, Arachidyl Glucoside, Cyclopentasiloxane, Diisostearyl Malate, Ceramide NP, PEG-10 Rapeseed Sterol, Glyceryl Stearate, Glycereth-20, Dipropylene Glycol, Glycosyl Trehalose, Panthenol, PEG-100 Stearate, Dimethicone, Dimethicone/PEG-10/15 Crosspolymer, Lauryl PEG-9 Polydimethylsiloxyethyl Dimethicone, Dimethicone/Vinyl, Lanolin, Hydroxyethyl Acrylate/ Sodium Acryloyldimethyl Taurate Copolymer, Squalane, Polysorbate 60, Allantoin, Xanthan Gum, Asiaticoside, Madecassic Acid, Asiatic Acid, Adenosine, Dipotassium Glycyrrhizate, Madecassoside, Fragrance cosDNA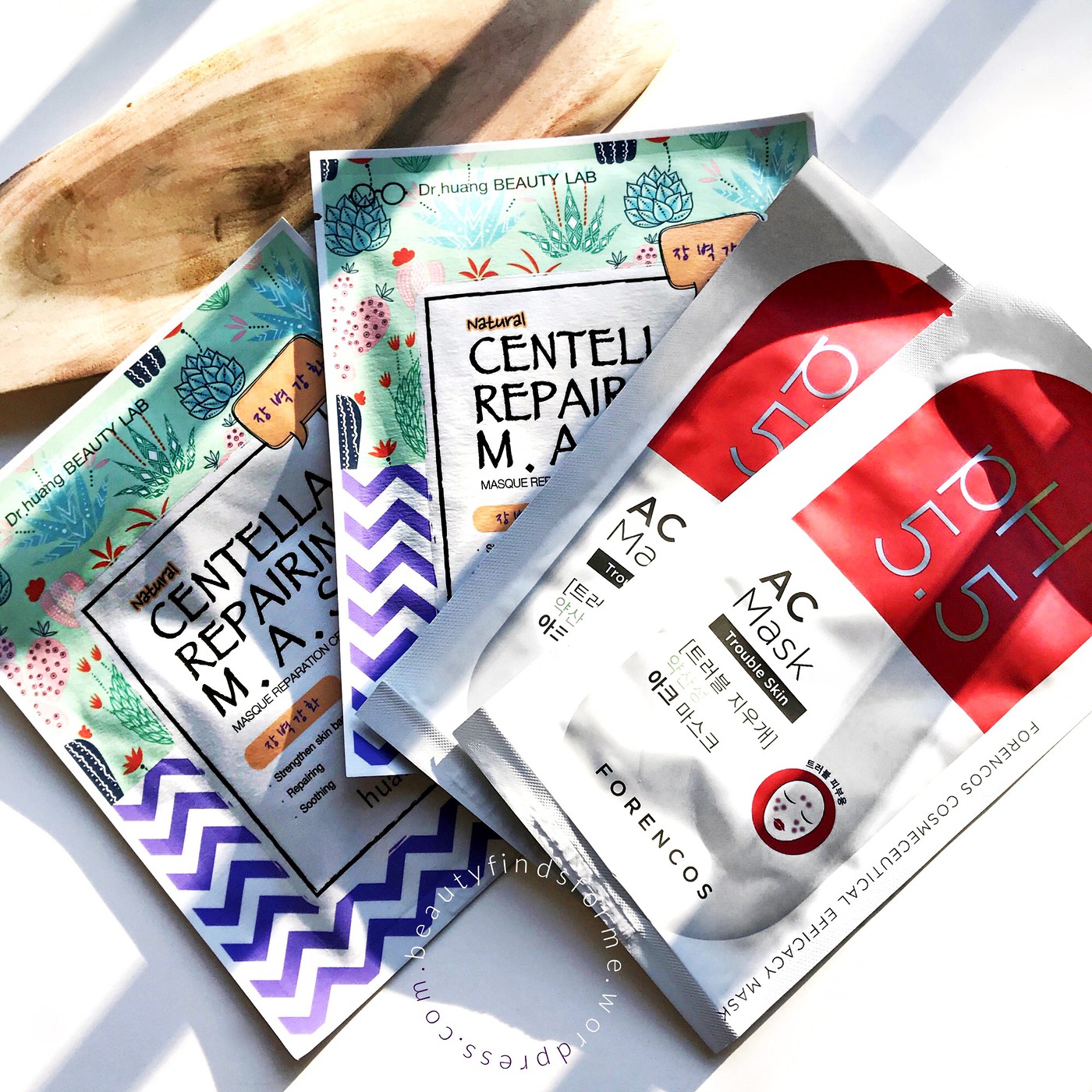 Finally, what is a K-Beauty Box without sheet masks? Huangjisoo Centella Repairing Sheet Mask ~ I have tried Huangjisoo masks before and I had mixed feelings about them ~ I enjoyed the Broccoli mask but really disliked the Tea Tree one, due to the residue.  This is made with centella extracts from Jeju Island, to help strengthen and calm your skin, along with ceramides to nourish and moisture your skin.  Good ol' tremella fuciformis (I swear, I will name my next cat fuciformis ~ say it out loud) which is very hydrating and can attract and bind moisture to your skin. This is made with 99.5% vegetable ingredients, organic with no chemical preservatives, vegan friendly and cruelty free.  The mask is made with cupra fabric, which is a superior cotton.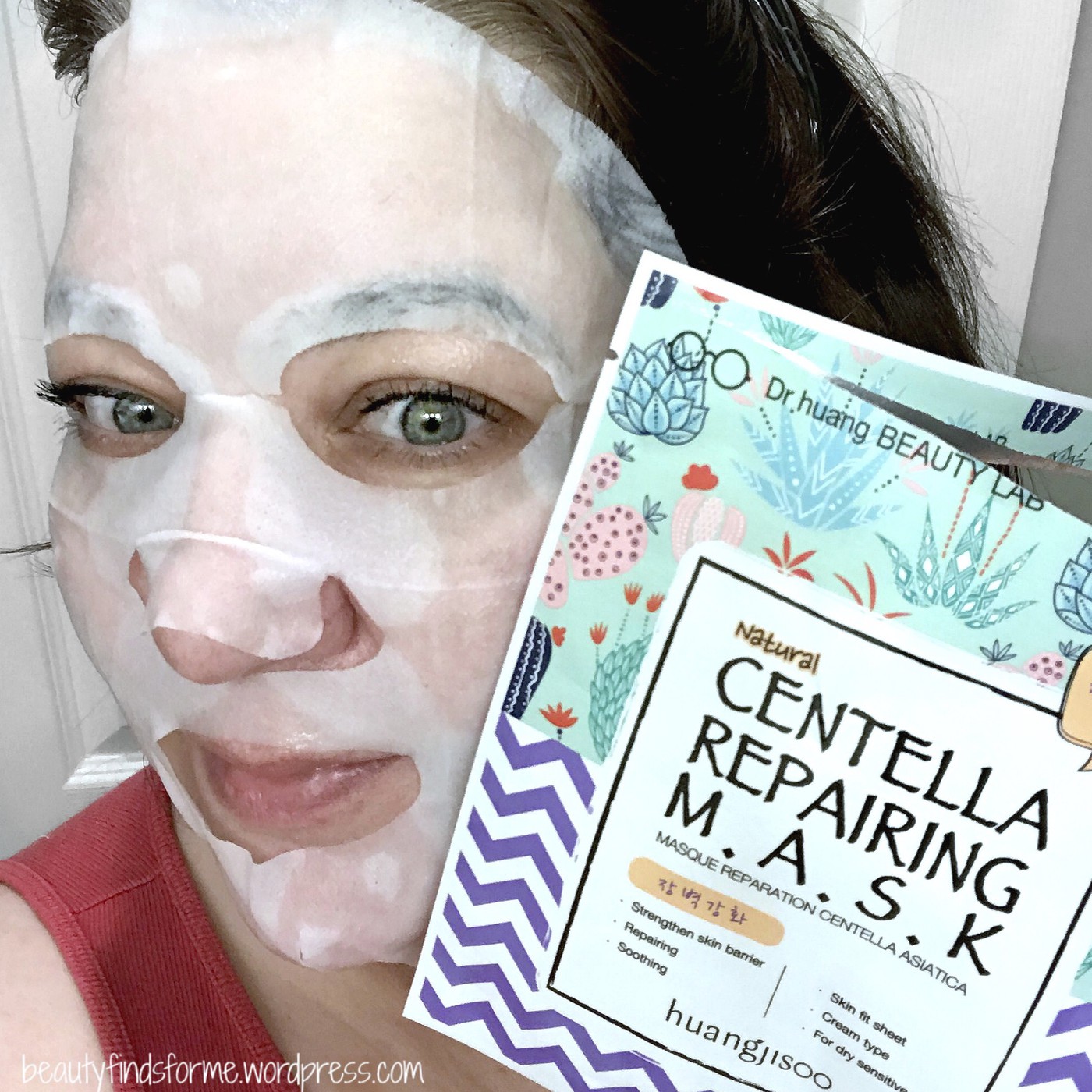 The fit on this mask is a bit thicker than most, full of essence that smells like spicy bergamot which I adore. This is surprisingly cooling on my skin and quite refreshing.  Once I removed it, it does leave a slight residue but it isn't as bad as the tea tree version and I just apply skincare products over it.  My skin is much more softer and looks very moisturized. This is a great mask to use right before going outside in the color winter air, as it will protect your skin.  If you are VERY lucky and do not live in a cold region, this is a lovely right-before-bed mask, as it will keep your skin smooth, soft and moisturized overnight. Where to Purchase: [ Amazon USA |  KMall 24 ]
Huangjisoo Centella Repairing Sheet Mask Ingredients: water, glycereth-26, tremella fuciformis (mushroom) extract, sodium hyaluronate, aesculus hippocastanum (horse chestnut) extract, butyrospermum parkii (shea butter), glycerin, phaseolus radiatus seed extract, chamomilla recutita (matricaria) flower extract, diospyros kaki leaf extract, centella asiatica (gotu kola) extract, allium sativum (garlic) extract, butylene glycol, lycium chinense fruit extract, aloe barbadensis (aloe vera) leaf extract, morus alba (white mulberry) leaf extract, citrus paradisi (grapefruit) fruit extract, polyglyceryl-10 oleate, glycyrrhiza glabra (licorice) root extract, magnolia kobus bark extract, 1,2-hexanediol, plantago asiatica extract, cyclopentasiloxan, lavandula angustifolia (lavender) extract, sophora angustifolia root extract, ceramide, coco-caprylate, hydrogenated lecithin, houttuynia cordata (tsi) extract, arctium lappa (burdock) root extract, taraxacum officinale (dandelion) extract, ginkgo biloba (maidenhair tree) leaf extract, portulaca oleracea (green purslane) extract, tocopheryl acetate, zanthoxylum piperitum fruit extract, cyclohexasiloxan, xanthan gum, propolis extract, acacia concinna fruit powder, ethylhexylglycerin, beta-glucan, arginine, citrus aurantium bergamia (bergamot) fruit oil, allantoin cosDNA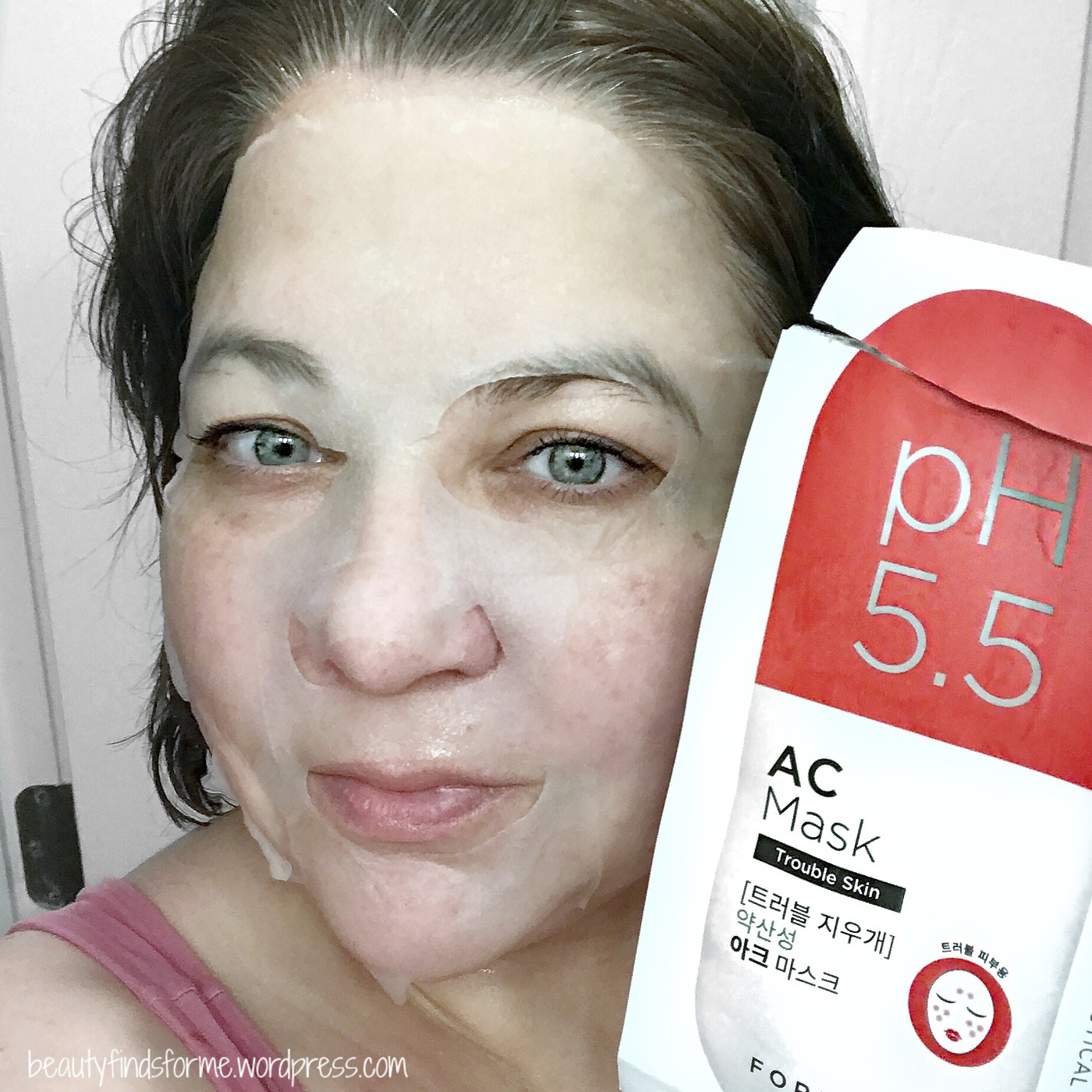 Forencos pH 5.5. Efficacy AC Sheet Mask ~ I do not believe I have tried anything from Forencos before and I have to say, if this mask is representative of their brand, I am very interested in trying more from them! made from tencel.  This is a pH 5.5. AC (acne control ~ took me a long time to figure that one out ~ haha) mask ~ its sheet mask material is made from strong, but thin tencel.  This contains hollyhock extract, which is a very soothing ingredient along with centella for healing your skin.  This also has lots of other healing and oil controlling ingredients with basil, sage, houttuynia, propolis and eggplant.  This mask is dripping with a clear watery essence that smells like herbal tea to me.  The scent disappears quickly, but that is what I picked up from it.  This is very cooling and refreshing on my skin as I wear it  and the fit is really nice as well.  It is very hydrating so I could keep it on for 40 minutes and after removing, it dries down quickly.  My skin is hydrated and feels really refreshed and this mask does not leave a dewy residue, but instead controls my oils.  Where to Purchase: [ Forencos Korean Site * ]  * Use a shipping service to order.  See my blurb about Korean Buddy earlier in this blog post.  
Forencos  pH 5.5. Efficacy AC Sheet Mask Ingredients: water, glycerin, dipropylene glycol, althaea rosea flower extract, centella asiatica leaf extract, monarda didyma leaf extract, camellia sinensis leaf extract, ocimum basilicum (basil) leaf extract, salvia officinalis (sage) leaf extract, houttuynia cordata extract, bifida ferment lysate, propolis, solanum melongena (eggplant) fruit extract, methylpropanediol, hydroxyacetophenone, choleth-24, allantoin, caprylyl glycol, hydroxyethyl urea, tromethamine, ethylhexylglycerin, butylene glycol, 1,2-heaxanediol, sodium hyaluronate, caprylic/capric triglyceride, hydrogenated lecithin, pentylene glycol, ceramide NP, carbomer, caffeine, disodium EDTA, fragrance  cosDNA 
Many thanks to Sophie for sending me these wonderful products!!  I hope this gives you an idea about these products and let me know in the comments below which ones you are most interested in or ones that you have tried already.  I believe the application for an invitation to be an ambassador is still live on Sophies Beauty Box Instagram account, so if you are interested, check it out and see if you qualify!  
.
[disclosure: blog post contains affiliate and referral links.  products received for review purposes ]