Welcome to Unboxing Beauty Annual Black Friday/Cyber Monday Sales blog post for 2018!  I have been doing this for 4 years now and I do try and keep up with the different promos, events and specials.  You will see all sorts of brands here, not just K-Beauty but companies, subscription boxes, whatever I think it is just amazing!  If you know of an amazing deal, post it in the comments and I will add it to this page!
I will keep this page updated with referral savings and affiliate links. The name of the online store will be bold and that this a clickable link.  I would love it if you used my links as the tiny amount of commissions and referrals I make is used to put back into my blog ~ for giveaways, reviews and maintenance fees.   There is no cost to you if you use my links.  The stores are in alphabetical order except for Sephora. Click on the alpha range you want and it will jump you to the section.
This is such a great deal that I put it up front!  At Naruko, they have a ton of Sulwhasoo deals!  Really fantastic prices and fast USA shipping
Sephora Black Friday Preview
Black Friday Only! Deal today, gone tomorrow! 50% off Urban Decay Naked Heat Palette. Online and in store.
After the turkey comes the shopping! These picks are $15 and under. Online and in store.
10 free trial sizes with $90 purchase! Use code GOBIGGER at check out. Valid online only.
Cyber Monday Only! Get 50% off select tarte palettes. Online and in store.
Sephora Black Friday Countdown! Check back all week long for more deals!
A-D  ~~  E-H ~~  I-O   ~~ P-T ~~ U-Z
A-D
Amazon USA Credithink:  Save up to 40% off during November 23rd thru November 26!
Althea:   Save 15% off with VIPUS15.  They have boxes (like Memebox used to have) and I have ordered from them several times now!  Save $15.00 with your first order by using my referral link here .  If this has expired, please let me know and I will update it!
Alya Skin Care:  30% off everything on Black Friday!
AmorePacific USA:   For a limited time only, receive 50% off select TIME RESPONSE sets. Plus, receive a 4-piece mini regimen with any $150 purchase. Includes: TIME RESPONSE Skin Reserve Serum Deluxe (5ml), TIME RESPONSE Skin Reserve Gel Creme Deluxe (8ml), TIME RESPONSE Skin Reserve Creme Deluxe (8ml), TIME RESPONSE Eye Reserve Creme (3ml) ($283 Value)
Please visit our site for some gifting inspiration(gift sets starting from $55)
Anna Marie Skincare:  BLACK FRIDAY SALE – 25% Off all full size products + free shipping on orders $99+ in US & Canada. CODE: BLACKFRIDAY2018
Annexea Beauty: I have a special blogger code of UNBOXINGBEAUTY20, where you can save 20% on your entire purchase.
ATOPALM USA:  Save 20% off the entire site, plus receive a free Real Barrier Best Seller Trio Kit* when you spend $75 or more 
Banish: Waiting for SALE Save $10.00 off your first purchase of $50.00 or more at Banish with my referral link
BB Cosmetic:     Save 8% on your purchases at BB Cosmetic using promo code use YW36SVN21HU  (read intro post here)
Beautibi:  25% off sitewide sale with promo code BLACKFRIYAYS Valid: 11/22 – 11/26 .  Save $5 on 1st purchase at Beautibi  If this code stops working, please let me know. For some reason, they "expire" and I have to create a new one.
Beautius:   Up to 80% plus free gifts during Black Friday. Use my referral link with your first order at Beautius, plus earn credit with every purchase
BeautyTap: Save 15% off with UNBOXING15   Check out the  huge Beautytap Friday deals, including 40% off Swanicoco and Keep Cool, and 20% off all 3-day shipping items for U.S. customers (use promo code ASAP20).
20% OFF THE HISTORY OF WHOO   All orders $100+ including The History of Whoo or Su:m37 receive a random free full-sized gift, through 11/25/18 PST.
Bemused Korea:   We're starting our Black Friday week this Friday, November 16th! And as our special newsletter subscriber, you get early dibs and extra savings on all that we have in store for Black Friday week!  We're giving you extra 10% off our already up to 50% off #BFCM sale! Yup, that's right, you can save up to 60% plus all the freebies that are valued up to $60 in total! *this code is valid for next 48 hours only, one per Be Mused Korea registered member, valid for entire purchase including sale items, with minimum purchase of $60   Use Code: BMKLOVESYOU Expiration date: Nov 17, 2018 
Also, use COLEBIANCARDI15 to get 15% off ALL A. by BOM products (except mask sets).  
Bliss:  25% off sitewide with promo code THANKS
Bloomingdales: Bloomingdale's Big Brown Bad Sale starts this Friday where you can get up to 50% off select items. Plus, free shipping! 
Butter London:  BOGO!!  Use code BOGO18
Club Clio USA:  Sells Goodal, Peripera and more.  Currently, 90% off selected items for the month of November!
Cosme-DE:   
Cosmetic-Love:   
Cupidrop:   30% OFF Black Friday Sale — It begins NOW!   Use code  TGIBF30
Crystal Cove:   
Daint:    This is a Canadian K-Beauty store
Derma-E:  Save 30% off sitewide sale + free gift with $30.00 purchase – use code TG2018.  They have different gifts daily.
DermStore: Brand Exclusions may apply
E-H
eBates: Use eBates to earn money when you spend money!  Use my referral link to earn $10.00 with your first purchase using eBates.
e.l.f. Cosmetics:  50% off all purchases $30.00 or more! 
eNature:  Save 30% BLACKFRIDAY30 and then 50% off with BFVIP50 between 5pm and 7pm EST on 11/23
Etude House: 50% off BLACKFRIDAY50 plus an additional 10% with coupon: ADDITIONAL10
Farmacy:  
FlickerBox: Save 20% off with DROP.  Good for 11/23 only.  Love Candles and Subscription Boxes?  FlickerBox is a monthly USA only, artisan crafted candle box. 
Foreo: Here is your chance to buy your favorite FOREO products at an even BIGGER Black Friday discount!   Start: 11/22/18 @ 8:00 am PST End: 11/27/18 @ 11:59 pm PST  Offer: 30% off LUNA 2, ISSA 2, ISSA mini 2   25% off LUNA mini 2, fofo, UFO, and UFO mini
Save up to 30% off on select devices this Black Friday at FOREO.com! (Valid 11/22/2018 – 11/28/2018)
Glam Glow:  30% off sitewide.  Free PowderMud when you spend 79.00

Glow Recipe:   25% sitewide with BLACKFRIDAY25
Haus of Goi: This indie company doesn't do sales, but releases special editions of handcrafted perfume oils, hair oils, soaps, body butters, foaming soaps, etc.     Cyber Monday update goes live November 26th  9 am PST  First of all, for the first time ever we're offering FREE SHIPPING on all domestic orders and half off shipping international orders during the 24 hours of Cyber Monday.  If that wasn't enough to entice you we're also offering a selection of free perfume samples unavailable anywhere else in this collection and gifts with purchase. Here's how that looks: $25 order – Your choice of 1 perfume sample from selection $50 order – Your choice of 2 perfume samples from selection $75 order – Your choice of 3 perfume samples from selection and HoG T-shirt $100 order – Your choice of 4 perfume samples from selection and HoG T-shirt and tote  
Soy wax candles in 4oz tins
Sandalwood & Cedar
Vanilla Mint
Tannenbaum
Hot Chocolate & Buttered Toast
Lavender Snowflake
~*~
Lip Balm & Tint
Rosey Lipped (tint)
Dark Chocolate
Tangerine Chai
~*~
Body Powder
Aether
Original Scent
Sandalwood & Cedar
Patchouli & Honey
~*~
Brown Sugar Polish
~*~
Gimme Mah Coffee Scrub
~*~
Handmade Soap
Winter Divinity
Winter Morning
~*~
Butter Bombs
Candy Cane Sugarcookie
Vanilla Chai
Amber & Warm Leather
Snow Covered Chrysanthemum
~*~
Perfume Only
Stocking Stuffers
Butter Rum Hard Candy
Chocolate Covered Cherries
Traditional Candy Cane
Sugarplum
Salty Black Licorice
Bag o' Jellybeans
Candy Cigarettes
Chrysanthemum Tea
Hot Chocolate
Raspberry White Chocolate Cocoa
Brown Sugar Milk Chocolate Cocoa
Cinnamon Vanilla Cocoa
Maple & Sea Salt Cocoa
Dark Chocolate Cocoa with a Melty Marshmallow
Spiced Ginger Cocoa
Caramel Cocoa
Fancy Orange Cocoa
Gimme Mah Coffee
Precious Resins
This base for these blends is a resinous accord made from frankincense, myrrh, amber, copal, and benzoin. 
Precioius Resins & Golden Vanilla
Precious Resins & Snowy Fir
Precious Resins & Sugared Pine
Precious Resins & Rose
Precious Resins & Glowing Mahogany
Precious Resins & Rain
Precious Resins & Carnation and Apple
Precious Resins & Brown Sugar and Cedar
GingerChi:  Save 30% off entire store with promo code THANKS18  – good thru 11/26.  Great Jade Facial  rollers, facial oils, dry exfoliating body brushes… 
I-O
IBBI (I Buy BeautI):    K-Beauty Store 
iHerb:   Use BFR2017  Save $5.00 off your first purchase at iHerb by using my referral link here  They are now stocking K-Beauty items!
Indigo Wild: Fantastic soap and bath goods!  Free Shipping  with promo code ZENSHIP25 with $25 or more 
j jill:  Free Shipping on $125.00 or more with promo code MAGIC. Save 30% off Entire Purchase!! No Code Needed
Jolse:   SO MANY SALES.  Here is a taste… 
jKosmmune: Beta Glucan FANS!! Get 30% off sitewide – use GET30. Free Gifts: Orders 60+ get 1 free small lotion; Orders $120+, get 1 free large lotion
June Jacobs: 25% off, free shipping, free gift with $100+ purchase
Kirei Station:  This is a Japanese online store and they always offer 25% off EMS shipping with promo code EMS25 (all caps).  They also have registered shipping (around $5.00 and free SAL shipping too)  
Kloverbox: Save 10% off your subscription with Kloverbox by using my referral link here
Friday Through Cyber Monday
November 23 – 26
Get two gifts for the price of one. Purchase a new 3 or 6 month subscription and receive a FREE December Kloverbox valued at over $65.00!
(offer available while supplies last)
Kosmatology:   SAVE 30% OFF SITE WIDE WITH CODE CLEANFRIDAY NOW THROUGH NOVEMBER 25TH!
Lancome USA:  
Laneige USA:    Save 30% off best sellers between 12 noon and 6pm EST on BF.  Try a mini regimen of our skincare must-haves for just $11.  Yep, Laneige also has their own store here and they have GREAT gifts. Free samples and shipping with $25.00+ orders. Current gifts & promos:  Save 10% off your first purchase with Laneige with WELCOME10.   
Cyber Monday Online Exclusive: 30% off Water Bank and free shipping on $35+!
Leaders USA:  
Matcha Obsessed:   
Manduka:  Yoga Mats and Accessories!  Save 25% off with VIP25  Offer ends 11/19 
Meibe :  K-Beauty store (see my store review and unboxing here)  Currently, they have 111 items on sale up to 60% off!  No coupon needed.  First time purchase, use WELCOME5 to get $5.00 off
Missha USA:  40% off sitewide sale

MiiruShop:  use promo code BF2018 to get 25% off sitewide.  Specializing in Taiwanese Skincare Brands.  Special Bundle Kits for as low as $10.00
Melody Skincare Cosmetics:  Lots of K-Beauty brands! Get 20% off all orders with code SOMEPIE.  Get 30% off all orders over $200 with code  MOREPIE.   Free shipping on all orders over $75. Offer ends 11/26!  Plus lots of sets that are 9 to 15%  off already and then you can apply the coupon codes too!
Monica Vinader:Really pretty classic and edgy jewelry!   (click here)  30% off all collections
Moonlit Skincare:  Always free shipping
Moon Valley Organics:   Okay, you HAVE to get their lotion bar with the sweet moon face! Great time of year to get it, as it won't melt.  Black Friday  Saturday/Sunday BOGO SALE!  Cyber Monday 30% off and always $3.99 shipping for the sales.

Save 20% off your first purchase by using my referral link (click here)
My Styling Box:  This online shop has a lot of Taiwanese and Korean facial sheet masks, plus more!  S Free shipping with orders $45.00+
Naruko USA:  I love Naruko Products! Lots of sales this time…  
Nars:  Use TAKE20 to save 20% off thru 11/27
NekoBox:  Japaneses Lifestyle/Home Box and Store. Save up to 50% off ALL items in their online shop. Good thru 11/22. I have an affiliate code ~ Use COLEBIANCARDI and get $6.00 off your first NekoBox and 10% off ALL store purchases! 
Natura Brasil:  Save 30%* on full size beauty essentials and shop until you check everyone off your list. Enjoy FREE SHIPPING until Sunday. USE CODE: BF18. *Not applicable to gift sets.   From 11/26 to 12/31, get 20% off with MICHELE20

Oh Lolly: KBeauty store  25% SITEWIDE SALE.  Use promo code BFC25

Ola Hawaii:  SITE WIDE SAVINGS: 11/23 – 11/25 COUPON CODE (case sensitive): BLACK18 20% OFF (excludes sale items)  Love THIS STORE!!     Free Shipping with $75.00 purchase.
Ole Henriken: 
Origins:  Save 25% off everything and get a free kit when you spend $75.00 or more – use code FRIDAY
P-T
Pacha Soap:  Black Friday – 25% no promo needed.  Save 10% with promo code pacha1.  Valid thru 12/25
Peach & Lily:   Save 30% off with PEACH2018.  *Excluding Peach & Lily Collection. But! Any order which includes a Peach & Lily Collection item comes with 2 complimentary bestselling Original Glow sheet masks! *With code PEACH2018, all sales are final and code cannot be combined with peach points. Code does not apply to gift cards. *Black Friday promotions end 11/27, 11:59pm PST. Save $10.00 off your first $50.00+ purchase at Peach & Lily by using my referral link (click here)
Pixi:  BOGO Sale – buy one, get 50% off second item with PIXIBOGO
Q-Depot: Waiting for SALE. Get Free Shipping and $5 towards first purchase at Q-depot.com.  Use MM1124 to save 10% off your first purchase.  Save 7% off Cruelty Free Brands at Q-Depot with code  GoCF7off
Scandic SkinCare:  Buy One, Get the 2nd at 50% off Black Friday through Cyber Monday (11/23-11/26).  (Discount automatically applied at checkout.)
Shea Terra Organics:  Use GET35OFF to save 35% off your order.  This brand makes my favorite honey mud mask plus a rosemary herb facial steam syrup, mudpoo and orange blossom toner! 
Shop Amabie : Save an additional 30% off Korean & Taiwanese skincare with promo code BLACKFRIDAY.  Valid thru 11/26
Shu Uemura USA: BlackFriday Promo Codes (ends 11/24)  Use SHUBF to get 20% off $50.00+ or 25% off $100.00+.  Free shipping with $50+ and free samples.
Skinfood USA:   $10.00 off $50+ Use Code FRIDAY10  $25.00 off $100.00+ Use Code FRIDAY25  Save $10.00 off your first Skinfood USA purchase of $50.00 or more by using my referral link (click here)
SkinId: K-Beauty.  European Shop with International Shipping.  
Soko Glam:   Save 30% off with promo code SGBF18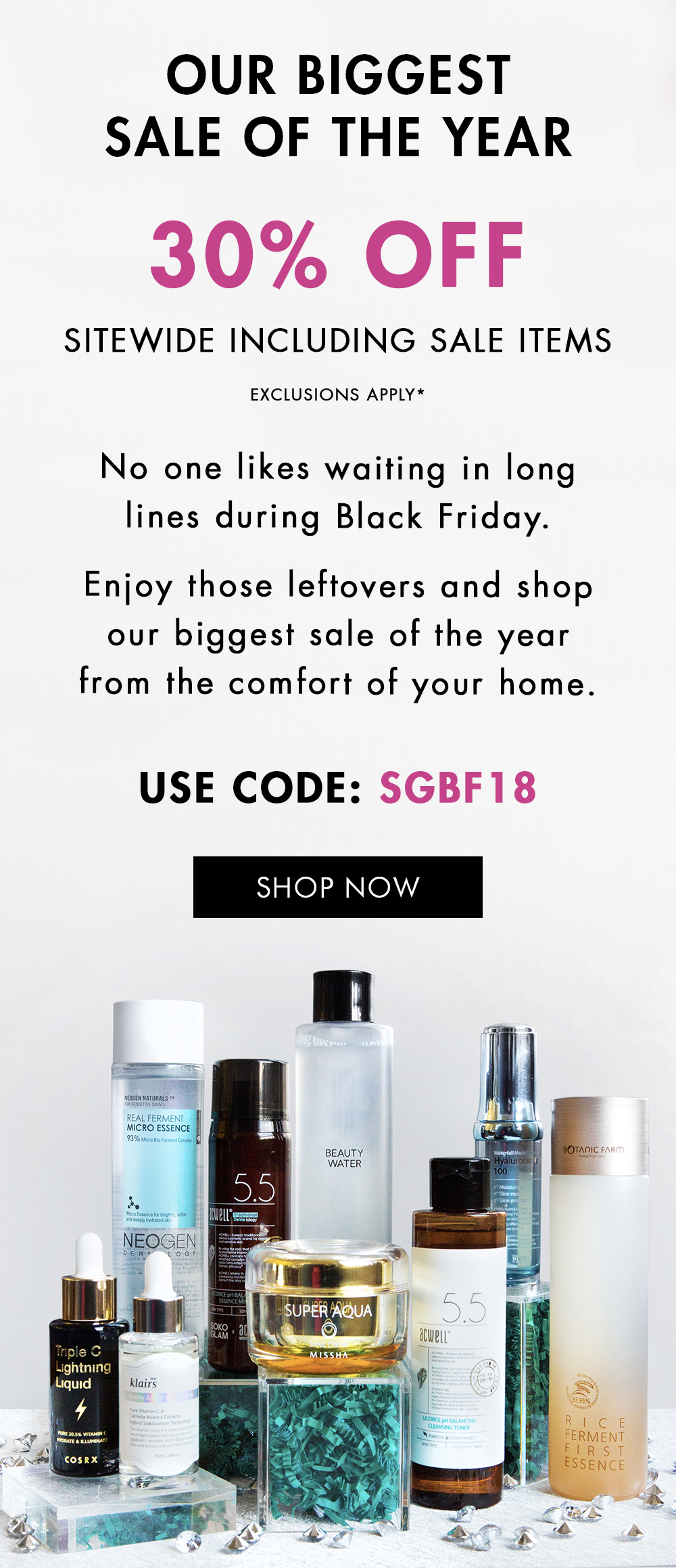 Soroci Skincare:    Black Friday 50% off entire purchase. Use promo code GIVINGSOROCI at checkout. Sale starts now until 11:59pm EST. 
The Saem USA:  Save 30% off sitewide with code BF30
Stratia Skincare:  This indie brand has some major cult followings with their Liquid Gold and Soft Touch AHA products.   Stratia will be having a Cyber Monday sale – 20% off all our products!  Sale will start on 12:00AM PST Monday 11/26 – while supplies last and excludes gift cards. 
StyleKorean:   They are always running specials and promos ~ so click here to see what new sets and deals they have
Sulwhasoo USA:    Enjoy 20% off our radiance mask. Plus a 5-piece Timetreasure kit, yours with any $150 purchase. Includes: Timetreasure Renovating Water EX (20ml), Timetreasure Renovating Emulsion EX (20ml), Timetreasure Renovating Serum EX (5ml), Timetreasure Renovating Eye Cream EX (3ml), Timetreasure Renovating Cream EX (3ml)
The Lotus USA:    FREE SHIPPING ON US ORDERS OVER $50 | HAPPY THANKSGIVING! BUY $50 + GET 35% OFF  Use Promo Code THANKS35
The Body Shop:  Start Saving 40% off now!  Free Shipping
U-Z
Urban Decay: Save 25% with code GIMMIE
Wishtrend :  Check out my Blog Page on Wishtrend here
YamiBuy:  Waiting for SALE. This is an Asian store that sells cosmetics, skincare, snacks and electronics.  If you want to get 500 points when you register and save $5.00 on your first purchase, use my referral link here to register

YesStyle:  Black Friday Super Deals! Extra 15% OFF with code: 2018BLACKFRI Use YESSTYLE with your first purchase (click here).   They not only carry Asian skincare and makeup (Korean, Japanese, Taiwanese), but also fashions and lifestyle ~ for women, men and kids!
 Yogi Surprise has two boxes:  Save $10.00 off your first box with code REFWSELV1J70L  
Special Boxes: Save $20 off all premium boxes (see below)  USE CODE: HOLIDAY20
you.skincare: Save 20% off all items until 11/19 6 am CST. Use THANKS. Free Essential Hydration Serum ($56.00 value) for orders $300 after discount. No code needed