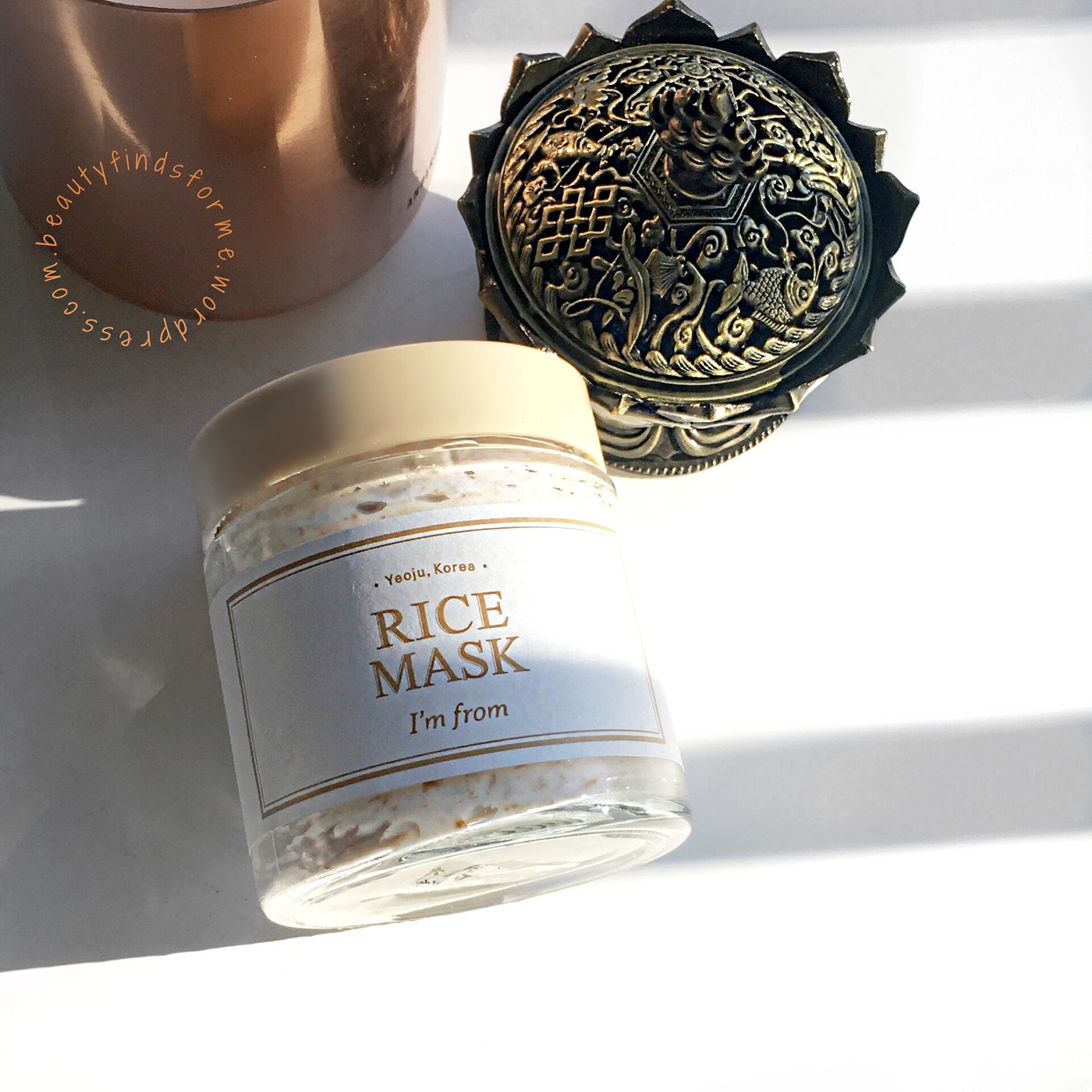 I love I'm From products for the most part and their mask packs are amazing ~ I love their Honey Wash Off Mask, Volcanic Clay Mask Pack, Vitamin Tree Wash Off Mask, and Magnolia Sleep Pack ~  and now I have the opportunity to review their brand new Rice Wash Off Mask Pack.   Wishtrend graciously sent me this product for review purposes!

I received these products complementary to review and was not paid.  All reviews are my own honest opinion and  I never have been asked to write copy for a brand.  This blog post might contain promo codes, affiliate and referral links, which using my links will help generate a small commission that helps support my blog at no extra cost to you.
Skin Type/Concerns: Oily, blemish prone, aging, hyper-pigmentation, fine lines/wrinkles, pores
Once again, I do stalk I'm From's Instagram feed and when I saw this, I was excited!  Rice is a fantastic skincare ingredient, known for brightening and refining your skin texture.  I'm From uses organically grown, pesticide-free rice from Gyeonggi province Yeoju Deokpyeong village Yeoju and this mask contains 4.1% rice extracts.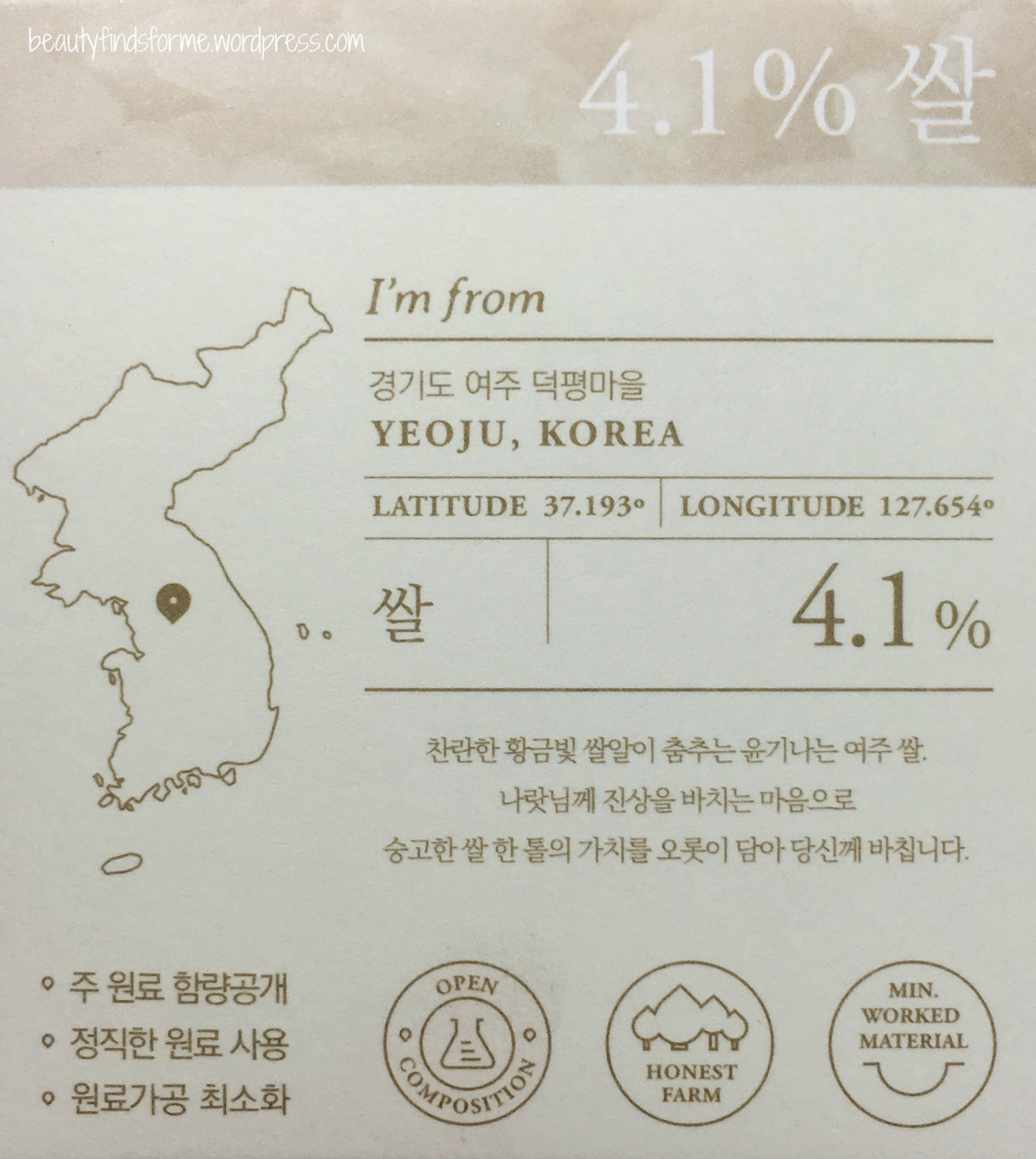 Yeoju rice contains 3 times more dietary fiber than regular rice and contains an abundance of essential amino acids such as lysine and other active ingredients. We've directly formulated Yeoju rice to remove dead skin cells and wastes to create smooth, moisturized skin. It also contains gamma oryzanol, which is excellent for brightening and improving the complexion. Known as the area of constant harvest, even droughts and floods have no influence on Yeoju. The area is characteristic of drastic temperature changes between the daytime and nighttime, resulting in the production of top quality rice with a higher glucose and starch content.
This has four different types of rice ingredients ~ rice powder, rice hull powder, rice bran and rice extracts.  Rice powder and rice hull powder are two ingredients that have been used in traditional Asian beauty skincare.  They both have exfoliating benefits, so it helps remove dead skin, absorb excess oils and unclog pores, helping to refine and smooth your skin's texture.  Rice extracts are full of amino acids, vitamins, minerals and other nourishing compounds to help clear your skin, treat acne and has skin brightening and firming benefits.  Rice contains γ-oryzanol, which is a potent antioxidant that can slow the production of hyper-pigmentation and prevent freckles and age spots.  Since this is all natural rice extracts, you will see yellow bits of hull in the mask ~ this is normal.
This wash off scrub mask pack also contains some moisturizing ingredients in shea butter, containing a rich source of concentrated natural vitamins and fatty acids ~ oleic, stearic, palmitic, linolenic ~ and is highly moisturizing and nourishing. It helps repair your skin, as well as reduce skin inflammation and it also smooths your skin to protect it from drying and it s trengthens your skin overtime as it helps aid in the collagen production.  Argan oil is full of naturally occurring nutrients, such as fatty acids and vitamin E.  It also works well with helping to clear up acne and is an antioxidant, while healing damaged skin cells and it also reduces inflammation. It also has hyaluronic acid, glycerin, squalane and beta glucan, all wonderful hydrating and nourishing ingredients.
Is this a clay mask pack?  I don't consider it as such, but it does contain magnesium aluminum silicate ~  which is a mineral derived from refined and purified clay.   However, it doesn't work like a clay mask pack for me. I'm From does not add harmful additives to their products. 
Ingredients: water, glycerin, dipropylene glycol, oryza sativa (rice) powder, cetearyl ethylhexanoate, oryza sativa (rice) hull powder, beeswax, 1,2-hexanediol, stearic acid, butyrospermum parkii (shea) butter, betaine, cetyl alcohol, hydrogenated poly(C6-14 olefin), saccharomyces ferment filtrate, dimethicone, cyclopentasiloxane, phenoxyethanol, sorbitan stearate, glyceryl stearate, methylpropanediol, sodium polyacrylate, xanthan gum, PEG-100 stearate, allantoin, fragrance, oryza sativa (rice) bran extract, oryza sativa (rice) extract, tocopheryl acetate, algae extract, eclipta prostrata leaf extract, avena sativa (oat) kernel extract, cynara scolymus (artichoke) leaf extract, pteris multifida extract, amaranthus caudatus seed extract, ulmus davidiana root extract, butylene glycol, magnesium aluminum silicate, ethylhexylglycerin, disodium EDTA, hydrogenated lecithin, polyquaternium-51, hydrolyzed hyaluronic acid, beta-glucan, hydrogenated polyisobutene, squalane, alcohol, argania spinosa kernel oil, isononyl isononanoate, polyglyceryl-10 stearate, cetearyl alcohol, fructooligosaccharides, polyglyceryl-2 dipolyhydroxystearate, lecithin, inulin lauryl carbamate, disodium stearoyl glutamate cosDNA analysis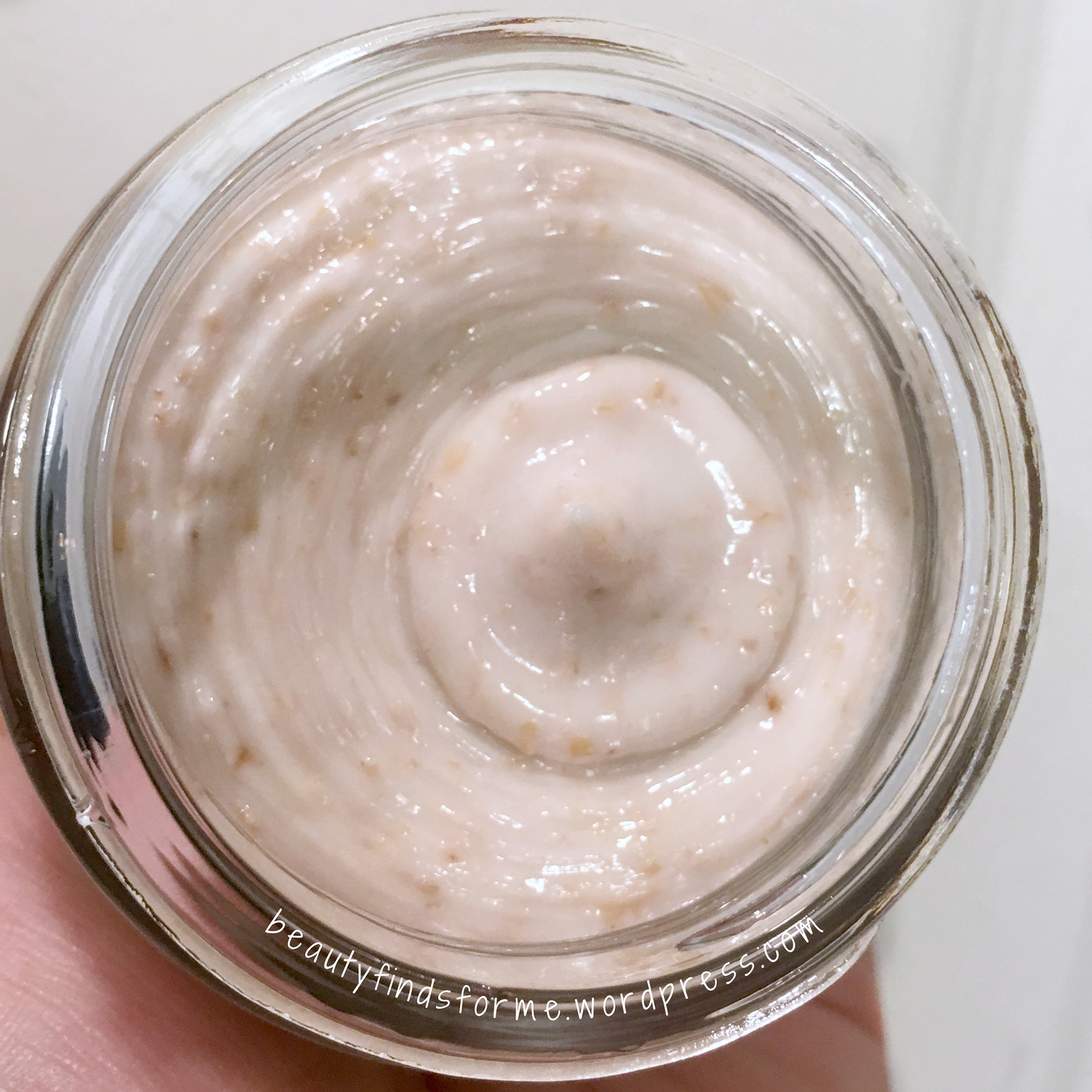 This mask pack is a creamy off-white with bits of yellow granules which are the ground rice grains and husks.  The size and color will vary as it is a natural material.  This has a faint baby powder scent to it.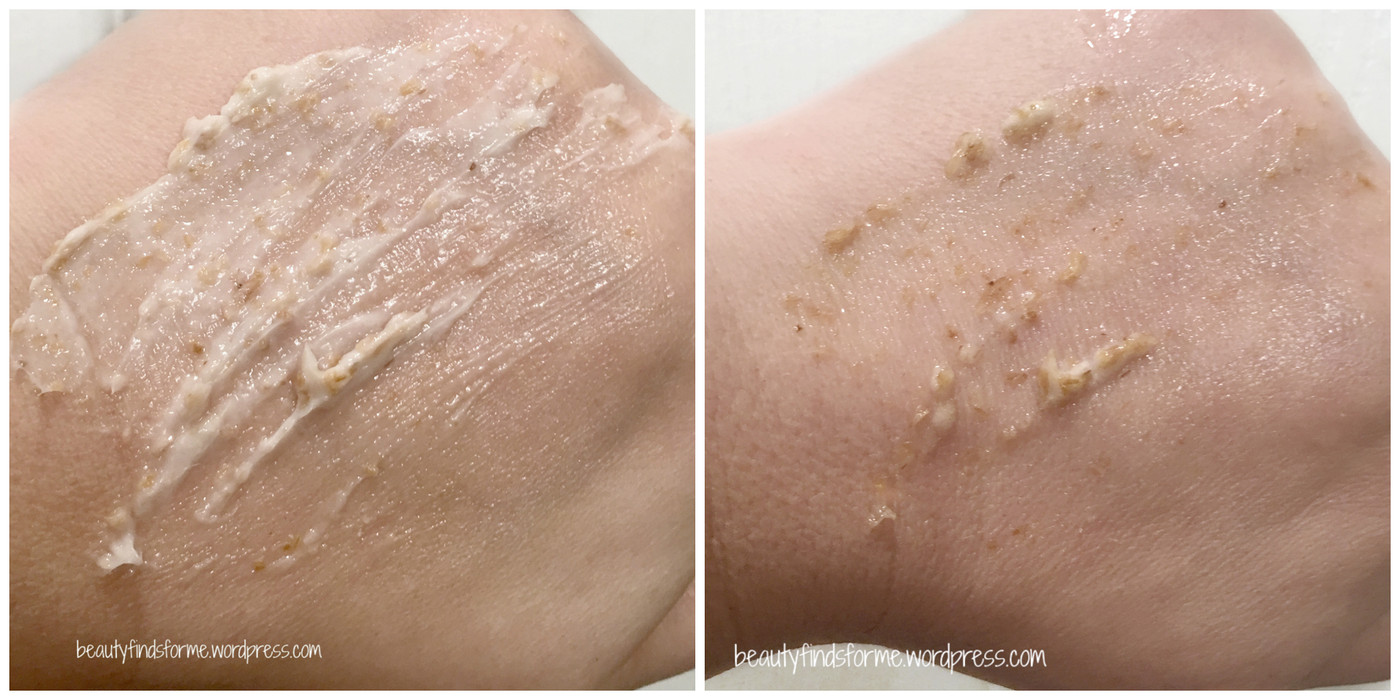 The mask pack is very moisturizing and if it wasn't for the exfoliating bits, it be almost like putting a thick moisturizer on my skin.  I can feel the granules but this is a physical exfoliator, so that is normal.  Apply, gently massage the mask pack into your skin, focusing on your troubled areas ~ for me, this was around my nose, forehead and chin. The granules are not harsh on my skin at all nor did I think they were sharp, but people with sensitive skin might not agree with me on this one.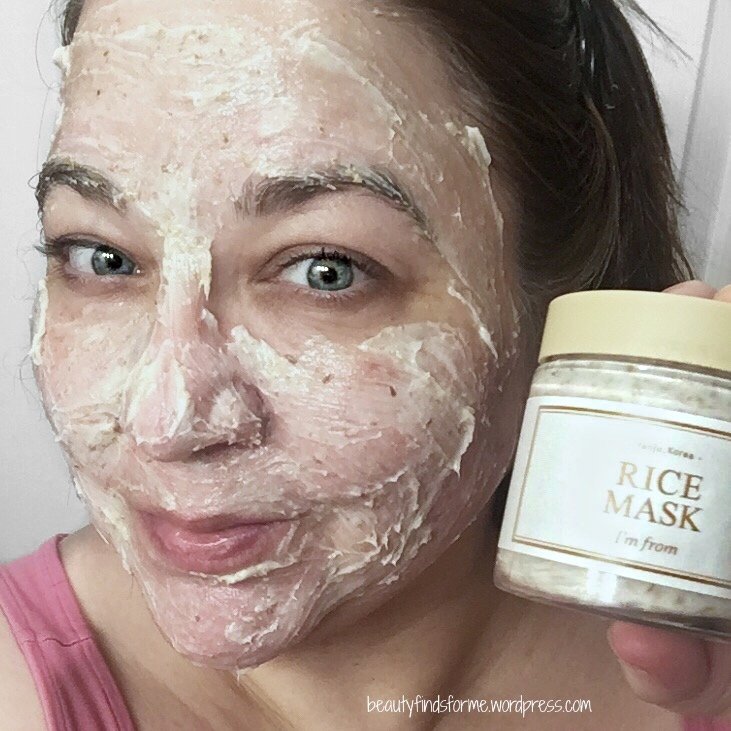 After that, leave on for 10 minutes and then rinse off. This mask pack does not dry down uncomfortably ~ it is "gummy" in its texture as there is no clay in this to cause the pulling and flaking that you would get from a traditional clay mask.
The results?  My skin was much smoother and my pores were clean, so they looked smaller.  Another quick result, although temporarily, was my face looked brighter overall in its skin tone.   I have been using this for a couple of months now and I really like it a lot, with its instant brightening and pore tightening effects.    You can currently purchase this rice mask pack at Wishtrend for $27.90 (click here to purchase)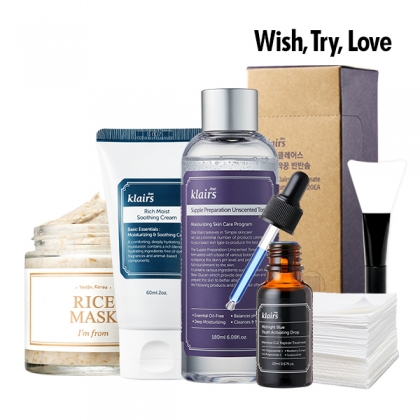 Wishtrend also has a special kit, Korean "Dong-Ahn" Kit which contains  the I'm From Rice Mask, Klairs Supple Preparation Unscented Toner (review here), Klairs Midnight Blue Youth Activating Drop (review here), Klairs Rich Moist Soothing Cream, Klairs Toner Mate 2-in-1 Cotton Pads and I'm From Silicon Brush.  This kit has free shipping and it is $73.07, which is a savings of 30%  (click here to purchase)

[ blog post contains affiliate links which provide a small commission to me at no cost to you ]