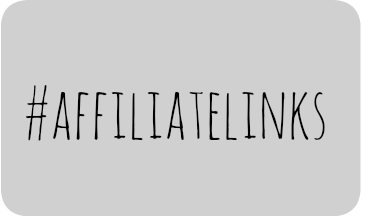 On this day, March 13, 2018, as the Northeast is experiencing a blizzard, this month's box from Yogi Surprise is welcomed with its bright spring time colors.  For some reason this month, Yogi Surprise didn't give us their prices on each piece, nor a sneak peek into next month's box.   What is Yogi Surprise?   

Yogi Surprise Jewelry Box
2 handmade pieces + 1 organic treat

Handcrafted in Bali. Fair Trade

$65+ retail value in every box

$24.95/month + free shipping
The Jewelry box will contain two handcrafted yoga inspired jewelry pieces, that are fair trade, sustainably harvested materials, nickle-free, lead-free and cadmium free.  These are made in Bali, Indonesia and 10% of all proceeds will be given to education the Balinese families to make these beautiful pieces.  It also contains an organic treat.

This month's theme is  Connection "Our Connection to nature is what also connects us to ourselves. During the month of March, we get to witness and experience the seasonal transition from rest to rebirth, marking an important time of year for establishing a renewed sense of connection. While it might be true that yoga is best known for its postures that take place on the mat, the practice of yoga is truly a way of being, characterized by an awareness of constant connectedness. This is why, for the month of March, we're bringing you two springtime inspired jewelry pieces featuring light, earthy hues of green and blue imperial jasper beads balanced with neutral yew beads. Known for its power to strengthen connection to the Universe, imperial jasper helps put your faith in the Divine while yew symbolizes resurrection and longevity based on the long-living nature of the yew tree. With both, you'll be able to take on life's adventures  with a confident mind and an invigorated spirit wherever you go and whatever you choose to do"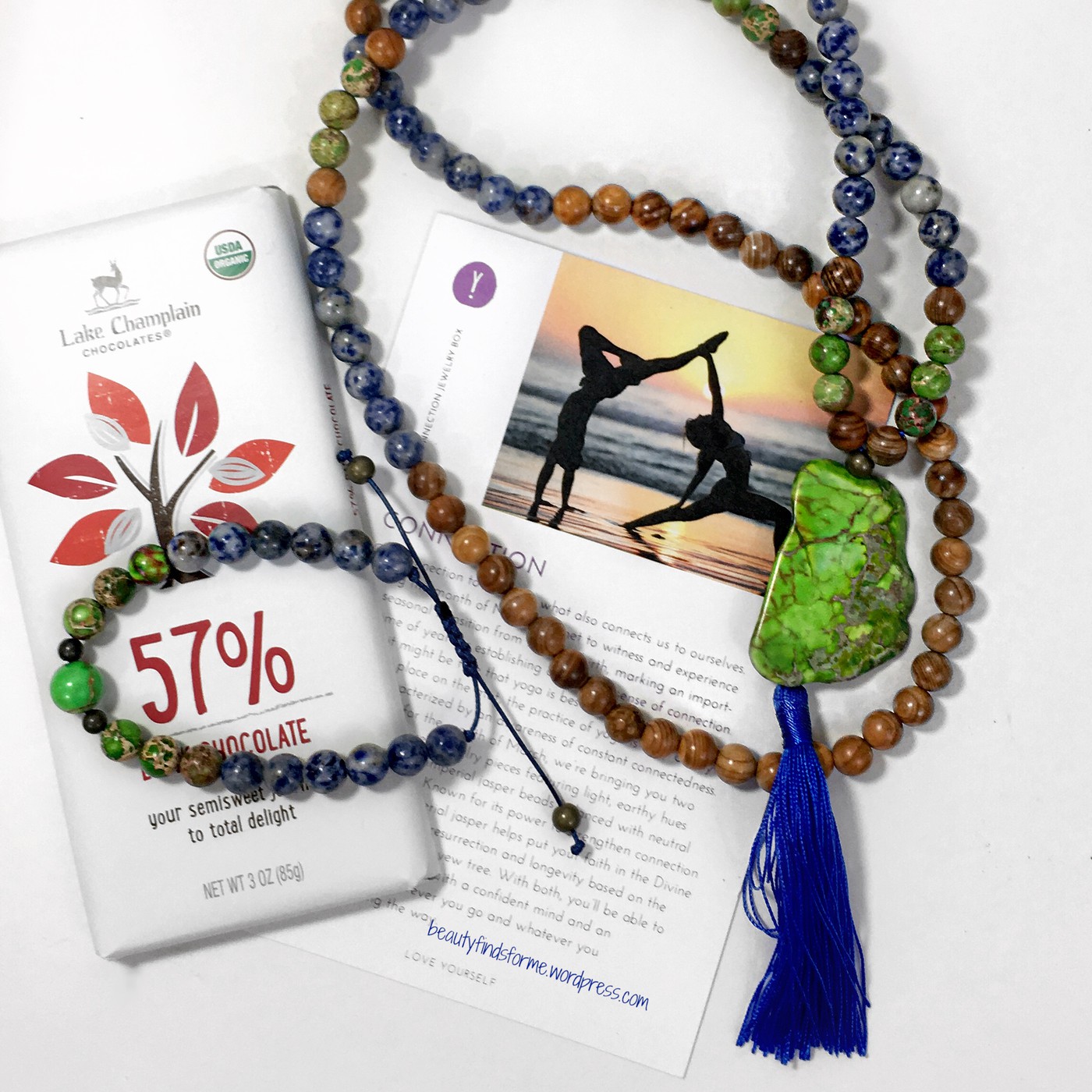 Informational Card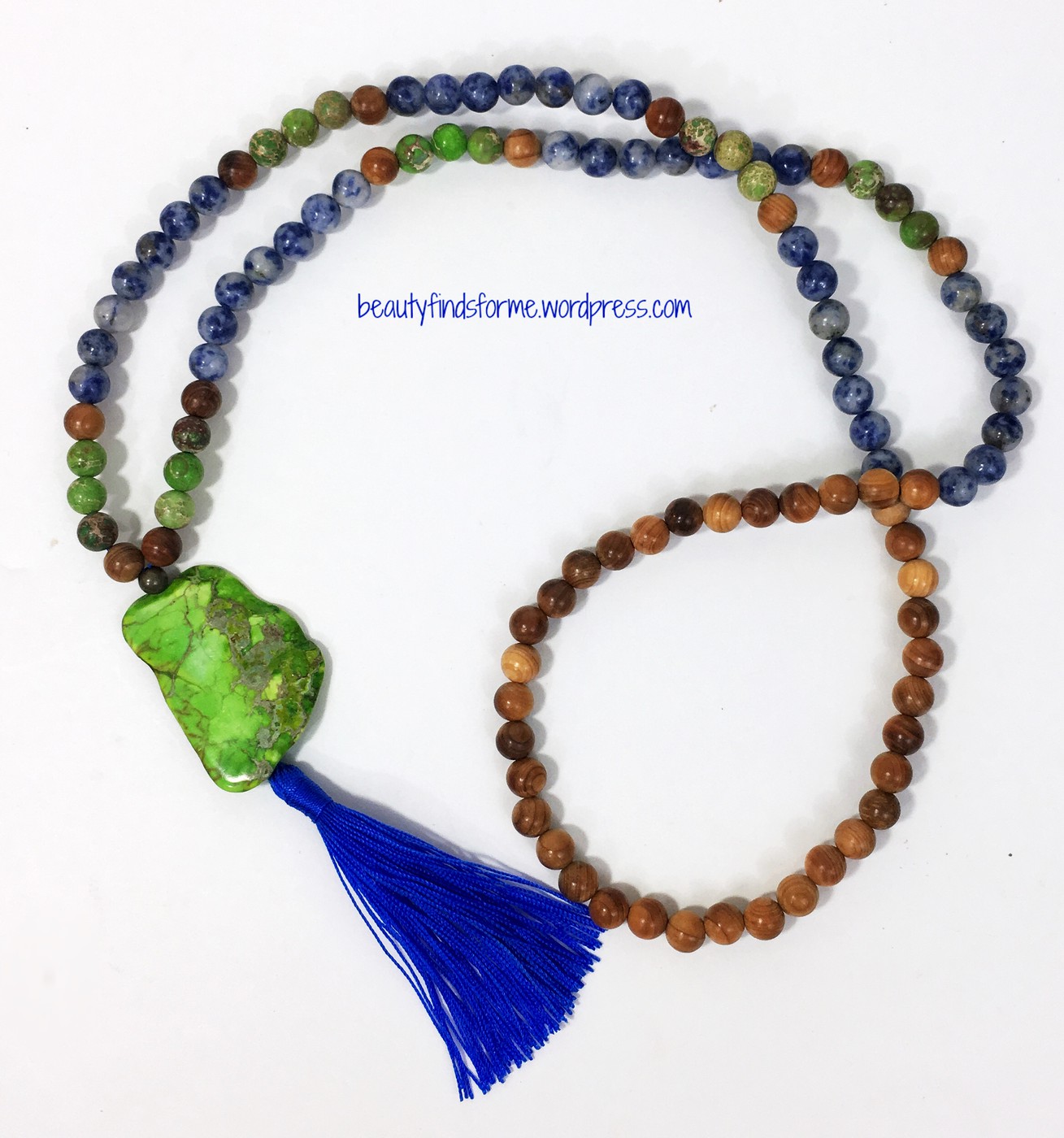 Spring Mala This is a beautiful necklace ~ it may not be everyone's taste, but it is my taste for sure.  I love the muted browns of yew wood, the more earthy green and blues jasper beads and blues with the bright spring green imperial jasper stone.  This is a smaller mala, measuring in at 35 inches, but that center free-form bright green pendant stone is HUGE ~ 2 3/4 inches.  Finishing off this piece is a long 3 inch bright blue tassel for a total length of almost 41 inches.  You can wear the main pendent stone in either direction as it is finished on both sides ~ it all depends if you want to hide the tassel knot or not.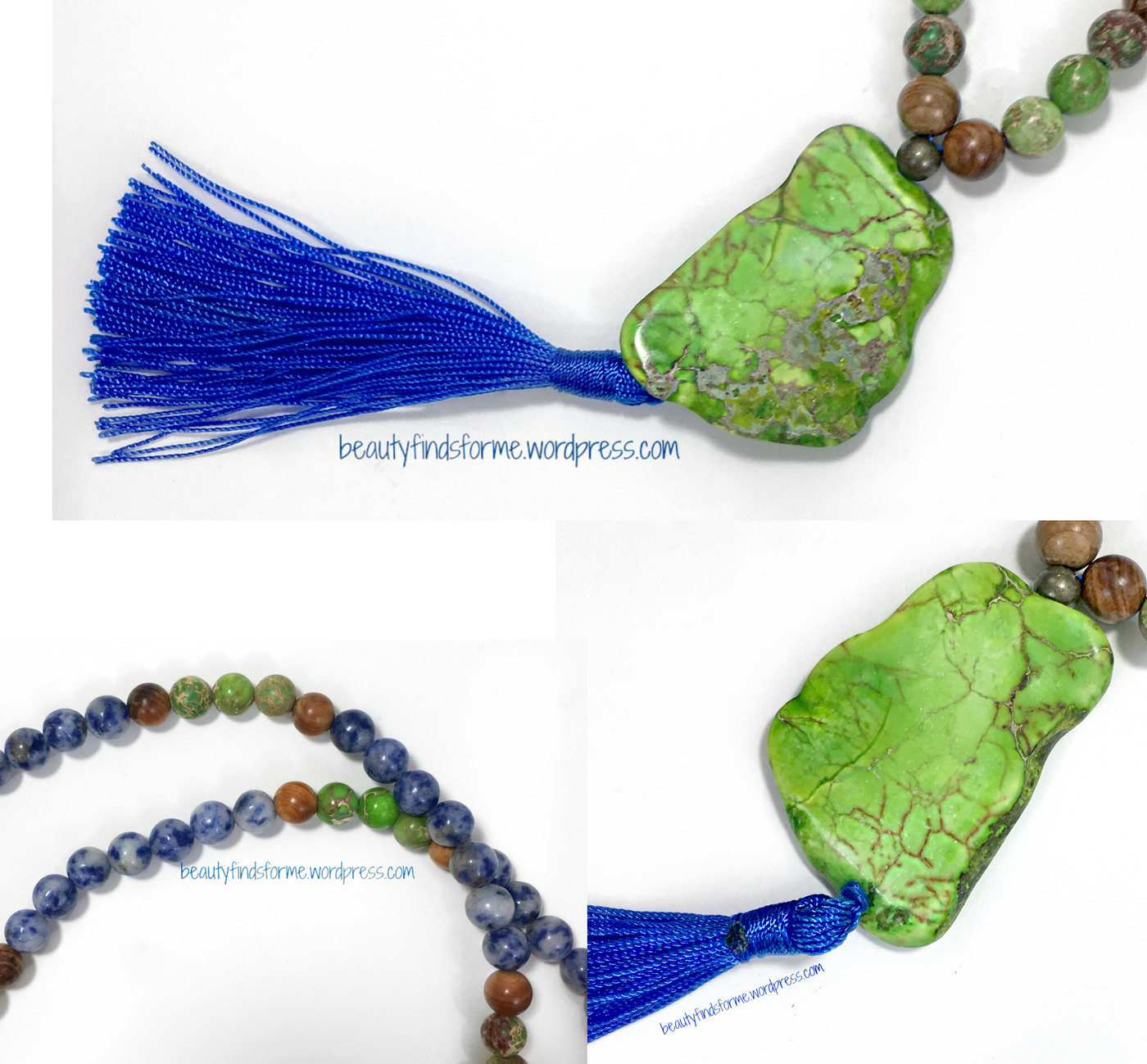 Imperial Jasper: The Supreme Nurturer, Base & Sacral Chakras  Imperial Jasper has many shades ranging from green to burgundy and it helps embolden, overcome fears while protecting you.  Jasper gives one the courage to speak out and have personal independence.  As a necklace, it will help with overcoming tiredness and it is a stone of the earth, and therefore a very "grounding" stone.  All Jaspers  have excellent protective energies. Jasper helps to re-align all chakras, balancing the yin yang energies, to integrate those energies for our greatest good.  source  
Mala are an ancient tool to help focus when you meditate and pray.   This is a symbol of the never ending cycle, and each bead is a Sanskrit prayer or mantra in sets.   You move the beads in rhythm with your breathing and it will help you center and quiet your mind, focusing on the mantra.    Mala beads can be used regardless of your religious beliefs as a mediation tool and will help you relax and calm your mind, body and spirit.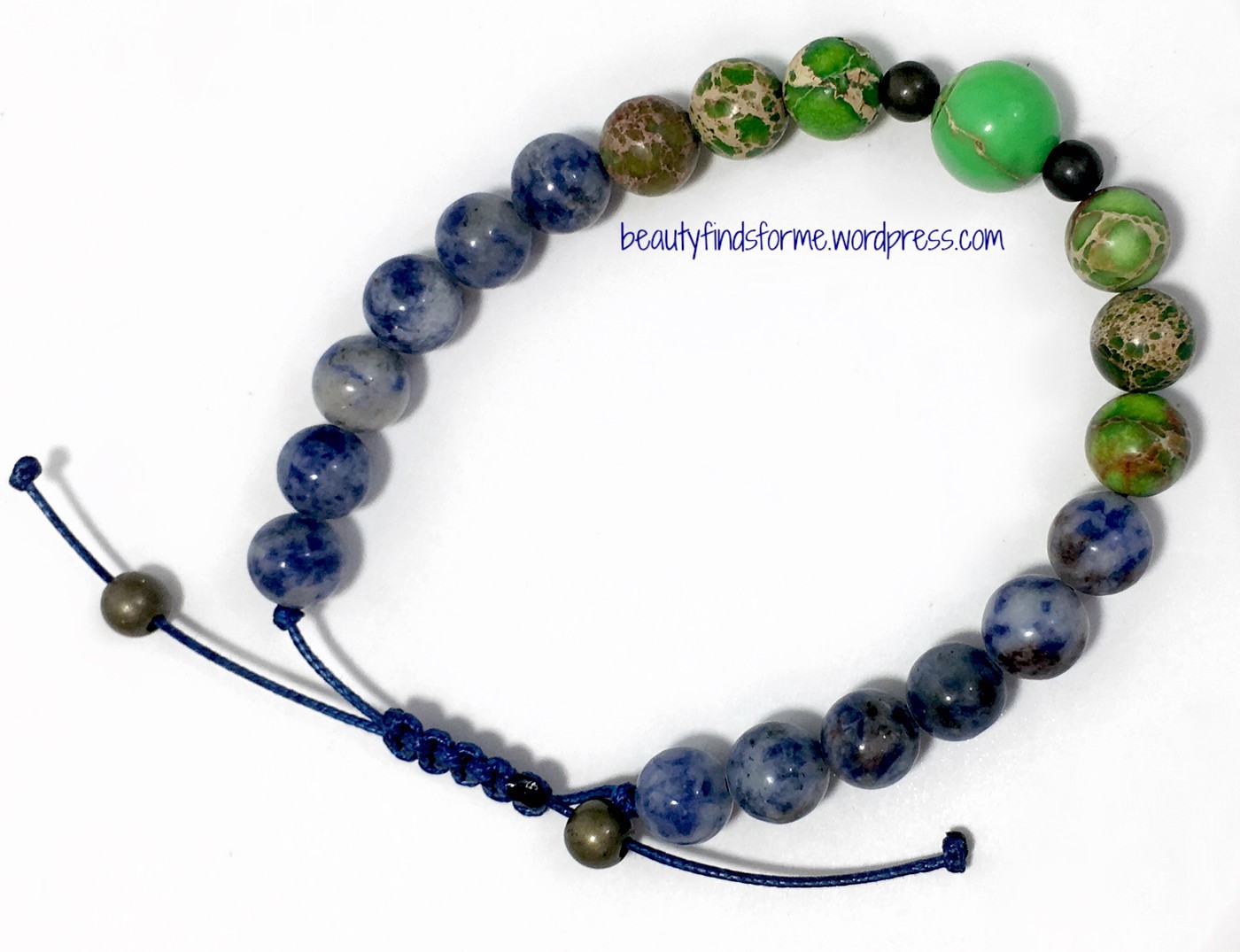 Spring Bracelet A more subdued matching bracelet with the imperial jasper beads of green and blue and a bright green bead in the middle.  This is an adjustable bracelet, and I like this better than the stretchy ones.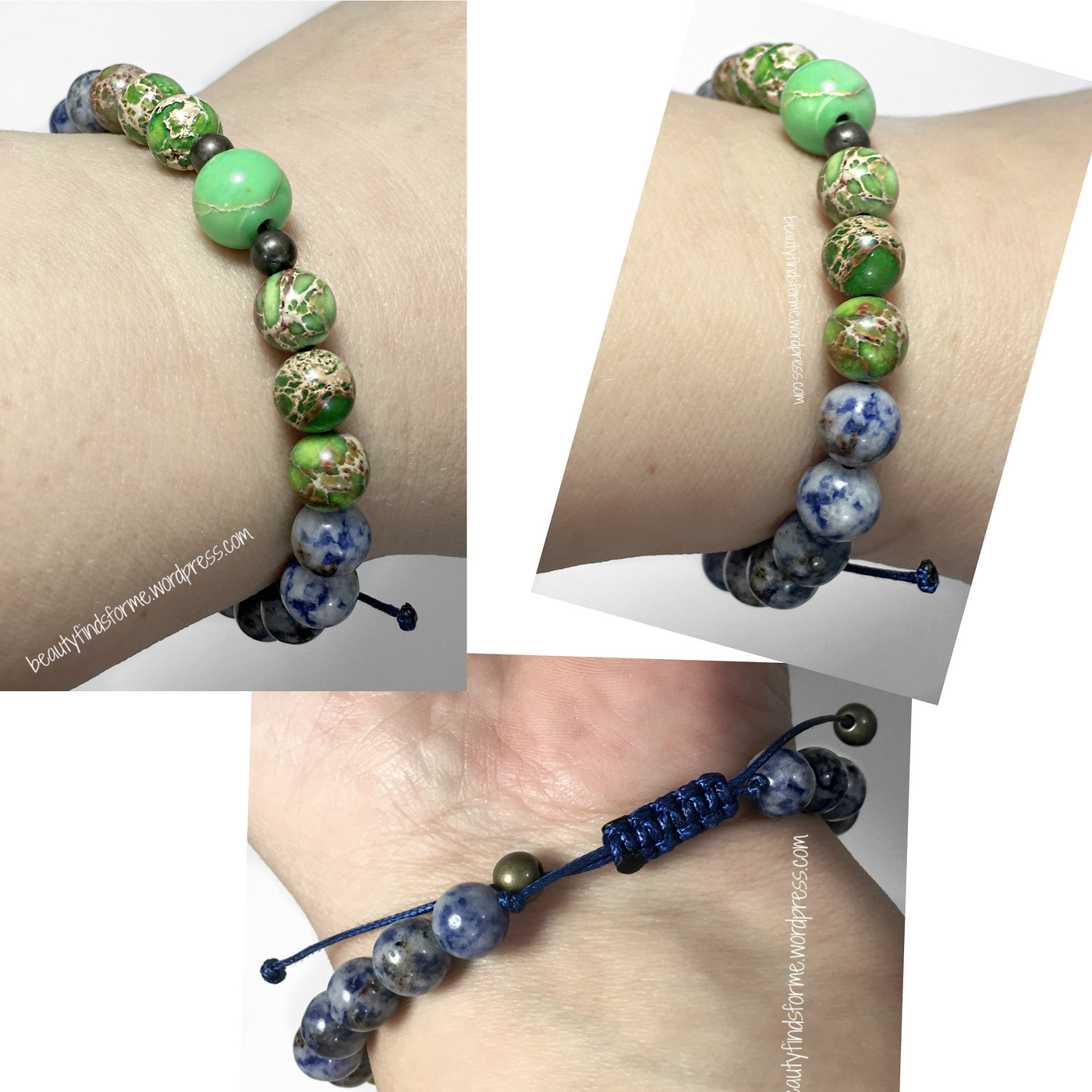 Sacred Yew Wood  The Yew tree is a long living tree, some have been recorded to over 4000 years old.  It is associated with immortality, birth, renewal, regeneration, transformation and provides access to the beyond and our ancestors.  It protects us from evil, provides dreams and is a symbol of the old magic.   The yew tree is used to provide us understanding that there are other levels of existence beyond this life ~ it helps live our lives more fully and with social conscious.  Death is a transformation and it is part of a never ending cycle as we are reborn, regenerated, elevated to the next plane of existence.   It was sacred to many cultures, such as Romans, Druids, Celts, Greeks and North American Natives.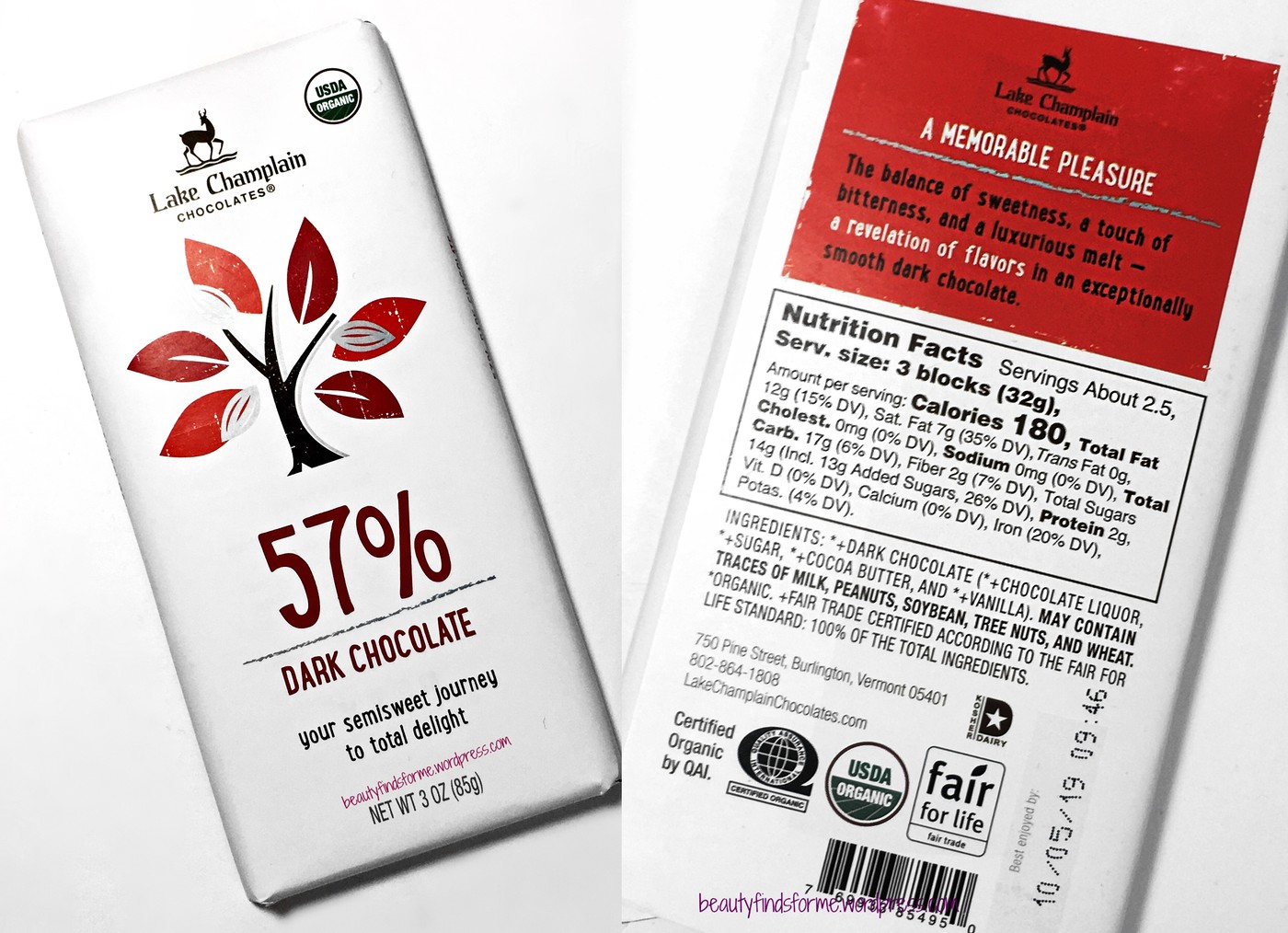 Lake Champlain Organic Dark 57% Chocolate Bar  This is made with 100% organic dark chocolate with 57% cocoa content.  It is made with 100% Fair Trade ingredients and is certified USDA organic.  I had their dark chocolate hearts last month and their chocolates are very good!  These are freshly made, all natural chocolates from Vermont.  They use local ingredients in their chocolates, like fresh-farm cream, honey, maple syrup.  These dark chocolates are Kosher, vegan, made only with cocoa mass, sugar, cocoa butter and vanilla.   3 oz RV $5.00

Ingredients: dark chocolate (chocolate liquor, sugar, cocoa butter, vanilla)
I really loved this month's box ~ so much more style than last month's with the hearts.  The earthy shades of green, blue and browns with the unexpected pop of spring green stones is really pleasing to me.  I do not what the value of this month's box is as Yogi Surprise didn't print them, but I go by the value of the pieces to me if a box is good or not and this month was worth the price!  Part of the proceeds from this box will go back to the local artisans that made these items and help educate their community.

Do you subscribe to Yogi Surprise?  Which box do you get and what was your favorite item this month?  Let me know in the comments below, I would love to read them 🙂
If you are interested in signing up to Yogi Surprise for either their Lifestyle or Jewelry box, I would love it if you used my affiliate link    If you sign up for the Lifestyle box, use YOGILOVE to get 15% off the life of your subscription!

[ all descriptions in italics from linked website.  this blog post contains referral & affiliate links ]