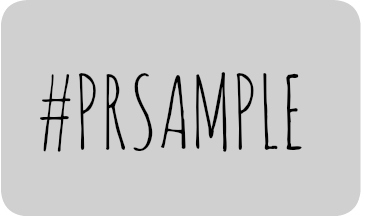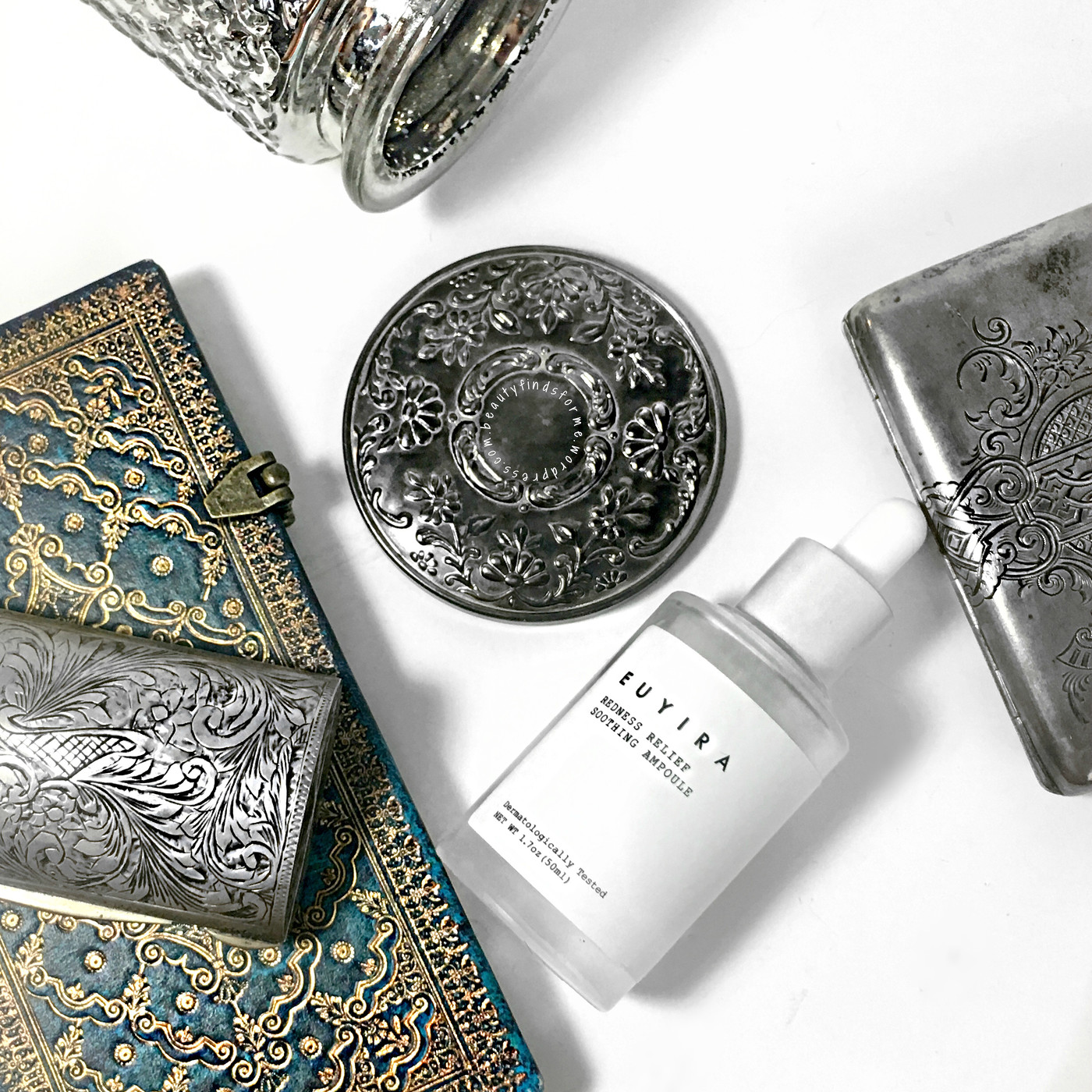 I have aging skin.. I have oily skin.. Which in a way is quite good as my skin doesn't have a lot of wrinkles ~ and the ones I have are fine and slight.  However, I have blemishes still (uggg) and there are times when all I want is a nice soothing product.  I know that so many people love the LeeGeeHaam (formally LeeJiHaam) Tea Tree 90 Essence, but that soothing product did not calm down my pimples ~ in fact, that essence was so moisturizing that my pimples looked very red and very GLOSSY and sticky. Which was not the look I was aiming for.
When I saw this product from Euyira, I was very interested and am thrilled that they sent it to me for review purposes last December.  Euyira stands for Eureka!  Your Ideal Ratio and they are a Korean skin care brand with a USA presence.  They use natural ingredients without harsh chemicals and their products claim to restore your skin to a healthy state, while strengthening it.  Their products seem to be non-irritating ~  Euyira claims it has been proven ~ and will protect your skin against environmental pollutants and other stressors, bringing balance back to your skin.  I was thrilled when I received this item in a PR package from Euyira.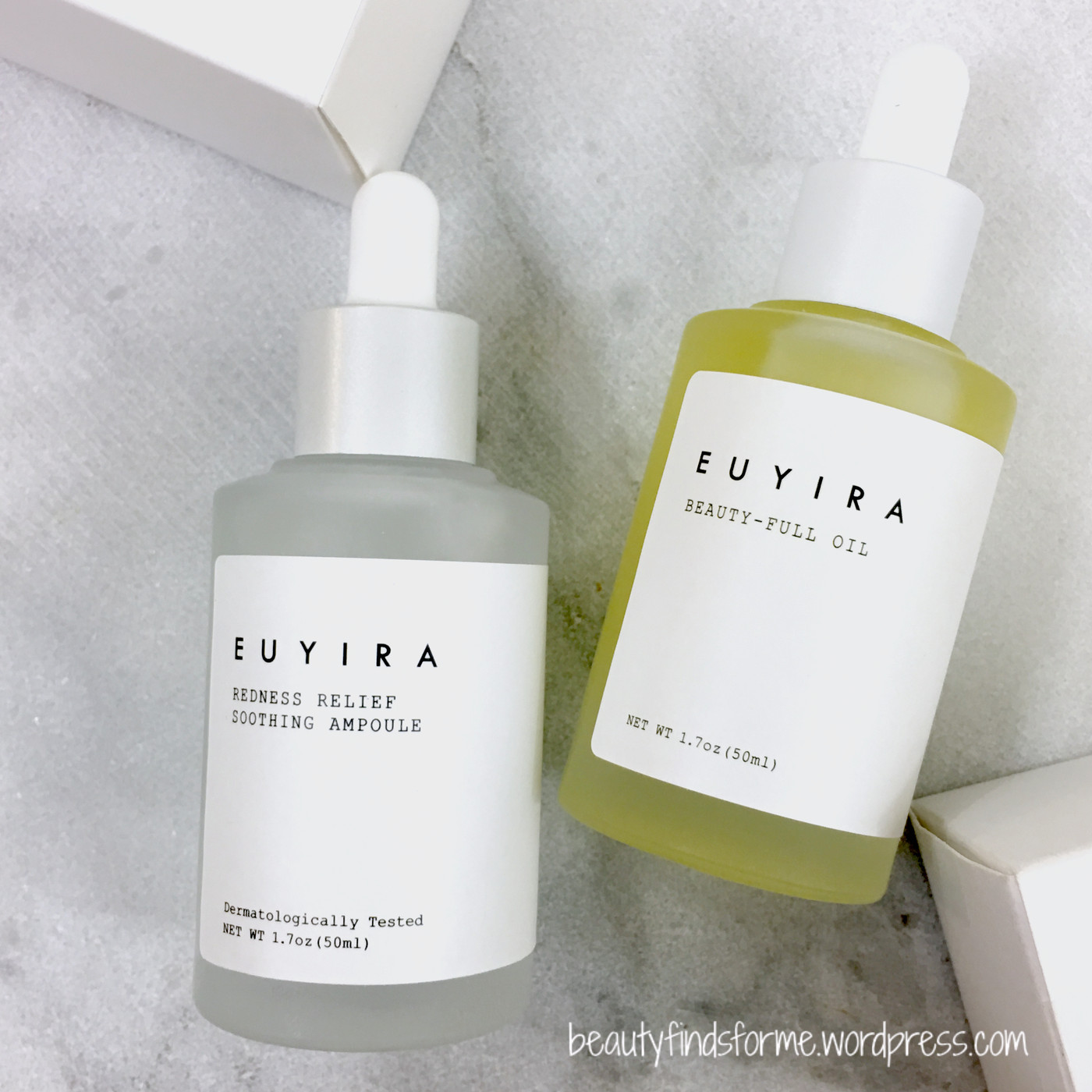 The ingredient list is a dream come true!!  Full of soothing, hydrating, anti-bacterial botanicals: Sodium hyaluronate is an intensive hydrating ingredient which bonds water to keep skin moist and soft ~ it attracts moisture and binds it to your skin.  Hydrating humectant glycerin helps with healing of wounds and seals in moisture.  Mannan is derived from Japanese Konjac plant and it also has water binding properties. Portulaca prevents dryness of skin and soothes skin with its excellent moisturizing ability.
What I consider to be a key ingredient for blemish, oily prone skin is tea tree ~ and this contains leaf extract and oil.  Tea tree is known for its topical antiseptic and anti-fungal properties and help target and treat blemish-prone skin. It also reduces oil and sebum production on your skin, while not disrupting the moisture level.  A popular anti-aging ingredient, green tea, contains polyphenol antioxidants: catechins, tannins, flavonoids ~ acting as anti-bacterial agents , providing astringent benefits and retaining skin moisture and hydration.
Lotus is fantastic for those who are struggling with oily, blemish prone or clogged/large pores, as it purifies your skin ~ your pores will look smaller and tighter and since lotus contains AHA (alpha hydroxy acids), it will help gently exfoliate your skin, removing excess dirt, debris and oil, unclogging pores and stimulating cellular renewal.  Lotus has multi-purpose benefits ~ it is an astringent, an emollient, with anti-bacterial, antimicrobial and anti-fungal proprieties, so it will keep your skin clean, moisturized and healthy.     ¹NCBI  research  ²NCBI research  Another anti-inflammatory ingredient is Japanese cedar, which also provides hydration and skin conditioning benefits.
This also has fermented saccharomyces, which can penetrate deeper into your dermal layers and are highly moisturizing, anti-aging with anti-bacterial benefits, along with brightening benefits. Aspalathus linearis (rooibos tea) contains flavonoids that act as antioxidants, helping combat free radicals and also reversing free radical damage. It has anti-viral, anti-fungal and antibacterial properties, which will help heal and reduce rashes, blemishes and other skin disorders, as well as soothing skin.  
Licorice root is a brightening ingredient as well as reducing flaking and smoothing your skin. It is also an anti-irritant and anti-inflammatory. Allantoin moisturizes, exfoliates and softens skin, making it look smooth and refined, while reducing and relieving irritation. Euyira's products are all cruelty free.
Ingredients: Glacier Water, Water, Sodium Hyaluronate, Methylpropanediol, Mannan, Butylene Glycol, PEG/PPG-17/6 Copolymer, Glycerin, Camellia Sinensis Leaf Extract, Melaleuca Alternifolia (Tea Tree) Extract ,Portulaca Oleracea Extract, Cryptomeria Japonica Leaf Extract, Nelumbo Nucifera Leaf Extract, Saccharomyces Ferment, 1,2-Hexanediol, Allantoin, Melaleuca Alternifolia (Tea Tree) Leaf Oil, Dipotassium Glycyrrhizate, Aspalathus Linearis Extract, Glycyrrhiza Glabra (Licorice) Root Extract, Ethylhexylglycerin, Caprylyl Glycol, Polyglyceryl-4 Caprate, Pentylene Glycol  cosDNA analysis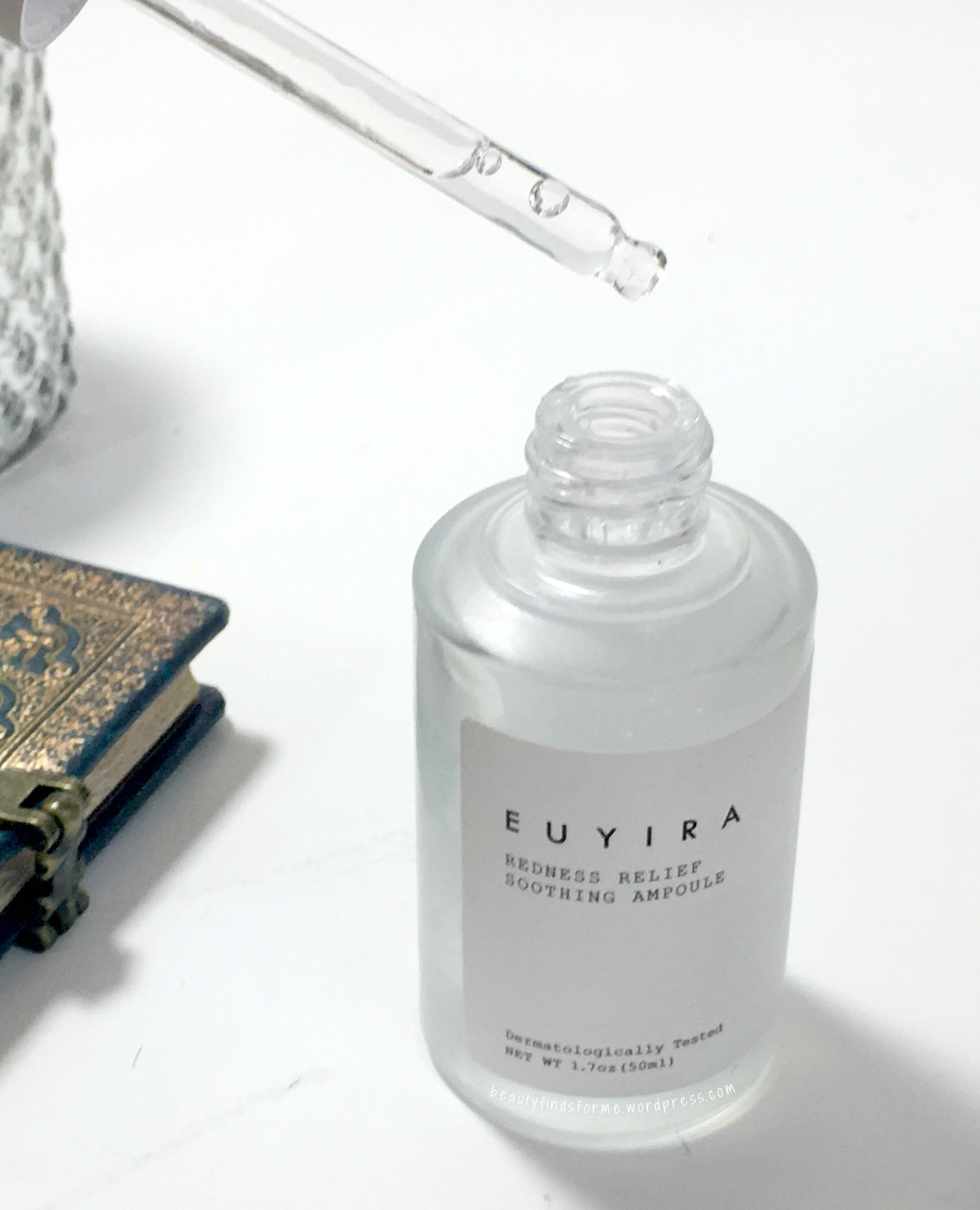 This ampoule claims that it will control excess oil, clear blemishes and reduce redness, while hydrating your skin.  It is great for oily, blemish prone, redness prone and combination skin.  It is not recommended for dry skin. I love the minimalist packaging on this ampoule ~ it has such clean lines and comes in a glass bottle with an eye drop applicator.  The ampoule essence is easy to suck up in the applicator as it is a very watery, hydrating serum.  This has a very faint tea tree scent with a hint of sweetness to it.  It is not a bitter scent at all.  The serum is watery so it will drip and run but it also has a bit of viscosity to it as well ~ it has a nice slip and is heavier than water.
It does look glossy on my hand in the 3rd photo, but it dries down within seconds, leaving a soft, satin glow without any stickiness or tacky residue.  It is quite hydrating too!  It normalized my moisture/oil balance, increasing the moisture by 46% and reducing the oil levels by 31%.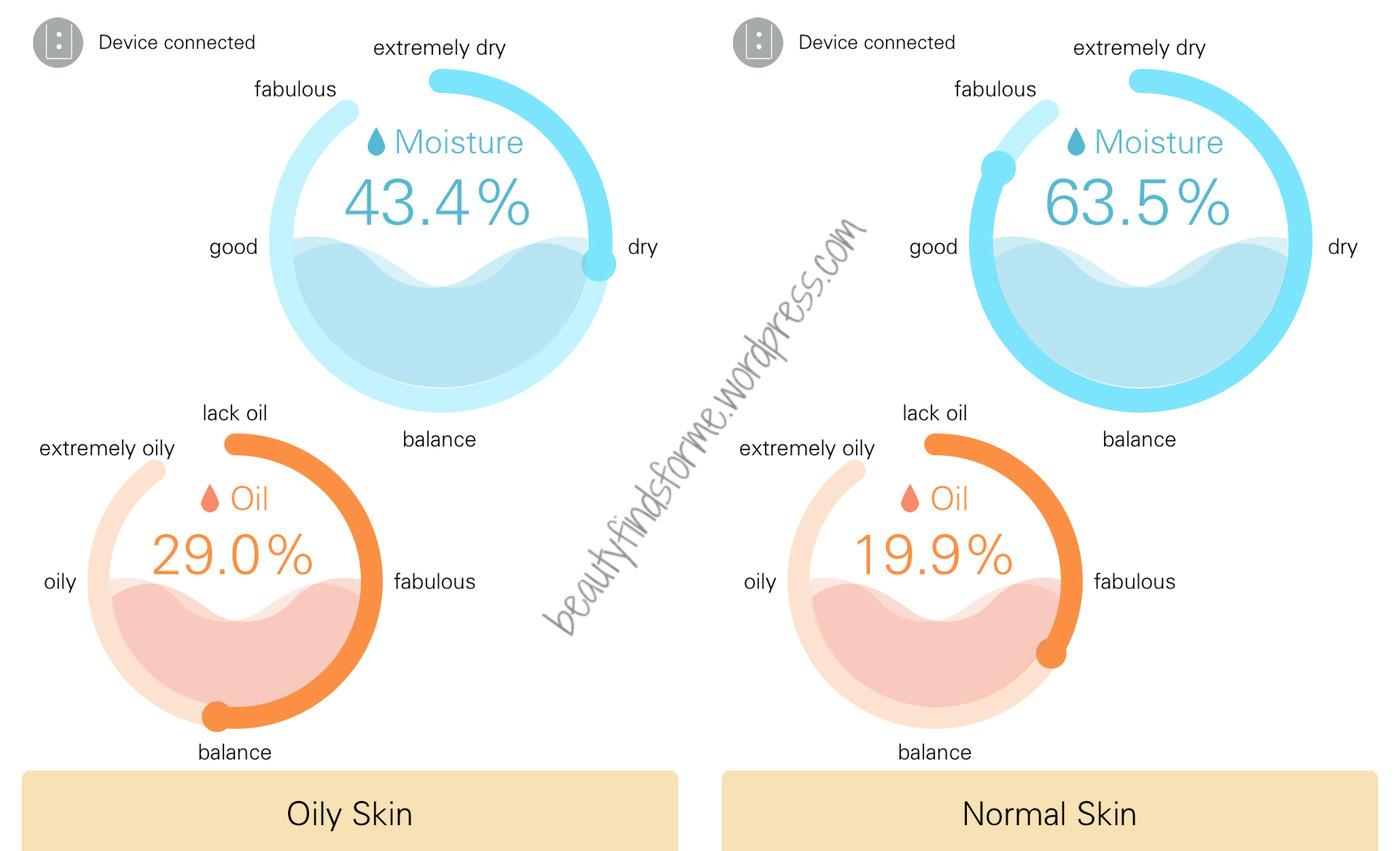 It took me a while to warm up to this ampoule as I started using it after I had a rash of blemishes from another product.  I was hoping this would clear up my blemishes, but discovered that this ampoule is best for soothing those irritated pimples, toning down redness, reducing the pain  ~ all while providing ample hydrating to my skin.  Oily skin NEEDS hydration, otherwise it gets congested and the sebum produced because thick in its texture, causing clogged pores and then more pimples.   It leaves my skin looking decent, as best it can with pimples, hydrated without that glossy dewy look and reduces inflammation.

Final Thoughts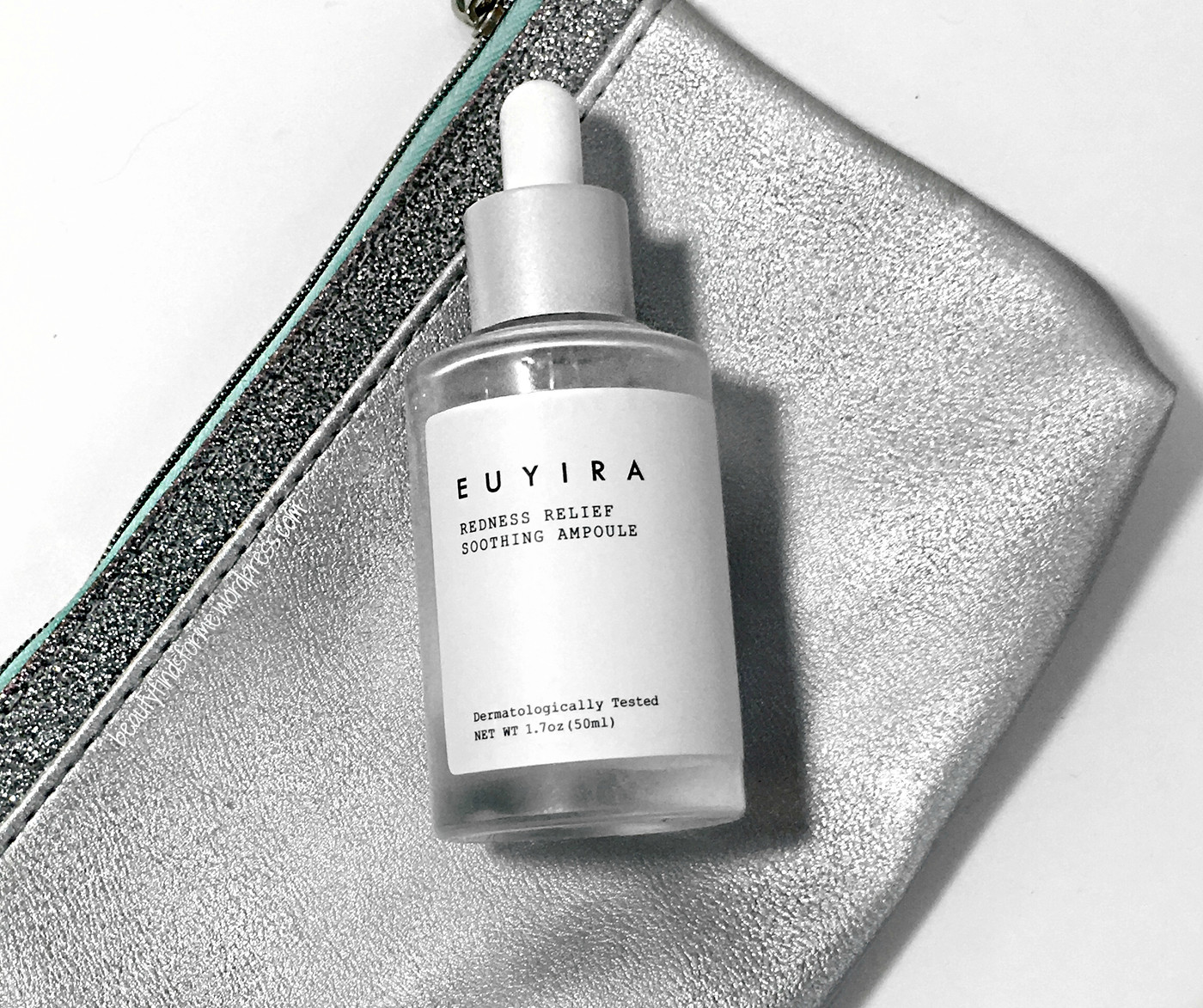 If LJH Tea Tree 90 Essence did nothing for you, or in my case, made your blemishes look glossy red, I would give Euyira Redness Relief Soothing Ampoule a try.  Not only did it help calm my blemishes while giving them a does of much needed hydration, it did so without a glossy or dewy finish.   This does not, in my opinion, prevent blemishes and I do know it doesn't cause them.   But it provides that immediate soothing, calming relief that I need without a dewy, shiny finish.  It hydrates and dries down nicely, leaving a satin finish on my skin, which for oily skinned people is the look we are going for.    This 50 mL ampoule retails for $47.00 at Euyira USA online shop (click here) and they do have promotions quite a bit!
I really am interested in trying out the Thirst Relief Hydrating Ampoule and the Apple Fruit Creamy Quick Mask from Euyira asI had such a great experience with this Redness Relief Soothing Ampoule, despite the slow start. 
GIVEAWAY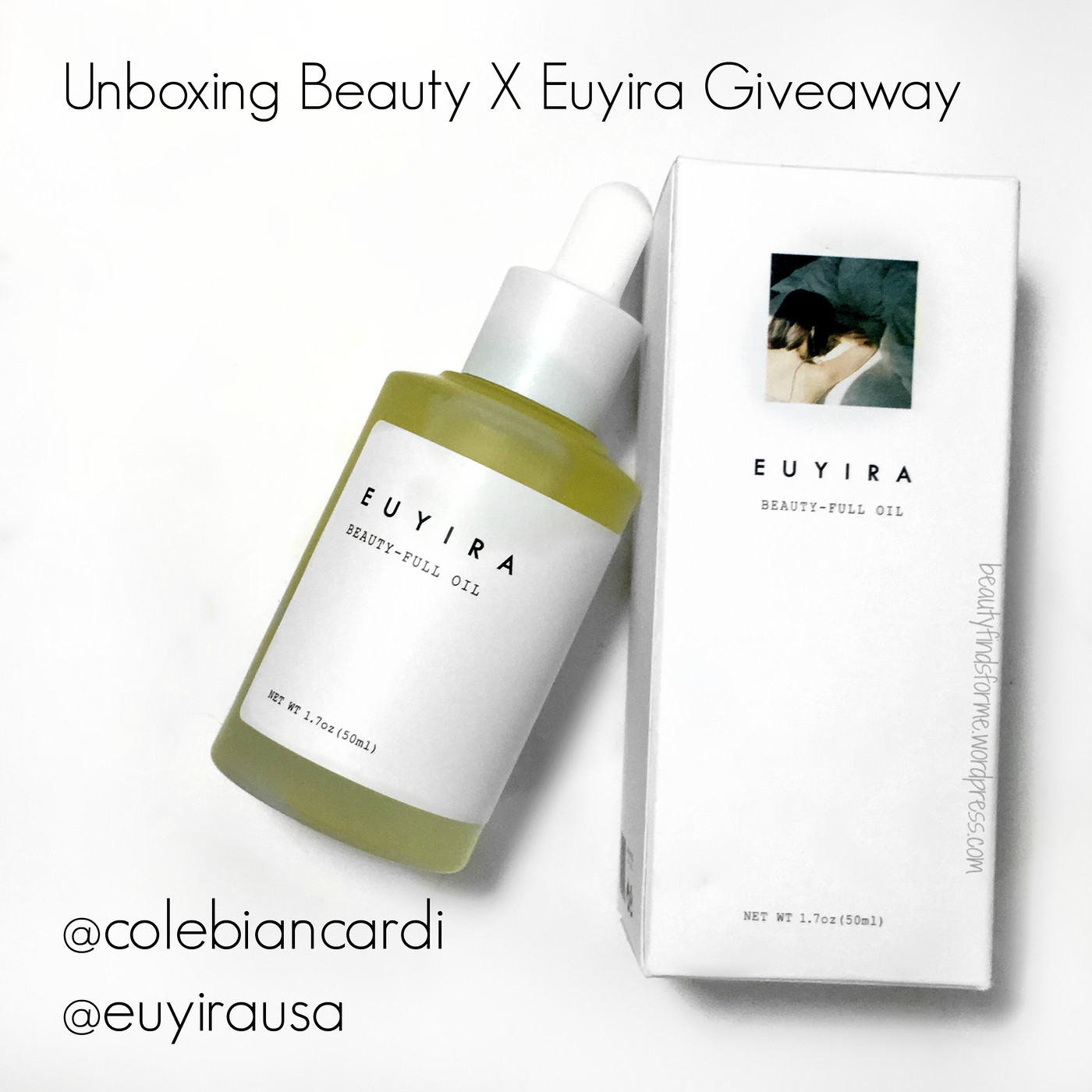 Euyira also sent me their BEAUTY-FULL OIL, which I am giving away with their blessing!  It contains rose oil, and I am allergic to rose.  That said, this is chockfull of great oils:  Rosa Canina Oil, Helianthus Annuus (Sunflower) Seed Oil, Macadamia Ternifolia Seed Oil, Camellia Japonica Seed Oil, Calendula Officinalis Flower Oil, Argania Spinosa Kernel Oil and Cananga Odorata Flower Oil.  Due to the natural ingredients, this does expire in 11/2018, so please make sure to start using it right away if you are the lucky winner!  Due to the fragile glass bottle and expiration date, this giveaway is only open to USA and Canada addresses.
What you need to do to enter
Use the Entry Link below to enter via Rafflecoper.  This will open a new page with the entry form.  This is legit as my copy of wordpress does not allow me to embed the entry form directly into my blog.

All entries will be verified and anyone who has multiple accounts will be disqualified.

Qualified entry will then be randomly drawn.

I will notify the winner within 24 hours of the contest close. The winner swill have 36 hours from then to contact me  with the following information:  their full name and mailing address 

If the winner does not contact me within 36 hours,  another winner will be selected and the original entry is null and void
What you need to know
beautyfindsforme is me 🙂
By entering, you are agreeing to all of the following items:
beautyfindsforme is not responsible for damages due to shipping, lost, stolen packages or any other issues.  Once the parcel is mailed out, it is out of my hands.
Once beautyfindsforme has the winner's information, beautyfindsforme will ship it out and give the winner a tracking number (if applicable)
The winner is responsible for verifying the products and their contents and to determine the suitability of those products for their own needs.  beautyfindsforme is not responsible for the actual products and ingredients.
This is a USA and Canada only giveaway.  beautyfindsforme will pay for shipping 

You must be 18 years of age or older or must have the express permission of a parent or legal guardian to enter and receive the prize.

Please ~ would love it if you would post photos of your prize on IG and/or Facebook so people know where you got these great products!  And that I am legit in offering giveways! 
To Enter, Click on this link or the image and follow the instructions!  This contest will end on February 24th, 2018 at 11:59 pm EST.  Some of the entries you can do daily, so enter more often for a greater chance to win!