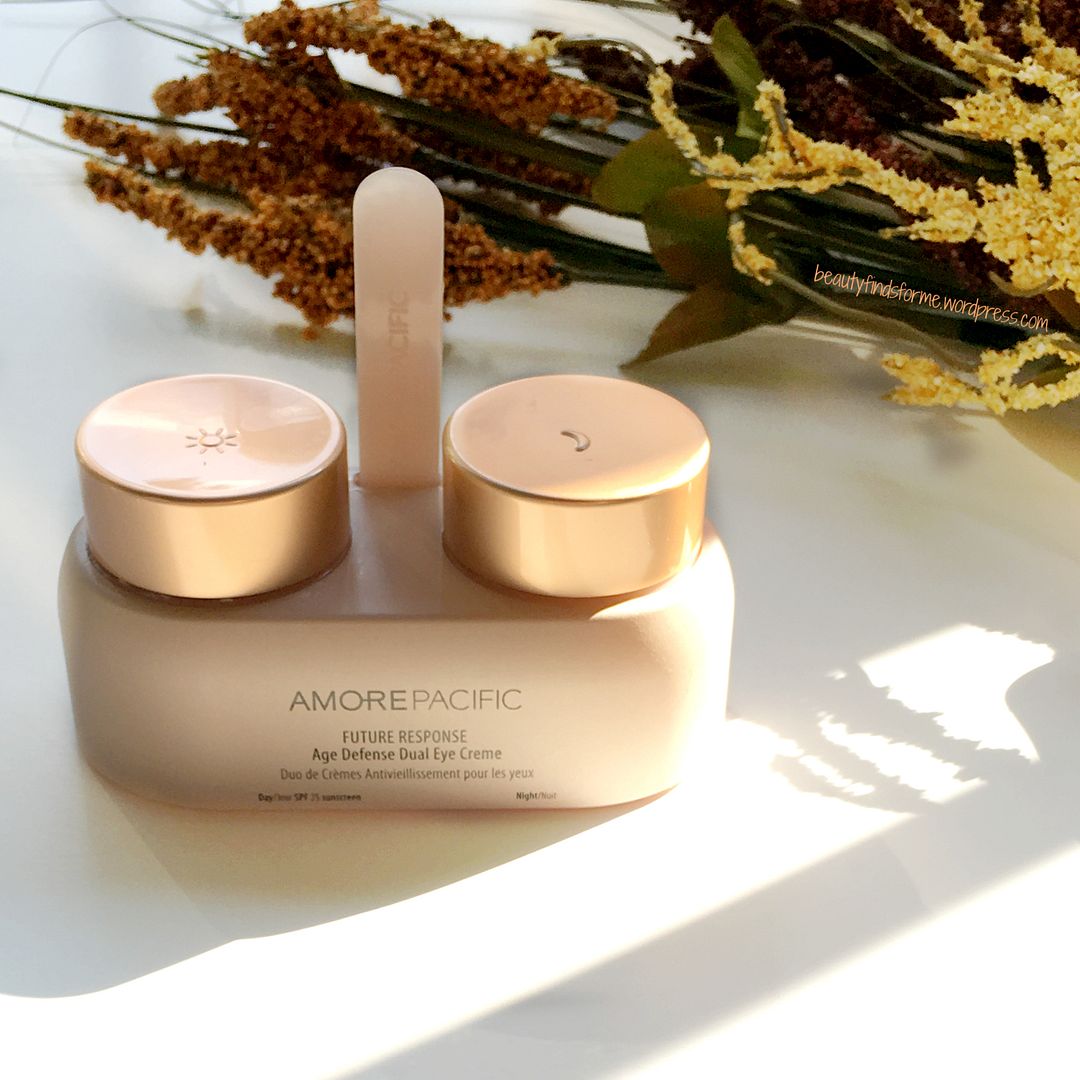 AmorePacific is the mother company to so many brands that I love ~ Innisfree, Primera, illi, Sulwahsoo, Laneige, IOPE, Etude House and so many more.  AmorePacific was the first Korean skincare brand I purchased without realizing it was K-Beauty ~ way back before I realized that there was K-Beauty!  The AmorePacific Treatment Enzyme Peel Botanical Exfoliator (review here) really was a game changer for me and it began my journey into Korean skincare.  Imagine my surprise when AmorePacific USA picked me to try out their Future Response Age Defense Kit ~ I have not tried any products from the Future Response line and the main item is this full sized Future Response Age Defense Dual Eye Crème.
The skin under your eyes is so much thinner and delicate and it needs special care.  You cannot start too young, in my opinion, to care for your delicate eye area ~ I didn't and I am paying for it now, as I feel that my eye area really shows my age. However, it is never too late to start either, so I am looking for good solid eye cream products to help reduce the appearance of my fine lines and wrinkles around my eye area, while protecting it from future damage.  AmorePacific Future Response line contains their patented Future Response Complex™, which is a potent antioxidant blend of green tea and pine mushroom extracts that will protect your skin during the day and nourish your skin during the night.

Skin Type/Concerns: Oily, blemish prone, aging, hyper-pigmentation, fine lines/wrinkles, pores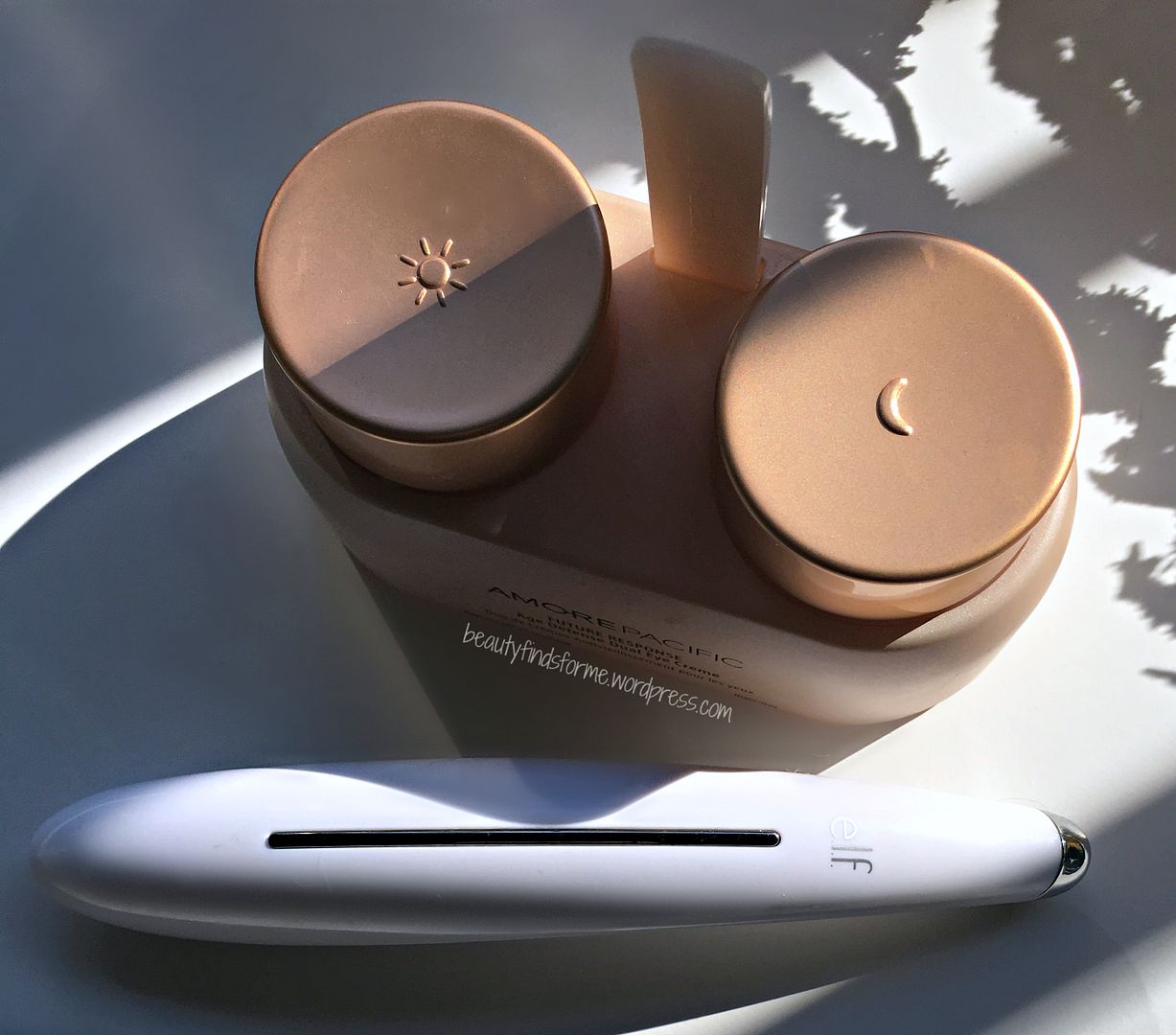 Isn't this packaging clever?  You have a day time pot, with an image of the sun on the lid and a night time pot, with the crescent moon.  The pots are built into the console, alas, so you cannot remove them, but it sits nicely on my bathroom counter ~ as it is slim in design.  There is also a spatula to pick up the cream and tap onto your skin. It is all made of sturdy plastic in rose-gold beige color ~ very fancy looking!  For those who like to up-cycle, I plan on keeping this container after I finish the eye cream ~ I think it is perfect for mini vacations and traveling and I will put my daytime lotion in one side and my sleep pack on the other side.  I actually prefer using my e.l.f. Massaging Eye Wand to pick up the cream and use that tool to massage it into my eye area.  I will talk about that tool later on in the blog post, for those interested.  Sulwhasoo Timetreasure Renovating Eye Serum has an eye wand with their product ~ so maybe AmorePacific will create one for their eye cream, as it is so handy and effective!
Description: Throughout the day the delicate skin around the eye is vulnerable to attack from environmental aggressors. This revolutionary pair of eye cremes is formulated with FUTURE RESPONSE Complex™, a potent blend of Green Tea and Pine Mushroom that protects the eyes throughout the day and nourishes during the night. Day: With built-in sun protection, protects skin from harmful UV rays that elevate skin temperature and cause skin damage. Night: For nighttime care, contains Green Tea Theanine and EGCG to nourish the skin by hydration and prevent early signs of aging around the delicate eye area
Ingredients of Note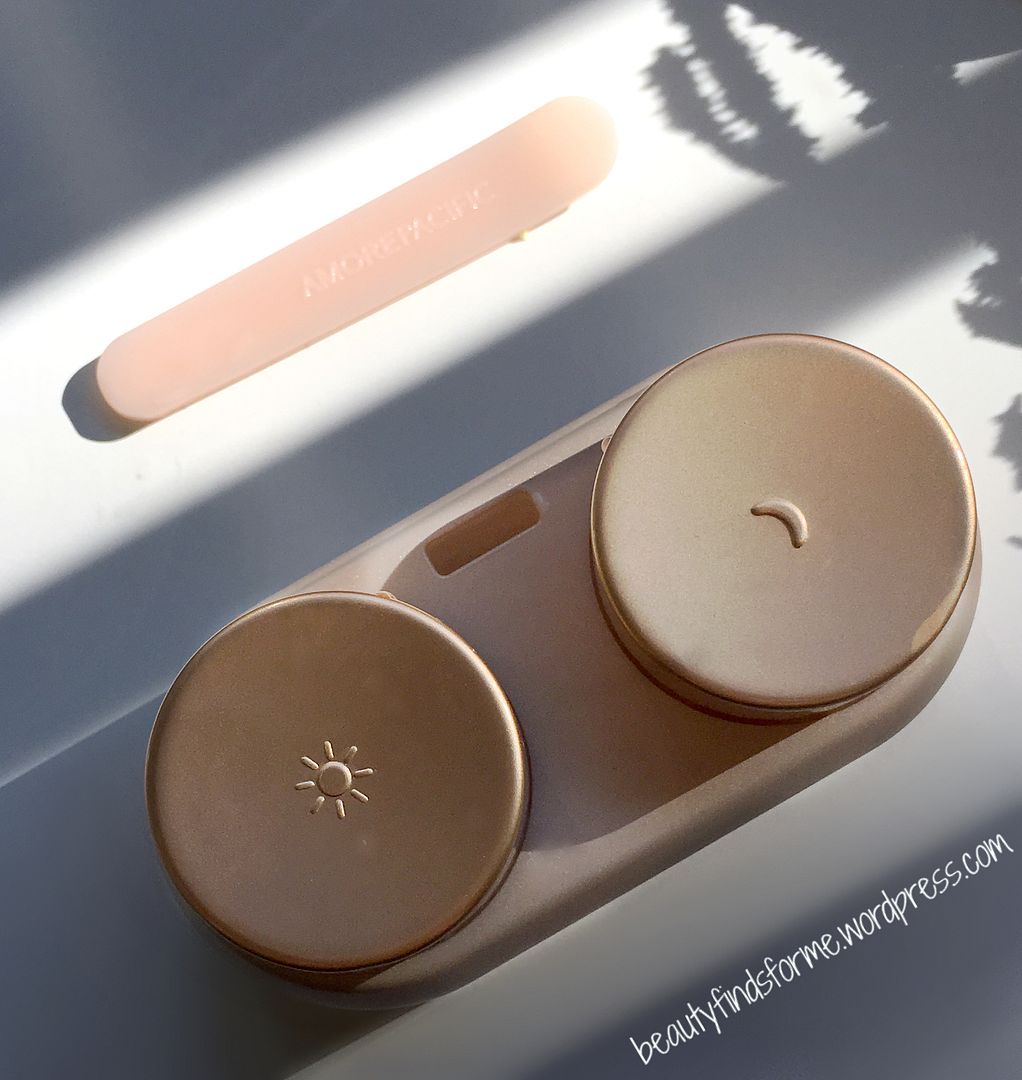 Both the day and night cream contain kaolin, which was a bit of a surprise to me ~ I am used to seeing this ingredient, containing minerals and essential trace elements, in an oil absorbing mask pack.  However, kaolin helps infuse your skin with moisture, leaving it soft and supple. It also increases blood circulation in your skin, acting as an anti-inflammatory, aiding in healing and reducing irritation.  Kaolin also prevents cakiness, flakiness or dry patches in your skincare products. 
Green tea is also found in both creams ~ both the leaf water and leaf extract, while the night cream has an two more green tea ingredients ~ leaf powder and theanine.  Green tea is full of powerful anti-oxidants, due to its high concentration of polyphenol EGCG and it helps reduce the appearance of fine lines and wrinkles, while protecting your skin from free radical damage.  AmorePacific hand harvests their green tea plants from the rich volcanic soil at Halla Mountain foothills on Jeju Island. Tricholoma matsutake (pine mushroom) will hydrate, firm and brighten skin, while providing antioxidant protection from external stressors and pollution.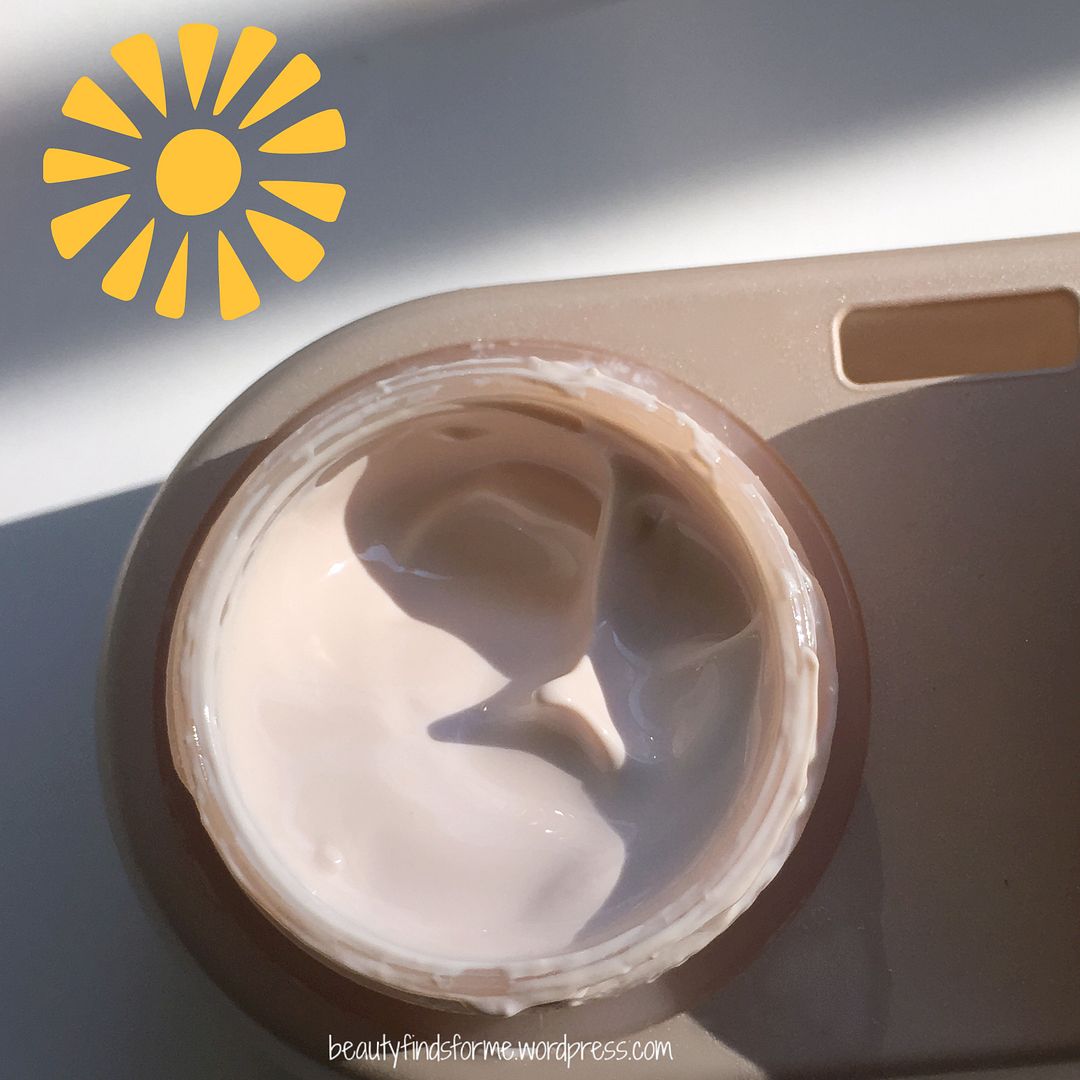 The Day Crème has SPF protection, which makes sense ~ the delicate skin under your eye area needs more protection from UV rays and this cream has an SPF of 25.  It has one physical blocker for both UVA and UVB rays, 4.4% titanium dioxide and three chemical blockers ~ 4.5% ethylhexyl salicylate (Octyl Slicylate) helps protect your skin against UVB rays and 8% Octocrylene, helping to absorb both UVA and UVB rays while protecting the skin from DNA damage. Finally, 7% ethylhexyl methoxycinnamate (Octinoxate), which mainly protects against UVB rays, but has some UVA protection.  Quick recap ~ the SFP rating protects against UVB rays, which cause sunburns and reddened skin and has direct links to cancer.  This doesn't have a PA rating, but it does offer some UVA ray protection, which are the rays that cause us to tan, and age ~ wrinkles and deep lines. Japanese apricot (prunus mume) penetrates your skin deeply to keep it hydrated and also helps restore skin radiance, elasticity and firmness.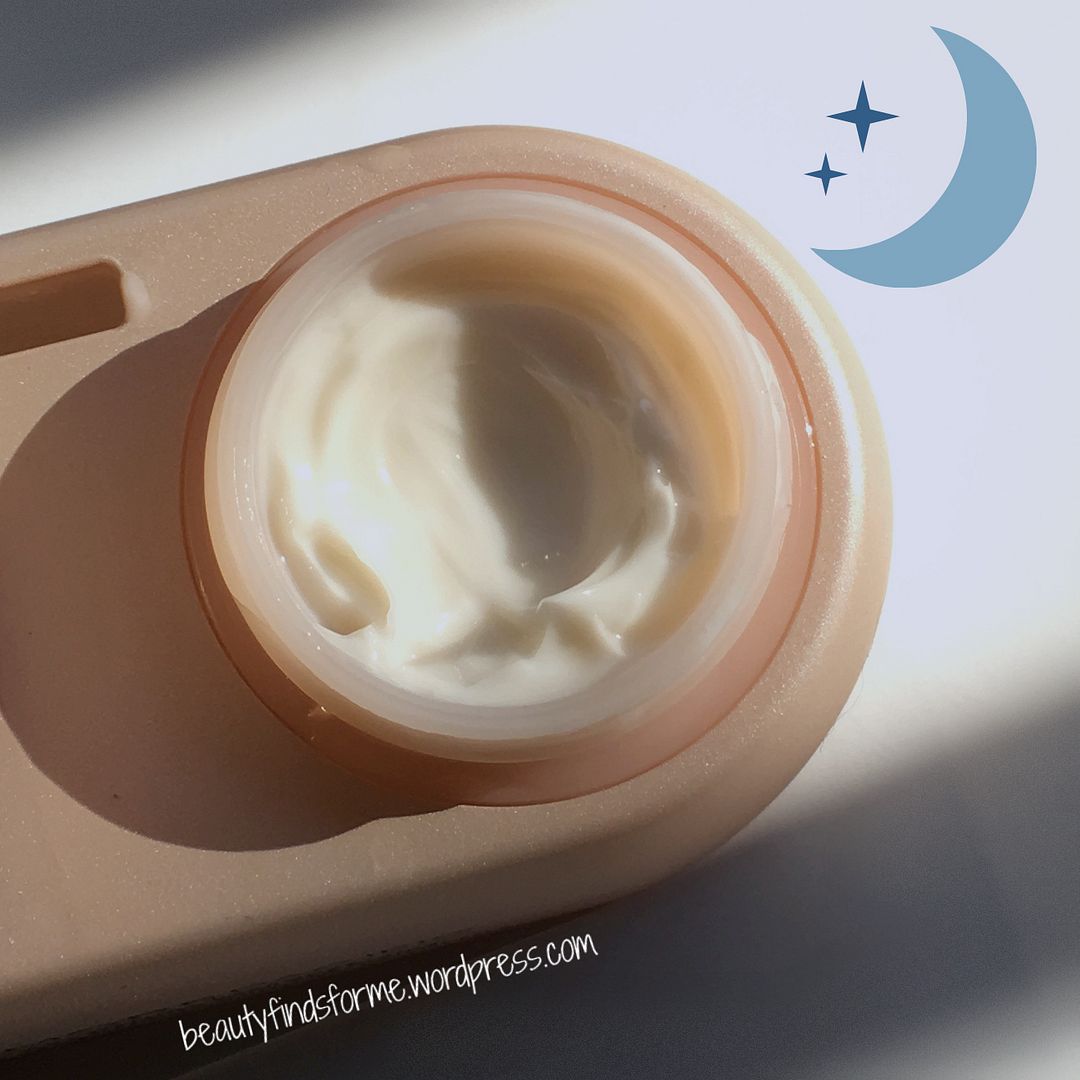 The Night Crème has two additional green tea ingredients ~ leaf powder and theanine.  Amino acid theanine has anti-aging benefits due to its anti-aging benefits for the skin and it will hydrate and nourish dry skin.  Moisturizing your skin will help diminish the appearance of fine lines and wrinkles, while toning your skin.  This also has epigallocatechin gallate (EGCG), which is a catechin, a powerful antioxidant that helps prevent collagen breakdown while aiding in the production of collagen, smoothing and firming your skin. Polyglutamic acid is made from fermented soybeans (natto) and helps moisturize and exfoliate old skin cells. It can penetrate to the deepest layers in your skin, locks in moisture and helps increase the production of NMF (Natural Moisturizing Factor). Caffeine helps reduce puffiness, by stimulating and improving blood circulation. Sodium hyaluronate is an intensive moisturizing ingredient which bonds water to keep skin hydrated. It is a natural substance found in the human body and it made up of amino and uronic acids, and helps retain 100 to 1,000 times its own water weight in our skin cells
Future Response Eye Day Crème SPF 25:  Active Ingredients: Ethylhexyl Methoxycinnamate (7%), Ethylhexyl Salicylate (4.5%), Octocrylene (8%), Titanium Dioxide (4.4%)  Inactive Ingredients: Camellia Sinensis Leaf Water, Butylene Glycol, C12-15 Alkyl Benzoate, Alcohol, Cyclopentasiloxane, Cetearyl Alcohol, Cyclohexasiloxane, Methoxy PEG-114/Polyepsilon Caprolactone, 1,2-Hexanediol, Glyceryl Stearate, Glyceryl Caprylate, Camellia Sinensis Leaf Extract, Disodium EDTA, Prunus Mume Fruit Extract, Tricholoma Matsutake Extract, Stearic Acid, Alumina, Aluminum Stearate, Ethylhexylglycerin, Water, Carbomer, Kaolin, Caprylyl Glycol, Phenoxyethanol, Polysorbate 20, Polyacrylate-13, Polyisobutene, Polyhydroxystearic Acid, PEG-100 Stearate, Hydroxyethyl Acrylate/Sodium Acryloyldimethyl Taurate Copolymer, Fragrance cosDNA analysis

Future Response Eye Night Crème Ingredients: Camellia Sinensis Leaf Water, Butylene Glycol, Glycerin, Hydrogenated Poly(C6-14 Olefin), Alcohol, Pentaerythrityl Tetraethylhexanoate, Water, Trioctyldodecyl Citrate, Polyglyceryl-3 Methylglucose Distearate, Glyceryl Stearate, Behenyl Alcohol, Dimethicone, Phytosteryl/Behenyl/Octyldodecyl Lauroyl Glutamate, Dipalmitoyl Hydroxyproline, Theanine, Camellia Sinensis Leaf Extract, Tricholoma Matsutake Extract, Camellia Sinensis Leaf Powder, Sodium Hyaluronate, Caffeine, Polyglutamic Acid, Epigallocatechin Gallate, Kaolin, Trisiloxane, PEG-100 Stearate, Cetearyl Alcohol, Hydroxyethyl Acrylate/Sodium Acryloyldimethyl Taurate Copolymer, Polyacrylate-13, Polyisobutene, Ethylhexylglycerin, Polysorbate 20, 1,2-Hexanediol, Caprylyl Glycol, Phenoxyethanol, Disodium EDTA, Fragrance cosDNA analysis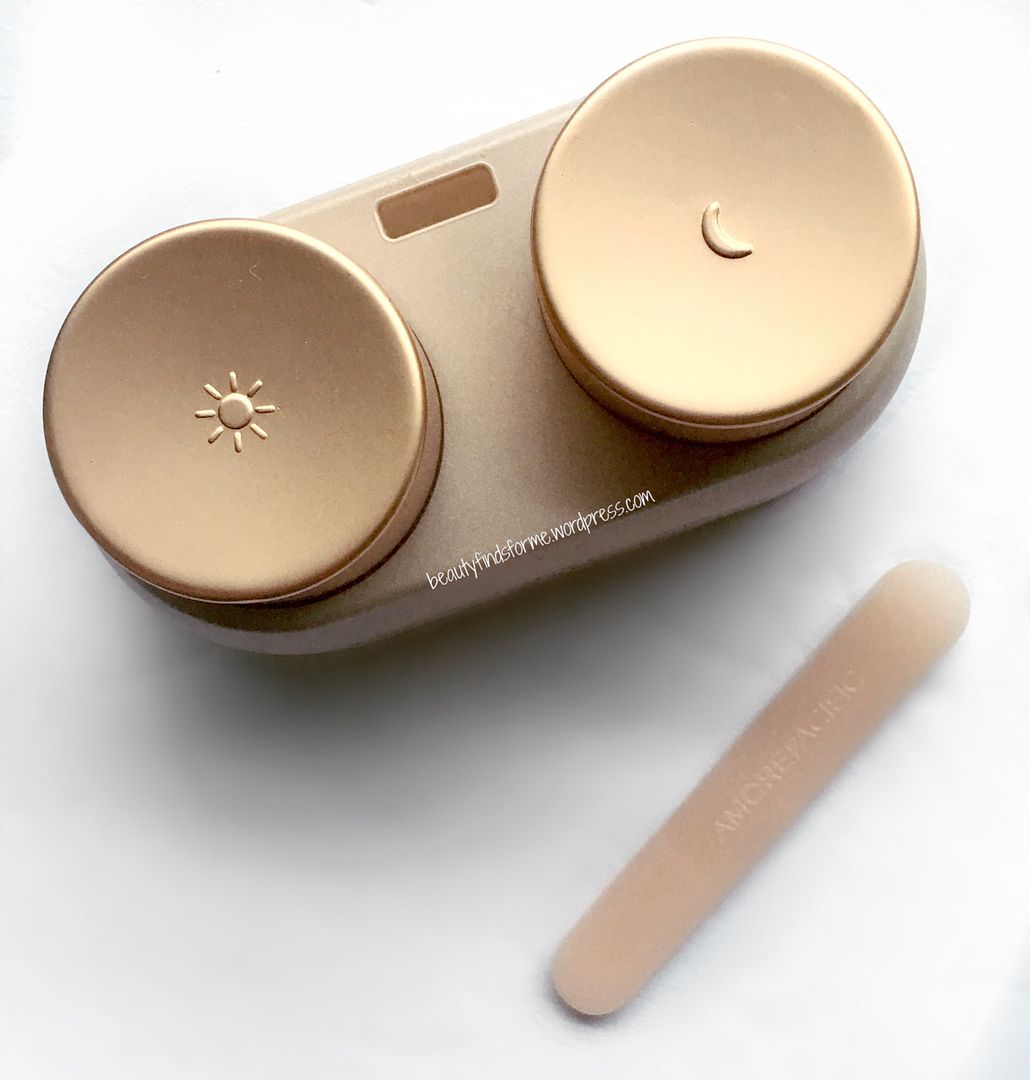 The Day Crème is a fluid and lightweight cream ~ be careful about how much to apply.  I have found that a little goes a long way with these eye creams, especially with the day version.  It has a lovely green tea matcha scent to it ~ it is light, so it is not overpowering.  For best results, apply this cream not only under the eye area but also along the orbital bone, as your skin there needs extra TLC.  Despite having titanium dioxide in it, which does have a tendency to have a white cast, I did not experience any white cast. Instead, what I discovered is that the day cream has a luminous tint to it ~ not white cast, but neutral highlighter. It really "wakes" up my eye area and brightens it considerably.  I used my e.l.f. Massaging Eye Wand ~ I tapped the metal tip of the wand in the cream and then tapped it gently around my area then activated the wand. To activate the wand, the rounded metal tip of the wand must be touching your skin and your finger must be on top of the top metal strip on the wand.  This wand not only gently massages my skin, it pushes the cream deeper into my skin with a gentle warming action. I always wipe my eye wand down with some rubbing alcohol or witch hazel to clean.  I found that my skin around my eye area looked more vibrant and refreshed as well as softening my fine lines and wrinkles.
The Night Crème has a more dense texture, which I expect for a night cream ~ it will not only nourish but repair your skin overnight.  This also has the same lovely matcha scent and I apply it in the same manner as the Day Crème, with my e.l.f. Massaging Eye Wand.  I use a bit more of the night cream than I do the day cream, as your body will work overnight to repair your skin and I feel that I need to "feed" my skin a bit more at night, so it will help nourish and moisturize.   The Night Crème moisturizes my skin nicely, softening the fine lines and wrinkles, with quick absorption. 
Final Thoughts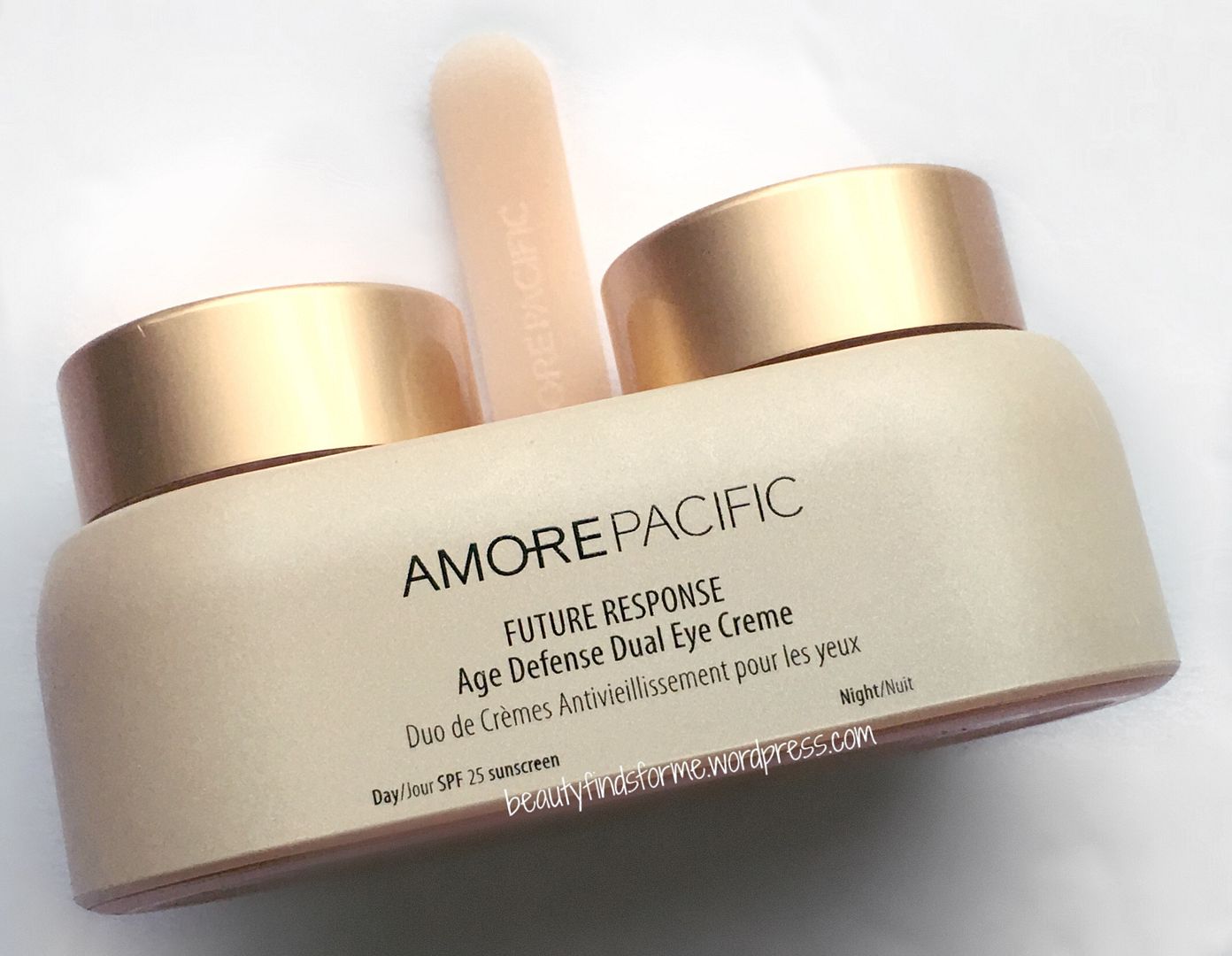 At first, I was gasping at the cost of this eye cream ~ it is $150.00 for 20mL of product ~ each pot is 10 mL.  However, after using these creams for a month now, I can say that I have BARELY made a dent in these creams ~ a little goes a long way.  I have the feeling that these creams will last me 6 months or more, which then makes the price tag more reasonable.  Of course, if you love AmorePacific products, you have no issues with this price tag anyway, but for those who want quality products yet are questioning the expense, this will stretch out for many months.  I do think that AmorePacific prices are within range of high end eye creams, so their prices aren't unreasonable for their brand. Does it work? I think that I have seen more improvement in the month I have used these eye creams than any other eye creams that I have tried before ~ and that is saying something.  My skin is smoother and softer, less puffy and my eye lines and wrinkles don't look as harsh when I apply this cream.  I think it is the combination of these creams plus my massaging eye wand.  I will need to try other eye creams with this wand to test that theory, but for now, I will continue to use these eye creams and see if there are dramatic results when I finally finish off  the pots.
Where To Purchase
AmorePacific USA has their own website!  Future Response Age Defense Dual Eye Crème  is sold there for $150.00 (click here).   They always have free shipping, provide two deluxe samples of any AmorePacific essentials and offer gift with purchases as well.
Right now, you will receive a complimentary sample of the new Vintage Single Extract Essence with every purchase (no minimum required).  If you purchase over $350.00, you will receive a free Brightening Indulgence Set, which contains Treatment Cleansing Foam (30ml), Treatment Enzyme Peel (7g), Luminous Effect Brightening Serum (3ml) and Intensive Vitalizing Eye Essence (3ml)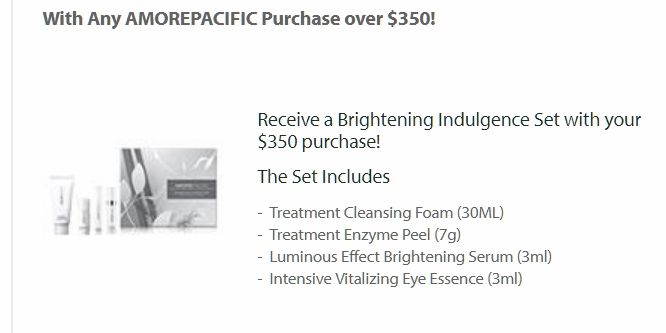 If you are interested in the e.l.f. Massaging Eye Wand, it is only $25.00 at e.l.f. (click here), so that means it comes with free shipping as well

[ disclosure: products received complementary for review purposes. blog post contains affiliate links ]