[ disclosure: product received for review purposes. contains affiliate links ]

Wow November's Peaches & Petal's box got to me in the first week of December!!  I had just received the October one, so I was surprised to see  another box within a couple of weeks.  November's Peaches & Petals theme is "Embrace Your Creativity"   Peaches & Petals is a subscription service that is focused on lifestyle and beauty products.  From their website  "Love trying new experiences? So do we. At Peaches & Petals, we thrive on trying new things, therefore our boxes are curated to maximize your experience with interesting products hinted by a monthly theme. We are adventurous at heart, and love hand-selecting products that help you enjoy every moment."  This box was sent to me for review purposes from Peaches & Petals and I thank them for their generosity as always 🙂  I am always appreciative of companies who look for honest feedback on their services.
Informational Card
Explanation on valuing products:  Since Peaches & Petals does not give a value on their products,  I normally will use the Retail Value from the vendor's site or an average if I find the product on multiple sites with varying prices.  Subscription boxes are usually basing their value on Retail Value, not Markdown or Sale Values.  With that in mind, you can usually find products for less, just like anything else in the marketplace.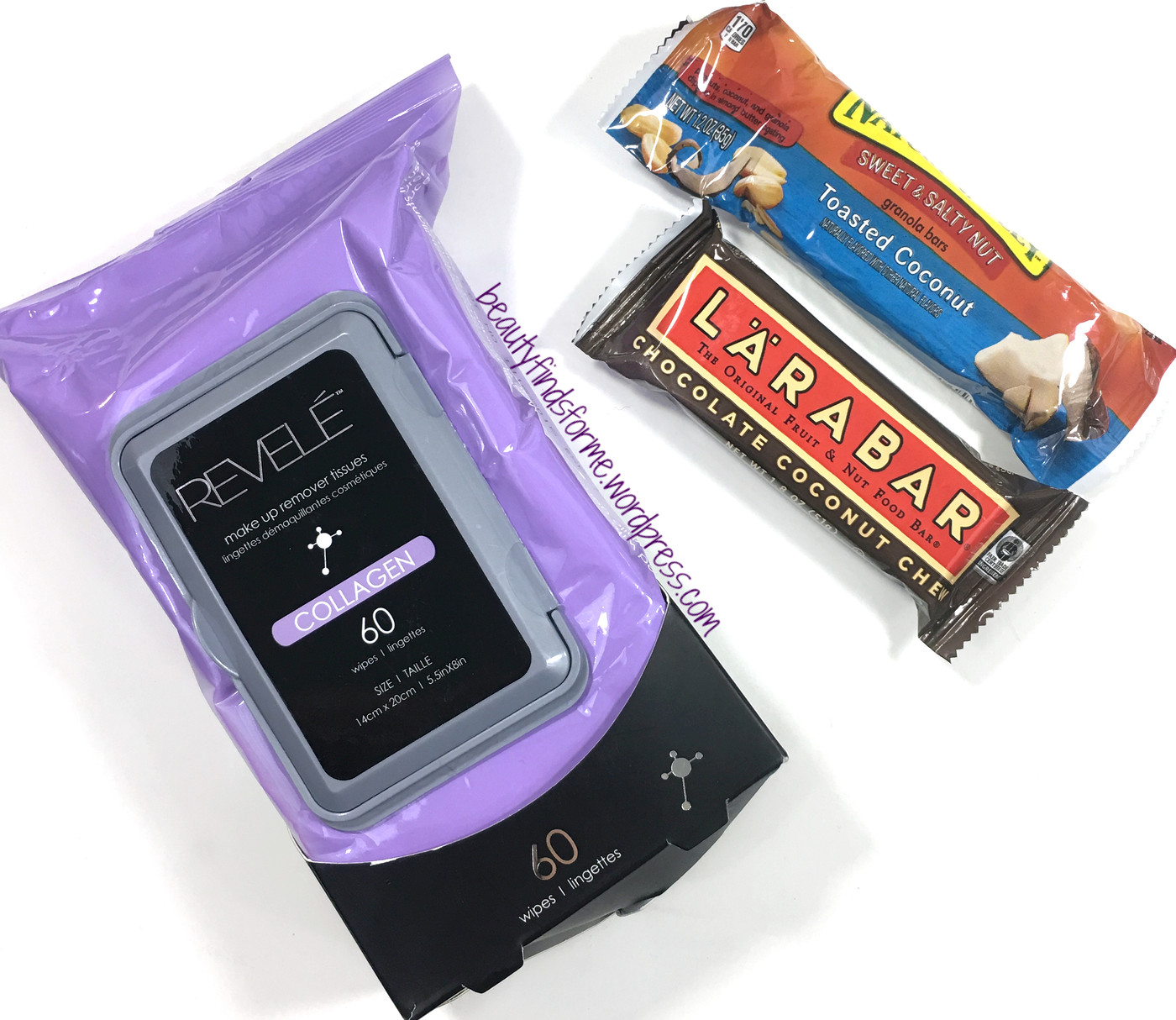 Larabar Chocolate Coconut Chew Bar and Nature Valley Sweet & Salty Nut Toasted Coconut Granola Bar  So there are little captions next to the items that are trying to tie in the "creativity" theme with the items.  Let's see if that holds up.  "Fuel Your Creative Mind and Body"  The Larabar is a great choice ~ it is Kosher, vegan, non-GMO and free from soy, dairy and gluten, 5 grams of fiber and only has 5 ingredients.  I received Nature Valley, not Kellogg's Nutra-Grain, which I am very happy about. This has toasted coconut, peanuts, granola with creamy almond butter.  I will eat these, as I do like the brands, but they are both really high in sugar ~ the Larabar has 22 grams and Nature Valley has 6 grams of sugar ~ so don't eat them both at the same time!    Theme Tie-In:  I will give them an B+ on this.  Perhaps maybe a more original or creative snack would be better for the theme.  RV $1.70/$1.30

Larabar Chocolate Coconut Chew Bar: Dates, Almonds, Walnuts, Unsweetened Coconut, Unsweetened Cocoa Powder

 Nature Valley Sweet & Salty Nut Toasted Coconut Granola Bar: Roasted Peanuts, Corn Syrup, Sugar, Whole Grain Oats, Palm Kernel Oil, Toasted Coconut, Rice Flour, Whole Grain Wheat, Vegetable Glycerin, Honey Roasted Almond Butter (almonds, honey, maltodextrin, palm oil, mixed tocopherols), Whey, Fructose, Canola Oil, Salt, Soy Lecithin, Corn Starch, Barley Malt Extract, Baking Soda, Natural Flavor, Vitamin E (mixed tocopherols)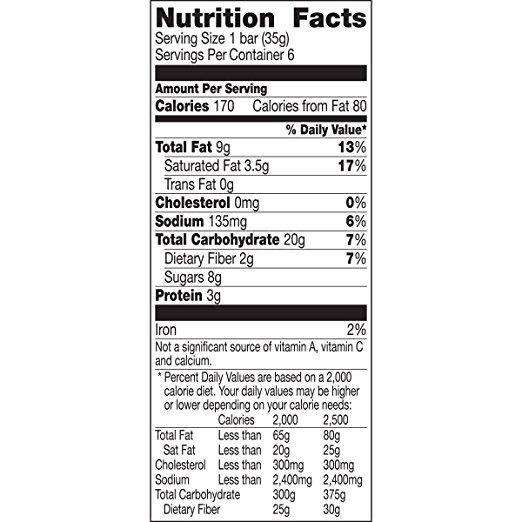 Revele Collagen Makeup Remover Tissues (60 count)  This item wasn't included in the info card, so I am not sure where the tie is for the theme.. However, these are facial wipes and they are handy ~ I am a big fan of facial wipes, so they will be used.  These are infused with collagen, so it will help moisturize and nourish your skin.  Facial Wipes are not a substitute for actual cleansing  ~ I use them as a quick way to remove makeup and grime but I will follow up with actual soap and water;  it may not happen right then and there, but within a few hours.  Theme Tie-In: I dunno as it wasn't included in the info card.  RV $5.00
Description: Collagen is essential for the health and appearance of your skin and this protein is also necessary to reduce the typical signs of aging. Collagen is an important building block for elasticity, and its ability to reduce the appearance of fine lines and wrinkles.  Towelettes for removing makeup, dirt, and oil. Leaves behind no heavy residue 
Ingredients: water, potassium sorbate, collagen, citric acid, sodium benzoate, aloe barbadensis extract, chamomilla recutita extract, glyceryl caprylate-caprate, dodecyl dimethyl betaine, tocopheryl acetate  cosDNA analysis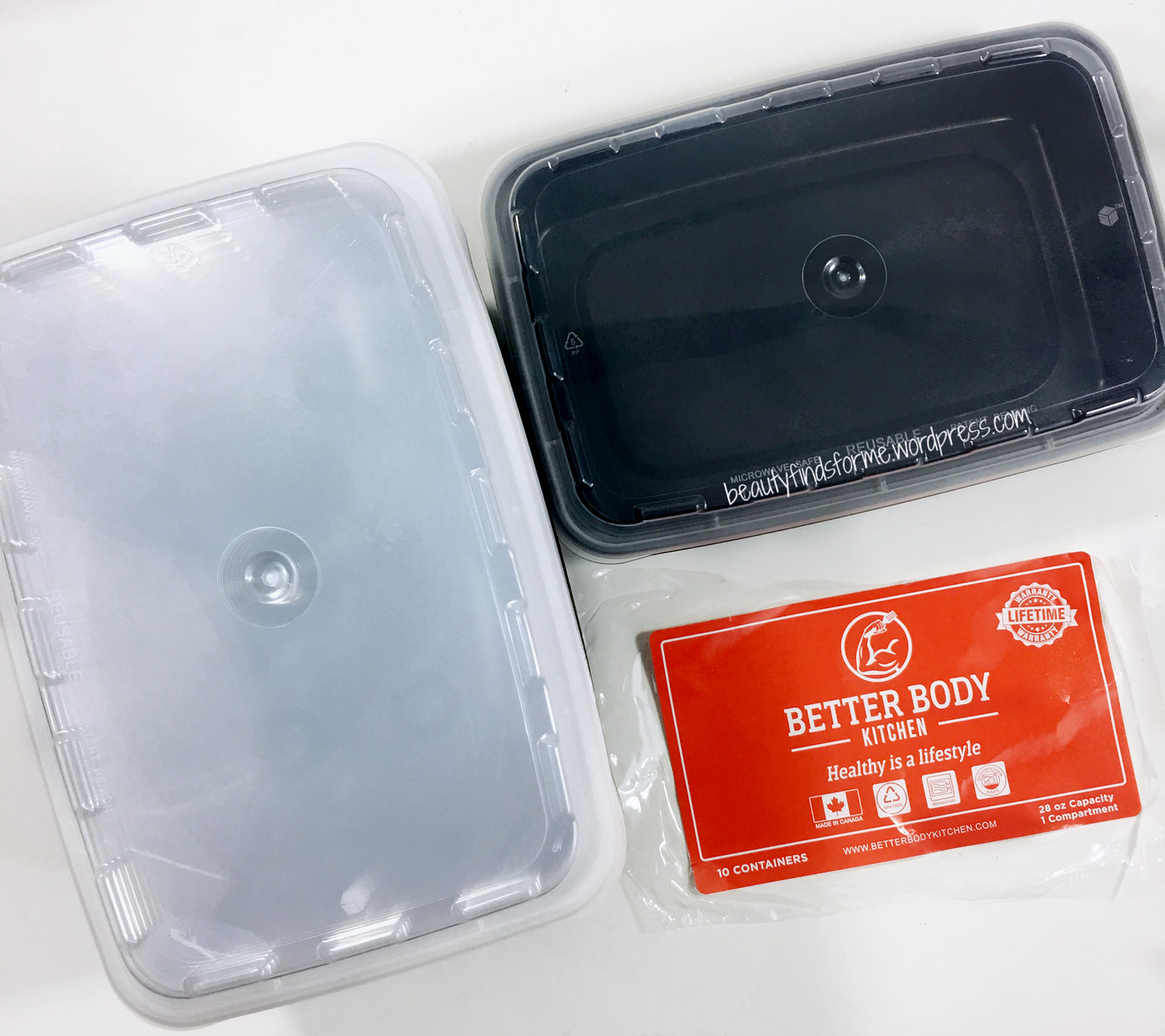 Better Body Kitchen Meal Prep Food Containers  (10)  These are BPA free containers, made in Canada and there are actually 10 of them ~ clear bottoms with black lids.  They are microwave , freezer and dishwater safe with a single 28 oz compartment, measuring 8.5 x 5.8 x 5.8 inches.   "Get Creative with a New Recipe.. then store your leftovers in your Bento Box"  Welp, these aren't Bento Boxes. Bento Boxes are containers with partitions.  These are tupperware like containers and there are 10 of them, which is nice. I can always use more tupperware containers, but let's not fool ourselves here. I know what a Bento Box is and these are not them.  It might have been better to tie it in with an unusual spice, like za'atar and recipes featuring that spice instead with the Creative theme.  Theme Tie-In: F as these are not Bento Boxes and not very creative.  They are a nice item to put in my kitchen, don't get me wrong, but for a creative theme ~ fail.  RV $24.90 Amazon. These get mixed reviews on Amazon, btw ~ so I might just use them to store food in the frig and not use the microwave on them.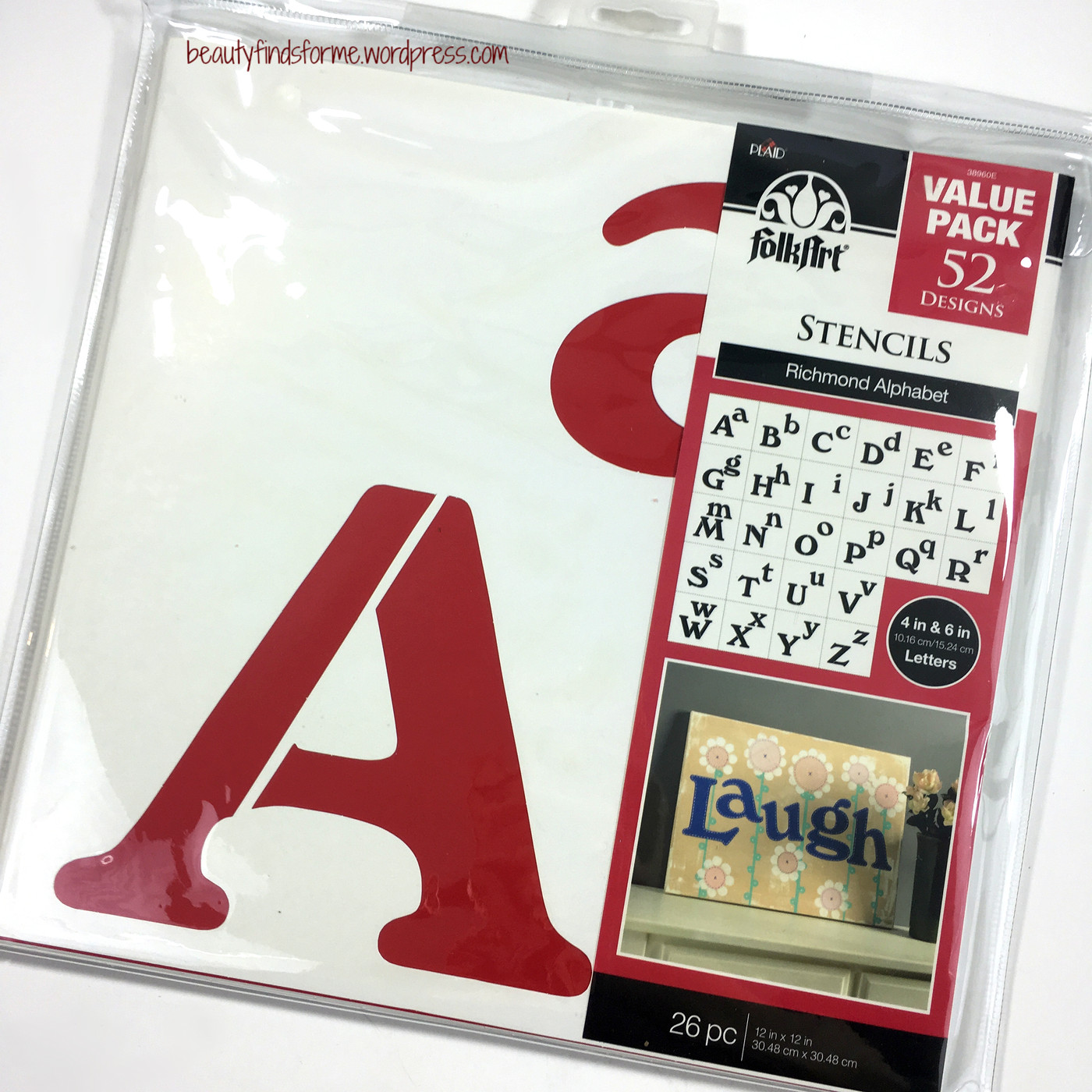 Plaid FolkArt Stencil Set in Richmond  Alphabet Letters (26 piece; 52 designs) So, I am not sure how letters are creative.  I mean, Plaid FolkArt makes some amazing stencil designs   These letters are 6 inches x 4 inches and they are reusable.  "Let Out Your Inner Artist"  Maybe these were a variation and I got the dull and boring stencils, but letters are not exactly letting out my inner artist.  That said, I don't use Stencils. I am sure some folks might enjoy this, but this isn't something I enjoy doing.  Plaid is having a site wide 20% off sale, with promo code HOLIDAY2017, plus free shipping with orders $50.00+  Theme Tie-In: B-  Stencils CAN be creative which is why this got a higher mark for the type of product, but the ones I received are not, which is why I dinged off a few points.  I wish they had done a woodland or floral stencil instead.  RV $14.99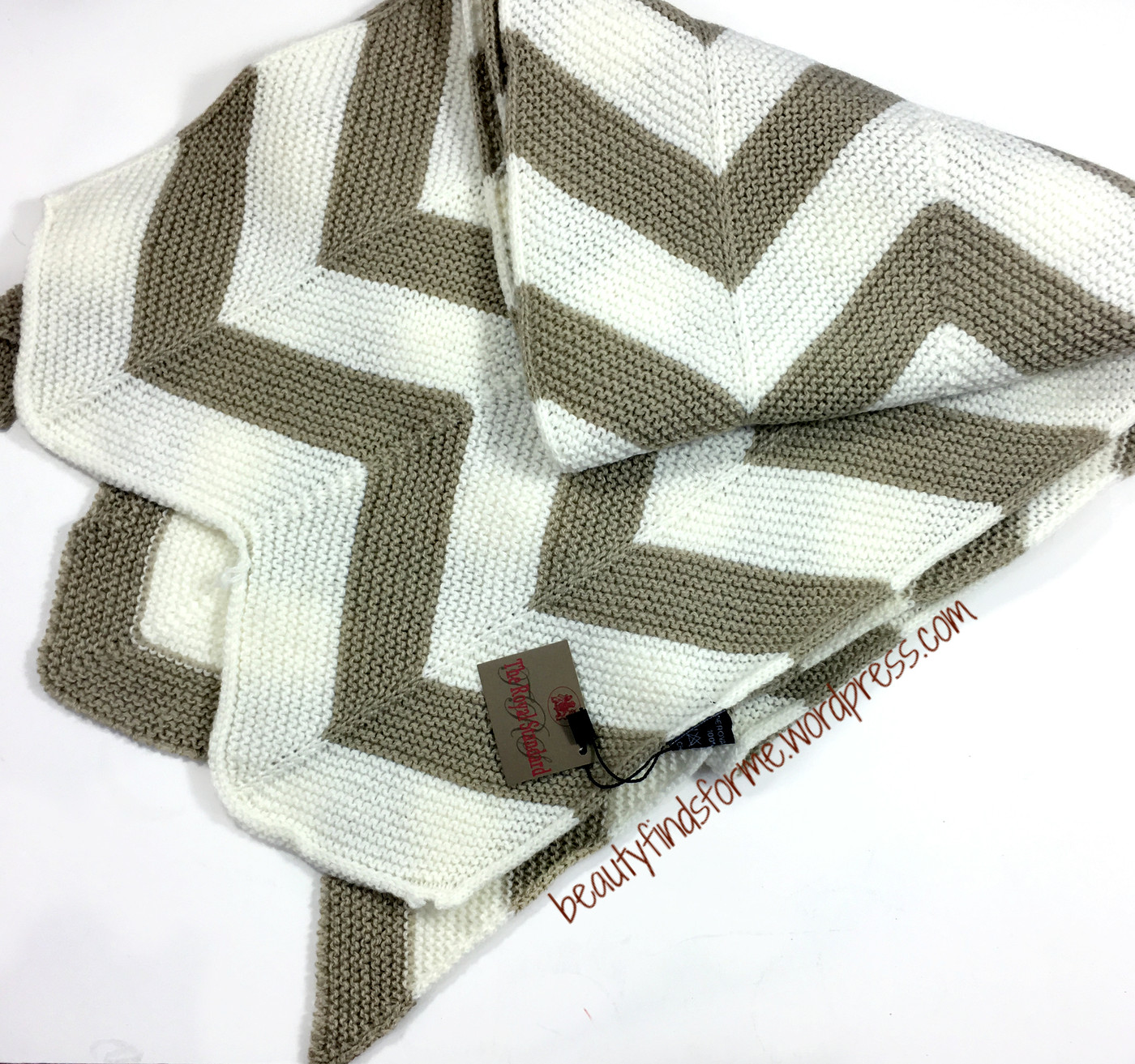 The Royal Standard Chevron Scarf   This is a long scarf at over 60 inches in length and about 15 inches in width.   This is a variation as we could have gotten gloves or a scarf.  This is okay, 100% acrylic in a taupe and cream chevron pattern. It isn't the loop scarf that is shown at The Royal Standard website, so this is probably discontinued. "Try Out a New Look "  The scarf is nice but nothing to write home about ~ it isn't fancy or a new trend, and it is a bit rough in its weave.  The Royal Standard has some beautiful scarves, even ones as low as $15.00, but this is not one of them. Its kinda dull and boring ~ it isn't the colors, its the design and how it is implemented.   Theme Tie-In:  F  This scarf reminds me of the 1980's and not in a good way.  RV $15.00
Final Thoughts
Hmmm.  Well, for a box about embracing your creativity, this curation was not very creative.  It was not even that cohesive.  There were a lot of ways to make this creative and it just seemed like it failed on so many fronts.  I am not saying that the products aren't okay, but they are actually bordering on the theme of  "Embrace Your Mediocrity"  ~ this is a dull box, with nothing to get "ohh, this is a cool product and very interesting".  The best items in the box were the snack bars!   I get my boxes courtesy from Peaches & Petals for an honest review and I will say this, if I had to pay $19.99 for this box, I would have been upset. I hope that this was a good constructive criticism of the box and they don't get too upset with my unboxing review!!   Peaches and Petals has done much better boxes than this in the past ~ they need to find out how they managed to curate the September 2017, May 2017  and March 2017 (the best one so far this year!) and learn from why those were favorites.   
Peaches & Petals monthly subscription boxes are $19.99 a month and that includes shipping.   This month, the box looks to be of  a retail value around $62.00, based on the retail value of the items, but it just goes to show that a high value box is not always a good box.  Many thanks to Peaches & Petals to sending this me for review purposes ~ I always look forward to seeing what P&P puts in their boxes! Did you receive this month's Peaches & Petals box?  What was your favorite item and what do you think of it?

If you would like to subscribe to Peaches and Petals, I wold love it if you used my referral links!

GIVEAWAY
I am just sharing information that Peaches & Petals is having a giveaway.  You can win six months of free Peaches & Petal boxes! Just enter here at Peaches & Petals.   I am not responsible for the giveaway, it is HOSTED by Peaches & Petals.  Any questions you might have about this giveaway or its contents, please contact them via their website here. This giveaway ends on December 31, 2017.
[ products were received complementary for review purposes.  All opinions are my own and are unbiased.   ]
[ Blog post contains affiliate links and referral links. Descriptions in italics from linked site ]
Save
Save
Save
Save