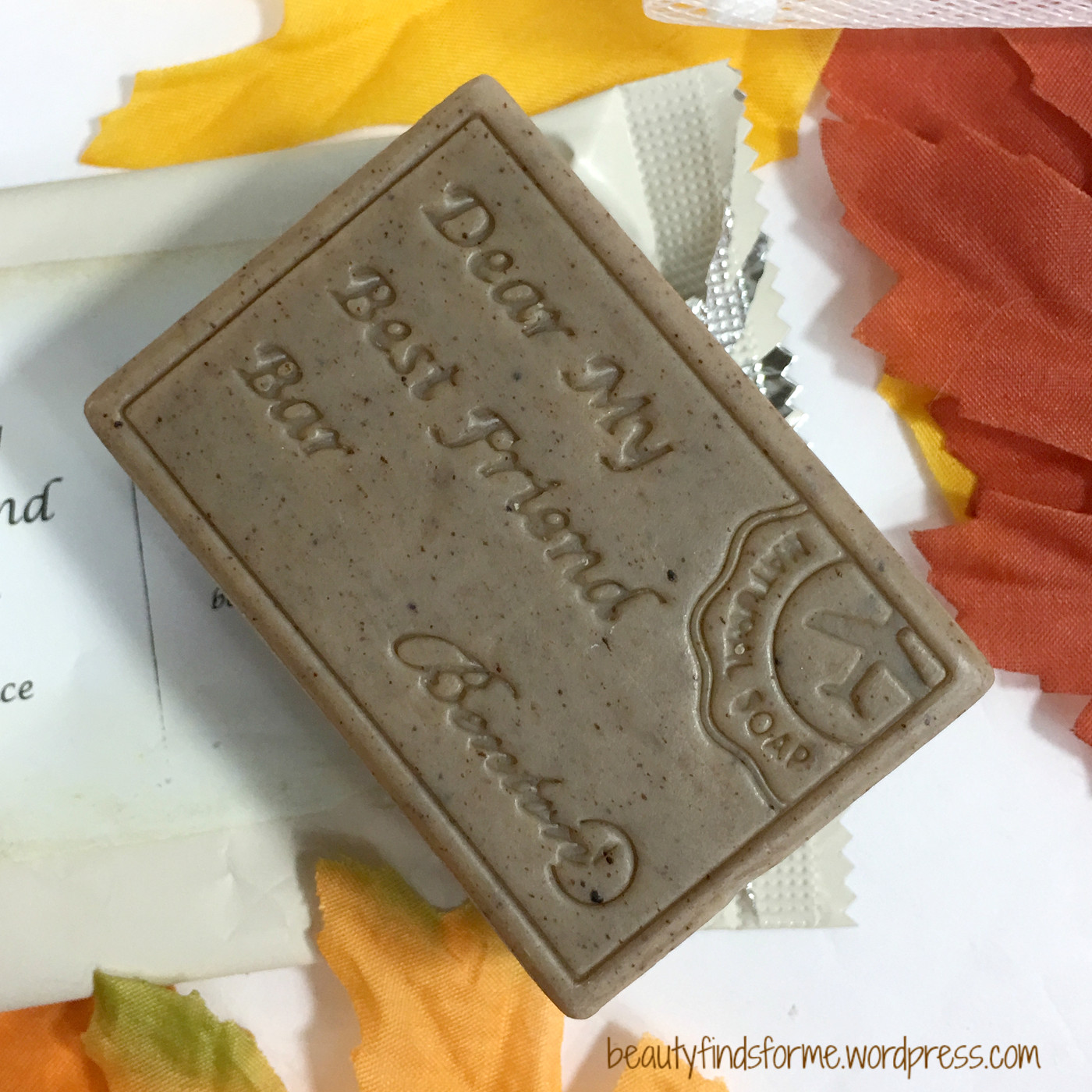 Benton is on a roll this year!! This is the 4th new item this year and it is a cleansing bar.  Many thanks to Benton for generously supplying this soap for review.  I enjoy Benton products, even though the recent releases have not been all good for my skin type ~  see my reviews  here.   I am excited to see this soap bar ~ I guess the latest trend is bars of soap instead of liquid soaps.

Skin Type/Concerns: Oily, blemish prone, aging concerns, pores, fine lines/wrinkles and hyper-pigmentation
Just Fun Info:  Ever wonder how Benton came up with their name?  Well, according to their webside, it came from a movie
The name and definition of Benton took its motives from the movie 'The Curious Case of Benjamin Button' (also known as 'Benjamin Button goes backwards in time' in Korea) which had a warm touch on many people's heart. In the movie, Benjamin is born as an old man and he becomes younger and younger as time goes by and ultimately dies as a new born baby. Benjamin happens to deeply fall in love with a woman named Daisy. However, as time goes by and as Benjamin becomes younger he has no choice but to leave Daisy. What if Daisy could have also turned back time on her physical appearance, wouldn't she be happier? It may just be a fictional movie, but wouldn't most people have the same desire to be young again? Benton's desire is to turn back the time of your skin. Unlike the instant temporary effect created by the chemical ingredients, we hoped to improve skin care by using the natural ingredients in our products which will help regain your skin to its original healthy condition.  (source bentoncosmetics.com)
Dear My Best Friend Bar is a natural soap for both body and face.  We wished to present a rest to your BF, body and face, and hence named the soap 'Dear My Best Friend Bar'.   Dear My Best Friend Bar (aka BF Bar) is Benton's first naturally-derived soap made with a vegetable oil base and various botanical ingredients,  which enable moisturizing cleansing.
What is it?
Well, it is soap, of course. However, it is is a naturally derived CP (cold press) soap. It is saponified by mixing the vegetable oils and sodium hydroxide, allowing the  beneficial moisturizing ingredients of the vegetable oils and glycerin, which are naturally generated by the sapnoification, will be produced and will cause it to be more moisturized than other non CP soaps. This soap is good for the whole family, according to Benton.  According to Benton, this soap will help remove excess oil and doesn't leave your skin stripped as it contains 8 botanical oils and honey to keep your skin moisturized. It is dermatologically tested and is considered an non-irritating soap.
It has a gentle formula, made with a vegetable base with eight nourishing, moisturizing oils ~ coconut, palm, olive, castor seed, grape seed, macadamia, rice bran, avocado ~ along with shea butter that will help moisturize your skin.  Honey will also help moisturize while preventing moisture loss.  This soap will also help remove dead skin cells ~ with ingredients such as papain ~ Papaya contains an enzyme called papain which has anti-inflammatory and anti-bacterial benefits. It will exfoliate your skin without irritation by gently loosening dead skin cells and removing them from your skin, making your skin smooth, vibrant and healthy. Papain solves a variety of skin issues, such as acne, dry skin and premature aging while providing pore and sebum care. Cocoa seed powder is rich in antioxidant polyphenols and minerals and will help control oil and remove dead skin cells. Super-food Oatmeal will keep skin moist, supple, helps remove oil and dead skin cells.  Basil also helps control excess oil and will help clear up and heal blemishes. 
This also has calamine ~ which we all probably remember as that pink stuff mom used to put on our bug bites, is used to help soothe and calm our skin, while helping to brighten our skin tone as well. Hinoki cypress contains phytocide, helping to relieve skin stress and has soothing antioxidant benefits, along with lavender oil, helping to heal and calm skin.  Tea tree has  healing and disinfectant properties and can help speed up wound healing and reduce scarring.  It helps with preventing dry, flaky skin and because of its antibacterial properties, can help heal current blemishes while reducing future blemishes and control excess oil. This also has propolis, a natural antibiotic, blemish treatment and anti-aging moisturizing ingredient. Centella asiatica is also used to help speed up healing of blemishes and skin rashes and witch hazel, another  antibacterial and antiseptic, helping clear up acne, remove excess oil, speed up healing while soothing your skin.  This also has kaolin in it, to help absorb excess oil and detox skin.   
Ingredients:cocos nucifera (coconut) oil, elaeis guineensis (palm) oil, olea europaea (olive) fruit oil,  ricinus communis (castor) seed oil, vitis vinifera (grape) seed oil, macadamia integrifolia seed oil, butyrospermum parkii (shea) butter, oryza sativa (rice) bran oil, water, sodium hydroxide, ocimum basilicum (basil) extract, avena sativa (oat) kernel flour, citrus unshiu peel extract, theobroma cacao (cocoa) seed powder, calamine, persea gratissima (avocado) oil, moringa oleifera leaf extract, papain, hamamelis virginiana (witch hazel) leaf extract, honey, melaleuca alternifolia (tea tree) extract, propolis extract, kaolin, centella asiatica extract, laminaria japonica extract,  lavandula angustifolia (lavender) oil, chamaecyparis obtusa  (Hinoki cypress)  oil cosDNA analysis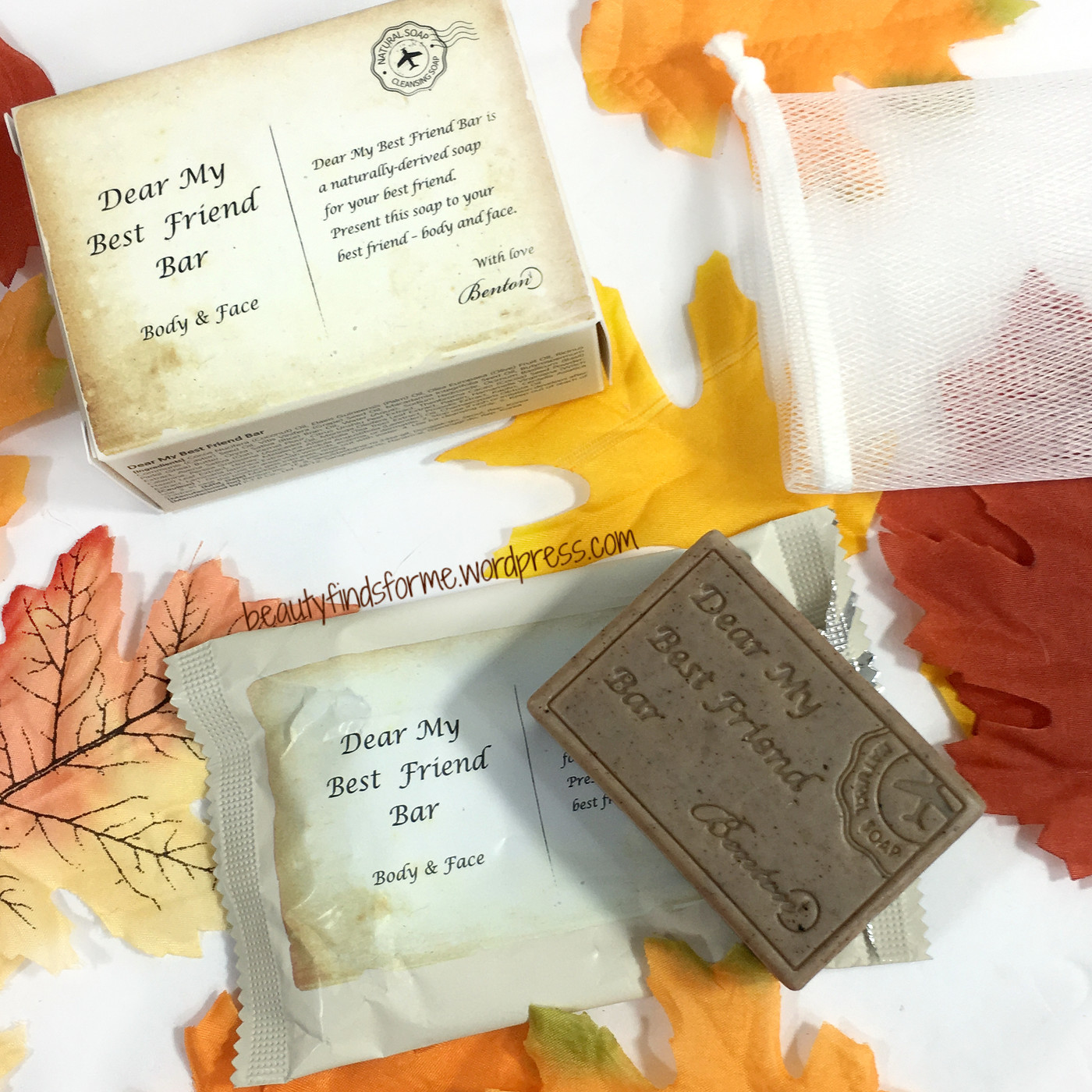 Benton makes a point that their BF Bar  is for the following skin types and concerns:  
Dry and sensitive skin that feels stripped after cleansing
Oily face or oily body parts
Blemished skin: face, chest, back
Bumpy and rough skin
Skin tired from body wastes and external stressors
Skin that wants a healthy, naturally derived soap
Mild and moisturizing cleanser without skin tightness
Healthy natural soap for body and face
This 100 gram soap comes in a box and is wrapped within a foil, so it is double protected before you get your hands on it. It also comes with a little foaming net so you can create a good foam with this soap. It is a milk chocolate brown in color with black specks scattered throughout the soap ~ that is the cacao seed powder, so it looks like some physical exfoliation can be found with this soap. This is a nice sized soap but you need to make sure to keep it dry when it is not in use ~ I have a little soap drainer, but you can also use the foaming net to hold it and hand it up to dry.  The scent of the soap smells like cocoa butter and a herbal-soapy scent to me.

black specks are cacao seed powder 
Let's talk about the pH level.  A while ago, I did a lot of research into soaps and pH levels as I wondered why I didn't seem to be adversely affected by a higher pH.  Most of my high pH soaps are organic liquid soaps or handcrafted cold pressed soaps.  The Benton BF Bar is a cold processed soap, which means it is produced through the saponification process. Cold process soap is naturally alkaline and its pH level can range between 8.5 and 10.5.  However,  from my research (and remember, I am not an expert),  that doesn't necessarily mean it is harsh.  What makes a high pH soap harsh is something called "free alkali", which is a leftover alkali solution that was used during the saponification process ~ excess alkaline that didn't get removed after the soap making process.  Mass manufactured soap has this problem.  This "free alkali" will take your natural oils in your skin and leave your skin dry and squeaky clean. If you face feels squeaky clean after cleansing, your soap is too harsh.  Quality handcrafted soap shouldn't have this issue ~  A high pH organic handmade bar of soap can be safe so long it has a triglyceride and free fatty acid (FFA) content.  In other words, it comes down to ingredients and process. Which just goes to show that a high pH level isn't necessarily a bad thing so long your skin is healthy and has not been compromised.  The next time you get a really lovely handcrafted bar of organic, natural soap, think about that.

This does have a pH level of about a 9.5 (my water is around a 9 too!)  but I do not have compromised or dry skin, so I have no worries using this.  If you are interested more about high pH soaps, here is some information I wrote up previously at my blog
Ahh yes, high pH cleansers. They get such a bad rap and I was even into this for a brief while until I realized that my dermatologist has prescribed high pH cleansers for me in the past ~ my doctors aren't quacks, ignorant or know less than me.  And I cannot discount personal experience ~ for decades of my long life, I used high pH cleansers and my skin has not been irreparably damaged from a cleanser. I look at my mother's skin (she of the bar soap)  ~ soft, glowing skin with age appropriate wrinkles.  Now that said, I won't force a high pH cleanser down someone's throat, but then again, I won't automatically speak evil of it. Like all cleansers, low or high, I have to try it out first before I can say yeah or nay.  Skincare and skin types are so personal and whereas I, with my naturally oily and healthy skin that is prone to hormonal acne, can use a high pH level without any fear, others cannot.  Those with dry skin, sensitive skin or skin that has been compromised so badly that it is apparent that you shouldn't go near it.  The lovely Sample Hime had a great blog post a year ago that discussed this and the amazing Japanese skincare blogger Ratzilla tweeted out a study (found here) that showed that the skin's pH level was not significantly raised by with cleansers, regardless of the cleansers pH level.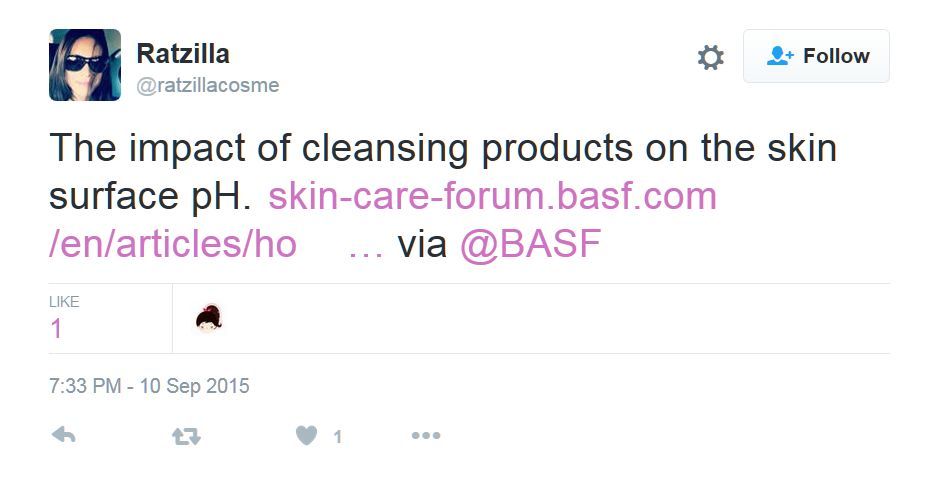 There are times when I love a cleanser that by chance is low pH (Ciracle TeaTree Anti-Blemish) and hate it when it is low pH (cosRX Good Morning).  Same with high pH cleansers ~ some I love ~ Missha Fermentation Cleansing Foam in Citron and others I loathe ~ the reasons were not "high pH ~ curses!", but for other reasons that made the cleanser a loser.  There will be people who have tried everything to help with their skin concerns and they turned to low pH cleansers for help ~ that I will not deny ~ that is what worked for them based on their skin needs.  Everyone's skin care needs are different and I do not subscribe to "high pH is automatically bad". That is just my opinion, based on what I have used and works for me.  Reviews are to help you decide if this is a product that you wish to use or not.  It's all copacetic and I don't profess to be a skincare expert at all.  Now off my soapbox (hahaha) … and back to my review.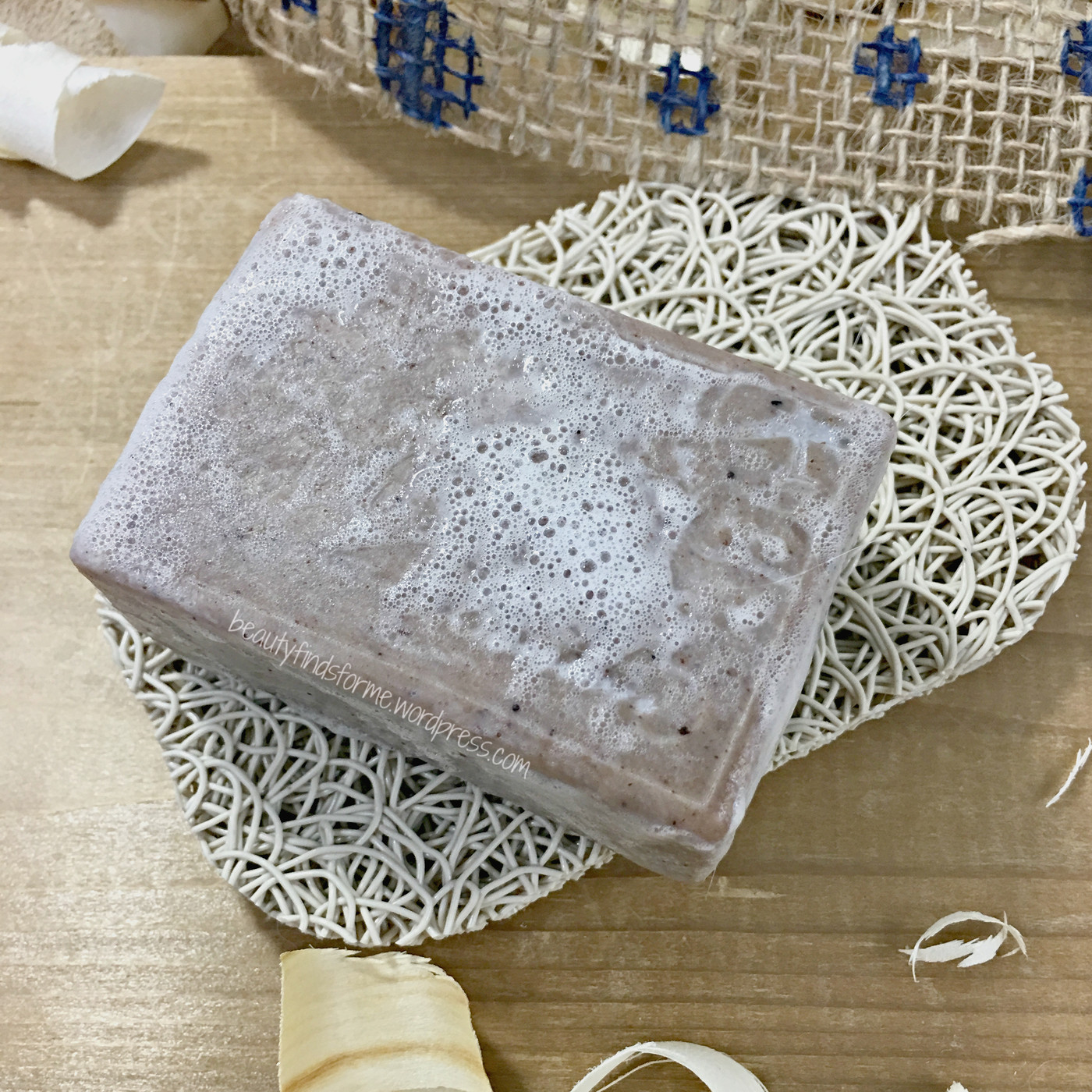 Let's talk about performance.  This soap foams up nicely with a creamy lather ~ my photos do not do it justice at all.  I never felt that this soap made my skin feel dry or tight at all and my skin is very clean and clear.  I use a pore brush to foam up the soap, not the foaming net, and I like to apply the soap on my face and leave it on for a few minutes to really deep clean, soak up excess oil and provide antibacterial and healing benefits to my skin. Rinsing off, my skin feels moist and soft ~ I have read other reviews, however, that this soap made their facial skin tight and dry, caused itchiness, so  they used it as a body soap with great success.  This can be used on your body ~ if you find that you want to use it both on your face and body, I would suggest cutting the soap in half and make sure that you keep your facial soap for your face and the body soap for your body.  Or buy two of them!! 

Benton BF Bar cleanses nicely as a 2nd step foaming cleanser.  In fact, I barely started to clean my hand with the soap when all of the makeup just dissolved off. This soap is great at removing makeup!

Final Thoughts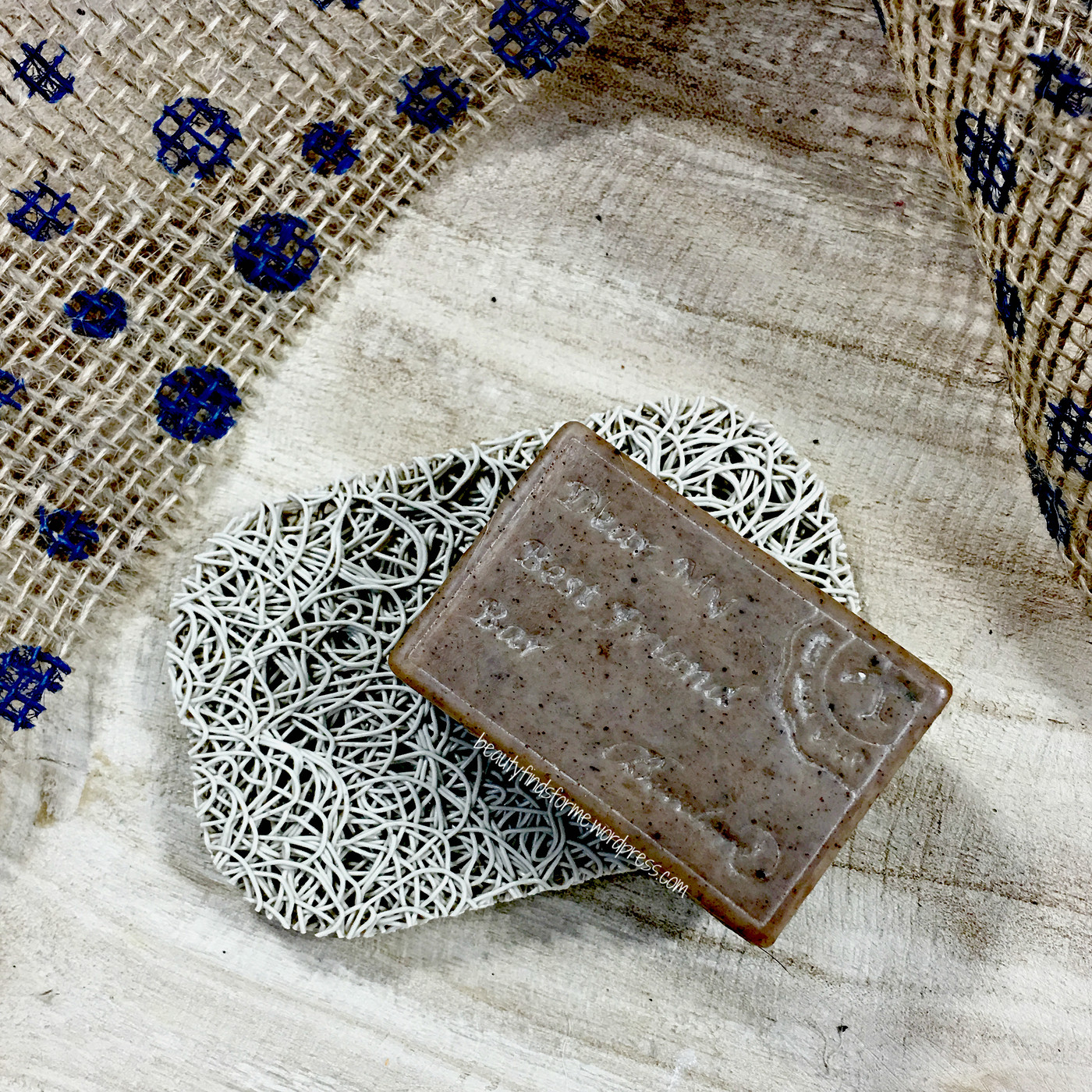 If you can handle a higher pH soap, the Benton BF Bar is a good one to try out ~ I really enjoyed the creamy lather and deep pore cleansing benefits this bar provided, all while leaving my skin feeling refreshed and moisturized.  Every skin is different, so read several reviews with different skin types on soaps to determine if this soap is for you.  I love cold pressed soaps and this one cleanses well, comes in a cute packaging, has exfoliating benefits and Benton thoughtfully included a foaming net! It is chock full of great ingredients, which is why I like to pamper my skin by leaving it on for a few minutes to take advantage of those ingredient's benefits and properties.  I didn't notice a reduction in hyper-pigmentation or scarring, but it did help dry out and heal my blemishes, therefore preventing more damage to my skin.  Have you tried Benton BF Bar?  Did you like it?  Or are interested in purchasing it?  Let me know in the comments below! 
Disclaimer: Benton requested that a review be made by December 6th (I am a couple of days late!), so that is why you might see a lot of these reviews around.  They also will give $50.00 worth of skincare goodies to reviews they deem the best one.  I do not know how they will chose their best review ~ if it is based on the content or just a glowing review.

Where to Purchase
This was just released, so right now, I only found it on a few sites. Benton is very popular,  however, so it is a matter of time before it will be more wildly available.  Check out my Promo/Referral (click here) page for coupons and referral discounts at some of these stores before purchasing ~ you might save some money.  This is a 100 gram solid bar and you should be able to purchase this for around $15.00 USD and under.

eBay (best price right now!)


[ disclaimer: product received for review purposes.  all opinions are my own ]