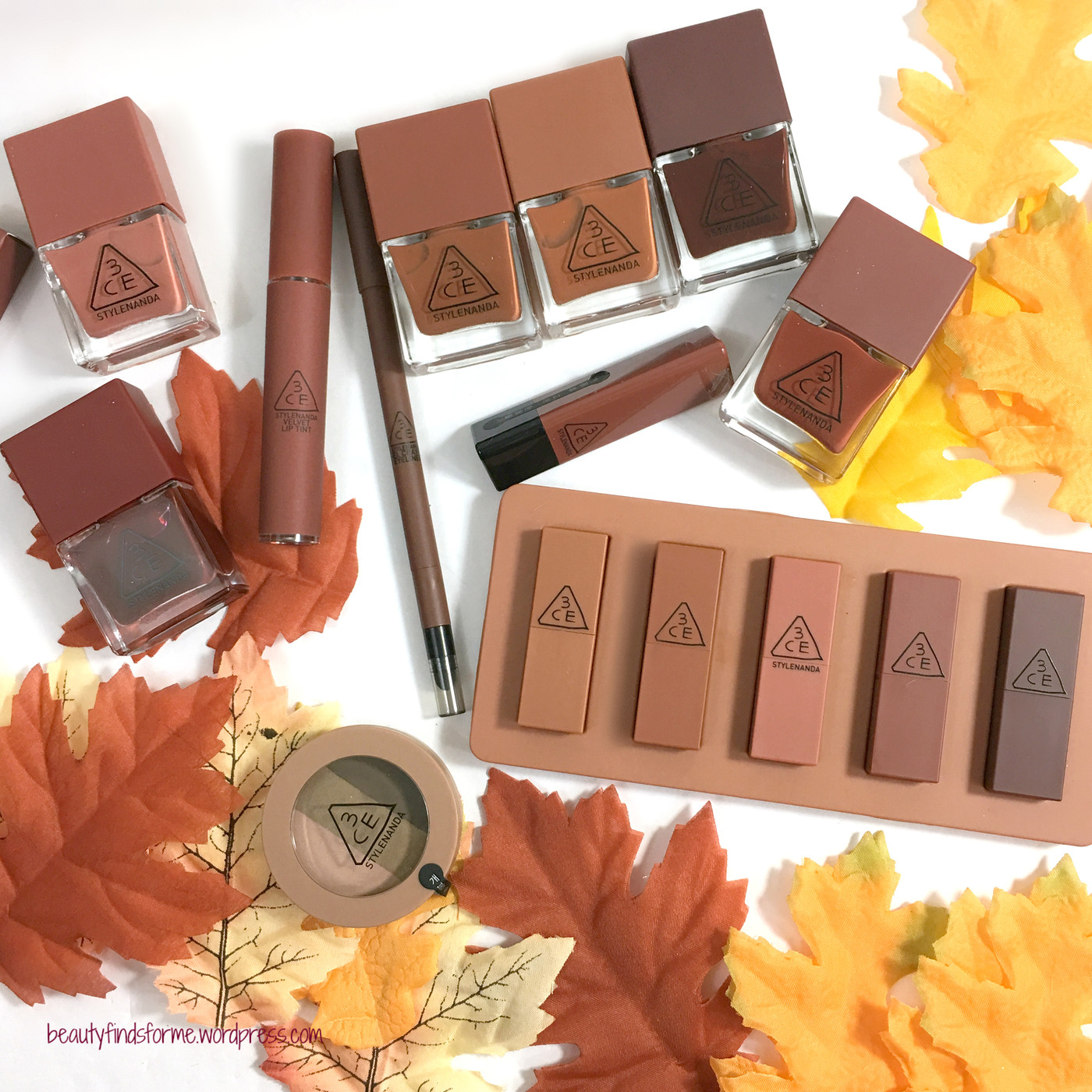 Disclaimer: I was enabled by seeing @kimono_kat's story for a mini 3CE Mood Recipe Matte Lippie collection.  You might be enabled as well!  I am not really that familiar with 3CE ~ I have seen their makeup products around, but like another makeup brand I like, Beige Chuu, they don't seem to get a lot of buzz on social media.  Well, they should.  I first purchased the mini collection from AntCos Mall site and then went looking for more and couldn't find anything there. That led me to two other sites, BB Cosmetics and Style Nanda, which is the official 3CE site.  I purchased from Style Nanda, as BB Cosmetics did not have any of the nail polishes.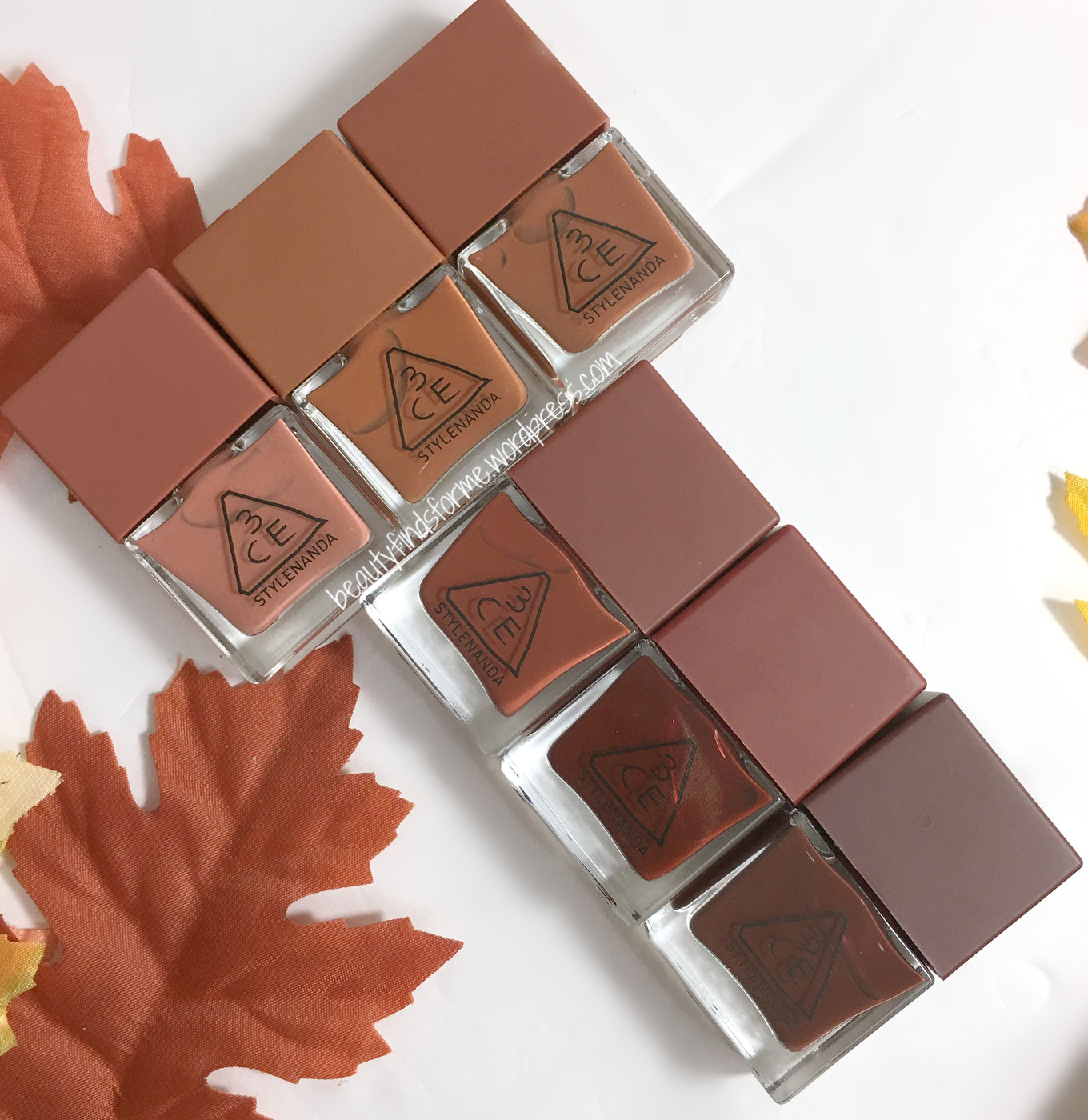 Long Lasting Nail Lacquer ~ these have a very glossy finish and are extremely pigmented creme nail polishes.  I don't know about the claims of long lasting, as I always peel my nail polish, but I can attest to the pigmentation. One coat is all you need and I get a deep, vivid shade that is opaque.  These are a steal, in my opinion, at $5.00 each and there are five warm shades in the Mood Recipe line. I chose all five of them and also one from the Red Recipe line, as I love a good vampy red shade.  The descriptions in italics are from Style Nada themselves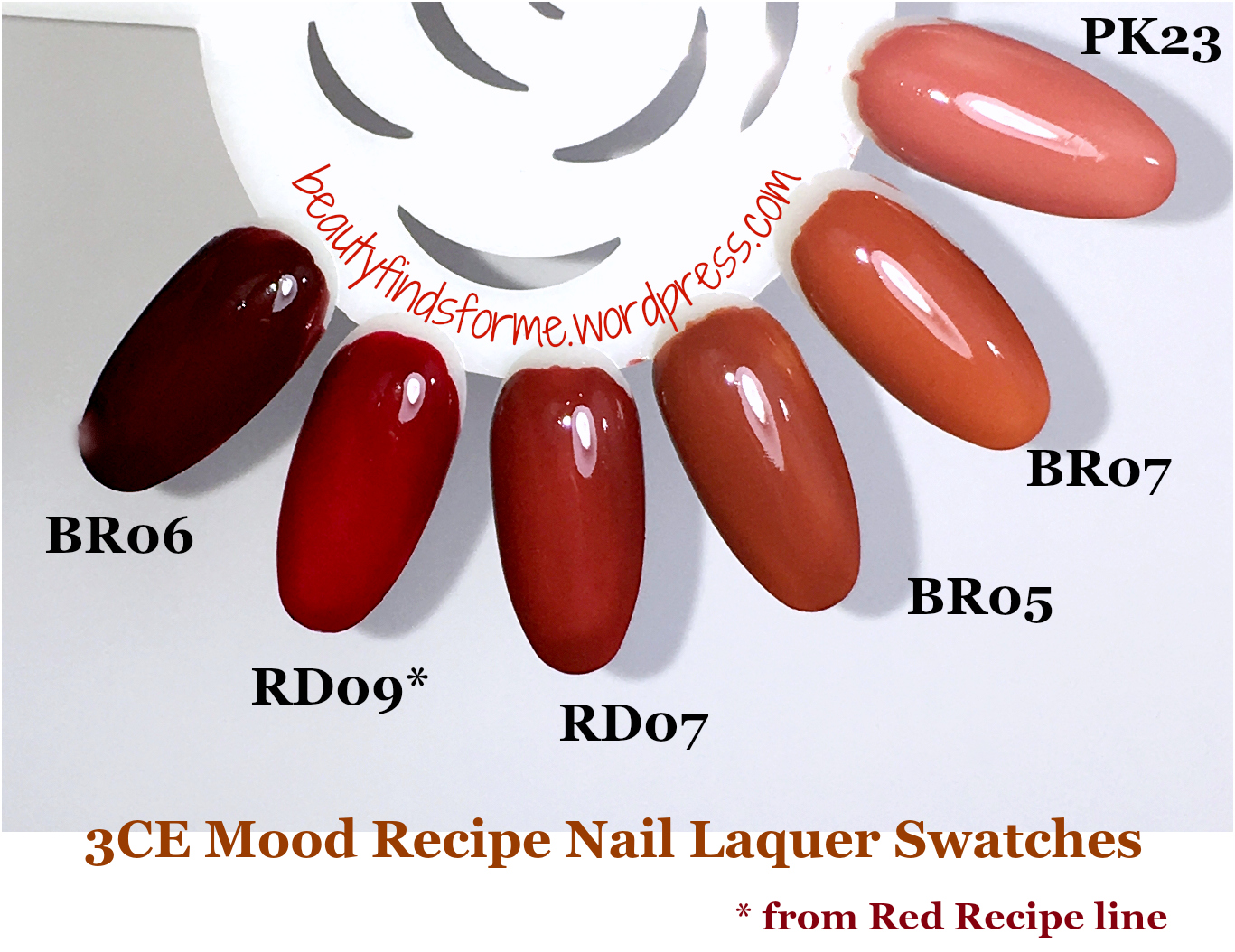 PK23 Calm Yellow Pink "A feminine color to match soft and fluffy sweaters"
BR07 Warm Yellow Brown "A fall color appropriate for casual parkas or jackets"
BR05 Warm Red Brown "A sophisticated color that goes well with a modern trench coat"
RD07 Chic Warm Red "A seductive red color fit for boxy and rough denim jackets"
RD09 Deep and Rich Burgundy Red "Turn sultry in an instant with this black-burgundy" ** Red Recipe

BR06 Well-Ripened Cherry "A chic color to pair with your slick moto jacket"
RD07 and RD09 may look very similar, but they are different.  ~ I found that RD09 was much more deeper than shown in my photo.  However, I got six nailpolishes because I needed to get to a $100.00 in my cart, thanks to Style Nanda's shipping prices.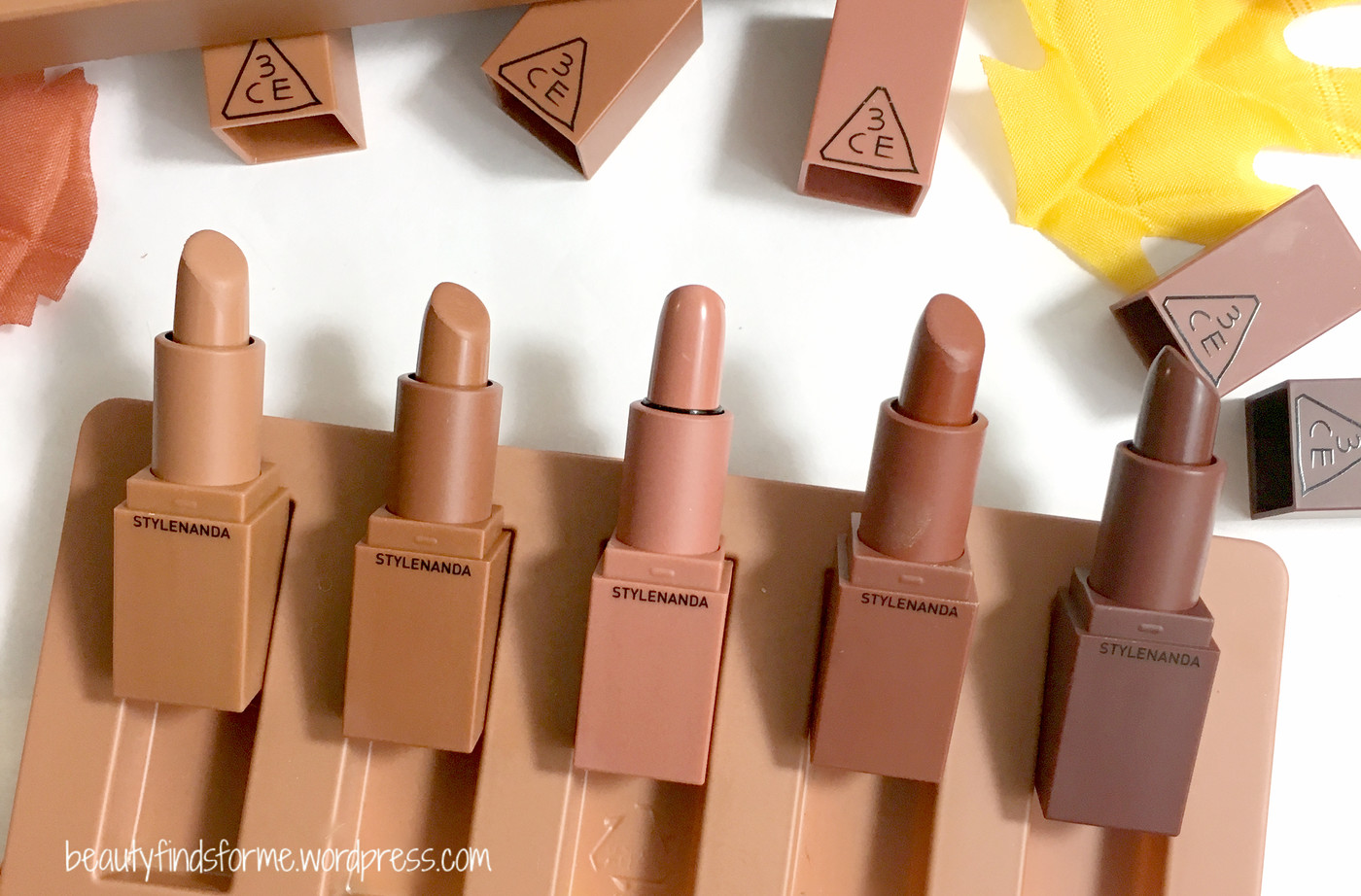 Mood Recipe Matte Lip Color  This is a great little mini set of lipsticks and quite frankly, I wish all lipsticks were this size.  I am a lipstick junkie and I prefer mini sizes.  These are all matte, but they are creamy and very pigmented.  This lipstick just glides on and will stay on lips, so long I don't eat anything ~ it does pass the coffee mug test ~ as in, it stays on my lips.  This formula doesn't cake or make my lips look like I have been mummified, which some matte lippies do. My favorite is Smoked Rose, really pretty and perfect for fall.  Once again, the description below is from Style Nanda and this time, I was a bit amused by the descriptions.  Some of them are like little poems and some of them make this feminist snort in laughter.  This best price for this set can be found at BB Cosmetic at under $37.00
These swatches were done under a bright white lights and then in a more dimly lite room.  The top photo is more in line with the actual shade than the bottom one.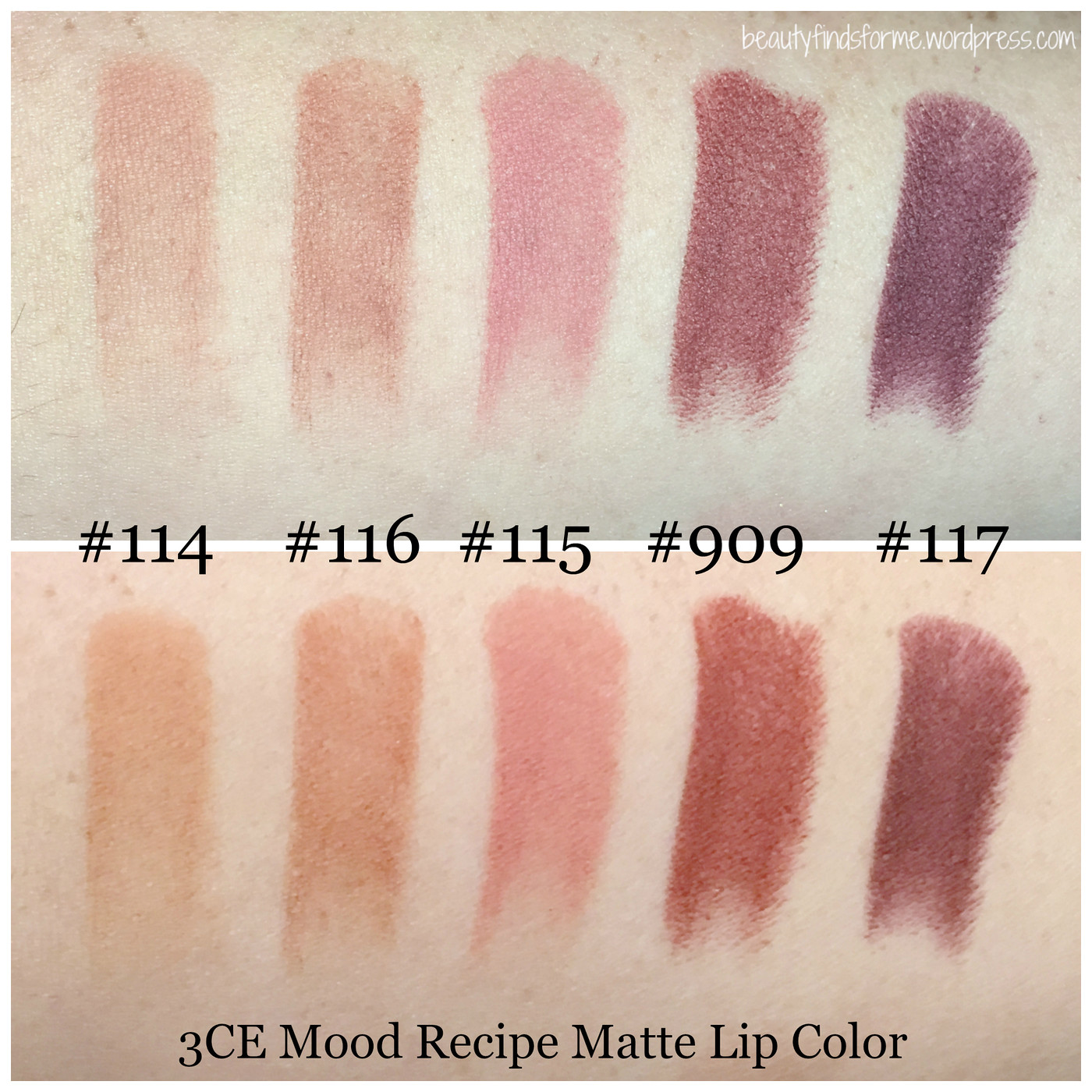 #114 Rows "A nude beige tone befitting of runway models"
#116 Inked Heart "A captivating peach-brown lipstick tone that creates the perfect shade when blended with your natural lip color"
#115 Muss "This rose beige color is the ultimate statement of femininity, with a softness that will make your face radiate"
#909 Smoked Rose "A departure from your typical brick rose shade; this unique lip color is on the borderline between red and rose"
#117 Chicful "A unique deep reddish brown lip color never seen before, with a bold fierceness that simple demands attention"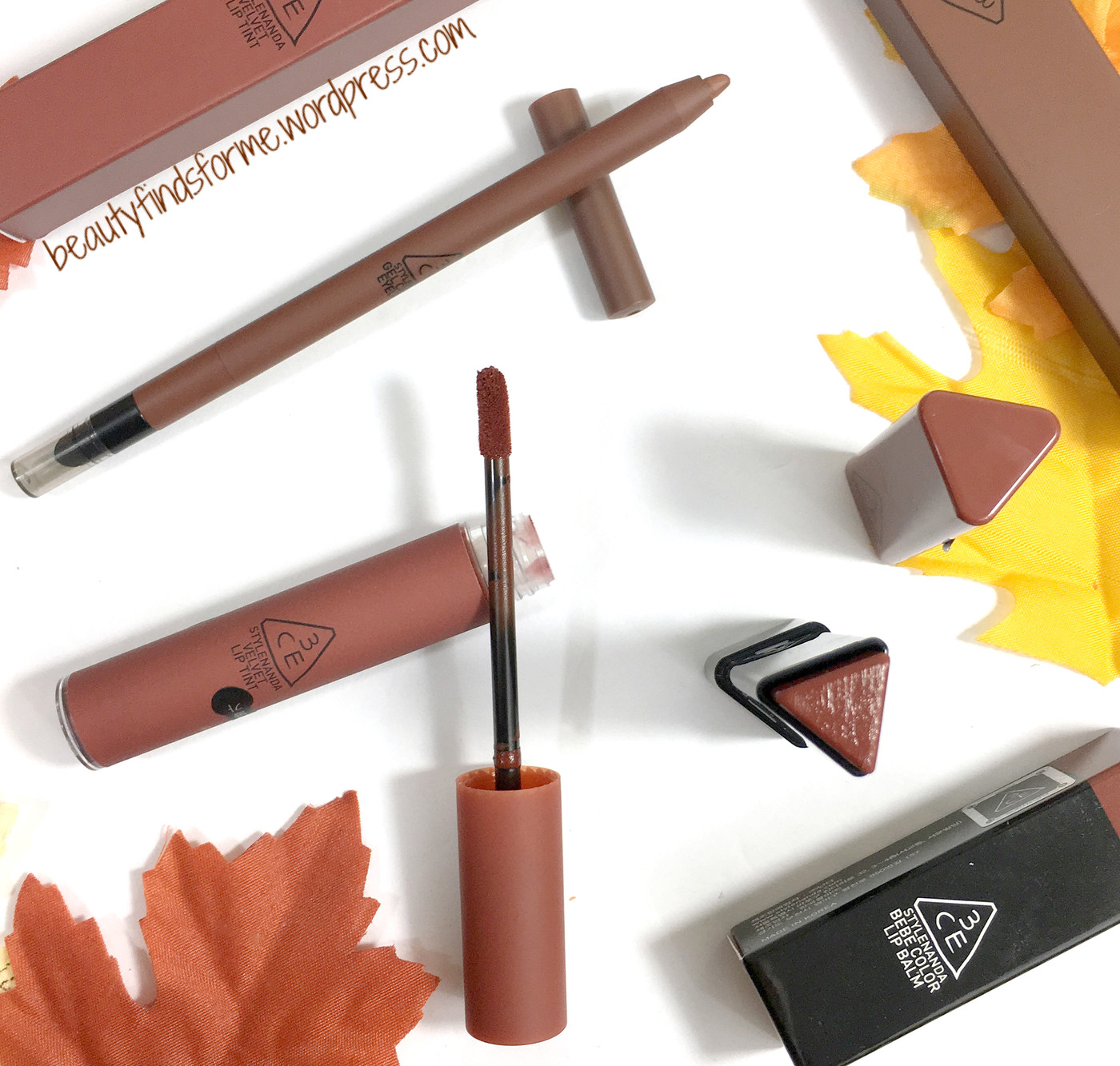 What prompted me to really expand my 3CE collection was the Velvet Lip Tint in Taupe, which I saw on  3CE's Instagram.  It is so pretty and just another brown shade to add to my overflowing Marsala collection. The Color or the Year for Marsala is over and done with, but shush, don't tell anyone.  That is my favorite ever shade for lippies.
Velvet Lip Tint in Taupe  "A brick red devoid of burgundy, with unprecedented touches of deep beige"  This is so creamy and soft with its doe foot applicator.  It is a matte tint without being cakey ~ very lightweight velvet texture.  This is so pigmented straight out of the tube, but a quick touch of my fingers to my lips, and I can blend it out for a gradient soft lip.  Wash your hands right after, as this will stain.   Both BB Cosmetic and Style Nanda carry this item, plus more shades in the Velvet Lip Tint line.  I purchased this one from Style Nanda, but I then went to BB Cosmetic to purchase two more shades ~ it is a couple of dollars more at BB Cosmetic, but shipping is free.  RV $19.00 ~ $22.00

Mood Recipe Gel Crayon Eye Liner in Hug "A warm rose brown color to enrich the eyes, this shade is a delicate blend of brown and rose that softly but surely adds definition" I wasn't looking for a gel crayon eyeliner, but I did wind up purchasing this one and I am SO glad I did.  This color is so pretty and unusual ~ it can be used as an eyeliner or an eye shadow.  Work fast, however, as this very pigmented eye crayon will set and stay put.  I love that this is so creamy and smooth to use, glides on easily with a nice tool on the other end ~ the smudging sponge is visible on the other end, but remove the whole piece to see a sharpener that you will use to help keep the crayon nice and defined.  If you are a fan of Anastasia Beverly Hills Modern Renaissance Eye Shadow Palette (which I own and love), you need this eye liner to complete the look!  RV $16.00
Bebe Color Lip Balm in Pepper "Blackish red of dual attraction delivers sweet moods of freshly squeezed nectar of fully ripe blackberries"  Okay, that was a nice little poem!!  haha  This is SUCH a cool lip balm.  The tube is a long triangular shape ~ really a fun piece.  And the balm?  Love it!  It is a sheer blackened berry shade, but has good pigmentation for a sheer lippie.  It can be built up to a darker color, especially if you use a lip brush.  This lip balm is very glossy and moisturizing without being sticky.  RV $16.00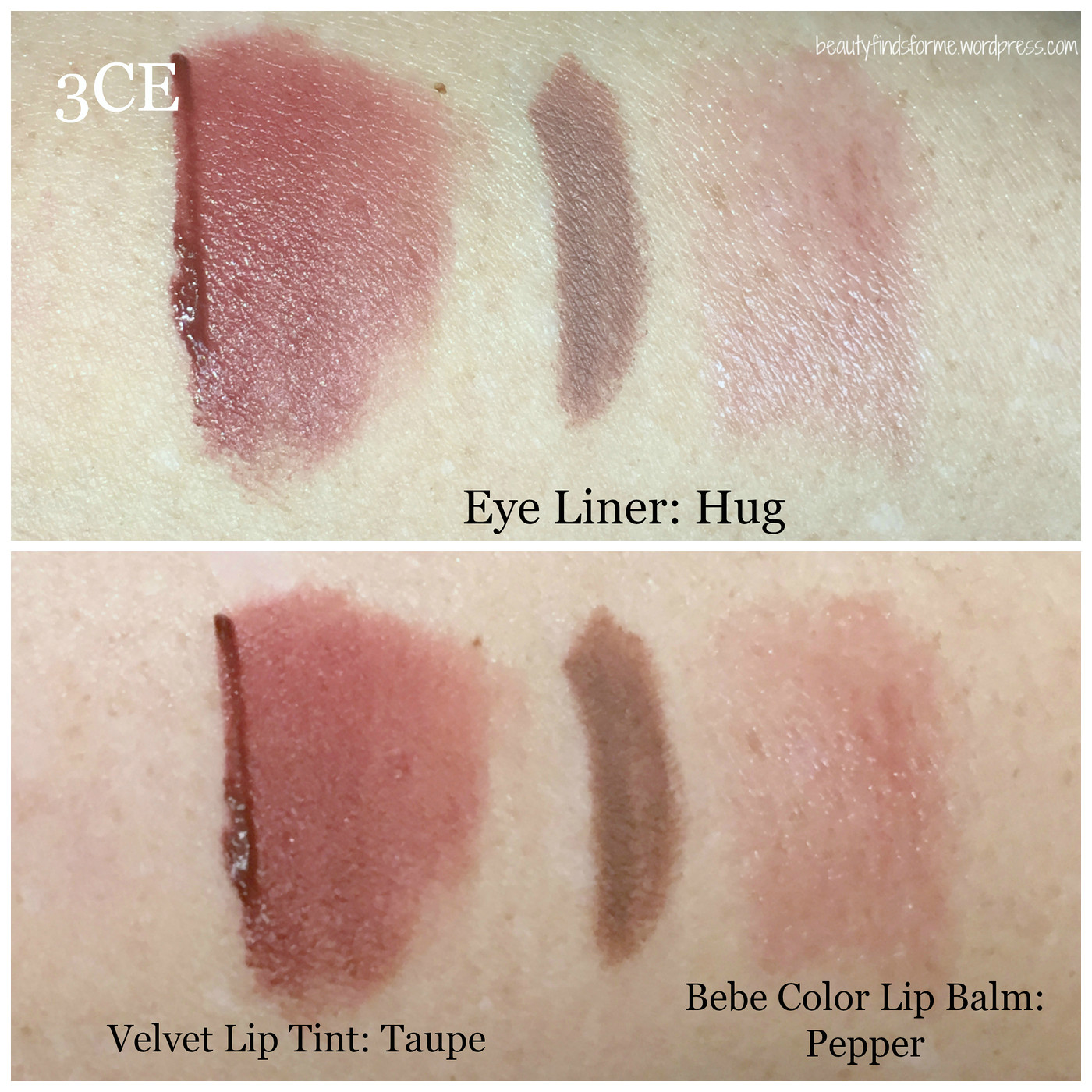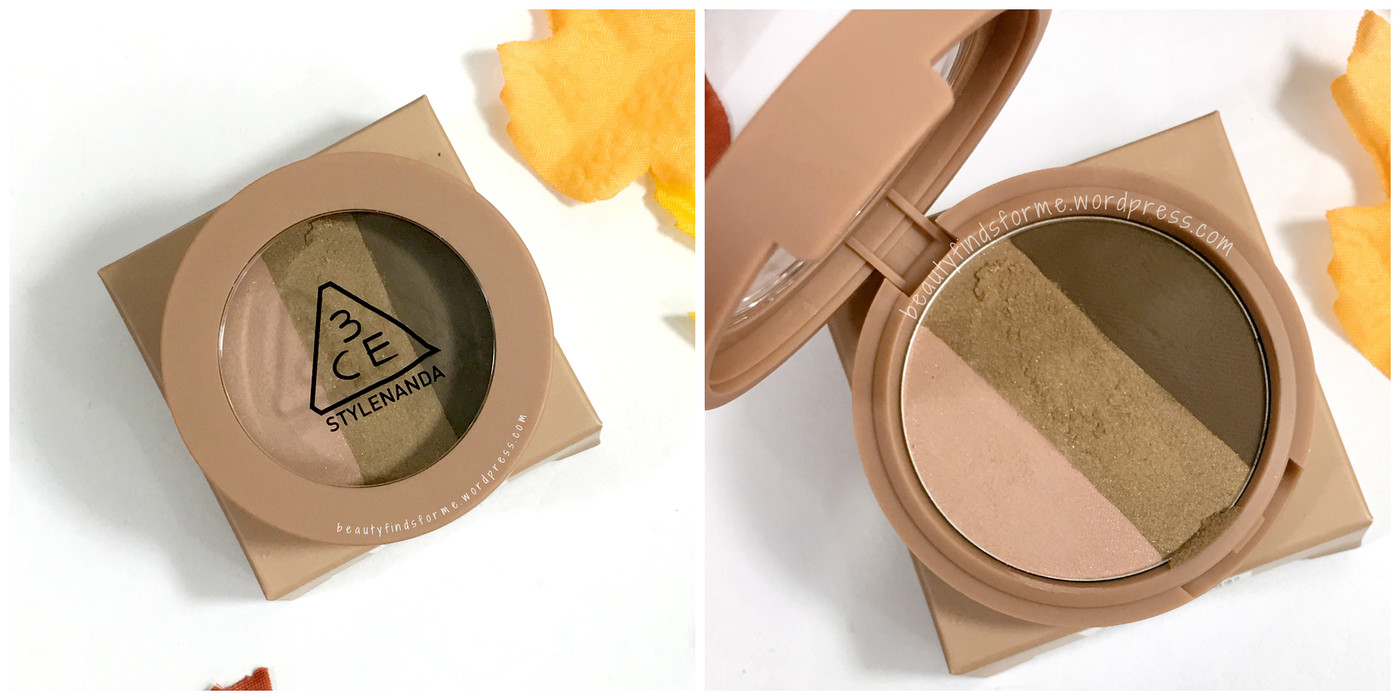 Mood Recipe Triple Shadow in Gotta Do "A dusty pink and brown combination that you can't take your eyes off of, this  shade adds elegance with a slight gold shimmer infused into a mixture of dull pink and beige" Honestly, if I had to pick one dud, this would be it. Let's talk about the good stuff first ~ I love the unique shades with the matte "dull pink" ~ great term and describes it beautifully ~ and the antique dirty gold shimmer.  The chocolate brown matte is fine as it completes the trio nicely.  I love the little compact, but I wish instead of a clear top, they had put a little mirror inside.  This is a very pretty soft shades ~ not a lot of pigmentation, compared to Western eye shadows.  3CE claims that it has a lot of emollients in this formula to prevent fall out ~ huh.  No.  In fact, this shadow suffers horribly from fallout ~ it has a soft velvet texture that crumbles if you press too hard into the pan ~ you can kind of see that with the middle shade above. The colors: pretty.  The pigmentation: weak.  The fallout: bad.  Honestly, skip these and all of the other eye shadow palettes they have ~ I have the feeling they are all like this.  You know who makes really great pigmented, no fall out shadows?  Beige Chuu, that is who.   I own #210 Rush Bronze and #209 Brick Brown and love them! RV $22.00 ~ $25.00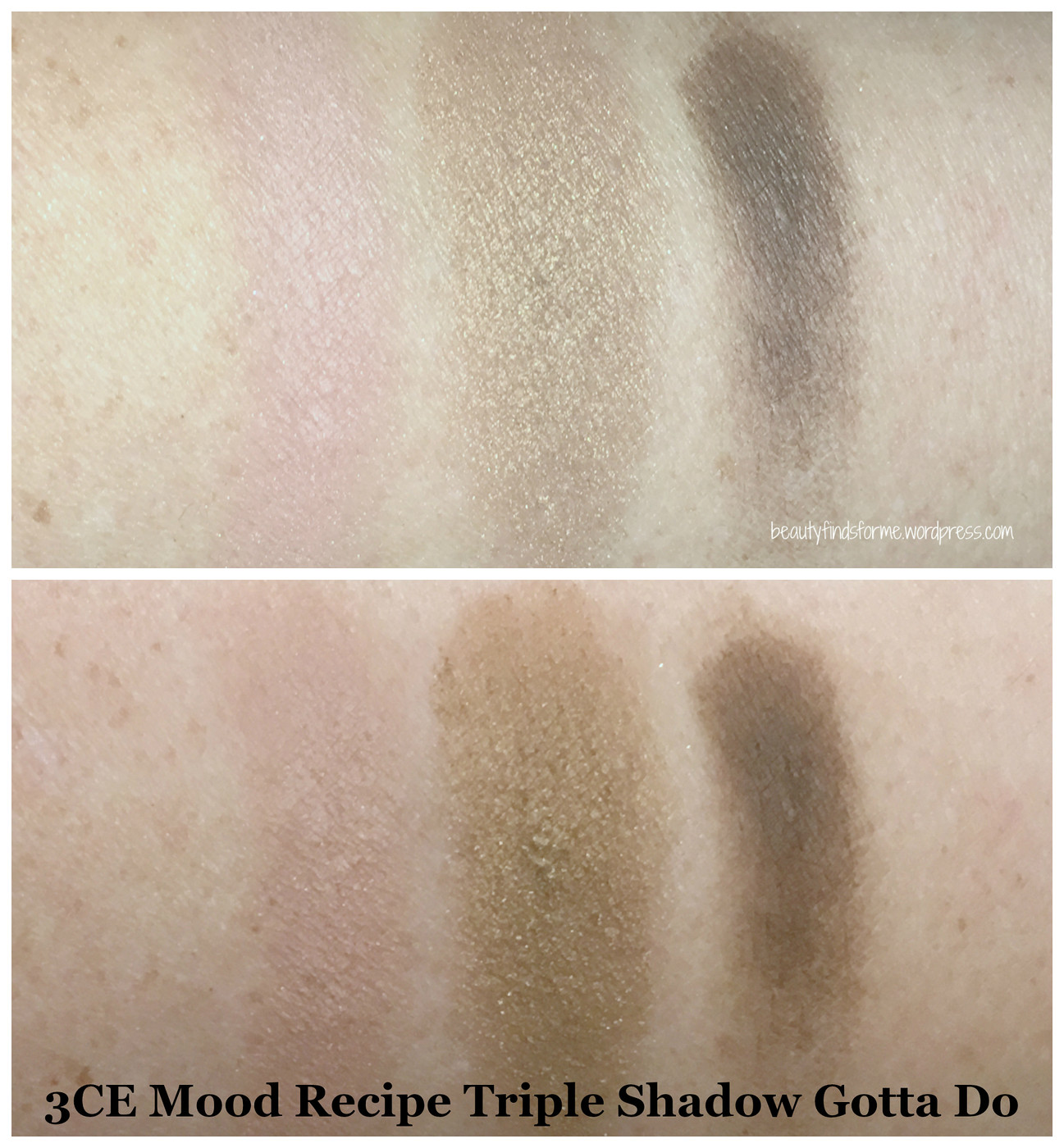 If you are interested what the Beige Chuu eye shadows look like, I did have a rare Makeup look on Instagram

Update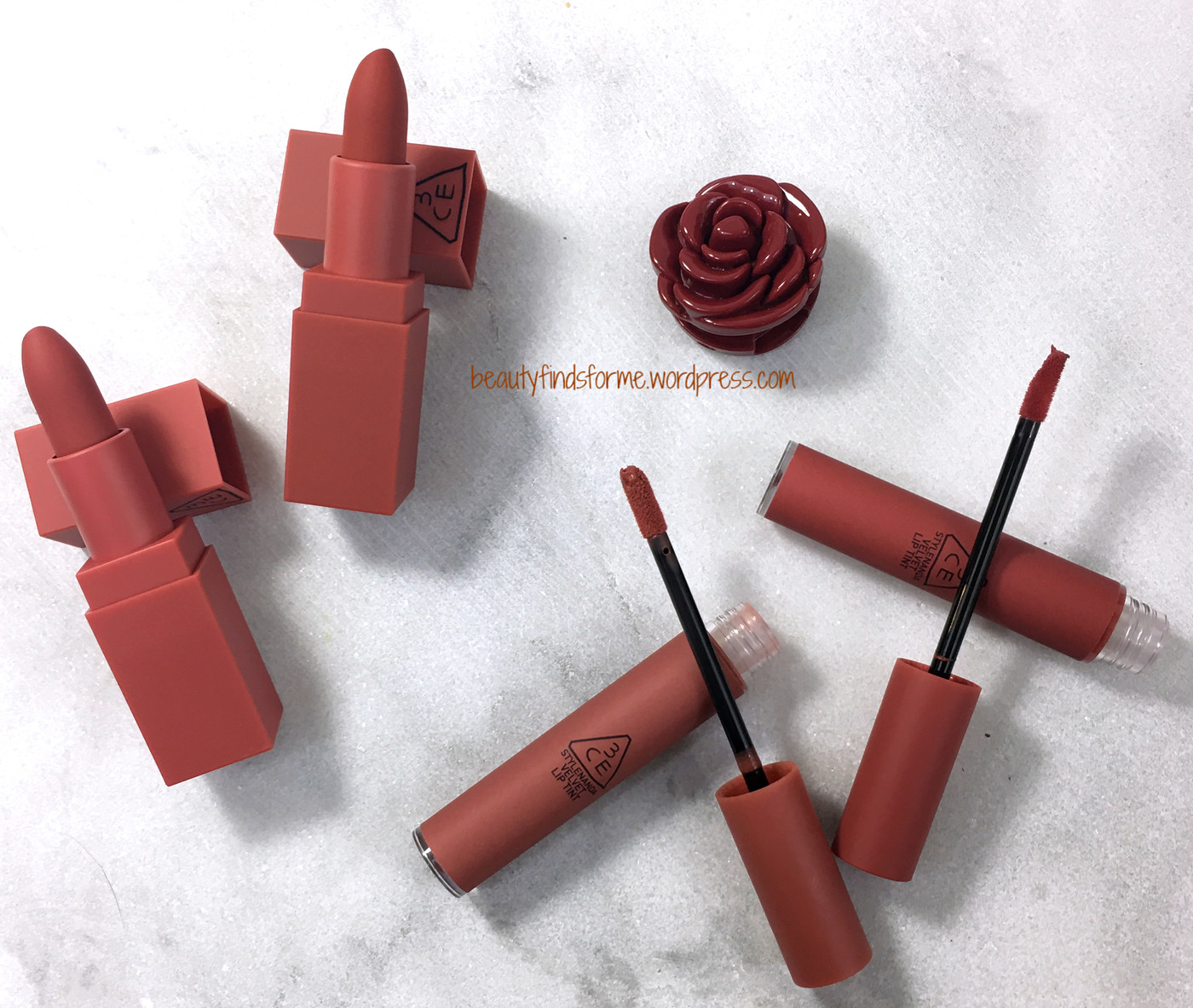 I really love the Velvet Tint texture and staying power, so I wanted to try a few more in that line. Also, 3CE came out with a "second season" of their Mood Recipe, which are softer and more delicate, according to their description: "Delicate colors reminiscent of a secret garden blend into any makeup look, leaving a warm and intimate impression that stays embedded in the mind. A special recipe you can't help but love, gentler and softer than ever."  I purchased the following items at BB Cosmetic  and swatches are at the end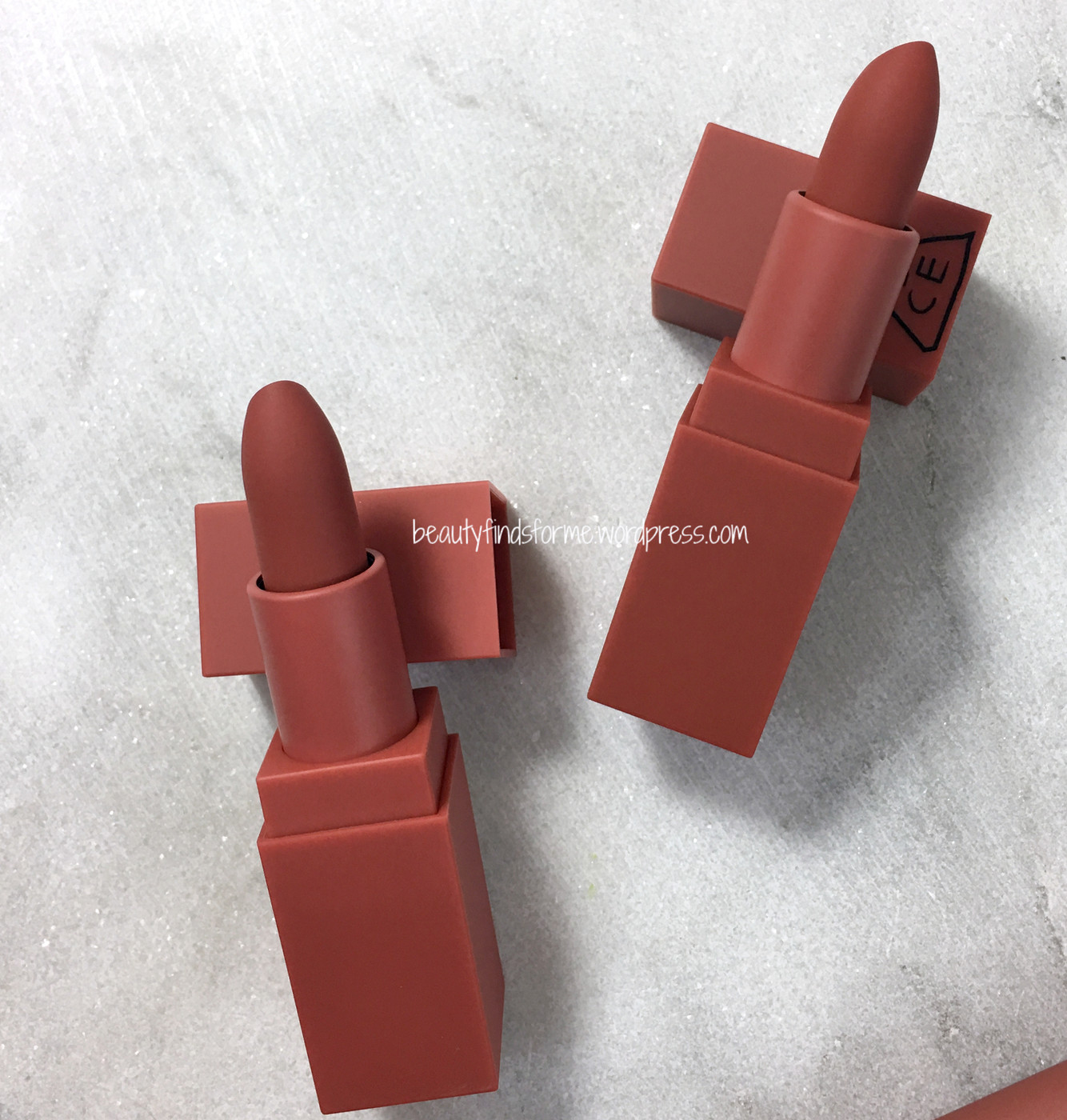 New Mood Recipe Matte Lipstick I purchased two in this series as the New version is more on the peach/coral side.  Their description states red a lot, but this is not red ~ it is either orange-red, brick-red, rust, peach-pink, coral, peach-red.  Seriously, this is not a red line ~ 3CE has a Red Recipe line and those are red.  These shades are muted and are a neutral, but in the peach/coral family, unlike the original Mood Recipe, which was more in the rose/pink/mauve family. The two colors I purchased are very similar, with Mellow Flower more peachy-pink and Step and Go is more peachy-red.

#221 Mellow Flower "A feminine rosy red color. Somewhere on the fine lines between pink and red, this rosy shade grants you glamorous and dressy femininity"
#222 Step and Go  "A nonchalant blend of nice and simple red. Cosmopolitan yet cozy and warm, this red blonde shade puts an effortlessly romantic touch to any moment"
Velvet Lip Tint  I loved the texture of this lip product, so I went back for two more shades. 
Going Right "A calm rosy peach of quiet and unique vitality"  This is a lovely darker peach shade.

Daffodil "A modern and cosmopolitan marsala wine color" I find this to be more of a chili pepper shade, which is red-orange, not a red-brown, which is marsala.  I find Daffodil to be similar in the Step and Go Matte Lipstick shade.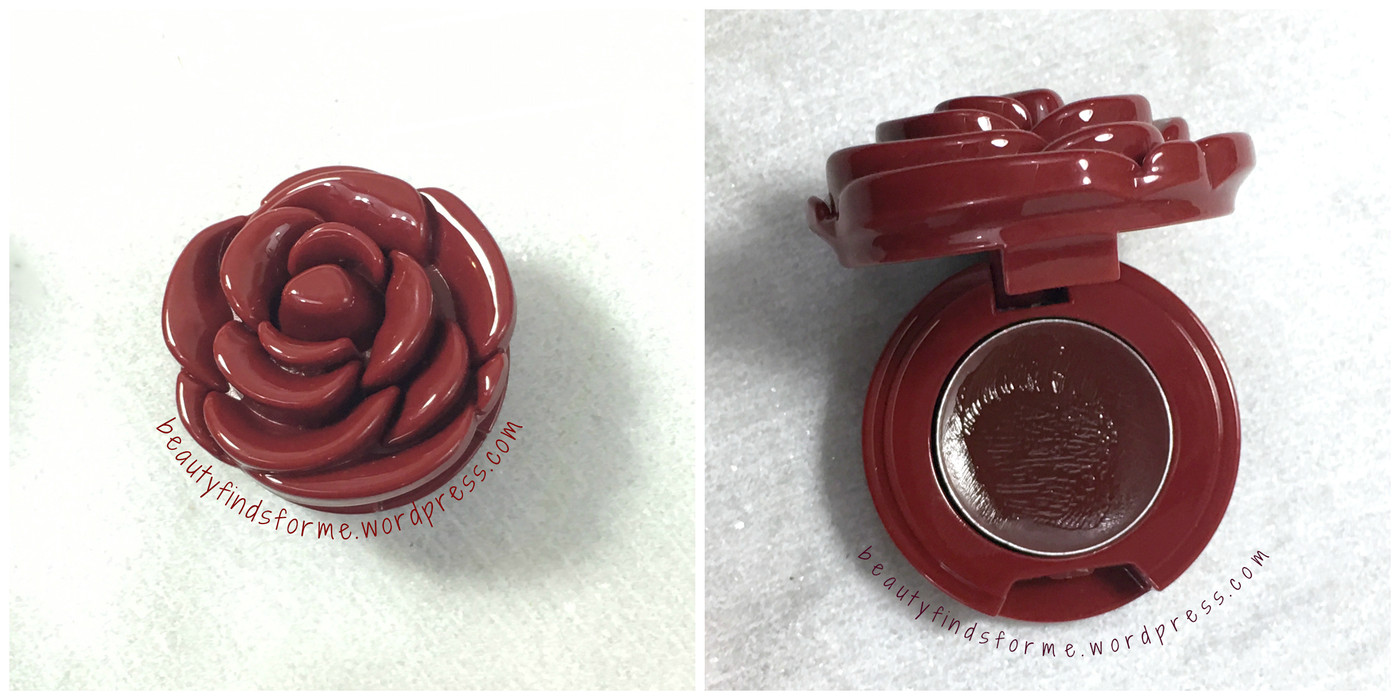 Rose Pot Lip in Brick Red "Innocent, but sexy at times, doubled side charm of blood red"  Okay, I did just purchase this for the cute little rose container.  It is a lot smaller than I thought it would be, a little over the size of a quarter, but it is SO cute.  It has a mirror inside and I thought this would be a sheer lip balm. This actually is very pigmented and the color is a nice brick red ~ a deep red with a hint of rust to it.  This is very glossy and moisturizing.  They have other colors and even just a clear one in mint, and I honestly think these make the best little gifts.  However, BB Cosmetic takes about 3 weeks to ship out right now, as I do think these are coming from Korea, so plan ahead!
Where to Purchase
Style Nanda has the complete line of 3CE items (click here)  and other than the Mini LipStick Sets, the prices are lower than BB Cosmetics.  However, you do pay a price in global shipping ~ anything under $100.00 is $20.00, from $100.00 to $200.00 is $10.00 and above $200.00 is free.  That said, Style Nanda has more than just makeup, so you might find other items there that will help ease those shipping costs.  Style Nanda looks to have free global shipping days, once a month, so follow them on Instagram and Facebook, as that is when they promote those days. I hope there is one soon!  Another downside with Style Nanda is that they will take their sweet time packing up your items ~ it took them two weeks to pack them up for me, but I did get the parcel within a few days after they finally shipped it out.
AntCos Mall carries only one item and that is the Mood Recipe Lip Color Mini Kit ~ that price is really good, however BB Cosmetic has it for less.  Free shipping with orders over $40.00 USD and ships globally.

BB Cosmetic (click here)  carries a lot of 3CE lipsticks, blushes and eye shadows, including that Mood Recipe Lip Color Mini Kit at a great price and I did purchase a few more recently as 3CE came out with more shades in the Mood Recipe link.  BB Cosmetic also takes their time packing items ~ I got a shipping notice, but it still waiting on pickup.  I am not going to complain too much, as global shipping is always free with BB Cosmetic.  You can save 8% on your orders using my promo code of YW36SVN21HU ~ I don't make anything from this code, it is just one that I can offer you!