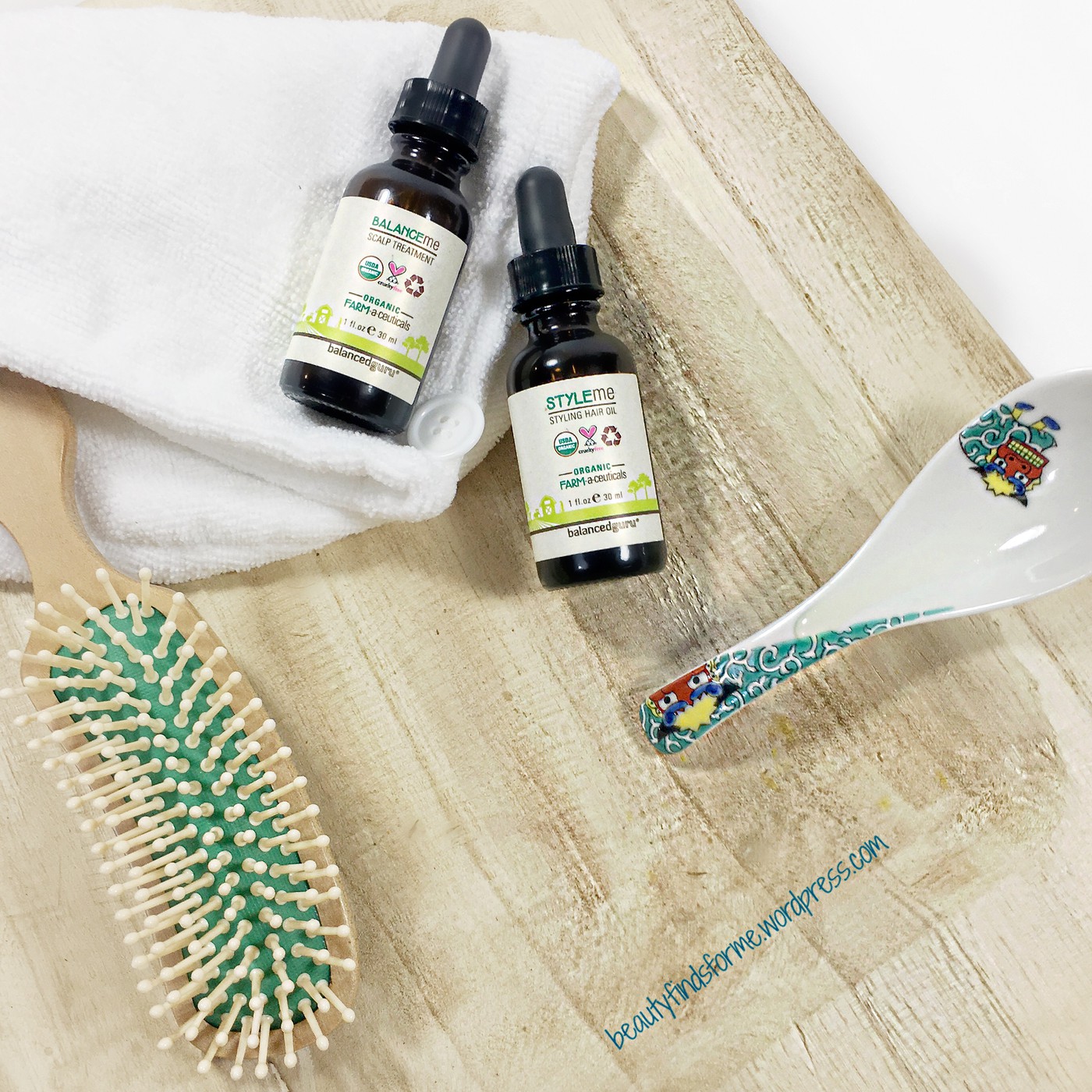 Balanced Guru is carries some of my favorite hair treatment products ~ not only are they eco friendly and organic, but their products smell so GOOD.  If you love sparkly herbal scents, you will really love Balanced Guru.   Musely, a fantastic eco-friendly, organic shop, sent me the Balanced Guru's Find Your Balance Hair & Scalp Bundle, a dynamic duo of hair treatments that will work for most hair types ~ Balance Me Scalp Treatment and Style Me Hair Oil.  I have used these products in the past and mentioned here before, but I am glad to focus on these two items in their own proper blog review.

image credit balancedguru
Balanced Guru is dedicated to creating products that take care of you and the environment at the same time. All Balanced Guru ingredients are certified organic, and all Balanced Guru materials are 100% recycled and recyclable to limit environmental impact.
My Hair Type/Concerns:  oily, fine, straight, limp, split ends from blow drying, dyed due to grays.
As winter is coming, and in some parts of the country, it is already here, your hair gets really messed up ~ the cold winds dry out your hair, while the forced heat air in buildings will also remove moisture from your already stressed hair.  Not to mention what this does to your scalp ~ causing build up, itchy scalps and blocked follicles. You want to have a healthy scalp so that pores are unblocked, sebum production is maintained without imbalance and good blood flow to your hair root, so that your hair will grow fast and healthy.   Removing any build up will prevent "plaque" that has formed on your scalp, which is a by-product of your natural hair oils, hair products including shampoos and conditioners, pollution, sweat and dirt.   This will allow your scalp to "breath" and new hair growth will occur.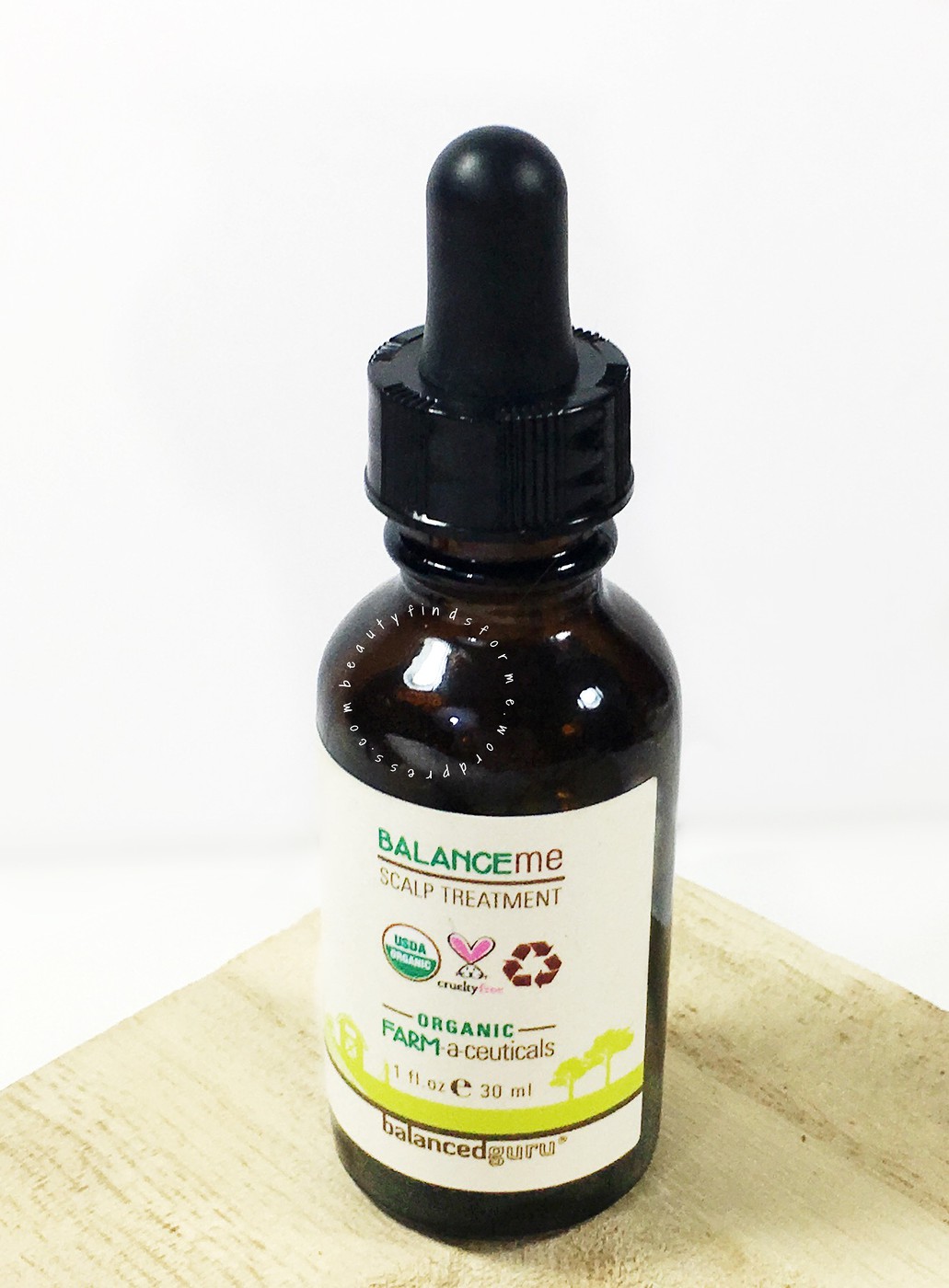 Balance Me Scalp Treatment  Why do you need a cleansing scalp treatment?  Well, it is to remove build up, refresh and de-grease.  Our hair is "dead", but our scalp is alive and we do not give enough attention to it, and over time, hair product buildup and dead skin cells will make your hair look greasy and dull, and it will slow down your hair growth. Shampooing cannot do a good deep cleanse, so doing a detox/scaler treatment for your scalp will unclog the pores, remove dead skin and product buildup.   This will help stimulate your hair growth as your hair follicles will be clean and unclogged.
Balanced Guru's Balance Me Scalp Treatment deeply cleanses your scalp, with powerful ingredients that will help detox your scalp: rosemary, eucalyptus, spearmint  ~ which will balance and provide astringent benefits to your scalp. It also contains nourishing, soothing basil, kelp and algae ingredients to help feed and stimulate your hair follicles. This does contain alcohol, but the first ingredient is aloe vera, which is a hydrating antioxidant ingredient ~ full of vitamins and minerals for your scalp.  The alcohol is not drying at all and most likely the alcohol was added to thin out the aloe vera leaf juice, which can be quite thick.  This is a leave-in treatment ~ you apply it to your scalp, whether your hair is wet or dry.
Ingredients Spotlight: Rosemary contains antioxidant and helps prevent hair loss.  As it also stimulates blood circulation, it will promote hair growth.  It is an antibacterial, anti-inflammatory and anti fungal, so again, it helps prevent infections that can led to hair loss. It also helps reduce excess sebum (oil) production which means your hair follicles won't get clogged and promotes new hair growth.  Lavender is a wonder ingredient ~ it helps heal wounds and infections, but it is soothing and mild.  Good for all hair types, it improves blood circulation in your scalp, helps hair growth and prevents hair loss.  It also helps with dry scalp and dandruff.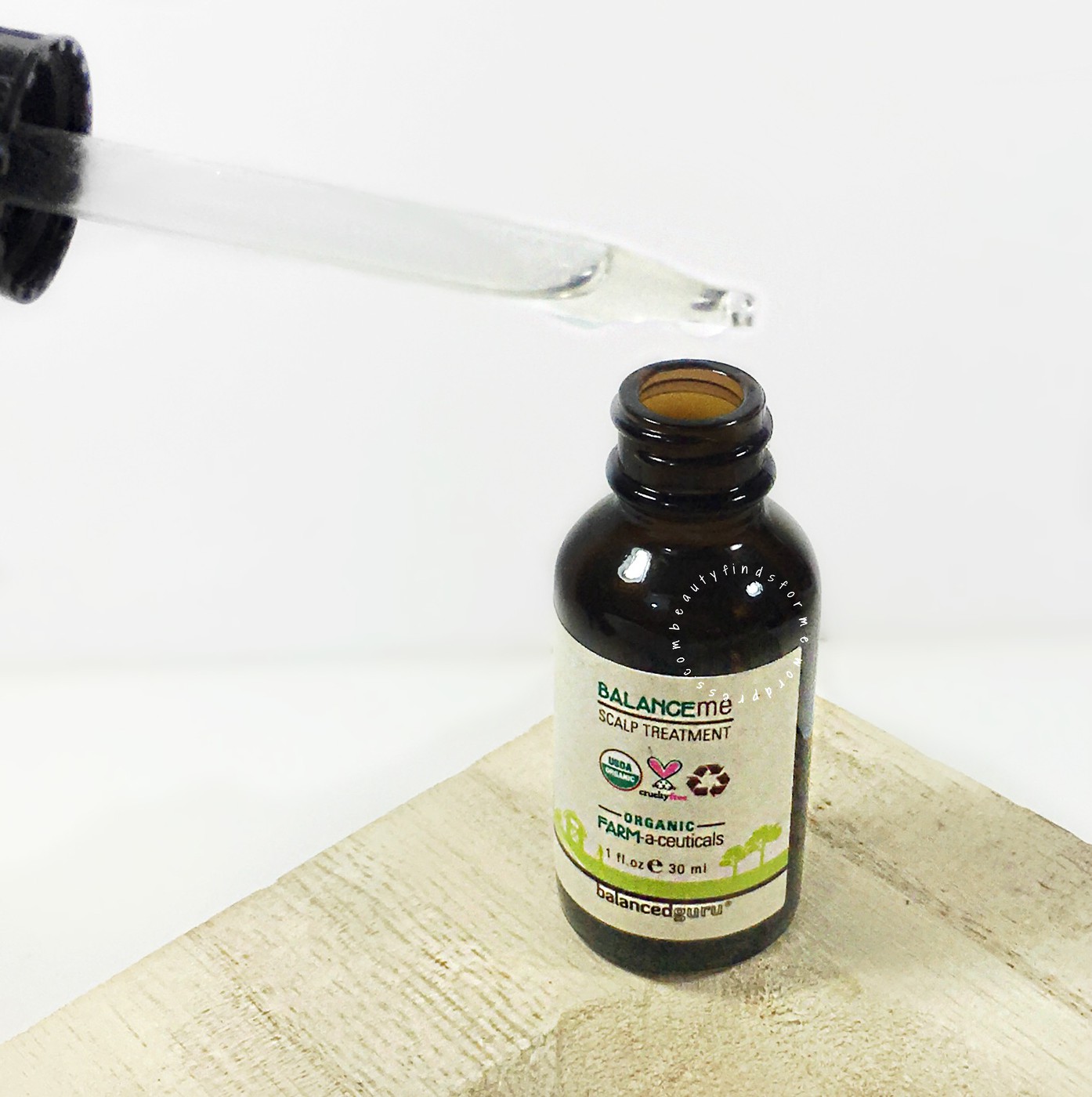 I use this almost every day, taking a few drops of this thin, milky-watery treatment and applying on my scalp, then massaging it in for a few minutes. I have an oily scalp and hair, so this treatment is something I use year round, as in the summertime, my sebum production increases substantially with warmer weather and I sweat a lot at the nape of my head (neck).   If you do not wash your hair daily due to extensions or dry hair, I do recommend using this ~ you can control the treatment to target just your scalp with a cotton swab and massage it up and down your scalp to remove dirt, oil and debris.  Another bonus is that this smells wonderful ~  a herbaceous scent to them, very zingy and refreshing ~ with almost a lemon-mint scent.  Balanced Guru has some of the best herbal hair scented products out there!
Ingredients: Aloe Barbadensis (Aloe Vera) Leaf Juice*, Alcohol Denat*, Aqua (Water), Oryza Sativa (Rice) Extract*, Mentha Spicata (Spearmint) Oil*, Lavandula Angustifolia (Lavender) Flower Oil*, Ascophyllum Nodosum (Kelp) Extract*, Spirulina Platensis (Spirulina) Extract*, Urtica Dioica (Nettle) Extract*, Citrus Sinensis (Sweet Orange) Fruit Peel Oil*, Ginkgo Biloba Leaf Extract*, Rosmarinus Officinalis (Rosemary) Oil*, Centella Asiatica (Gotu Kola) Extract*, Eucalyptus Globulus (Eucalyptus) Oil*, Ocimum Basilicum (Basil) Oil*, Thymus Vulgaris (Thyme) Oil*   cosDNA analysis *Certified Organic Ingredients.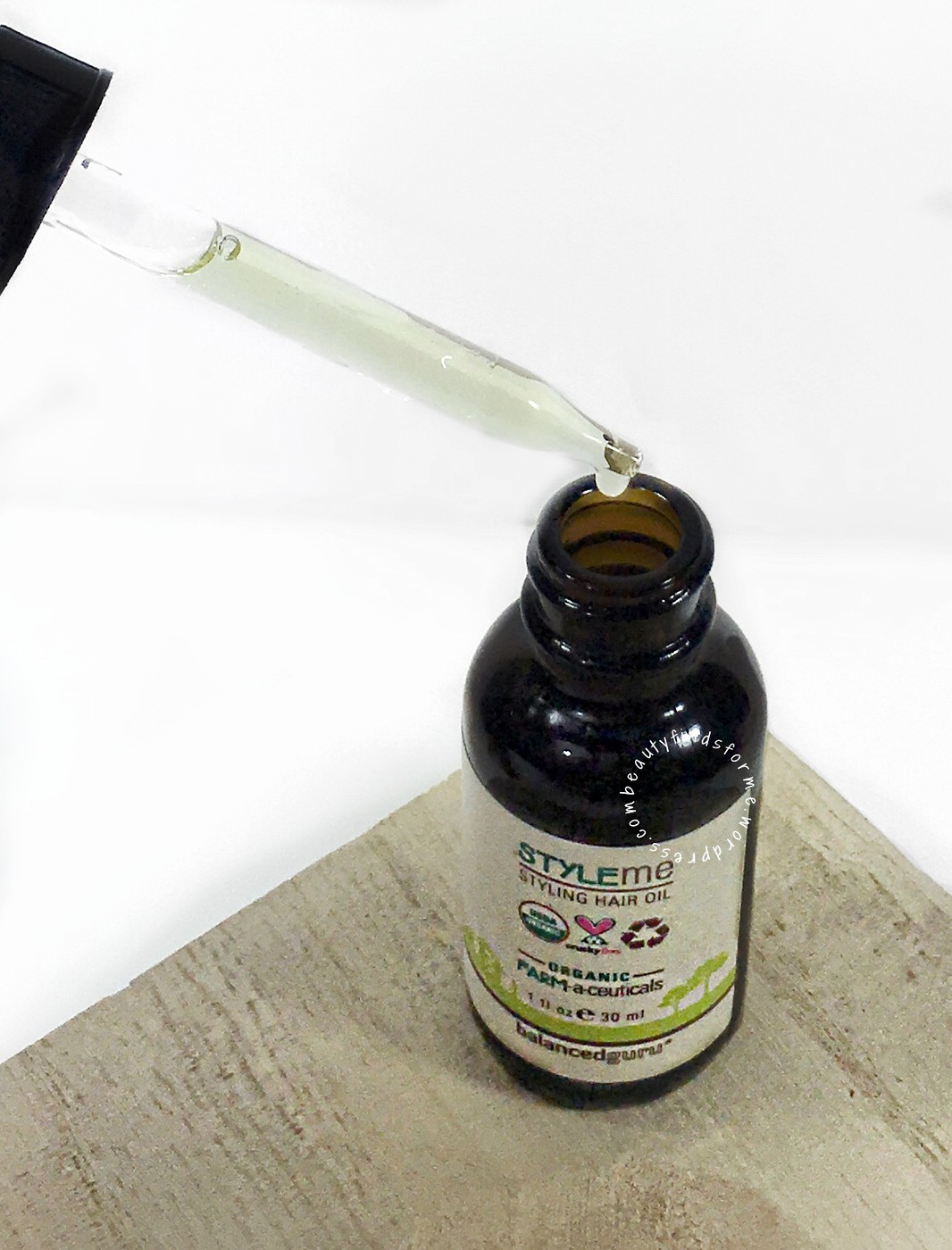 Style Me Hair Oil   I never thought in a million years that I would use a hair oil. If you had asked  me 5 years ago, I would have thought you were crazy.  My hair is oily enough as it is!   However, I do color my hair monthly, wash my hair daily, so therefore, blow drying my hair daily.  My hair is chemical and heat treated, so you can imagine that despite being oily, the ends of my hair are damaged ~ the old growth has split ends and is much more fragile than the newer hair growth.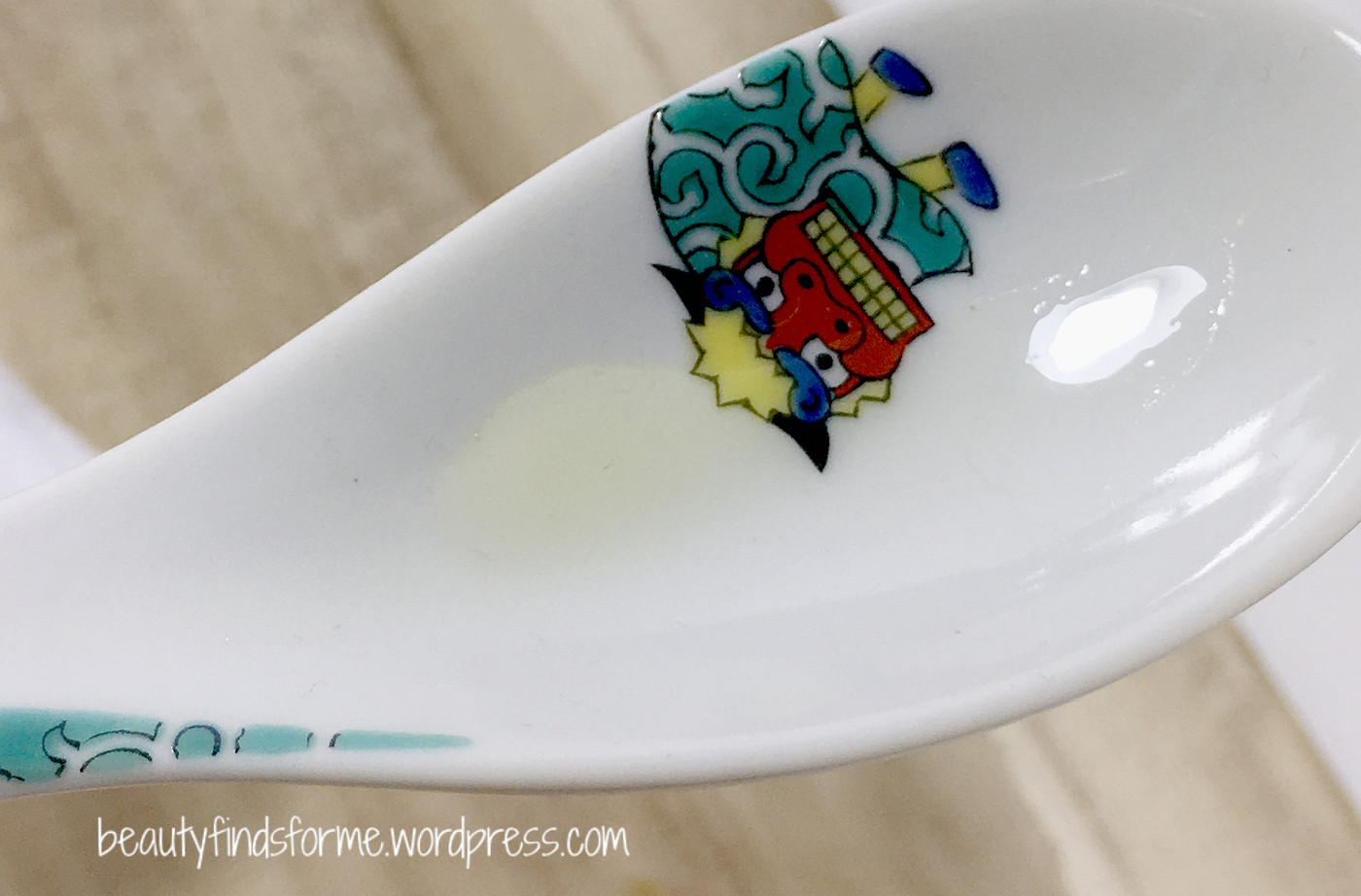 This is a lightweight, greenish-yellow oil that smells like an herbal mint limeade ~ which I attribute to the sweet and bitter orange oils in here.  This contains soy, sesame, olive, castor, argan, grape, sunflower, jojoba, tamanu, pumpkin oils along with essential oils of lavender, rosemary, sweet and bitter orange  and spearmint.  This hair oil is so gentle that even children, expecting and nursing mothers can use it. 
Ingredients Spotlight: Argan oil will make your hair soft and shiny, taming fizzies and treating split ends.  Tamanu also conditions your hair, as well as strengthening it and slow down hair loss, while stimulating new growth. Pumpkin seed oil is full of minerals, such as zinc, iron, magnesium and calcium, which are vital for hair growth. Soybean oil helps your hair retain moisture and contains fatty acids and vitamins, while helping other ingredients absorb better ~ it is non-greasy and will provide a nice gloss to your hair.  Sesame seed oil penetrates deep into the hair shaft, delivering nutrition that will help strengthen and moisturize.  Castor Oil is known to help with hair loss and thinning hair, and it can moisturize dry hair, strengthen and thicken your hair. It contains an unsaturated Omega 9 fatty acid ~ ricinoleic acid  ~ which helps stimulate hair growth and nourishes your scalp and hair.   
I only use this product on the very ends of my damp hair, prior to blow drying.   This really helps seal the tips of my hair and prevent flyaways and static cling hair.  I also find it much easier to blow dry and flip my hair under with my ceramic round brush when I use this product.  My hair feels soft, not greasy or weighed down and my ends look restored, shiny and healthy.
Ingredients: Glycine Soja (Soybean) Oil*, Sesamum Indicum (Sesame) Seed Oil*, Olea Europaea (Olive) Oil*, Ricinus Communis (Castor) Oil*, Ethyl Palmate*, Argania Spinosa (Argan) Oil*, Mixed Tocopherols (Vitamin E), Vitis Vinifera (Grape) Seed Oil*, Lavandula Angustifolia (Lavender) Flower Oil*, Helianthus Annuus (Sunflower) Seed Oil*, Simmondsia Chinensis (Jojoba) Seed Oil*, Calophyllum Inophyllum (Tamanu) Nut Oil*, Cucurbita Pepo (Pumpkin) Seed Oil*, Rosmarinus Officinalis (Rosemary) Extract*, Citrus Sinensis (Sweet Orange) Fruit Peel Oil*, Urtica Dioica (Nettle) Extract*, Lecithin*, Citrus Aurantium (Petitgrain) Oil*, Euterpe Oleracea (Acai) Fruit Extract*, Lycium Barbarium (Goji) Fruit Extract*, Mentha Spicata (Spearmint) Oil* cosDNA analysis  * Certified Organic Ingredients

Final Thoughts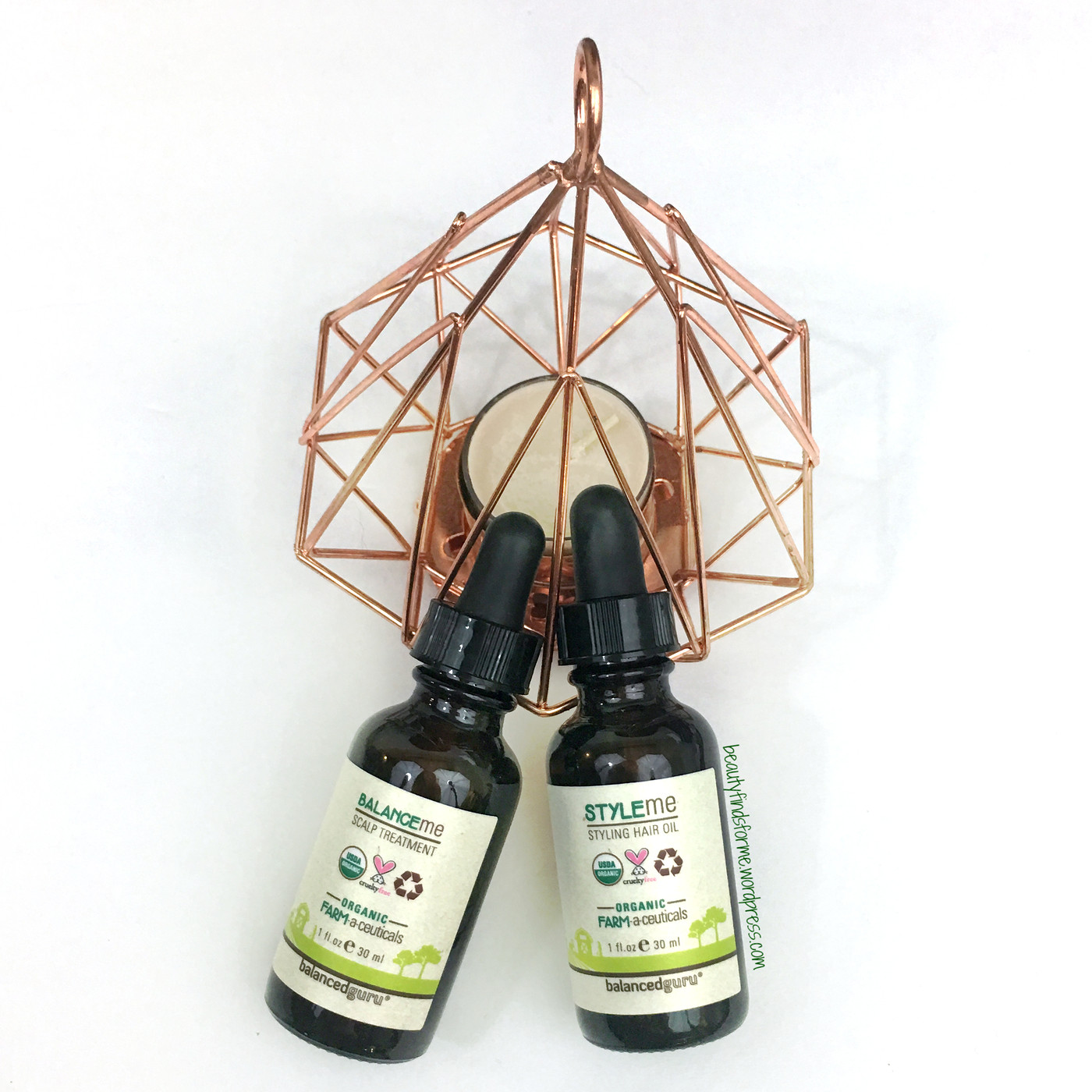 If your hair is stressed by the colder weather, has been chemically processed beyond belief or just is looking limp and blah, try out Balanced Guru hair products ~ this is just a few of their many offerings ~ The Style Me Hair Oil is lightweight, but they even have a Sheer version now, which I use in the summertime.  I think everyone should try Style Me Hair Oil and if you have an oily scalp or you do not wash your hair daily, you should look into the Balance Me Scalp Treatment ~ It makes a world of difference and it smells so good! Have you tried any Balanced Guru products?  For scalp treatment and hair oils, they have been my brand of choice now for several years.  I may flirt and try other brands, but I always do a repeat purchase with Balanced Guru, usually around this time of the year, with the Black Friday/Cyber Monday Sales coming up!

Where to Purchase
Musely carries these products plus so much more!  I have a favorites at Musely, where you can see products that I love or am interested in trying (click here)  Balanced Guru has a slew of lovely items, including one of my favorite soothing body oils and a great coffee body scrub.

[ disclaimer: products received complementary for review purposes.  contains affiliate links ]