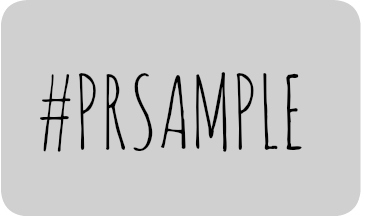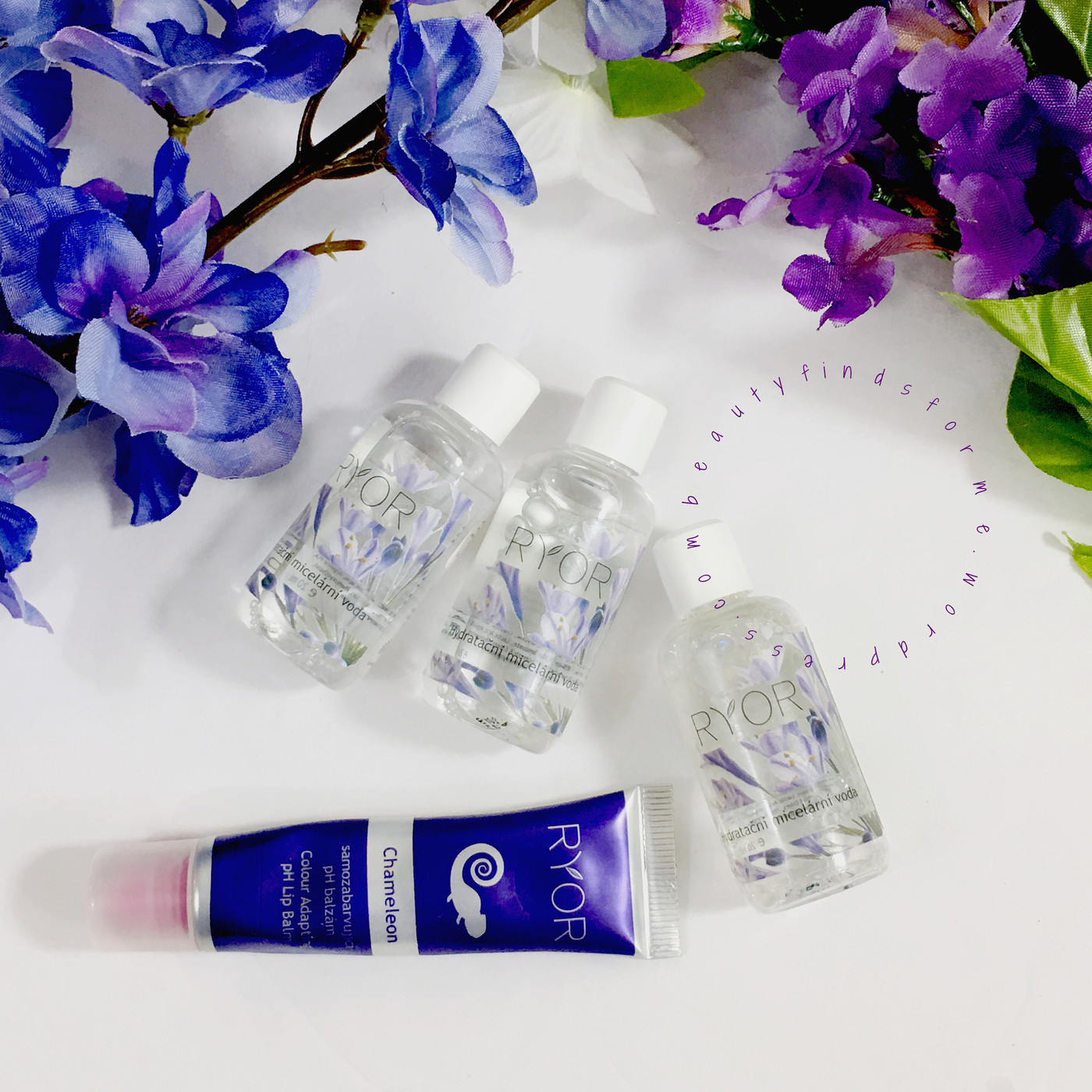 I am back again with some basic products that you should have in your skincare and makeup routine from Our Happy Box, an online store that not only carries natural skincare products, but whose mission statement includes giving back to charities ~ They carry beauty essentials while giving back to the community.  Our Happy Box has a "You Buy, We Give" program, where they choose one product and donate 100% of the proceeds from that product to the given charity for that month.  They carry Box Naturals, Seoul Mamas and RYOR, a brand hailing from the Czech Republic and it is a well recognized brand. RYOR is dedicated to creating natural skincare products and they also have a charitable history as well. I have reviewed a couple of items from this brand and have been really happy with them!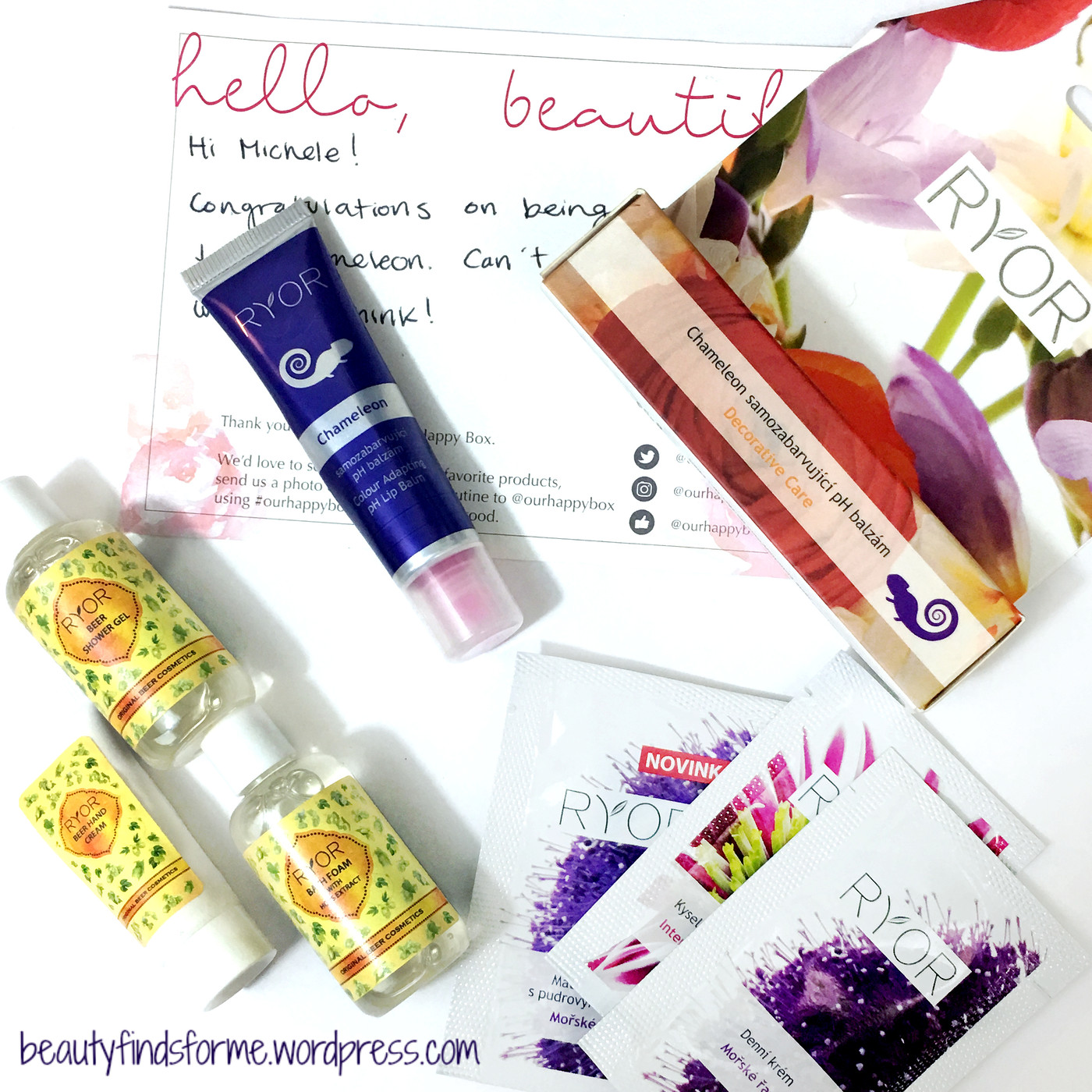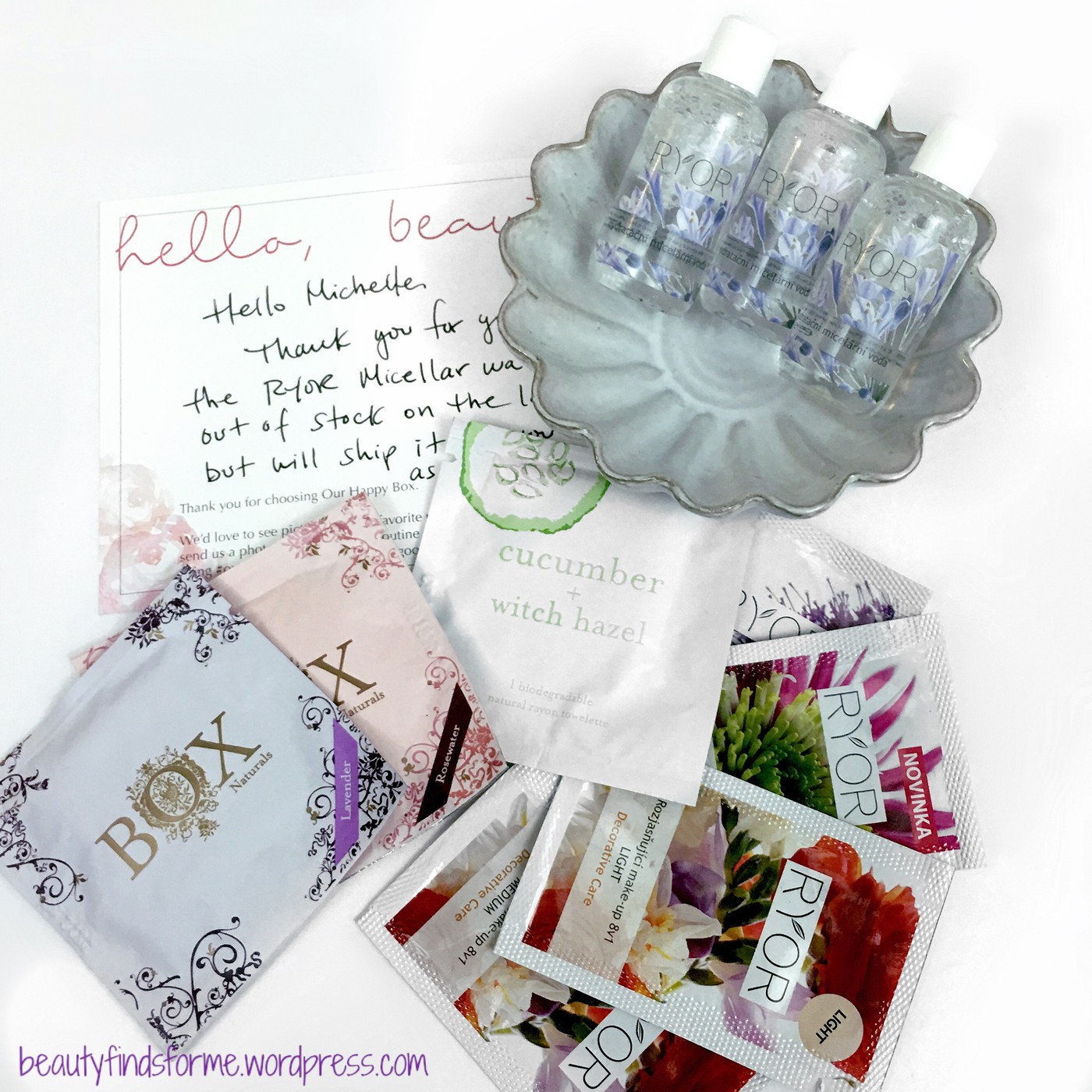 Skin Type/Concerns:  Oily, blemish prone, aging, fine lines/wrinkles, hyper-pigmentation.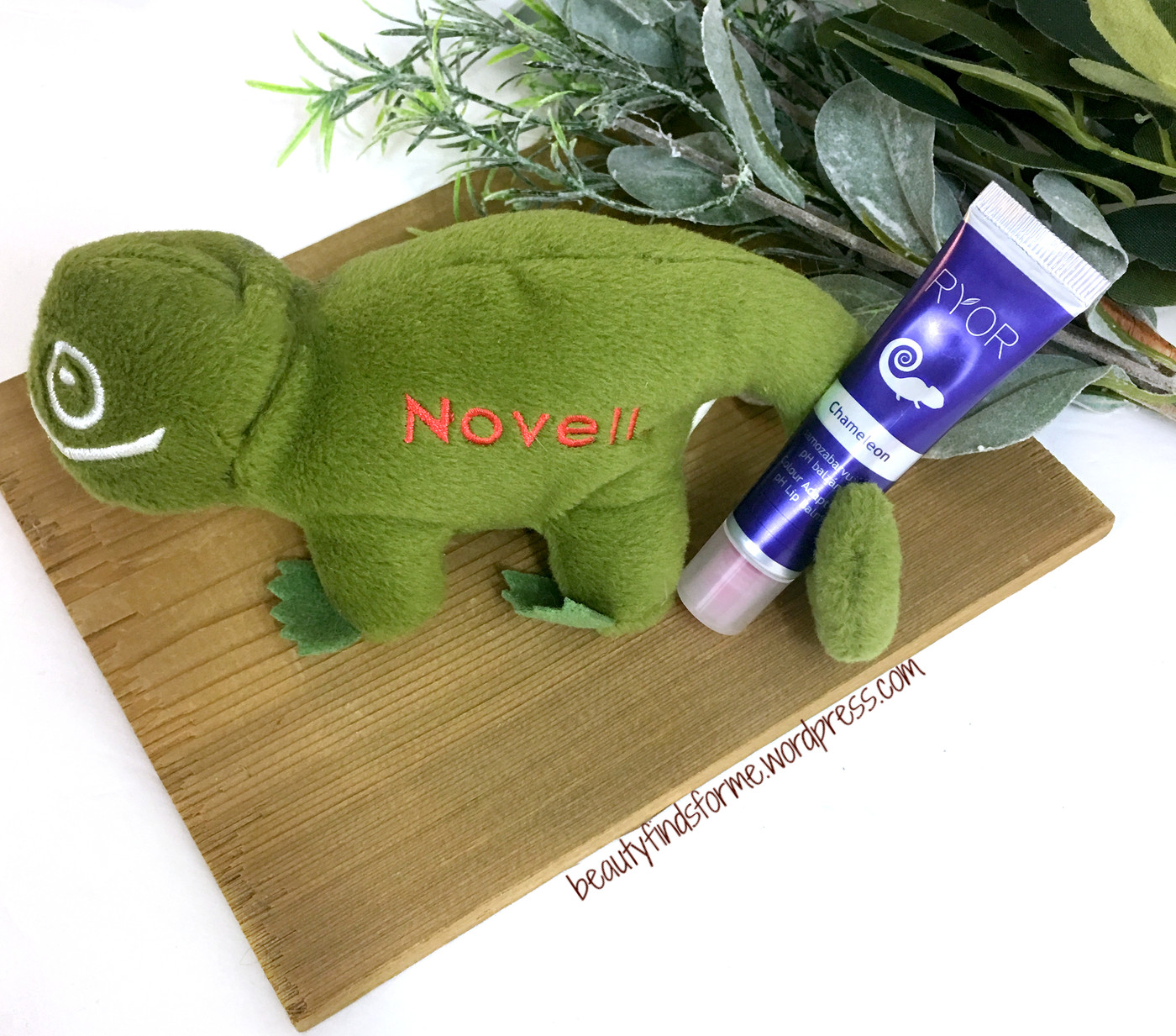 RYOR Chameleon Color Adapting pH Lip Balm   This is the latest item in the RYOR family and it won a best new product award at the World of Spa and Beauty 2017 Expo.  This lip balm claims it will adapt to your lips based on your skin's unique pH level and create a natural rose-y hue.  How does this adjust to your skin?  It is due to ingredient red 27 that reacts to moisture levels on your skin, turning that pink gloss into various shades of berry-pink, depending on your skin tone ~ to read more on this, blog In To The Gloss did a deep dive on color changing lipsticks.  Once I saw that this has red 27 in it, it sparked my memory about her blog post.
Despite the berry pink color being all due to the unique properties of that ingredient, this lip balm is a great basic to have in your makeup bag, due to its moisturizing and hydrating protecting benefits.  It has shea butter, which is a rich source of concentrated natural vitamins and fatty acids ~ oleic, stearic, palmitic, linolenic ~ and is highly moisturizing and nourishing. It helps repair your skin, protects it from drying and it strengthens your skin over time as it helps aid in the collagen production. Macadamia oil has several fatty acids ~ palmitoleic acid: delays skin and cell aging; oleic acid: moisturizing and regeneration properties; linoleic acid: prevents water loss from your skin tissues.  Squalane penetrates and absorbs rapidly into your skin and has anti-oxidant properties, helping prevent UV damage and is an excellent moisturizing ingredient. This ingredient also helps extend the shelf life of other oils, so this lip balm is very stable. Vitamin E protects the upper skin layer from initial harmful UV radiation.  This is not a vegan product as it does contain beeswax (cera alba), but that ingredient helps lock in moisture, while providing texture to this balm.
Ingredients: butyrospermum parkii butter, squalane, macadamia ternifolia seed oil, tocpherol, cera alba,
polyglyceryl-2 triisostearate, red 27 (CI 45410)  cosDNA analysis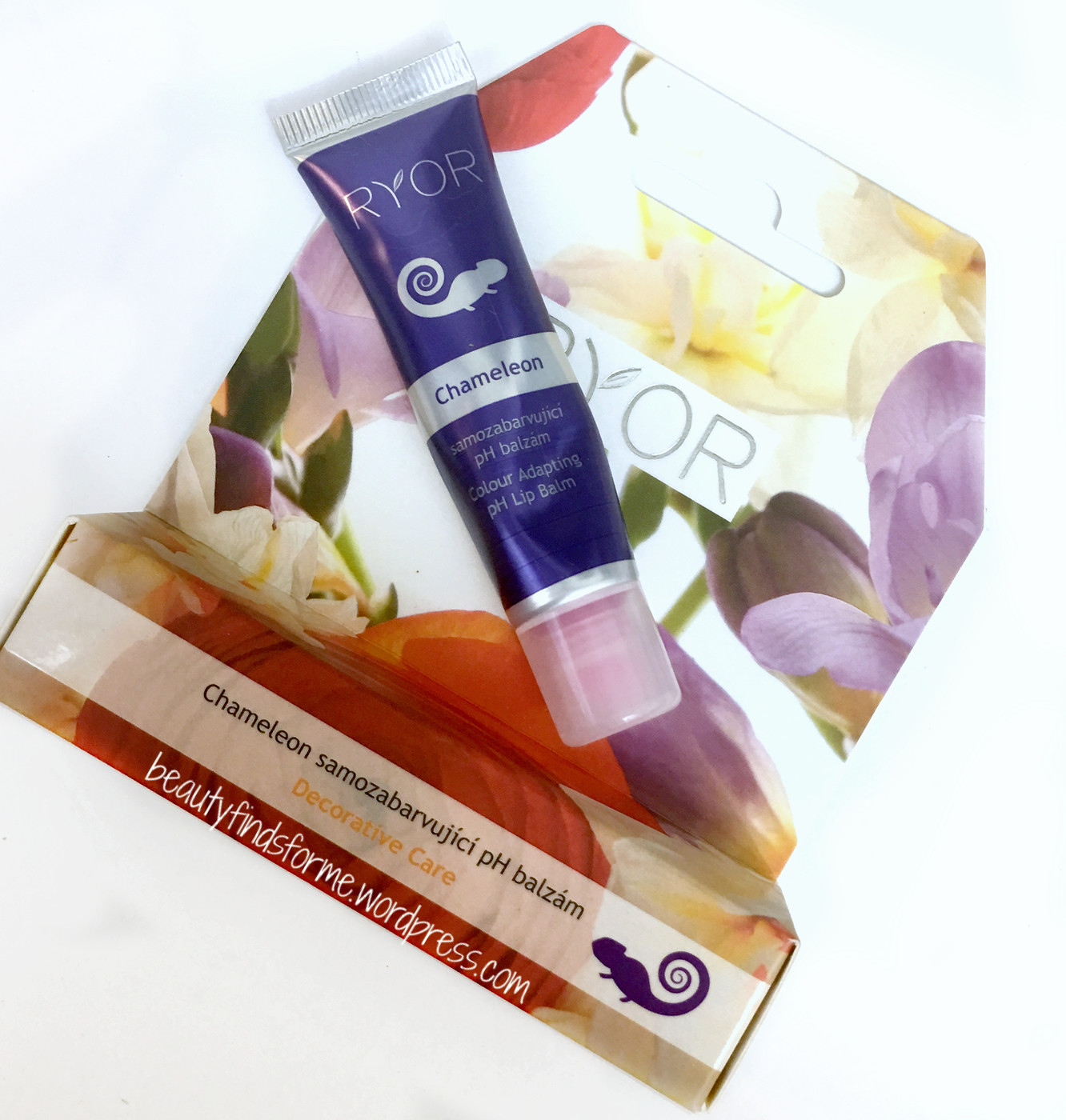 This comes in a nice metal purple-blue tube with a cute little chameleon (that color shifter lizard!) and it has clear twist off cap that reveals a nice slant tip applicator.  The balm is not runny or thin, nor is it so thick that it is hard to squeeze out of the applicator.  It has just the right consistency and this balm has no scent or taste to it.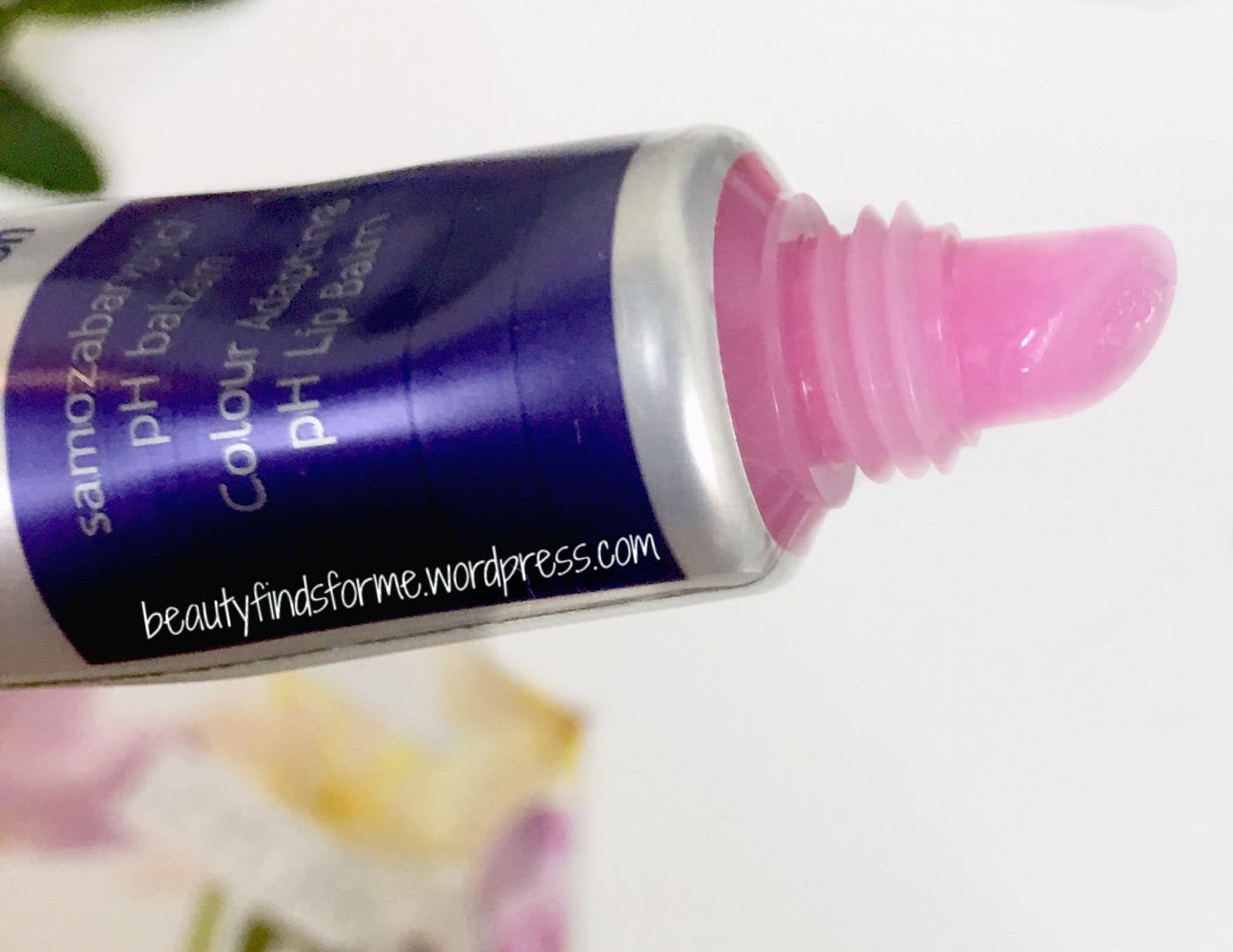 You can see here that the balm has a bit of gel like texture and then when I smooth it out, it melts into my skin, leaving behind a nice berry pink shade and a soft gloss. This lip balm is not sticky at all, but very smooth and soft ~ I can feel the coating of nourishing butters and oils on my lips, protecting them from wind and seasonal temperatures. It really does feel nice on and the color is soft and natural on my lips.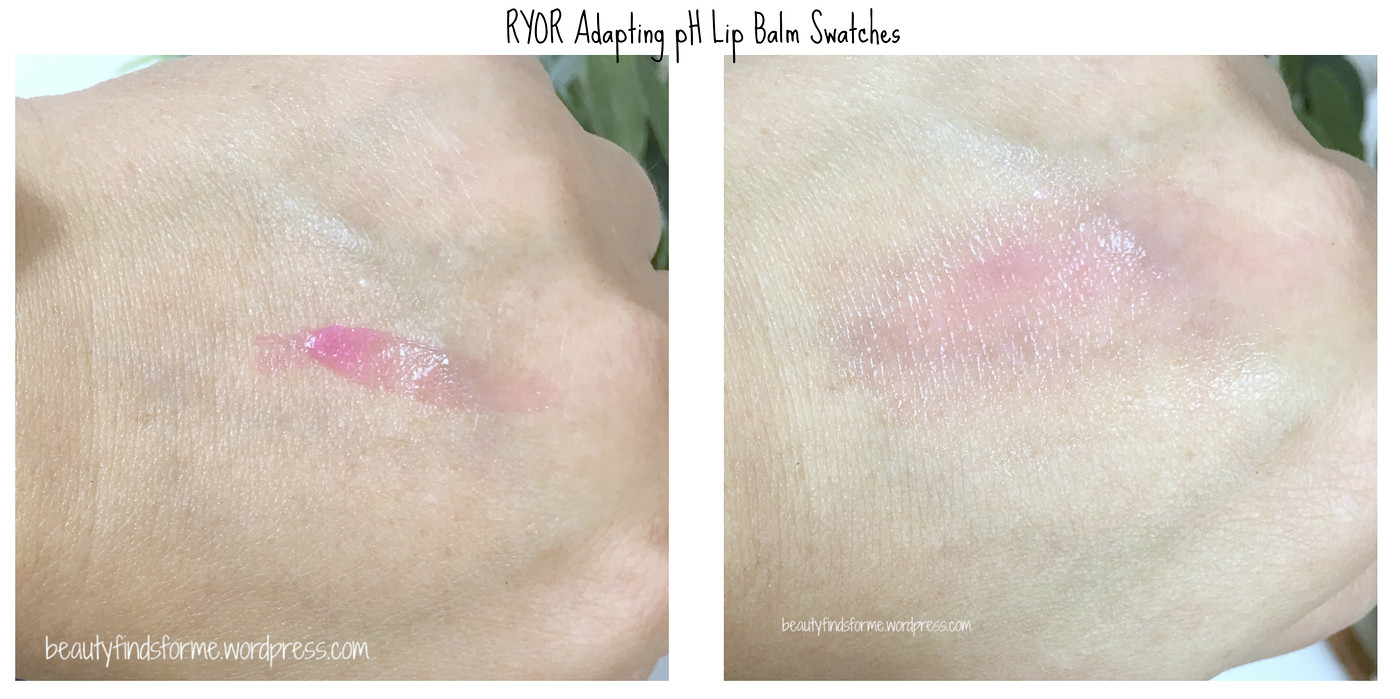 I hate doing swatches on my lips ~ I can never stay within the lines (lol) and there is always some DAMN thing on my face that drives me nuts ~ maybe a stray hair, bad foundation application, a zit ~ something that no one can see unless I stick that camera right up to my face and then it is magnified.  If anyone has tips on how to take great lip photos, let me know.  I have blurred and filtered out everything but my lips in the following photo. You can see how natural the gloss looks and it just brings a brighter pinkish hue to my lips, while leaving them very soft and moist.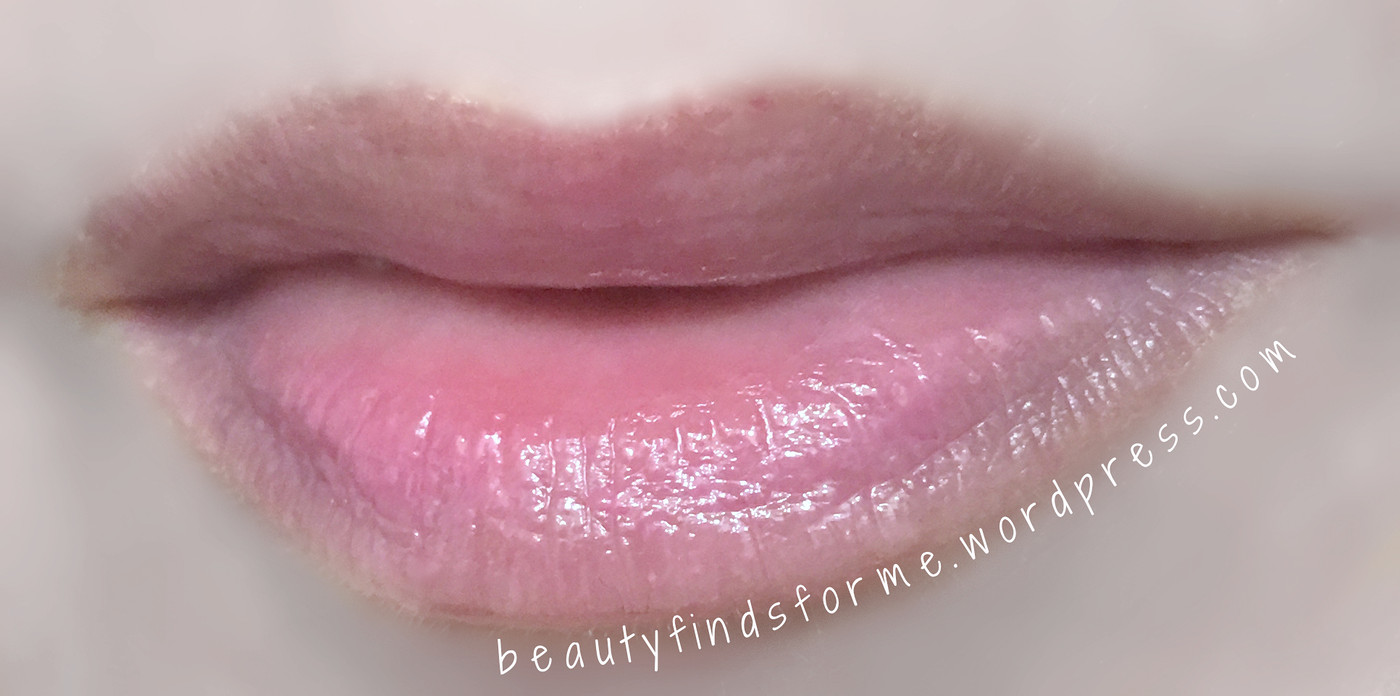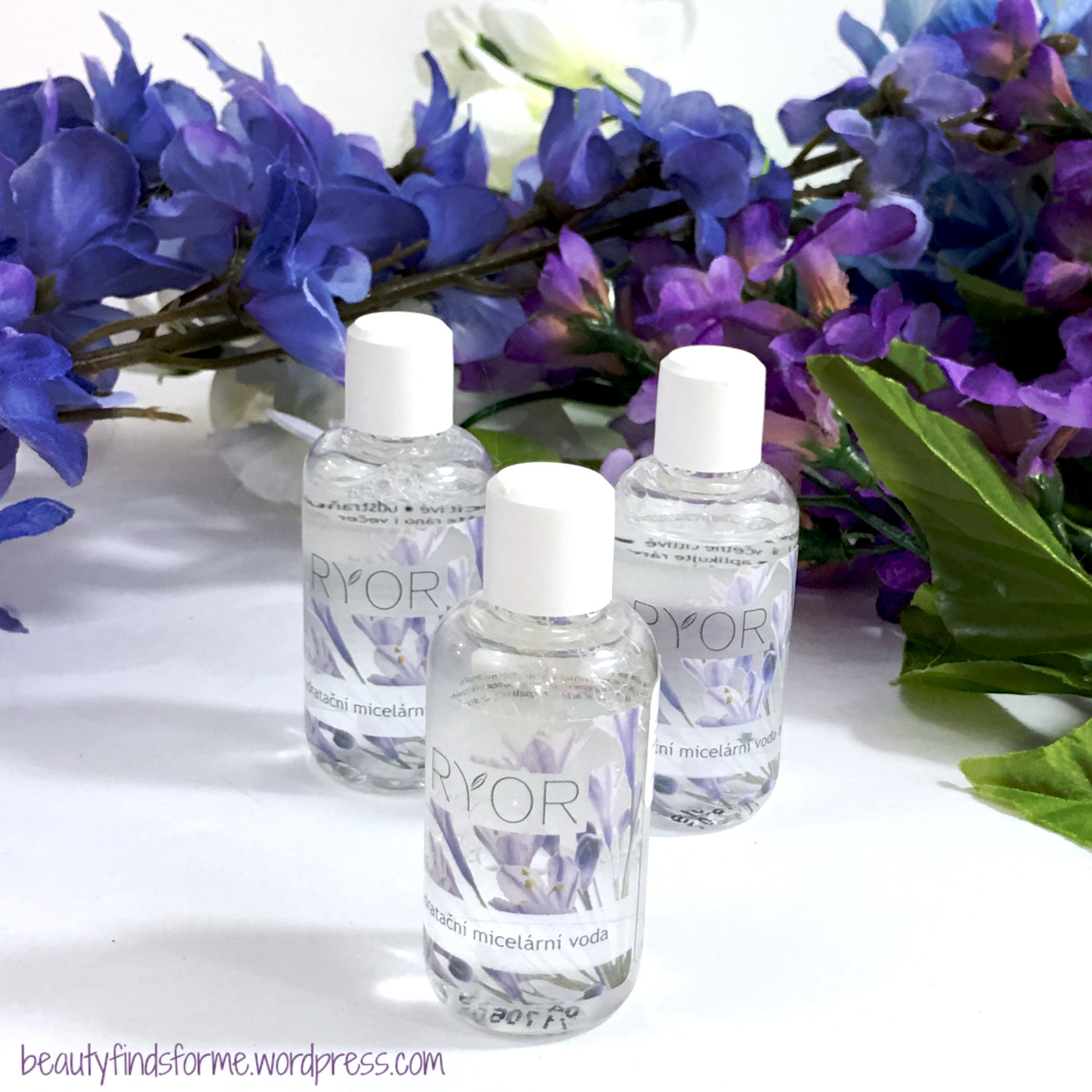 RYOR Moisturizing Micellar Water  I received this via Our Happy Box via a 08Liter campaign and their Micellar water is so popular, that they sold out of the full size version ~ I was supposed to get that and once it comes back in stock, Our Happy Box will send me the full sized version but for now, they sent me 3 minis of 10 mL each.  Micellar waters are cleansing waters but they are a specific type of cleansing water.  To be called a micellar water means that it contains micelles, which are tiny cleansing oil molecules, within soft water.  Micelles will go after dirt and oil and attach themselves to it, drawing out dirt, debris and oil without drying the skin.  The oil in this water is babassu oil esters, which is a water soluble oil that has oil regulating, softening, smoothing and elasticizing benefits. This has sodium lactate, which is a natural salt that comes from lactic acid (AHA) and it gently exfoliates the top layer of your skin, removing dead skin cells.   Amino acid glycine helps repair damaged tissue and to speed up healing, which means this water is great for blemish prone skin  This also has sodium hyaluaronate and glycerin for hydration, niacinamide for brightening and another exfoliating AHA sneaks in here with lactic acid.
Ingredients: Water, Poloxamer 184, Glycerin, Sodium Hyaluronate, Sodium Lactate, Sodium PCA, Glycine, Fructose, Urea, Niacinamide, Inositol, Sodium Benzoate, Lactic Acid, Arginine PCA, Babassu Oil Glycereth-8 Esters, Phenoxyethanol, Ethylhexylglycerin  cosDNA analysis

I will say that I love the floral design on these mini's and the large size also has this design ~ this watery cleansing water does not have an scent to it and it is not sticky or heavy ~ some cleansing waters are just really "dewy" and leave a horrible residue on my skin ~ this one does not.  This has a pH level of 7 to 7.5, which is fine for me ~ my favorite cleansing water is My Beauty Diary Ultra Cleansing Water and it has a similar pH level.   This is still heads above my tap water in my home ~ which is over 9!!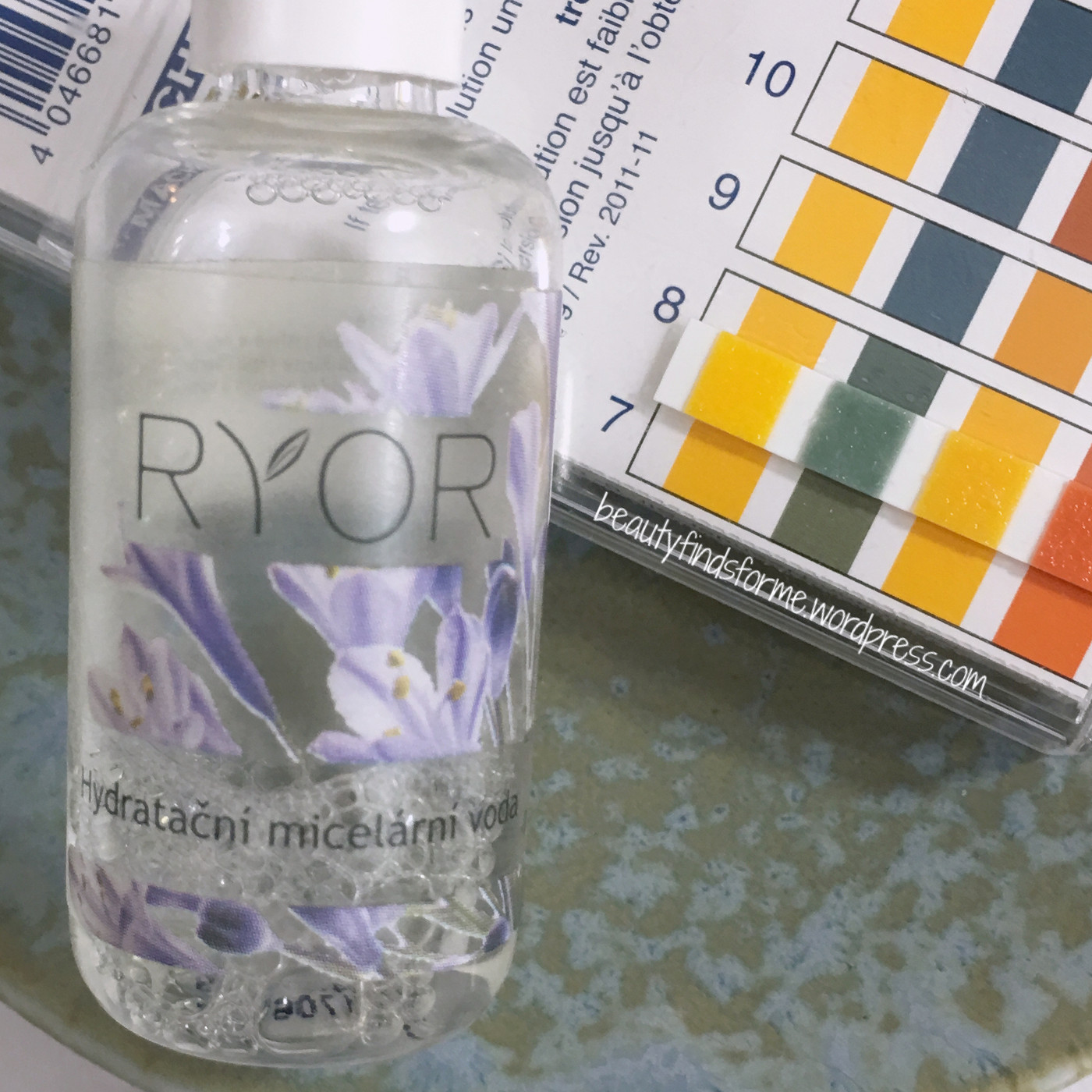 Cleansing waters are not a substitute for actually washing your face, but I do use them daily ~ first thing when I get up, I like to remove the night's skincare residue from my face and when I get home, to remove the day's dirt, grime and oil from my skin.  I am not yet ready to do a full skincare routine at this time, but I want to freshen up my skin.  As someone who has oily skin, cleansing waters and cleansing wipes have saved me from over washing my face with soap ~ these products will not dry out my skin, but remove most of my makeup, dirt and oil, while leaving my skin fresh and hydrated.  RYOR's Micellar Water is pretty good at removing makeup, btw!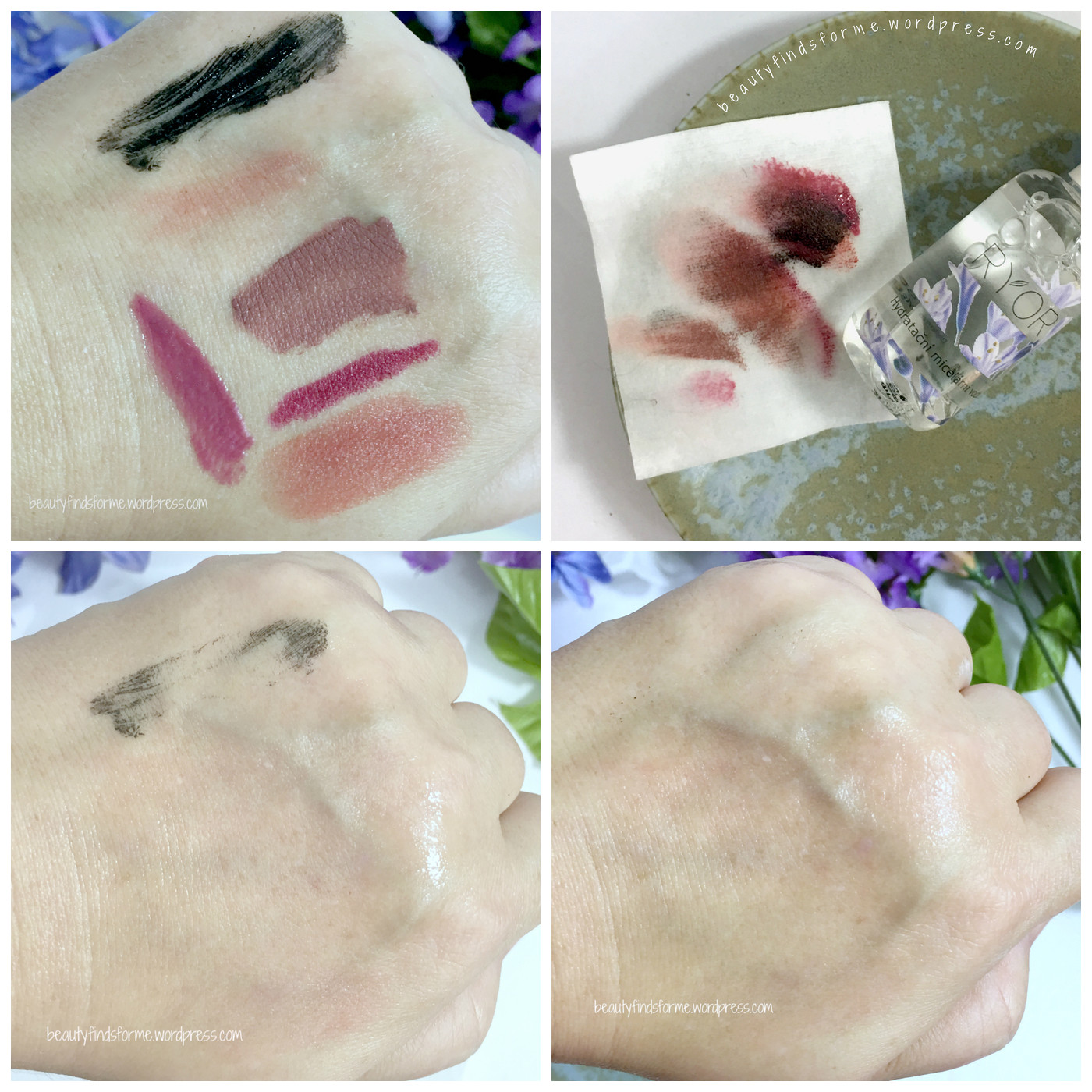 I damped a cotton pad with RYOR Micellar Water and swiped it over my hand with the makeup.  The first pass got just about everything but the mascara and then a second pass with the same cotton pad was able to remove all of the makeup on my hand. 
Final Thoughts
Both of these are great additions to your basic skincare arsenal! The Chameleon Color Adapting pH Lip Balm reminds a lot of an old favorite at Dermstore ~ they used to carry their own lip balm and it was very similar ~ but it was soooo thick to get out of the tube.  This is a great improvement and when I just need to add a little color to my lips, while nourishing them, this is a nice one to have.  Plus the tube design ~  It is SO cute and I love the purple-blue shade with the little lizard on it.  RYOR Moisturizing Micellar Water is also really nice ~ it reminds me a lot of My Beauty Diary Ultra Cleansing Water and I think this one might replace it, as it is so hard to find MBD's Ultra Cleansing Water nowadays ~ I don't know if they discontinued it, but I don't like having to hunt down skincare products that I love.  Hopefully, Our Happy Box will get this water back in stock soon, as I did enjoy it and am almost done with my mini samples!  Have you tried anything yet by RYOR or shopped at Our Happy Box?  What did you get and did you like it?

Where to Purchase
You can purchase these Ryor products plus more at Our Happy Box.  They ship to USA and several international countries, including Canada.  Our Happy Box provides free USA shipping with any orders $35.00 USD or more and they also provides a ton of samples too!

[ disclosure: products received complementary for review purposes ]