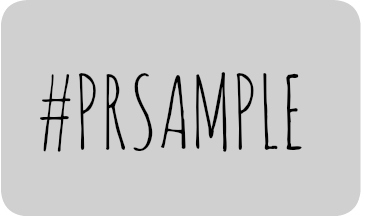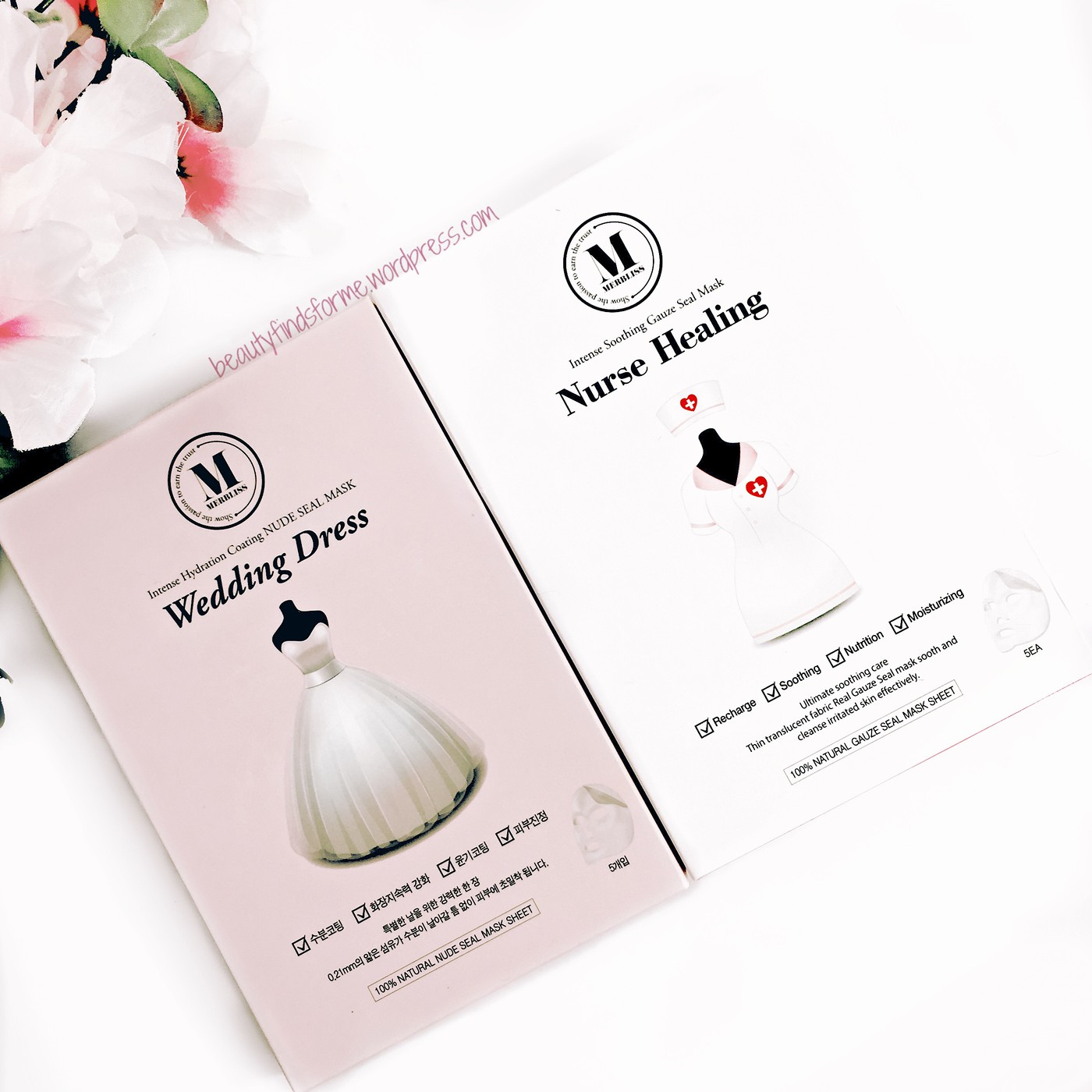 Be Mused Korea is a brand new store that carries a lot of my favorite new brands, such as Earth's Recipe, A by BOM , 107 One O Seven and ATOClassic.  The owner, Lisa, beauty-blogged for over 10 years and has been dreaming of opening her own shop for 5 years and it is finally here! I  was so excited to see the brands she curated, as they are new or not as popular,  but some of them I have used them in the past and love them.  Be Mused Korea is in the heart of K-Beauty, Seoul ~ and they are very selective on how they choose brands to feature on their online shop. I actually purchased some items from her shop and then she asked if I would like to review some items.  I received a lovely PR package full of masks, not just one or two, but a full box of 3 types, so I could test them out properly.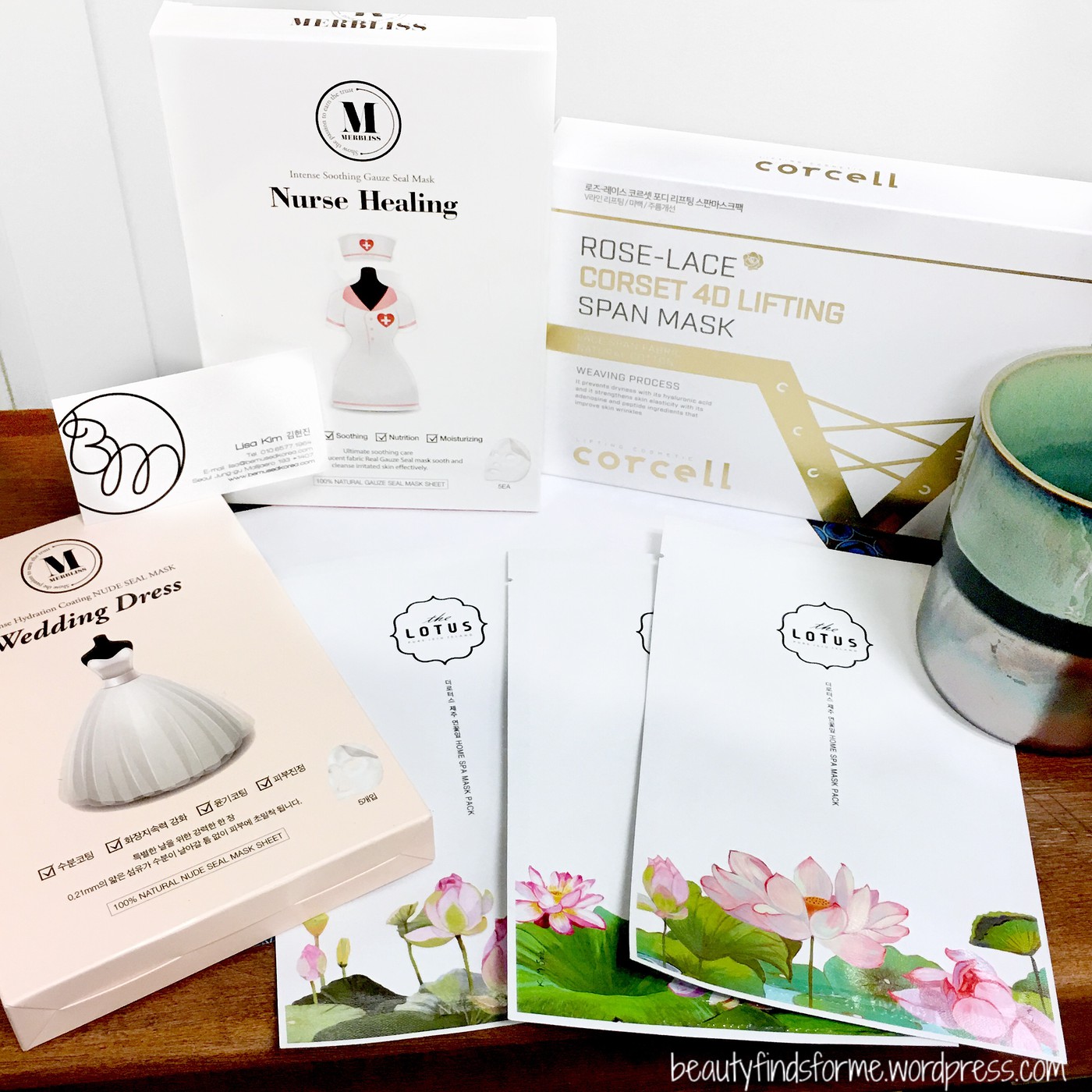 MERBLISS is a brand that I was introduced to about a year ago with their Wedding Dress mask ~ it's a weird name, but I have used this mask a couple of times and I do like it.   MERBLISS, May Everyday Remain Bliss, is devoted to finding beauty and bliss in everyday life.

MERBLISS carries a line of skincare products that helps to promote beautiful skin for special occasions, as well as essential daily products to effectively address everyday skin care needs. MERBLISS aims to make everyday skincare feel extra special and luxurious with its uniquely themed masks, while formulating safe and effective products that deliver targeted results. This brand strives to capture memorable moments and translate them into an enjoyable tangible experience through their skincare products. [ from bemusedkorea.com ]
Skin Type/Concerns: Oily, blemish prone, aging, fine lines/wrinkles, pores and hyper-pigmentation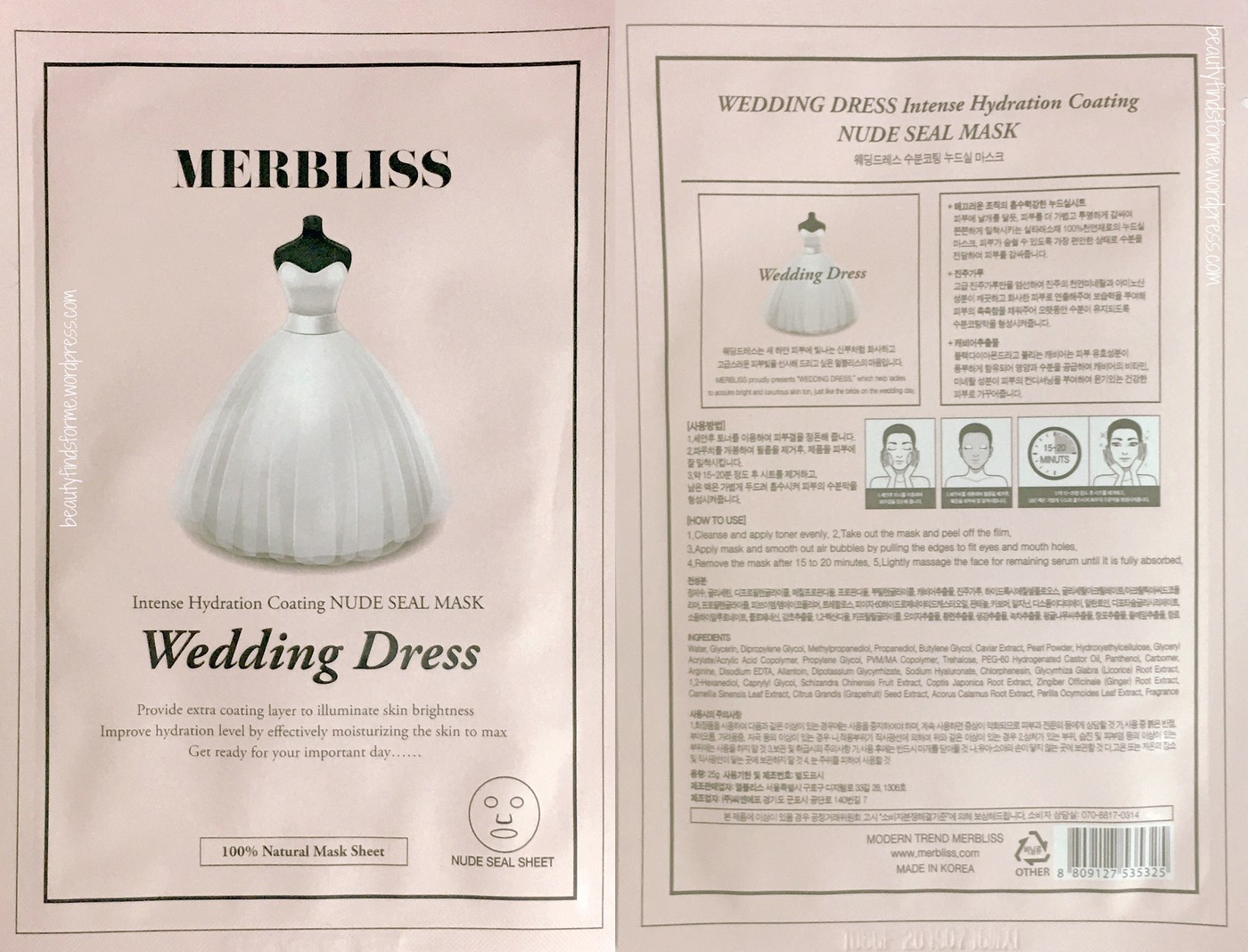 MERBLISS Wedding Dress Intense Hydration Coating Nude Seal Mask This mask's name originally made me think it was a hydrogel, but thankfully, it is not!! The Nude Seal is just a description of the thinness and transparency of the 100% natural mask sheet ~ which is ultra thin at 0.21mm  and made with top quality plant fibers.   This mask contains 25 grams of essence and will help brighten up the skin tone, while providing super hydration, smooth skin, elasticity and help with reducing the appearance of wrinkles. 
Some key ingredients to this special occasion mask are pearl powder which is full of amino acids and minerals, keeping healthy, bright and radiant.  Caviar has a variety of vitamins, amino acids & minerals which will provide nourishment to keep skin smooth and glowing.
It contains several hydrating and moisturizing ingredients: trehalose, which supplies concentrated moisture to your skin and helps retain moisture, preventing your skin from drying out. Glycerin will moisturize and hydrate the skin, leaving your face feeling smooth and soft. Panthenol is a natural humectant, which retains moisture and hydrates the skin. It also is a good lubricant on the skin, making skin look soft and smooth, while acting as a soothing anti-inflammatory. Sodium hyaluronate is an intensive moisturizing ingredient which bonds water to keep skin hydrated. It is a natural substance found in the human body and it made up of amino and uronic acids, and helps retain 100 to 1,000 times its own water weight in our skin cells.
Soothing and healing allantoin and arginine will promote healthy looking skin, by repairing dry and chapped skin.  Glycyrrhiza glabra also soothes and calms skin, acting as an anti-inflammatory, but also brightens and reduces hyper-pigmentation.  Antioxidant ginger helps with anti-aging, removes toxins, combats and prevents damage from free radicals, helping improve elasticity which makes your skin firm, toned and less wrinkles. It has anti-bacterial, anti-inflammatory and brightens skin.  Green tea is also full of powerful anti-oxidants, due to its high concentration of polyphenols, which helps reduce the appearance of fine lines and wrinkles.  This mask is free of silcones, parabens, mineral oils and synthetic dyes and it is suitable for sensitive skin as it will not irritate skin
Ingredients: Water, Glycerin, Dipropylene Glycol, Methylpropanediol, Butylene Glycol, Caviar Extract, Pearl Powder, Hydroxyethylcellulose, Glyceryl Acrylate/Acrylic Acid Copolymer, Propylene Glycol, PVM/MA Copolymer, Trehalose, PEG-60 Hydrogenated Castor Oil, Panthenol, Carbomer, Arginine, Disodium EDTA, Allantoin, Dipotassium Glycyrrhizate, Sodium Hyaluronate, Chlorphenesin, Glycyrrhiza Galbra (Licorice) Root Extract, 1,2-Hexanediol, Caprylyl Glycol, Schizandra Chinensis Fruit Extract, Coptis Japonica Root Extract, Zinziber Officinale (Ginger) Root Extract, Camellia Sinensis Leaf Extract, Citrus Grandis (Grapefruit) Extract, Acorus Calamus Root Extract, Perilla Ocymoides Leaf Extract, Fragrance cosDNA analysis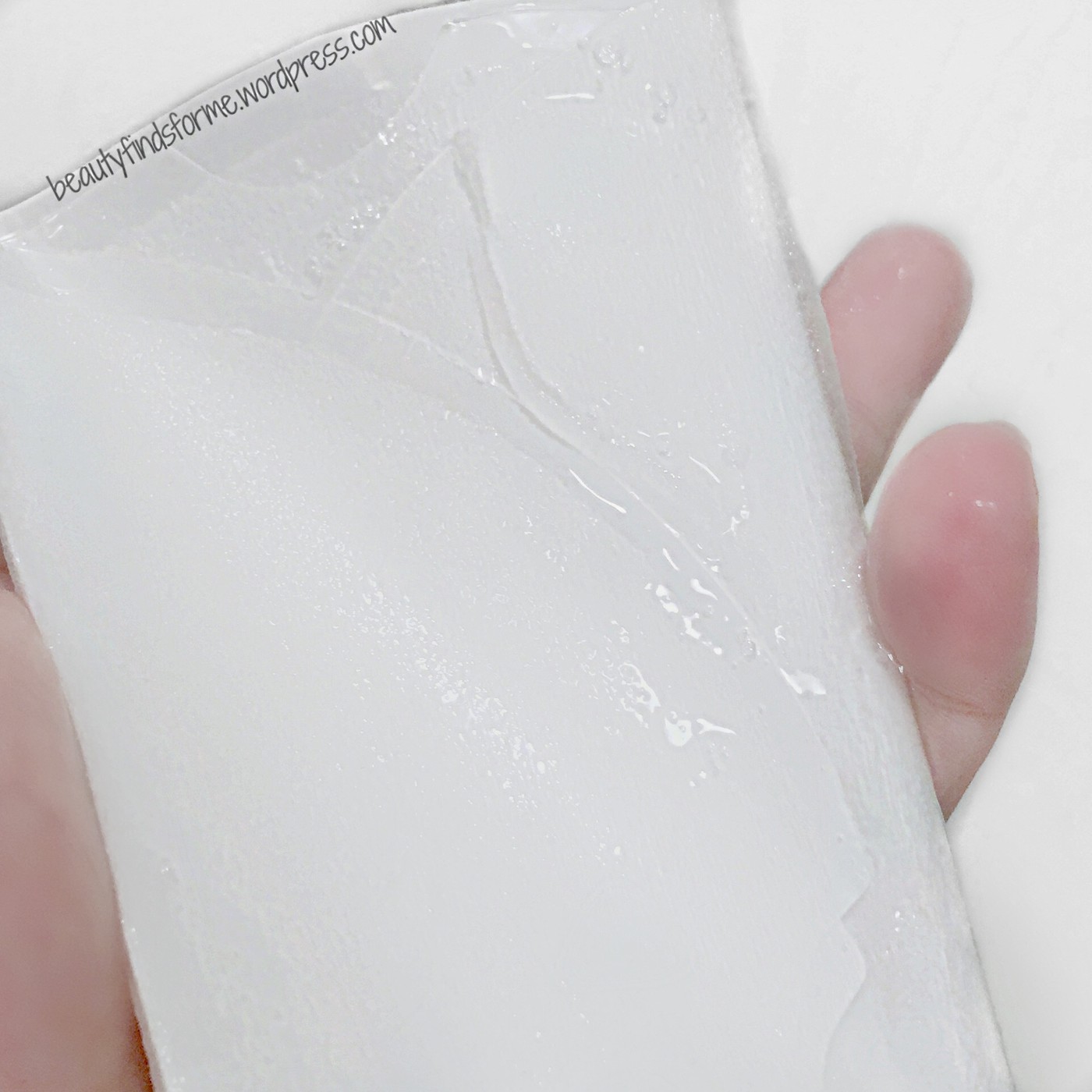 As mentioned, this hydro gel biocellulose sheet mask is ultra thin at .21mm as to closely adhere to the skin ~ it comes protected with pearl paper ~ that plastic sheet that helps the mask keeps it shape before use and allows for ease of application.  Despite being very thin, I had no issues applying this mask on my face and it is super soft and silky, very lightweight. 
image from merbliss
The mask itself is very wet with watery essence, but there isn't a lot left in the pouch.   This mask has a very good fit on my face ~ a little snug around the outer edges of my eyes, but it does cover my huge face quite nicely.  The scent is a bit generic, like soap, but it isn't a strong smell.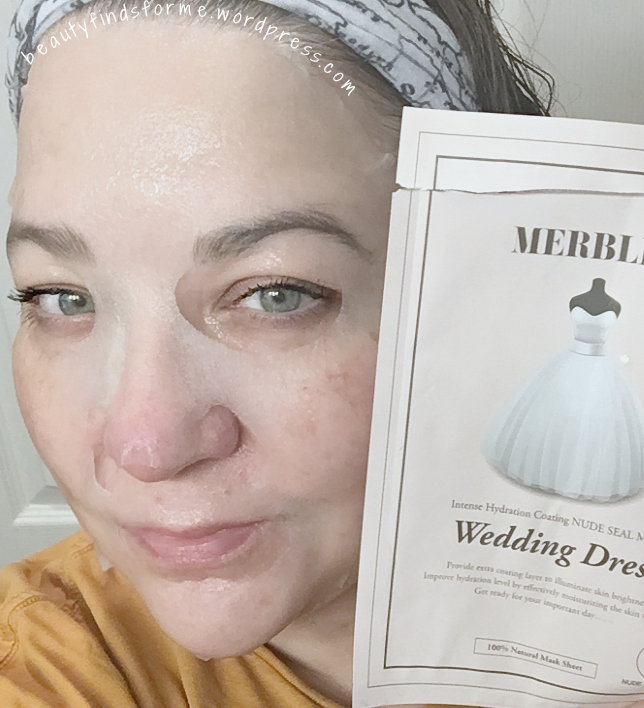 I kept this mask on for 40 minutes (recommended time is 10 to 20 minutes) and it was still damp ~ always remove your sheet masks while they are still damp and not bone dry.  My skin felt so cool and refreshed, very hydrated and plumped up with moisture with an added bonus of a brighter looking skin tone ~ I know that is temporary, but every little bit helps!   The dry down time was very quick and there was no sticky or tacky residue.  I liked using this mask as a morning mask, as it doesn't leave my skin tacky or dewy looking ~ it is a great hydrating mask and earns its title of "Intense Hydration Coating"!   With the dry winter months ahead, having a mask that provides a shot of hydration into my skin is most welcomed in the morning.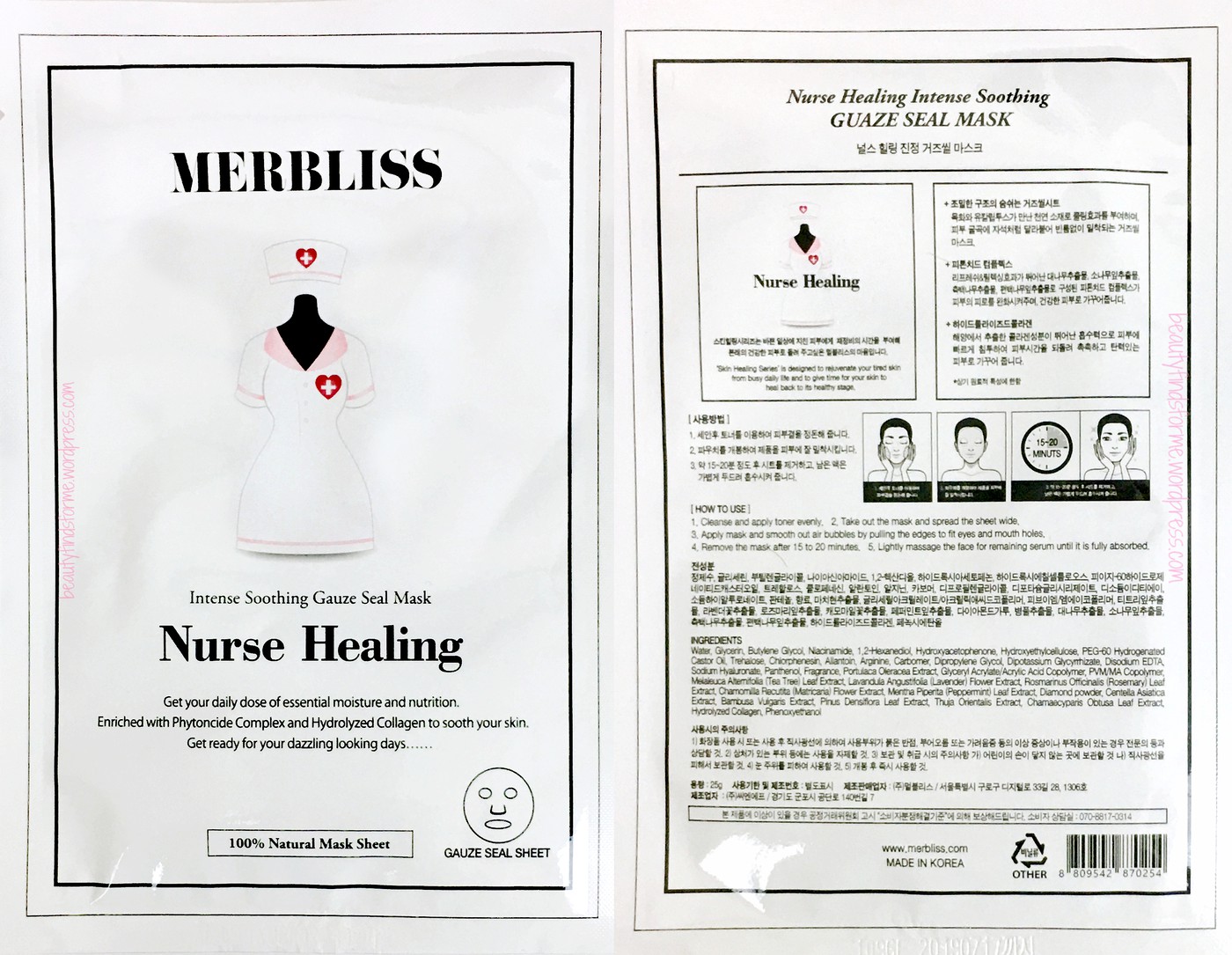 MERBLISS Nurse Healing Intense Soothing Gauze Seal Mask I never saw this mask before until Be Mused Korea sent it to me ~ The Wedding Dress has been around for over a year now, and I was wondering when MERBLISS was going to release different masks.  This one is quite different from their Wedding Mask, as it is a soothing, repairing and brightening mask.  This mask is good for all skin types, especially for sensitive, blemish prone or irritated skin. Nurse Healing mask contains brightening niacinamide and licorice, which both will help soothe skin and reduce post-inflammatory hyper-pigmentation.  Phytoncide Complex consists of pine needles and Hinoki cypress, whose calming and antiseptic benefits help to relax tired and damaged skin.  A slew of botanical herbs ~ tea tree, lavender, rosemary, chamomille, peppermint and centella are all fantastic ingredients, especially for oily, blemish prone skin!   They work well on all skin types, by the way, but for me, to see these ingredients in here makes me very happy ~ as the sum of these ingredients  help soothe, heal, repair, calm skin while providing antibacterial and astringent benefits. 
This also has hydrolyzed collagen, which doesn't always agree with my skin ~ collagen is an intense moisturizer that sometimes causes me to break out.  I think with all of the other antibacterial and antiseptic ingredients, I should be okay.  And finally, one of my favorite plump-up-my-skin ingredients, bamboo, is in here ~ bamboo contains over 70% of silica, which is a crucial item when it comes to your skin's connective tissue, collagen. By stimulating certain cells, silica helps strengthen your collagen and elastin, which in turn will help firm and tone your skin and plump up your skin, so fine lines and wrinkles are not as noticeable. Bamboo also is a very soothing ingredient that is good for sensitive skin, as it is an anti-irritant, retains moisture and helps combat free radicals as it does contain anti-oxidant proprieties as well.
Ingredients:  Water, Glycerin, Butylene Glycol, Niacinamide, 1,2-Hexanediol, Hydroxyacetophenone, Hydroxyethylcellulose, PEG-60 Hydrogenated Castor Oil, Trehalose, Chlorphenesin, Allantoin, Arginine, Carbomer, Dipropylene Glycol, Dipotassium Glycyrrhizate, Disodium EDTA, Sodium Hyaluronate, Panthenol, Fragrance, Portulaca Oleracea Extract, Glyceryl Acrylate/Acrylic Acid Copolymer, PVM/MA Copolymer, Melaleuca Althernifolia (Tea Tree) Leaf Extract, Lavandula Angustifolia (Lavender) Flower Extract, Rosmarinus Officinalis (Rosemary) Leaf Extract, Chamomilla Recutita (matricaria) Flower Extract, Mentha Piperita (peppermint) Leaf Extract, Diamond Powder, Centella Asiatica Extract, Bambusa Vulgaris Extract, Pinus Densiflora Leaf Extract, Thuja Orientalis Extract,Chamaecyparis Obtusa Leaf Extract, Hydrolyzed Collagen, Phenoxtethanol  cosDNA analysis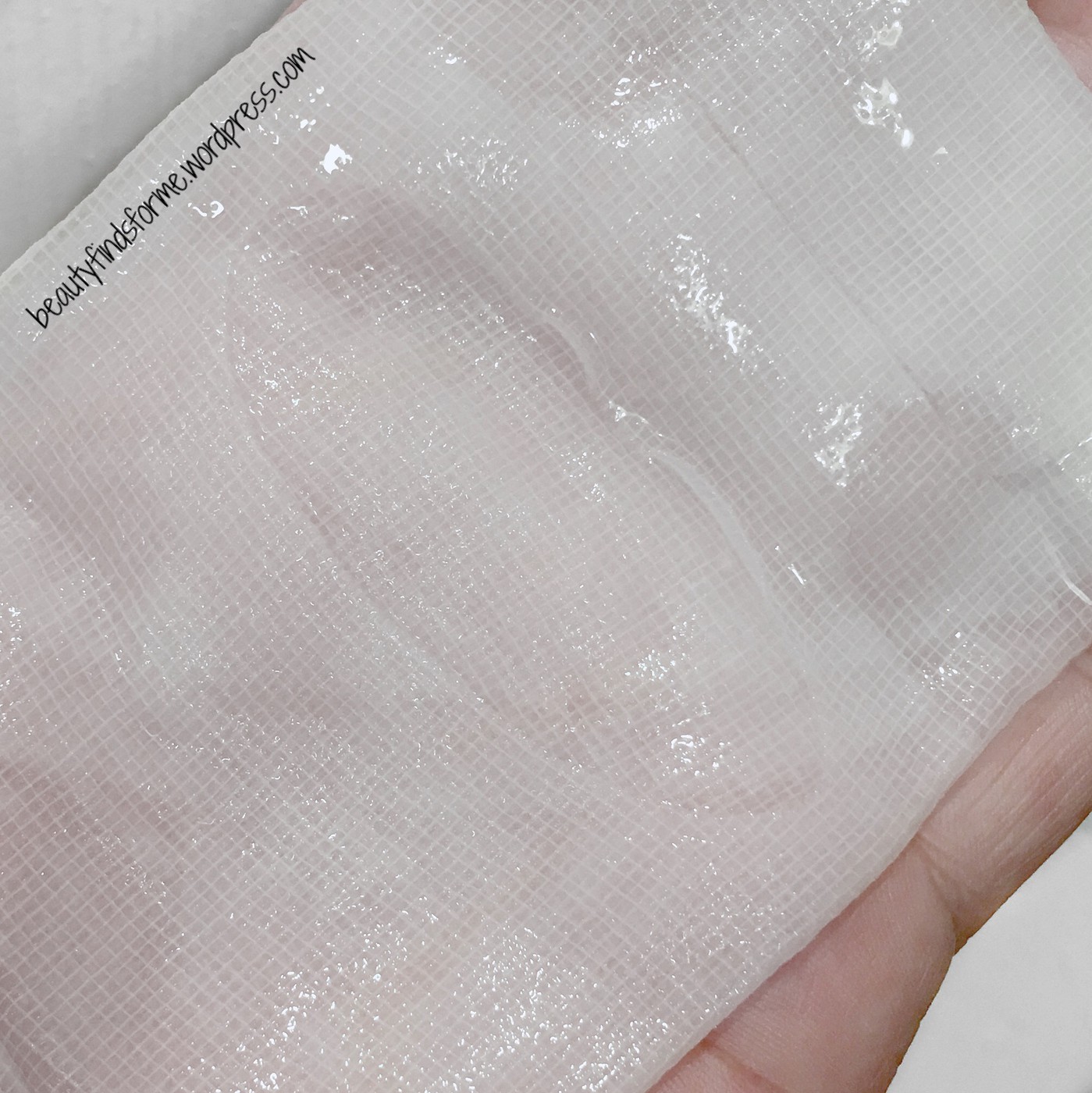 The sheet mask is made from a strong, breathable gauze material that doesn't tear or fray ~ made from 100% natural ingredients ~ cotton and tencel from eco-friendly eucalyptus fibers, it is not rough on my skin.  The gauze reminds me of cheesecloth! 
image from merbliss
This mask is really dripping in a watery-gel like essence and there is a lot of of it in the pouch, unlike the Wedding Dress mask .  Again, the scent is that generic soapy fragrance ~ it is light and doesn't bother me too much, but I wonder why they couldn't have had a more herbal scent instead, as it is full of herbal ingredients.  The mask is easy to apply and the fit is okay ~ I feel that my forehead got squeezed out here!   I really like the extra material around the mouth area, but the sides of my forehead are missing out on the mask.  It is a weird fit up there but other than that, it covers my face decently.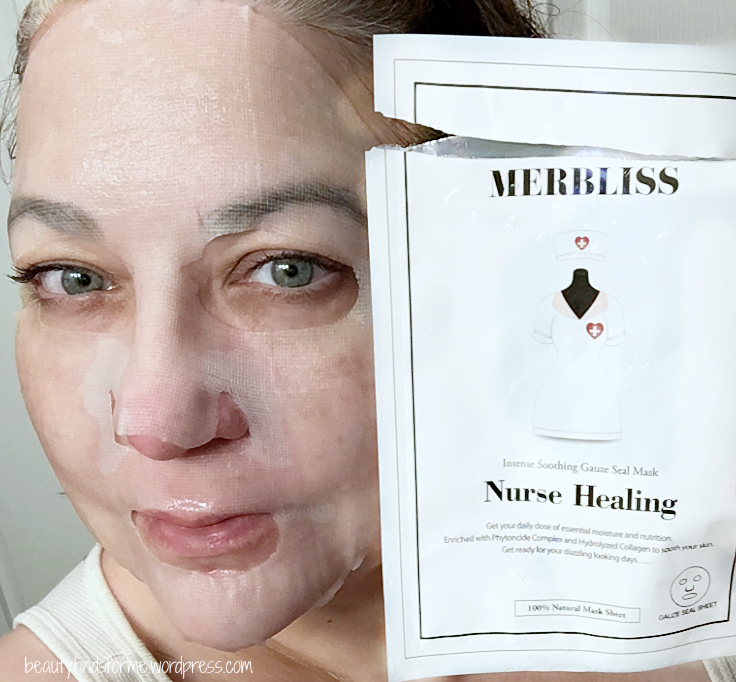 This is very cooling on my skin and I could leave it on for 40 minutes with no issues, as it was still damp on my face.  My skin felt soothed and it did reduce some redness I had on my face ~ I was nursing a HUGE zit on my nose and that was not as red as it was prior to the mask.  However, it didn't reduce the swelling as it was still very much there.  There is an initial tacky, stickiness with the mask that takes about 10 to 20 minutes to dry down and absorb completely.  This is also not an oil controlling mask ~ my skin was very shiny and dewy looking, very moist as the collagen does leave a slight film on my skin ~ I actually would recommend using this as a night time mask if you have oily or combo-oily skin ~ it would also help repair your skin overnight as well.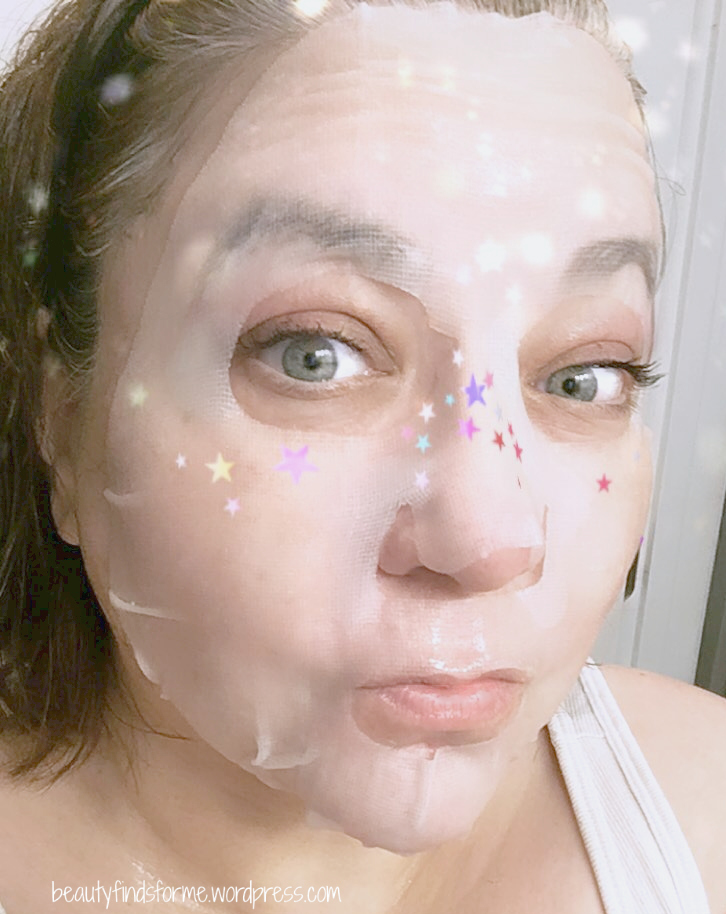 Final Thoughts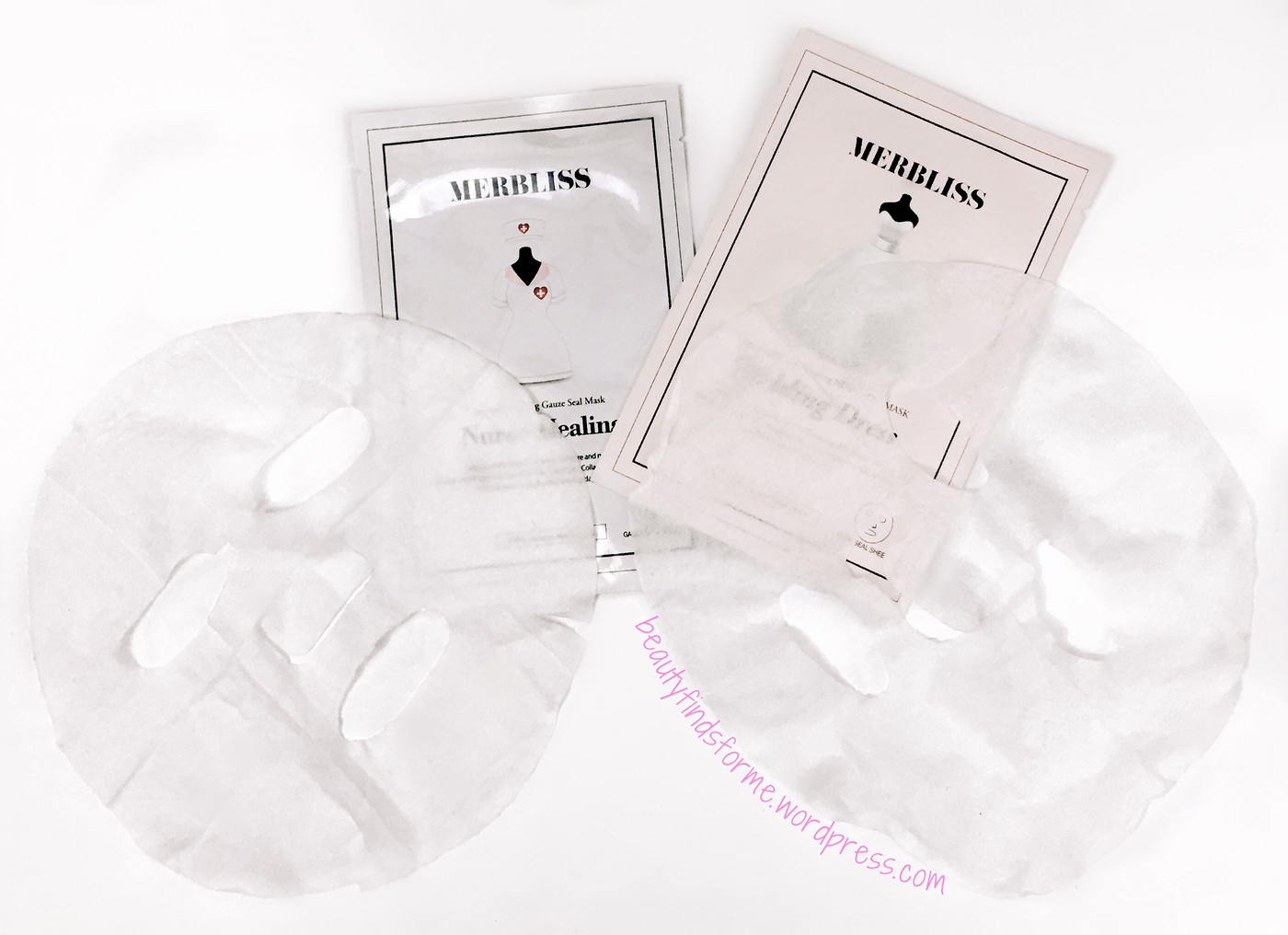 Sometimes you never can tell the difference between masks within a brand ~ they hydrate, soothe, whatever, almost interchangeable.  I can honestly tell you that MERBLISS Wedding Dress and Nurse Healing are very different and you can tell it right away ~ from the mask material ~ feather weight, ultra thin bio-cellulose vs stretchy gauze cotton/tencel ~ , the essence ~ watery vs watery-gel and the ingredients ~ hydrating, brightening focus vs soothing and healing focus.  The results are quite different as well and how I used them ~ Wedding Dress is more suitable for me as a refreshing, wake-me-up morning mask while Nurse Healing is an intense moisturizing and healing right-before-bedtime mask.  I think that all skin types can use these masks without issues and barring any allergies.  They both are cooling on the skin and have the same type of scent, but the results are so different.  I cannot say that I like one better than the other, because the results are so different! I will say that it all depends on your skin needs and I recommend both of these masks from MERBLISS.  Have you tried MERBLISS masks before? Which ones and did you like it?

I have some more mask reviews coming up that Be Mused Korea sent me  ~ I actually purchased from Be Mused Korea and tried one of the Corcell Rose-Lace Corset 4D Lifting masks, and was really excited that I got sent a full box to test out.  Also, a trio of The Lotus 3-step mask system ~ these masks are under consideration if they are to be sold at Be Mused Korea and I am honored that Lisa wanted my feedback on them.  Look for those reviews soon!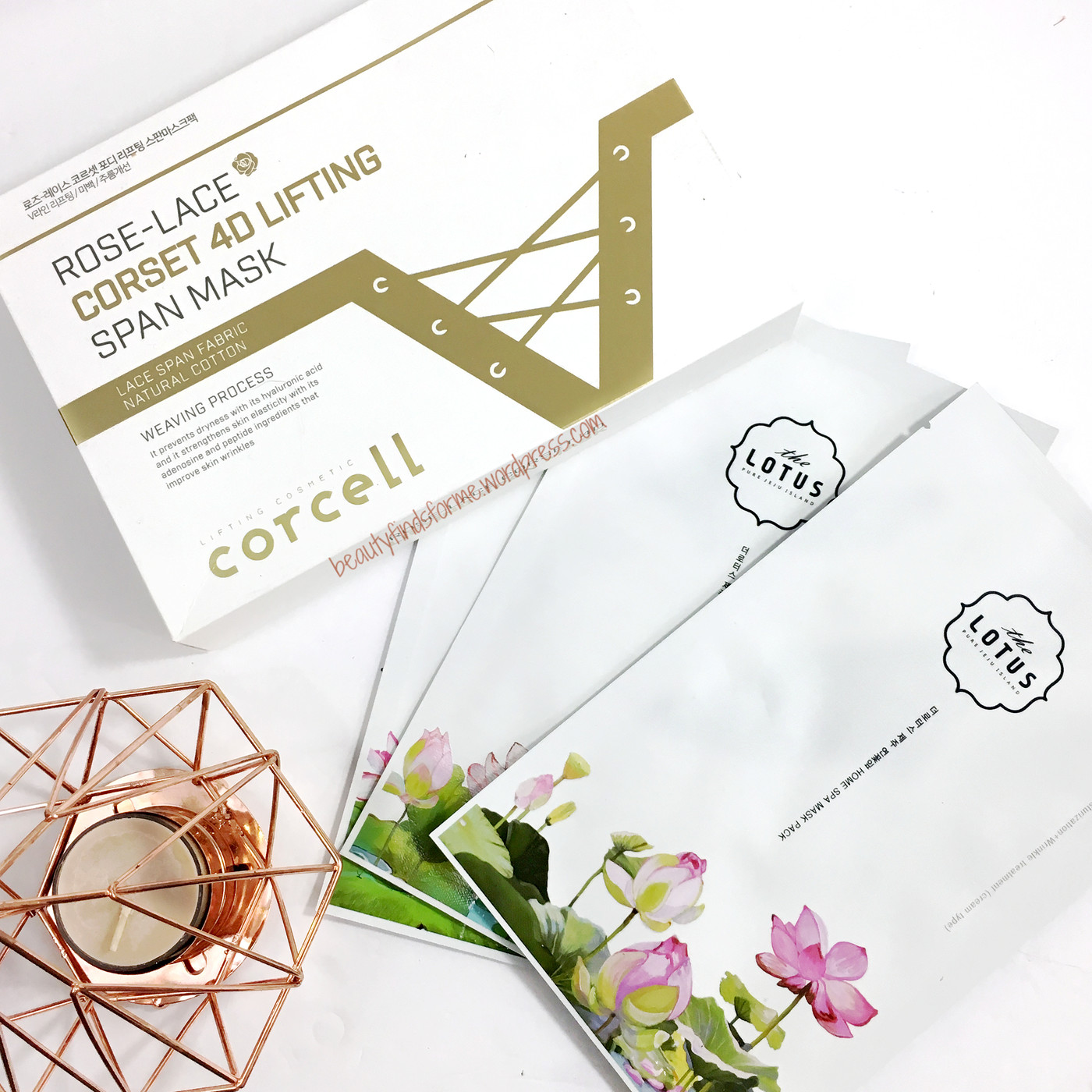 Where to Purchase

Be Mused Korea ships globally and if your country is not on their list, drop them a message.  I read online that a customer asked them to add in her country and it was done quickly!  They also give out nice samples and shipping time is extra fast too.  Free shipping with any purchases over $60.00 and for a limited time, if you sign up for their newsletter, you will get a one-time use coupon for 10% off their shop.

[ disclaimer: products received for review purposes . ]