In case you have missed my last review on Nourish Beauty box ~ I had decided to search for a new beauty box to subscribe too, as I am very unhappy with NMNL and also Sephora Beauty Boxes.  I found Nourish Beauty Box, which is an eco-friendly and organic products with some bold makeup items as well as skincare!

Nourish Beauty Box will contain four full sized eco-friendly, vegan, paraben free, cruelty free and organic bio-natural skincare and makeup products monthly.  Three of the brands are mainstays in the box ~ Nourish Nails (house brand for nailpolish), Peony Cosmetics and Seraphine Botanicals. The boxes start out at $29.95 and can be as low as $26.65/monthly for a 6 month subscription.  I recommend for USA addresses to use this link here for the $29.95 as it includes shipping.  For International readers, use this link instead, as it is less expensive that on their main site ~ free International shipping at $34.95/monthly.  I am not sure why they have two different price settings, but hey, you save a couple of dollars using that alternate link.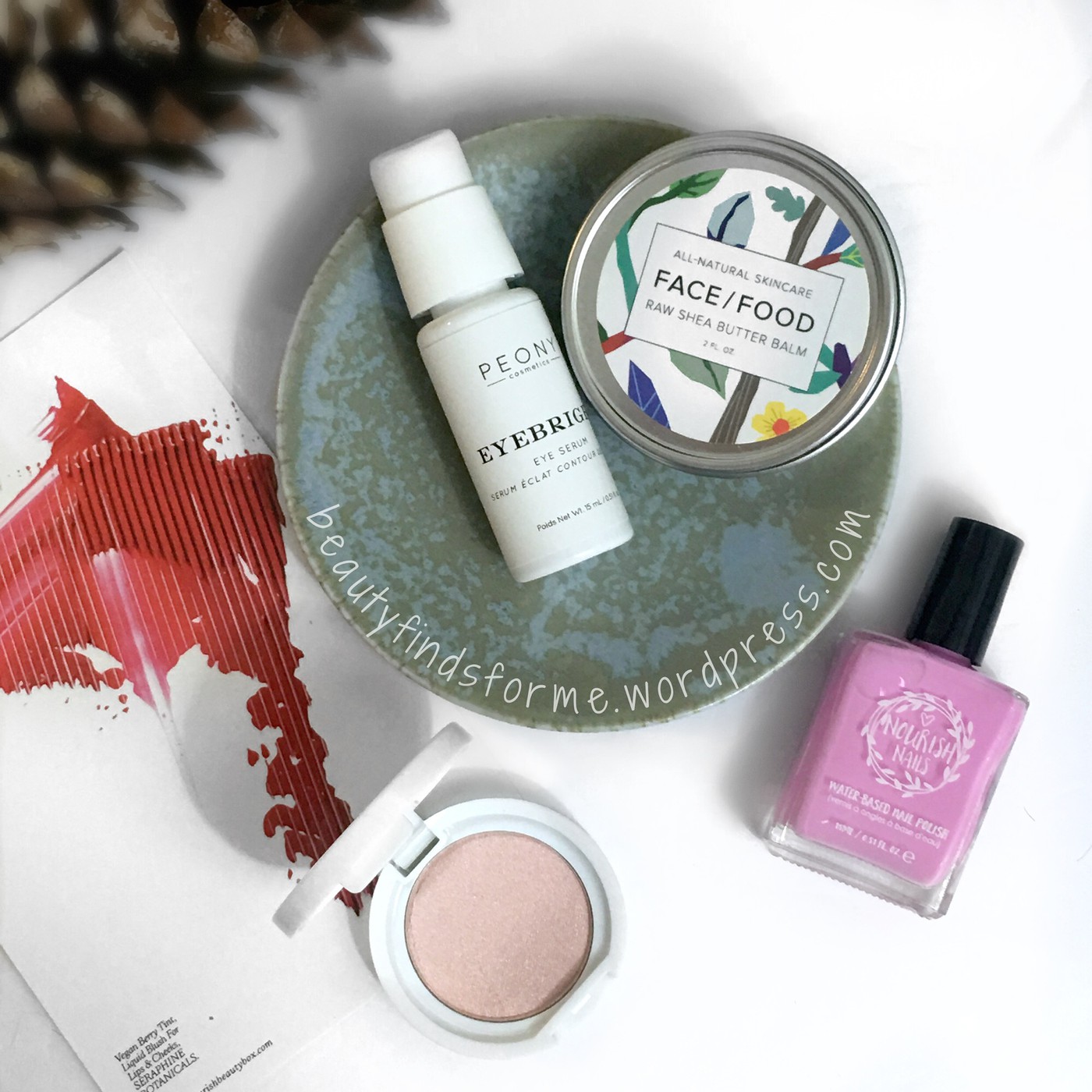 Informational Card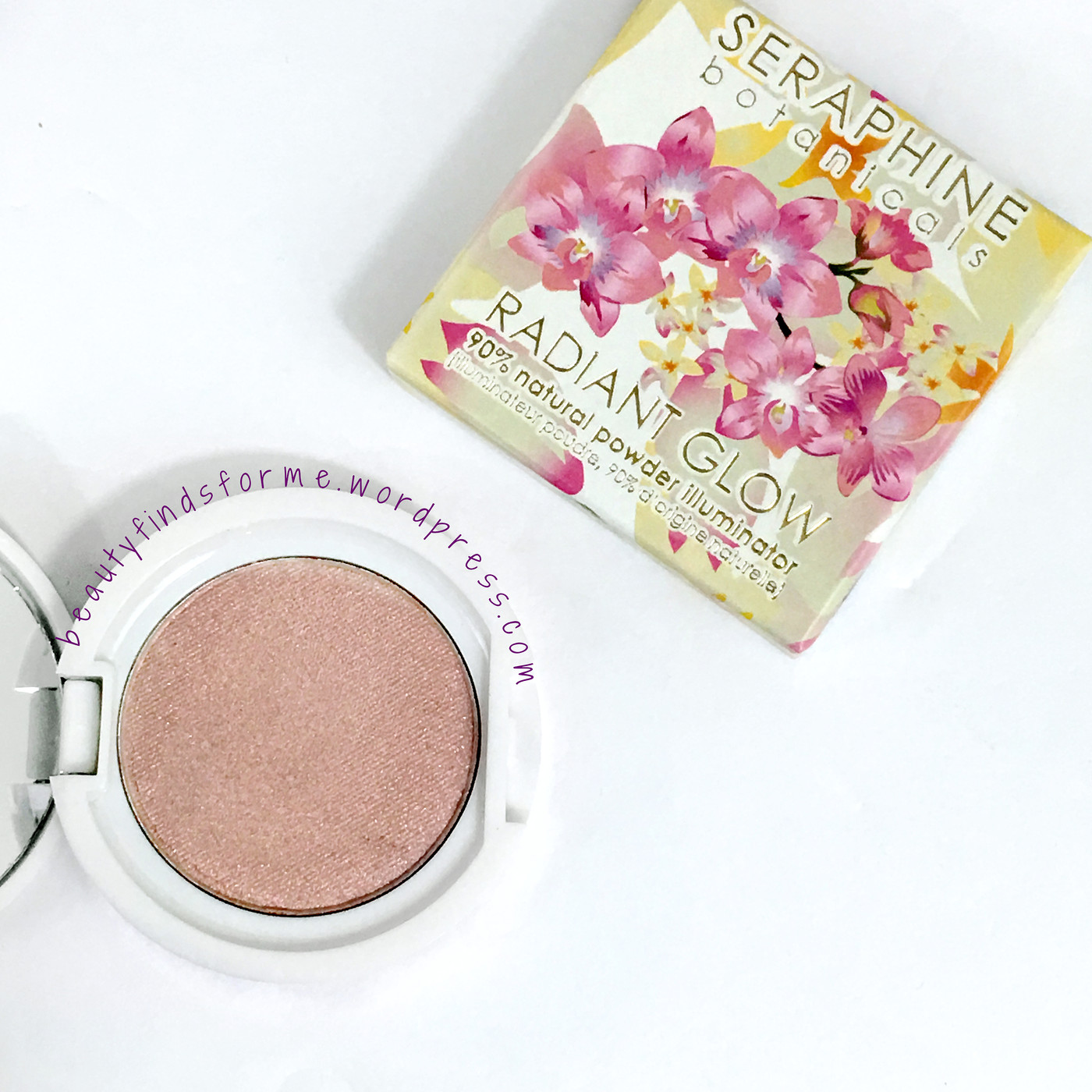 Seraphine Botanicals Radiant Glow in "Rose Dust"  Seraphine Botanicals offers two shades in their Radiant Glow 99% Natural Powder Illuminator ~ Daffodil Dust, which is a pale golden shade and this one in Rose Dust ~ a lovely shimmery rose-pink shade. This hypoallergenic and non-comedogenic highlighter has tree tree oil in it, which makes it very interesting to me ~ that means it will help heal and prevent blemishes while you wear it!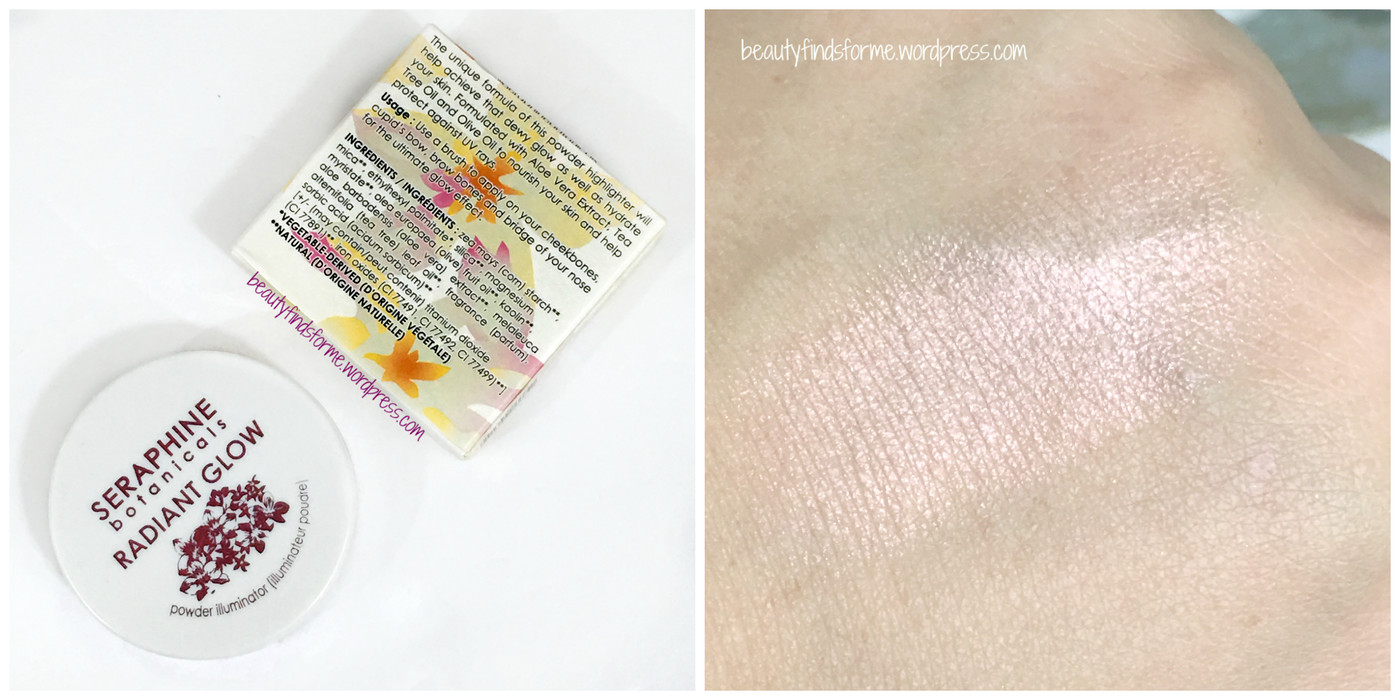 This also has hydrating aloe vera and nourishing olive oil, but it also has some nice oil absorbing ingredients with corn starch, silica and kaolin.   Apply this anywhere you want to glow ~ cheekbones, cupid's bow (right above your lip), brow bones and nose bridge.  This is talc-free and contains no mineral oil, parabens, phthalates or gluten.  It is vegan, GMO-free and 99% natural with no animal testing ~ cruelty-free.  I am a huge fan already of this brand and I love the box designs so much as well.  .11 oz RV $22.00
Vegetable-Derived  Natural 
Ingredients: zea mays (corn) starch**, mica**, ethylhexyl palmitate**, silica**, magnesium myristate**, olea europaea (olive) fruit oil**, kaolin**, aloe barbadensis (aloe vera) extract**, melaleuca alternifolia (tea tree) leaf oil**, fragrance, sorbic acid ** [+/- (may contain) titanium dioxide (CI 77891)**, iron oxides (CI 77491, CI 77492, CI 77499)** ]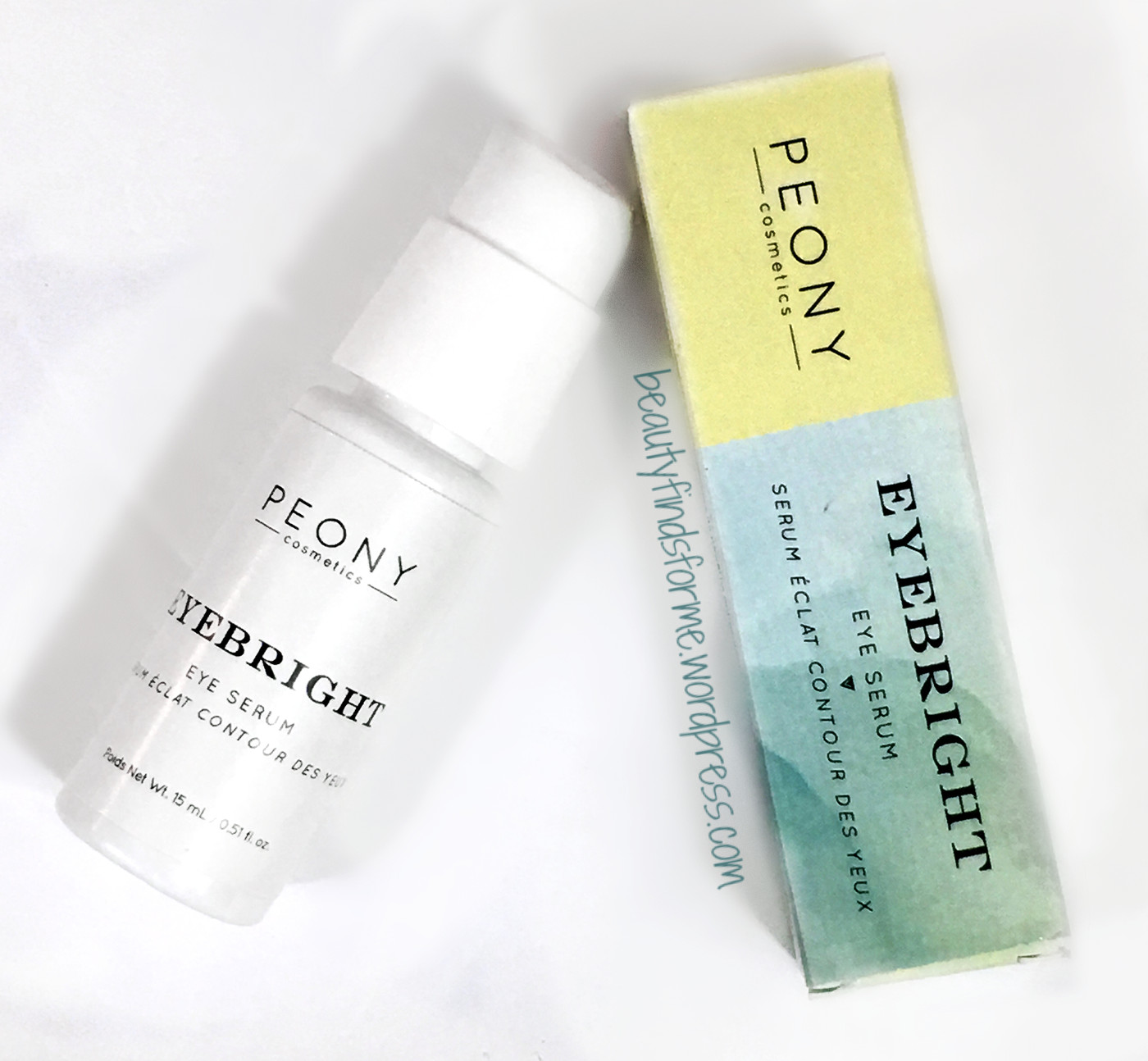 Peony Cosmetics Eyebright Eye Serum Last month, I received an apricot scented celery root facial cream from Peony Cosmetics and I love it!!  This month, I received a lightweight eye serum, which as I get older, I do use more than one eye care product.  Serums are very watery and lightweight, immensely  hydrating and I find that they help prep my skin for additional eye care products, such as creams.  I do not have to use as much of a protective and heavier eye cream, as my skin has been properly hydrated with a serum.  As you can tell, I do think about this a lot, as my eye area is my "age-tell".  This has lupin seed extract ~ this is a herbaceous plant, part of the legume family and is normally farmed in the south of France.  Lupin seeds have pentapeptides and hexapeptides, that have the capability of slowing the matrix metalloproteinases (MMP), which are enzymes that break down and recycle down that support your skin layer.  You still want MMP to occur, but if you have older skin, you want to slow down the cycle ~  The older we get, the less collagen and elastin we have.
Lupin seed extract helps reduce that breakdown of collagen and elastin, so your skin will continue to renew and produce collagen and elastin, producing firmer and more toned skin.  This also has pineapple fruit extract, which contains a natural enzyme that will remove old dead skin cells, revealing new and brighter skin.  This anti-aging and antioxidant ingredients of ginger and lactobacillus as well as lactic acid, an AHA that will help renew your skin as well.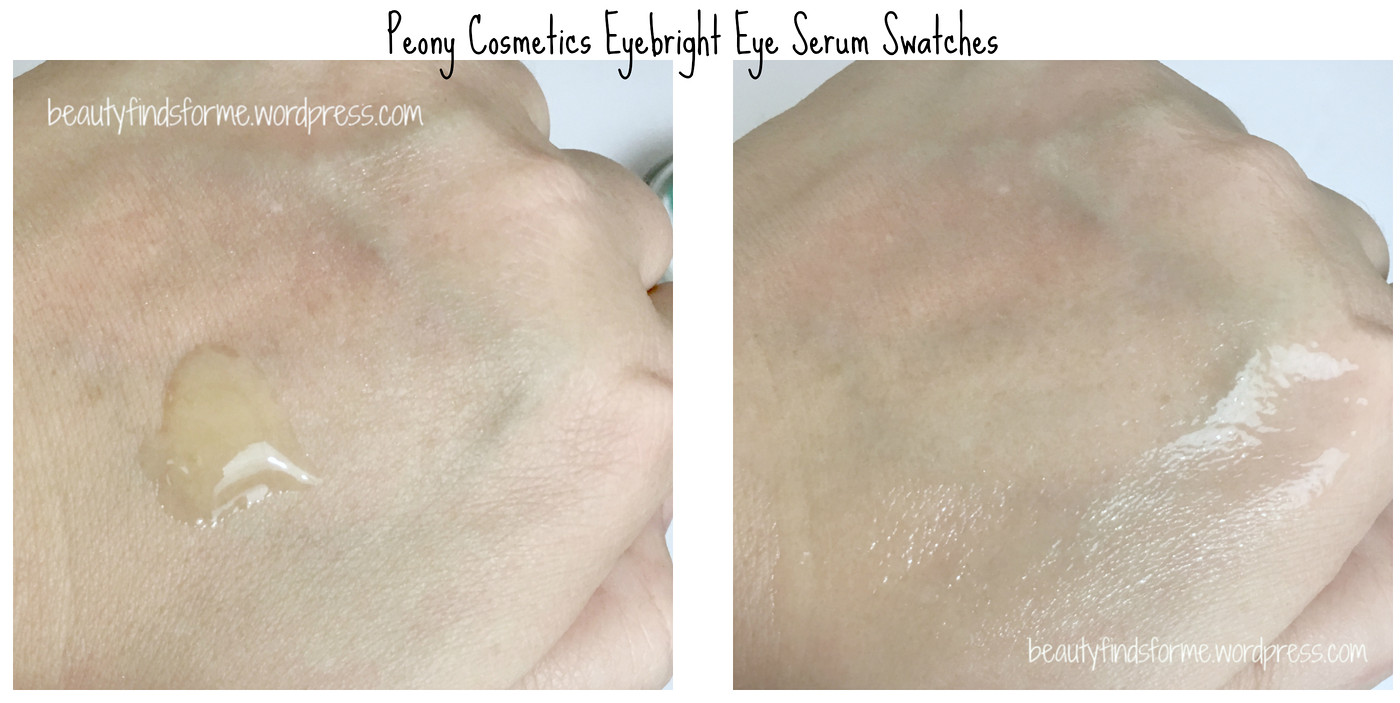 I was wondering why there wasn't a protective cover on this pump cap applicator and then I found out why ~ the cap twists, so you can twist it back to a closed (locked) position without worrying about air getting into the product.  Very clever!  So, this is a gel that is very watery and has a yellowish tinge to it.  I will also say this smells like sour milk and herbs, which is due to the lactic acid.  I mean, this stinks, but the scent disappears quickly.  It absorbs nicely and quickly, with no sticky residue.  This is vegan, gluten-free and is 100% cruelty-free with no parabens.  15 mL RV $24.00
Vegetable-Derived  Natural 
Ingredients: water**, propanediol*, propylene glycol, lupinus albus (white lupin) seed extract*,  caprylic/capric glycerides*, ananas sativus (pineapple) fruit extract*, phenoxyetanol, xanthan gum**, caprylyl glycol*,  lactobacillus ferment**,  zingiber officinale (ginger) root extract*,  tetrasodium EDTA,  lactic acid**, sodium hydroxide**,  phenethyl alcohol**  [+/- (may contain)  mica**, titanium dioxide (CI 77891)**, iron oxides (CI 77491, CI 77492, CI 7499)**]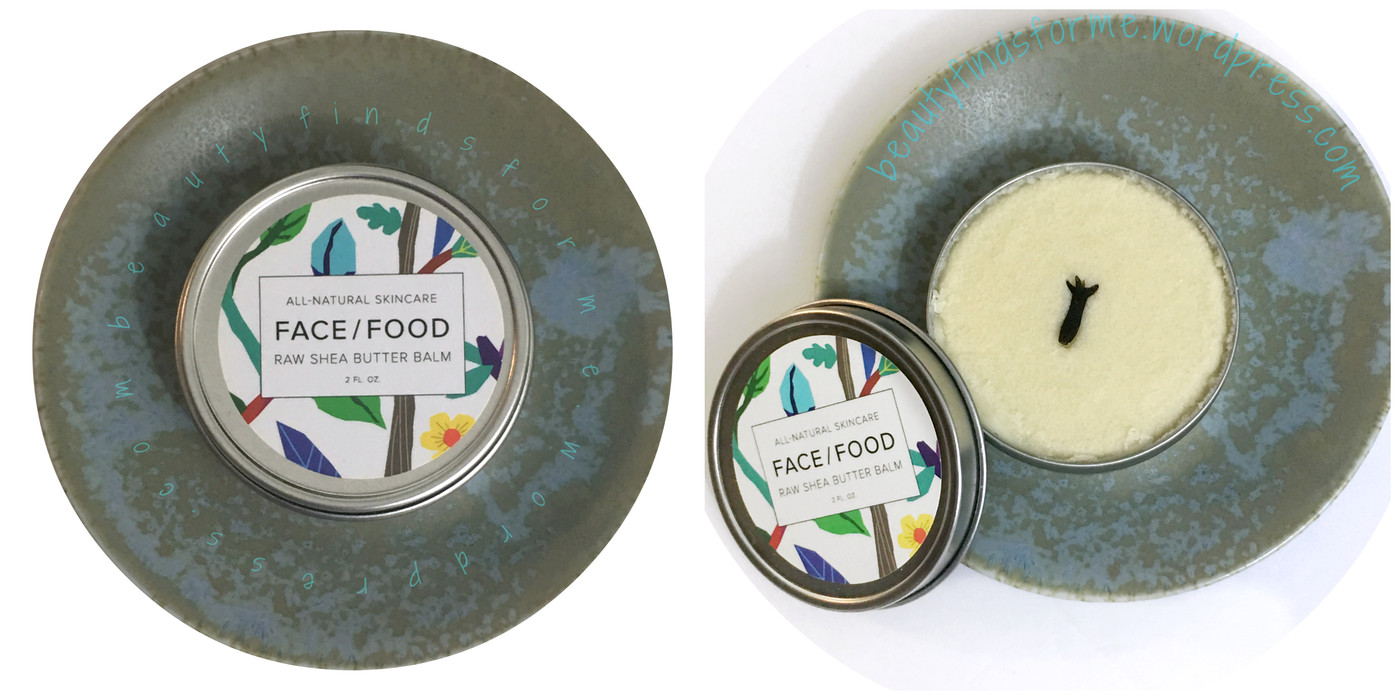 Face/Food Raw Shea Butter in "Orange Clove" Face/Food Skincare is an etsy shop and you know how much I love it when I get artisan crafted skincare products in my sub boxes!  Hailing from my neck of the woods in Newburyport, Massachusetts, Face/Food makes all natural skincare that is handcrafted.   I love a good shea butter balm as well, especially this time of year ~ I rub it onto the soles of my feet both at night and in the morning after I shower and use it for my elbows and chapped raw hands.  This balm is in a seasonal scent of clove and oranges, so it smells just like those spiced orange pomander balls that I used to make as kid for my mom's closet! lol  I should make some this year, as I LOVE this scent.  This is made with raw African Shea Butter
Comes from the Shea Nut Trees in Ghana. It contains a high amount of fatty acids and has a higher nonsaponifiable fraction making it superior and more healing than cocoa butter and other oils and butters. Shea butter is used to keep skin healthy, young, softer, protected from wind, cold and sun and helps heal wounds. Shea Butter contains natural Vitamin A for cell renewal and tissue regeneration and Vitamin E for anti-oxidant and nourishing benefits. It is also non comedogenic so it will not clog your pores! The Shea Nut Trees are also called karite trees, which means The Tree of Life.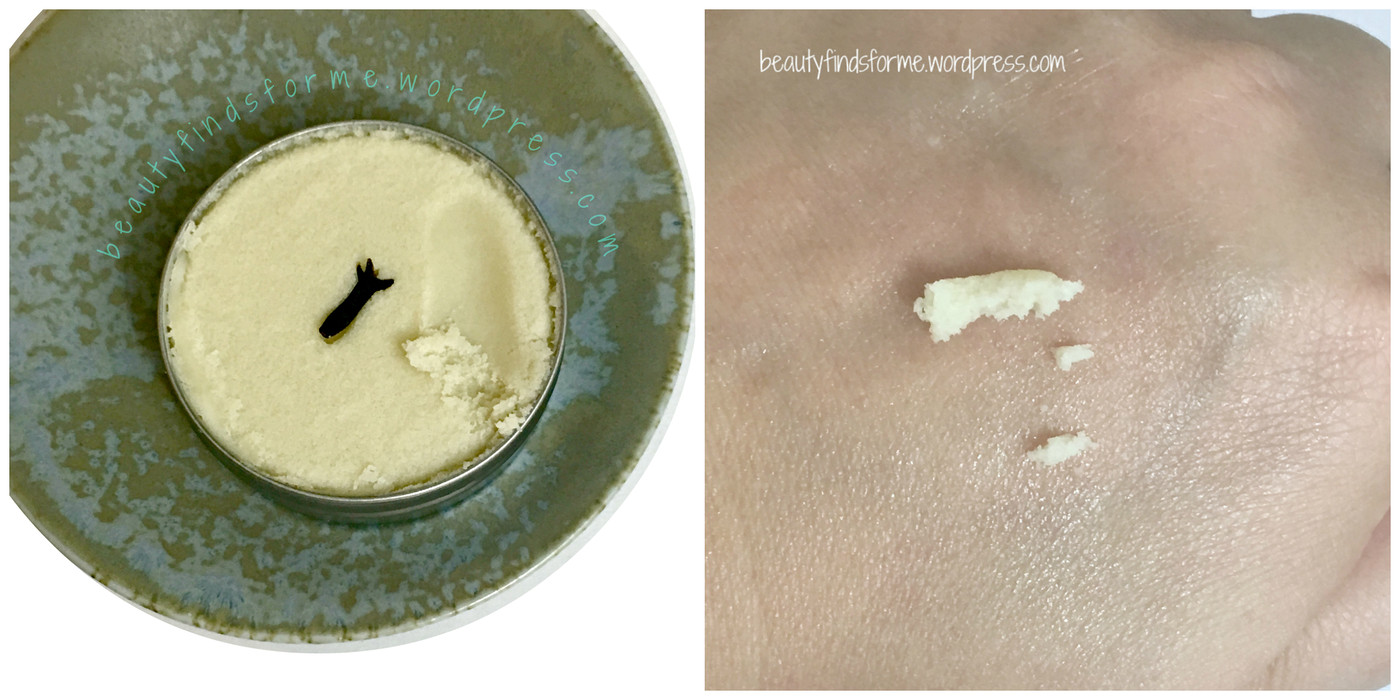 It also contains two therapeutic grade essential oils ~ clove (warm, sweet and spicy) and orange (citrus, fresh and subtle) ~ that's it ~ three ingredients. I love that this butter has a little clove stuck in the middle of it!! haha ~ at first, I was thinking, why is there a bug in here?  😉   You only need a little bit of shea butter to cover a large area ~ just remove a bit, let it warm up in your hands to emulsify and then apply to your skin ~ the scent of the oil will also act like a perfume on your skin.  It will be very moisturizing, but it will absorb nicely into your skin if you apply the proper amount and not overdo it.  I also like using this on my nails as well.   Face/Food offers this in a variety of scents, such as lavender, rosemary/lemongrass, vanilla, as well as unscented and the decorative tins will be great for holiday gift giving!  2 oz  tin RV $10.00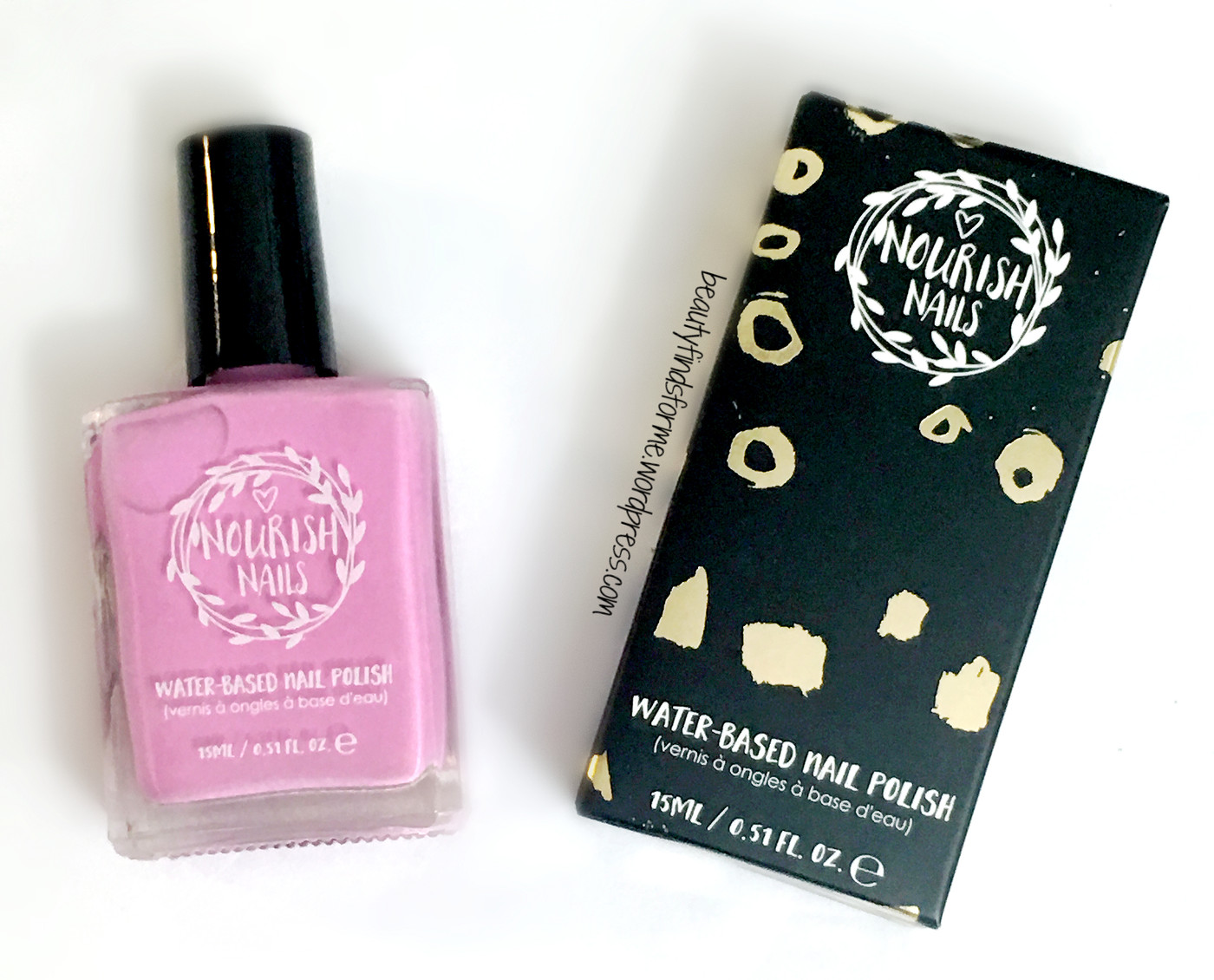 Nourish Nails in "Be Gentle" Every month, Nourish Beauty Box will include one of their own products  ~ Nourish Nails Polish.  Nourish Nails is an eco-friendly, vegan and natural water-based nail polish, formulated free of   formaldehyde, toluene, DBP, formaldehyde resin, parabens, xylene, camphor, mineral oil, phthalates, sodium lauryl sulfates, gluten, phenoxyethanol, lead, nitrocellulose, GMOs and animal-derived ingredients. One of the down sides  with water based nail polishes is that they tend to peel off my nails quickly.  I usually use both a base coat and top coat to handle that, but they do not last as long as other polishes.  I normally use water based polishes on my fingers, because I am a nail polish peeler and my manicures usually do not last that long normally.  I do not recommend water based nail polish for your toe nails.
I am not a fan of this shade ~ it is creme pink and a bubble gum type of pink at that.  I gravitate towards smokey, dark or nude shades.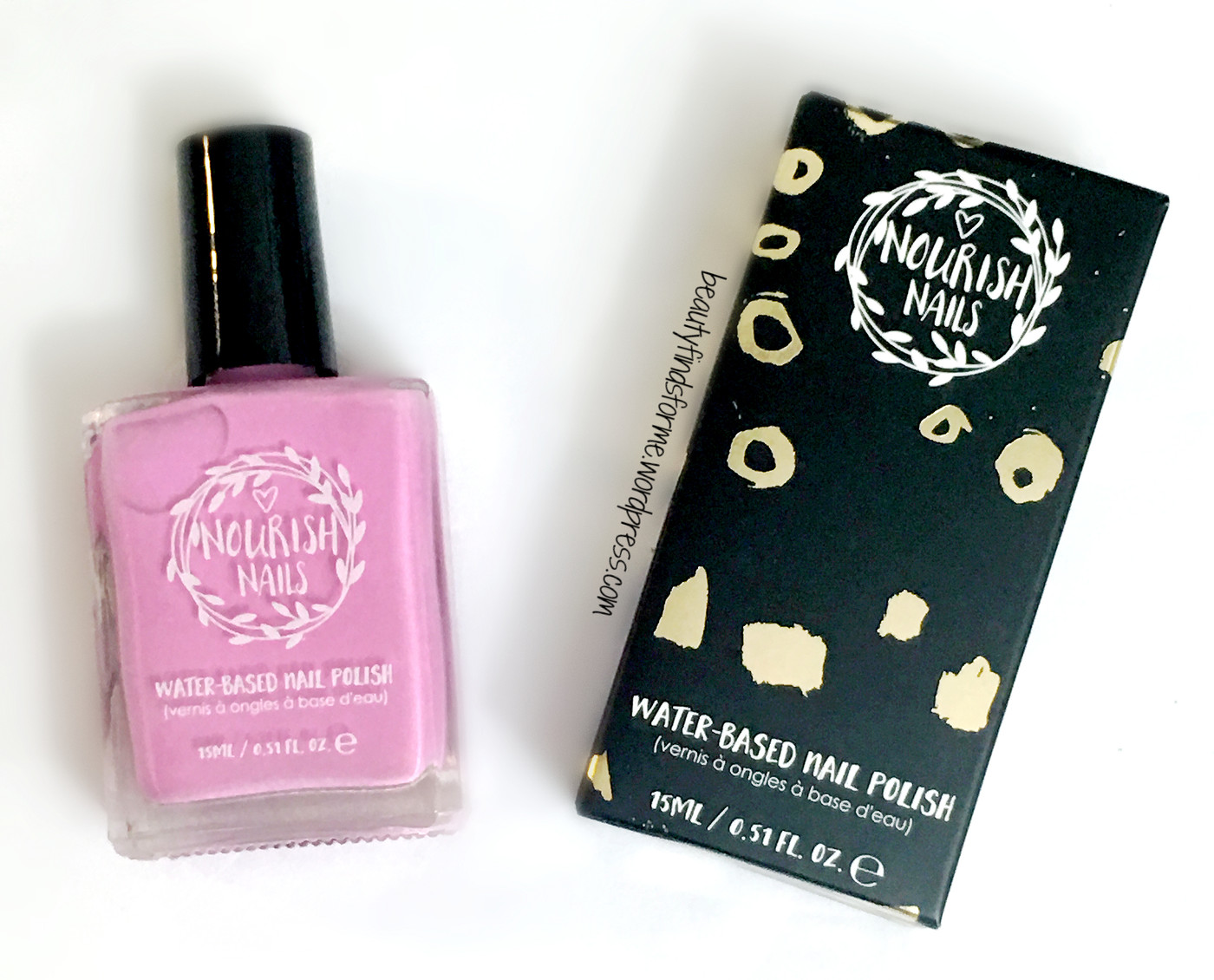 However, I know many people love this type of color, so it will be in a giveaway!   15 mL  RV $12.50
Description: The ultimate, ultra gentle nail varnish formulation with a revolutionary water-based resin that creates a high shine coating that is both air and water permeable. This allows for oxygen and water to reach the nail bed to help nails stay healthy, stronger and to help reduce discoloration. The unique nourishing formulation provides a super high-shine coat, long-lasting color and a fast-drying finish.
Vegetable-Derived  Natural  
Ingredients: water, styrene/acrylates copolymer, acrylates copolymer, PPG-2 butyl ether, sorbic acid   [+/- (may contain) mica, titanium dioxide (CI 77891), iron oxides (CI 77491, CI 77492, CI 77499), manganese violet (CI 77742), blue 1 lake (Cl 42090), red 6 lake (Cl 15850), red 7 lake (Cl 15850), red 33 lake (Cl 17200), red 28 (CI 45410), yellow 5 lake (Cl 19140), yellow 6 lake (Cl 15985), red 40 lake (Cl 16035)]
Final Thoughts
I am really enjoying this subscription ~ I am getting items that I will use and I am not overwhelmed by the sizes either.  I didn't care for the nail polish shade this month ~ I would have thought that this shade of pink would have been better suited for springtime, not going into winter, but I am very pleased with the other 3 items of a rose-pink highlighter, eye serum and all purpose skin balm.  I paid $29.95 and received a retail value of $68.50.  Now, I mentioned it before but I will say it again ~ This box is a bit more expensive than other beauty boxes, but it contains all full sized products and the quality is amazing.  Sometimes, it isn't about quantity, but quality and I also love that these items are new to me. I believe November's box is still available here  They do not have coupon or promo codes, alas, but I think that if you are looking for organic, eco-friendly products, I think this might be the box for you.