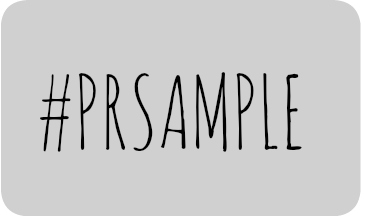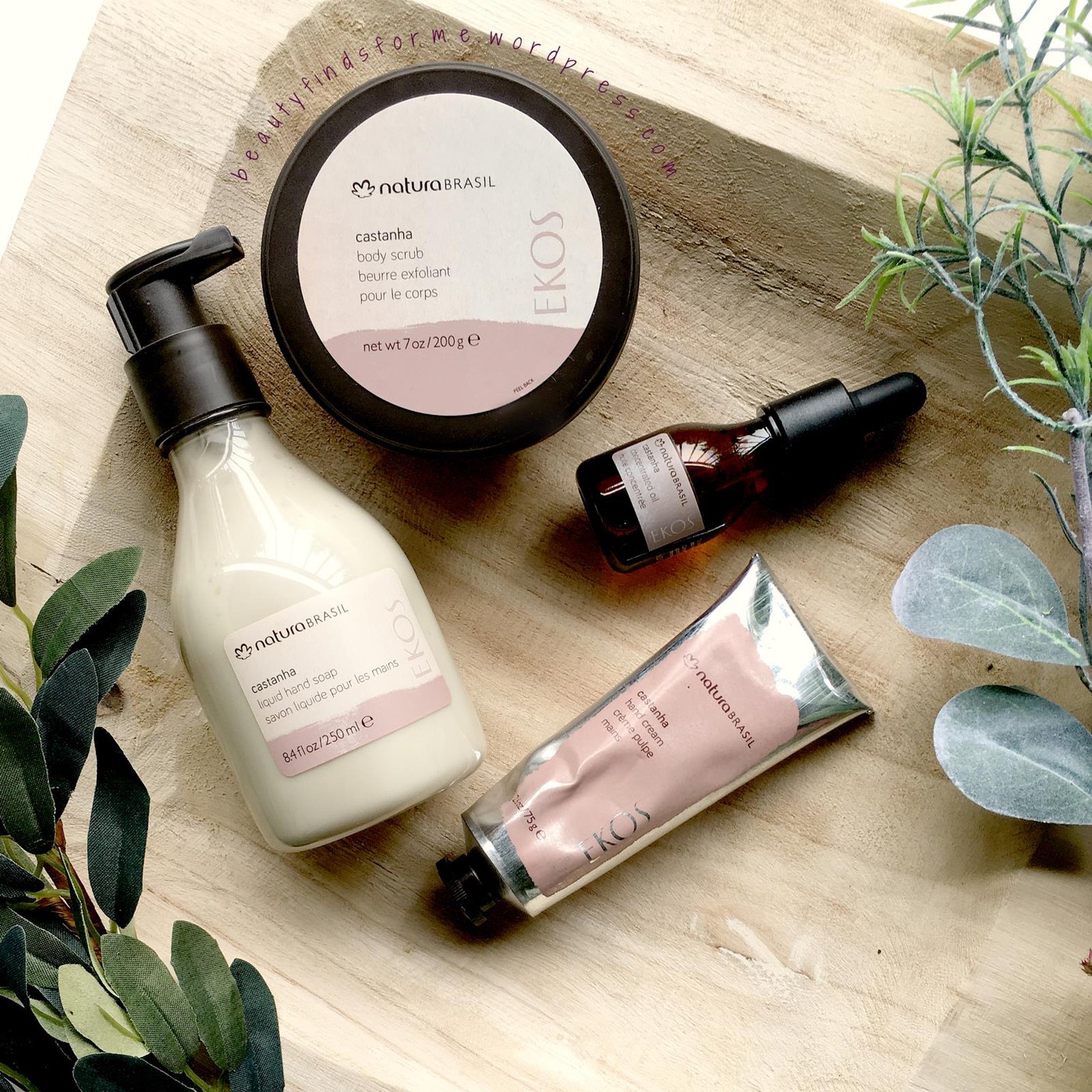 Recently, Chok Chok Social reached out to me to see if I would like to try a brand that is the largest beauty company in Latin America, Natura Brasil.  Natura Brasil started back in 1969 in Brazil and this brand has been committed to using the rich biodiversity ingredients from their country to formulate cosmetics ~ skincare, hair care, body care and makeup.  They are cruelty free, GMO free and feature the best ingredients from the Amazon.  Natura's mission has been to commit to transparency, well-being and sustainability, and they work with over 30 local communities in the Amazonian area, which is over 300 families. 
Natura partners with these communities to help develop sustainable business models that will help benefit the Amazon rainforest, as they view their products and operations as part of a long life cycle and are serious about the environmental impact from every point in that cycle.  Natura is the first publicly traded company to be certified as a B-Corporation ~ B Corp is to business what Fair Trade certification is to coffee or USDA Organic certification is to milk. B Corps are for-profit companies certified by the nonprofit B Lab to meet rigorous standards of social and environmental performance, accountability, and transparency (source)

My good friend and fellow blogger Amy, at PeepingPomeranian, told me that Natura Brasil just bought The Body Shop, so I believe this is why they are launching and promoting their US operations, as the brands probably have the same market share.  The Body Shop languished when it was under the control of L'Oreal ~ I don't think L'Oreal knew what to do with the ethical, socially and environmentally conscious The Body Shop, so I am glad to see that Natura Brasil acquired them.  Natura Brasil is going global, so let's see what I received!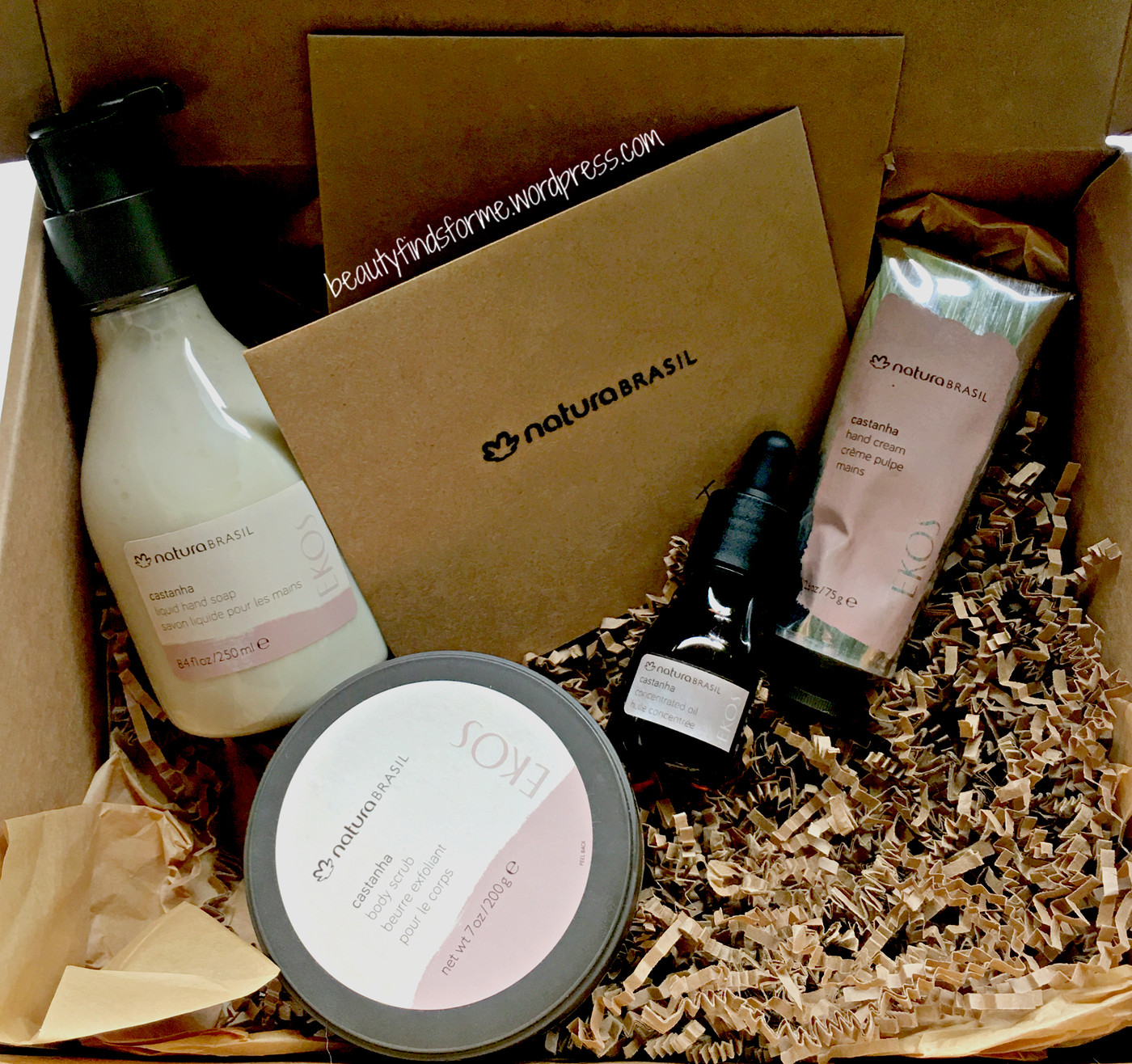 I received several items, some of them are their best sellers, from the Castanha, aka Brazil Nut, line for a hand pampering routine.
Also known as the Brazil nut, castanha is found deep in the Amazon where it's treasured as a source of nutrition and a rich resource for beauty benefits. Called the "Queen of the Forest' by indiginous people, the castanheira is one of the tallest and oldest trees in the Amazon. Local harvesters travel by river to remote areas where they settle for weeks to collect the castanha nuts. In traditional Amazonian communities, the women press the castanhas by hand and extract the nourishing white milk they produce.  Endlessly rich in benefits, both medicinal and beautifying, the castanha produces an oil that deeply nourishes and "feeds" skin for intense moisturization.

These skincare products are made without parabens, sulfates, phthalates, propylene glycol, mineral oil, PABA, petroleum, triclosan, DEA and animal ingredients.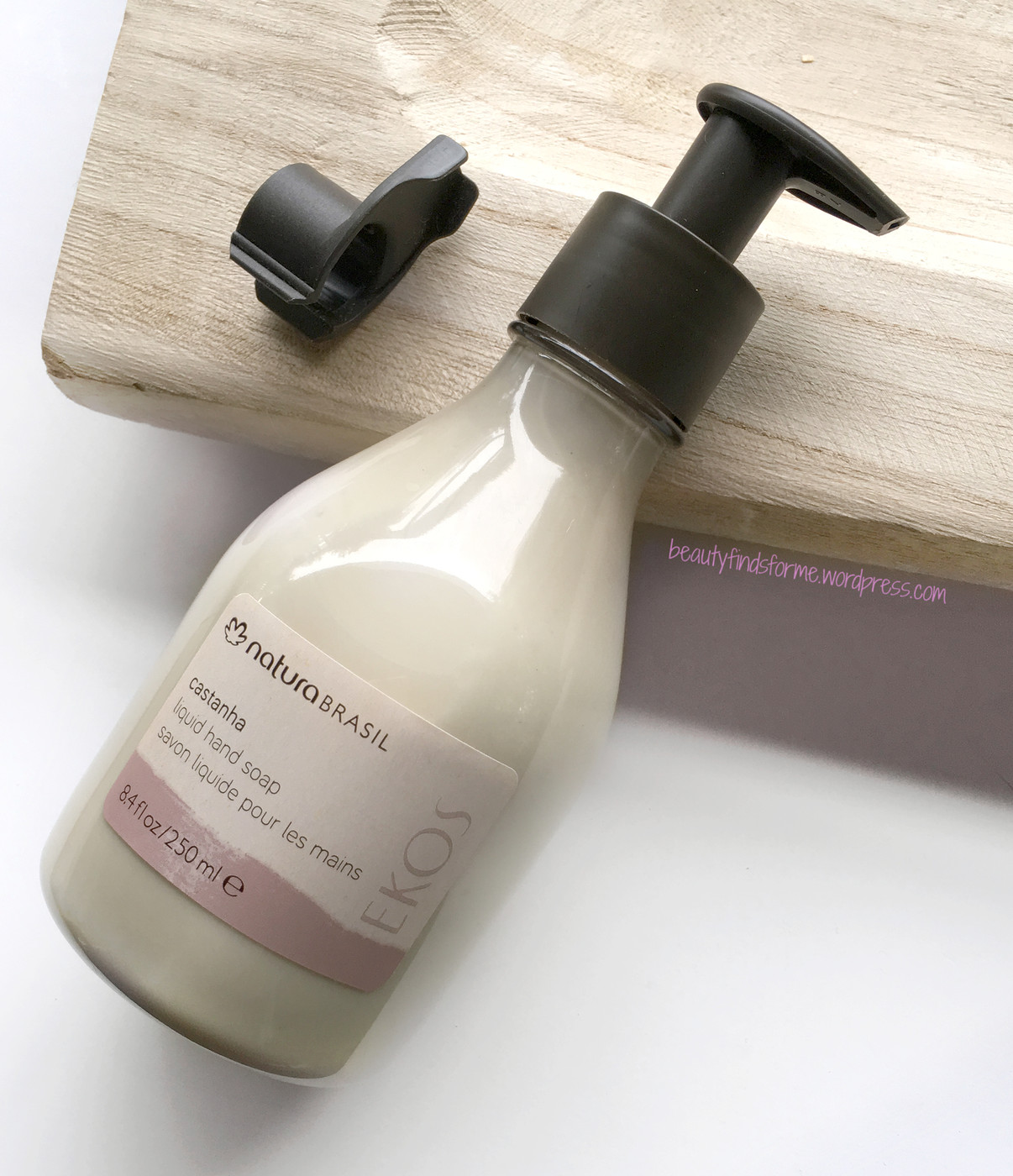 Castanha Liquid Hand Soap  This is a sulfate free liquid hand soap, made with coconut-derived cleansing ingredients and Brazilian castanha oil.  Its light scent smells just like almonds to me, with a creamy foam that does not dry out my hands.  This also contains almond oil, which is a nutrient dense nourishing oil that will help repair and provide a silky finish.  It contains oleic and linoleic fatty acids, to help soothe irritated skin, along with nourishing antioxidants vitamins A, E and B.   Olive oil is rich in vitamin E and fatty acids, providing moisture to your skin.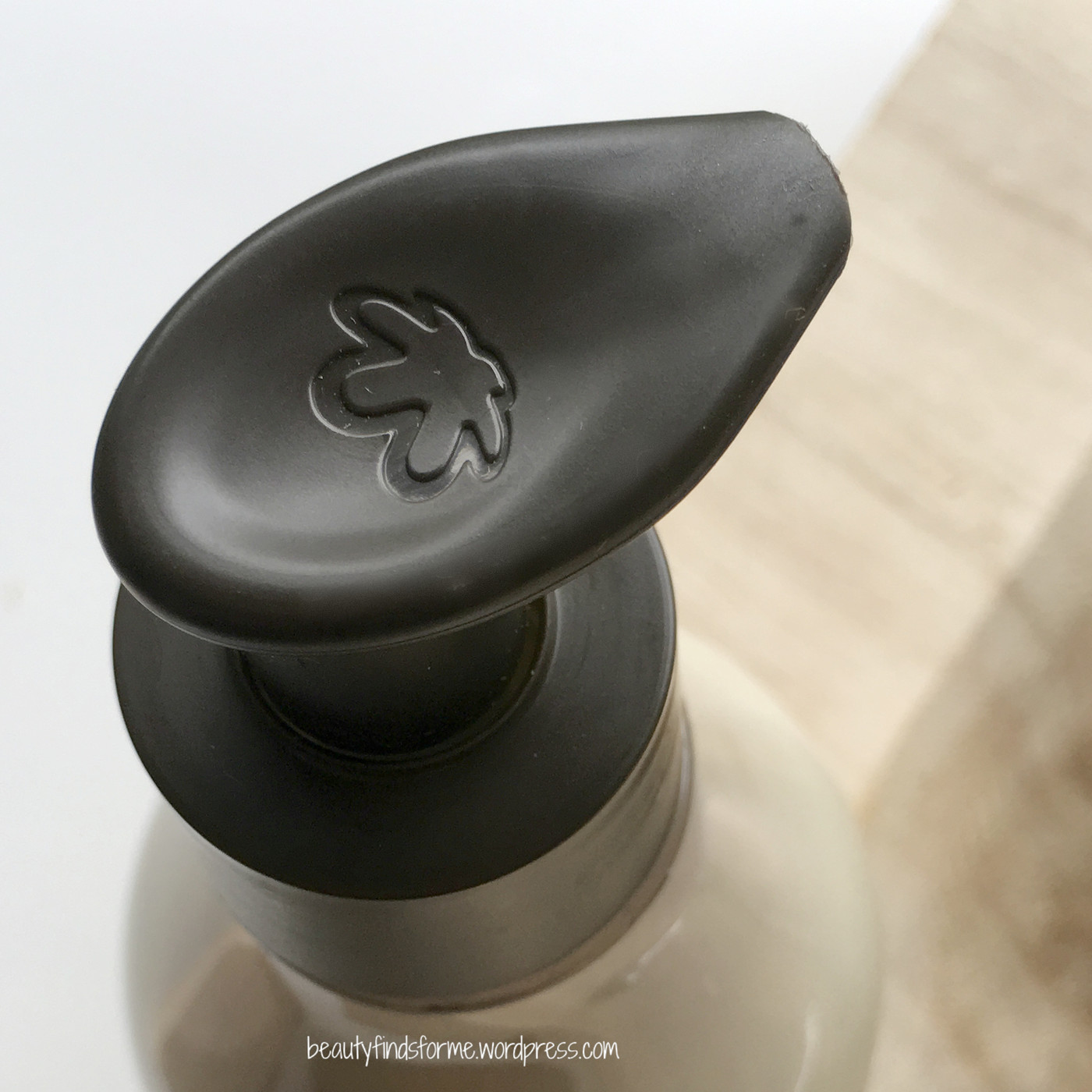 I love how Natura Brasil puts in these details, such as the slider to lock the cap in place and even the pump applicator with the logo on the top.  The pump applicator is very well made too and it was the first thing I noticed about this brand ~ their packaging is top notch ~ from the ombre tones on the boxes and labels to the quality packaging of the bottles and jars.  Most of their packaging is made from recycled materials and all of it can also be recycled as well.  250 mL RV $15.00
Ingredients: Water, Prunus Amygdalus Dulcis (Sweet Almond) Oil, Olea Europaea (Olive) Fruit Oil, Sodium Lauroyl Methyl Isethionate, Cocamidopropyl Betaine, Glycerin, Sodium Methyl Oleoyl Taurate, Bertholletia Excelsa (Castanha) Seed Oil, Xanthan Gum, Sodium Cocoyl Isethionate,  Fragrance, Phenoxyethanol, Tocopheryl Acetate, Caprylyl Glycol, Sodium Dehydroacetate, Citric Acid, Sucrose Laurate, Sodium Chloride, Trisodium Ethylenediamine Disuccinate, Sodium Benzoate, Disodium EDTA, Alpha-Isomethyl Ionone, Benzyl Salicylate, Butylphenyl Methylpropional, Coumarin, Limonene, Linaloo  cosDNA analysis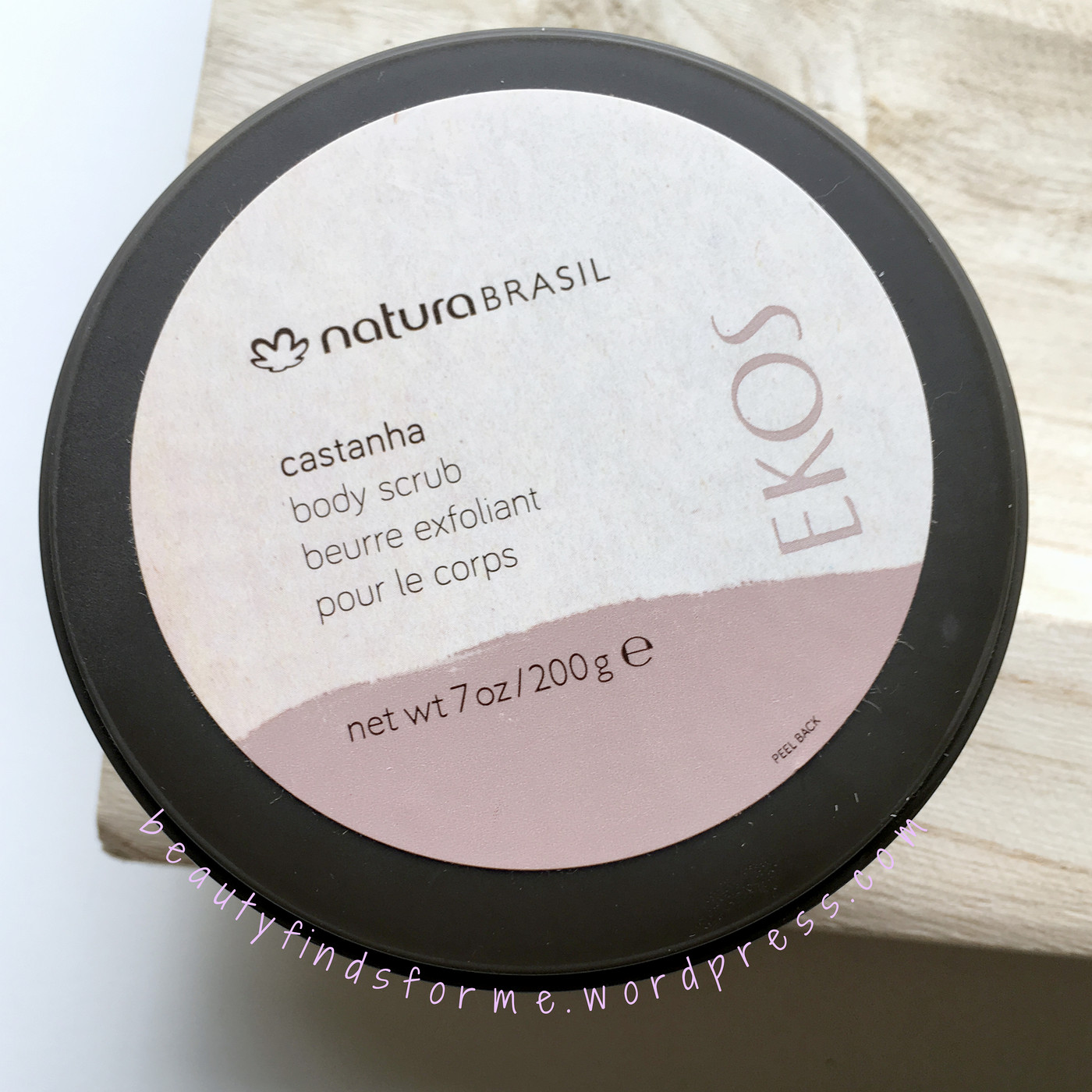 Castanha Body Scrub  I love a good scrub and this is made with sugar crystals to help hydrate and moisturize, while gently exfoliating and softening your skin.  Shea Butter contains a rich source of concentrated natural vitamins and fatty acids ~ oleic, stearic, palmitic, linolenic ~ and is highly moisturizing and nourishing. It helps repair your skin, as well as reduce skin inflammation and smooths your skin to protect it from drying and it strengthens your skin over time.  Cocoa butter is a very stable butter, contains fatty acids for deep moisturizing and repair. Castor oil is an effective moisturizer and restores hydration to your skin, as it has highly concentrated amounts of fatty acids.  The exfoliating comes from brown sugar and grape seed powder, natural skin exfoliators that will help remove dead and dry skin cells, while softening.  Sugar is a humectant, so it won't dry out your skin and it contains glycolic acid, an AHA that will help refine and renew your skin.  This jar is sealed with a foil, so you know it will be fresh.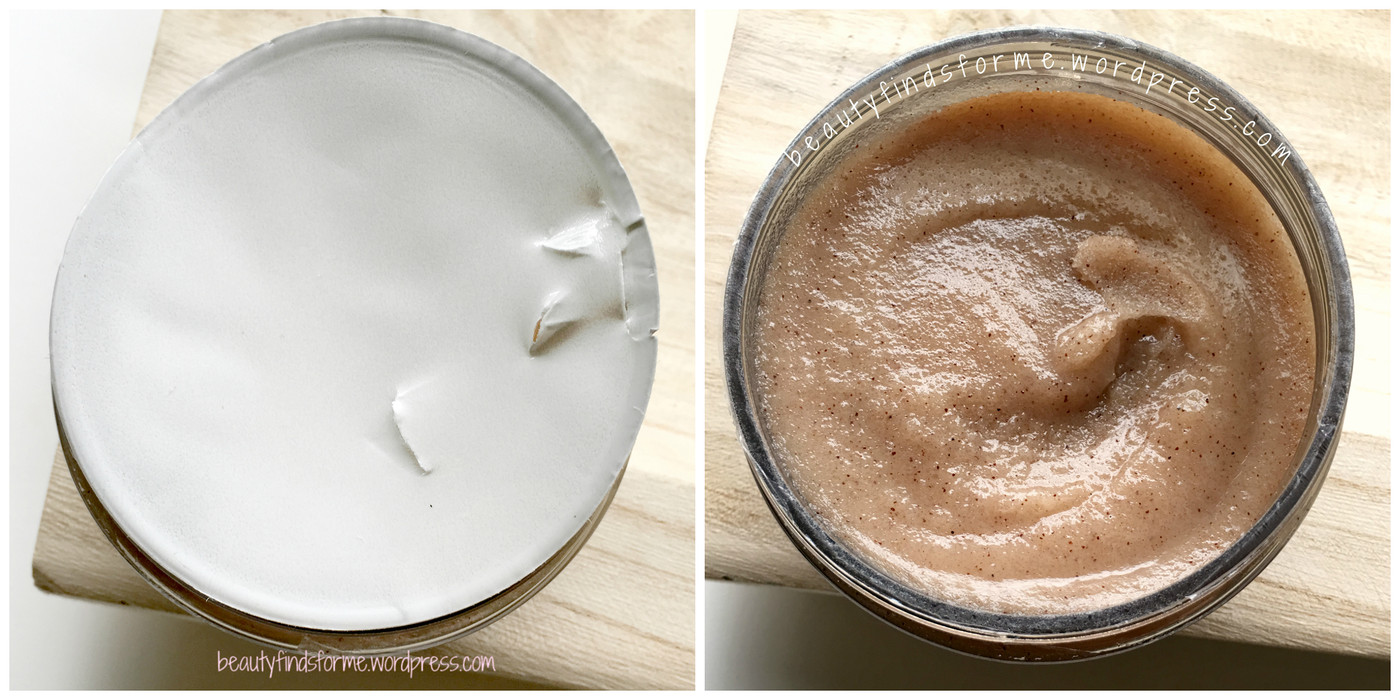 This has a nice dense texture and it smells a bit more sweeter than the soap, due to the sugar ~ a sweet almond oil!  It is best to apply the scrub on dry skin, so after washing my hands, I make sure to pat them dry completely and then gently massage the scrub into my hands and wrists. The scrub is not harsh and once water is added, the sugar will dissolve away.  This does leave my skin soft and supple.  You can get this in two sizes ~ 50 grams for $9.00 or 200 grams for $25.00
Ingredients:  sucrose, olea europaea (olive) fruit oil, ricinus communis (castor) seed oil, butyrospermum parkii (shea) butter, laureth-23, hydrogenated vegetable oil, steareth-2, fragrance, polysorbate 80, PEG-7 glyceryl cocoate, vitis vinifera (grape) seed powder, theobroma cacao (cacau) seed butter, bertholletia excelsa (castanha) seed oil, tocopheryl acetate, cetearyl alcohol, linalool, benzyl salicylate, limonene, butylphenyl methylpropional, coumarin, alpha-isomethyl ionone  cosDNA analysis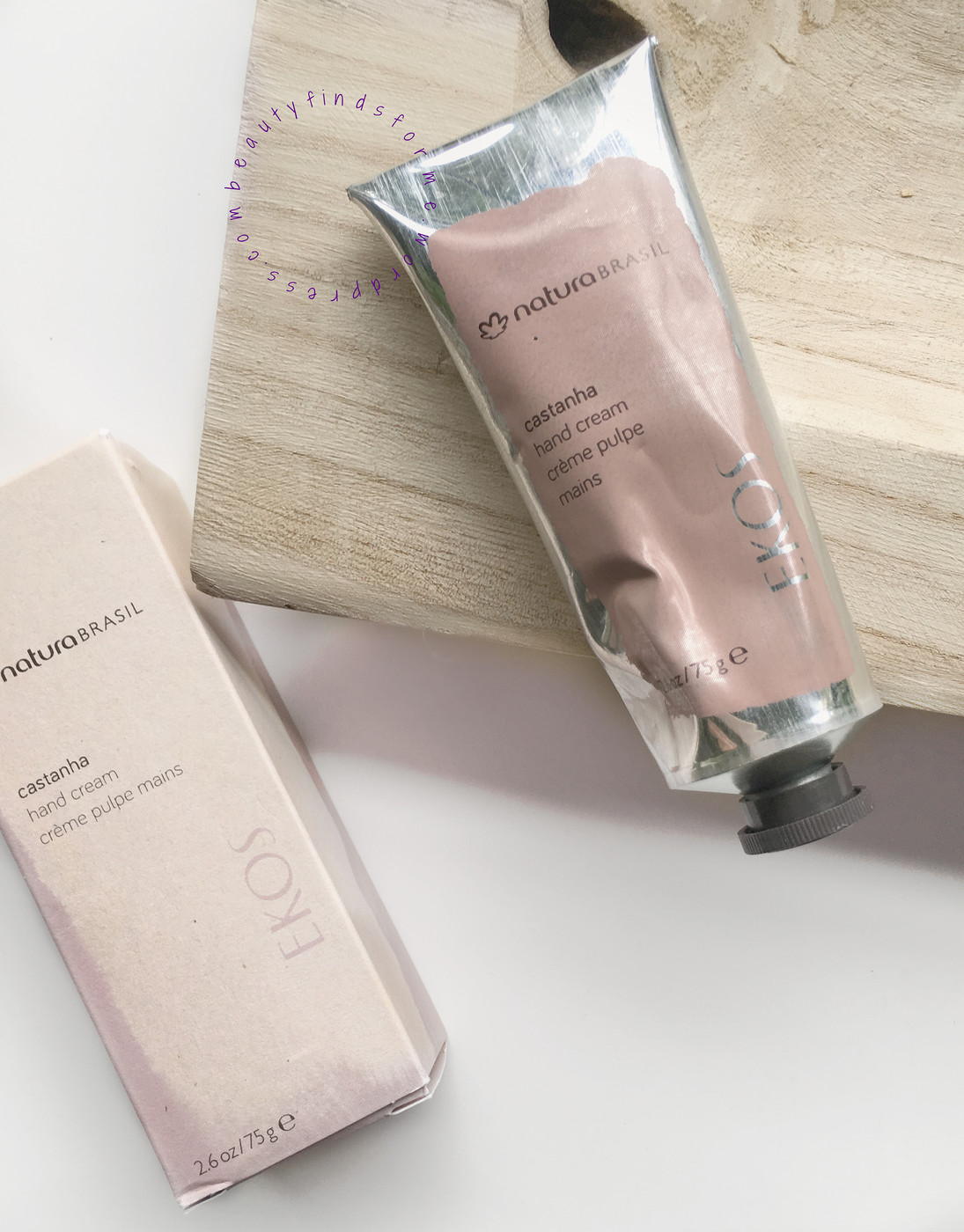 Castanha Hand Cream  This is one of my favorite items in this set!   I love a good hand cream and this one doesn't disappoint ~ not only does this have nourishing castanha oil and olive oil, but murumuru butter.  Murumuru butter is extracted from Brazilian palm trees and it is a rich emollient, full of pro-vit vitamin A and C, Omega 3, 6 and 9 fatty acids and it helps keep moisture in your skin, while softening your skin's texture.  It contains lauric acid as well as 4 other essential acids: myristic, oleic, palmic and linoleic acids. It penetrates quickly into the deeper layers of your skin, resulting in elasticity and suppleness.  This also contains panthenol, which helps cellular renewal and is an effective moisturizer. It is derived from plants and this ingredient comes from vitamin B5. Panthenol is a natural humectant, which retains moisture and hydrates the skin. It also is a good lubricant on the skin, making skin look soft and smooth and is also helps reduce inflammation.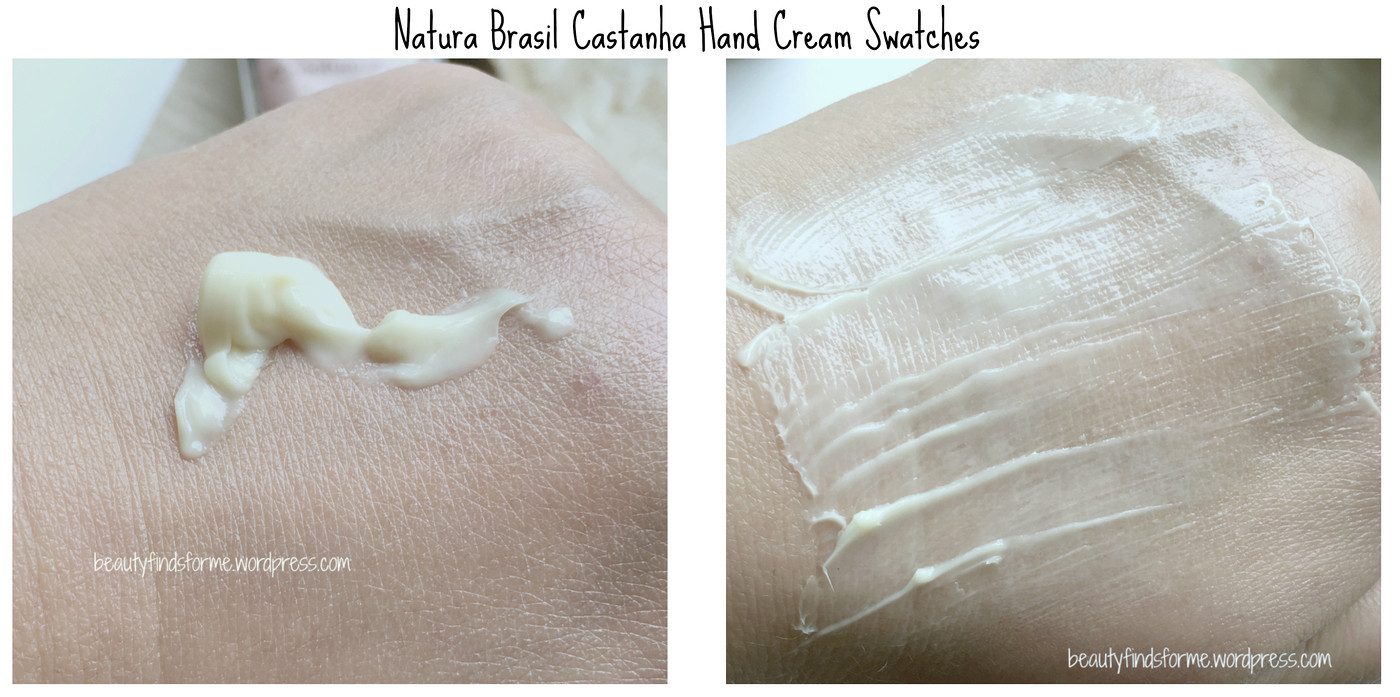 This is such a creamy balm and it is rich without being too heavy or greasy.  Again, the lovely almond scent is apparent with this hand cream and it absorbs quickly, while leaving my hands feeling moisturized.   This hand cream is formulated in other lines at Natura Brasil, so I am now interested in trying more!  2.6 oz RV $19.50
Ingredients:  Water, Glycerin, Cetearyl Alcohol, Glyceryl Stearate, Astrocaryum Murumuru Seed Butter, Dicaprylyl Ether, Bertholletia Excelsa (Castanha) Seed Oil, Olea Europaea (Olive) Fruit Oil, Panthenol, PEG-100 Stearate, Phenoxyethanol, Dehydroacetic Acid, Tocopheryl Acetate, Fragrance,  Caprylic/Capric Triglyceride, Acrylates/C10-30 Alkyl Acrylate Crosspolymer, Ammonium Acryloyldimethyltaurate/VP Copolymer, Sodium Hydroxide, Disodium EDTA, Polyglyceryl-2- Sesquiisostearate, Trilaureth-4 Phosphate, Tocopherol, CI 19140 (Yellow 5), CI 17200 (Red 33), CI 42090 (Blue 1), Linalool, Benzyl Salicylate, Limonene, Butylphenyl Methylpropional, Coumarin, Alpha-Isomethyl Ionone, Citral cosDNA analysis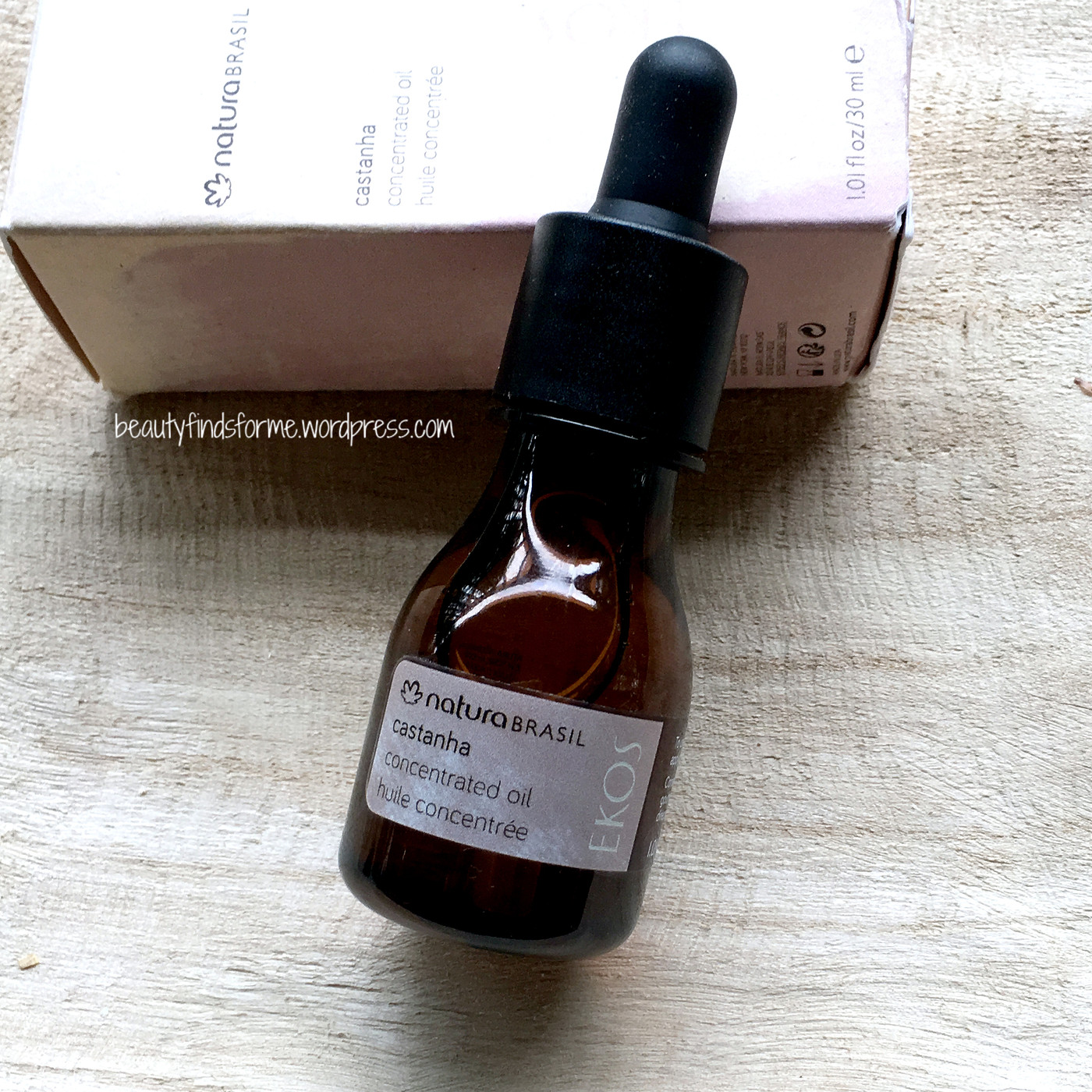 Castanha Concentrated Oil  Now, it was hard to choose, but this is my absolute favorite item out of the line.  My nails are just utter crap ~ they grow fast, but they split easily, have ridges and it doesn't help that I bite my nails too.  I am always rubbing creams, balms and oils on my nails and sometimes the product is so heavy and greasy, that I leave Michele-prints all over the place.  This is not pure castanha oil, but it is a concentrated formula with castanha, macadamia, sesame, and buriti fruit oils ~lightweight, non-greasy macadamia oil is deeply nourishing and helps calm and heal your skin. Sesame oil is rich with vitamins E and B, along with minerals, essential fatty acids (palmitic, oleic, linoleic, stearic) making this antioxidant packed oil an superb moisturizer.  Brazilian buriti fruit oil is a calming, soothing oil with restorative properties ~ containing essential fatty acids, antioxidant vitamins C and E and protective beta carotene, helping to make your skin supple, hydrated and reduce dryness in your skin and nails.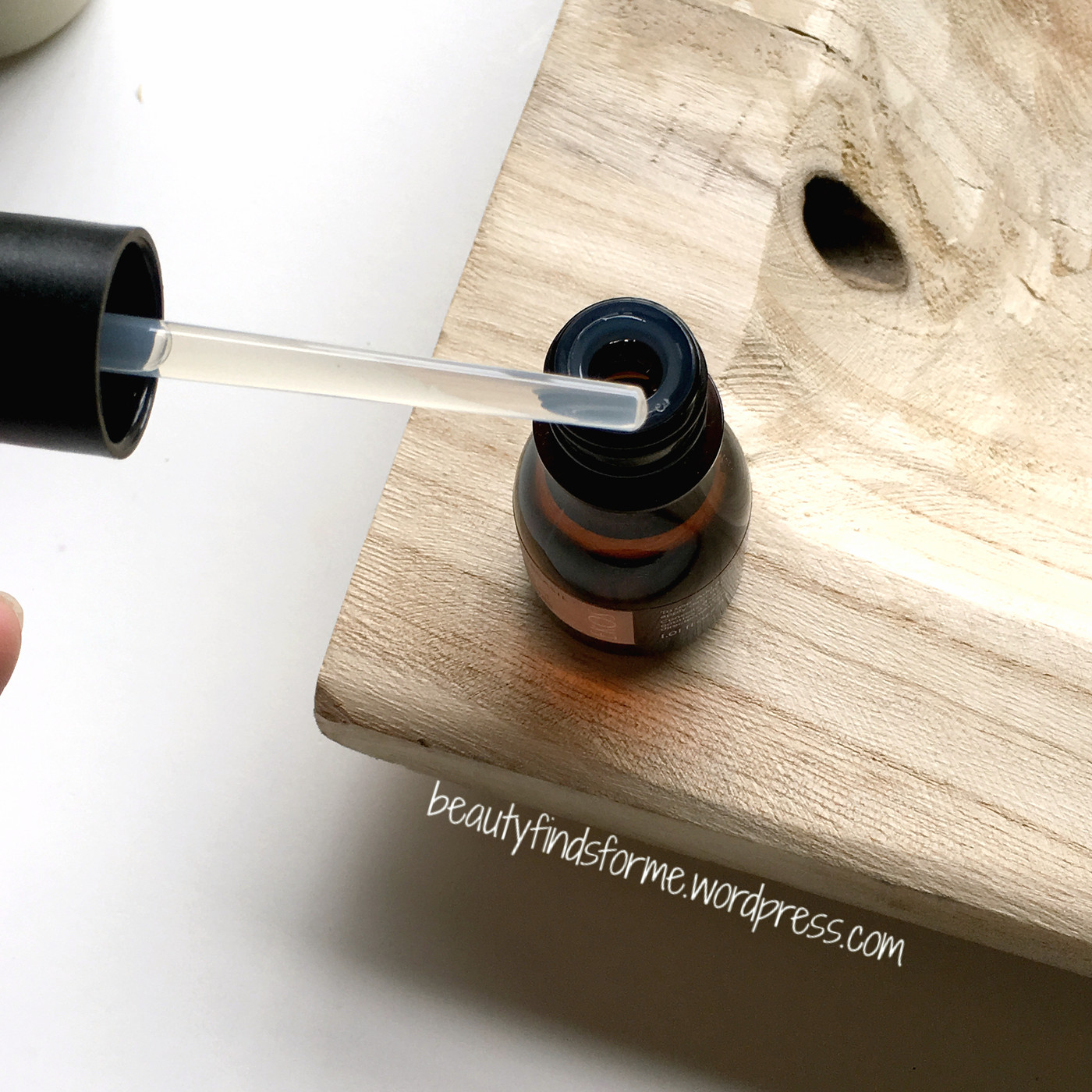 This is a multi-tasking oil and it will help strengthen and fortify nails, while hydrating cuticles and the skin around it.  This has a nice long plastic eyedropper applicator ~ no glass, so you don't have to worry about breaking it if you drop the bottle.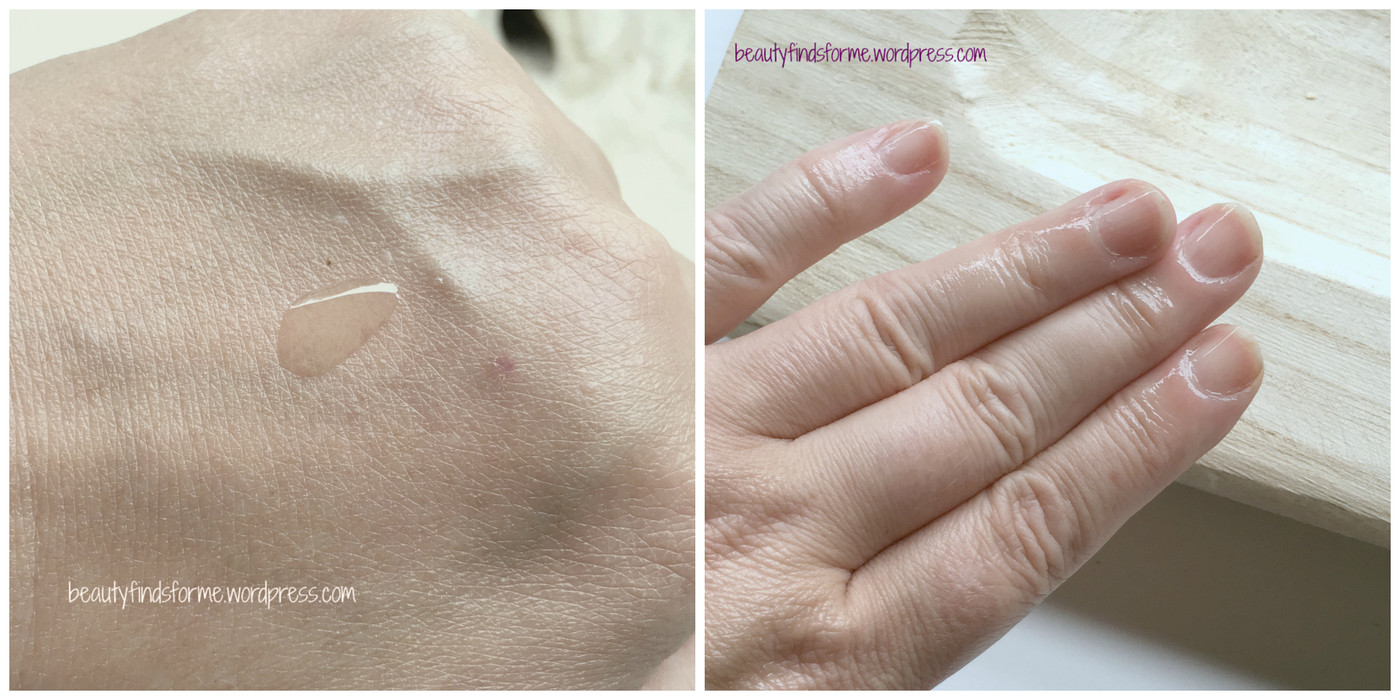 The oil is lightly scented with (yes, you guessed it!) the same almond scent, which I really love. I like to dab a bit on each nail, massage it in and then any excess, using an upward motion, stroking the oil from my nails onto my hands and wrists.  This can also be used as a hair oil, controlling frizzy hair, split ends and adding shine back into your hair.  This oil should not be used on your face. 30 mL RV $25.00
Ingredients: Dicaprylyl Carbonate, Isopropyl Palmitate, Bertholletia Excelsa (Castanha) Seed Oil, Caprylic/Capric Triglyceride, Dicaprylyl Ether, Macadamia Terniflora Seed Oil, Sesamum Indicum (Sesame) Seed Oil, Fragrance, Pentaerythryl Tetra-Di-T-Butyl Hydroxyhydrocinnamate, Mauritia Flexuosa (Buriti) Fruit Oil, Tocopherol, Alpha-Isomethyl Ionone, Benzyl Salicylate, Butylphenyl Methylpropional, Citral, Coumarin, Limonene, Eugenol, Geraniol, Linalool cosDNA analysis

From Natura Brasil ~ Pampering Hands Ritual
Step 1: Wash hands with gentle Castanha Hand Soap.
Step 2: Apply Castanha Scrub over wet hands and make circular movements to eliminate dead cells.
Step 3: Massage hands with Castanha Hand Cream. Tip: mix the hand cream with a couple of drops of concentrated oil to improve results.
Step 4: Apply Castanha Concentrated Oil directly to nails and massage the cuticles. It will leave moisturized skin and strong nails.
Enjoy my home video!  I am still learning and playing with this medium 🙂
Final Thoughts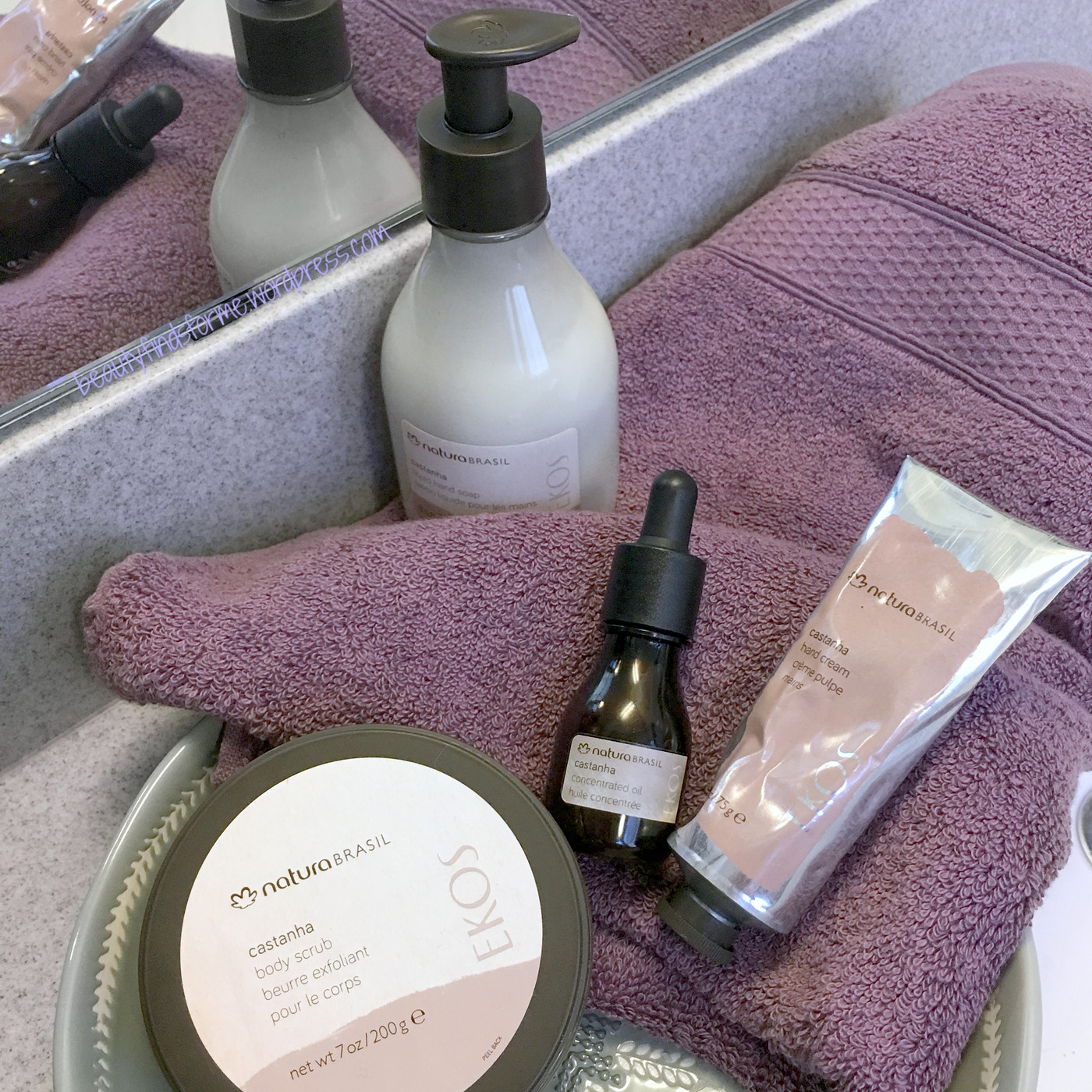 This is one of the most enjoyable packages I have received as a blogger ~ I rarely get lux pampering items such as these and I was so thrilled when I opened the box and saw these lovely items!  With the upcoming holidays, I am going to get some items for gift giving as these products not only look really nice in their presentation, but smell beautiful and work really well.  Right now, Natura Brasil USA is offering two deluxe travel sizes free with any purchase and they look to be quite big sizes too!  If your order is $50.00 or more, you automatically get free shipping.  And to make it even more sweet, they offer free gift wrapping too!   
They have other lines at Natura Brasil ~ fellow skincare blogger Rafael Dias da Costa, at rafaeldiascosta, recommended Açaí, Maracujá (passion fruit) and Algodão (cotton).  The US store doesn't have Algodão yet, but I will ask about it! I am also interested in Pitanga, as that sounds so refreshing!   Natura Brasil has some nice holiday gift items too ~ They currently have raffia accessories, handcrafted by the Artesanato do Trançado Tupinamba –Copartt cooperative in Bahia, Brazil and contain some of their more popular skincare items.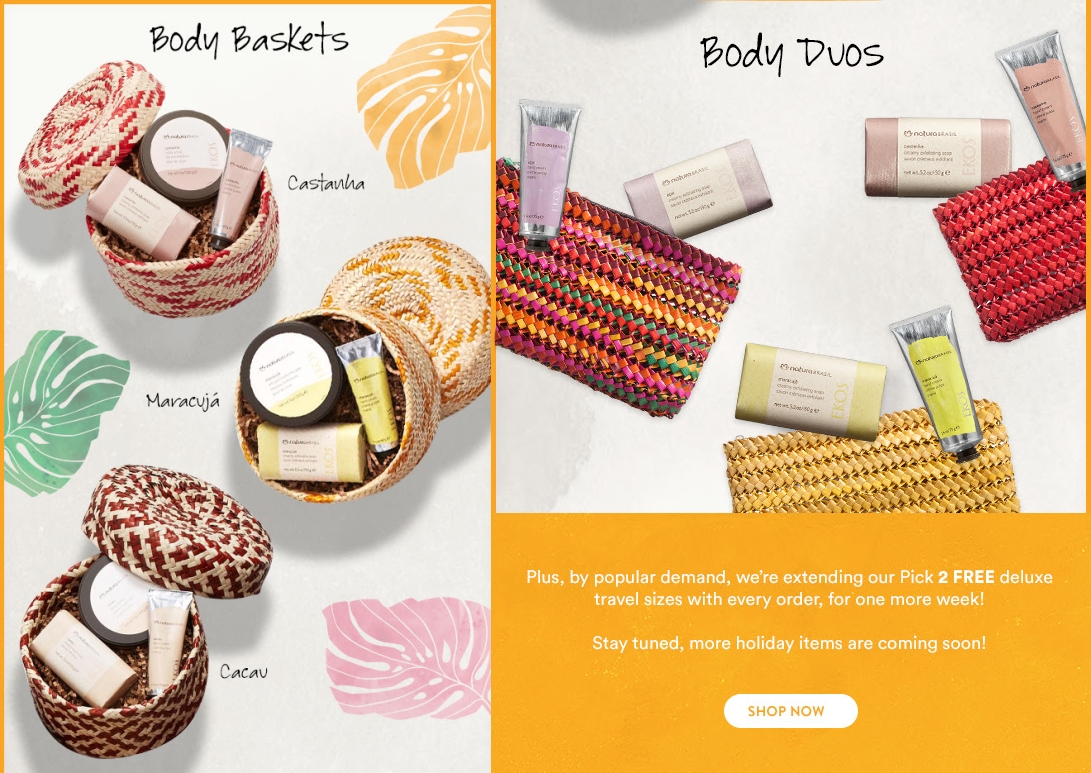 [ disclosure: products received for review purposes ]