I am a member of Rakuten Affiliate Network and I am lucky to receive press sample boxes from them ~ this fall, I received their exclusive Bloomingdale's Box and I am ready to review the fabulous products and my initial impressions on this amazing box!

Disclosure:  I received this box complementary from RAN (Rakuten Affiliate Network)  There are affiliate links in this blog post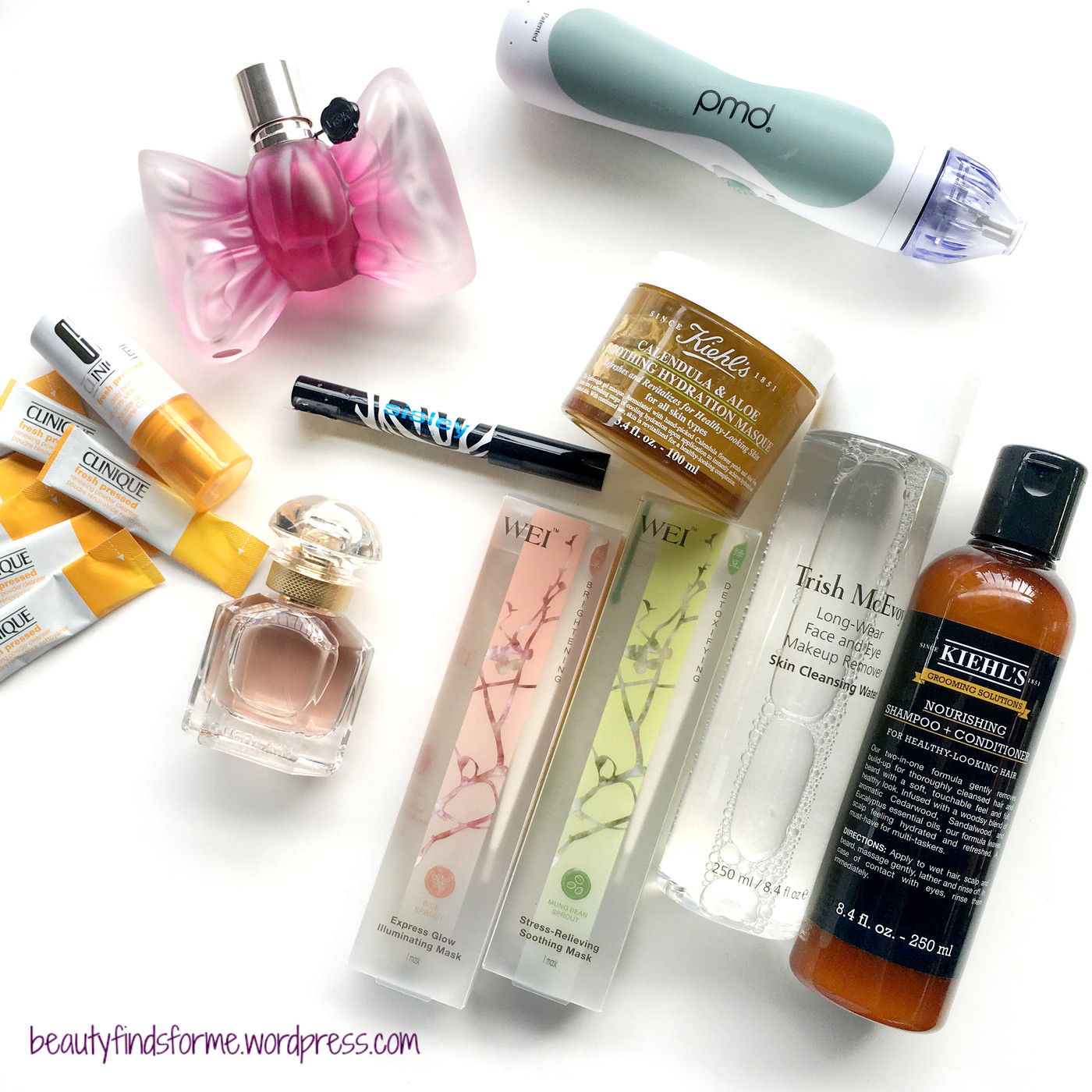 I am totally blown away by the items that I received.   What a generous selection of products from Bloomingdale's!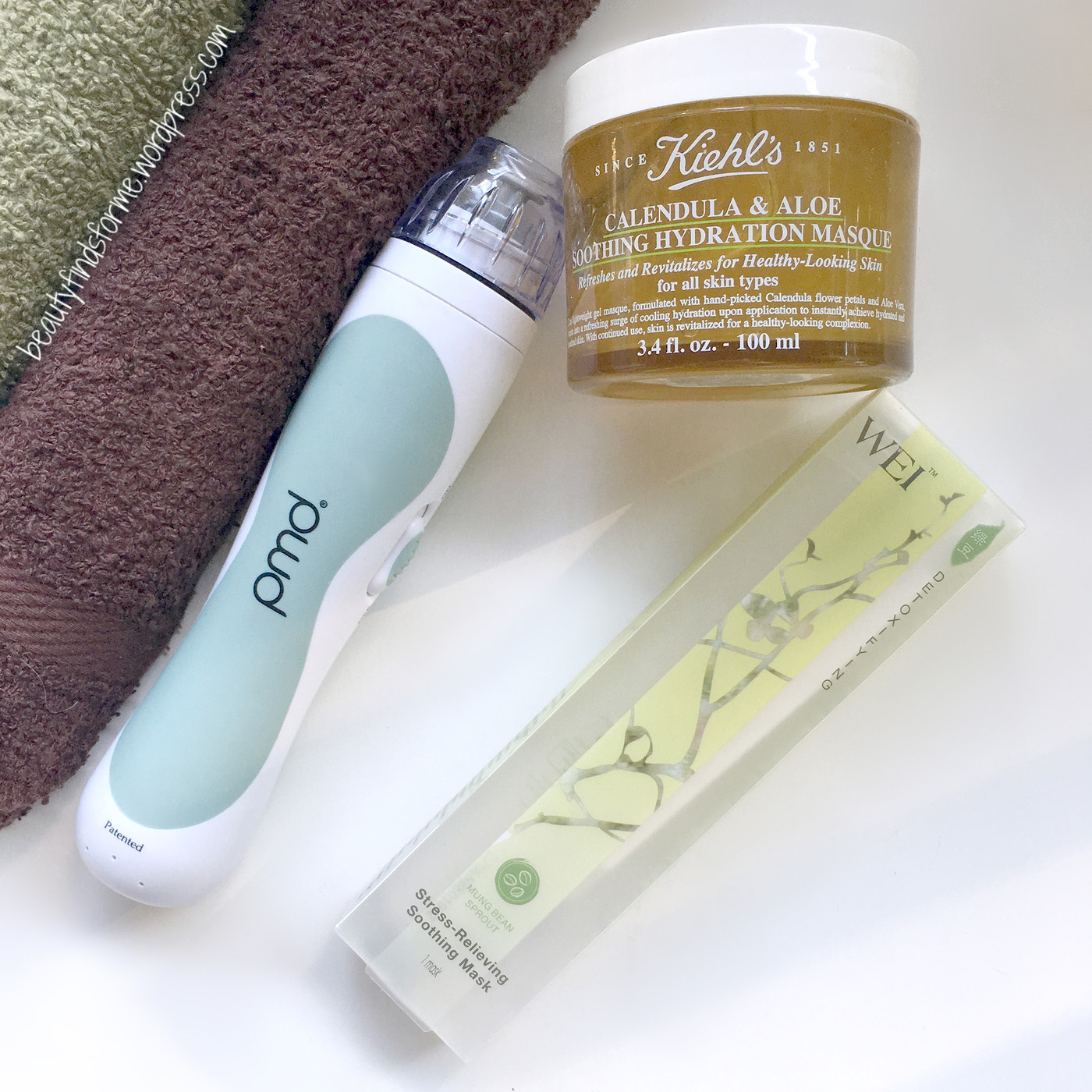 PMD Microdermabrasion Kit I am  really excited about this!! It has a ton of great reviews. PMD Microdermabrasion is a pretty cool looking tool that will replicate a professional treatment as it uses the same aluminum oxide crystals, but on spinning disks. This microdermbrasion tool will help remove dead skin cells, smooth your skin, unclogs pores, reduces acne and will improve the appearance of fine lines and wrinkles. This tool is made for me!! Now, this type of treatment will take months to see reduction of hyper-pigmentation, but some things are quickly noticeable.  This kit contains a how-to-use DVD and several aluminum oxide crystals disks in different sensitivities for both face and body.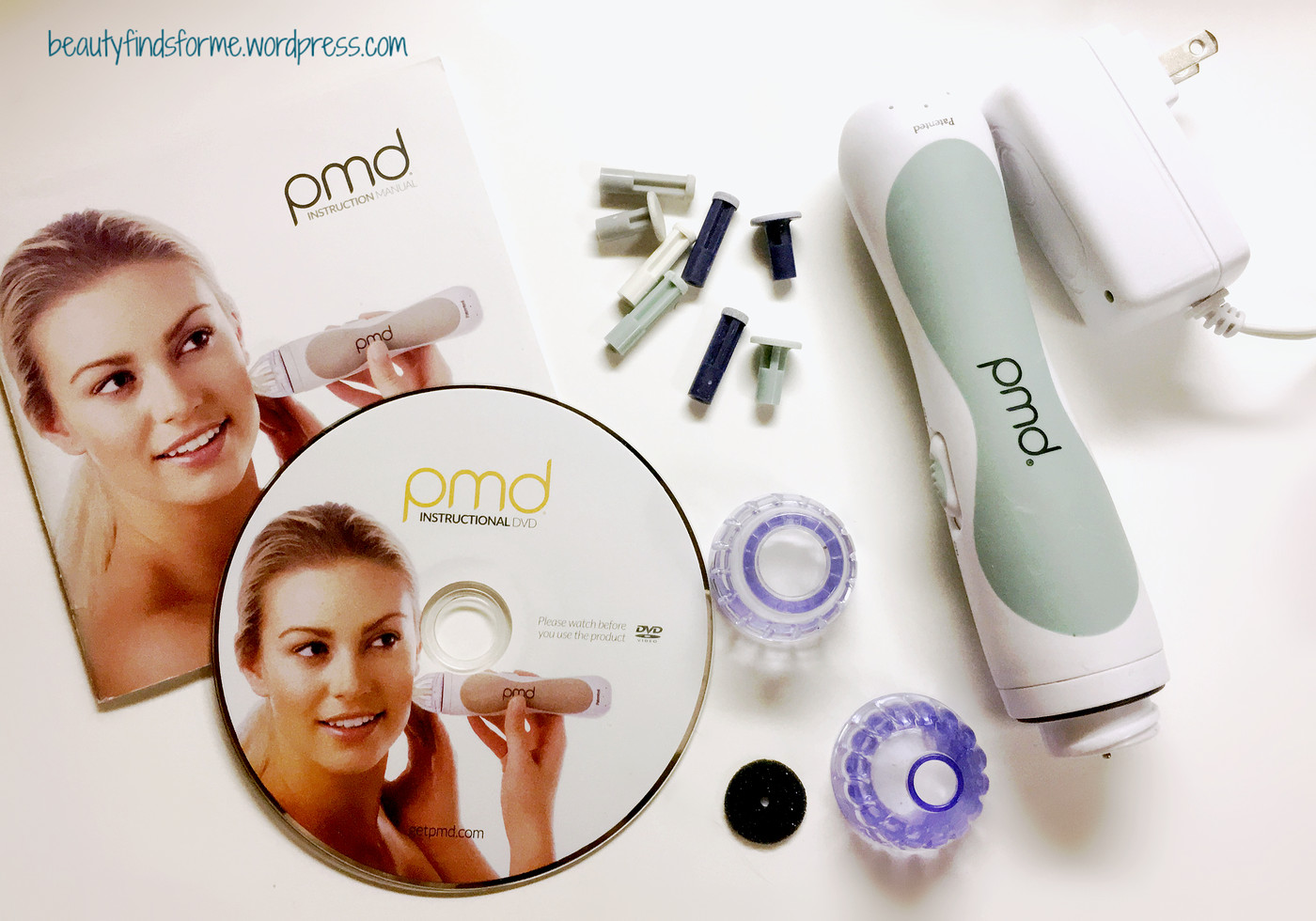 You have to hold your skin taunt and then quickly pass the tool over your skin ~ they have a diagram of what direction you should move the tool to get the best results. It is weird, as it uses a vacuum to pull up your skin and then the spinning disk exfoliates your skin. Move quickly, do not press down and ONLY MAKE ONE PASS. I did not experience redness or marks doing this. I did practice first with the beginner pad to get a feel of it and I have used the white disk (the next level) twice now. My skin feels immediately baby smooth after I use this. I only use this once a week as I use acid treatments at night ~ the day I do this treatment, I make sure that I haven't used an acid treatment the night before and will not apply an acid that evening either.  Time will tell if this can buff away my sunspots! RV $159.00

Description: What it is: A patented, safe and effective at-home skincare tool that provides the same brilliant results as professional, in-office microdermabrasion treatments.  What it does: The revolutionary Personal Microderm combines the power of patented spinning disc technology with a perfectly calibrated vacuum suction to brighten, smooth and even skin tone and texture. It reduces the appearance of fine lines and wrinkles, blemishes, and enlarged pores—allowing makeup to glide on smoother and skincare to penetrate deeper. The exfoliation action removes dead skin cells barrier and supports healthy, natural cell growth, revealing younger-looking, softer, rejuvenated skin.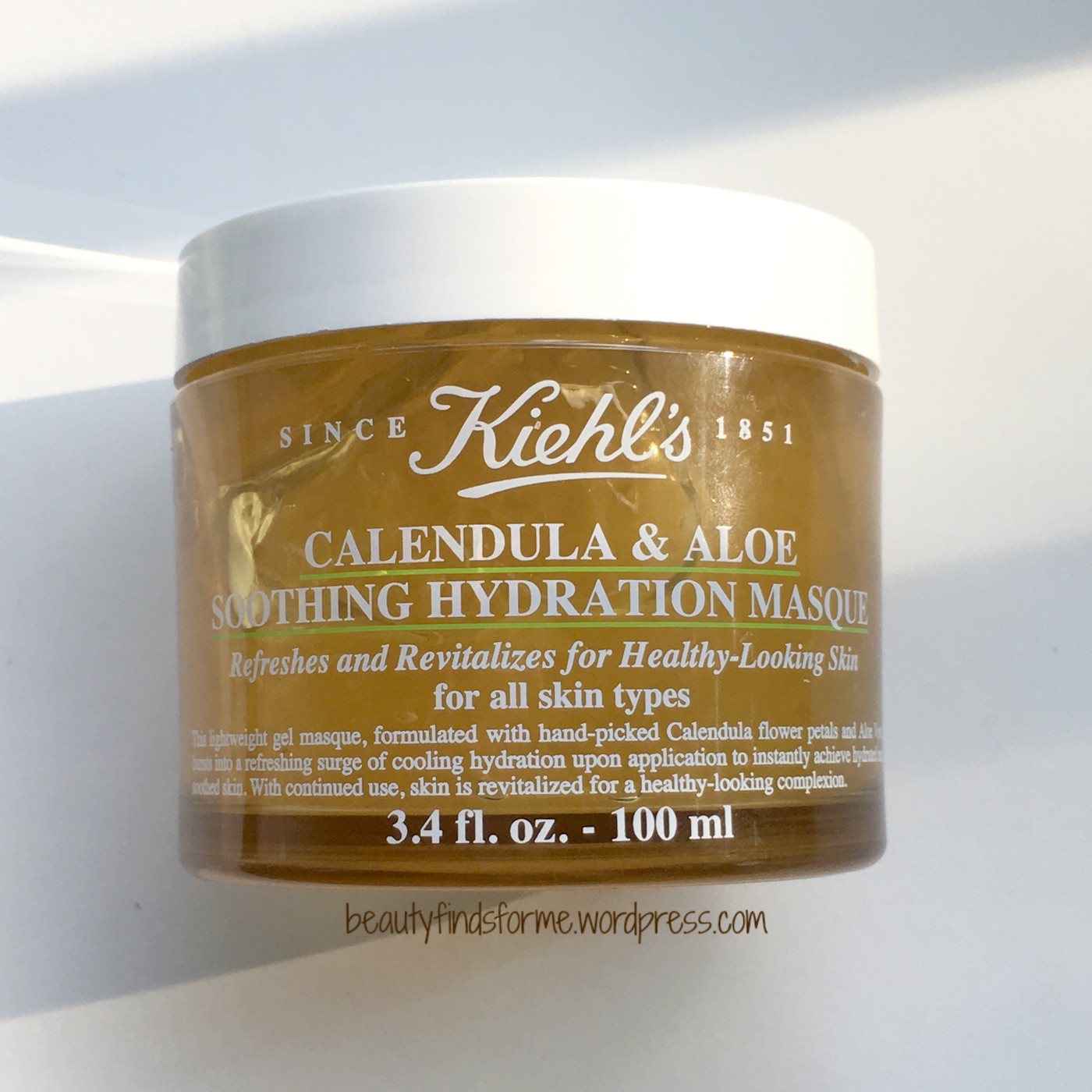 Kiehl's 🌼Calendula & Aloe Soothing Hydration Mask  I had been looking at Kiehl's Calendula mask for a while and was so jazzed when I got it in this box. This is a calming mask as it contains calendula, a herb that is known for its soothing, anti-inflammatory and healing properties and hydration, due to the aloe ~ aloe is such a moisture bomb and it is not greasy or oily.  This mask has calendula petals in it!! Your mask jar should come sealed, to ensure it isn't tampered with or used.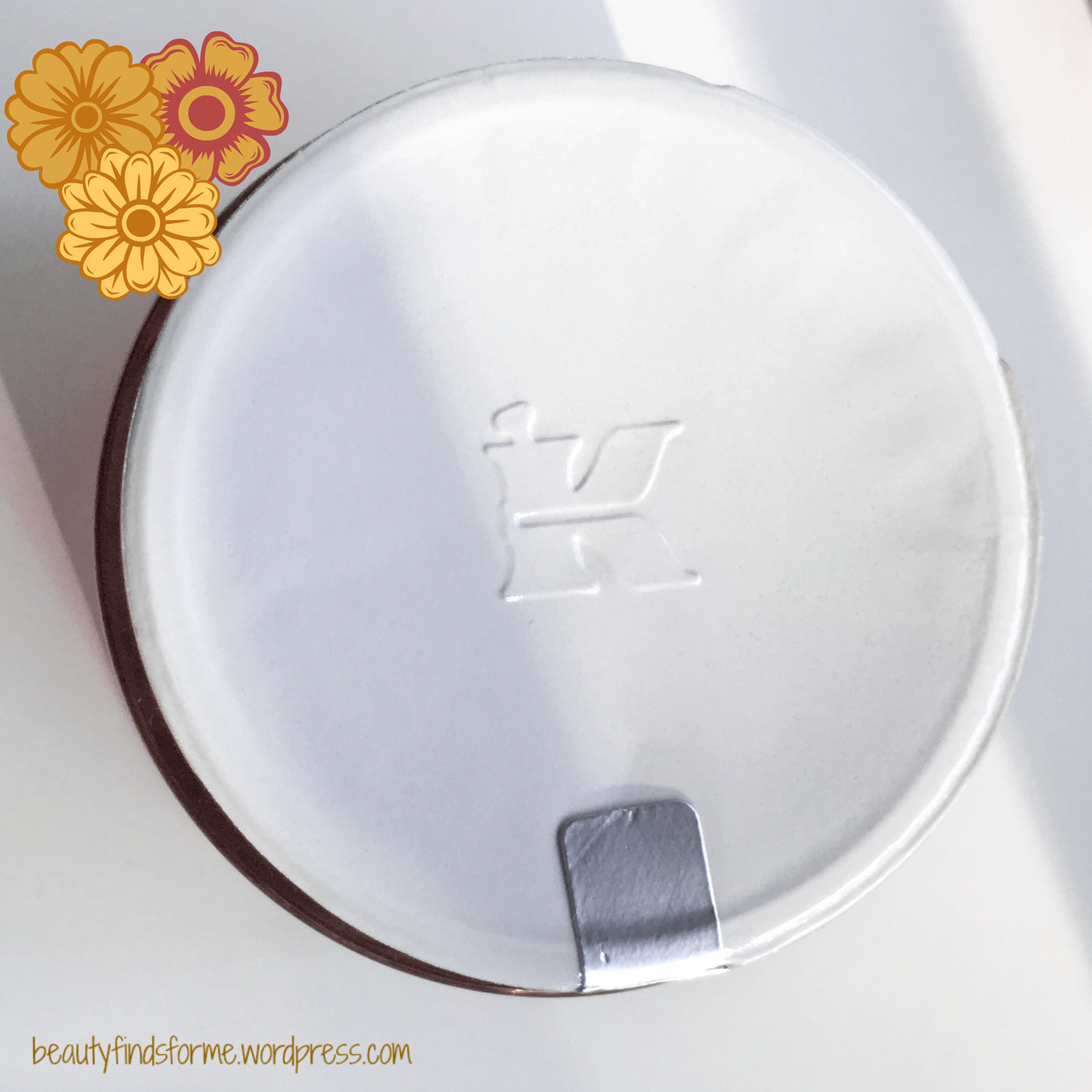 It smells amazing ~ it contains orange peel oil and it is a bright citrus scent. Apply a thick layer and leave on for 5 minutes ~ but I left it on longer, cause reasons…  This mask feels so good ~ it is so cooling and refreshing. This is so lightweight and it won't clog pores. After I rinsed it off, my skin looked more glowy, calm and less red and my skin felt very hydrated and soft. This is a great mask to use after any exfoliation treatment!  3.4 oz RV $45.00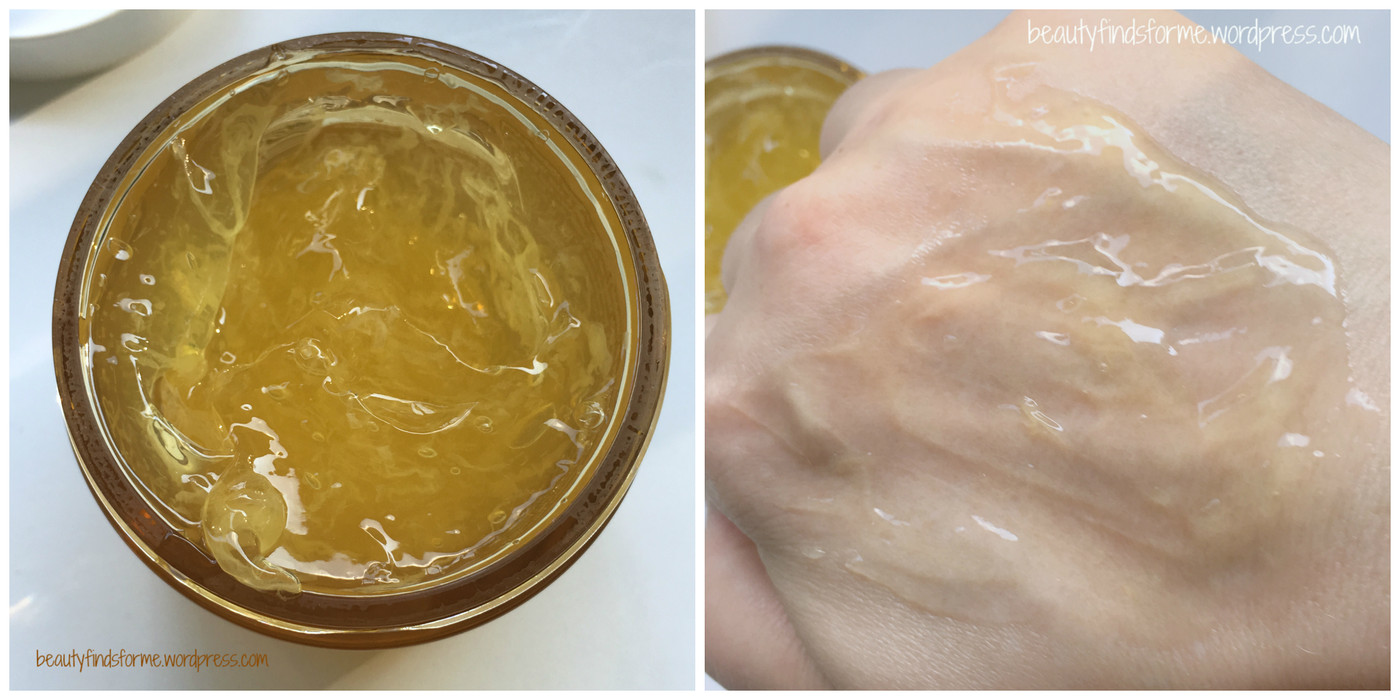 Description: nstant cooling sensation relieves skin craving extra attention with calming, yet refreshing hydration. Formulated with handpicked Calendula flower petals and Aloe Vera this revitalizing gel masque helps to soothe and visibly reduce signs of distress such as dry and unbalanced skin by achieving a hydrated, healthy looking complexion. Skin instantly looks and feels refreshed for an exceptional pick-me-up.

Ingredients:  Water, Glycerin, Aloe Barbadensis Leaf Juice, Butylene Glycol, Ppg-26-Buteth-26, Peg-40 Hydrogenated Castor Oil, Glyceryl Acrylate/Acrylic Acid Copolymer, Carbomer, Calendula Officinalis Flower, Phenoxyethanol, Limonene, Calendula Officinalis Flower Extract, Ethylhexylglycerin, Citrus Limon Peel Oil / Lemon Peel Oil, Paeonia Suffruticosa Root Extract, Scutellaria Baicalensis Root Extract, Sodium Hydroxide, Citrus Aurantium Dulcis (Orange) Peel Oil, Tocopheryl Acetate, Cassia Angustifolia Seed Polysaccharide, Pelargonium Graveolens Flower Oil, Anthemis Nobilis Flower Oil, Citral, Citric Acid, Potassium Sorbate, Artemisia Absinthium Extract, Sodium Benzoate, Tocopherol cosDNA analysis
Wei Sprout Facial Sheet Masks ~ these are masks in a tube! They are so luxe and I have tried the Illuminating Rice one before (review here) and am excited to try the Detox Mung Bean version now. These are a major treat.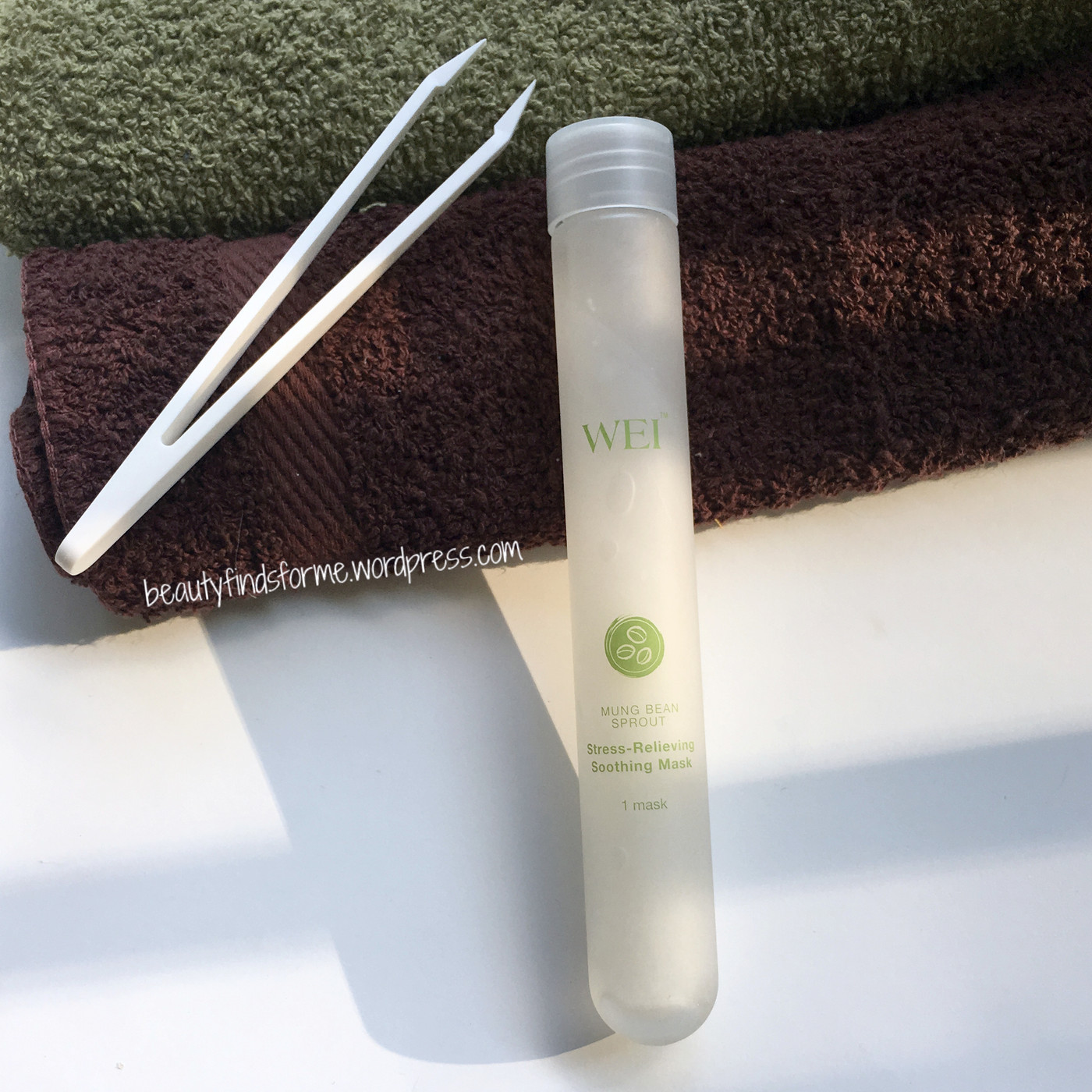 Wei Mung Bean Sprout Stress-Relieving Soothing Mask  Wei masks are an indulgence and luxury ~ at $12.00 per mask, they are expensive, but I have used them in the past and they are worth the $12.00. They were the first mask that I know of that came in a tube ~ the silk sheet mask is suspended in all of that nutrient-rich, sprouted-grain essence inside a plastic tube, like a caterpillar in a cocoon. Wei processes the sprout extract by pressing them at the time of germination, as it is thought this is when the sprout's benefits are at their zenith. Wei provides an over-sized plastic tweezers to gently pull the mask out of the tube. Once you get the mask peeking out of the tube, you can use your fingers to pull it out ~ the silk sheet mask is very sturdy and does not tear. The mask feels gelatinous due to all of the essence ~ it is soaked in it, but because the essence's texture is a gel serum, it is not dripping. This mask smells wonderful ~ a light herbal-mint as it does contain peppermint in it. There is a TON of essence left over in the tube ~ after unrolling and applying the mask on my face, I used some of the essence to pat over the mask and then on my neck. I saved the rest of the essence for my night time routine ~ just recap and store in the frig. Since the mask is made from synthetic silk, it is cruelty free


Wei's Mung Bean mask contains mung beans, which has copper, a powerful anti-aging ingredient ~ it helps reduce the appearance of fine lines, wrinkles and hyper-pigmentation. It has cooling and brightening properties and it is also an anti-inflammatory. Chinese Licorice, which is a brightening ingredient as well as reducing flaking and smoothing your skin. It is also an anti-oxidant, anti-irritant and anti-inflammatory and one of its key components, glabridin, helps soothe sensitive skin and reduce swelling and redness. 🥒Cucumber helps to regulate the water and oil level of the skin to prevent appearance of blemishes, as well as soothing and hydrating. 🌱Peppermint has anti-bacterial properties, cleanses and closes pores and contains salicylic acid, while providing a refreshing tingle and cooling sensation.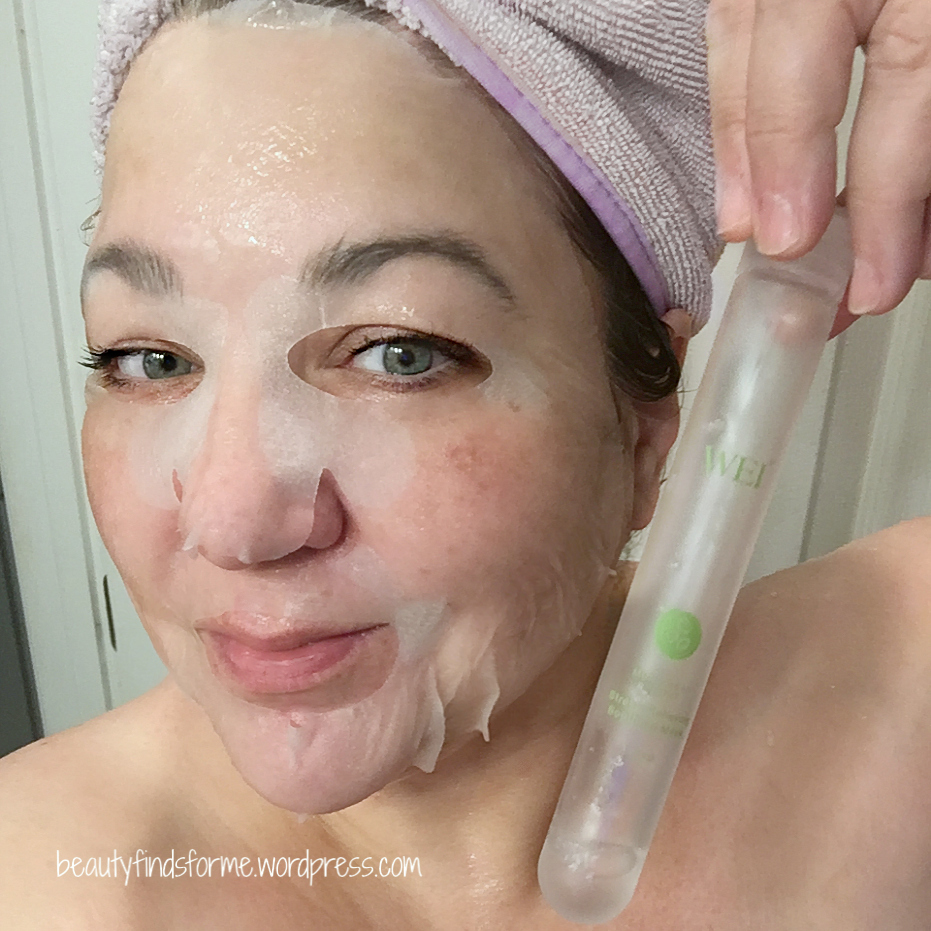 I do hate the fit of the mask ~ the eye and mouth holes were cut too small ~ in fact, the mask is cut a bit small overall. This is not a mask for big faces!! However, the material is silky smooth and strong ~ it won't rip, tear or turn into a shapeless mush while you are positioning it on your face. I was able to leave this mask on for 40 minutes (it was still damp) and then removed it. My face was still wet with the essence, and it took about 5 minutes to dry down. My pores looked tighter in appearance and my face looked refreshed and rested! I really like this one, as it helped make my skin feel matte and not oily, but hydrated. This mask is for those who have oily and non-sensitive skin. If you have dry skin or sensitive skin, this mask will not be enough for you in terms of hydration and your skin could have an adverse reaction to the mint.  
Description: As a plant rises from its seed, it is a moment of pure power releasing all its protected and stored energy to ultimately bloom and flower. Wei captures the precise moment of life and presses the essential enzymes, nutrients and vitamins when they are most dynamic and concentrated. Mung Bean has been used for centuries in traditional Chinese medicine to help nurture the body while calming and cooling the skin. This purifying sheet mask floats in an essence of detoxifying Mung Bean Sprout to help to clear imbalanced or blemished skin. A ten-minute application exfoliates dull skin and removes skin-damaging pollutants and impurities from pores while restoring healthy sebum levels for a calm, flawless complexion. Mung Bean Sprout offers powerful antioxidant and anti-inflammatory properties while supplying protein-rich moisture to the skin. Chinese Licorice Root helps heal skin ailments and blemishes. Cucumber extract soothes and hydrates.
For the LOVE of all things HOLY, do NOT wash the USED mask and put it back inside the tube. You can use cotton pads, purchase those dried cotton mask rounds, or just use it as serum like I did I actually read a review where someone was saying to rinse off the used mask and put it back into the tube. NO. Just don't do that. Please do not do that. RV $12.00 per mask

Ingredients: Phaseolus Radiatus (Mung Bean) Sprout Extract, Water, Butylene Glycol, Glycerin, Pentylene Glycol, Glycyrrhiza Uralensis (Chinese Licorice) Root Extract, Cucumis Sativus (Cucumber) Fruit Extract, Lonicera Japonica (Honeysuckle) Flower Extract, Paeonia Suffruticosa (Tree Peony) Bark Extract, Phenoxyethanol, Tromethamine, Benzoic Acid, Sodium Metaphosphate, Acrylates/C10-30 Alkyl Acrylate Crosspolymer, Xanthan Gum, Disodium EDTA, Mentha Piperita (Peppermint) Oil cosDNA analysis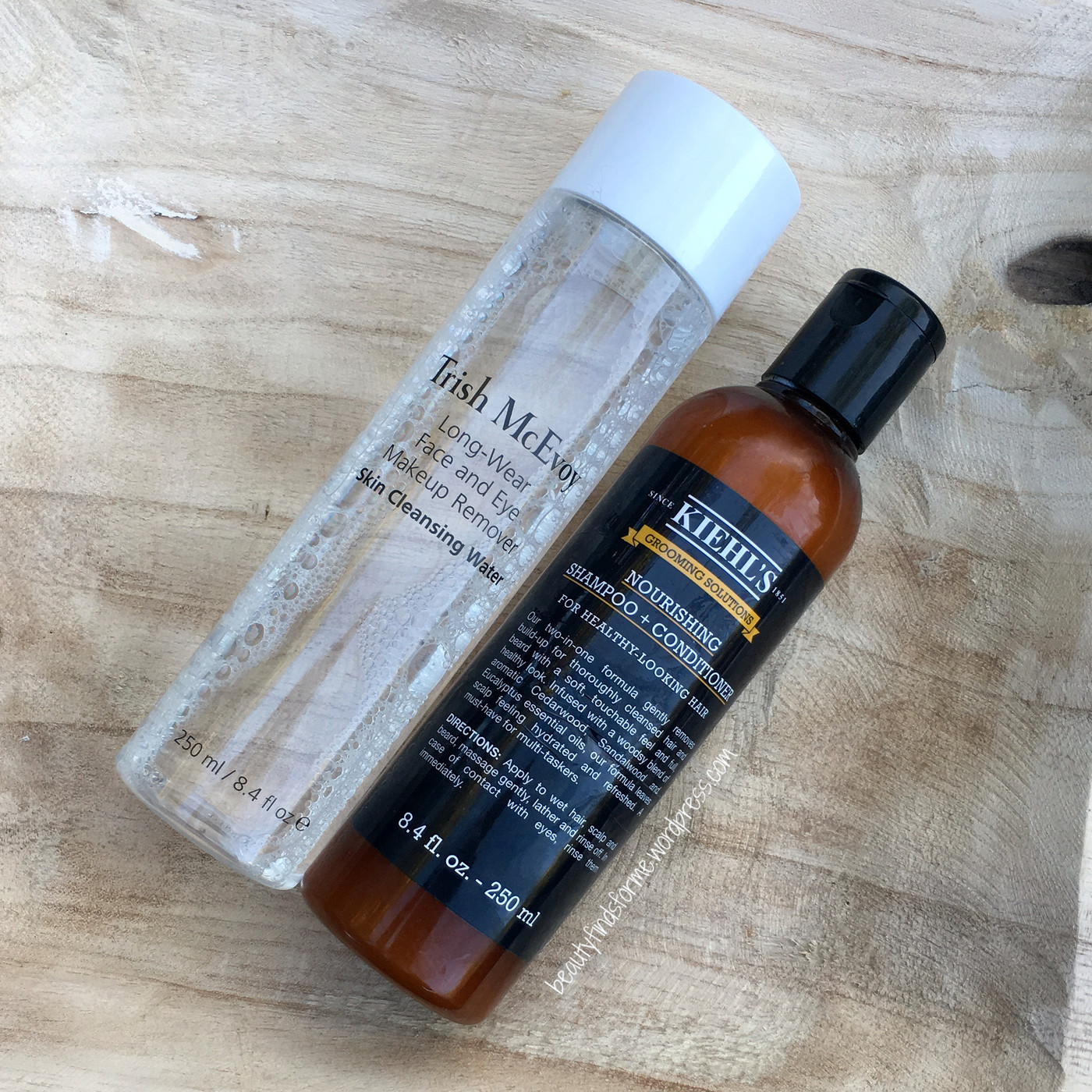 Kiehl's Nourishing Shampoo & Conditioner This is a two in one hair cleansing and conditioning treatment that smells WONDERFUL ~ like being inside my wooden cedar chest!  It has sandalwood, cedarwood and eucalyptus scents and it is creamy lovely shampoo that works for all hair types.  However, it is just a refreshing, scalp treatment shampoo.  I have fine, straight hair and it was such a tangled mess and not conditioned when I used this shampoo/conditioner alone.  You have to use a conditioner with this ~ unless you have a buzz cut, then you can use this without an additional conditioner.  I do like this for its scalp treatment benefits, as the eucalyptus and cedarwood will help problematic scalps with soothing and calming benefits and astringent properties.  8.5 oz RV $20.00

Description: Kiehl's Since 1851's two-in-one formula gently removes buildup and hydrates the scalp for thoroughly cleansed hair with a soft, touchable feel and full, healthy-look. Infused with a woodsy blend of aromatic Cedarwood, Sandalwood and Eucalyptus essential oils, this formula leaves scalp refreshingly clean and flake-free. A must-have for multi-taskers.
Ingredients: Water, Cocamidopropyl Betaine, Disodium Laureth Sulfosuccinate, Sodium Lauryl Sulfoacetate, Sodium Lauroyl Sarcosinate, Decyl Glucoside, Glycol Distearate, Sodium Chloride, Polyquaternium-10, Cedrus Atlantica Bark Oil, Ppg-5-Ceteth-20, Sodium Benzoate, Carbomer, Sodium Hydroxide, Amyris Balsamifera Bark Oil, Peg-55 Propylene Glycol Oleate, Salicylic Acid, Propylene Glycol, Acrylates Copolymer, Eucalyptus Globulus Leaf Oil, Arginine, Pentaclethra Macroloba Seed Oil, Benzoic Acid, Mentha Piperita (Peppermint) Oil, Bitter Orange Leaf/Twig Oil, Geranium Maculatum Oil, Limonene, Isopropyl Myristate, Ginger Root Oil, Sodium Acetate, Citronellol, Safflower Glucoside, Lavandula Hybrida Oil, Isopropyl Alcohol, Fusanus Spicatus Wood Oil, Cistus Ladaniferus Oil, Tocopherol, Bht, Sodium Citrate, Citric Acid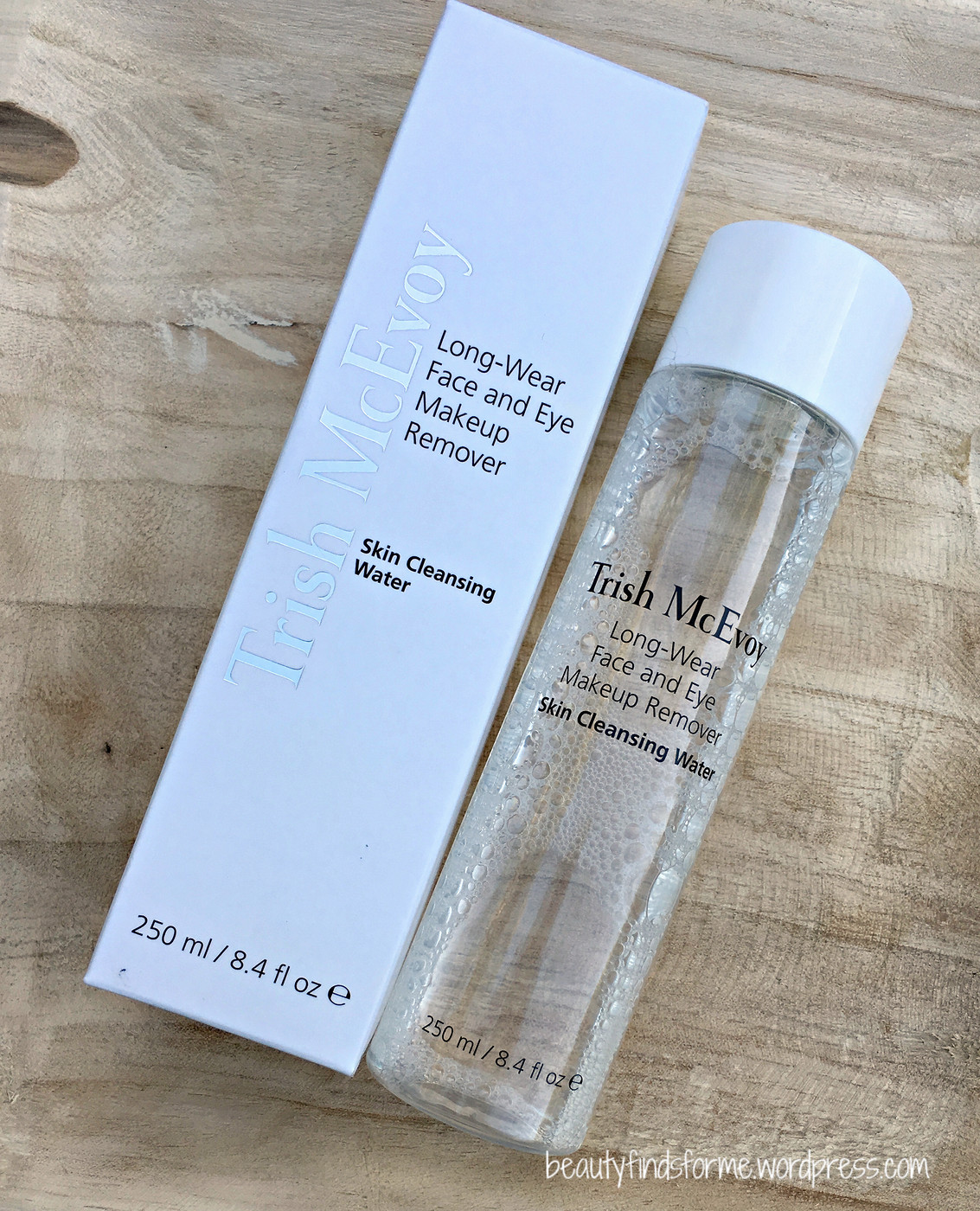 Trish McEvoy Long-Wear Face & Eye Makeup Remover Skin Cleansing Water ~ Just in time, as I am so RETIRING that Huxley Cleansing Water!  I love this cleansing water ~ it is now my go-to in the morning and evening and I do have a lot of cleansing waters to choose from!  It is very watery and light; it doesn't leave a tacky or sticky residue at all on my skin.  The scent is very fresh and this water removes my makeup nicely, without having to pull or rub away at my skin.  It has a nice balanced 5 to 5.5 pH level, so for those looking for a pH balanced cleansing water, Trish might be your gal!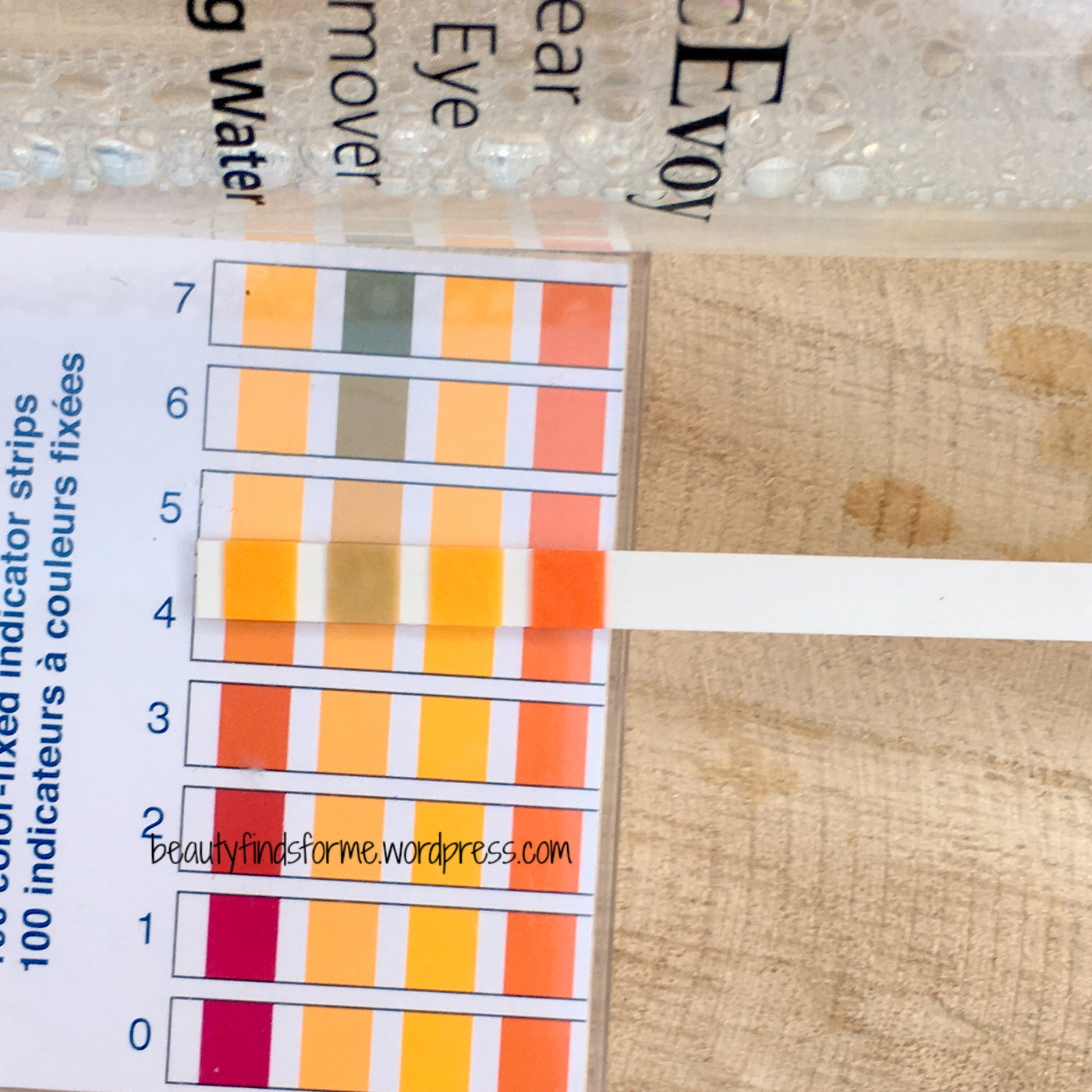 I love using cleansing waters and have been using them for years ~ they are fantastic to use after you get home from work or a busy day and you just want to wipe away the dirt, oil and grime from your face ~ just to refresh your skin!  I also use them first thing in the morning, when I wake up and before my shower.  It helps to remove any nighttime skincare product residue I have my face ~ I will wash my face, but it might be another 30 minutes before I get into the shower, so this is a nice refreshing way to wake up in the morning.  This also comes in handy if you go out at lunch to exercise or just get sweaty ~ wipe your skin down to remove the sweat and oils while cooling down your skin.  8.4 oz RV $49.00

Description: Trish McEvoy's gentle, one-step cleansing water instantly removes all traces of even the most long-wear makeup formulations from the eyes, face and lips. The water-light, skin-conditioning formula leaves skin perfectly clean, balanced and ready for skincare. – Ideal for all skin types – Gentle enough for even the most sensitive skin and eye areas – Ophthalmologist tested – Noncomedogenic – Dermatologist tested – Paraben free – Oil free
Ingredients:  Water, PEG-6 Caprylic/Capric Glycerides, Propanediol, Pentylene Glycol, Sodium Chloride, Phenoxyethanol, Poloxamer 184, Tetrasodium Edta, Hydrolyzed Soy Protein, Citric Acid, Panthenol, Fragrance, Maltodextrin, Mentha Piperita (Peppermint) Leaf Water, Propylene Glycol, Trehalose, Benzyl Salicylate, Hexyl Cinnamal, Glycerin, Lactitol, Xylitol, Sodium Hyaluronate, Linalool, Prunus Persica (Peach) Fruit Extract, Benzyl Alcohol, Centaurea Cyanus Flower Extract, Sorbic Acid, Dehydroacetic Acid cosDNA analysis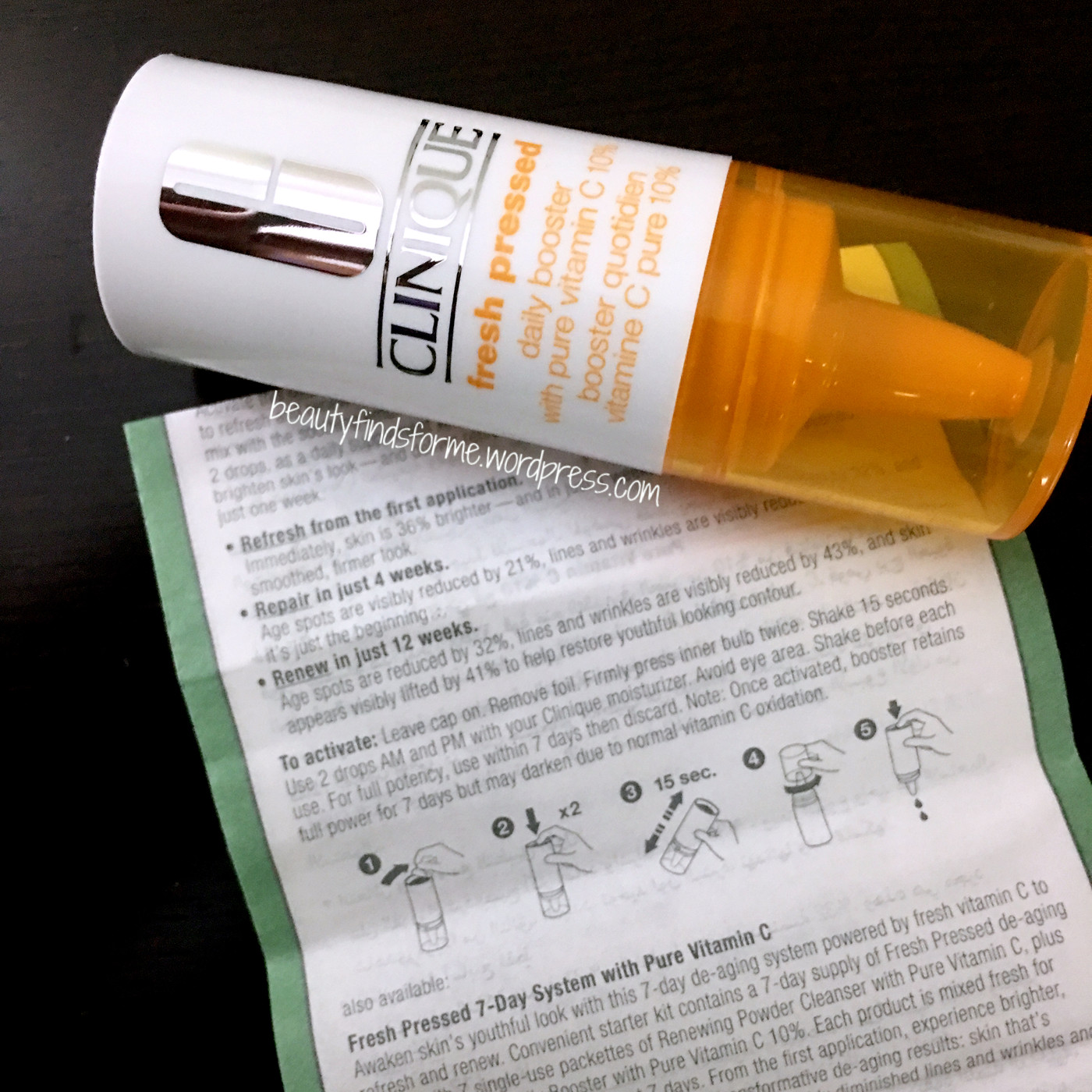 Clinique Fresh Pressed Daily Booster with 🍊10% Pure Vitamin C  This includes the booster plus 7 days worth of a cleansing powder, which I have yet to use!  So, I have come to the conclusion that with the exception of Melano CC Spot Essence, Vitamin C products do not work for me. I have never noticed any lightening of sun damaged hyper-pigmentation, nor miraculous results. What I have noticed is that I break out when I use Vitamin C ~ exception is Melano CC Spot Essence ~ even the Melano CC Lotion makes me break out. Clinique Fresh Pressed Daily Booster with Pure Vitamin C 10%  is no exception. It is a great concept, nice fresh serum to be used in 7 days, smells like orange juice and you mix it with your favorite lotion or moisturizer.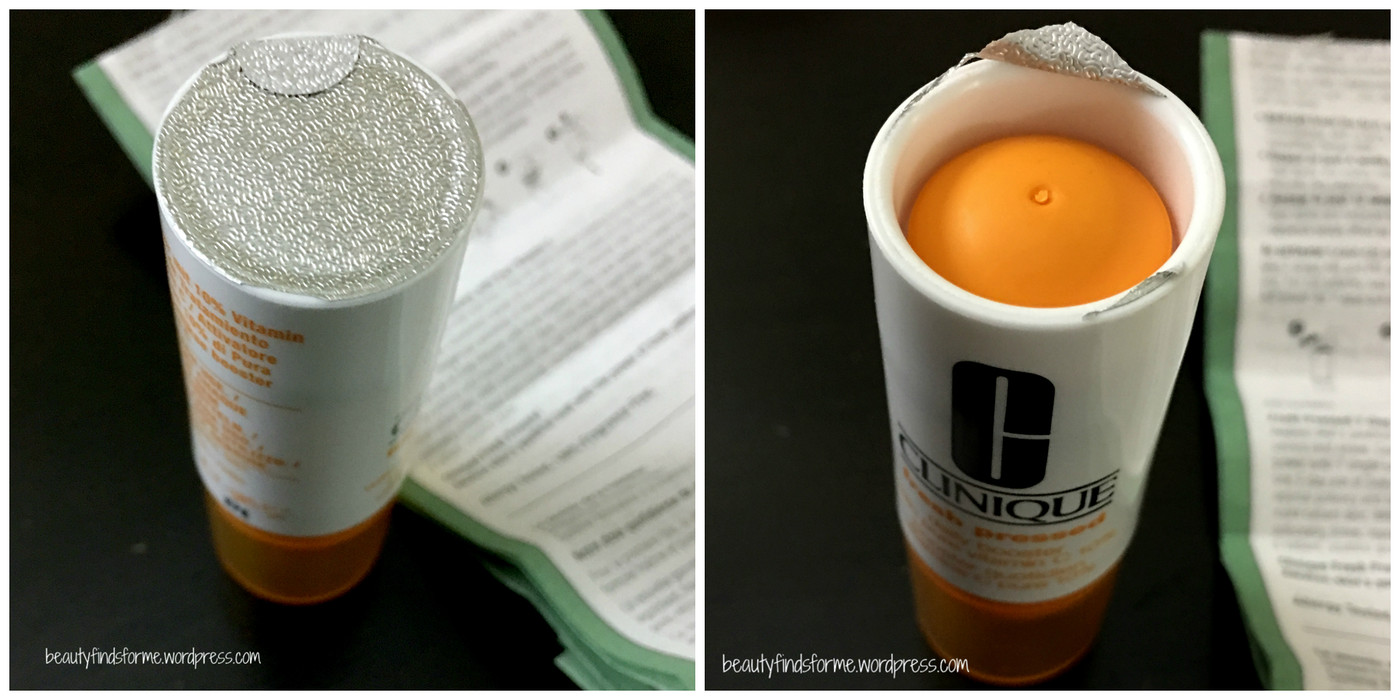 You remove the tin seal on the back and it reveals an orange soft "button" and you press that button all the way down ~ the vitamin C liquid is released into the powder and you shake it fully.  You then add a bit of it to your favorite moisturizer or lotion and mix well, before applying to your face.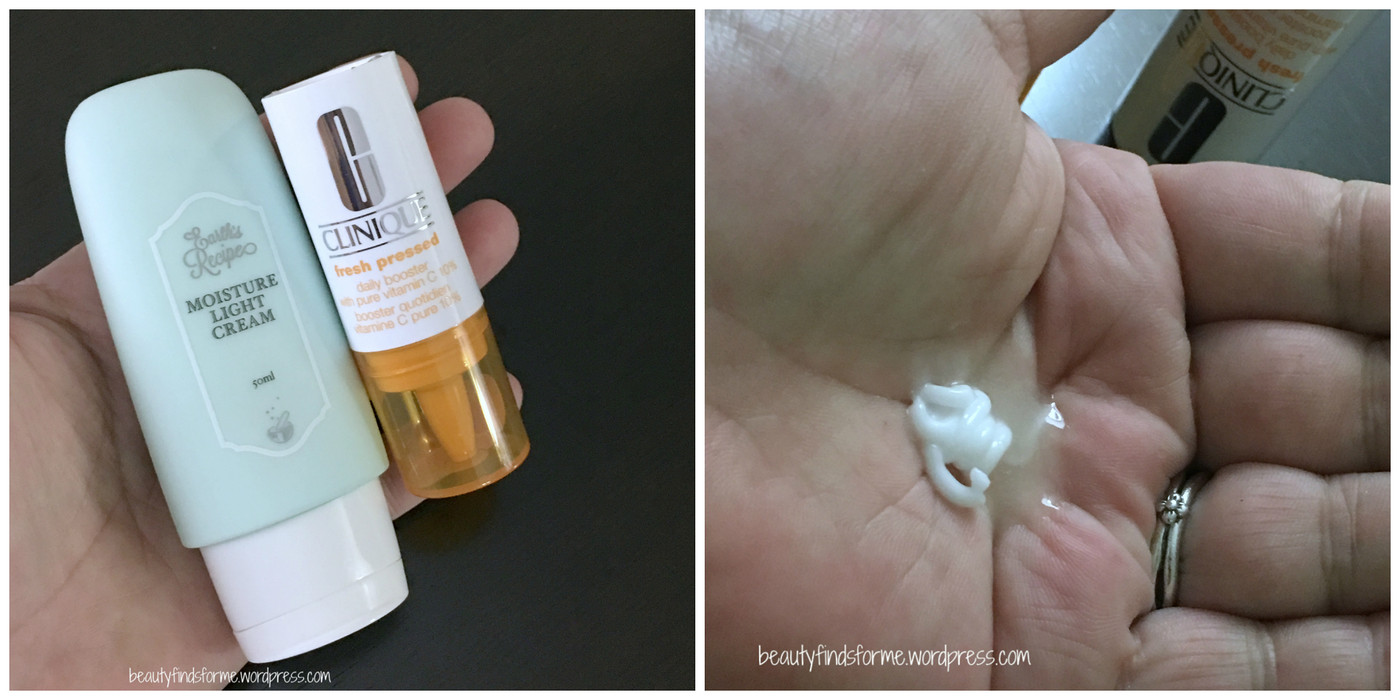 It has a nice list of great ingredients in it, plus 10% of ascorbic acid with a pH level of 2.5 to 3, meaning you get a free acid content of 8.71% to 9.55%, which means this product would have "significant increase in cell turnover. Moderate increase in collagen deposition" (source goalstogetglowing and labmuffin).  Due to the higher free acid content, you have to be careful of skin irritation.  Alas, the only results I saw in a week were pimples, not to mention HOW expensive this will get over time, if it did work for you. Using it daily would cost you over $1000 a year.  Yikes!  .34 oz RV $19.50 or 4 pack for $76.50 (one month's supply)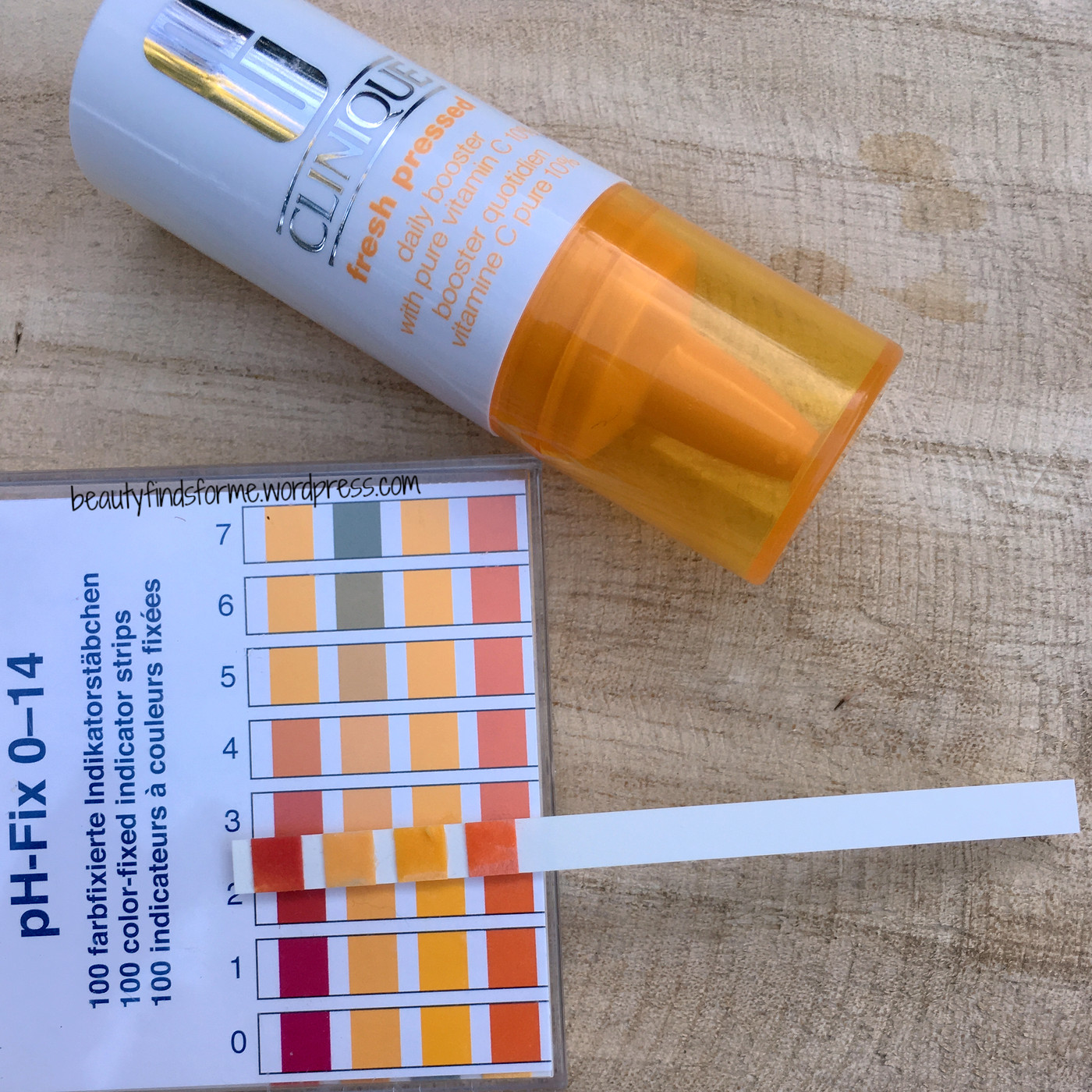 Description: Unique de-aging Booster harnesses the full power of pure, fresh Vitamin C at highest concentration to brighten, even and re-texturize skin.  Just like your morning fresh-pressed juice or vitamin helps you stay healthy on the inside, this super-potent Booster was designed as a daily supplement to visibly rejuvenate skin from the outside—and a simple, seamless way to reinvigorate your de-aging routine without changing a thing. Simply mix 2 drops with your moisturizer AM and PM and see: 36% brighter skin with first application, 32% reduction of age spots, 43% reduction in the look of lines and wrinkles over time. Great to know: Fresh means powerful. Pure Vitamin C naturally degrades when exposed to oxygen, so it's most powerful when fresh. Stay-fresh packaging isolates the pure Vitamin C until activation, maintaining its freshness and full power for maximum results.
Ingredients: Water, Ascorbic Acid (10%), Glycerin, Dimethicone, Squalane, Butylene Glycol, Dipropylene Glycol, Acetyl Glucosamine, Cucumis Sativus (Cucumber) Fruit Extract, Hordeum Vulgare (Barley) Extract, Morus Nigra (Mulberry) Root Extract, Molasses Extract, Laminaria Digitata Extract, Scutellaria Baicalensis Root Extract, Acetyl Hexapeptide-8, Vitis Vinifera (Grape) Fruit Extract, Algae Extract, Palmitoyl Hexapeptide-12, Palmitoyl Tripeptide-1, Palmitoyl Tripeptide-7, Alcaligenes Polysaccharides, Caffeine, Sucrose, Whey Protein, Betaine, Salicylic Acid, Glycine Soja (Soybean) Protein, Sodium Hyaluronate, Caprylyl Glycol, Sigesbeckia Orientalis (St. Paul's Wort) Extract, Bis-PEG-18 Methyl Ether Dimethyl Silane, Propylene Glycol Dicaprate, Helianthus Annus (Sunflower) Seedcake, Allyl Methacrylates Crosspolymer, Carbomer, Glyceryl Polymethacrylate, Triomethamine, Xanthan Gum, Potassium Sorbate, PEG-8, Polysorbate 20, Sodium Citrate, Disodium EDTA, Phenoxyethanol cosDNA analysis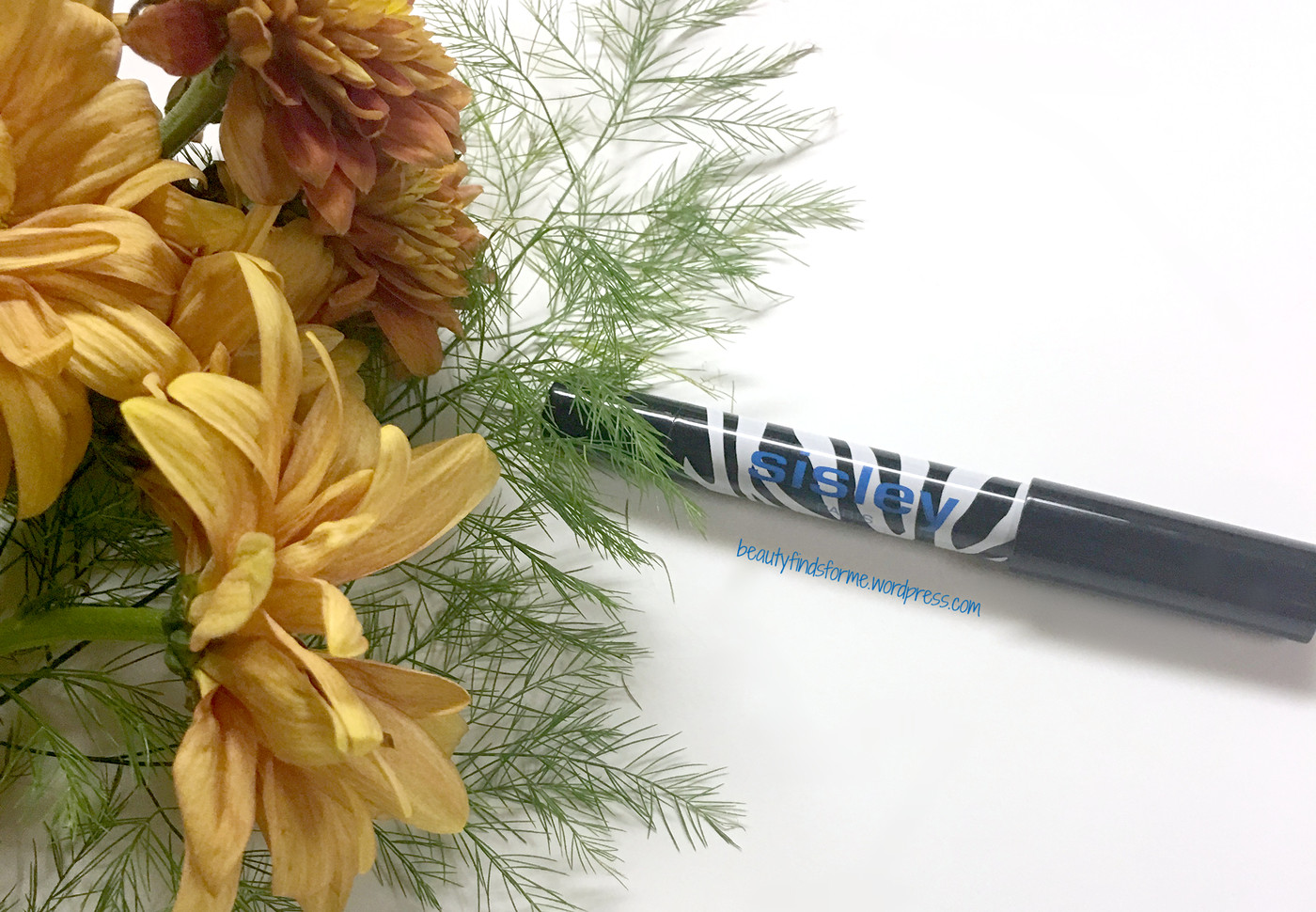 Sisley Phyto-Eye Twist All in One Eyeshadow in Topaze Sisley is one of those brands that is insanely expensive ~ the only other Sisley product I had tried was a facial cream that was over $500.00 (review here).  This product is not $500.00 but it is $50.00, which is very expensive for an eye shadow crayon.  Topaze is a lovely bronze gold shade ~ it has a little bit of glimmer in it, but nothing over the top, very understated and classic.  I love using this when I am in a hurry in the morning, I just swipe it over my lid, blend and that's it!  The twist-up crayon is very creamy and glides on ~ very smooth  and even, and it is blendable ~ up to a point.  Once this eye crayon sets, it doesn't BUDGE.  It is very long wearing, doesn't crease and won't move, which is great.  Is it worth $50.00?  If I only used one or two eye products, this would be one of them.   RV $50.00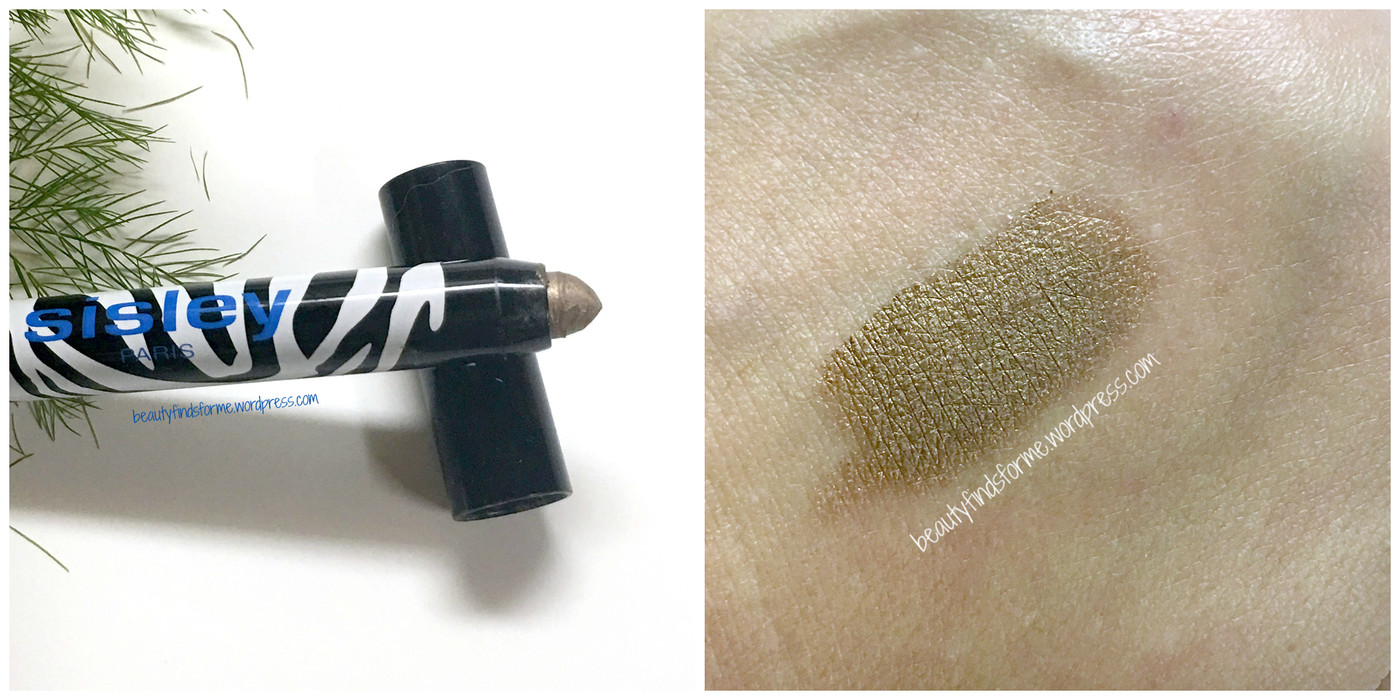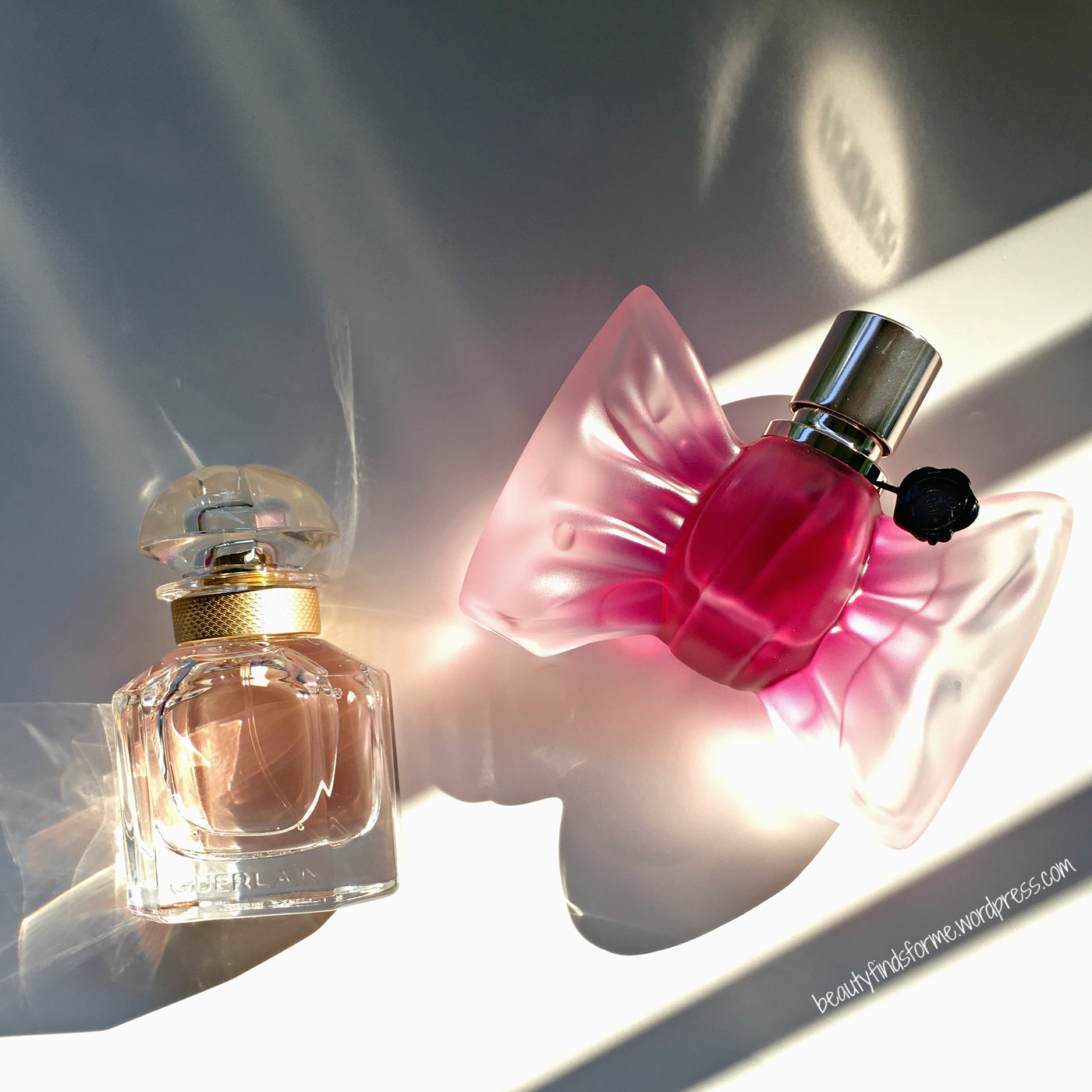 Have you tried either of these scents? How did you like them? I am so pleased with both as they are so different!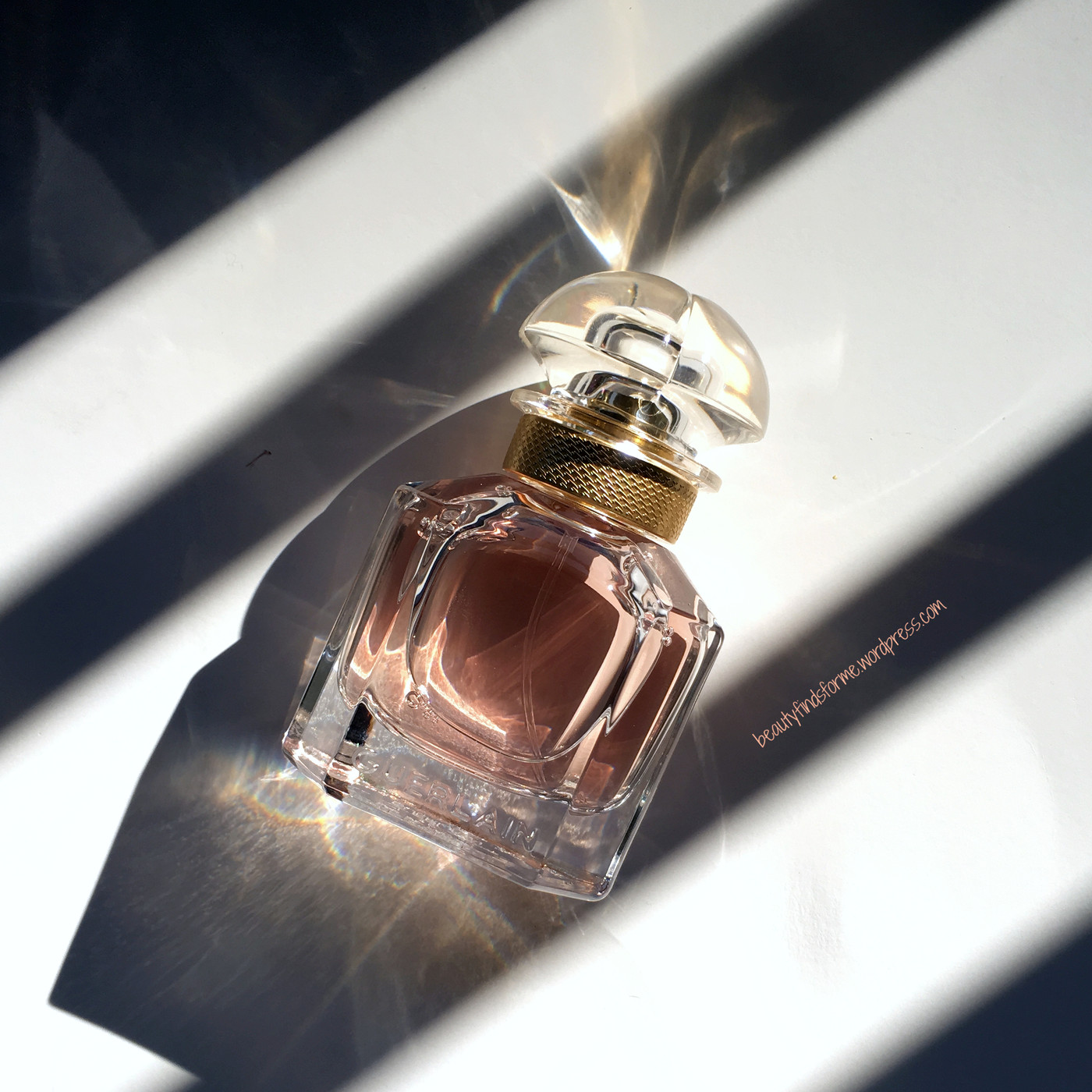 Guerlain chose one of my favorite actresses and humanitarians, Angelina Jolie, as the face of Mon Guerlain, which was released in 2017. This perfume is a warm, spicy scent ~ described as a fresh oriental fragrance ~ made with carla lavender from Provence, sambac jasmine from India, album sandalwood from Australia, and vanilla tahitensis from Papua New Guinea. I can smell the lavender and vanilla with spicy sandalwood in this scent, but not the jasmine (thankfully!) This scent can be worn during the day, but I like it as an evening scent ~ it is not a sugary candy scent, but sensual and warm. The bottle is called a quadrilobe bottle, created in 1908 and is Guerlain's most iconic bottles. It is a heavy, cut glass bottle that resembles an alchemist's bottle and the name quadrilobe comes from the cap ~ it is formed in one piece and has four lobes. The cap snaps onto the bottle with a satisfying click as well. 1.7 oz RV $94.00

Description: Mon Guerlain, the House's new fragrance, is a tribute to today's femininity—a strong, free and sensual femininity, inspired by Angelina Jolie. The fresh oriental fragrance enhances exceptional raw materials: carla lavender from Provence, sambac jasmine from India, album sandalwood from Australia and vanilla tahitensis from Papua New Guinea. It expresses the quintessence of a history replete with experiences, nourished by success, expertise and generosity, all infused with the same passion since 1828. The "quadrilobe" bottle, created in 1908, established itself as one of Guerlain's iconic bottles. Simple and graphic, it echoes an alchemist's bottle and owes its name "quadrilobe" to its stopper, which is formed from one piece to obtain a shape resembling four lobes. One century later, beautifully enhanced by a luxurious glass weight and a golden adornment, this bottle offers a contrast between strong taut lines and sensual curves, expressing contemporary femininity. Top notes: bergamot, carla lavender   Middle notes: paradisone, sambac jasmine, coumarin   Base notes: iris, vanilla tahitensis, album sandalwood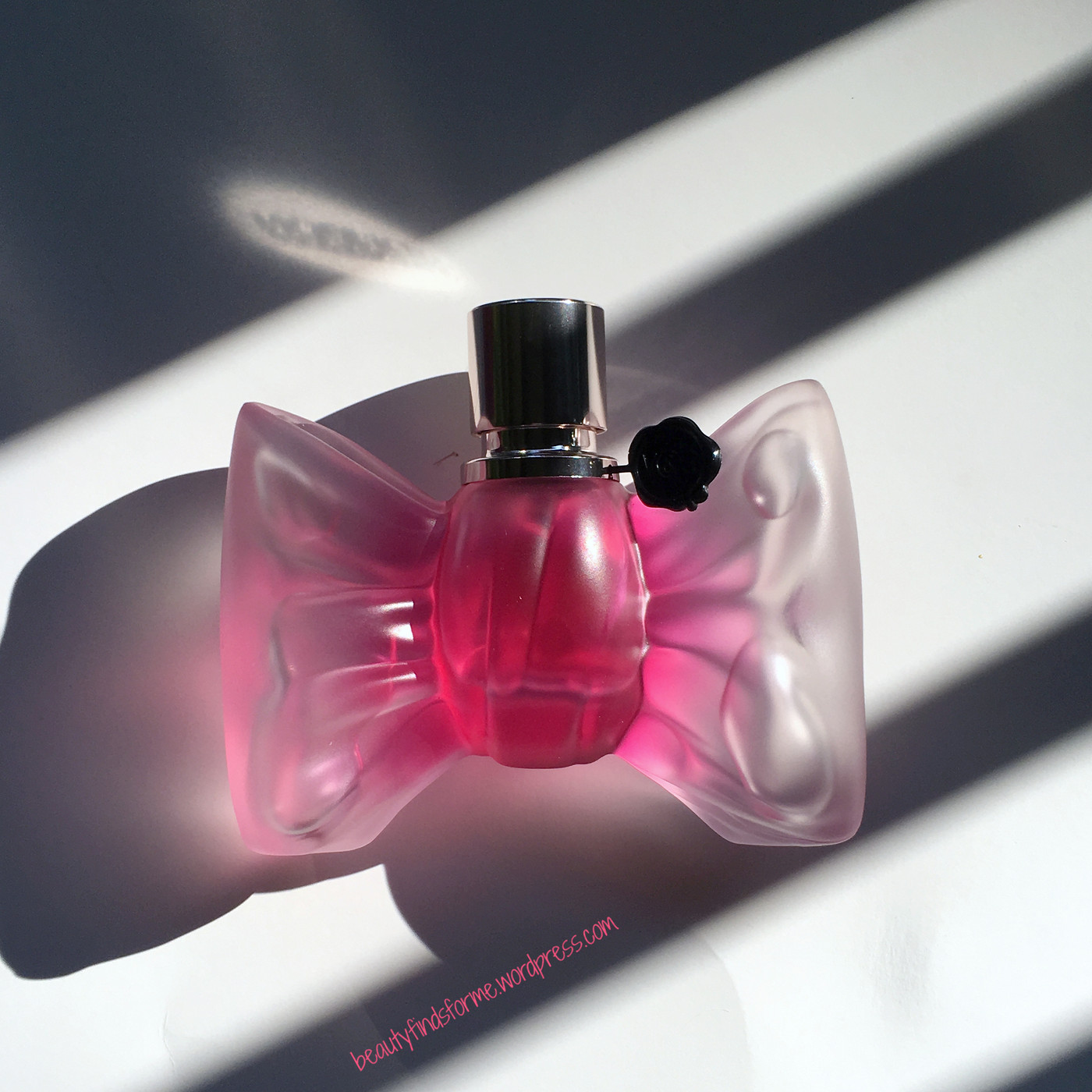 Viktor & Rolf Bonbon (released in 2014)   Can I first say that the design behind this bottle is just gorgeous? It is in hot pink tones, thick and heavy glass, tied up in a pink bow! Bonbon is a sweet candy scent of sugary, caramel mandarin, peach and orange notes. It is bright and fun with a bit of creamy goodness in its spicy woodsy base notes of cedar, sandalwood, amber and guaiac woods. It is supposed to have florals of orange blossom and jasmine, but I do not smell that at all ~ its dry down is peach and amber notes. This does remind me of Prada Candy, but much softer and it is very wearable for day and night time use. This does not have vanilla tones, which is a nice change!   1.7 oz RV $115.00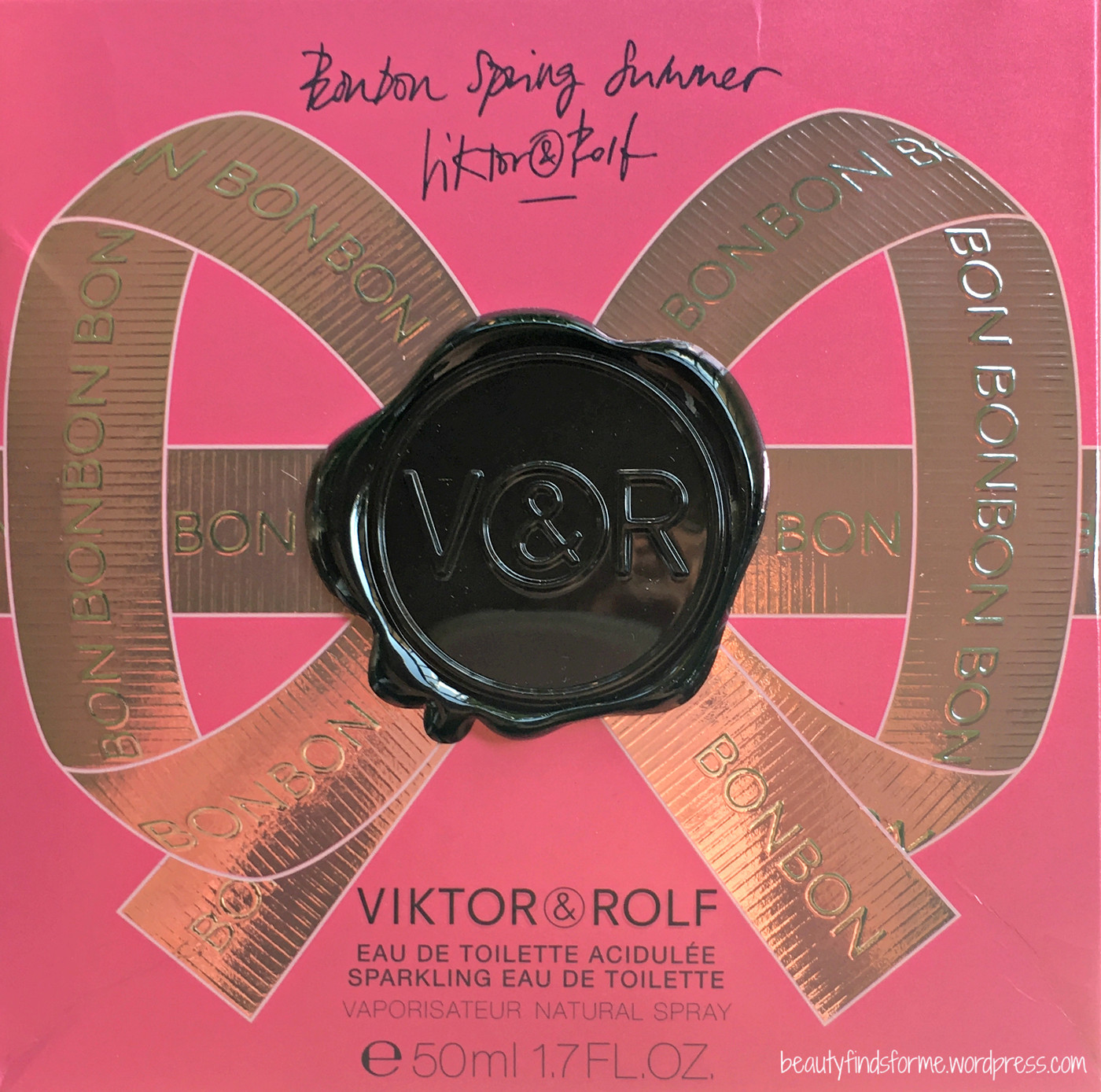 Description: The bow is an iconic symbol in fashion designers Viktor & Rolf's rich heritage; one that embodies the essence of the brand's haute couture spirit. While wearing a bow is a personal, decorative experience, unwrapping one signifies a celebratory occasion. Sculpted to perfection, the one-of-a-kind BONBON bow bottle proves that the impossible is possible. Its design was handcrafted with precision and craftsmanship, much like the detail involved in the creation of a couture garment. BONBON is a timeless sensation inviting a pure and absolute pursuit of pleasure. It is an haute confection that fuels desire through a scent so irresistible, it is nearly edible: a delicious olfactory dessert composed of juicy caramelized fruits, sun-drenched flowers and sweet creamy woods that create a delightful self-indulgent experience.  Notes:  Top: Tangerine, Blackcurrant, Orange   Middle: Orange Blossom, Jasmine, Peach  Base: Guaiac Wood, Cedarwood, Caramel

Final Thoughts
So many great items in here!  I think my favorite items are the Kiehl's Calendula Jelly Mask, PMD Microdermabrasion Kit, both perfumes and Trish McEvoy Cleansing Water!  Oh and the Wei masks ~ love my sheet masks and these are so lux!  Bloomingdales is a great place to shop for yourself and for gift-giving!  A slew of holidays are coming up right around the corner and I hope that some of these items here make it on your gift list ~ for yourself or for a loved one!   What do you think of these products?  Have you tried any of them or are you interested in purchasing any of the items?

Bloomingdale's
Save 10% when you sign up for emails at Bloomingdales.com (click here)
Disclosure:  I received this box complementary from RAN (Rakuten Affiliate Network)  There are affiliate links in this blog post
[ descriptions in italics from linked web site ]