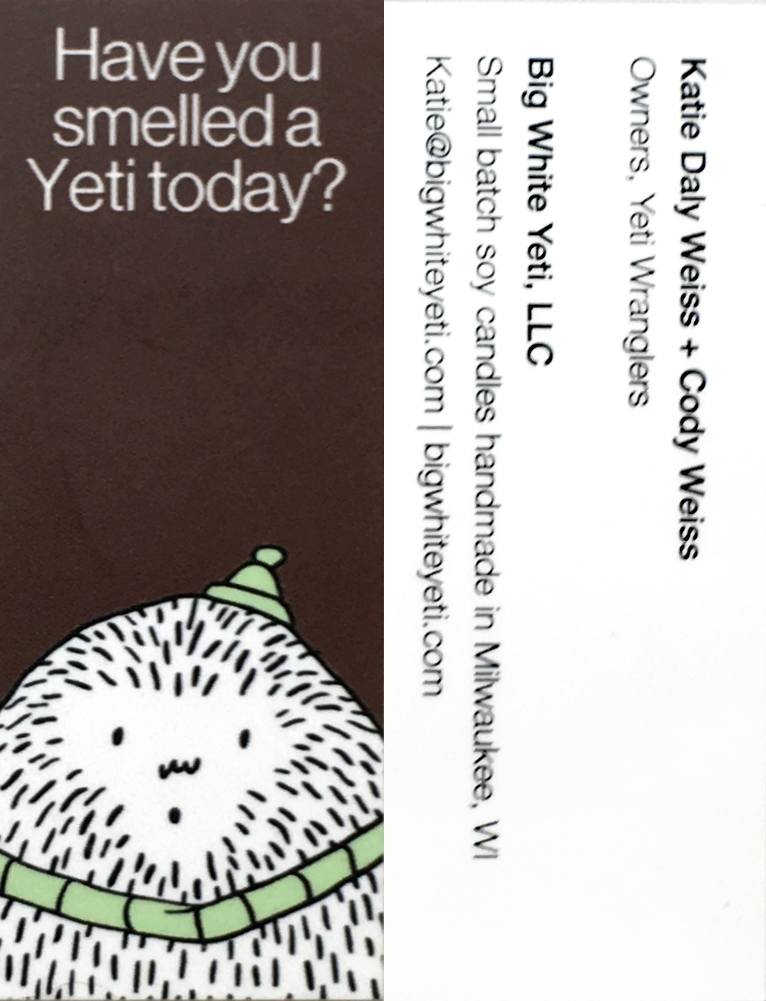 October's Flickerbox is a vendor spotlight on one of my favorite indie vendors (and the best name out there!)  Big White Yeti.  Every time I see their name and logo, I think of Rudolph the Red Nose Reindeer's Abominable Snowman, Bumble ~looky what he can do!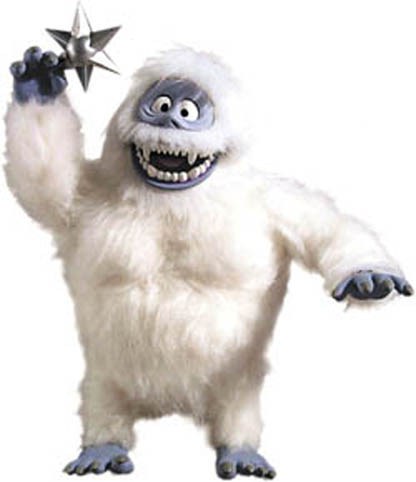 Big White Yeti is located in Milwaukee, WI (Schlameal, Schlamazel, Hazzen Pfeffer Incorporated…) and was established back in 2013.

All of their candles are made from 100% soy wax, pure fragrance oils, undiluted essential oils, cotton wicks and are hand poured.  They started out as an etsy shop ~ they still have a presence there ~ and also have their own online shop as well.  
What is Flicker Box?
Flicker Box is inspired by a love and appreciation for handmade candles. We believe that people appreciate products produced by quality artisans made in the United States. We want to connect candle lovers with people who love to make candles. Each Flicker Box contains a variety of artisanal candles made from candle artists from around the United States. We share their story and ship subscribers a delightfully curated box right to their doorstep. Flicker box can be purchased as an automatically-renewing monthly subscription or 3, 6, or 12 month term subscriptions.  from myflickerbox
Information Card
Another View Starting on the left:  Sweater Weather, Pumpkin Something , North Woods Cabin

Sweater Weather This is actually a scent that I received back in October 2015 ~ Sweater Weather is Big White Yeti's most popular Autumn scent and I am glad I got it again.  This time, it is 7.5 oz amber glass jelly jar and this is just an amazing scent.  Sweater Weather is a sparkling apple scent with cinnamon and nutmeg.   It's like being in an apple cider mill, drinking that cider, sprinkled with spices.   which means it could have a burn time of  32 to 38  hours.  RV $18.00
Description: Riding boots, skinny jeans, and a cozy cable knit sweater. Walk into any room that has a Sweater Weather candle and you will immediately know what season it is. The crisp autumn air, the crunch of dry leaves, and a oversized mug of hot apple cider. This soy candle contains bright notes of ripe apples and a tingle of spice. We've infused natural cinnamon, clove, nutmeg and cedarwood essential oils to create this perfect fall candle.
North Woods Cabin  I love woodsy scents and this one does not disappoint ~ it is an explosion of pine trees and sap, with a warm smoky scent.  This is the scent I think of when I think of fall ~ burning leaves, crisp air and bright blue skies.  Love this one ~ this is in their classic 6 oz tin with a burn time of 25 to 30 hours.  RV $10.00
Description: It's a long weekend. A holiday. You get in your car and drive. And hours later you finally arrive at your cabin. A place where time stands still- and it's contents are a time capsule of your past visits. When you open the door you immediately smell the fireplace, traces of spice and nutmeg flutter in and your mind is a flood of memories. That's exactly what that this candle does for us- it smells like balsam and fir and just a little bit like the spice jars tucked away in a cabinet in our North Woods Cabin.
Pumpkin Something mmmmm Creamy milky spicy pumpkin latte with a touch of walnuts and pecans!  Pumpkin Something is a limited fall edition candle and it just smells so good ~ I feel like I need to eat it or something.  All Big White Yeti candles are a creamy off white color, as they do not add dyes to their candles, but I wish this one was an orange candle! 6 oz tin with a burn time of 25 to 30 hours.  RV $10.00
Description: This is the only pumpkin scented anything both Cody and Katie agree smells actually like a real pumpkin. Unlike most pumpkin fragrances that are predominately spice notes; this fragrance is the perfect balance of comfortingly nutty, luxuriously sweet, and brightly spiced. This Yeti starts off with robust notes of walnut, pecan, and espresso. The middle note comes through with a scent reminiscent of fresh cooked pumpkin and caramel. The blend is anchored with a base of ginger, cinnamon and all spice.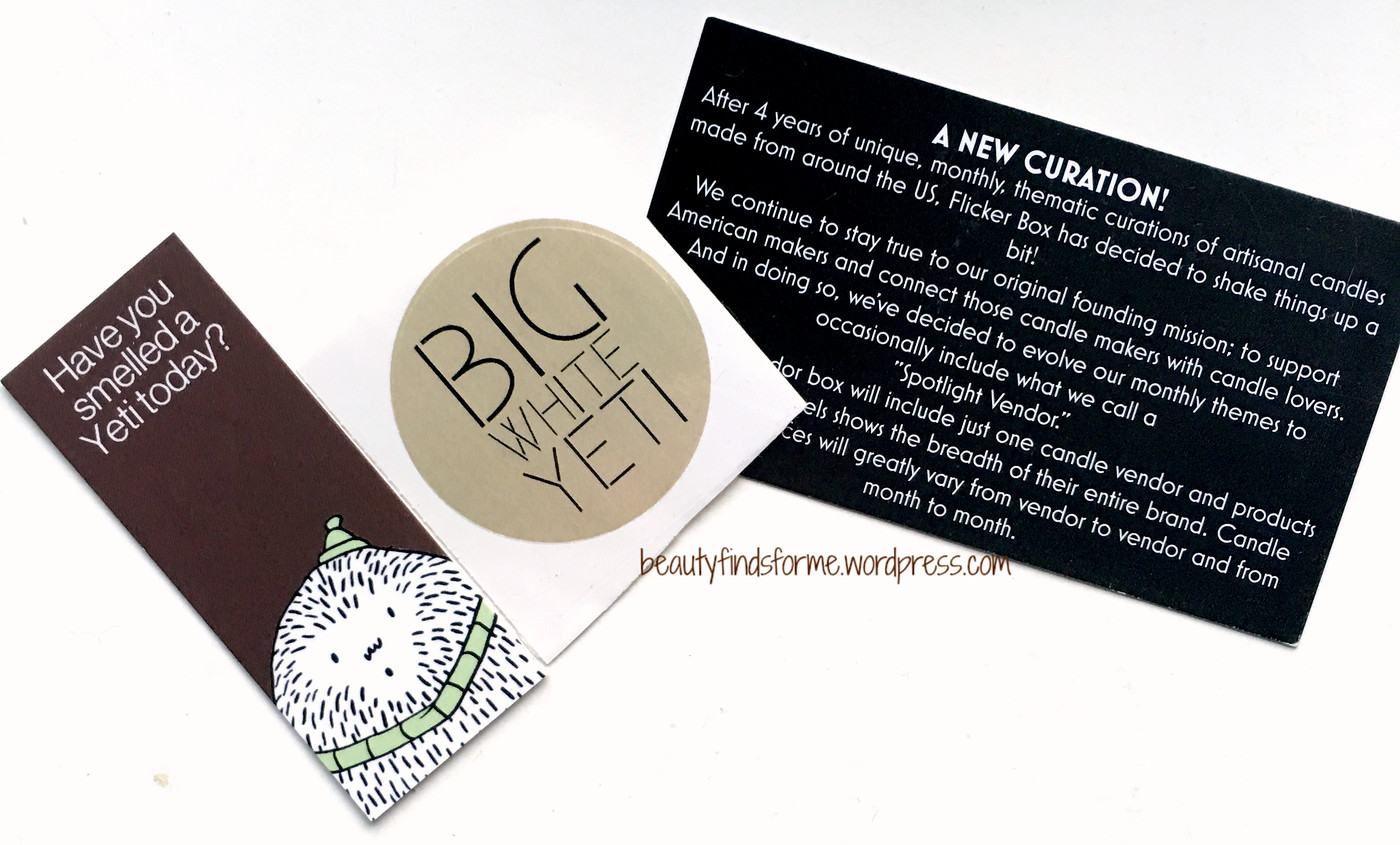 All in all, this is a great month!  My favorite candle vendor, Big White Yeti, with their gourmand and earthy woodsy scents, really produced a winning box here!  I love all 3 candles as they are all so different ~ apples, woods, pumpkin latte.  This box's value is $38.00 and I paid $34.00 for my box, as I am on a month to month subscription and I am grandfathered in, so my shipping is included in the price tag. I always mention this in each review, as I think you should have the proper expectation if you subscribe to FlickerBox.  I never expect to have a huge value placed on it.   Shipping costs for candles is expensive and the products are made by artisans, making their eco-friendly candles with their own scents and hand crafted, it is a great deal.  Also, some months are well over $40.00 in value, so it does even out in the end.

Flickerbox also has a store, where you purchase candles that were featured in their past boxes.

Do you subscribe to Flickerbox?  What did you think of this month's candles?  Let me know in the comments below!
Sneak Peak for Next Month
https://www.instagram.com/p/BaZnuJJghDg
Next month's box theme is 'Havest Moon'  featuring Candelaria Candles, Karmalit Candles  and Paddywax Candles ~ this theme should be interesting!

[ descriptions in italics from the product linked website ]